David Cerny is a controversial Czech artist, famous for his provocative sculptures.
The government hate Cerny while the people love him. That's a good enough reason for me to go hunting down some of his artwork.
Prague has loads of sculptures by David Cerny dotted around so if you know where to look, and keep an eye out, you'll not miss them.
I only managed to see 4 of them with the limited time I had. Just check these out!
Sculptures by David Cerny
Piss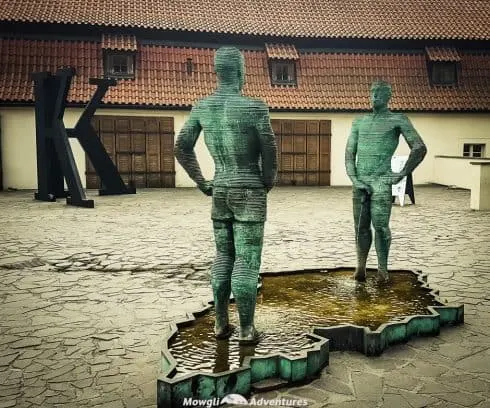 I just couldn't stop giggling and this piece, Proudy or Piss! It consists of two men who robotically waggle their metal penises around to spell out Czech quotes with their pee into a shallow pond in the shape of Czech Republic.
You can text a quote to it and it urinates your message! I can now say that Mowgli Adventures have proudly been all over Czech Republic! Here they are, midstream.
Babies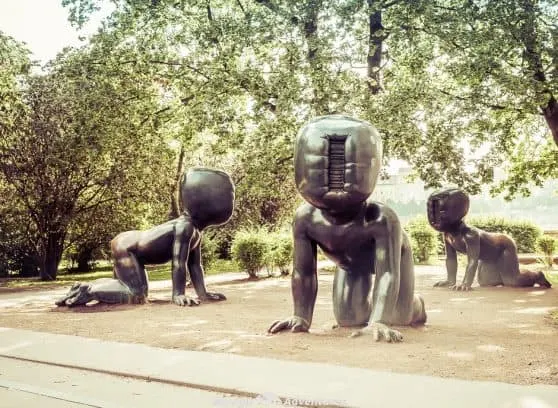 These giant bronze babies are a weird installation on Kampa Island. The babies faces appear smashed in but it's said that Cerny was depicting their faces as barcodes.
They look pretty sinister either way. There are also 10 of these babies crawling up the Žižkov Television Tower in Prague 3.
You can see the tower on Prague's skyline and a short tram ride will take you straight to it.

Kafka Head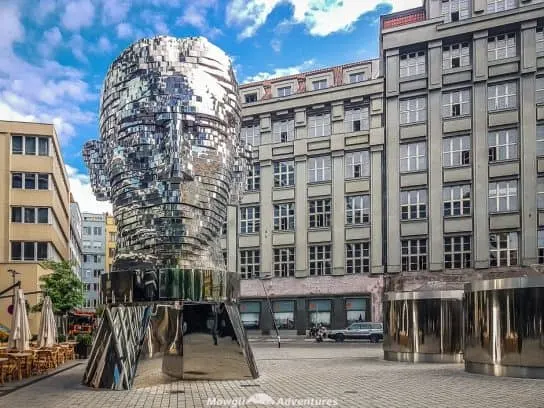 Located in a busy shopping centre in Prague, this is the twisting and reflective sculpture depicting the head of writer Franz Kafka.
Corny constructed the enormous mirrored head with 42 independently driven layers of stainless steel and weighs in at a hefty 45 tons.
The piece reveals Kafka's tortured personality and self doubt that plagued him through his short life.

Check out this short video – this is on fast speed and it goes through a lot more fascinating moves than is seen here.
Explore more: 17 photos that will make you want to go the Prague
Hanging Man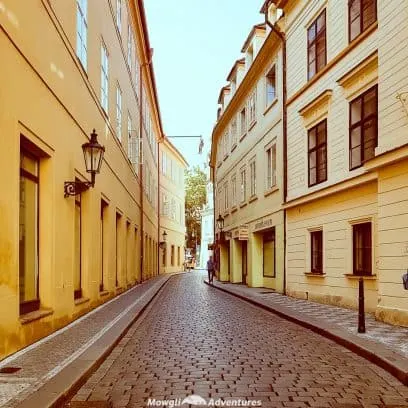 Who's that dangling from the rooftops in Prague's Old Town? Well that's none other than Sigmund Freud.
This Cerny sculpture is often referred to as the Hanging Man but it's actually called Man Hanging Out.
It's easy to miss as it dangles so high above a narrow street so keep your eyes open and directed skywards.

Top tip: if you want to see more of Prague's less touristy areas, take a self guided tour of all the sculptures by David Cerny.
You will see all the top Prague attractions en route too. Bonus!
Like it? Pin it!