Going on a safari isn't like going on an average holiday. Spending time in the African bush is a unique experience. Even planning a safari is a whole new world.
If it's your first time, how you prepare can make or break the entire experience. We've done a few African safaris over the years and so compiled this post to help you plan and prepare for yours. Enjoy!
So what is a safari?
The word safari is derived from the Swahili word for journey. And a safari is one amazing journey! Most African safaris are overland trips so travel between destinations is by road.
Fly-in safaris are an option too. They greatly cut down on driving time and give a fantastic birds-eye view of the African bush.
A modern safari is (usually) a socially responsible trip. Most of your time is spent in the African wilderness viewing game and admiring the wildlife in their natural environment.
The wildlife is the stuff of many a natural world documentary. A safari offers the phenomenal opportunity to observe the Big Five, the Ugly Five and Little Five along with some animals you may never have even heard of!
A safari is not a trip to a theme park or zoo.
Here in the African bush, you enter the wildlife's home and need to play by their rules. The animals are real and dangerous so do as your guides ask.
Spotting Africa's Big 5 in Tanzania
How to book a safari?
Booking a safari for a first-timer can be daunting. There are so many companies to choose from, it's difficult to know where to start. You have 3 broad options and we'll try to cover the basics of each here.
1. Tour Company
I guess this is the easiest route to booking a safari. By contacting a tour company with a base in your home country, you can avoid any organising hassles.
You can usually speak to someone specialising in African safaris who will listen to your budgets constraints, what you'd like to see and do.
They'll be able to suggest a package safari from their standard offerings or be more than happy to tailor a safari just for you.
Where your needs can't be met by a standard offering, the tour company will discuss a custom package and availability with a local agent so there is often a delay in confirming prices and availability.
Prices tend to be highest when booking your safari through this route but you are paying for the convenience and probably ABTA cover. They will even arrange your flights.
2. Local agent
You need to put a bit more effort into booking your safari with a local agent but you will feel much more involved in the arrangements.
The first challenge is finding a reputable agent you're confident in. Use TripAdvisor for reviews from other travellers, ask questions and make a short list even.
Once you've found an agent you're happy with, drop them an email with a high level overview of your requirements and ask them to give you a call to discuss further.
A good agent will have visited all of the lodges and camps they represent so can answer your questions and make sure they suit your needs.
Having an open mind and flexible requirements will really help at this stage. These agents are in country and know the areas far better than you could expect to.
Their advice is invaluable, even more so if you book last minute. There's no point in asking to visit the Serengeti to watch the great migration if the rains have failed and the wildebeest are somewhere else entirely.
Make sure you ask for a discount. All agents have some wiggle room when it comes to price and there's no harm in asking.
Although a local agent will arrange your flights if you ask them to, it is usually more economical to arrange your own international flights. Any domestic flights can be left to the agent to arrange though.
3. Independent bookings
If you have the inclination to arrange to the entire safari yourself, you can of course cut out the agent and tour operators altogether and deal directly with the lodges.
This option is ideal if you're already in the country or have had a recommendation you'd like to follow up on. We booked our safari in Senegal independently.
Otherwise, it's quite a lot of work. Again, read plenty of reviews on TripAdvisor and make direct contact with the lodges. Make sure you read the rest of this article so you know what to ask. And don't forget to request a discount.
Types of safari accommodation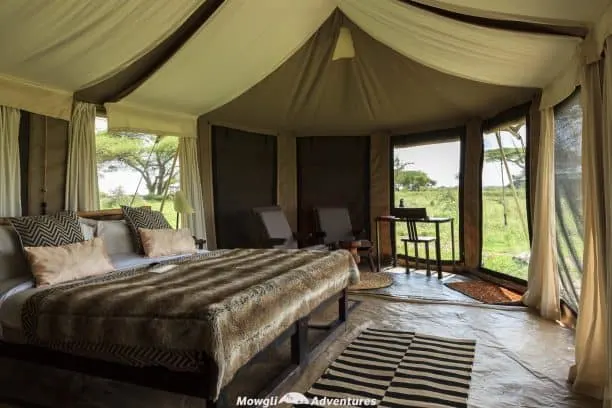 Going on safari means different types of accommodation, depending on the region, budget and just how close to nature you want to get. And you don't need to give up your creature comforts either, unless you want to.
Tented camps
If you really want to experience the great outdoors and on a low budget, you could consider a budget tented camp. These tend to be lightweight tents with no en-suite.
Ablution blocks will consist of long drops and African bucket showers. Of course, you can always go upmarket. We stayed at this tented camp pictured above.
A luxurious tent with amazing en-suite facilities and even an outdoor shower. We were so close to nature we had buffalo bumping into the tent at night and could feel the roar of a pride of lions communicating with each other. An incredible experience!
Safari lodges
You can also stay at safari lodges. They are usually solid buildings (i.e. not canvas) and again there's a broad range of comfort levels usually with a price tag to match.
Accommodation will have en suite, plumbed showers and toilets and communal spaces include the dining area, reception and shops.
Most safari lodges will have a swimming pool although I'm not sure how you'd ever find the time for a dip.
Many of the lodges feature a watering hole and viewing deck. It's wonderful to relax in your accommodation and watch the wildlife come to drink and socialise, right on your doorstep.
Truth be told, you don't spend so much time at your lodge or camp. It may look delightful but if you're not there to take advantage of all facilities, you may question what you're paying for.
Our advice is to make sure you're happy with the level of comfort for your room, food and electric availability. Otherwise, game drive provision is the single most important factor in planning a safari. See more below on game drives.
Multi-centre v single centre safari
Many packaged and custom built safaris include several locations. Many National Parks are vast and different regions have something unique to offer.
It's worth questioning if this is what you really want though. We've done multi-centre safaris a few times and a single centre one and they offer a slightly different experience.
Multi-centre safari
With a multi-centre safari, you need to prepare to spend at least some of your time travelling between destinations. Make sure you understand just how many hours the transfer takes.
I spent almost an entire day on a safari in Kenya many years ago travelling from Samburu to Mount Kenya.
Watching the scenery speed by is ok when we're travelling in Mowgli but on a 10 day pricey and guided safari I could have used my time far better. Added to the fact that I didn't ask before I booked, it felt a bit of a surprise at the time too.
So long as you know what to expect before you book, multi-centre safaris offer a good rounded experience.
If we'd done a single centre safari in Tanzania recently, we wouldn't have seen a black rhino, an amazing but critically endangered animal that was on our must-see list.
I should warn you though, a multi-centre safari is tiring. It's no wonder many people add a few days at the beach afterwards.
Get inspired with these incredible experiences on safari in the Serengeti
Single centre safari
A single centre safari is a whole different experience. After the first few days, you really start to get to know the region and even the behaviour of the wildlife.
You have time to build a great rapport with your guide too. You have the opportunity to relax and enjoy the surroundings of your base camp.
Sometimes you just don't need to leave your camp to immerse yourself in the African bush. In fact at one camp we stayed, we didn't even need to leave our bed to watch a lioness walk by!
What to expect when you arrive
The chances are, you'll spend your first night in the town or city nearest to the international airport you flew into. It's a great idea! You may be excited to start your safari but having a chance to rest and recuperate after your flight means you can start your safari fresh.
The first day of your safari will involve travel to your camp or lodge. You may have chosen to fly in or travel by road. Fly in safaris are terrific because they give a wonderful birds-eye view of the savannah and get you into the heart of the action fast.
Either way, you will probably take a short game drive en route to your accommodation. This will be your first encounter with the wildlife of the area and because it's wild, anything can happen! It's a great taster of the days to follow. We couldn't contain our excitement.
When you arrive at your camp, you may be greeted by the staff with a cool drink and a refreshing face cloth to wipe off the dust from your game drive.
Staff will appear and take care of your luggage while you relax and deal with the necessary check in formalities. As a word of warning, you will be asked to sign a disclaimer on arrival.
Apparently the camps won't take responsibility if you're trampled by an elephant; another reminder you're not in a theme park!
A typical day on safari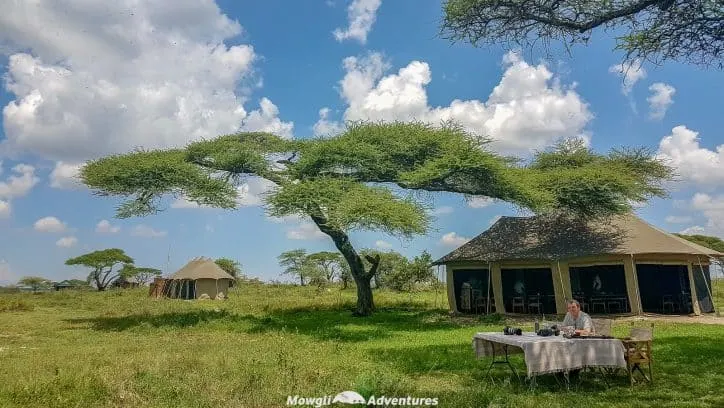 There isn't really a typical day on safari as such. Every day is different, each wildlife encounter unique and no two game drives are the same.
Even so, there's a kind of routine to a safari day. For those on a single centre safari, you'll get into the rhythm quite quickly; if you're on a multi-centre safari, it's so fast paced you may not realise you had any kind of routine until your trip is over.
I'll try to give an overview of what a day on safari is like.
You will wake at dawn (or a little before) with an early morning wake up call. We were incredibly lucky with the accommodation we stayed at in Tanzania.
We had a Masaai tribesman wake us with freshly brewed coffee each morning. Coffee in bed with only a canvas sheet and gauze fly screen between you and the Serengeti is something special!
Breakfast is often served after your morning game drive. If you've asked for a very early game drive, breakfast might be packed for you to enjoy in the bush.
Or if you've planned an all day game drive, you may delay breakfast a little so enjoy the dawn chorus at leisure. Either way, dawn is often cool, even in Africa, so packing a light sweatshirt won't go amiss.
Prepare well with this African safari packing list
If you're not taking an all day game drive, you will return to camp for lunch. How much time you spend here depends on the game drive arrangements.
In Kenya, I spent about 3-4 hours in the middle of the day at the camp. In Tanzania, we didn't see camp at all during the day, except on the day of arrival.
Many camps offer additional activities during the day. Some will provide walking safaris, often guided by a local tribesman.
A terrific opportunity to get even closer to nature. If you're anything like me, your heart rate will elevate somewhat when you realise all that's protecting you from the wildlife is a scantily clad chap wearing shoes made from old tyres and armed with a stick.
Your afternoon game drive is often the best of the day. As the temperatures fall a little, predators are waking from their afternoon slumber and thinking about dinner. Who knows what you will encounter!
National Parks have strict rules about driving at night. Many drivers risk heavy fines or losing their licence for not returning to camp within the curfew time.
Your driver may put his foot down to get you back on time, especially when you have a special wildlife encounter too good to miss!
Game Drives
In our opinion, this is the most important factor to consider when planning a safari. After all, you're visiting the African bush for a wildlife safari, right?
The game drives along with your guide will make or break the entire experience. So what do you need to know about games drives and what should you consider when planning a safari? Here's a list of questions to ask before you book:
What is the daily game drive schedule?
Some safaris offer a couple of game drives each day, some provide all day safaris and others allow the guest to influence the schedule. Know what you're getting before you arrive.
What type of vehicle is used for game drives?
A 4×4 vehicle is less likely to get stuck, especially during the wet season but you should also try to establish if the vehicles are well maintained.
Is the vehicle an open sided, open top vehicle? These offer the best views of the wildlife but you're also exposed to the elements.
A pop top vehicle allows you to stand up to view the game. They are a little more restrictive but do offer more protection from the elements.
Are game drives private or do you share with other guests? If shared, how many will you share with?
A private safari gives you control over what animals you seek out and how much time you spend at each encounter. If you share your drive with other guests, you will need to compromise to some extent.
We've seen some 7 seater LandCruisers full to capacity on game drives. It doesn't look comfortable and if you're a photographer with plenty of gear, this is something you should seriously consider.
Serious about your photography? Take a look at what camera gear to to take on safari.
Are all passengers guaranteed a window seat?
If you're on a shared game drive, make sure all passengers have a guaranteed window seat. You don't want to be the person sitting in the middle seat at the back of the vehicle!
How long is each game drive and how much influence do you have over the duration?
Some game drives are short at around 90 minutes; others can last all day. On some safaris, especially where you have private game drives, you have full control over the schedule.
You discuss and agree with your guide at the end of each day what the plan is for tomorrow.
This is the perfect safari in our opinion but in order to understand if this is the experience you're likely to receive you must speak with the agent before your book.
Is your guide familiar with the area?
No matter how long or short each of your game drives is, the right guide will elevate your experience to something unforgettable.
Ideally, you want a guide who is passionate about the area and the wildlife within it. They all tend to be knowledgeable but I want more when I'm on safari than a guide who can quote from a book on African wildlife.
When your guide is excited and passionate about the wildlife, it's contagious and really enhances your experience. We had an experience in Tanzania when we had an encounter with a Pangolin.
We'd never even heard of a Pangolin. And yet our guide was so passionate and excited, the experience became the highlight of our trip! We wouldn't have had that with someone less passionate.
The day we met a Pangolin and her baby!
Is your guide in radio contact with rangers, other drivers and base camp?
Sure for safety reasons it's good if your guide can contact someone for help in the event of a breakdown. More than this though, rangers and other guides share sightings with each other.
If a guide spots a pride of lions on the hunt, they share the information with other guides over the radio waves. It's unfortunate when this results in dozens of vehicles surrounding animals though.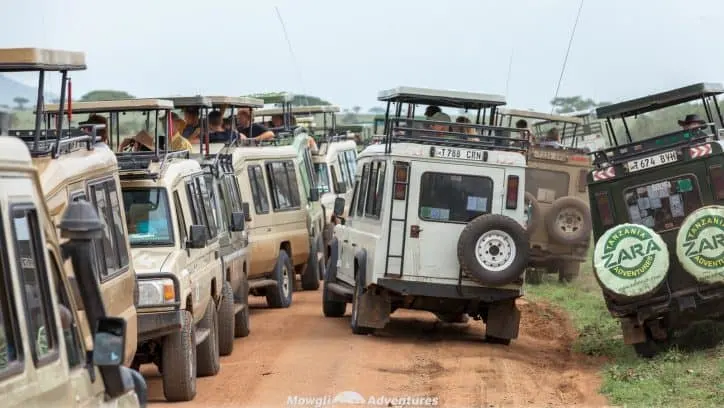 A good guide will check with you first. Do you want to drive fast to the area of the sighting or are you happy to continue at you own pace and see what you encounter alone?
Having the choice is often the best option. Checking what control you have while you're planning a safari will at least let you know what you're getting before you get there.
On the best safari experience we had, there was only 3 or 4 of safari vehicles in the area. This way, when any sightings were shared and we decided to take a chance, we were only one of maybe 2 or 3 vehicles.
It feels far less intrusive and far more exclusive!
Take a look at our 1 week safari in Tanzania
Visits to TheBackOfTheTruck
It may surprise you to know there are very few public conveniences in the African bush. You may find some toilets at the entrance gates to the parks, or if you're very lucky at some popular picnic spots.
They may not be of a European standard but they allow you to do your business, usually behind a door, to protect you modesty.
Failing that, you can always ask your guide to stop the vehicle so you can visit TheBackOfTheTruck. Just check with your guide that it's safe to do so.
Your guide will give you a paper bag to deposit any toilet tissue into and some hand sanitiser to.
Wildlife viewing opportunities
Remember you are entering the wild African bush. There is no set time for the animals to put on a display for you, no feeding times and so no guarantees.
You can improve your chances of seeing certain animals by visiting the right place at the right time. Do your research as part of planning your safari.
But all the research in the world still won't guarantee anything. You may want to see the great migration and you book and plan your safari months in advance to be in the right place at the right time.
Only the rains are late and the migration hasn't quite made it in time. It happens and you must accept it for what it is. Nature.
Not all African animals migrate so National Parks have some year round residents. And we recommend you keep an eye out for the small things. Work with your guides as a team and you can witness some remarkable wild action at you feet!
Tipping on safari
As always, tips are highly welcomed. The suggested amount is US$15-20 day for a safari guide. At safari camps, depending on how long you stay, it is US$15-20 per day or US$50-100 for the stay for the whole camp staff to share.
This is only a suggestion. We recommend you only tip according to how you feel. Tip more, tip less, or don't tip at all. It's entirely up to you.
Photography
Some countries in Africa, Tanzania included, ban the use of drones in National Parks. In Africa, if you wish to take photographs of people, always ask their permission first.
Many people do not take kindly to having their photos taken but are more than happy to pose for camera if you ask. You may need to pay a small fee of course! And whatever you do, don't take photos of military personnel.
When it comes to photographing wildlife, my advice is to not forget to put the camera down.
If you're a fantastic wildlife photographer you may have a chance of catching the cheetah chase on camera (or if you're lucky as Graham was).
Otherwise, you're unlikely to get a Nat Geo shot. So put the camera down and witness the incredible action with your own eyes.
Serious about your photography? Take a look at what camera gear to to take on safari
Preparing for your safari
When you click on links to various merchants on this site and make a purchase, this can result in this site earning a commission. As Amazon Associates, we earn from qualifying purchases. For more info, please check our disclosure page.
Packing for a safari
For first-timers, knowing what to pack for a safari isn't as straight forward as packing for an average city break. To help you avoid ruining one of the most adventurous travel experiences you'll ever have, check out this article on what to pack for a safari.
Visas & Vaccinations
Some African countries allow travellers from certain countries to get a visa on arrival. Others insist on you arranging your visa before you arrive.
Check with your foreign office well in advance so you have time to make the necessary arrangements. In Tanzania, you can arrange your visa on arrival. We arranged ours in London though and judging length by the queue at Kilimanjaro airport, we're glad we did.
Male sure you're clear about any vaccine you need to. You may need to take your anti-malaria tablets from a few days before you leave and you really need to be on top of this.
Some countries have a pre-requisite of a yellow fever vaccine certificate if you've travelled to another country at risk. This applies even if you only transferred flights at an at risk country so please don't risk being turned away.
Access to cash
ATMs are available in many cities across Africa but once you're in the bush, forget it! US dollars are widely accepted so carry some with you and save yourself a bit of hassle.
How to avoid paying bank fees as you travel
Souvenirs
Do we really need to say to avoid buying any souvenirs made from animal products? I hope not but we've said it anyway. Just don't.
Books and DVDs
Preparing and planning a safari is so exciting. In fact the whole exercise adds to the entire African safari experience. Here's a few books and videos we recommend you read and watch before you go. And I bet you read and watch a few of them afterwards too!
Born Free – who can resist this true story George and Joy Adamson and the orphaned lion cub they adopt, Elsa?
Out of Africa – a beautiful story with amazing cinematography of Kenya, it's a fantastic movie to prepare for your first time on safari. And one I watch again and again!
Don't run whatever you do – sound advice indeed from Peter Allison, a safari guide.
Like it? Pin it!