RV road trips can be an excellent way for people to see a lot of America's beautiful landscape. However, there are several things to consider when planning an RV trip to make it as enjoyable as possible.
This article will cover RV trip planning basics, including what to consider when planning your route, where to stay, and what to do along the way.
If you're planning your first RV road trip, these tips will help make your trip go smoothly and ensure that you have the best time possible!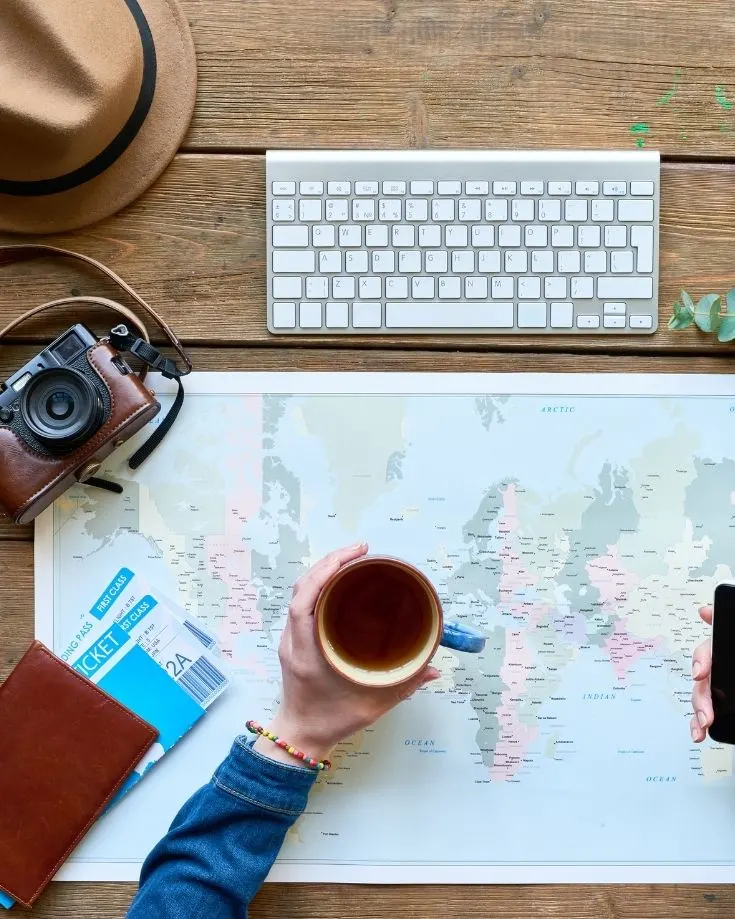 When you click on links to various merchants on this site and make a purchase, this can result in this site earning a commission. As Amazon Associates, we earn from qualifying purchases. For more info, please check our disclosure page.
1. Choose The Best RV For Your Road Trip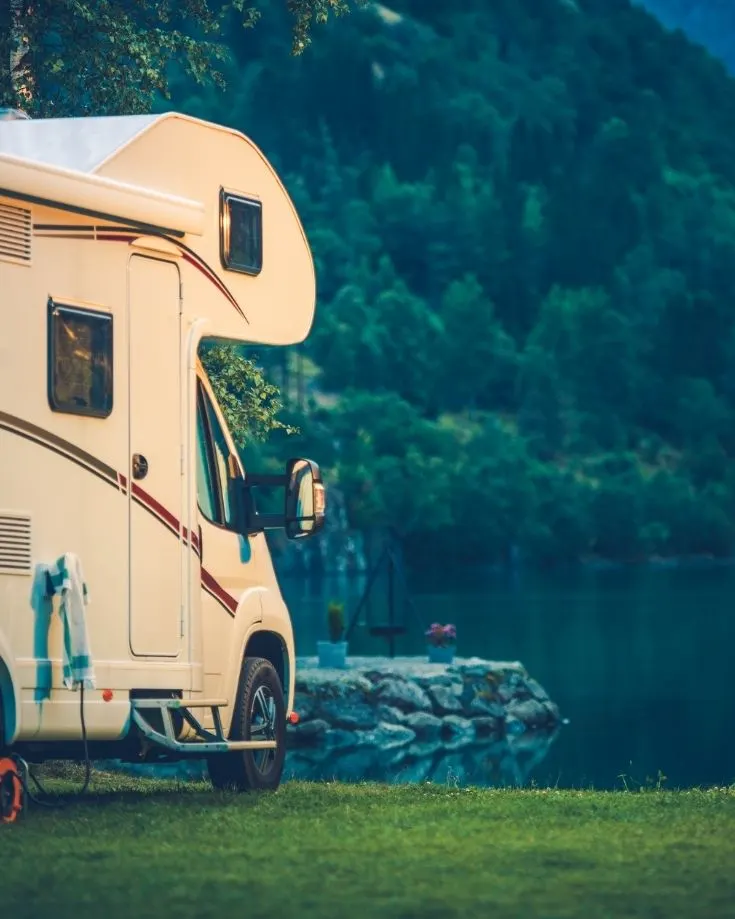 When choosing the type of RV for your road trip, it's important to take a few things into consideration.
First, think about the size of your vehicle. RVs come in all shapes and sizes, so make sure you choose one that's the right size for your needs.
Choosing the right size RV for your needs is essential when planning your first RV trip. But it can be hard to know which size RV is suitable for your family.
Too small, you might not have enough room and end up cramped or uncomfortable on your trip; too large, you might spend more in gas and fees for RV parks than you wanted to.
If you have a large family or plan to bring a lot of gear with you on your trip, you may need a larger RV or a Class A motorhome. Small Class B motorhomes are ideal for couples or solo travelers who want to save on gas and don't need much space.
Read More: How To Choose The Best RV Size For Your Trip
Second, consider what class of RV is best for your road trips. There are loads of different types, including Class A, B & C motorhomes and a plethora of travel trailers. Each class of RV has its pros and cons, so it's important to know what each one offers. That way, you can choose the RV that's right for you.
Read More: A brief introduction to Classes of Motorhomes & RVs
If you're planning to take your RV on some serious long-term road trips, and need access to a car to use as a daily run around, consider a towable trailer instead of a motorized RV.
2. Rent An RV For Your First Road Trip (Instead of Buying)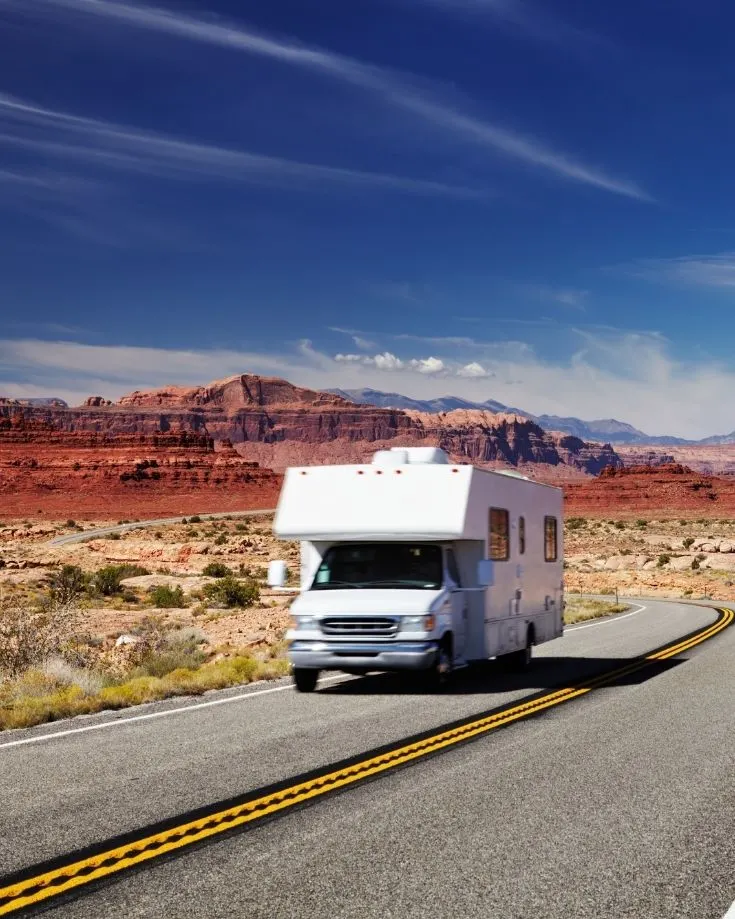 When planning your RV trip, it's a good idea to rent an RV instead of buying one. Motorhomes, campers, and RVs usually require a fairly hefty investment.
If you're not 100% sure that you'll enjoy RV travel, the last thing you want is a depreciating asset on your driveway.
Renting an RV is in some respects similar to renting a regular car. But there are differences and other factors to consider, especially for a first-time rental.
Know How You'll Get Around
Many RVs are pretty big vehicles, usually much bigger than a regular car. As such, they don't make ideal daily runarounds.
However, if you've rented a trailer, you can usually unhitch the trailer at your camp and use the towing vehicle for sightseeing, shopping, etc.
But it's not so easy with a motorized RV. A bike rack could provide a perfect solution if you and your family love the great outdoors.
Or you may want to hire a car in some locations along your route, depending on your itinerary.
Read more: Top RV tips & tricks to boost your camping experience
Only Use Reputable RV Rental Companies
Planning an RV trip can be a lot of fun, but it's essential to make sure you're doing it safely. That's why it's important only to use reputable RV rental companies.
These companies have a lot of experience and know-how to make your trip as safe and enjoyable as possible by providing high-quality vehicles.
Many RV rental companies may be able to help you plan your trip so that you can make the most of your time on the road. So before you hit the open road, make sure to check out some reputable RV rental companies.
Our top 5 RV rental companies are:
Check the Small Print On Your Rental
If you're thinking about renting an RV, it's important to read the small print before you book.
Many motorhome rental companies have restrictions regarding who can drive the vehicle and how it can be used.
For example, some companies require that drivers be at least 25 years old, while others prohibit using the RV for more than a certain number of miles per day.
By reading the small print, you can ensure that you know all the restrictions and associated costs and plan accordingly.
It's vital for first-time RV renters who may not be familiar with the agreements. Here are a few examples of things to look out for in the fine print:
Unlimited mileage
Cancellation policy, security deposit & down payments
Pets
Towing restrictions
Roadside assistance
Generator time
Cleaning (inside & out)
Border crossings
What's included & what's not
Understand RV rental insurance
Read more: 9 RV Rental Tips For First-Timers
3. Know Your Vehicle's Capabilities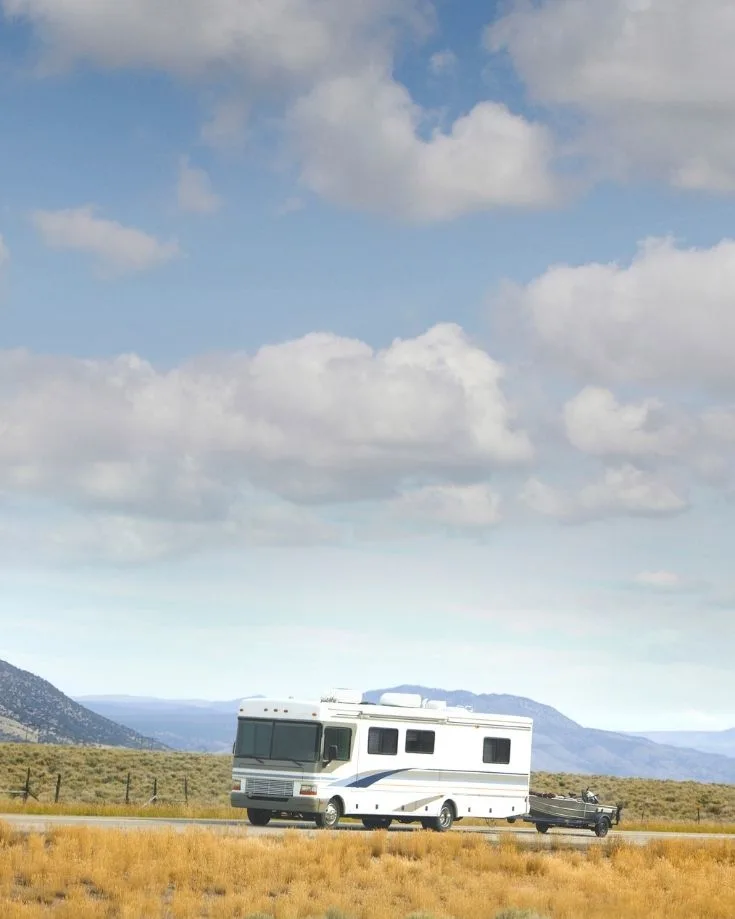 When planning your first RV road trip, it's important to understand the capabilities of your vehicle.
Not all RVs are created equal -some are better suited for long-distance travel while others are better for shorter trips.
Some are great for rough tracks, while others should never leave a sealed road.
Even if you have a 4wd camper, don't be fooled into thinking it can go anywhere.
Read more: 4wd Campers Vs. 2wd
It's also important to be aware of the limitations of your vehicle. For example, if you're planning to travel with a trailer, make sure your RV can tow the trailer's weight.
Additionally, be sure to familiarize yourself with the features of your RV. For example, does it have a generator?
If so, how long can it run before needing to be refueled? Knowing these things in advance can help you plan your trip more effectively.
4. Plan Your Route Ahead Of Time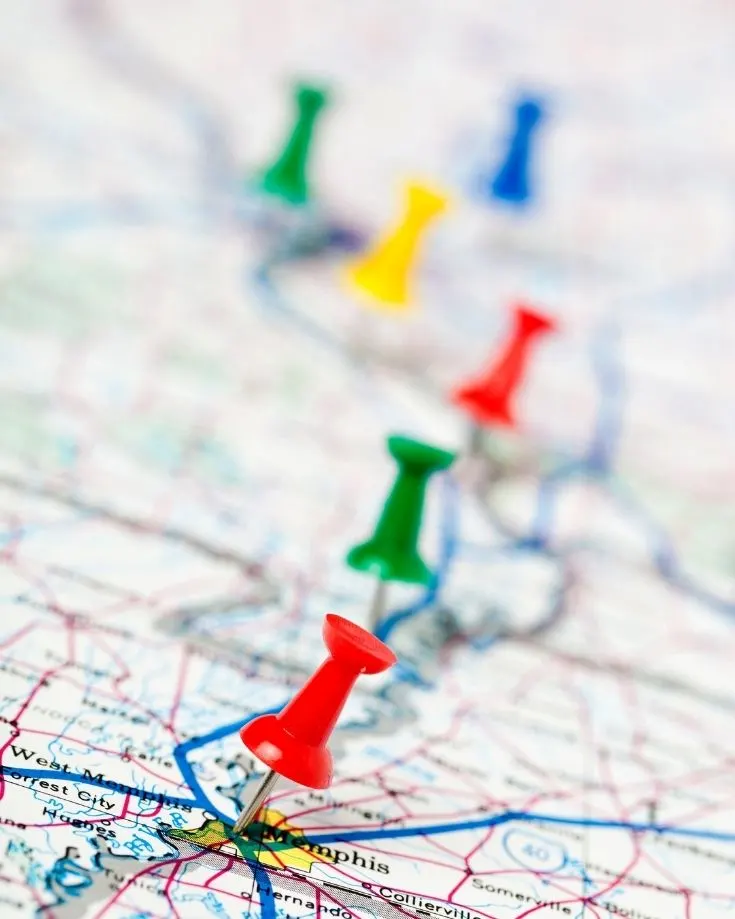 One of the most important aspects of RV trip planning is planning your itinerary. This will ensure that you make the most of your time on the road and don't miss out on any sights or attractions you want to see.
It's especially important to plan your itinerary if this is your first RV trip.
You may not be familiar with the services you may need (like water and dump stations), and you may not be completely proficient with handling the RV.
When planning your itinerary, consider the amount of time you have and the distance you're willing to travel.
Additionally, consider the interests of everyone in your group so that you can find activities and attractions that everyone will enjoy.
5. But Not Too Much…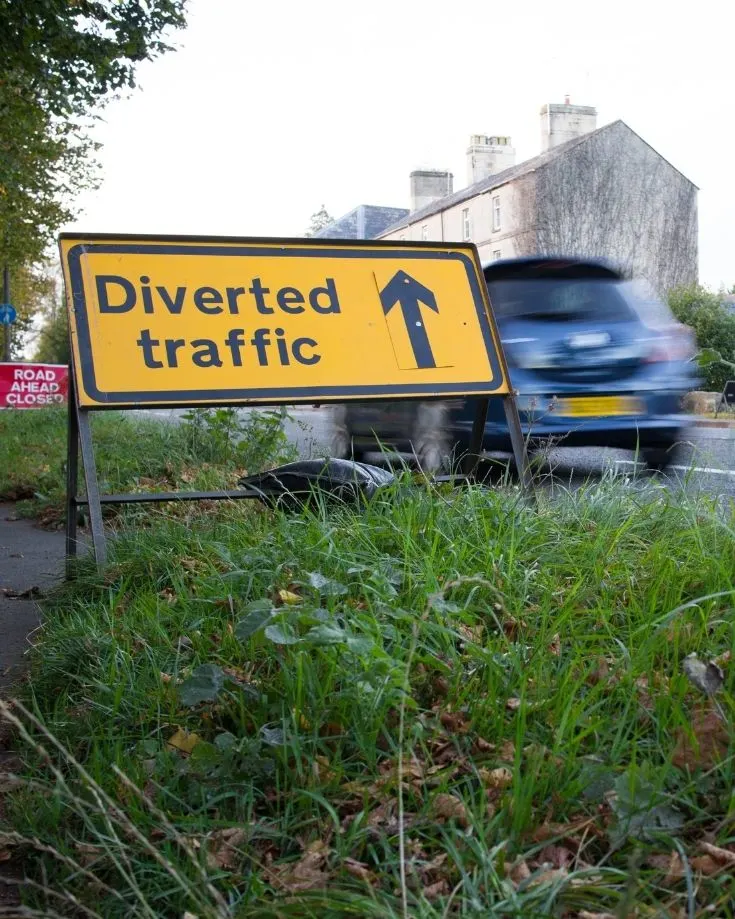 While planning a rough itinerary will help ensure you have the experiences and visit the places you want on your road trip, planning overkill is a real thing. And usually a complete waste of time.
We get it. The internet has many resources and information available on RV road trips. So, it's easy to find yourself spending hours, if not days, prepping and planning your route. But here's the thing – half the fun (or more) of an RV trip is the spontaneity and ability to go where the wind takes you.
Yes, it's important to have some anchor destinations and things you want to do, but don't feel bad about scrapping your plans or altering them on a whim. That's what the open road is for!
And even if you still feel the need for a structured and pre-planned itinerary, with RV park pitches secured and tickets for attractions purchased, in all likelihood, something will scupper those plans. That's the nature of RVing.
You may find a place you fall in love with and want to spend more time. Perhaps you'll hear about a hidden gem you'd like more time to visit. Or maybe something unforeseen happens, like a breakdown.
Things will always come up. Being prepared for the unexpected and having backup plans will help you have a perfect RV trip, no matter what comes up. A flexible itinerary allows you to adapt and get the most out of your road trip.
6. Get Off-The-Beaten Path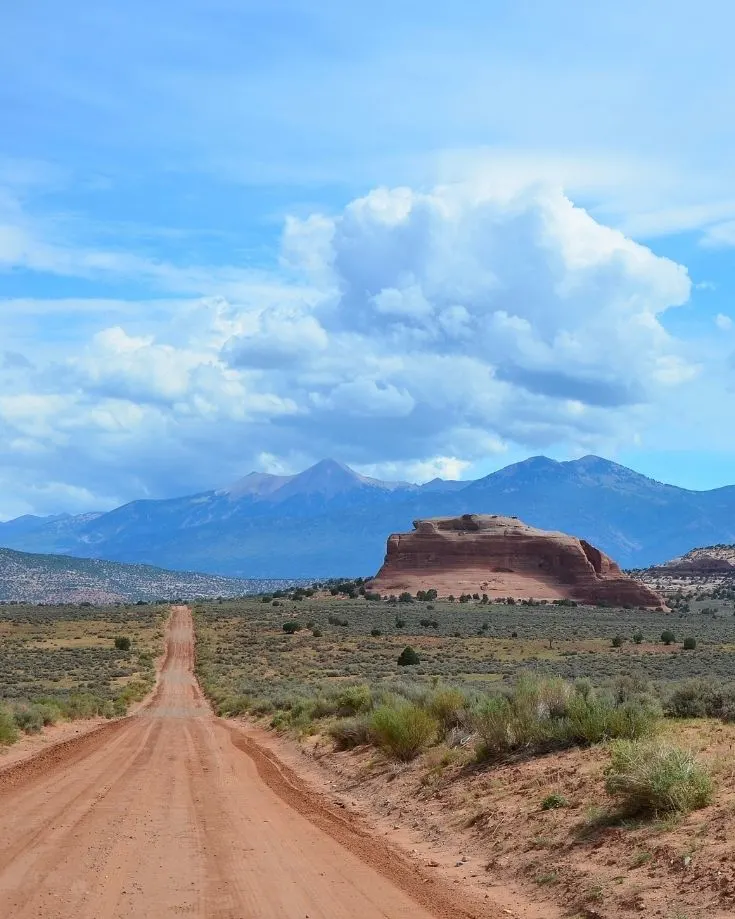 One of the best things about taking an RV road trip is that you have the opportunity to explore places that are off the beaten path.
This is a great way to really experience the culture and beauty of the area you're visiting more authentically.
Additionally, it can be a great way to get away from the crowds and really relax and enjoy your holiday.
It can also be a more affordable way to see the sights and attractions in an area.
In addition, there are often fewer tourists at off-the-beaten-path destinations, so you can enjoy lower food prices and often on campgrounds.
Read more: How to avoid crowded campgrounds
How To Find Off-The-Beaten-Path Routes On An RV Trip
There are a few ways to find off-the-beaten-path routes on a road trip.
Firstly, you can use online resources like Google Maps or Maps.Me. These tools allow you to input your start and endpoints and generate a route that takes you away from the crowds.
Most of us have some sort of RV GPS device too. Try using the setting to avoid highways and see where the road leads.
Look out for RV-friendly routes and avoid low bridges and narrow roads as appropriate.
Alternatively, you can also ask locals for recommendations on places to go. This is a great way to get insider knowledge of the best off-the-beaten-path destinations.
The Department of Transportation protects many beautiful roads in America for their natural or cultural value.
One great way to enjoy these Byways is with a hard copy of the NatGeo Guide to Scenic Highways and Byways, which maps out each state's most scenic drives, no matter what part you drive through!
It's ideal for long road trips and finding interesting landmarks along the way – it'll make sure your journey isn't without anything worth seeing.
7. Pack Wisely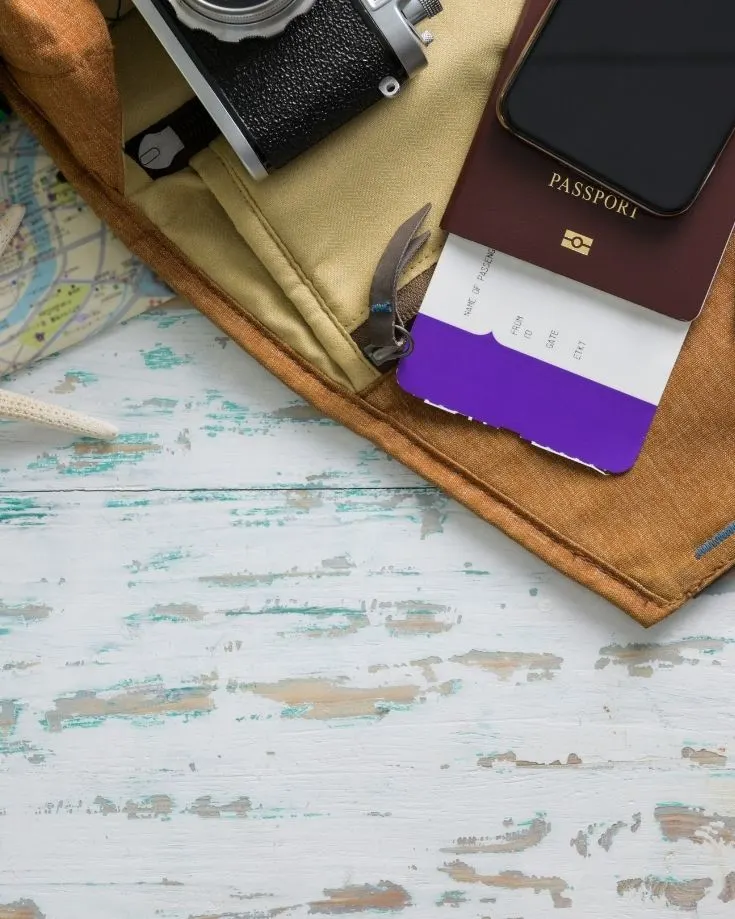 Being smart is essential for any road trip, but it's even more important when traveling in an RV. This is because you have limited space, and you need to be able to make the most of it.
Here are a few tips for packing wisely for your RV road trip:
First, start by making a list of everything you need. This will help you be organized and ensure that you don't forget anything important.
Prioritize the items on your list. You'll need to decide what's essential and what can be left behind.
Make use of storage solutions. There are many great storage solutions available for RVs, so make use of them to keep your belongings organized and tidy.
Think about how you'll use each item during your trip. This will help you determine what needs to be packed and what can be left at home.
8. Finding Places to Camp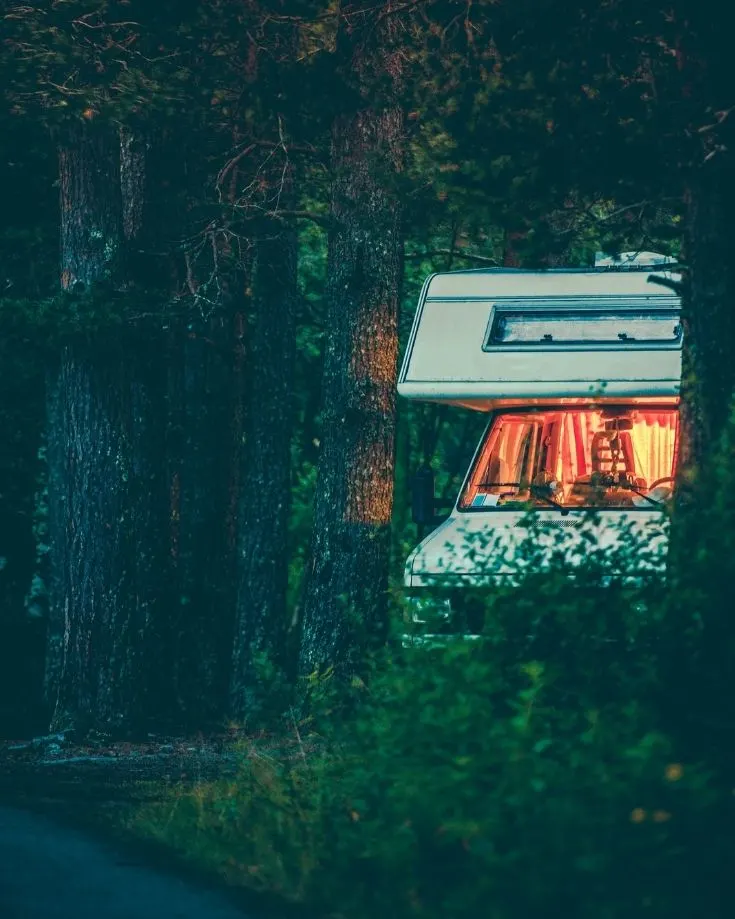 Camping is a great way to get out into nature and enjoy all that the great outdoors offers.
When planning an RV trip, if you want to stay on campgrounds or RV parks, it's important to find a suitable site ahead of time to ensure that you have a place to stay.
This is especially important during the high season when demand for pitches is high.
There are various ways to find campsites, including online booking systems, camping apps, and word-of-mouth.
Online Campsite Booking Systems – One way to find campsites is by using campsite systems. These databases usually have information on different campgrounds, including location, amenities, and reviews from other campers. For example, Reserve America and Recreation.Gov are a couple of highly-rated campground booking systems.
RV Camping Apps – There are also several camping apps that can help you find campsites. These apps typically allow you to search for campgrounds based on your location, desired amenities, and even the type of experience you're looking for.
Word-Of-Mouth – Another great way to find campsites is by asking friends and family. Chances are, someone you know has gone camping in the past and can recommend a great spot. Plus, it's always nice to get some local knowledge before hitting the road.
Boondocking (or dispersed camping) is also an option for free RV camping.
BLM & Public Lands | Mostly on the west coast, there are no limitations on when you can camp on BLM. Check their official website for locations.
National Forests | Rules are specific to each National Park, so check before traveling to make sure you arrive prepared to adhere to the rules.
State Forests | Again, the rules vary from state to state. You may need to buy a (low cost) permit to camp in some state forests.
National Park Campgrounds | Free overnight parking is allowed at some National Parks for pass holders. Check with the Park's official website before traveling to find out the situation.
Walmart's Parking lots | If in town to resupply or on long drives, Walmart parking lots provide an ideal overnight parking spot. It's not uncommon to see several campervans, motorhomes, and RVs boondocking in the parking lots – just check inside the store first.
No matter how you find them, check out the RV parks ahead of time to know what to expect.
In addition, you may want to consider the price, whether or not they have hookups for your RV, and the distance from the nearest town.
Taking these factors into account will help ensure that your trip is as enjoyable as possible.
9. Learn How to Set Up Camp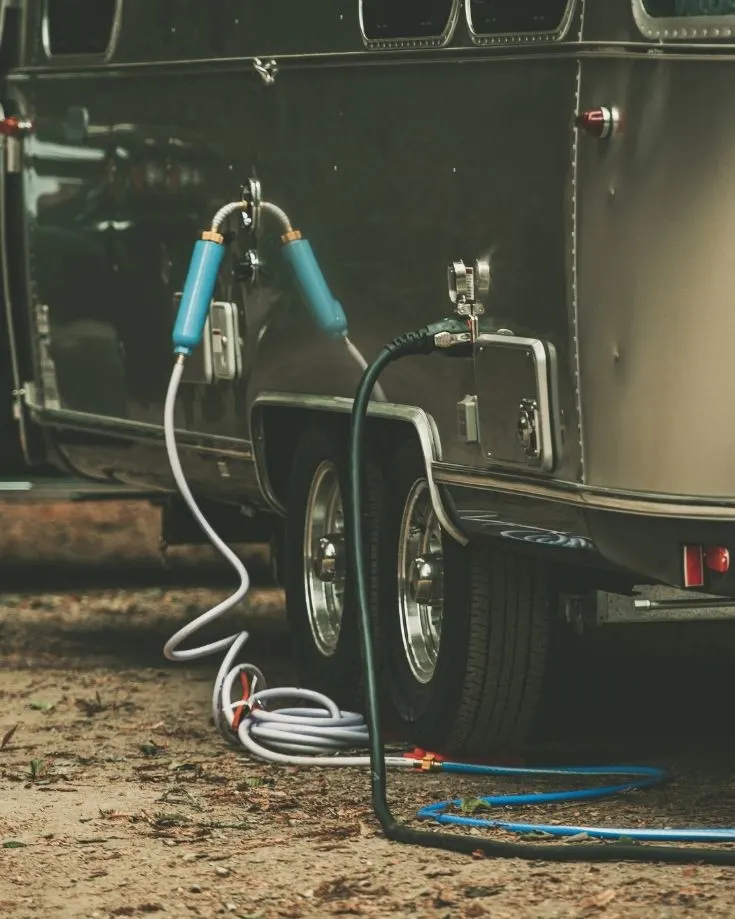 When you go on your first RV trip, you probably have no idea how much is involved in setting up camp. For the seasoned RVer, it doesn't take long, but for first-timers, it can take a while to figure it all out.
Many little things need to be done to set up camp, from leveling your RV to extending the awning. Make sure you're familiar with the basics before you hit the road.
That way, you won't spend your whole trip trying to figure it all out – you can relax and enjoy your time away.
Here are a few tips to help you prepare for your first RV camp set up:
Choose your site wisely
Do you want to be close to the campground facilities? Is there enough shade so you'll be comfortable outdoors?
Are you a suitable distance away from any communal spaces? They can get busy and noisy, so choosing the best spot for your needs can make a difference in your comfort.
Use a spotter to help you back up
If you're not confident backing up your RV, get someone to help you. They can guide you into the spot and help ensure you're all set up without crashing into trees or hookup points.
Figure out in advance how to stabilize and level your RV
You don't want your RV rocking back and forth all night – well, not unintentionally anyway – so make sure you know how to level it off.
Learning how to level and stabilize your RV takes some practice, but by taking your time, with the proper equipment, and being methodical in your approach, you'll soon master the art.
Read up on how to hook up your RV to the electrical supply, water, and sewer
This is probably the trickiest part of setting up camp for first-timers. There are a lot of hoses and cables involved, and it can be confusing to know what goes where.
Do some research before you go, so you have a general idea, and then ask for help at the campground if you're still unsure.
Start heating your hot water tank
If you want to have a hot shower when you get to your campsite, you need to start heating the water in your hot water tank.
Depending on the type of water heater you have, you could have hot water on tap, but other heaters may need a few hours for it to reach the right temperature. Make sure you do this before you need to shower.
Read more: Why We'd Never Travel Without Our RV Outdoor Shower
Unfurl your awning
If you're lucky enough to have an awning on your RV, extend it before setting up camp. It will provide shade and shelter from the rain, but it'll also give you some extra living space.
Prepare your outdoor camp
Once your RV is set up, take some time to set up the rest of your outdoor camp. This could include a rug to sit on, chairs, a picnic table, a hammock, and anything else you need to make yourself comfortable.
Also, think about your outdoor kitchen and positioning your fire pit, so it's not blowing smoke back into your RV.
Having everything ready to go will make it that much easier when you're ready to relax after a day of exploring.
You'll be ready to set up camp like a pro on your next RV trip by following these tips!
10. Learn How to Break Down Camp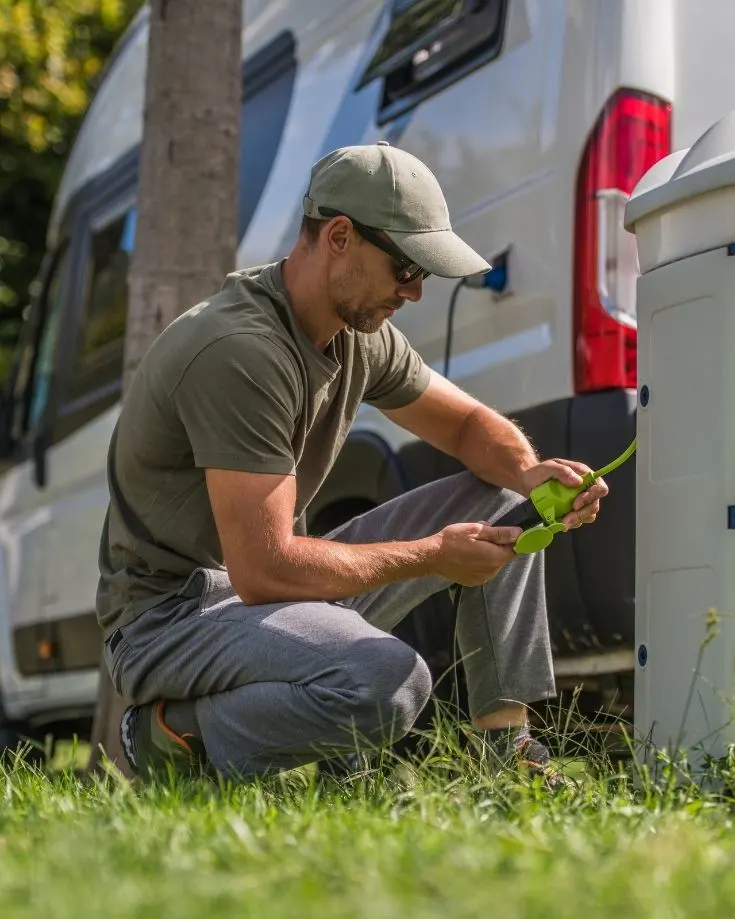 Break camp is arguably just like setting up but in reverse. To a point, that's about it but what's most important is how you pack your gear away.
By making sure everything packed up is clean, dry, folded, and stored as per the manufacturers' instructions, you can be sure it will arrive in one piece and ready to use at your next destination.
Also, don't forget to make sure everything is safely secured.
Even a small stray item left unsecured could become a lethal weapon in a road collision or even sudden braking. Strap items down to ensure they won't move around as you travel.
11. How To Power Your RV Appliances & Gadgets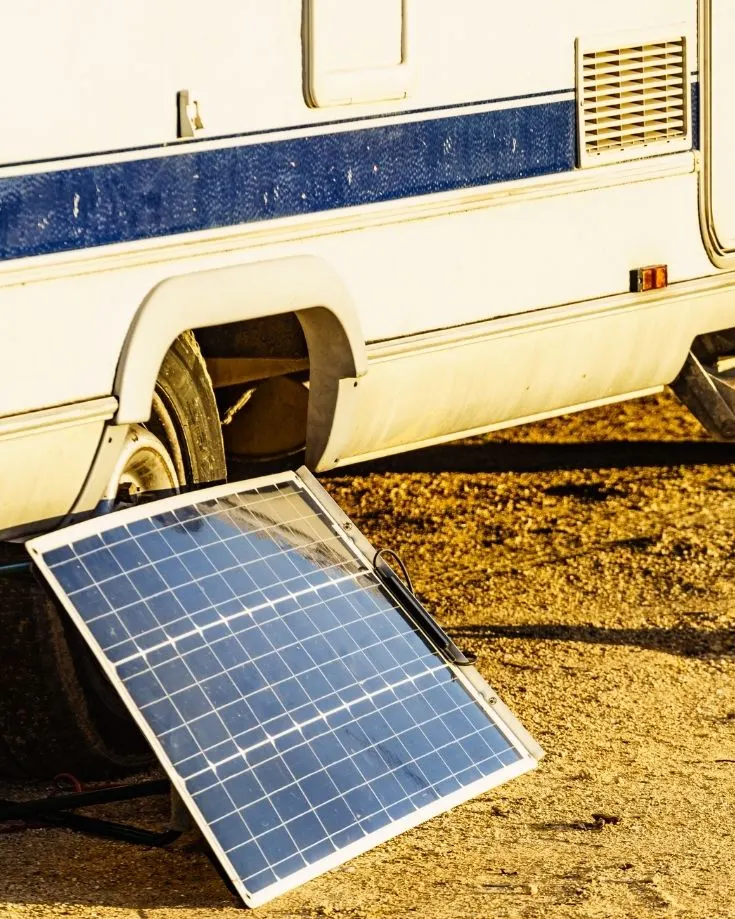 One of the great things about RVing is that you can take all the comforts of home with you on the road. However, all those appliances and gadgets need power to function. That means staying plugged into an electrical source – whether at a campground hookup or generator.
If you're not plugged in, your options for powering your RV are limited. You can either use a portable generator or rely on solar power.
Solar is an excellent option if you're dry camping (boondocking) as it's a renewable and environmentally-friendly way to generate power.
However, it's not always enough to run everything in your RV, so you may need to supplement with a generator.
Here are a few of the most popular ways to power electrical devices in an RV.
Of course, which combination you choose will depend on the RV's configuration and spec, your energy needs, and how and where you plan to camp.
12. Getting Internet On The Road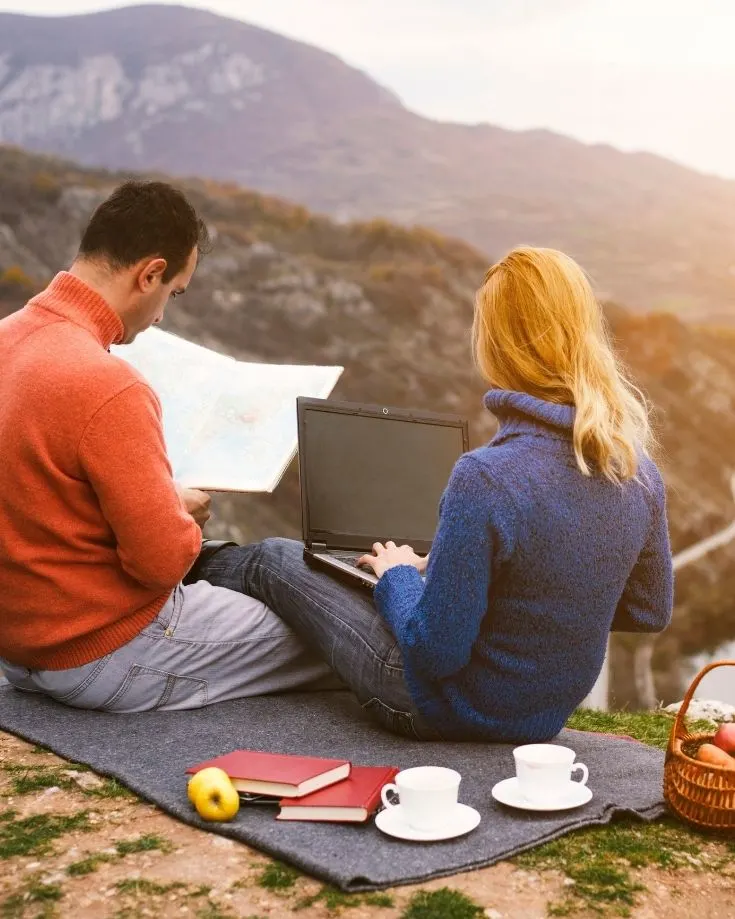 Staying connected to our family and friends is essential and not something we need to compromise on, just because we're on an RV trip.
There are a few different ways to get internet while on the road.
Free WiFi hotspots in your RV
RV park and campground WiFi
Mobile WiFi with wireless service providers
The best method for you depends on your needs, lifestyle, and budget.
Read More: A Guide To Getting RV WiFi & Internet In Your Camper
13. Set A Road Trip Budget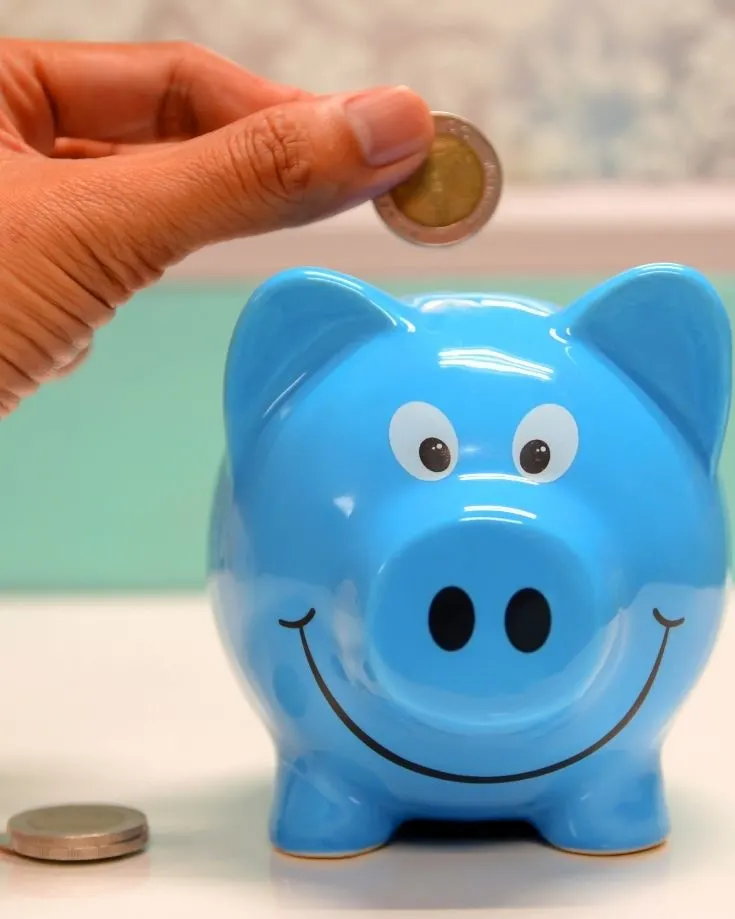 Fuel costs are at an all-time high right now, but it's always been one of the highest costs for an RV trip. RV parks' fees and food are the other most significant expenses.
In addition to the obvious costs, there are also many hidden costs associated with RVing. For instance, you'll need to factor in the cost of propane, laundry, and any repairs your RV may need.
So, it's important to be realistic when setting your budget and allow for some wiggle room for unexpected expenses.
Then you need to factor in the cost of sights, activities, and attractions you want to do along the way.
By planning ahead and being mindful of your spending, you can have a worry-free RV trip that doesn't break the bank.
14. RV Road Trip Money Saving Tips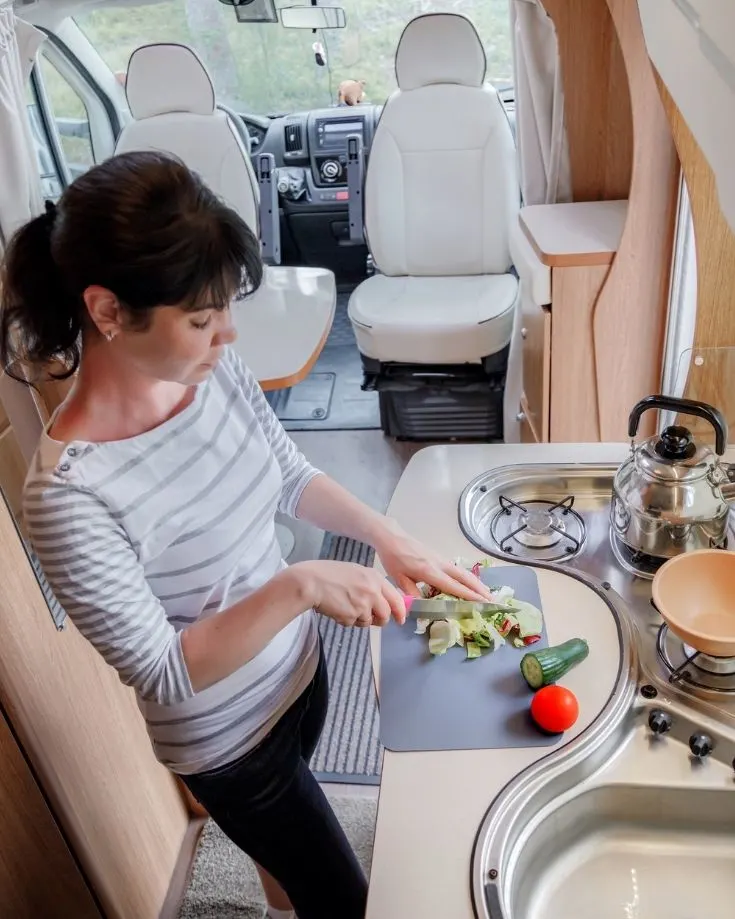 We don't all have deep pockets, and RV trips can be expensive, so making our budget stretch as far as possible is crucial.
Here are a few money-saving tips so you can make your budget go further:
Travel In Shoulder Season (Or Off Season)
If you're looking to save money on your road trip, traveling in the shoulder seasons (or off-season) is a great way to do it.
The campgrounds and attractions will be less crowded, but you'll also have a better choice of sites.
Unfortunately, the best sites on a campground get booked up first in the summer, so you often miss out if you book late.
Because shoulder seasons are only a few weeks before or after the high season, the weather is usually still quite good.
Although many campgrounds and even attractions close during the off-season, many remain open. These can present a tremendous money-saving opportunity, and you get to see an area in a completely different season than most people.
Save Money On Gas
You can spend less on gas by planning your route carefully and avoiding unnecessary miles. Instead of driving long distances every day, take your time and enjoy the journey.
Higher speeds generally use more fuel so avoid highways as much as possible. Instead, try dropping your speed by a few miles per hour when you can't avoid the highway.
You'll be surprised how much of a difference can make to fuel consumption.
Ensure the tire pressure is set to the correct level for your vehicle's loaded weight and the terrain. This will improve fuel efficiency.
The Gas Buddy app is also a must-have. It helps you find the cheapest gas in your area, so a considerable bonus for saving a few dollars.
Bring Your Own Food
This is a big one! One of the ways to save money on an RV trip is to bring your own food. This can be anything from packing sandwiches and snacks for the day to cooking your own meals on the road.
There are plenty of recipes for easy RV meals that you can cook with minimal effort.
Read more: 40 Easy RV Meals For Road Trippers
You will save more money by cooking your own meals, but you'll also enjoy the convenience of not having to stop for food as often. This is especially important if you're traveling with kids.
It's usually cheaper to buy at the local supermarket than the local convenience stores, but great produce is often available at local farmers' markets.
Wherever you buy your groceries, though, avoid the campground store – they usually charge a small fortune for pretty much everything.
Read More: Tips for RV Meal Planning (with a Free Meal Planner to Download & Print)
Boondocking or Stealth Camping To Reduce Campground Fees
Boondocking (or dry camping) is when you camp for free in an undeveloped area. This could be a rest stop, a parking lot, or even just pull off to the side of the road.
Stealth camping is similar but usually in a more built-up area, like in a town parking lot. The key to stealth camping is to be discreet.
That means no campfires, no generators, and no partying. You want to be as quiet and unobtrusive as possible.
Boondocking and stealth camping is a great way to save money on accommodation, but it's essential to research the legality of stealth camping in the area you're visiting.
When planning an RV trip, you could save a few bucks by boondocking for a few nights and treat yourself to a night or two in an RV resort.
RV Rentals Discounts
If you're renting an RV for your first trip, you've probably already seen how quickly the rental fees can rack up.
However, if you plan to rent for a peer-to-peer site, you can save some cash by using our discount code:
Follow this link to Outdoorsy and use the discount code "MOWGLI50" for $50 off your first rental.
15. Download The Best RV Apps Before You Go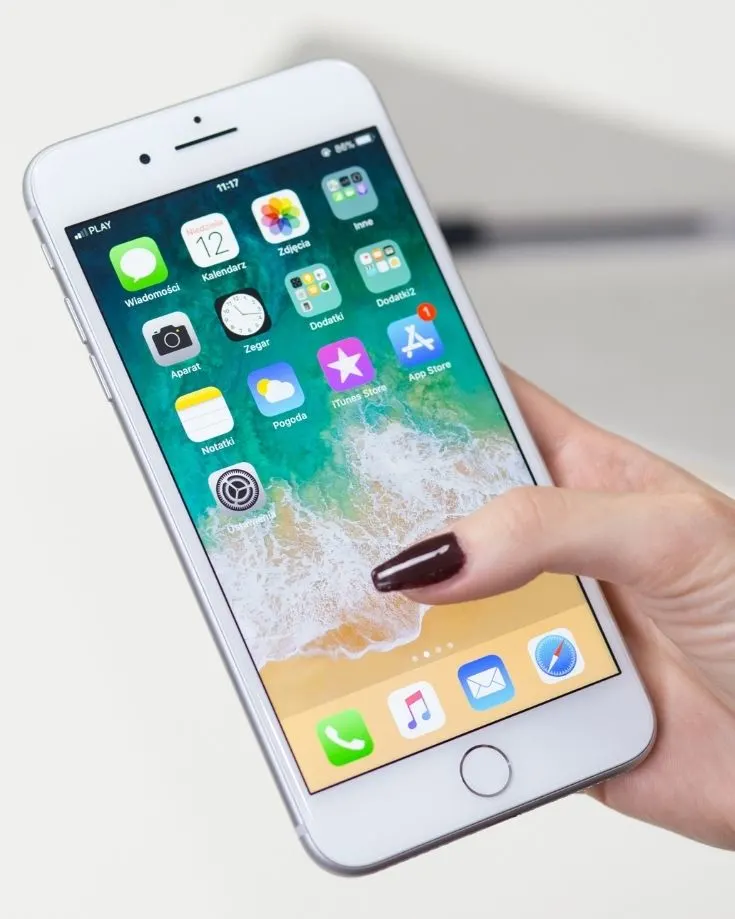 There are many apps available for RVers, and we wouldn't leave home without a few of them!
There's an app for everything, including route planning, campground search, RV parks, truck stops, scenic routes, and locating the cheapest gas prices.
Read More: The Best RV Camping Apps for Boondocking, Uniques Stays & Road Trips

16. Don't Forget To Enjoy The Journey!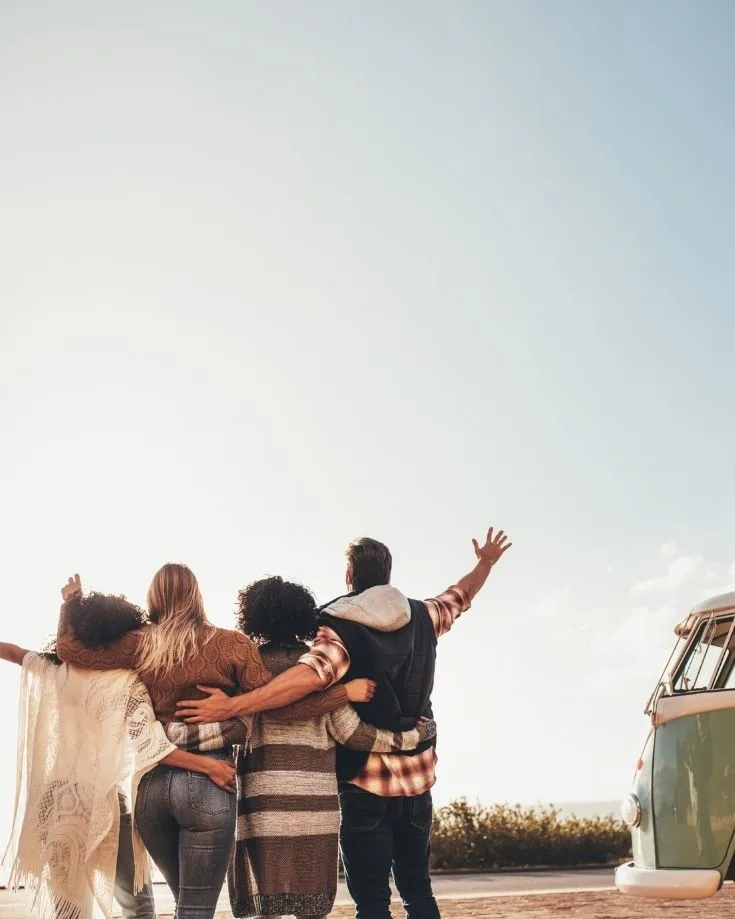 One of the best things about RVing is that it's the perfect way to slow down and enjoy the journey. Instead of driving long distances every day, take your time and enjoy the scenery.
Stop often, explore new places, and enjoy.
There's no rush so why not pull over and take a hike, visit a nearby town or have a picnic lunch in the park? You'll be surprised at how much you can see and do by taking your time on your RV trip.
Have fun and create lasting memories on your RV road trip! After all, that's what the RV lifestyle is all about!
Conclusion
So, there you have it! Our top RV trip planning tips to help make your first time behind the wheel of an RV a great experience.
If you're looking for more information and weekly tips and advice on living the van life, subscribe to get tips straight to your inbox. We can't wait to hit the open road with you!