Lounging in a hammock is idyllic and the best way to relax on a warm afternoon on camp.
The problem with hammocks is they need a couple of trees relatively close together to hang them on.
You need to secure them high enough so your butt doesn't drag on the floor but maintains a comfortable sitting height too.
The trees need to be robust enough to hold your weight and tied to prevent damaging the tree.
A portable standing hammock means you can use your hammock anywhere, without depending on nearby trees.
There is a wide range of hammocks available, and many are perfect for car camping, van life, RV living and even backpacking. This post guides you through choosing the best portable standing hammock for you.
We'll share the different types of hammocks, their benefits, what to look for when buying, and our top picks of portable hammock stand.
When you click on links to various merchants on this site and make a purchase, this can result in this site earning a commission. As Amazon Associates, we earn from qualifying purchases. For more info, please check our disclosure page.
At a Glance | The Best Portable Hammock Stands
1. Best Overall: Kammok Swiftlet Hammock Stand

Quick release buttons
Compact & lightweight
Holds up to 300lb

CHECK PRICE ►
2. Best Backyard Hammock with Stand: ENO SoloPod Hammock Stand

Tool free construction
Super fast assembly
Holds up to 400lb

CHECK PRICE ►
3. Best Folding Hammock Stand: Republic of Durable Goods, Mock One

Compact collapsible hammock
Weighs less than 15 lbs
Holds up to 250lb

CHECK PRICE ►
4. Best Value Hammock Stand: Vivere Double Cotton Hammock with Stand

Suitable for 2 people
Heavy duty steel construction
Holds up to 450lb

CHECK PRICE ►
Best Portable Standing Hammocks Reviewed
With so many different products available, finding a perfect camping hammock with stand can be a difficult decision. Our top pick is the best of the best, in our opinion, but it won't suit everyone.
Here are our top picks of portable standing hammocks for every camping style, including the best options for indoor use, backyard hammocks, road trips and outdoor camping.
1.

Best Overall: Kammok Swiftlet Hammock Stand
Features
Weight Capacity:

400 lbs

Portability: 17.4 lbs, includes carry bag with shoulder strap
Weatherproofing: Painted aluminium & UV treated plastic
Ease of Use: Easy!
Space Needed: 34 in x 41 in chair mode or 34 in x 74 in lounge mode
Made in the USA, the Kammok Swiftlet is the best all-around hammock stand on the market.
Packed into a relatively compact travel bag with a convenient shoulder strap, this stand weighs in at just over 17lb.
The Swiftlet is designed with ease of use in mind so setting it up is a walk in the park. No tools are required, with all parts simply clicking into place.
What's especially neat about the Kammok Swiftlet hammock stand is it converts to a chair hammock in seconds.
You don't even need to take it apart. Just swap the long base bar for the short bar and adjust the sliders on each arm to shorten the hammock's length. And that's it!
Once you have the hang of it, the total set up time is easily less than 2 minutes.
Made from painted aluminum tubing and UV treated plastic, the Swiftlet is weather-resistant, so it should last years.
Each foot has a plastic cap for better grip when needed, plus they protect the frame.
Its clever but simple design makes the Swiftlet the best option for portability and versatility.
If you need to use a bug net or rain tarp, use the arms to secure a taught ridgeline.
Things To Consider
The carry bag is 50 inches long, so it's not the most manageable bag to carry, especially over long distances.
It doesn't include a hammock, so you'll need to buy one separately.
2.

Best Backyard Hammock with Stand: ENO SoloPod Hammock Stand
Features
Weight Capacity:

400 lbs

Portability: 58 lbs, so not great for carrying long distances
Weatherproofing: Powder-coated steel
Ease of Use: Easy & fast set up
Space Needed: 10.5ft x 3.1ft
Eagles Nest Outfitters are also a US-based company. With over 20 years in designing adventure-ready hammocks, they've become a well-known name in the hammocking world.
Aesthetically pleasing, their ENO SoloPod Hammock Stand is as sturdy as any portable hammock stand gets.
The quick-release, tool-free assembly makes setup a cinch. Assembled in under 3 minutes, you won't waste time with Allen keys and instruction manuals with this hammock stand.
The heavy-duty steel frame is powder-coated to prevent weather damage, so the Solopod feels like a quality product that will last. The small, non-slip feet make it ideal on surfaces that may become slippery.
The package includes steel carabiners to attach your hammock easily. It works well at raising a bug net and tarp a few inches away from your face.
Things To Consider
At 58 lbs, it's pretty heavy, so not a great option for hikers but ok for car camping and van life. It makes an ideal backyard hammock.
It doesn't include a hammock, so you'll need to buy one separately.
If you plan on using this as a portable hammock, it doesn't include a carrying bag either. You need to make do with the box it came in or find a long enough canvas duffel bag.
3.

Best Folding Hammock Stand: Republic of Durable Goods, Mock One
Features
Weight Capacity:

250 lbs

Portability: 14.5 lbs include simple carry case with shoulder strap
Weatherproofing: Heavy-duty, powder-coated steel
Ease of Use: Simple, a bit more fiddly if using the Mock' mosquito net
Space Needed: 67in x 25in
With a company name like The Republic of Durable Goods, this portable hammock doesn't disappoint.
The Mock One is the most versatile of all the portable standing hammocks on our list.
The frame is made from tubular powder-coated steel, and it folds away just like a camping chair with quick-release elastic as found on many tent poles.
This assembly design makes the Mock One the fastest assembly of all these portable hammock stands. You can quickly put it up in less than a minute.
The stand's elongated feet allow weight to be better distributed across the ground, so it prevents it from sinking in soft ground, like at the beach or in muddy fields.
All this portability and convenience isn't at the cost of comfort, either. The folding hammock has two inbuilt pillows, one at each end.
You can even turn this into a complete hammock camping experience.
Accessories include an under quilt, top quilt, the Mock' squito Net and Mock Tarp, or you can buy the entire Samara Bundle with everything included.
Things To Consider
They'll be no swaying in this hammock because it holds the spreader bars by two fixed points at each end rather than one.
4.

Best Value Hammock Stand: Vivere Double Cotton Hammock with Stand
Features
Weight Capacity:

450 lbs

Portability: 31.2 lb, includes carry case
Weatherproofing: Powder-coated steel
Ease of Use: Mediocre, most time consuming set up
Space Needed: 110in x 47in
In all honesty, our preferred camping hammock stand is the ENO Nomad Hammock Stand, but it seems impossible to buy these days.
We're not sure if it's because of a sticking issue or they've ended production altogether.
So our next best alternative is the Vivere double cotton hammock with a space-saving stand.
At almost 30lbs, it's not for hikers but is far easier to carry short distances from the car.
The cotton hammock is comfortable and easily accommodates two people for lazy afternoon snuggles.
The space-saving steel stand doesn't need any assembly tools and includes a carrying case and a one year warranty. The ends of the steel tubing are fitted with plastic caps for a neat finish.
Set up takes a bit longer because it's assembled by inserting all the parts and using hand tightening nuts, bolts and washers to secure them all in place.
The adjustable hooks at each end allow you to raise and lower the hanging height of the hammock.
The canvas carrier bag is of good quality but lacks any organising pockets for all the bits and pieces needed to assemble it.
Things To Consider
The wing nut that holds the adjustable hook in place protrudes enough to touch the hammock's ropes when used at the higher settings. With prolonged use, this will cause chaffing of the fabric, so try to use the lower settings.
The way the stand is assembled feels a little more like a permanent set up, especially given the flat-pack like instructions.
Taking the tubes apart can be a little tricky because they can stick. We think this might be worse when used on sandy beaches.
Accessories for Portable Hammock Stands
Whatever your preferred hammock stand, there are a few accessories to enhance your lounging experience.
Bug Net
A bug net is a must-have accessory when sleeping in a hammock. Of course, it will keep the bugs out, but this protection also helps maintain your warmth and comfort by providing a small but powerful barrier against the elements shielding!
Quilted Liner
A quilted liner can act as a barrier between you and the cold surroundings, keeping you nice and warm all night long. In addition, quilted liners can also add a touch of luxury to your portable hammock and a lot more comfort.
Top Quilt
When you're out camping in your portable hammock, the last thing you want is to be cold and uncomfortable. That's where a top quilt comes in. A top quilt is a layer of insulation that goes on top of your hammock, adding an extra layer of warmth. It's also pretty lightweight, so it won't weigh you down when trying to pack light.
Why Use A Portable Hammock Stand?
The gentle swaying of a hammock helps you relax and unwind, but unless there are suitably positioned trees nearby to act as anchor points, you can't hang them.
Here are a few of the benefits and reasons why using a portable standing hammock is a great choice for camping trips.
Protect the Environment
Tying a rope around a tree can damage it, affecting its ability to absorb water and the nutrients it needs to remain healthy.
Tree-friendly hammock straps help minimise damage to the bark. If used correctly, these straps will help prevent bark damage but not tying anything around them is the best way to protect our trees.
A portable stand is an environmentally friendly way to use a hammock.
Use Anywhere a Traditional Hammock is Prohibited
Hanging a hammock is prohibited in some places, not least of all national parks, because of the potential for environmental damage.
You could even incur heavy fines for hanging hammocks on trees on some campgrounds or national parks.
Portable standing hammocks make an ideal alternative.
Mobility
Because hammock stands are lightweight and don't need to be secured to a fixed anchor point, they can easily be moved around, even once they're already set up.
So you can relax in the shade all day long by readjusting your position as the sun moves during the day.
As the sunsets, you can reposition the stand for the best views. In the evening, you can move closer to the campfire without compromising on your comfort.
And they're not exclusively for camping and travelling. Use a collapsible hammock stand at outdoor events like festivals and be the envy of the crowd!
More Camping Options (Hammock Camping is a Thing)
Camping in hammocks is increasingly popular.
Campers and backpackers are swapping their tents in favour of lightweight hammocks. Sloping, rocky or even wet terrain is no longer the recipe for an uncomfortable night's sleep.
With a rain tarp, bug netting and an under quilt or sleeping pad, you can turn your hammock into a tent.
Add a portable hammock stand to your backpack, and you can literally camp anywhere.
Desert Camping
We love the desert, especially the Sahara Desert. But guess what? The trees are few and far between.
Whether you want the flexibility of hammock camping or want to spend an hour or two gently swaying in beautiful surroundings, a portable hammock stand is a perfect anchor.
Perfect for Car Camping
Because portable standing hammocks are so compact, you can easily include them on your car camping packing list.
And because they're so easy to set up, you can be relaxing in front of epic views in minutes.
Setup on Uneven Terrain
Some portable standing hammocks aren't phased by uneven terrain. They can cope on a rocky river bank or sloping hillside just as well as soft beach sand.
And because they're lightweight, you can easily carry them from your car or camper to your chosen beauty spot.
Types of Hammocks
A few different types of hammocks are available, and each can be used with portable stands.
Spreader Bar or Rope Hammocks
When most of us think about gently swaying in a hammock between a couple of pine trees, we usually picture a rope hammock or spreader bar hammock above a white sand beach.
The spreader bars at each end serve to keep the bed area open, making it easier to climb on and off.
The rope fabric is usually either cotton or polyester and designed to be airy.
The downside of the macrame rope design is they create pressure points so that they can be uncomfortable. And if you've ever lain on a spreader bar hammock, you'll know how unstable they are.
Ideal for flipping you out and face planting the sand!
Brazilian-Stye Hammock
Unlike spreader bar hammocks, a Brazilian hammock is made from canvas or cotton fabric and gathered at each end.
In most countries in South America, not just Brazil, you'll see a hammock hanging on virtually every porch.
Hung with a deep sag, fabric hammocks are designed to provide stability, making them the perfect choice for sleeping.
Hammock Chairs
Hammock chairs are a space-saving alternative to traditional hammocks.
Hung from above, and often from only one anchor point, you still get the gentle, stress-relieving sway but in a more upright sitting potion.
Because they take up less space than a traditional hammock, they're ideal for indoor or outdoor use or a quiet corner in your backyard.
Hammock Tents
More than just day loungers, a hammock tent is a lightweight tent alternative for campers.
Usually made from nylon, hammock tents are travel-friendly. They're perfect for even extreme travellers with a travel case and equipped with a rain tarp, padded inserts, and bug net.
A portable hammock stand makes these the ideal, go-anywhere tent.
What To Look For In A Portable Hammock Stand
Freestanding hammocks have different features and specifications. Here are a few important considerations to look out for when comparing portable hammock stands.
Weight Capacity
Not all hammocks stands are made the same. How much weight each can safely hold depends on the strength of construction, engineering and building materials.
Check the manufacturer's specifications and take the weight of everyone likely to use it into account.
Some hammock stands can accommodate more than one hammock or double hammocks, so consider combined weights too.
It's best to leave some extra capacity, so you don't get too close to the limit.
Portability
The whole point of this post is to talk about portable hammock stands, but when we did our research, some models claiming to be portable aren't the most practical for van life.
Consider your lifestyle and how you'll use your hammock. If you're like us and on the move more often than not, you'll probably want a stand that packs up into a reasonably compact package and doesn't weigh a ton.
Consider how much extra weight you can carry, either on your back or in your camper van.
Look for a model with a convenient carrying case too. It will make moving it around more manageable, plus keep all the parts together.
Weatherproofing
Suppose you don't intend to leave your hammock stand exposed to the elements. In that case, weatherproofing may not be a significant concern for you.
Even then, dampness and moisture will eventually take their toll on some materials.
Powder-coated steel frames protect steel from the weather, so they prolong their life. Aluminium doesn't rust, so it is another excellent weather-resistant material.
Easy of Use
If your packable hammock stand is so complex and time-consuming to set up, you're unlikely to use it often.
Ideally, you want to aim for a stand you can set up in a few minutes without much drama.
Something more complicated might be ok for long term use, where you don't intend to dismantle it often.
Space Needed
Avoid collapse and tipping by buying the right size stand for the hammock you intend to use in it.
Ideally, the stand will be at least a couple of inches longer than your hammock and full stretch.
For portable stands, the folded size is equally important so you can find appropriate storage for it in your van.
Frequently Asked Questions About Hammock Stands
Do hammocks damage trees?
Hanging a hammock to a tree can damage its bark. Thin paracord or ropes can cut into the bark and affects its ability to absorb nutrients and moisture. Wider straps are better at distributing the pressure, so less damaging. The best way to protect the tree is to use a portable standing hammock instead.
Are hammock stands safe?
When hammock stands are used following the manufacturer's instructions for assembly and use, hammock stands are relatively safe. Falls from hammocks are always a risk, especially on spreader bar types. Keep the hammock stand at a safe distance from water and away from any electrical dangers. Never leave children unattended in or near a hammock.
How to fold a hammock
There's really no secret to how you should fold your hammock. The most important thing is to avoid wrinkles or folds in the fabric as best as possible. If the fabric is stored with too many wrinkles for a long time, those folds could become damaged. Stuffing it back into its storage bag is likely to lead to many small folds and creases, so that is probably best avoided. Laying it flat and folding it as you would a bed sheet makes for a tidy package, and it'll be much easier to get back into its bag.
Conclusion
It's hard to come out with an outright winner for the best hammock stand.
As with so many campervan accessories, it really depends on your intended use, budget and travel style.
For solo campers and hikers, we recommend the lightweight Mock One from The Republic of Durable Goods.
The ENO SoloPod Hammock Stand is the best for backyard camping and not as portable as the other stands on our list.
The best all-round portable standing hammock for portability and durability is the Kammok Swiftlet Hammock Stand.
Whatever you decide, a portable standing hammock is a great addition to any outdoor camp setup.
Like it? Pin it!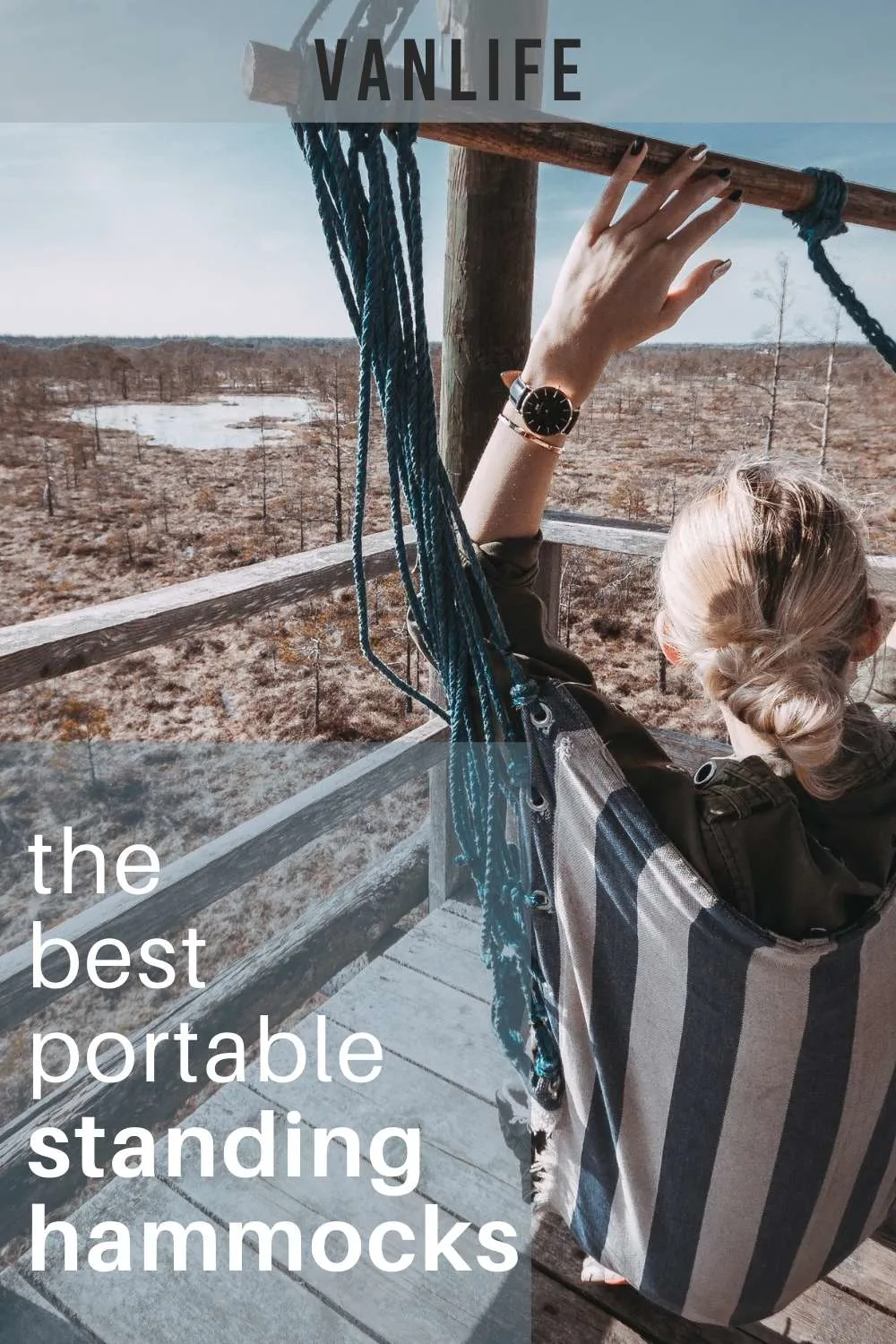 ---
Check out our introduction to portable hammock stands for a brief overview.