Portuguese food doesn't have the same high profile as some other European cuisines. Apart from port and sardines, nothing else immediately sprang to mind as being Portuguese.
We suspected it'd be much like the Spanish cuisine. To begin with, our experiences were a little hit and miss and many restaurants serve the hordes of tourists chicken and chips, burger and chips and even fish fingers and chips.
But seek and you shall find a more authentic Portuguese culinary experience. Portuguese food & drink is nothing if not fresh, simple and totally delicious.
Tips for dining out in Portugal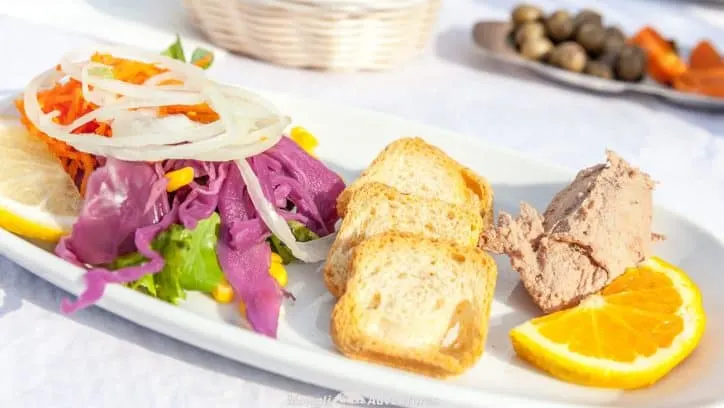 There are a huge number of restaurants in Portugal.
I don't just mean in the tourist destinations either. In rural villages with populations of 100 or so, you can find at least 3 restaurants serving local dishes.
There are a few cultural tendencies we noticed in Portugal we've not seen anywhere else. So here's a few tips on what to expect in a Portuguese restaurant.
In some European restaurants, diners seat themselves. This isn't the done thing in Portugal though. A waiter or waitress will see you and come and seat you soon enough.
Most restaurants have a large TV, always on and with the volume turned up high. Fellow diners will tuck into their meals whilst watching the latest news, soap opera, chat show or football match. It's simply the done thing.
Without needing to order, your waiter will bring entradas, or starters, to your table. This is usually a bread basket, olives and maybe a little cheese.
Watch your budget though because although you didn't order it, it isn't free. It's hardly going to break the bank but don't be surprised to see and extra 1 or 2 Euros added to your bill.
All restaurants serve one portion size: huge! So even if you feel hungry, take a look around at the plates of other diners before deciding on 3 courses.
If dining at lunchtime, make sure to check out the plate of the day (prato do dia) because it's often much better value than the other menu options.
Where to eat fish in Portugal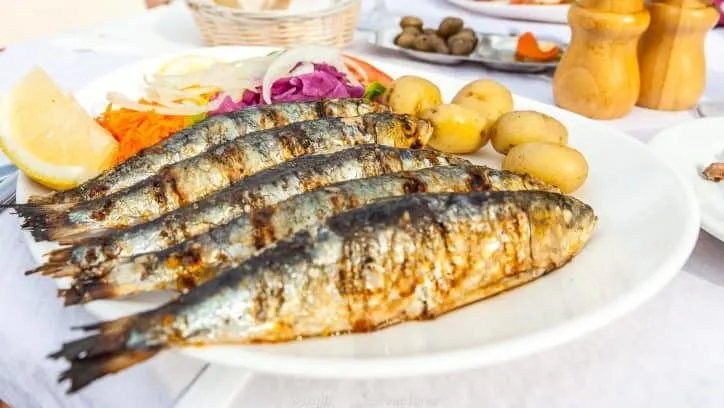 I love fish and there's a wide choice available along the extensive coastline. That said, it can be a little expensive, particularly in the Algarve and its popular restaurants.
If you're looking for the freshest catch, cooked simply with no fuss and not seeking a fine dining experience, head down to the local fishing harbour.
Here you will find the fisherman's cafés. The fishermen haul their catch ashore and the café owners immediately place some of the catch on the BBQ before sending the rest to the market next door.
The price is excellent, the fish as fresh as you'll ever get and you'll dine with the fishermen that caught your food!
If you'd prefer a slightly more refined experience, head into the square with the al fresco restaurants. The chefs here will have acquired your fish from the market around the corner but they are pleasant enough, if not a little more expensive.
Don't miss out on these Portuguese fish dishes:
Sardinhas assadas – barbecued sardines
Bacalhau à brass – shredded cod, onion, potatoes and olives
Caldeirada – a fish stew with several types of fishes and shellfish
Amêijoas à Bulhão Pato – heaven in a bowl of clams and coriander
Portuguese meat dishes not to miss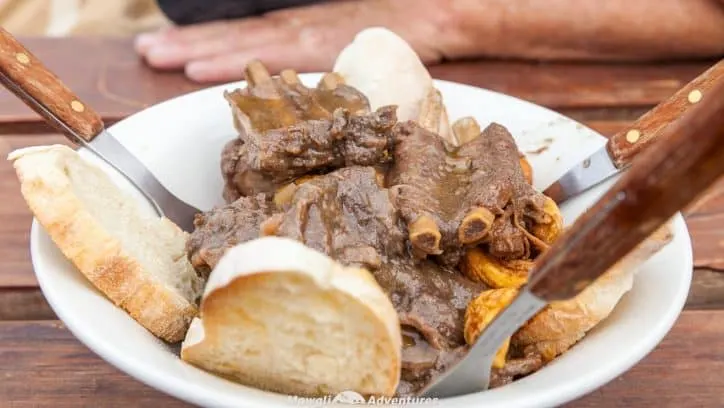 Pork is hugely popular in Portugal. There's even a Museum of Pork in Bragança. Need we say more?
You'll not be hard pushed to find a spit roast BBQ slowly roasting a pig or a large pot of hearty pork stew, particularly in the north of the country.
Like fish, meat is almost always served with potatoes, rice and salad. Hearty indeed and wonderfully succulent.
Of course, beef and chicken are also widely available and some of the steaks are just scrumptious. Served in a puddle of meaty gravy, it's impossible not to order a basket of fresh crusty bread to mop up your plate.
Don't miss out on these meat dishes while you're in Portugal:
Cozido à portuguesa – a hearty meat stew with a tiny amount of vegetables (or garnish as Graham's refers to veg)
Francesinha – a seriously meaty sandwich popular in Porto
Posta Mirantes – thick tenderloin beefsteak cooked over a hot fire. From free-range Mirandesa cows, the flavour is amazing
Read more about the chestnut festival in Vinhais, northern Portugal
Portuguese drinks you must try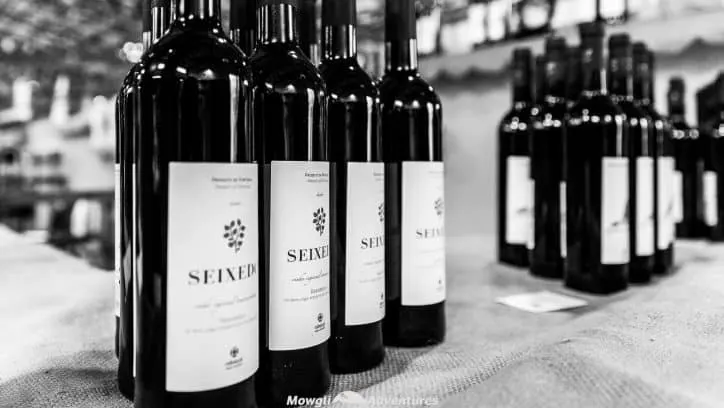 Port & Vinhos
Portugal is of course, famous for its production of Port. The entire Douro Valley is given over to its production and increasingly to some fine wines.
We visited a really interesting Port museum in Peso Da Regua. A few euros entry, and we learnt about the history of the Douro Valley and its port making traditions.
It's fascinating and with an excellent glass of port to finish off your visit, is well worth a couple of hours of your time.
Orange juice
Portugal is a huge orange growing nation and it's possible to pick up 10kg of oranges in a local market for about 4 euros.
I'm not sure what we'd do with quite so many, but it gives you an idea of the price. It is then a little hard to swallow when a café wants to charge you almost 3 euro for a glass of freshly squeezed juice. Even so, it is delicious.
Coffee
Drinking coffee in Portugal is a serious business. If spending a day in Lisbon, order uma bica in or um cimbalino in Porto for one of the finest expresso coffees available!
Sip it slowly while watching the world go by. It's hard to beat.
Try cooking Portuguese food at home or in your camper van
When you click on links to various merchants on this site and make a purchase, this can result in this site earning a commission. As Amazon Associates, we earn from qualifying purchases. For more info, please check our disclosure page.
Are you a chef in the making? Why not try to make a few of the dishes at home with this Portuguese recipe book?
Culinary tour of Portugal
If you're short of time maybe try a guided food tour in Porto. It's only 4 hours long and you get to taste loads of Portuguese food & drink too.
Like it? Pin it!