The northern gateway to Chilean Patagonia, Pumalin Park is an outdoor lovers playground.
With as many as 3 ferry journeys needed to reach its northern limits, just getting here can be quite an adventure.
With some of Patagonia's most beautiful hikes, trails and even a smouldering volcano, it's unlikely to lose popularity anytime soon.
Here's our guide on things to do in and around Pumalin Park – the hiking capital of northern Patagonia, Chile – including transport and accommodation recommendations.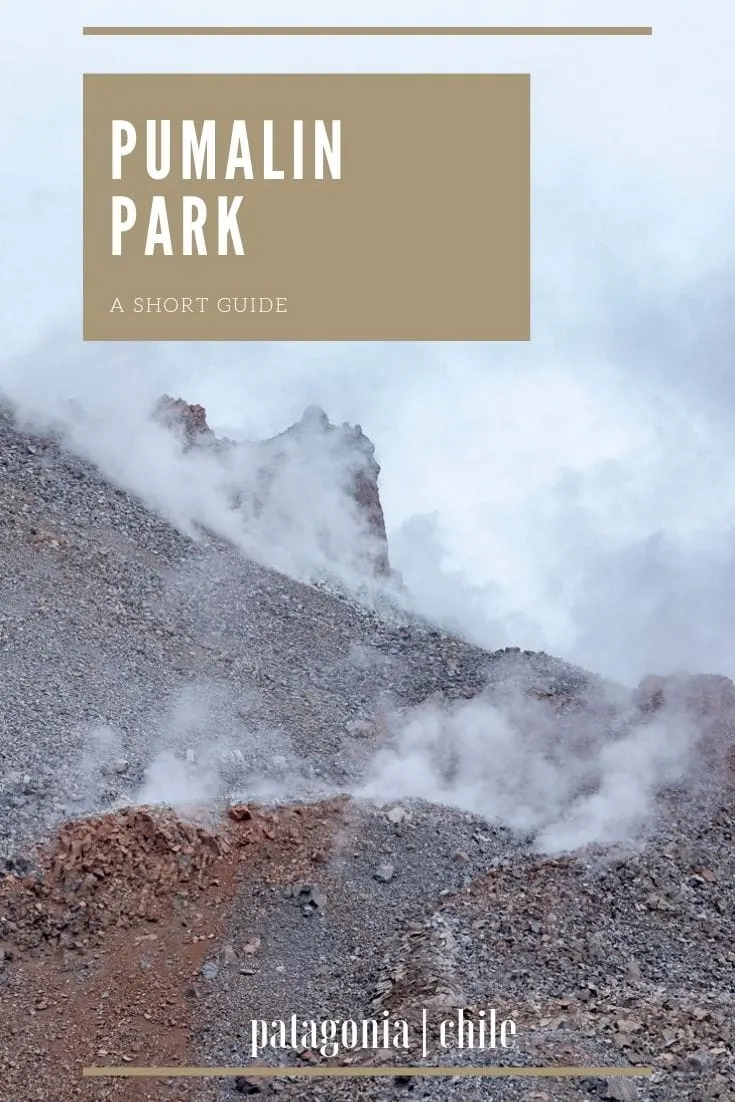 A Brief History
In 1991 Douglas Tompkins bought 42000 acres of land in what is now Pumalin Park.
After years running major corporations – Doug founded North Face and Espirit clothing companies, he decided to escape the rat race. But Doug didn't just buy a camper van and go off to travel the world like us.
Oh no. With the millions of dollars he'd made when he was in business, Doug began to buy up land in Patagonia at risk of logging. Not to develop it, as many in the corporate world might, but to conserve it.
Despite initial hostility from locals, sceptical of Doug's intentions, he continued buying adjoining plots of land. The tide of support for his efforts began to switch when the Chilean government proposed to dam the Rio Baker.
Under their proposals, the Patagonian landscape would acquire a new feature. A 1500 mile row of electricity pylons.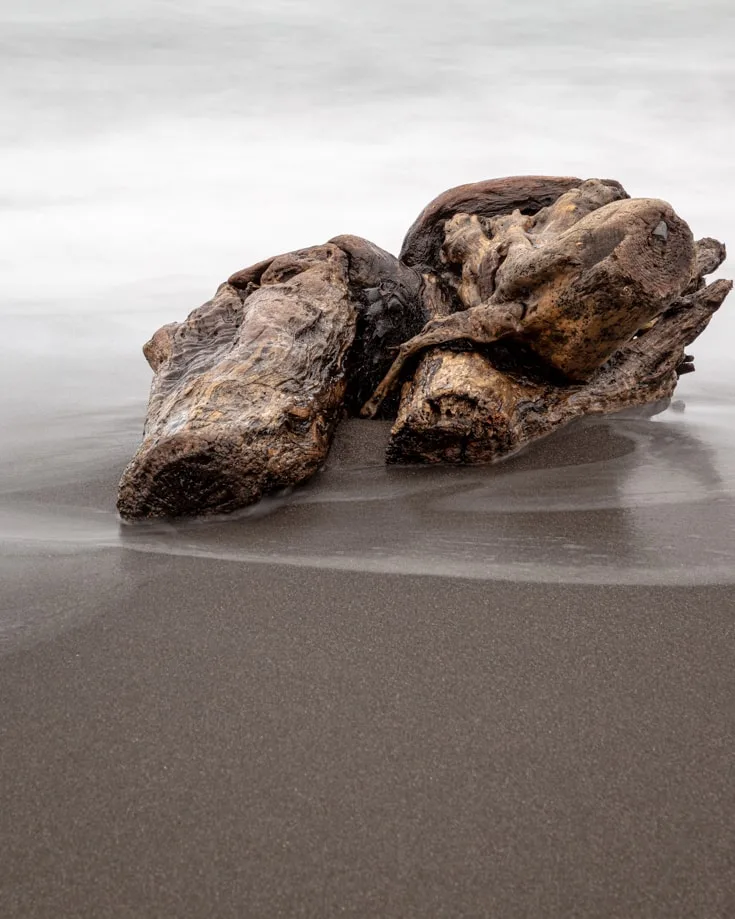 To encourage Chileans and visitors from around the world to experience the unique and spectacular landscape in Pumalin Park, Doug's foundation developed a network of cabins, campgrounds and trails.
In 2005, the Chilean president designated Pumalin Park a Nature Sanctuary. Doug later donated the protected lands back to Chile.
Take a look at this video about how he fought to build the parks here.
Day Hikes in Pumalin Park
Parque Pumalin has a wealth of opportunities for outdoor lovers. There are many things to do, from hiking, cycling, canoeing, fishing and much more.
For avid hikers, Parque Pumalin must be on your Carretera Austral itinerary.
If you're not a serious hiker but want to try out a few Patagonian trails, it's the perfect place for you too.
Most, if not, all trails are manageable as day hikes.
While some hikes like Ventisquero El Amarillo are up to 20 kilometre treks, others are much shorter.
Pumalin Park covers almost a million acres filled with granite peaks, crystal clear rivers and lush, dense forest, home to some of the oldest trees on earth.
Here are our favourite day hikes in Pumalin Park to get you off to a great start.
Hiking Volcano Chaiten
Thought to be dormant for over 9000 years, Volcano Chaiten surprised everyone and erupted in May 2008.
Chaiten town and the surrounding Pumalin Park were badly affected by falling volcanic ash, and the area was closed for a couple of years.
The citizens of Chaiten have since returned and the park trails re-opened.
Today, a hiking trail up the still smouldering volcano is a highlight of any visit to northern Patagonia in Chile.
The trail begins with a gentle walk through a lush forest. Crossing a wide rocky riverbed, using the boulders like stepping stones, it quickly begins to climb.
Soon the trail becomes little more than a zig-zagging staircase.
Each step a different height, the forest thins, until all that surrounds us is the ghost-like remains of tree trunks.
A little further and any remaining trees are uprooted, serving as perfect resting posts before the final steep scramble to the crater's rim.
Once at the top, the climb is completely worth it. A new volcanic cone, created during the 2008 eruption, rises from the crater below. It still smoulders.
Dead, fallen trees surround the rim while solid brain like lava divides a crater lake in two.
The volcano feels very much alive from the top. A large rockfall on the smouldering cone was enough to startle us into beginning our descent! It scared the living daylights out of us.
We got down a lot quicker than we got up!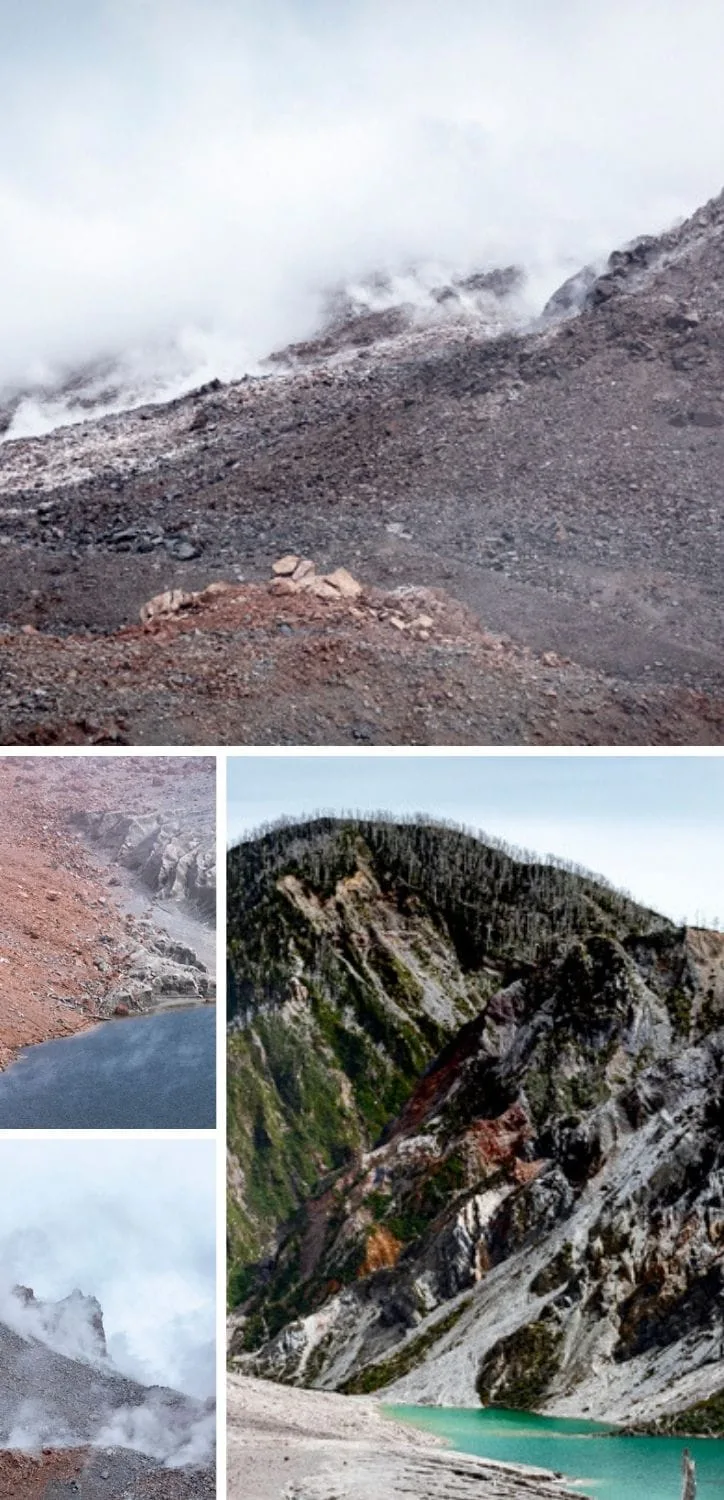 What You Need to Know about Hiking Volcano Chaiten
Distance | 4.4 kilometres round trip
Difficulty | This was the toughest of all the hikes we did in Pumalin Park. It may not be far in terms of distance but it's so steep!
Ascending 600 metres over the final kilometre or so, our legs knew about it for a couple of days after.
Bring hiking poles – they'll make all the difference.
Duration | It took us 5 hours all told with 1 hour spent at the top. But we're slow. If you're fitter than us it won't take this long.
Getting there | The start of the trail is about 24 kilometres north of Chaiten town and parking is available.
If you don't have your own transport, hitching is the best option if you miss the daily bus that leaves Chaiten for Caleta Gonzalo each morning.
Sendero de Alerces
The southern equivalent of Californian redwoods, the towering Alerces trees dominate this area of Patagonia.
If estimates prove correct, these 4200-year-old Alerces are some of the oldest living trees on the planet.
These same trees were under threat of logging in the late 1980s and 1990s, the main reason Doug Tomkins began on his path of conservation here.
This short trail is well maintained. A wooden bridge spans the turquoise clear river.
The forest floor is soft underfoot, damp yet protected from the worst of the Patagonian winter weather by the huge evergreen canopy high above.
The trail meanders through the forest and strategically placed boards provide visitors with information on the flora and fauna here.
This isn't a hike for those out for an energetic morning. Rather a place for quiet contemplation and a peaceful stroll surrounded by the sound of nothing but nature as it was intended.
Patagonia may be known for its dramatic jaw-dropping landscapes but don't miss the beauty in the detail too.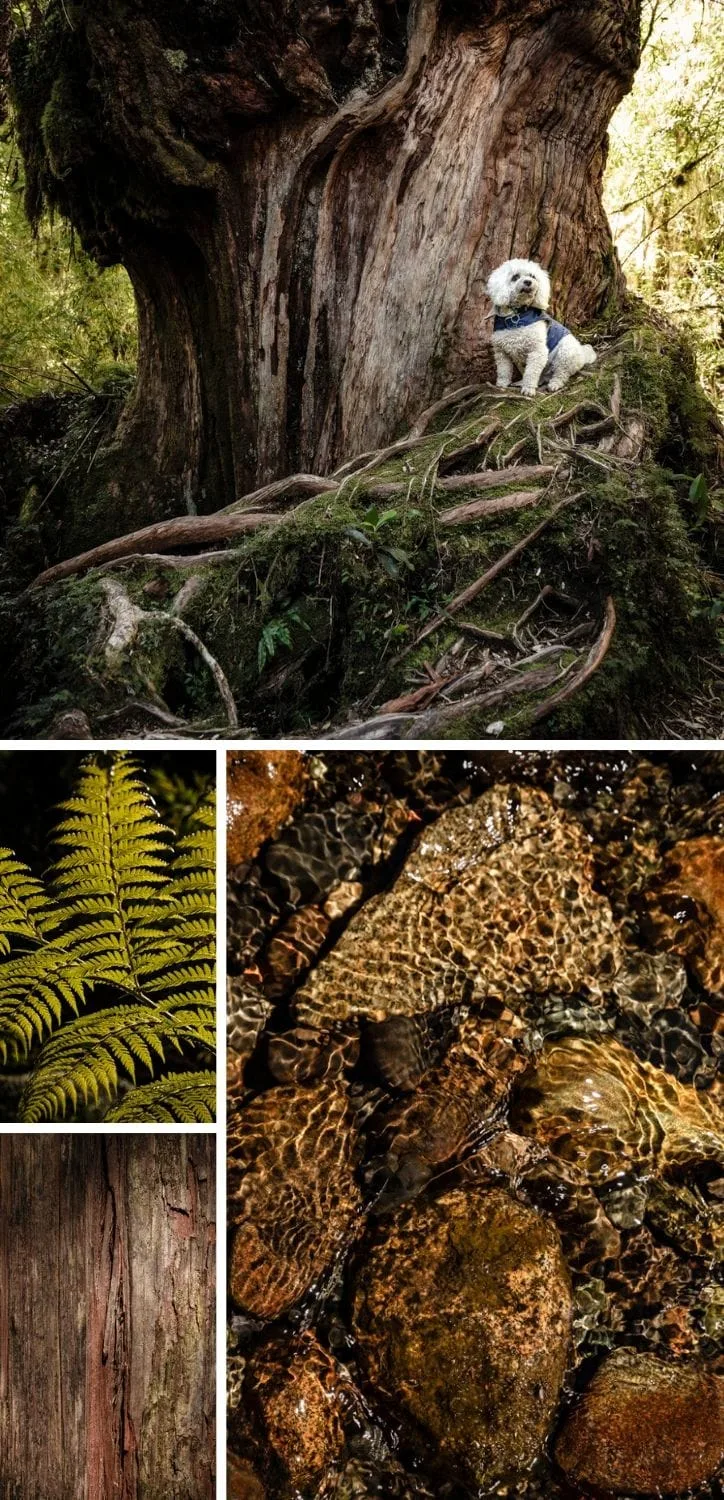 What You Need to Know about Sendero de Alerces
Distance | 1.5 kilometres round trip
Difficulty | The easiest of all the day hikes we did in Pumalin Park. It's more of a stroll than a hike but a good way to limber up the leg muscles before the next hike – which we did on the same day.
Duration | It took us an hour to bimble round. We were accompanied by a friend Kirsi and her dog Jack so couldn't help stopping for photos of him!
Getting there | The start of the trail is about 45 kilometres north of Chaiten town and parking is available.
Again, if you don't have your own transport, hitching is the best option if you miss the daily bus leaving Chaiten for Caleta Gonzalo each morning.
Cascadas Escondidas
This trail somehow cuts through thick vegetation native to the area. The forest here is humid, so reaching each waterfall is a refreshing break on the uphill hike.
The forest here was the most wonderful we saw in Patagonia. Every inch of the forest floor is covered by lichen, ferns and giant rhubarb. A creepy-crawly spa!
This is an outdoor paradise and while the hike itself only takes a couple of hours, we highly recommend you take the time to enjoy this trail.
You'll see many more waterfalls further south along the Carretera Austral but none accessed through such pristine and dense forest.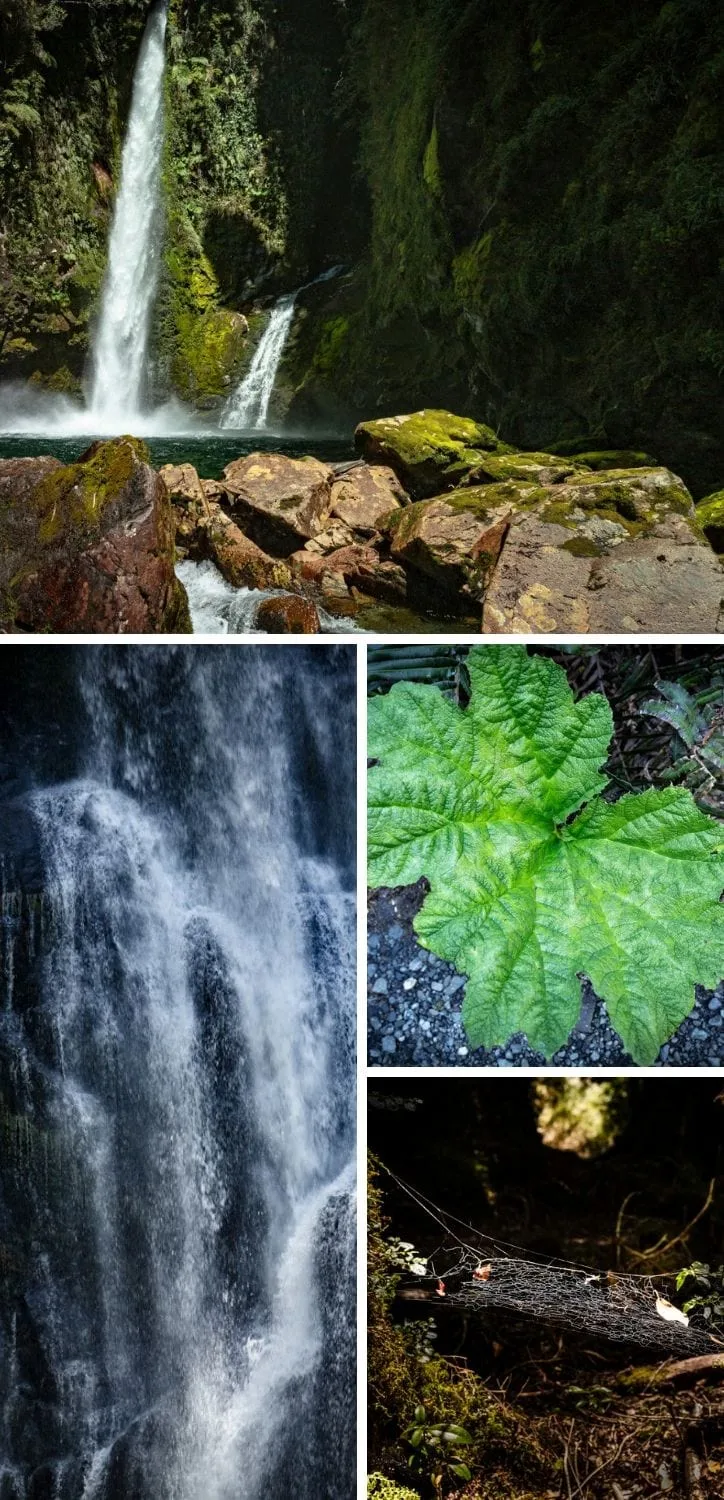 What You Need to Know about Cascadas Escondidas
Distance | 2 kilometres round trip
Difficulty | The trail up to the first of the waterfalls is pretty straight forward and quite easy. After this, the going gets a little tougher.
Parts of the trail aren't in good condition but the rangers have built wooden ladders and steps to help you get your footing. Take care when it's wet.
Duration | It took us about 3 hours all told but we stopped a lot for photos and to cool off in the spray.
Parts of the trail were pretty treacherous because it was so wet. And it wasn't even raining!
Take care, wear sensible shoes and bring a raincoat. Take a look at our post for more information on packing for Patagonia.
Getting there | The start of the trail is about 43 kilometres north of Chaiten town and parking is available.
Again, if you don't have your own transport, hitching is the best option if you miss the daily bus leaving Chaiten for Caleta Gonzalo each morning.
Where to stay | One of the established campgrounds in Pumalin Park is here at the start of the trail. Camping is free except during the high season.
Ventisquero El Amarillo
If you want to get up close to a glacier, this long hike to Michinmahuida Glacier is a must.
The trail is 20 kilometres long and takes at least 6 hours so one of the full-day hikes in Pumalin Park.
We passed on this hike and hope one day to return to do it. Let's hope the glacier is still there then!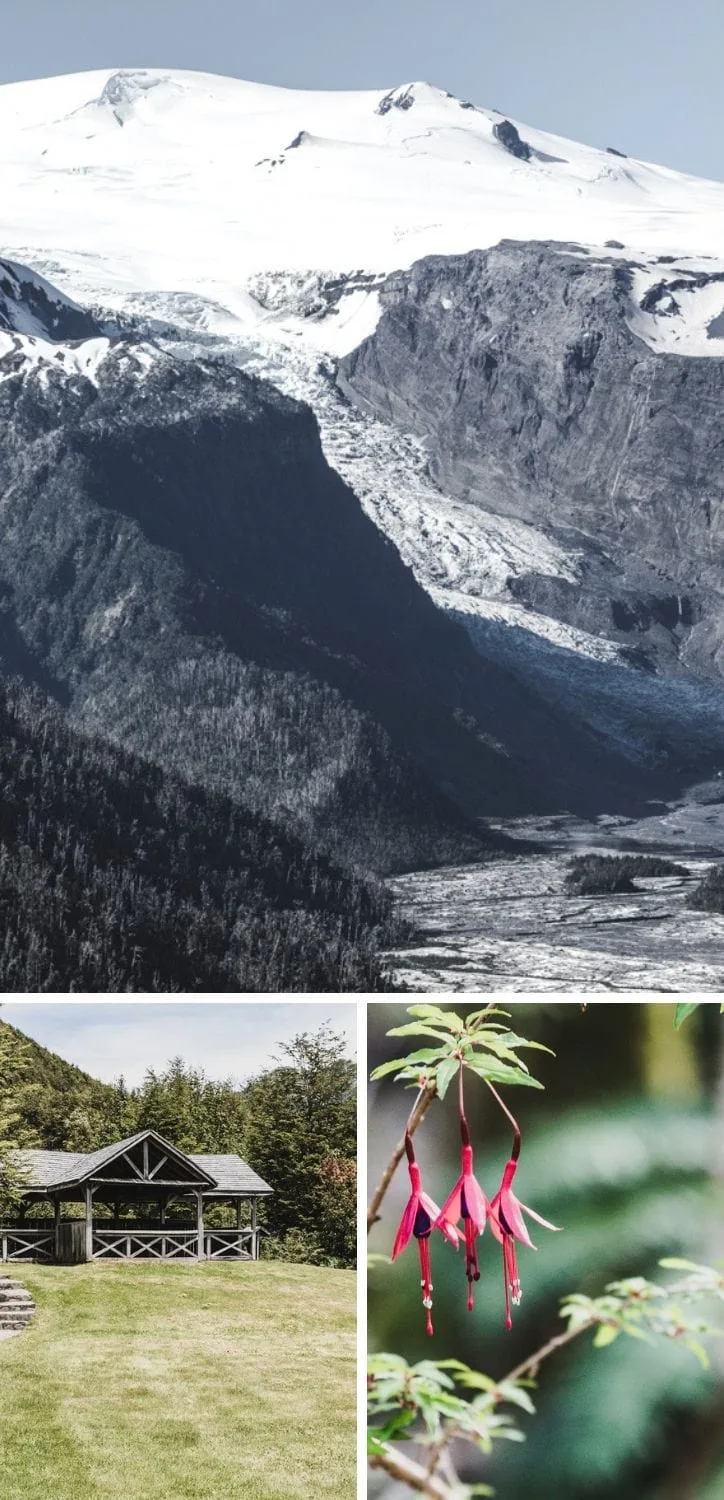 What you need to know about Ventisquero El Amarillo
Distance | 20 kilometres round trip
Difficulty | The trail is pretty easy going and mostly flat. But parts are especially uneven and there's a river crossing too.
While crossing the river isn't difficult, bear in mind the river gets a little higher later in the day (so on your return trip) as the midday sun melts the snow.
If you think it's too high in the morning, think carefully before proceeding.
Duration | This is going to take at least 6 hours. We didn't do the full trail instead opting for a shorter route for views of the glacier without killing our already weary legs.
Getting there | The start of the trail is from Ventisquero Campground so perfect for an early start straight from camp.
For more information on trails and full-day hikes in Pumalin Park, check out the official website here.
Other Things To Do Nearby
Visit Chiloe Island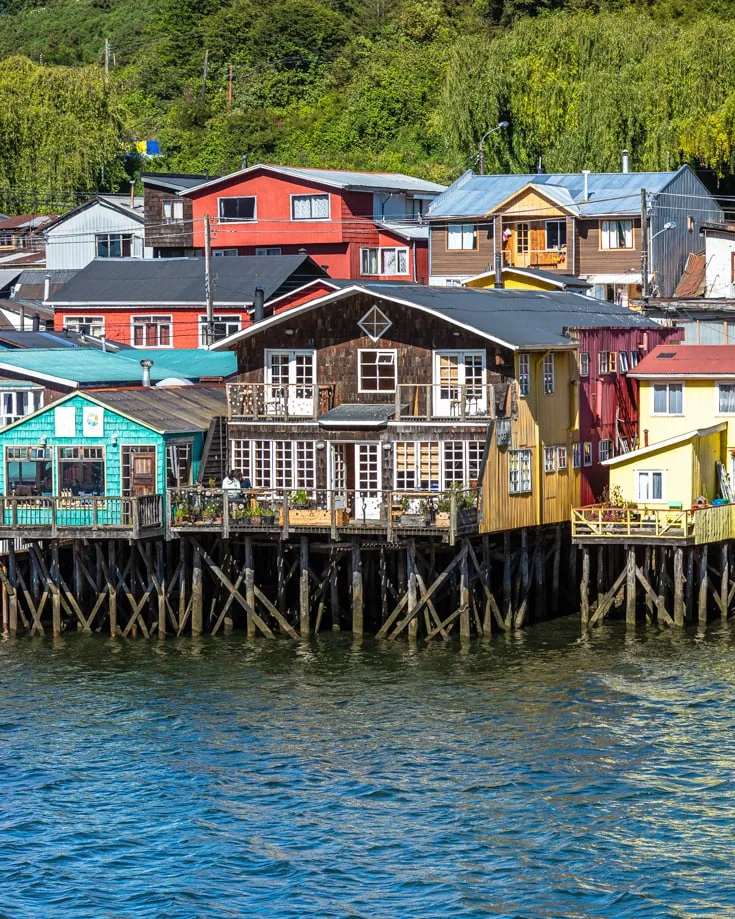 Chiloe Island is a 4-hour ferry ride away from Chaiten. The island is unique, unlike anywhere else in Chilean Patagonia.
Rolling hills, lush fields bursting with corn and potato harvests and remote, deserted beaches.
Chiloe is the largest island with the Chiloe archipelago so perfect as a base for exploring some of the smaller islands, complete with their history, witch tales and umpteen UNESCO wooden churches.
Drive the Carretera Austral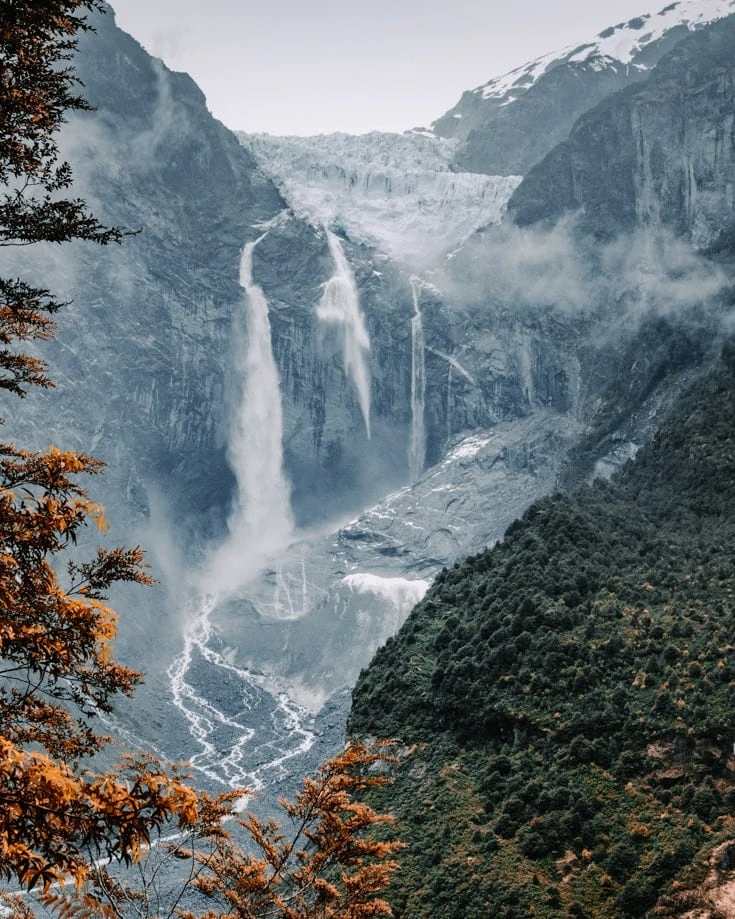 One of the most epic road trips on the planet, the Carretera Austral really feels like it begins here in Pumalin Park.
The road narrows, the volcanic dust kicks up when it's dry, or has you sliding around if it's wet.
Potholes are deep, giant rhubarb lines the route and around every corner is another completely stunning view.
Make Parque Pumalin the start of your driving adventure along the Carretera Austral.
Wildlife Watching
The dark volcanic sands of the beach at Santa Barbara serve to remind visitors of the recent eruption of the once thought dormant volcano, Chaiten.
The fine sandy beach is a perfect place to unwind after a tough hike. We enjoyed it so much here we stayed a couple of days watching seals and dolphins patrol the shallows.
If you're really lucky, you may even spot Blue Whales, Humpbacks, Pilots or Sperm Whales right from the beach.
When you walk northwards along the beach make sure to keep one eye on the tide. It comes in here quite fast and you'll get trapped at the edge of the forest if you don't get back in time.
The Best Time to Visit
The weather in northern Patagonia, Chile is less extreme than in the south so Pumalin Park is accessible all year round.
Summer temperatures hover around 20°c, dropping to a little over 0°c in the winter months.
Check out our definitive guide to the regional seasons to find the best time to go to Patagonia.
We visited in December, so early in the season. The weather was mostly pleasant, a little cool and we had occasional rain. Much like a British summer really so we felt quite at home!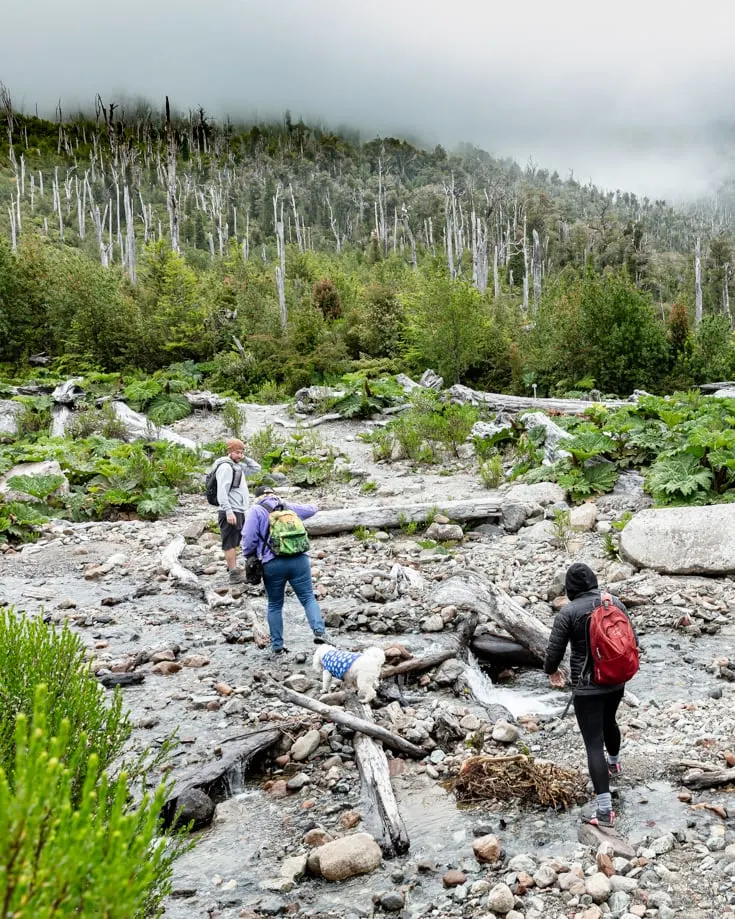 How to Get to Pumalin Park
Now getting to Pumalin Park is easy, though a mini-adventure. There's 3 routes into the park:
From the north
The most boring and uncomfortable route is on the overnight ferry from Puerto Montt to Chaiten.
Navier Austral operates the ferry. The 12-hour crossing costs around 17000 CLP | $25 | £19 | €20 per person one way plus 147000 CLP | $216 | £173 | €176 for a camper van.
The more adventurous route is to:
take the road from Puerto Montt to Caleta Arena,
take a 20-minute ferry to Puelche,
drive 60 kilometres to Hornopiren,
take the 5-hour ferry to Caleta Gonzalo – this includes disembarking at Leptepu where all onboard vehicles drive in convoy to Fiordo Largo for the final ferry crossing.
Book the ferries in advance if you want to take this route.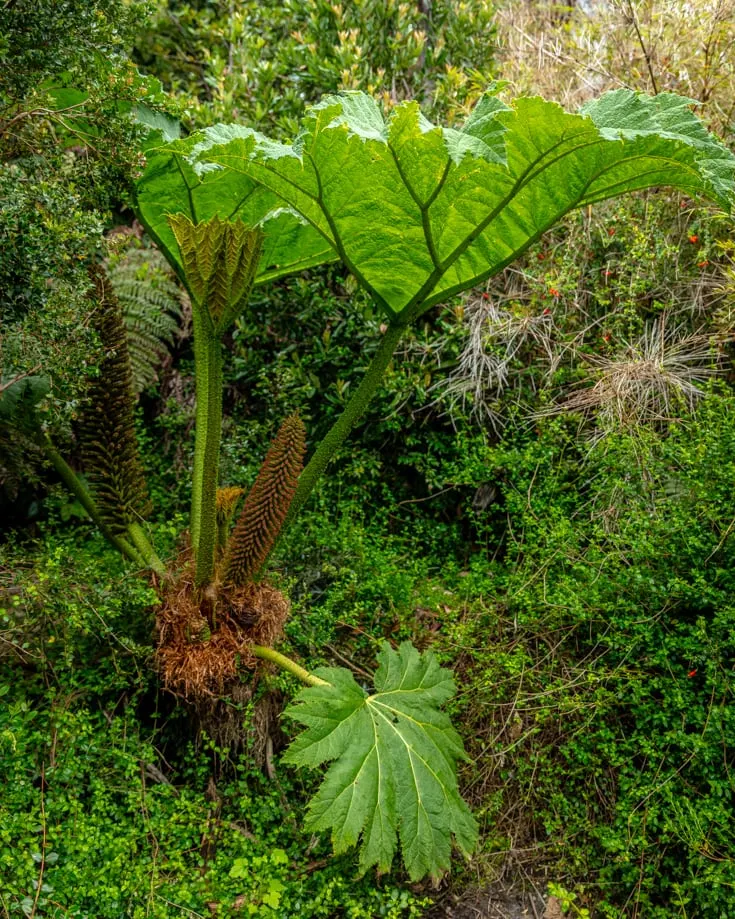 From the west
If like us you've spent a few days exploring Chiloe Island, you can hop across to Pumalin Park on the 4-hour car ferry from Quellon direct to Chaiten.
Navier Austral operates the ferry too. The crossing costs around 15000 CLP | $22 | £17 | €18 per person one way plus 111000 CLP | $160 | £126 | €141 for a camper van.
There are only around 2 ferries each week, even at the height of the season so you must book ahead, especially if you have a vehicle.
From the south
If you're driving the Carretera Austral from south to north, you'll leave either Futaleufú or La Junta before reaching Chaiten. Just keep following Ruta 7.
Getting Around the National Park
We travel in our self-build camper van Baloo so have the flexibility to not only sleep wherever we like but to travel around independently too.
If you're travelling in your own vehicle or rental, the unpaved roads in Pumalin Park are in reasonable condition so a 4×4 isn't essential, especially when dry.
Public transport is limited to one bus running between Chaiten and Caleta Gonzalo once a day. You can pick it up and get dropped off anywhere along the route. But there's no guarantee there'll be space or even that it'll run every day.
Without transport, hitchhiking is the most practical way to get around. Park rangers, passing tour buses and even especially kind people in camper vans will make sure you're not left out in the cold.
We recommend you arrange a rental vehicle from Puerto Montt for the most flexible way to travel around the park.
Entrance Fee
All this incredible beauty, well-maintained trails and jaw-dropping views must cost a packet right? Nope. Completely free!
Where to Get Supplies
Towns (or rather villages) are few and far between in Pumalin Park so come prepared. If you arrive from Puerto Montt in the north, you'll reach Hornopiren first.
While there are a few local stores and even an ATM and restaurant or 2, we recommend you get all the cash and supplies you might need from Puerto Montt.
If you've arrived in Pumalin Park from further south on the Carretera Austral or from Chiloe Island to the west, you'll reach Chaiten first.
There are a few shops in Chaiten but no ATM and credit cards are rarely accepted.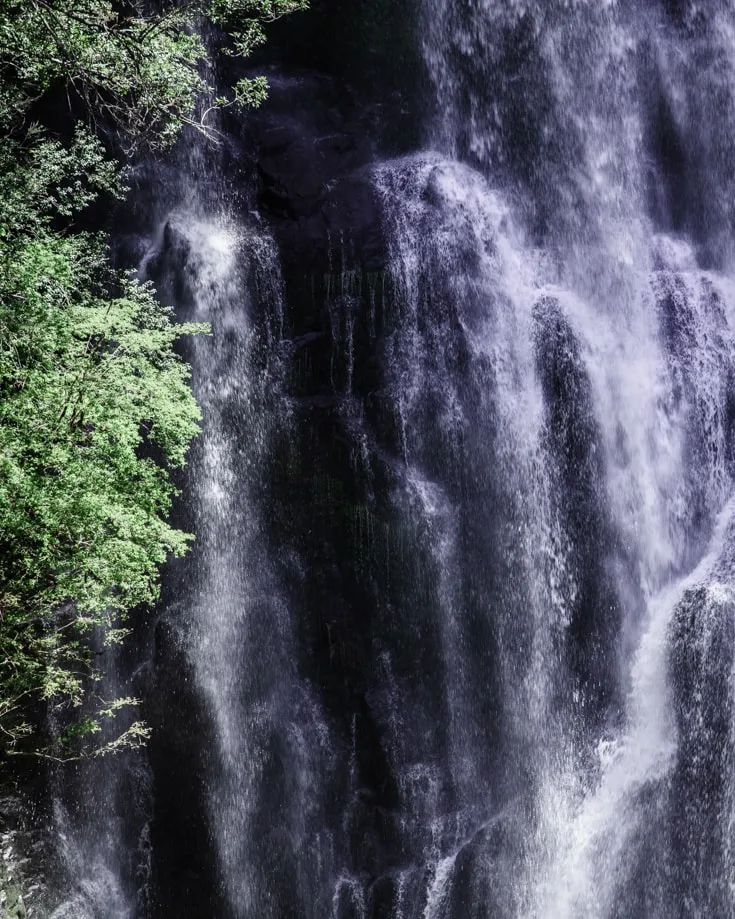 If you do manage to pay by card, make sure to check your receipt carefully before you leave. Some overlanders have experienced double charging in some of the shops.
Perhaps an honest mistake but take care anyway.
ATMs often don't work in Patagonia and supplies of fresh food are limited too.
Unless you're following the weekly vegetable delivery truck. So stock up on supplies wherever and whenever you can.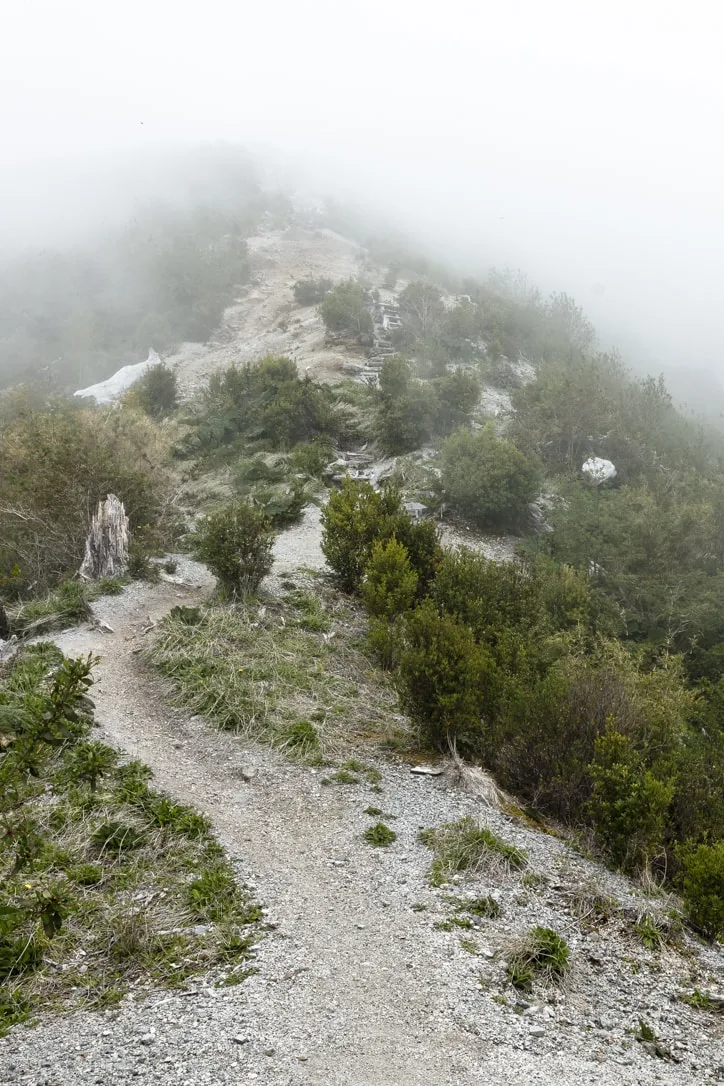 Camping in Pumalin Park
Rangers maintain more than half a dozen campsites within Pumalin Park. They were some of the most stunning campsites we found on the whole of the Carretera Austral.
Most of the campsites (but importantly not all), are accessible in your car or camper van.
Car camping is on the increase in Patagonia as well as everywhere else in the world it seems. So make sure you pack these car camping essentials to make the most of the fabulous opportunities in this part of the world.
Facilities are spotlessly clean, albeit the cold water showers are positively glacial. Don't expect wifi or electricity though. This is rural Patagonian Chile at its finest.
The manicured grounds, located at the start of most hiking trails and with enviable views make these campsites especially popular.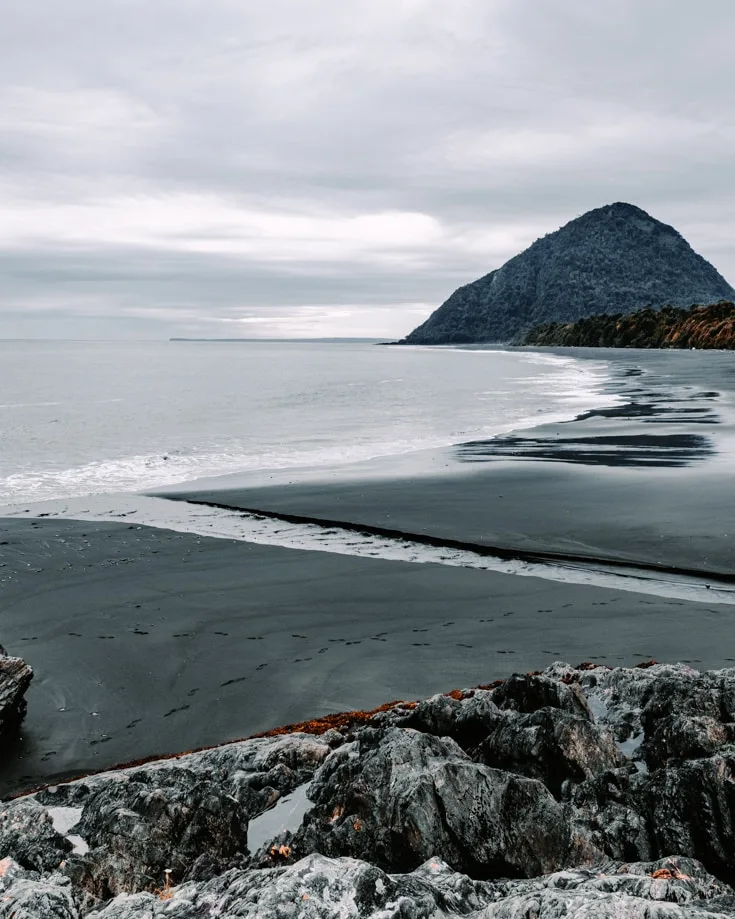 Spaces are allocated on a first-come for serve basis so try to arrive mid-afternoon to increase your chances of getting a pitch.
Camping in Pumalin Park costs around CLP 6000 per person. There are some exceptions to this. For example, a private pitch with a covered cooking area at Camping Ventisquero is CLP 16000 for the pitch.
The rangers only collect camp fees during the high season – about mid-December until February so they're free the rest of the year. Those cold showers won't be so welcoming outside of the height of summer though.
You can find full details of the campsites in Pumalin Park on the park's website here.
When you click on links to various merchants on this site and make a purchase, this can result in this site earning a commission. For more info, please check our disclosure page.
Other Accommodation in Pumalin Park
Campsites are the most accessible places to stay in Pumalin Park but there are a few places to stay near the few towns along the route too. Here's just a couple of examples.
Located right on the beach near Chaiten on the edge of a forest filled with birds, a roaring fire welcomes your arrival.
Spend the late summer evenings after a long hike relaxing with a glass of wine watching the dolphins playing in the shallows.
Check prices and availability here.
An excellent location in Hornopiren this little country cabana is idyllic. Basic facilities near rivers and a native forest.
Bring supplies so you can use the kitchen. The owner will even bring you fresh home-baked bread each morning.
Check prices and availability here.
If you'd prefer more budget accommodation, make sure to check out Hostelworld for their latest rates and availability.
Other Places to Visit near Pumalin Park
Hornopiren National Park – the next stop northbound on the Ruta de los Parque or Route of Parks.
Puerto Varas – a picturesque German-influenced town on the shore of Lake Llanquihue, flanked by Volcanoes Osorno and Calbuco.
Alerce Andino National Park – exceptional, serene dense forest hiking to kick start your Carretera Austral adventure.
Chiloe Island – catch a short ferry from Puerto Montt to what we think is the Anglesey of Chile.
Drive the Carretera Austral – one of the world's most extraordinary road trips.
The Argentinian Lake District is a short distance from Pumalin Park and well worth a diversion. Visit Villa La Angostura or better still, drive the impressive Ruta de los Siete Lagos (7 lakes route) to San Martin de los Andes.
Travel Insurance
If you can't afford a travel insurance policy, you can't afford to travel.
If you don't know where to start, take a look at our guide of mistakes to avoid when choosing your insurance cover.
We've also written a detailed guide of the 3 travel insurance companies we recommend for long term travel insurance.
Whatever you do, don't leave home without appropriate travel insurance for your trip.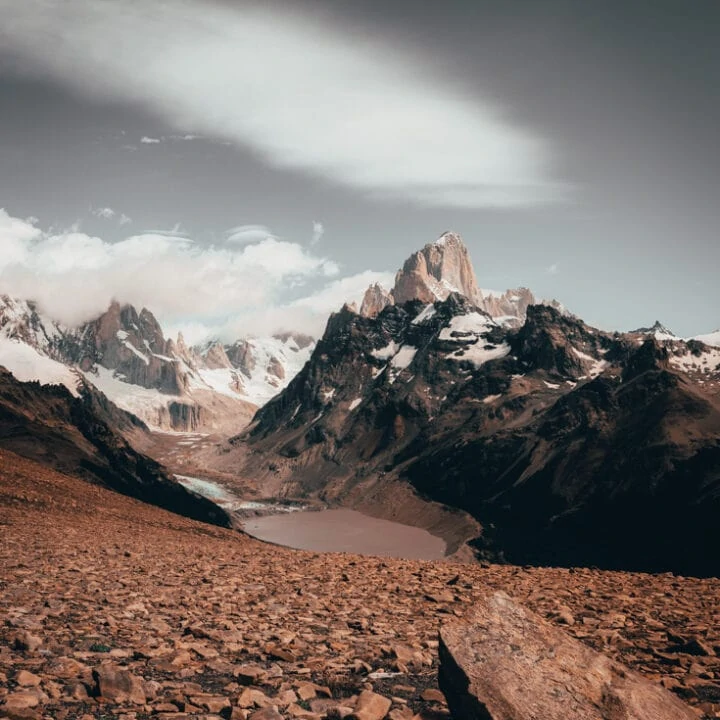 Patagonia Travel Tips
Important tips and resources for planning an incredible trip to Patagonia, based on our extensive experience travelling through the entire region.
Tools
Instructions
Find the best time to go to Patagonia for the things you enjoy.
Book a cheap flight to Patagonia with Skyscanner. Better still, if you're planning a long-term trip, ship your camper van to South America as we did!
Plan a rough itinerary with an idea of how long you'll stay in each place. But be flexible - Patagonia will get under your skin and you'll wish you had more time. Get a copy of the Moon Patagonia travel guide to help you plan your itinerary.
If you want to explore Patagonia in a rental car, make sure to book in advance. Especially if you travel between December and February. Get free comparison quotes with rentalcars.com.
Check out our extensive and still growing guides to Patagonia for more information on both Chilean and Argentinian Patagonia with places to go, things to do and see & loads more.
Book your accommodation in advance, at least for the first destination. For hotels, use booking.com. For apartments use Airbnb and get a discount on your first booking. For free camping, use the iOverlander app offline.
Try to learn Spanish or at the very least have some basic phrases. English is widely spoken in the major tourist towns in the south, like El Calafate, El Chalten and Puerto Natales. Everywhere else, you'll need some basic language skills to get the most out of your trip.
Reserve your tours and activities in advance with Viator and Get Your Guide.
Get your rucksack ready with our definitive Patagonia packing list.
Go have the adventure of a lifetime!
Notes
We hope this helps you plan your travels in Patagonia. It's an enormous region and one we completely adore. Yet we found it difficult to plan our first trip, so we've written extensively about it to help you out!
If you have any questions about Patagonia, travelling in a vehicle or even building a campervan, contact us by email at [email protected].