Punta del Diablo Uruguay is so named because the very rock we're now parked upon resembles the Devil's trident. Even squinting we can't see the resemblance.
Punta del Diablo came from humble beginnings. Once a sleepy fishing village, it's now a summertime magnet for surfers and beach lovers after Lonely Planet named it as one of the top 10 places to visit in 2008.
It's grown in size since then. But not so much as to ruin the place.
There's no high rise apartment blocks, overflowing car parks or block-paved promenade in Punta del Diablo.
Instead, brightly painted wooden houses flank the sandy streets, some so close to the eroded coast they seem at risk of toppling onto the beach below.
Pedestrians and cyclists outnumber motorists; stray dogs outnumber them all.
Beachside stalls sell friendship bracelets, hand crafted dream catchers and tie-dyed t-shirts.
And locals sip mate as the sun goes down.
With an enormous helping of a laid back, bohemian vibe, for us, Punta del Diablo is the best beach town in Uruguay.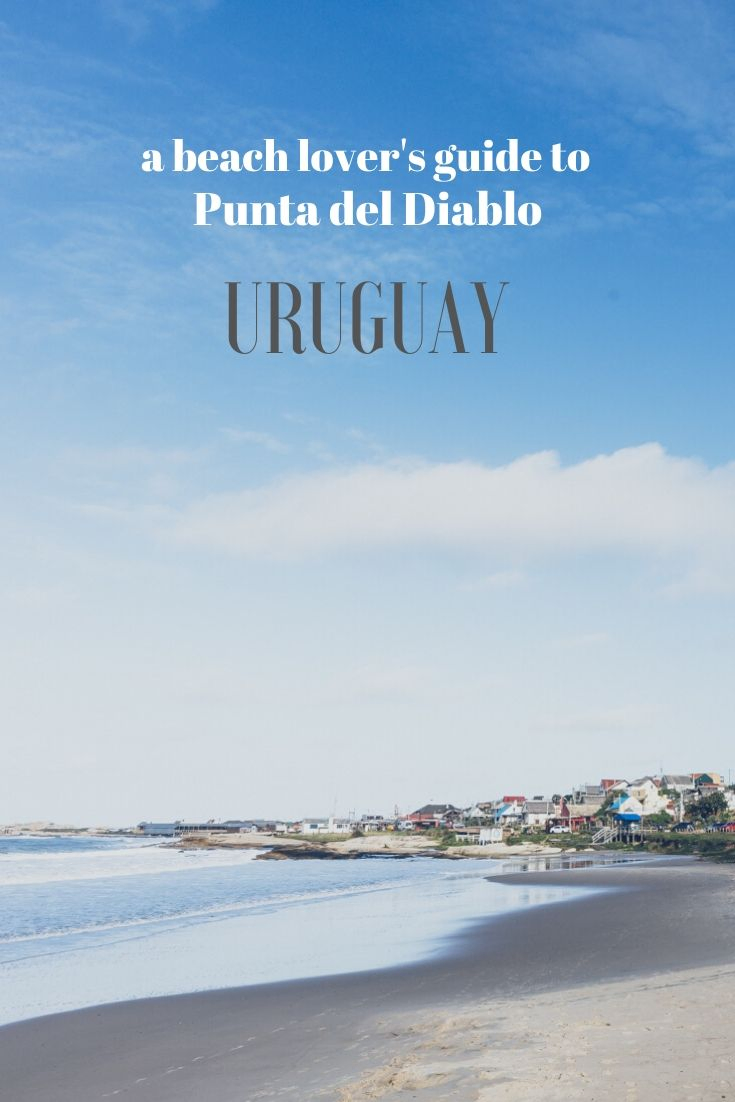 Things to do in Punta del Diablo
The village was founded in the 1930s. Less than a decade later, Punta del Diablo became a popular spot for fishermen from nearby Valizas.
Today, their descendants go about their business year round. With a permanent population of around 1000, the relatively short season sees this number swell to 30000. Come the end of March, the tourists retreat, leaving behind the sandy shores for another year.
So how do you spend a few days in a sleepy little Uruguayan seaside town?
It'll come as no surprise most things to do in Punta del Diablo revolve around the ocean.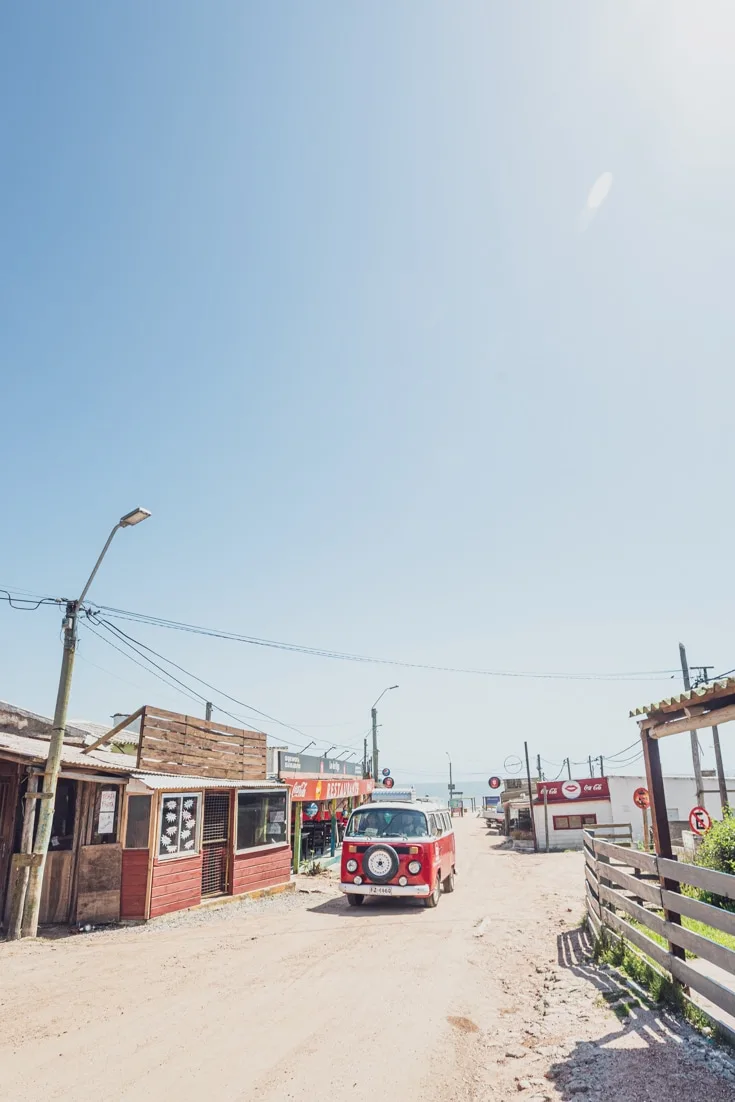 Soak up the sun on Uruguay's best beaches
We've driven the length of Uruguay's Atlantic coastline and the Rocha department has by far, the country's most spectacular beaches.
Punta del Diablo is blessed with plenty to choose from, each with something a little different on offer.
Playa de Los Pescadores
This is where Punta del Diablo's fishing traditions all started. Located in the oldest part of town, you can't miss the wooden fishing boats beached on the sand.
Behind the sand and fishing nets, the fishmongers' shacks open up as the daily catch lands.
The local Feira de Artesanos, the Punta del Diablo flea market sets up nearby throughout the summer. This is the place to go for handmade souvenirs and trinkets.
A rocky outcrop protrudes at the south end of the beach, a popular spot with early risers to watch the sunrise and those who fancy their hand at fishing.
Playa del Rivero
The most popular beach in town, Playa del Rivero lies next to Playa Pescadores separated only by a small rocky area.
It's longer than Playa Pescadores and many popular hostels and pousadas are a stones throw from here too.
Go swimming or surfing. Join in a game of football – Uruguayans LOVE the beautiful game – or a party round a late night beach fire.
Playa de la Viruda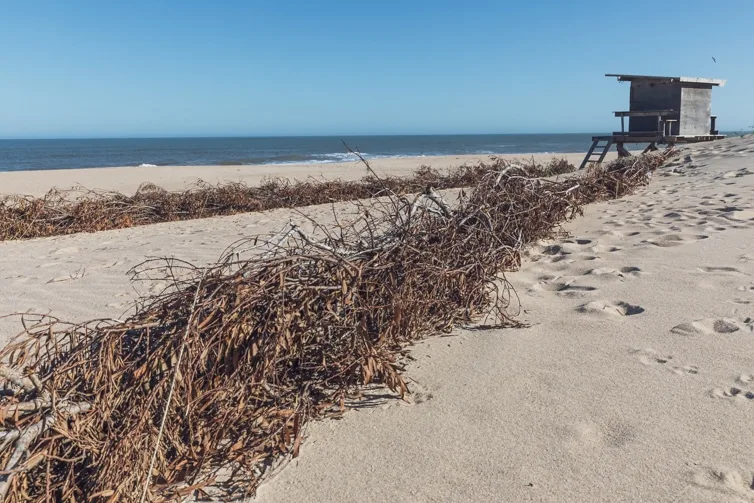 We loved this beach. Virtually hidden behind large sand dunes and more exposed to the ocean winds, Playa de la Viruda is ideal when you want a little seclusion.
Strong currents here make it less than ideal for swimming or surfing but you can walk almost all the way to the red and white striped Punta Palmar Lighthouse.
Grab a camp chair or beach towel, a picnic and a good book for a day lounging and listening to the waves. You may even get a glimpse of the dolphins from shore.
Playa Grande
A bit further from town, Playa Grande is renowned as one of the best beaches in Uruguay.
A sandy trail leads up and over a rocky outcrop at the north end of Playa del Rivero to this spectacular 2 mile stretch of natural beach.
Don't expect any facilities or refreshments here so come prepared.
Learn to surf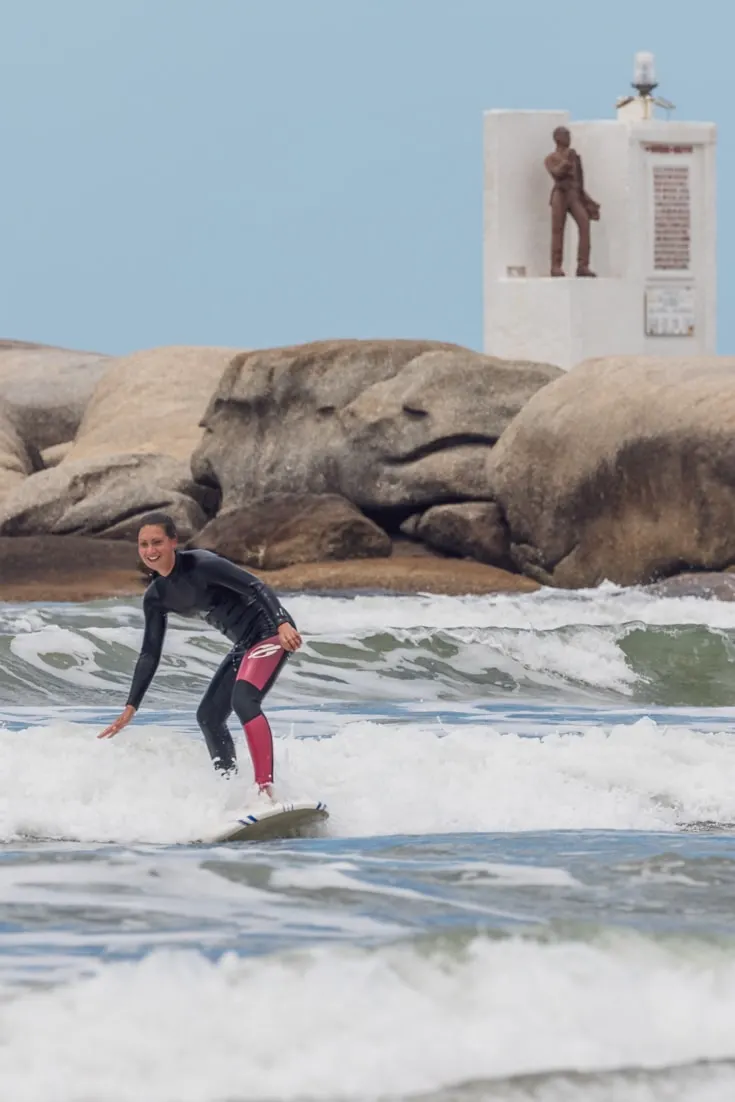 With so many fantastic beaches in and around the town, Punta del Diablo is a perfect spot for surfing.
Playa del Rivero is the best one for beginners. The swell is relatively gentle here, the sand is rock free and the wind present all year round.
You can arrange lessons for the nearby shacks and hire equipment too.
If you're already a master of the waves, head a little further north to the quieter beaches within Santa Teresa National Park for more of a challenge.
Kitesurfers flock to Playa de la Viruda so it must be doing something right – probably the wind!
Dine on the freshest fish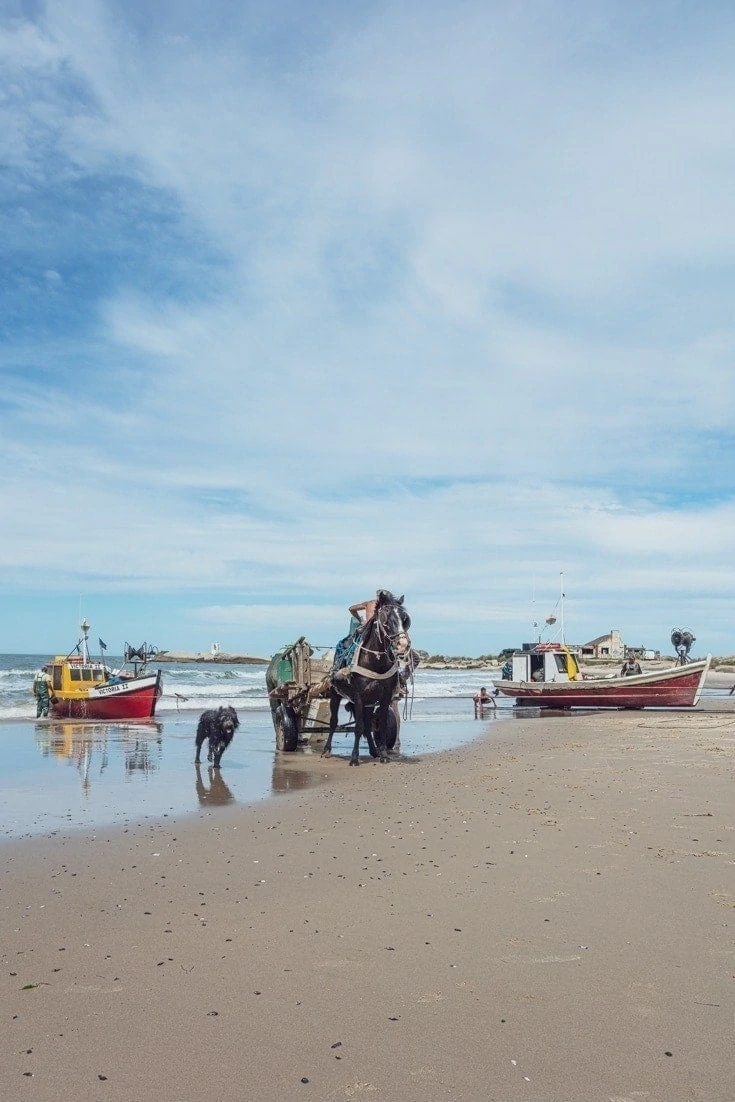 We joined a small crowd of locals for a few hours one evening watching the fishing boats return with their catch.
It's a daily event. The locals spot the returning boats coming in and make their way down to Playa de Los Pescadores. Even the dogs gets excited at the sight of the fishermen hauling the boats ashore.
Once the fishing vessels are shored up, each boat offloads a handful of crates brimming with small sharks, flounder and shell fish.
A horse and cart arrives, the crates loaded and the catch dropped off at the fishmonger's shacks not 20 metres away.
Only then does the small crowd begin to disperse, each person heading to their favourite fishmonger or one who has a fish they've eyed up from the sand.
We of course joined in and cooked the most wonderful fresh fish. From ocean to plate without ever seeing the inside of a fridge.
Explore Santa Teresa National Park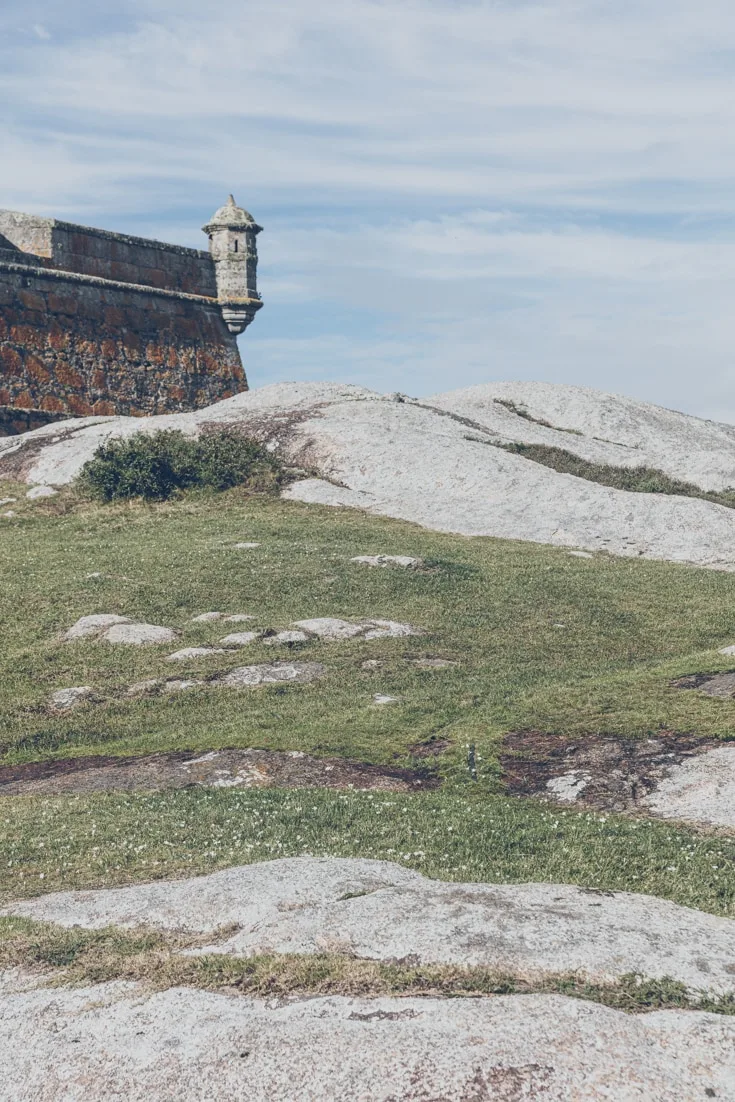 The main attraction in Santa Teresa National Park is the fortress – aptly named Fortaleza de Santa Teresa.
Built by the Portuguese to protect the Brazilian borders back in the 18th century, the Spanish quickly conquered it and moved in.
There's more to see than simply the fort though. The National Park is well maintained by the Uruguayan military. You can easily spend all day walking or cycling around the trails, through the small forest and botanical gardens.
If you beach lovers find you're pining for the sand already, fear not. Santa Teresa has 3 smaller a little visited beaches – Playa de la Moza, Playa del Barco and Playa de las Achiras.
There's lots of viewing platforms high up above the beaches too – perfect for spotting dolphins year round and whales if you're especially lucky.
Getting there
The entrance to Santa Teresa National Park is about 6 kilometres as the crow flies from Punta del Diablo.
To get there you can drive (9 kilometres), walk along the shoreline and through the forest trails (11 kilometres) or cycle either of those routes. You can arrange bicycle hire from Punta del Diablo.
Top tip #1: Fortaleza de Santa Teresa is open to visitors Wednesday to Sunday. Note it's closed every Monday and Tuesday – regardless how many times you try to visit on those days. Yes – that is the echo of experience you can hear! Doh.
Top tip #2: Santa Teresa National Park is full of camping opportunities. Whether you're in a tent or campervan, there's a perfect space for you. The park has dedicated camping areas, with an old but functional ablution block and electric hook up too. Just register at the entrance gate on your way in.
Wildlife spotting at Laguna Negra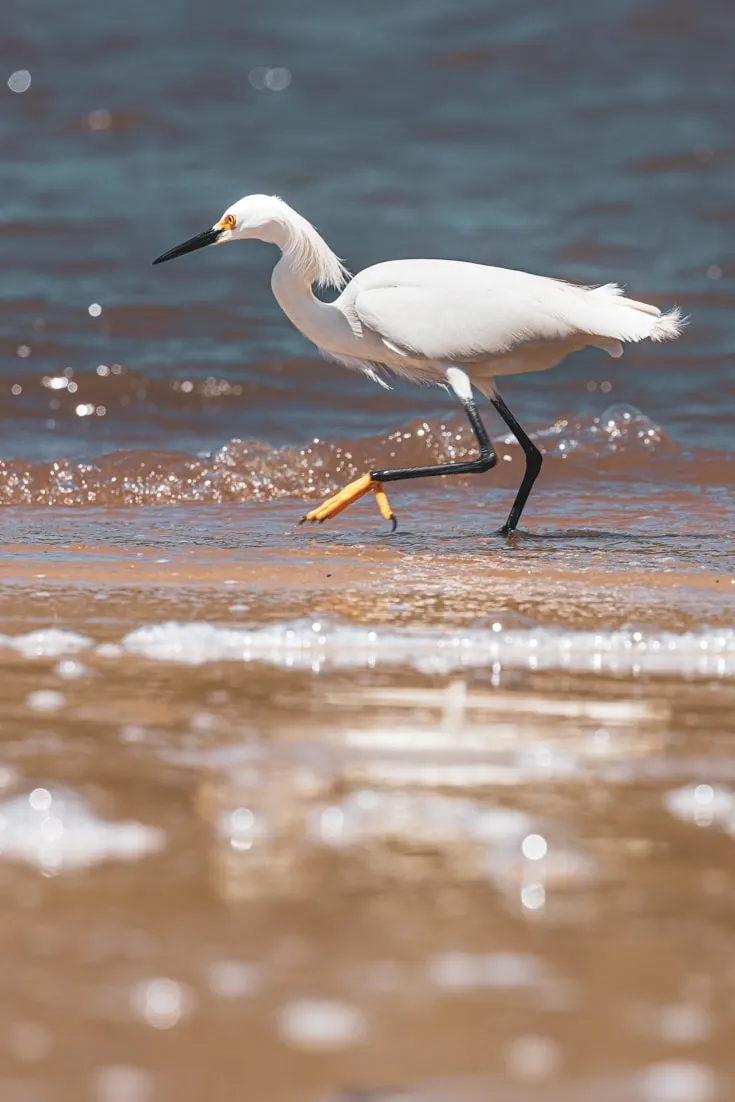 To get to Laguna Negra, take the dirt track opposite the entrance to Santa Teresa National Park. You can't see the lagoon from the road but once you go up and around the hill, you'll thank us for suggesting this little gem.
It's a perfect place to catch a glimpse of birds and other wildlife – often flamingoes and capybara hangout on the water and the occasional deer will pass by. This isn't on the same level as Argentina's Ibera but it's a lovely opportunity for nature lovers.
And for us, this was the perfect place for sunsets. Our own little piece of heaven.
Visit the Karumbé and their sea turtle conservation efforts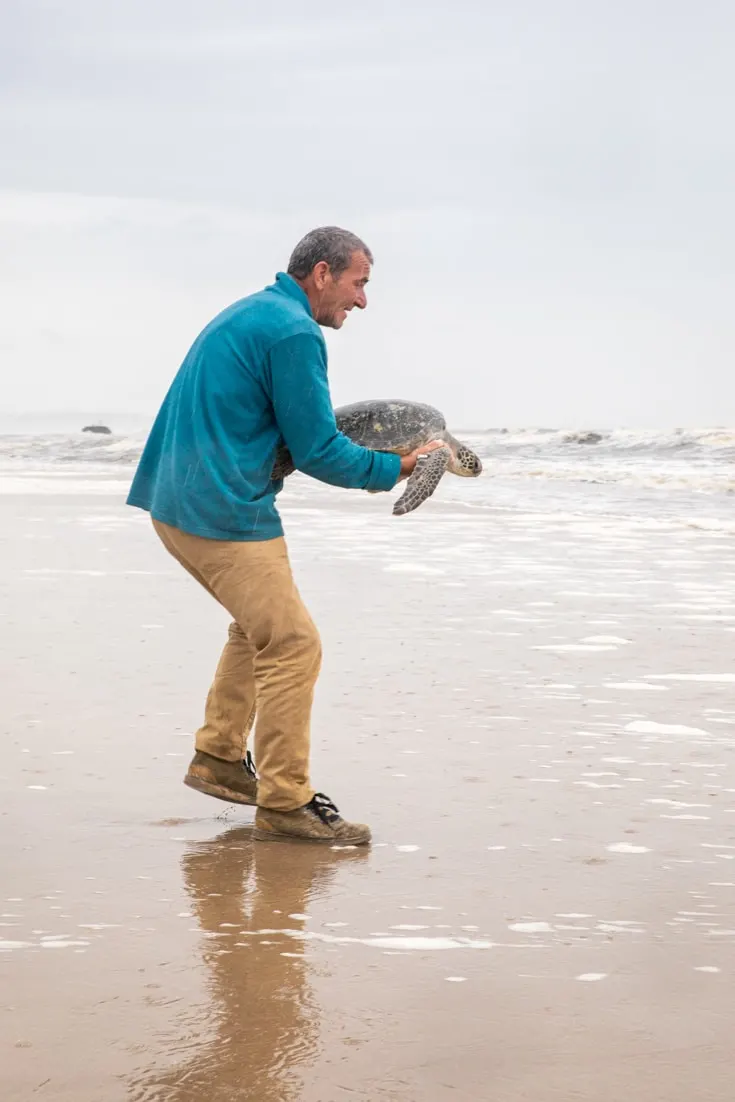 22 kilometres north, without your own transport, this will take a little more effort to get to from Punta del Diablo.
This sea turtle conservation centre is in La Coronilla, a small village (yes – much smaller than Punta del Diablo) a little way before the Brazilian border.
The centre itself isn't much to look at but their efforts to help these creatures, struggling with plastic waste in our oceans, is commendable.
We visited a few days after over 90 turtles were rescued from the beach after becoming stranded during bad weather.
We were lucky enough to name and release the last green turtle back into the ocean. Of course we named him Mowgli. His tag number is UY0694, in case you ever happen to come across him. And he might be a she.
It's possible to volunteer your help at Karumbé and if you don't have your own home on wheels as we do, for a reasonable fee, they can arrange basic accommodation for you.
You can check out more about them on their Facebook page.
Spot migrating whales from the beach
Between mid June and July, Southern Right Whales migrate down the coast from Brazil towards the Valdes Peninsula in Argentina.
They pass by the headland in Santa Teresa National Park and, with the help of an elevated lookout tower and a good pair of binoculars, you could be lucky enough to spot one or two on their migratory route.
If you're not around in June (and we wouldn't blame you – it's wet and cold at that time of year), you could try again October and November when those same whales are on the return leg.
When to visit Punta del Diablo
Punta del Diablo is home to around 1000 permanent residents but during the summer, the population explodes to over 30000.
The busiest summer months run from January to March, and January is especially busy.
November and April are pretty quiet for a shoulder season and the rest of the year, Punta del Diablo is a bit of a ghost town.
We've visited the town twice: once in May and again in early November. During May the weather was atrocious. Cold, wet, grey and overcast – hardly beach weather. All but one supermarket was closed and it was hard to imagine the town in sunshine.
But come November things were a whole lot different! We'd just driven into Punta del Diablo after a 3 month road trip in Brazil so we were well acclimatised to hot and even humid weather.
So 25°c, low humidity and sea breeze was utterly perfect. We didn't want to leave and ended up staying for 5 days!
Based on what we've read about Punta del Diablo during the summer and our experience out of season, we think the best time to visit Punta del Diablo is between November and April, but avoiding January.
During April and November, Punta del Diablo weather can be temperamental. Sunshine is not guaranteed. But the crowds won't be around so you can enjoy the town at what we think is probably its best.
January sounds like complete hell – at least to us. A beach with thousands of people on it, all vying for their own patch of sand, queues for restaurants and overpriced accommodation. Nope – not for us.
February and March are a little less manic and the weather is more likely to be on your side. But accommodation costs are still high and you won't experience the authentic, sleepiness of this fabulous town.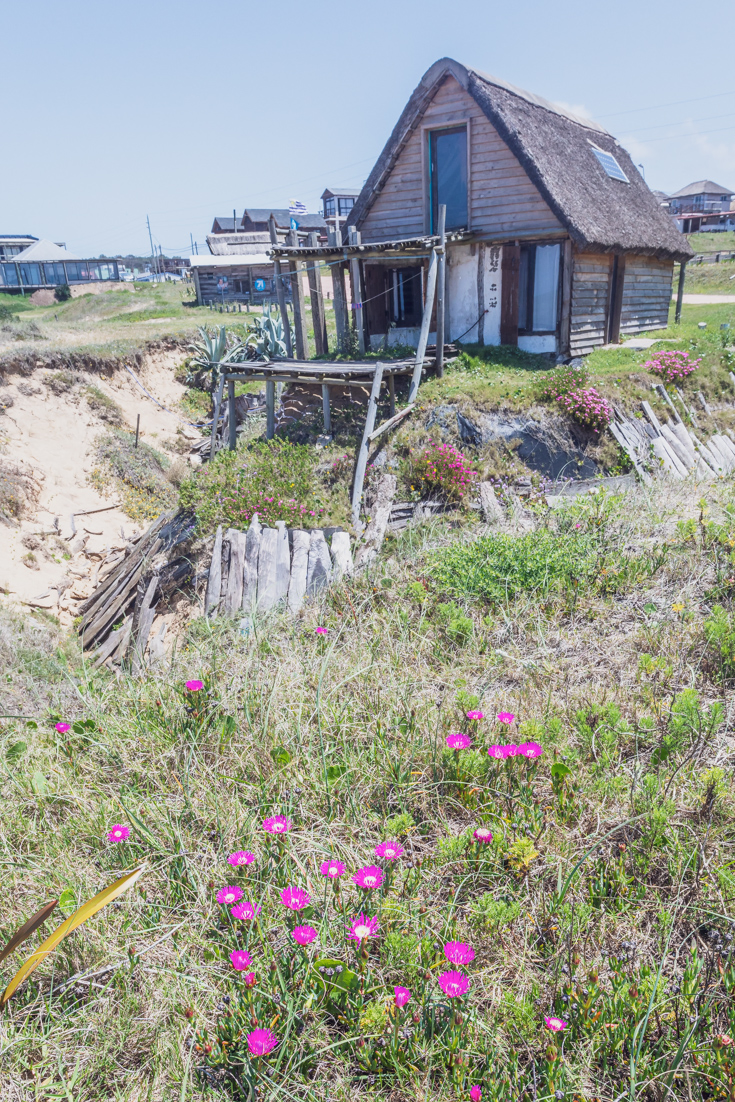 How to get there
Check out a map of Uruguay and you'll see Punta del Diablo is only about 45 kilometres from the Brazilian border town of Chuy and a little off the main route from Montevideo.
If you're driving in Uruguay, the 300 kilometre journey from Montevideo will take around 3 and half hours. Unless you do as we did and turn it into a road trip along Uruguay's Atlantic coast.
Buses run regularly from Montevideo, Punta del Este and Chuy to Punta del Diablo so you'll have no trouble getting here. The bus station is a good 3 kilometres back from the coast though so you may need to arrange a taxi if you have much luggage.
Getting around town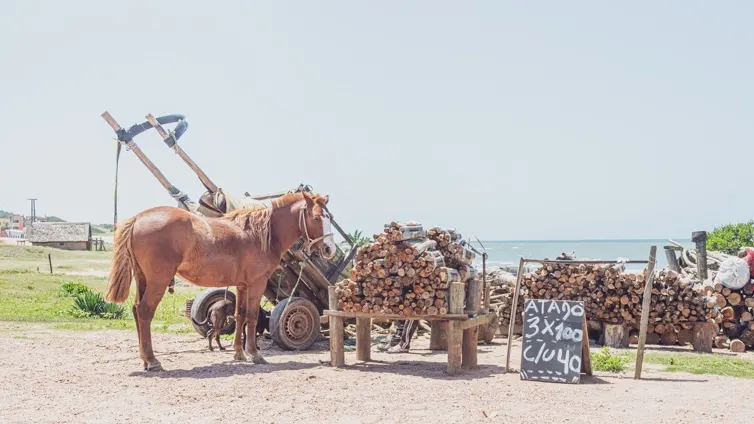 We've already mentioned bike hire if you want to get across to Santa Teresa but when you stick around town, the best way to get around is on foot.
There's no paved streets in Punta del Diablo so walking really feels like you're in a dusty old fishing village, miles from anywhere. Oh! You are too!
Where to stay in Punta del Diablo
Accommodation in Punta del Diablo varies from luxury to basic. We stayed in our campervan (for free) but we've hand picked a few places to save you trawling through the same reviews.
Free camping
Of course, we stayed in our campervan and found a perfect spot at the end of Playa de Los Pescadores on the rocky outcrop. While there are no facilities, the views of sunrise are spectacular.
We wouldn't fancy staying here if the weather wasn't so good though – it's quite exposed. We also suspect it'll get rather busy in the high season too. Another reason to avoid January.
We also camped for free on the shores of Laguna Negra. Again, there's no facilities but literally no one else around. Perfect if you need to escape the chaos of Punta del Diablo in January.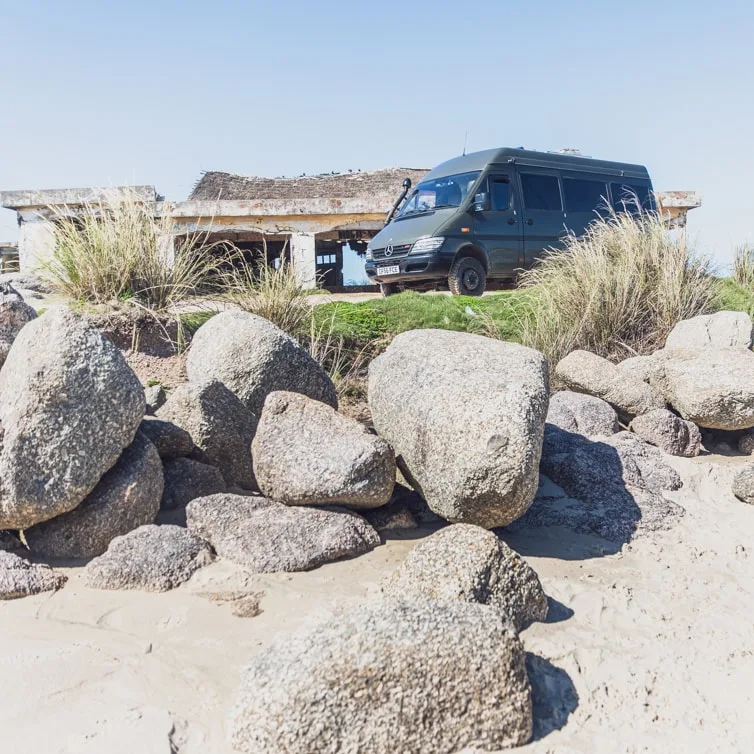 Campsites
We saw a few campsites a couple of kilometres away from the beach but they were all closed each time we visited Punta del Diablo. Maybe you'll have better luck during the summer months.
You could try Punta del Diablo Camping near the bus station.
Camping in Santa Teresa National Park was closed when we first visited in May, but open in November.
Hostels
The most popular hostel in Punta del Diablo is La Casa de las Boyas. Ocean views, comfy beds, a swimming pool, kitchen and breakfast included all for a budget friendly price
Self-catering accommodation
Just 350 metres from the beach, Armonía is luxury 2 bedroom house sleep upto 6 people. With everything you need to enjoy the town including WiFi, seaviews from the balcony and private barbecue and parking too.
Things to know before you go
Here's a few travel tips about Punta del Diablo you should know before you go.
There are no ATMs in the town so make sure you have enough cash to see you through. A few places accept credit cards.
If you have an international credit card, Uruguay is the place to use it because you get 22% tax automatic discount on all car hire, restaurant and bar bills.
There are a few small supermarkets in Punta del Diablo and when we visited, they were sparsely stocked. That said, they looked like they had plenty of shelf space for an influx of visitors so there maybe more choice in summer.
If you love fish, make sure to head down to Playa de Los Pescadores at high tide to greet the returning fishing boats. It's so cheap and it doesn't get anymore fresh.
Onward travel
Where are you heading to next?
If you want to see a more traditional and authentic side of the country, follow this route through the wonderfully surprising Uruguay interior.
If you fancy getting away from it all for a while, you must visit Cabo Polonio. With no cars allowed in the village or electricity, this iconic off grid village is right up your street.
Fancy indulging in more fresh fish in an even smaller, remote beachside village? Don't miss a day in Valizas.
If you loved Punta del Diablo and would like to try somewhere a little less crowded, La Paloma will probably float your boat.
And of course, Punta del Diablo is a perfect place to head north into Brazil.
Like it? Pin it!