Check out our complete review of the Renogy 400w Premium Solar Kit – one of the best on the market.
---
Are you tired of relying on a generator and shore power while on the road in your RV camper?
If so, a solar panel kit might be just what you need to start generating clean energy and enjoying greater independence.
In this review, we'll look closer at the Renogy 400w Premium Solar Kit – one of the most popular and highly-rated options on the market.
We'll explore its key features, advantages, and potential drawbacks to help you decide if it's the right choice for your needs.
So whether you're a seasoned RV enthusiast or starting out, read on to discover everything you need about this impressive solar panel kit from Renogy.
When you click on links to various merchants on this site and make a purchase, this can result in this site earning a commission. As Amazon Associates, we earn from qualifying purchases. For more info, please check our disclosure page.
At A Glance: Renogy 400 Watt Premium Solar Kit
If you're looking for a reliable and high-performing solar kit for your RV camper, the Renogy 400 Watt Premium Solar Kit is definitely worth considering.
This solar kit has everything you need to start generating clean energy on the road, including four 100W monocrystalline solar panels, an MPPT charge controller, mounting brackets, cables, and connectors.
One of the standout features of this solar kit is its MPPT charge controller.
This advanced controller automatically detects the battery type and optimizes charging parameters accordingly.
It also has a 20A load feature that allows you to prioritize charging devices over the battery, which can come in handy when you need to power up your gadgets quickly.
Another thing we love about this solar kit is its solid build quality.
The components are well-made and durable enough to withstand harsh weather conditions and rough terrain.
The solar panels themselves are particularly impressive – they're made from high-quality materials that ensure maximum efficiency and longevity.
The Renogy 400 Watt Premium Solar Kit also offers real-time monitoring capabilities through its App or the Renogy One.
This allows you to keep track of your system's performance and make adjustments as needed.
The cable lengths provided with the kit are generous enough to give you plenty of flexibility regarding installation options.
Thanks to the included connectors, you can wire the panels in series or parallel, depending on your needs.
Speaking of installation, we were impressed by how easy it is to set up this solar kit. The back frame of each panel has pre-drilled holes that allow for quick mounting on any surface.
Finally, we appreciate how complete this kit is in terms of accessories and safety features.
For example, In-line and ANL fuse components offer additional protection against overloads and short circuits.
Overall, if you're looking for a top-of-the-line solar kit for your RV camper that delivers excellent performance and reliability, the Renogy 400 Watt Premium Solar Kit is definitely worth checking out!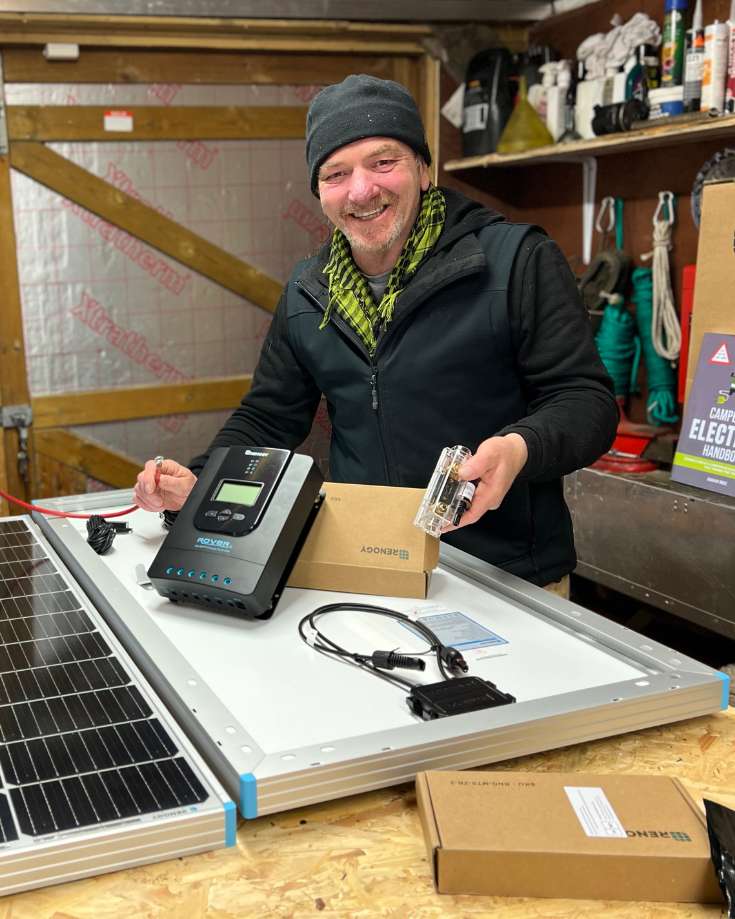 What We Like
Everything you need is included (apart from the roof gland).
Robust feel & looks great.
Real-time monitoring with Renogy Home DC App or Renogy One.
What We Don't Like
Disclaimer: Renogy sent us a 400 Watt Premium Solar Kit for this review. However, the content of this post is not sponsored by Renogy, and all opinions are our own.
Where To Buy A Renogy 400 Watt Premium Solar Kit
Renogy 400 Watt Premium Solar Kit Specification
Renogy's 400w premium solar kit includes two major components:
Also included in the box:
Here is a summary of each component's specification:
100 Watt 12 Volt Monocrystalline Solar Panel (Compact Design) Specification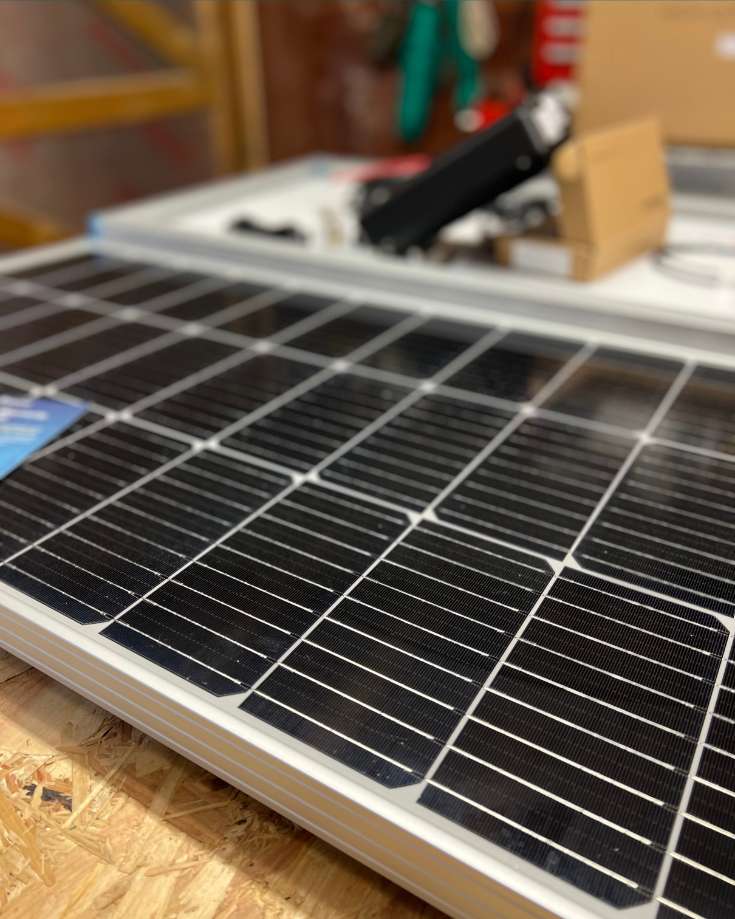 Cell Type: Monocrystalline (6.5 x 3.3 in)
Output Cables: 14 AWG (1.96ft long)
Number of Cells: 36 (3 x 12)
Maximum Power at STC: 100W
Optimum Operating Voltage (Vmp): 20.4V
Open-Circuit Voltage (Voc): 24.3V
Optimum Operating Current (Imp): 4.91A
Short-Circuit Current (Isc): 5.21A
Operating Temperature: -40°F to 176°F
Weight: 14.1lbs/6.4kg
Dimensions: 41.8 x 20.9 x1.38 in
MPPT Charger Specification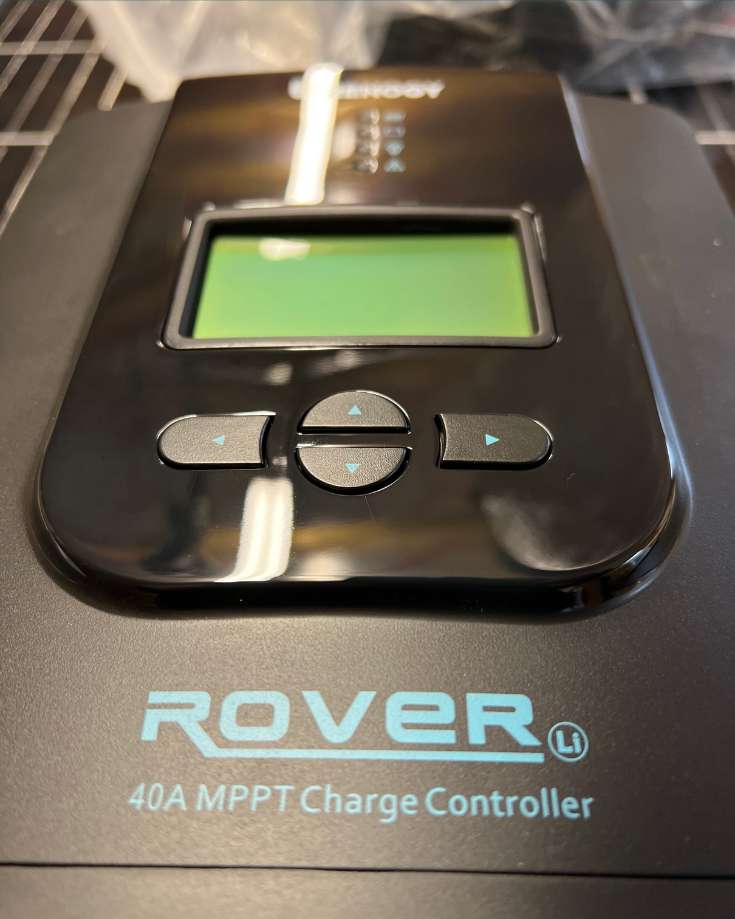 Nominal System Voltage: 12V/24V Auto Recognition
Rated Charge Current: 40A
Max. PV Input Power: 12V/520W, 24V/1040W
Max. PV Input Voltage: 100 VDC
Max Battery Voltage: 32V
Warranty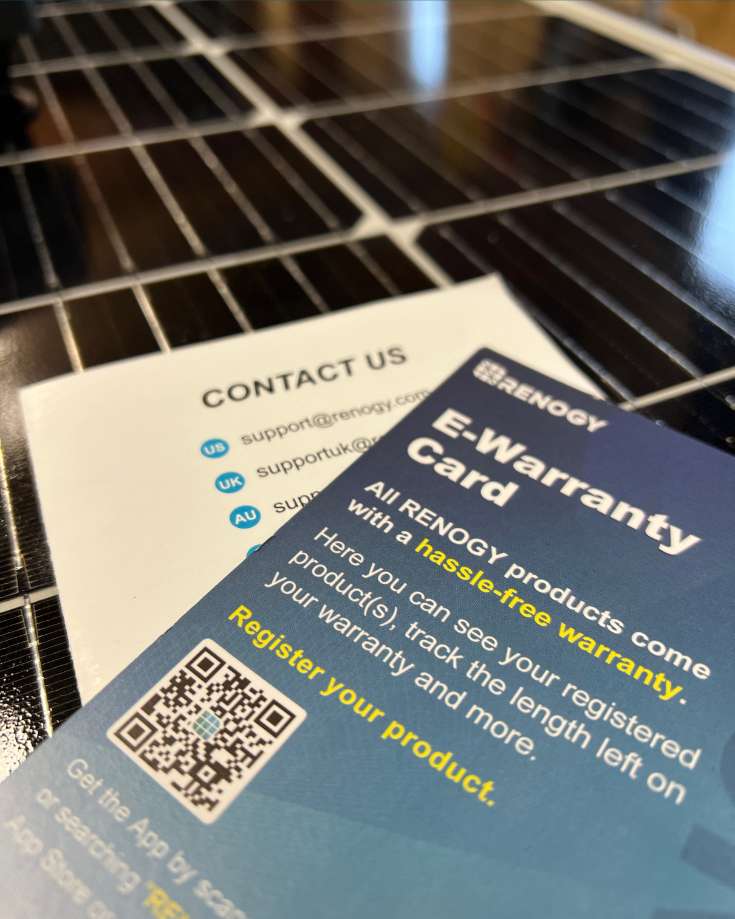 Panels: 25-year power output warranty:

5-year 95% output warranty,
10-year 90% output warranty,
25-year 80% output warranty
5-year material and "workmanship" warranty

MPPT Controller: 2-year material and "workmanship" warranty
Accessories: 1-year material and "workmanship" warranty
Can I Wire The Panels In Series Or Parallel?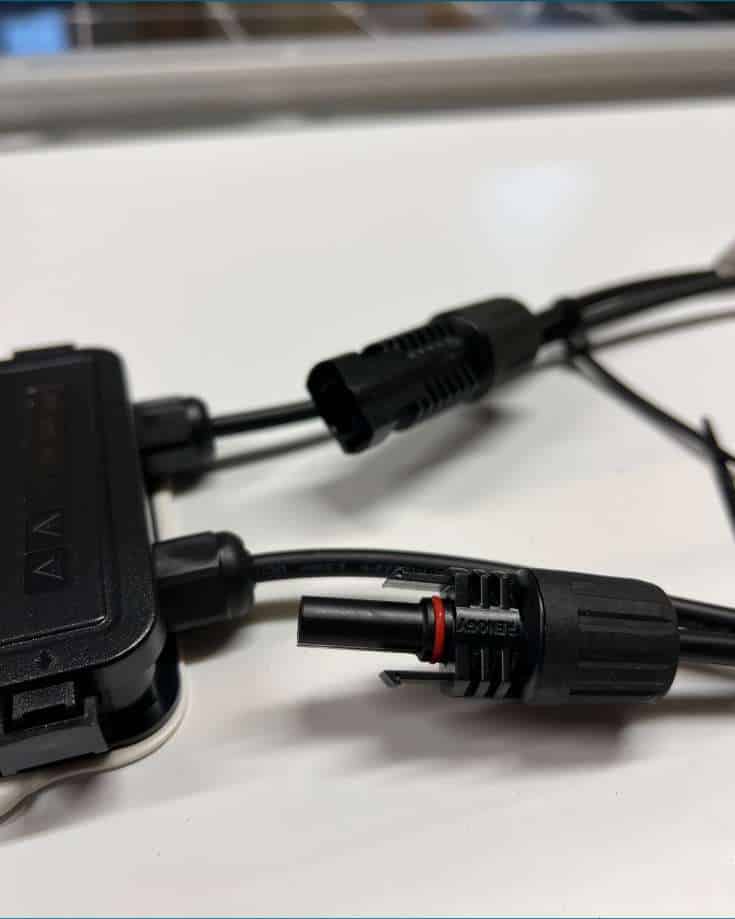 Depending on your needs, you can wire the four 100w solar panels in either series or parallel.
Wiring the panels in series means connecting them end-to-end so that the positive terminal of one panel is connected to the negative terminal of the next.
This configuration increases the voltage output.
On the other hand, wiring them in parallel means connecting all positive terminals together and all negative terminals together.
This configuration increases amperage output.
The great thing about this kit is that its MPPT controller can handle all four panels wired in either configuration. Plus, if you wire your panels in parallel, you could add another four panels without increasing the size of the MPPT controller.
So whether you need higher voltage or increased amperage output, this solar panel kit has got you covered with its versatile wiring options and efficient MPPT controller.
Is The Renogy 400 Watt Premium Solar Kit The Right Size For Your RV Camper?
How do you know if the Renogy 400 Watt Premium Solar Kit is the right size for your RV camper?
We'll break down the key features and benefits of this popular solar kit and provide some tips for determining if it's the best fit for your energy needs on the road.
Physical Size Of Panels On Roof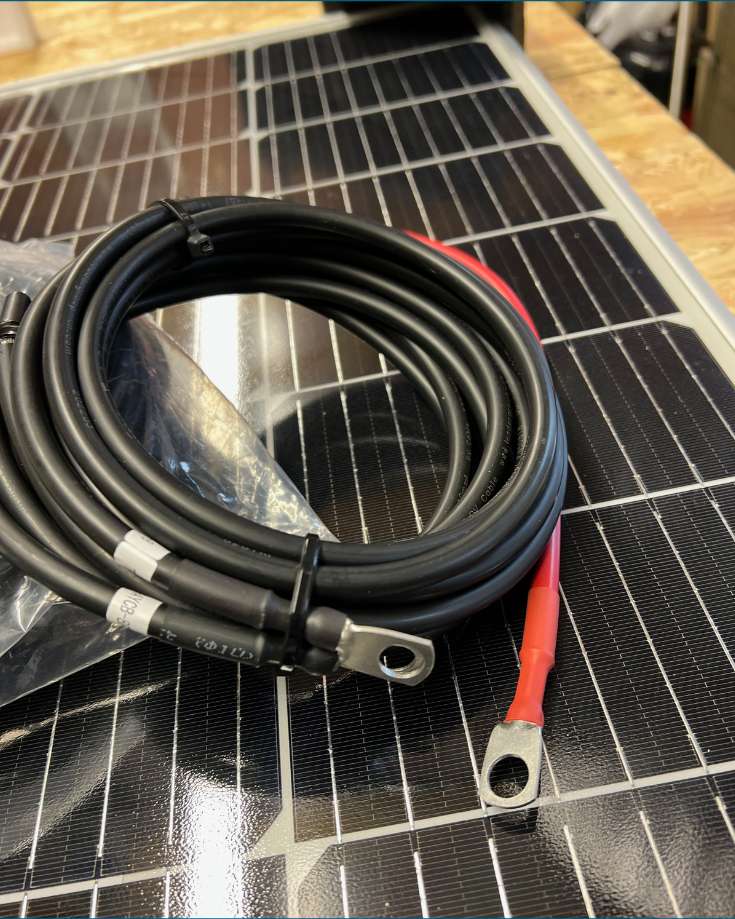 When considering whether the Renogy 400 Watt Premium Solar Kit is right for your RV, you should definitely take into account the physical size and dimensions of the four solar panels included in the kit.
The reason for this is simple: space.
Depending on the size of your RV and where you plan to mount the solar panels, you may have limited space available.
Consider any fittings on your roof, such as antennas and roof vents.
If the panels are too large, they may not fit in your desired location or be challenging to install.
So before deciding on whether this kit is suitable for your RV, it's essential to measure your available space and compare it against the dimensions of each panel.
How Much Will 400w Solar Panels Charge The Battery?
The amount that a 400W solar panel kit will charge your battery depends on several factors, including:
the size and capacity of your battery,
the battery bank's absorption rate
the efficiency of your charge controller, and
weather conditions such as sunlight intensity and duration, aka peak sun hours.
Generally, a 400W solar panel can produce around 40 amps of electricity per hour under optimal conditions.
However, this amount can vary based on the factors mentioned above.
To calculate how much a 400W solar panel will charge your battery, you'll need to consider the following:
The size and capacity of your battery will determine how much energy it can store.
The battery bank absorption rate: a 100ah AGM battery may have an absorption rate of 30a, while a 100ah lithium batteries are more likely to be around 50a. The more batteries in your bank, the higher the absorption rate.
The efficiency of your charge controller: The Renogy MPPT controller included in the kit is 95% efficient, meaning it can charge about 38 amps per hour at best.
Peak hours: Sunlight intensity and duration can affect how much energy your solar panels produce. Cloudy or overcast days will produce less energy than bright sunny days.
With all these factors in mind, it's difficult to answer how much a 400W solar panel will charge your battery without knowing more specific details about your setup.
Example
Here's an example of how to figure it out:
Let's say you have the same setup as ours: 2 x 200ah lithium batteries with the Renogy 400w premium solar kit.
The battery banks' absorption rate is 100a, and the MPPT can provide 38a.
If it's mid-summer in an area that gets about five peak sun hours daily, the solar panel could provide a maximum of 190a per day. So half the battery's capacity.
Remember that actual results may vary depending on various environmental factors and any additional loads on the system during charging (such as running appliances or devices).
Our RV camper Electrical Design Tool & Wiring Diagram calculates this more accurately for you.
It will even explain if you have enough solar to get through winter – or how much extra capacity you need to generate.
How Many Solar Panels Do I Need?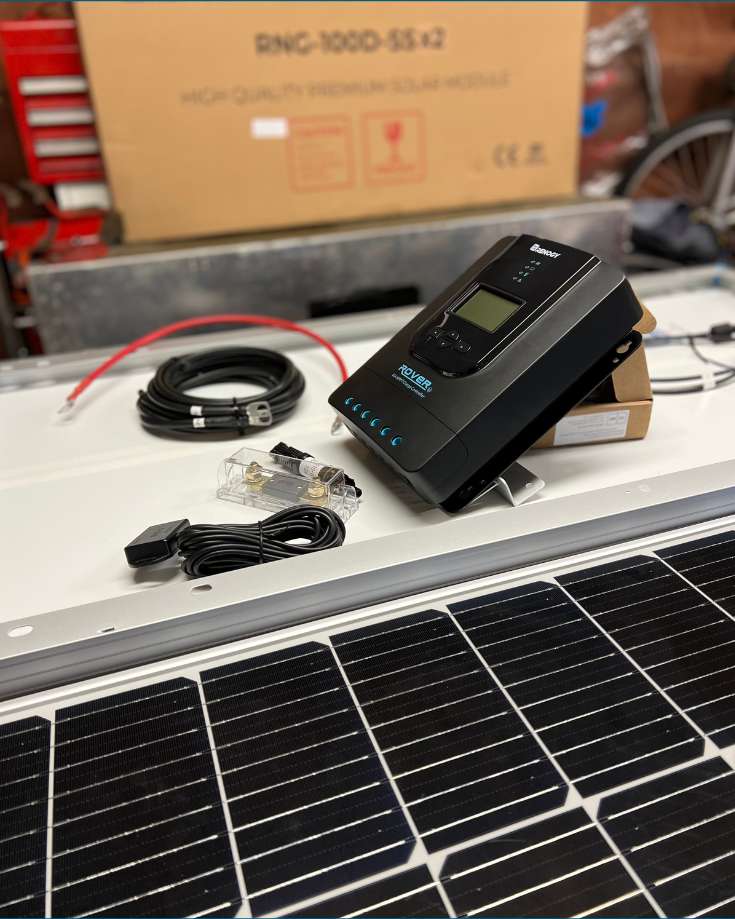 The number of solar panels you need in your RV depends on several factors, including your energy usage, the size and capacity of your battery bank, and the amount of available sunlight in your location.
To determine how many solar panels you need for your RV, follow these steps:
Determine your daily energy usage: Start by calculating how much energy you use on a typical day in your RV. This will include things like running lights, appliances, and charging devices. Add up the wattage of each device and multiply it by the hours you expect to use it daily to get an estimate of your daily energy usage in watt-hours (Wh).
Choose a battery bank size: Once you know how much energy you use each day, choose one that can store enough energy to meet your needs.
Calculate panel output: Next, determine how much power each solar panel can produce under optimal conditions.
Determine total panel output needed: Divide your daily energy usage by the amount of power each solar panel can produce daily to determine how many panels you need.
As a guide, if you need around 1400Wh per day and get four peak hours of sun, a 400w setup is ideal
Is The MPPT Solar Charge Controller Big Enough?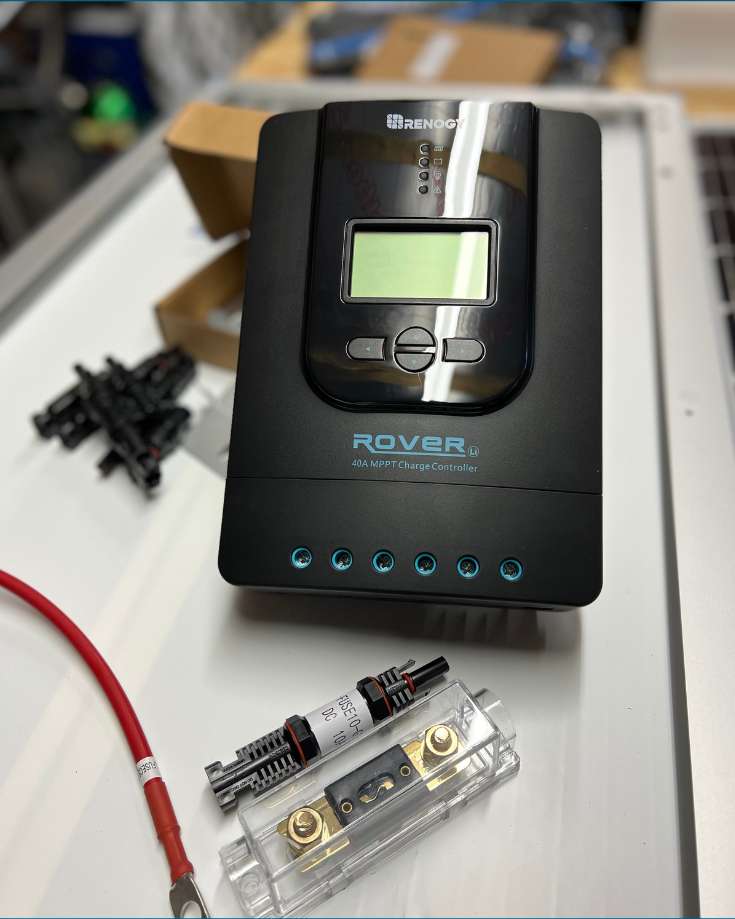 When choosing a solar kit, we recommend ensuring the MPPT controller is sized for potential expansion.
Do you have space on your roof for more solar panels? If so, you might want to add an extra panel or two after a season on the road.
Did you know you can use portable solar panels to bolster your solar array? If so, you might wish to add a panel for occasional use.
While there is usually a cost advantage to buying a kit instead of separate components, the saving is often relatively small.
The MPPT charge controller in the kit is sized to match the 400w solar panels. It can support the 4 panels wired in series or up to 8 in parallel.
But if you want to increase the size of your solar array, you'll need a larger MPPT controller.
Because MPPT controllers are costly, it's worth considering buying separate components if you think you may expand your setup.
How Does It Rate Against The Competition?
Renogy is one of the only big brand names that offer a 400w solar panel kit.
Alternatives include:
Buying Separate Components
So how does Renogy's 400 Watt Premium Solar Kit compare?
Renogy 400W Premium Solar Kit Vs. Renogy 350w Solar Flexible Kit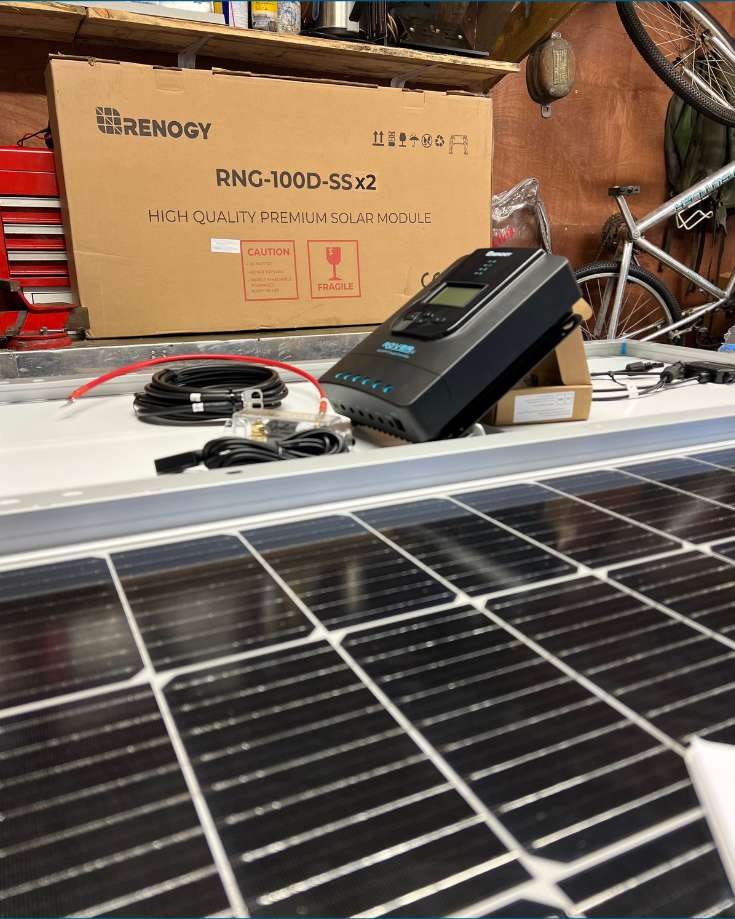 The Renogy 400 Watt Premium Solar Kit produces 400 watts of power, while the Renogy 350w Solar Flexible Kit produces only 350 watts.
This means that the Premium kit will be able to produce more energy for your needs, making it ideal for larger RVs or those with higher energy demands.
Another factor to consider is the panel dimensions. The 400w kit includes 4 x 100w panels, while the 350w kit has 2 x 175w panels.
You should measure the space on your roof and assess where you will locate the panels to figure out the best configuration.
Another factor to consider is installation. The Premium kit comes with pre-drilled holes, and mounting hardware included, making it pretty convenient to fit.
However, you will need to drill holes in your camper, and that's always nerve-wracking.
On the other hand, installing the flexible panels of the 350w kit is far less invasive. Plus, they have a much lower profile too.
Ideally, you should still drill these to the roof, but because they're much lighter than rigid panels, you could get away with other solar panel mounting ideas.
Of course, both kits are weather-resistant and designed to withstand harsh outdoor conditions.
However, since the panels on the premium kit are rigid, they are more durable than the flexible panels on the 350w kit. Flexible panels rarely last as long as rigid panels.
We installed flexible panels when we first converted our Sprinter and replaced them in a little over a year!
Finally, let's talk about the price. Despite having a lower power output, the 350w Solar Flexible Kit is more expensive than the 400 Watt Premium Solar Kit.
Why? It's because flexible panels are more expensive to manufacture than rigid ones.
However, the flexibility may be worth the extra cost if you need a solar panel kit that can fit into tight spaces or conform to curved surfaces.
Renogy 400W Premium Solar Kit Vs. 400w Solar Starter Kit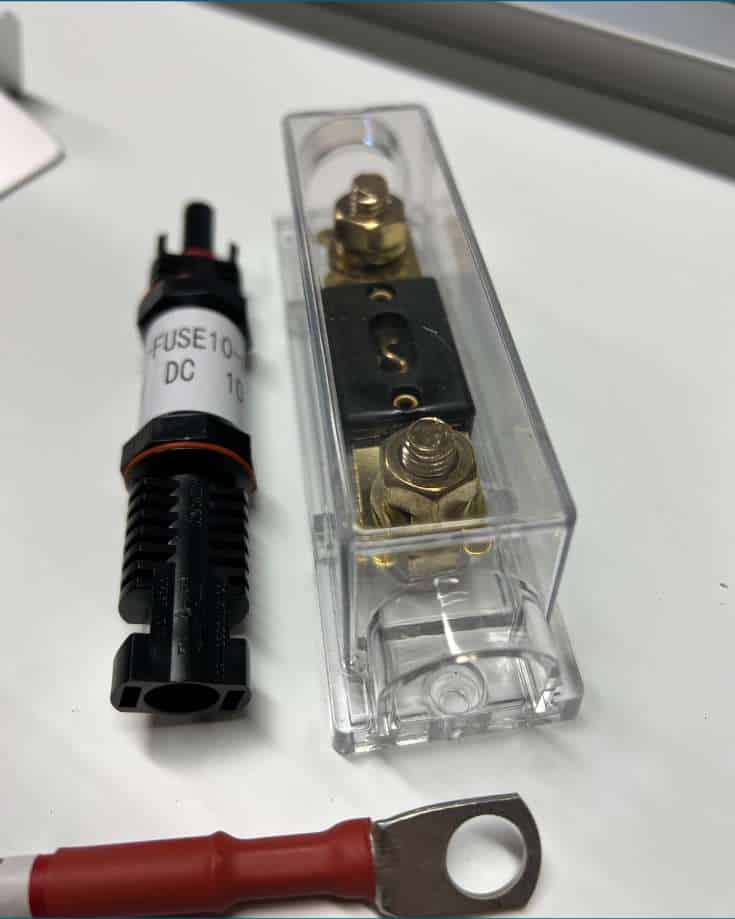 Renogy also offers a Renogy 400 Watt Starter Solar Kit alongside the Premium Kit. It's worth taking a closer look at the differences between the two.
First off, price is certainly a factor.
The starter kit is $40 cheaper than the premium kit, which might seem like a good deal on the surface.
However, it's important to note that the starter kit doesn't include the Bluetooth module, fuses, cables, and connectors included in the premium kit.
If you have to purchase those parts separately, they will cost more than the $40 you saved by going with the starter kit. In that case, buying the premium kit upfront would be better value.
Otherwise, there's no difference between them.
Both kits include four 100W solar panels and an MPPT charge controller capable of handling all four panels wired in parallel or a series configuration.
The main advantage of going with the premium kit is convenience – everything you need is included in one package.
Word of warning: Outside the US & Canada, Renogy's starter kits include a PWM charge controller not an MPPT controller. For a systems of this size, always get an MPPT controller.
Renogy 400 Watt Premium Solar Kit Vs. Buying Separate Components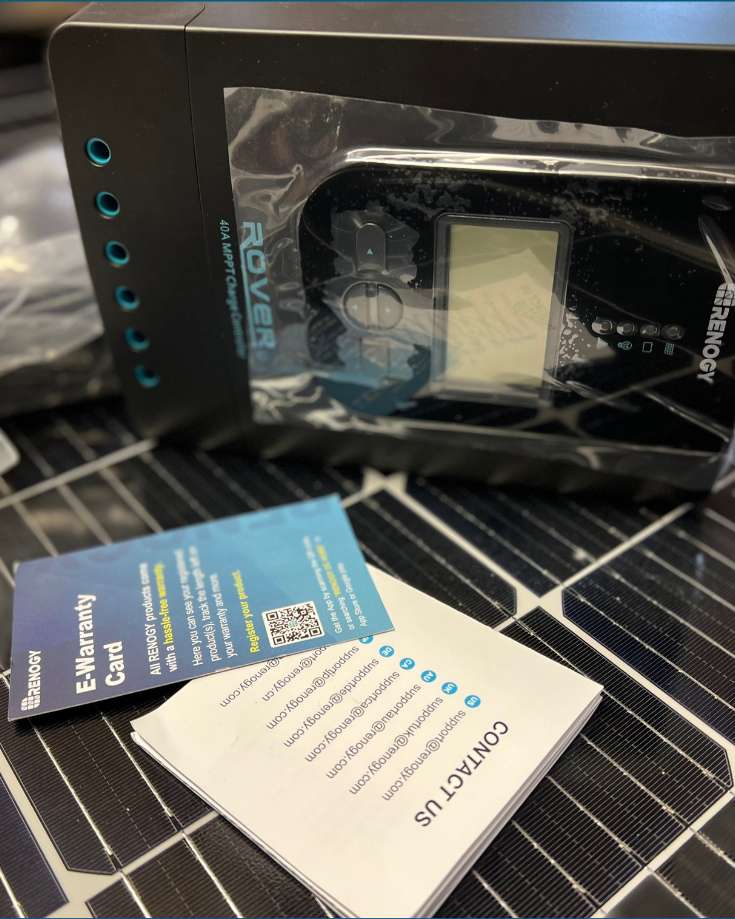 When it comes to setting up a solar panel system, you have the option of buying separate components or going for an all-in-one kit.
Let's take a look at how these options compare.
First off, convenience is undoubtedly a factor in favor of the kit.
With everything included in one package, you don't have to spend time researching and purchasing individual components.
Plus, you can ensure all the parts are compatible and designed to work seamlessly.
However, if you're planning on expanding your solar array size in the future, there's one thing to keep in mind.
The MPPT charge controller included in the kit may need to be bigger to handle a larger array.
If you buy separate components, you can choose a larger MPPT charge controller upfront to accommodate future expansion.
Another consideration is cost.
This kit costs only $50 less than buying the same components separately. While $50 is still worth saving, be sure to check the latest prices of the components.
If there are sales on individual components, you may get them cheaper than buying the kit.
Additionally, if you already have some of the required components (like cables or mounting hardware), buying only what you need could be more cost-effective.
Separate Components
Here's the complete list of components included in the kit:
The Full Renogy Solar Panel Kit Range
Without Batteries
With Batteries Included
Resources
In Conclusion
Solar power is an excellent option whether you're going camping, boating, or just want to save on energy costs.
Renogy offers a great selection of starter and premium kits that provide the components needed for your solar setup.
The Renogy 400 Watt Premium Solar Kit is an excellent choice for those who want an all-in-one package with everything they need to get started.
If you already have some parts or plan on expanding, buying individual components may be more cost-effective.
Have you got a question about the Renogy 400 Watt Premium Solar Kit? Please share it in the comments section below!
Graham Bogie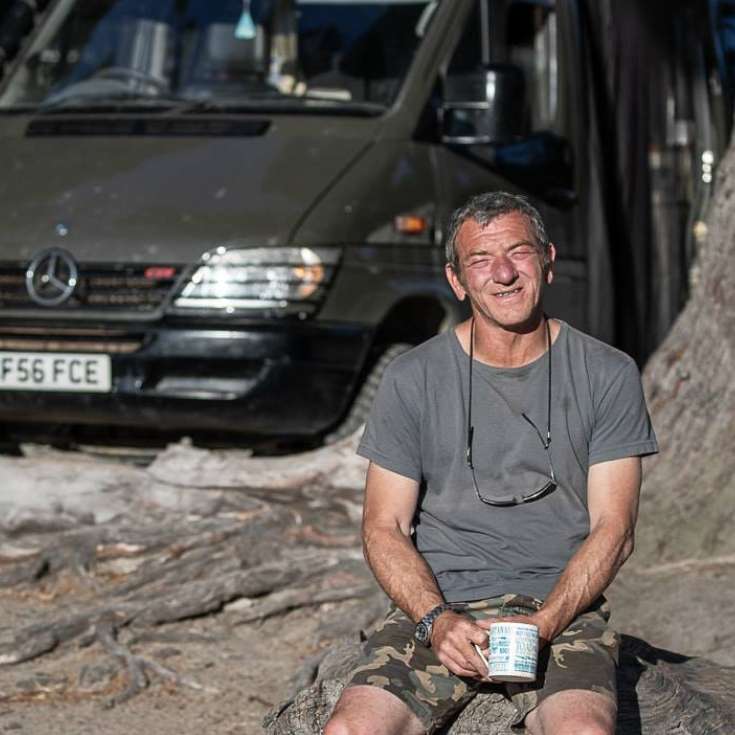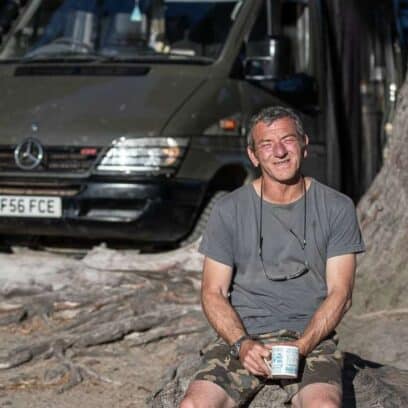 Graham is a seasoned marine electrical engineer with two decades of experience designing customized electrical systems for plant machinery and converting campers and overland vehicles. His expertise has led him to author the reputable Campervan Electrics Handbook and become the chief designer of the RV Wiring Design Tool. As a knowledgeable figure in the field, his YouTube channel, blog, Facebook group, and newsletter, offering electrical advice and product reviews, reach more than a million users each year.