Renogy solar charge controller range includes the Rover Elite, Rover Li and now the latest Rego series. Discover the perfect Renogy MPPT charge controller for your solar system needs!
---
As RV, travel trailer, motorhome, and camper van owners, we increasingly use solar power for our energy needs.
Finding a suitable solar charge controller becomes essential to maximize the potential of our solar panels and charge our RV batteries.
Renogy's MPPT solar charge controller range is undoubtedly worth considering due to its advanced technology, high efficiency, and excellent value for money.
Renogy's range of solar charge controllers includes three series:
We've got our hands on four models from their range series:
Rover 100 Amp MPPT Solar Charge Controller
Rover 60 Amp MPPT Solar Charge Controller
Rover Li 40 Amp MPPT Solar Charge Controller
REGO 12V 60A MPPT Solar Charge Controller
In this article, we'll take a deep dive into the Renogy MPPT solar charge controller range, including the Rover 20A & 30A and the Elite series.
We'll:
introduce the range,
discuss specifications,
features,
key benefits,
installation process, and
compare the models.
By the end, you'll clearly understand which model best suits your vehicle and solar power requirements.
When you click on links to various merchants on this site and make a purchase, this can result in this site earning a commission. As Amazon Associates, we earn from qualifying purchases. For more info, please check our disclosure page.
Disclaimer: Renogy sent us some MPPT solar charge controllers for this review. However, the content of this post is not sponsored by Renogy, and all opinions are our own.
Introduction To The Renogy Solar Charge Controller Range
Renogy is a well-known brand in the solar industry. They offer high-quality products designed for efficiency and durability.
The MPPT (Maximum Power Point Tracking) solar charge controller series is no exception.
These controllers optimize the energy harvested from solar panels, ensuring your RV or camper gets the most out of its solar power system.
Renogy's charge controllers offer an outstanding balance between performance and affordability. It makes them an excellent choice for your RV or camper solar power system.
The Complete Renogy Solar Charge Controller Range
Renogy Rego Series
Rover Li Series
Rover Elite Series
Key Benefits
The Renogy MPPT solar charge controller range offers several critical benefits for RV and camper owners:
Efficiency: You know, MPPT technology helps you get the most energy from your solar panels, which means more power for you.
Versatility: They come in different sizes and work with various battery systems, so they're perfect for all kinds of solar setups.
Ease of Use: With a simple LCD screen and customizable settings, it's super easy to keep an eye on things and make adjustments as needed.
Safety: Built-in protection mechanisms guard against overcharging, short-circuiting, and other potential hazards.
Price: Plus, they're affordable compared to other MPPT controllers on the market. For instance, popular alternatives like Victron's MPPT controllers often come with a heftier price tag.
By choosing Renogy, you'll enjoy the many benefits of an efficient and versatile MPPT controller without breaking the bank.
Renogy MPPT Charge Controllers Compared: Rover vs. Elite vs. Rego
The Renogy Rover, Elite, and Rego MPPT charge controllers all offer a range of features and specifications to suit different applications.
The Renogy Rover is a 12V/24V/36V/48V auto-detecting MPPT charge controller with a maximum solar panel input of 100V and up to 98% efficiency.
The range offers an output power of between 20A and 100A. When paired with Renogy's BT-1 Bluetooth module, it can be monitored via the Renogy App or Renogy One.
The Renogy Elite is a 12V/24V auto-detecting MPPT charge controller with a maximum solar panel input of 100V and up to 96% efficiency.
Depending on the model, it has an output power of between 20 and 40A. It can also be monitored via Bluetooth when paired with Renogy's BT-2 Bluetooth module.
Finally, the Renogy Rego Solar Charge Controller is a 12V-only MPPT charge controller with a maximum solar panel input of 100V and up to 99% efficiency.
There is currently only one model in the range, the 60A, with an output power of 60A. It can be monitored via Bluetooth out of the box.
All three series are highly reliable, so you can be confident, no matter which series best suits your RV solar panel system.
How do you determine which Renogy MPPT charge controller best suits your needs?
There are only a few differences between the series, so we'll focus on those differences in the following sections.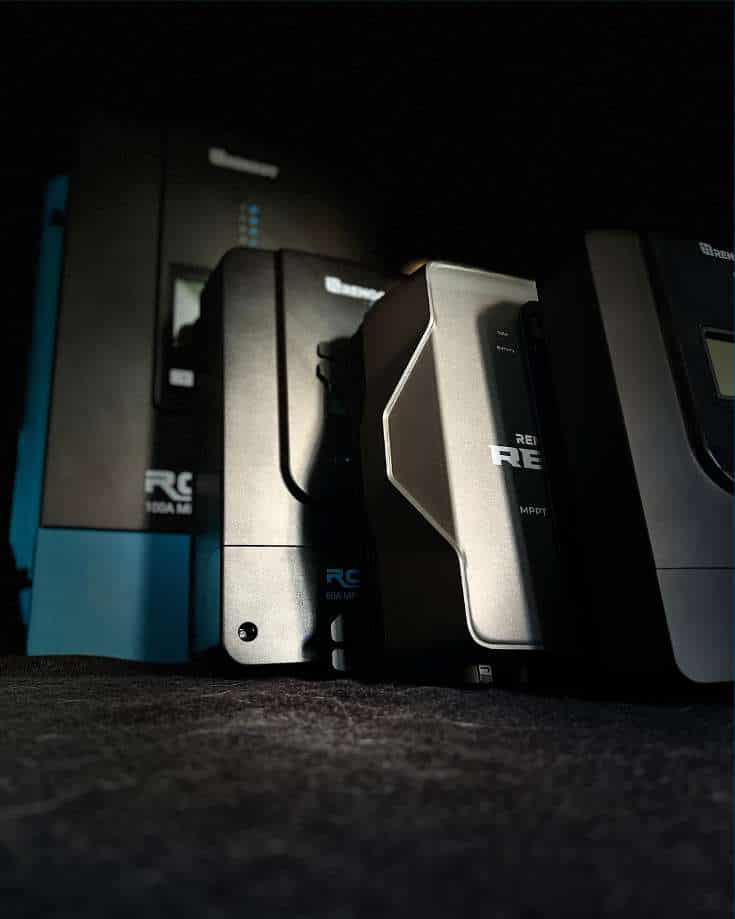 System Battery Voltage
Most campers, RVs, and van conversions run with 12v batteries, with a smaller number running 24v systems.
If you run a 12v setup, the entire range is compatible.
For 24v systems, the Elite and Rover series are suitable.
For the few RVers running 36 or 48v systems, only the Rover series will suit.
Bluetooth Monitoring
The Renogy Rover and Elite series can connect to Bluetooth, but you must buy a separate Bluetooth module.
The Rover series uses the older BT-1 module, and the Elite needs the BT-2 module. These Bluetooth modules cost around $40 and are straightforward to set up.
Finally, there's the Rego MPPT, which has Bluetooth built right in without additional accessories.
This makes installation much more straightforward than with the other two models.
Once connected to Bluetooth, all three charge controllers can be monitored via Renogy's mobile app or the Renogy One.
With these features, users have greater control over their solar systems and can easily monitor their performance.
Conversion Efficiency
Renogy Rover, Renogy Elite, and Renogy Rego MPPT charge controllers are all excellent options when it comes to converting solar energy into usable electric energy.
The conversion efficiency of the Renogy Rover and the Rego series is 98%, and the Renogy Elite is 96%.
These values reflect how well each product can convert solar energy into usable electric energy and how this affects the overall performance of off-grid solar systems and RVers.
The Renogy Rego & Rover MPPT series stand out due to their superior conversion efficiency of 98%.
That means more solar energy is converted into usable electric energy, producing higher output power for an off-grid solar system or RVer.
Load Terminals
Only the Rover series offers a load terminal feature.
It comes with a 20A load terminal so you can plug a USB device directly into the controller, enabling it to charge straight from solar power instead of relying on the battery.
However, for RVers who spend most of their time traveling, this feature may not be as essential as it seems.
We never found ourselves using this feature in our five years of full-time travel.
Most RVers have access to other charging options, making the direct solar charging option less of a priority.
While the load terminal feature of the Renogy Rover is an exciting addition, it may not be crucial for RVers as we usually have more convenient charging points.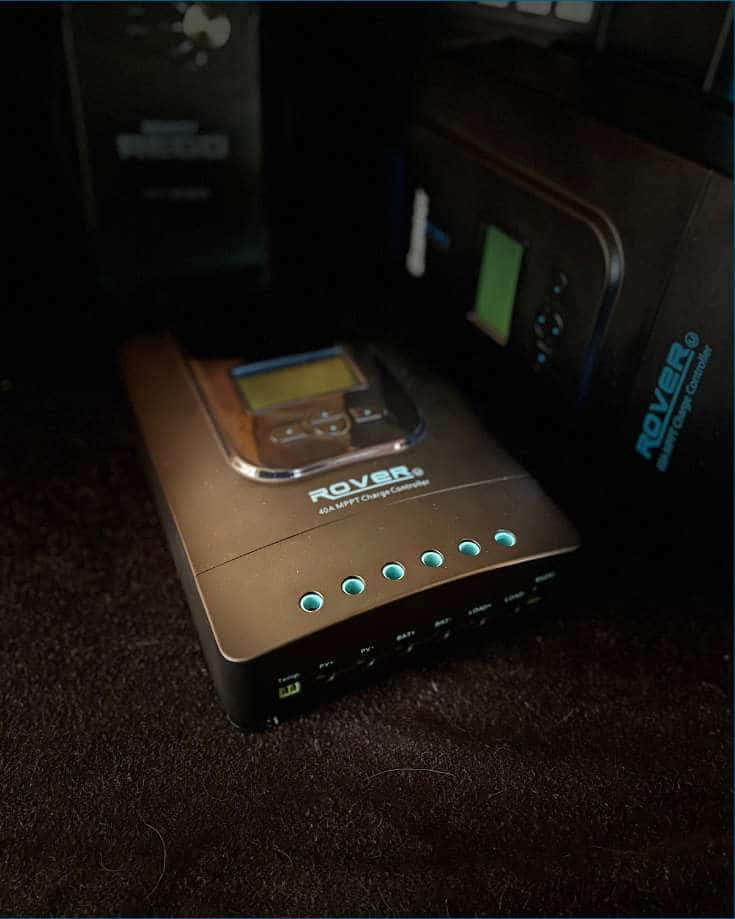 Max Input From Solar Panels
Each of Renogy's MPPT charge controllers has a maximum amount of solar panels it can handle measured in watts.
We've listed the maximum watts the largest model in each series can handle.
The Renogy Elite is designed for smaller solar systems, supporting up to 520 watts at 12 volts. This makes it suitable for smaller setups or those with limited space for solar panels.
The Renogy Rover 100A can handle a considerably larger wattage, supporting up to 1300 watts at 12 volts.
That makes it ideal for more extensive solar systems or those looking to expand their solar capabilities in the future.
Lastly, the Renogy Rego offers a middle ground between the two, supporting up to 800 watts at 12 volts. This option caters to users who require a moderate solar system size that balances power generation and space requirements.
Regardless of which series you choose, ensure you read the model's specifications to ensure it has the proper wattage input for your solar system.
Max Input Volts From Solar Panels
When comparing the max input volts from solar panels supported by the Renogy Rover, Renogy Elite, and Renogy Rego MPPT charge controllers, it's essential to understand how this feature relates to your solar panel wiring configuration.
The way you wire your solar panels, either in series or parallel, will directly impact the voltage entering the charge controller.
The Renogy Rover 100A supports a maximum input voltage of 150V, making it suitable for most series solar panel configurations with up to about 6 or 7 panels.
The Renogy Elite 40A, on the other hand, supports a lower maximum input voltage of 100V. However, as it can only handle up to 520w of power, 100V is more than enough.
The Renogy Rego supports a maximum input voltage of 100V too. You must be careful here if you're wiring your panels in series.
If you have 8 x 100w solar panels, their input voltage is around 20V each. So while the Rego could support 800w, it can't support 8 x 20V (160V) input voltage. In this case, you'd need to install 4 x 200w panels which will likely result in less than 100v.
Check your solar panel specifications carefully.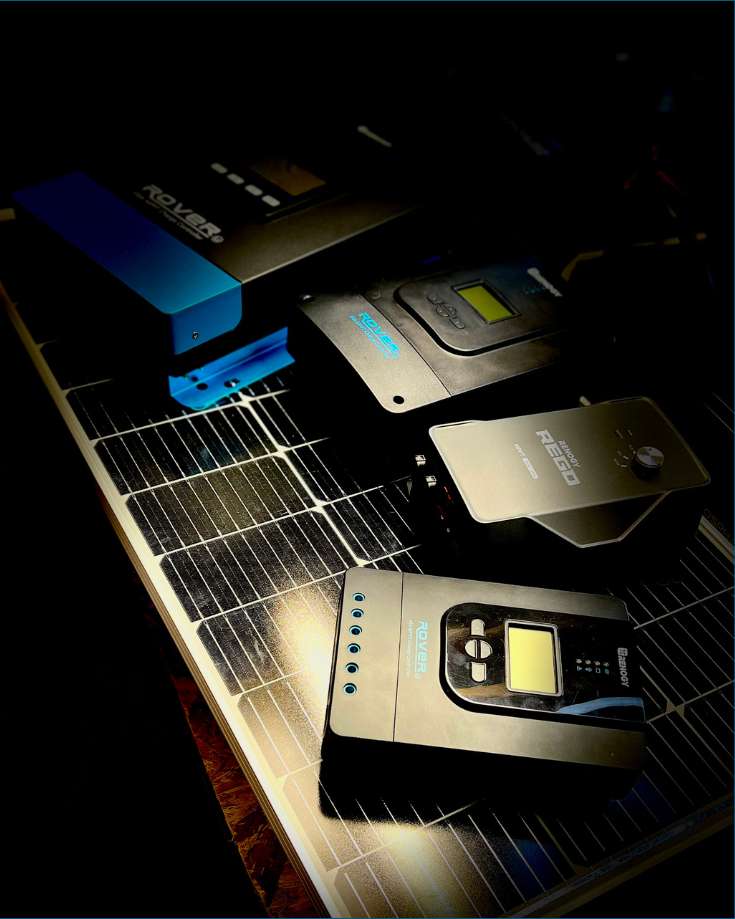 Operating Temperature
There's some difference between the series' operating temperatures.
Both Rover and Elite series can handle temperatures as cold as -35°C / -31°F while the Rego needs to be a relatively toasty -25°C / -13°F.
At the other end of the scale, both Rego and Elite series' can cope at 65℃ / 149°F while the Rover operates up to about 45℃ / 113°F.
All that said, it's unlikely that the operating conditions will ever be that cold inside your camper (at least if you're in there with it).
And there are many ways to keep your RV cool in summer, so neither you nor your charge controller cook.
Battery Charging Parameters
The Renogy Rover MPPT charge controller offers a unique feature that allows users to select a battery with custom parameters instead of being limited to regular lithium or lead-acid batteries.
By enabling custom parameters, the Renogy Rover ensures that the charge controller can efficiently and safely manage the charging process for various battery types, optimizing performance and extending battery life.
This feature is essential for any RVer utilizing a non-standard battery, as it ensures compatibility between the charge controller and the battery, preventing potential damage or inefficiencies caused by using incompatible components.
Battery Voltage Sensor
The Renogy Elite is compatible with the battery voltage sensor.
It's a small cable that more accurately detects the battery's voltage to improve the charging from the controller.
The Rego nor the Rover are compatible. However, charging profiles are probably superior to the Elite, and they don't need it.
LCD Display
One notable feature that the Renogy Rego 60A MPPT charge controller lacks is an LCD, which could be considered a downside for some.
The absence of an integrated display may make it more challenging to monitor system performance and access essential information quickly.
However, the Renogy Rego compensates for this with Bluetooth connectivity, so you can access real-time data and system settings via your mobile device.
That makes the lack of an LCD arguably less critical.
Terminal Connectors
When it comes to connecting cables, both the Renogy Elite and Renogy Rover use screw terminals, which can be a bit trickier to install compared to other types of connectors.
You might need pin crimps and extra care during installation to ensure everything is securely connected.
Remember that these screwed terminals could come loose over time because of vibrations or temperature changes, so you'll want to check them now and then to keep your system running smoothly.
On the other hand, the Renogy Rego has these neat Anderson connectors that make installation a breeze.
They're designed for fast and secure connections, so you won't have to worry about them coming loose as much.
But there's one thing to remember – you'll need to buy compatible Anderson connector cables separately, which means an extra cost compared to the other models.
The price of these cables can vary based on their length and quality, so remember to consider this when comparing the overall costs of different charge controllers.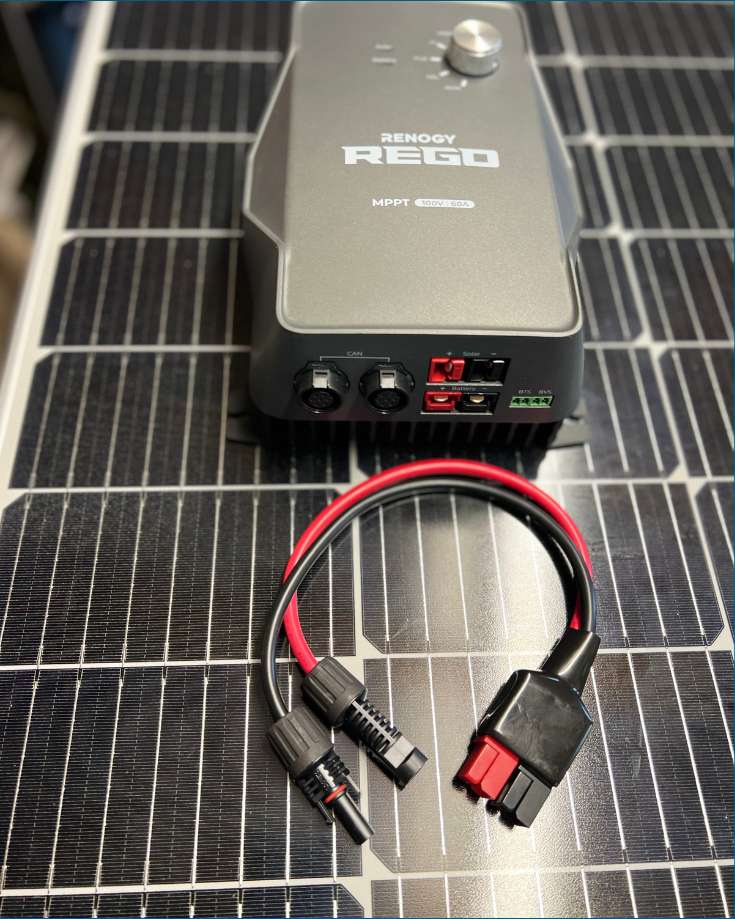 Size/Volume
The Renogy Elite is the smallest and lightest among the three series, making it an excellent choice for those with limited space or prefer a more compact setup.
Its reduced size and weight can simplify the installation process and allow for easier integration into tight spaces, ensuring a seamless fit into your solar system without sacrificing performance.
The Renogy Rego, on the other hand, is almost a quarter smaller than the Rover 60A model, offering a more compact design while still maintaining its advanced features and capabilities.
This balanced approach between size and functionality makes the Rego attractive for those seeking versatility and space-saving benefits without compromising performance.
Lastly, the Renogy Rover 100A is the largest in the Renogy range, with its considerable size reflecting its higher capacity and more robust feature set.
While this massive solar charge controller may be suitable for larger solar systems, it's essential to account for the additional space requirements when planning your installation to ensure a proper fit within your RV camper.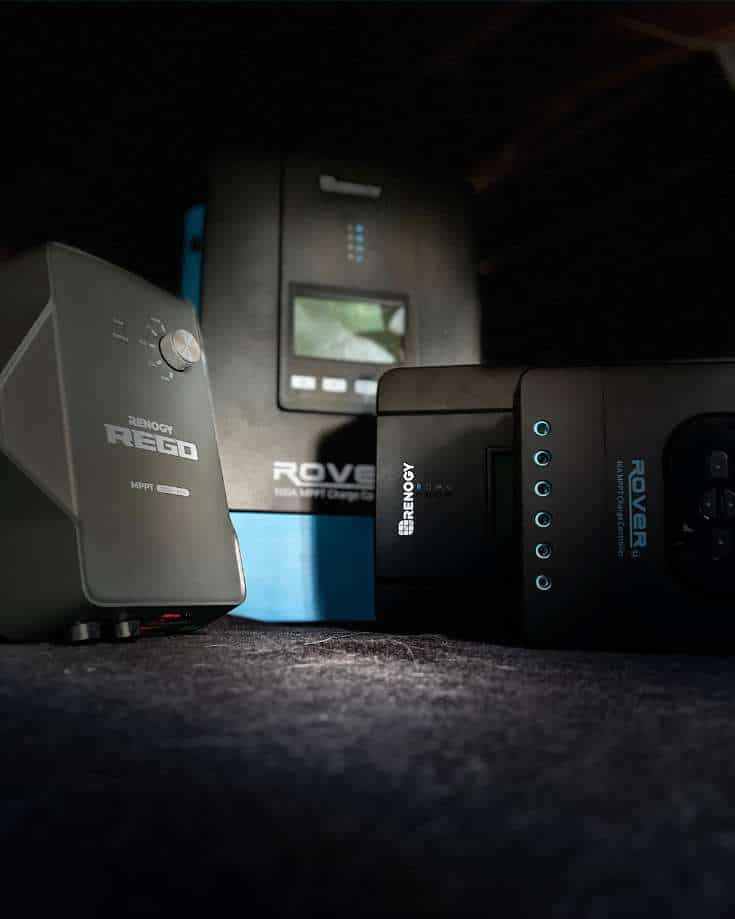 Price
When comparing the costs of the Renogy Rover, Renogy Rego, and Renogy Elite solar charge controllers, it's crucial to compare appropriate model sizes across the series to ensure a fair assessment.
The Renogy Elite series has two models priced similarly to their comparable models in the Renogy Rover series.
This similarity in price means you can focus on the specific features and capabilities that best suit your solar system's requirements, such as the smaller size of the Elite or the custom battery parameter support provided by the Rover.
When comparing the 60A models in the Renogy Rover and Renogy Rego series, the Rover 60A is typically around $100 cheaper than the Rego 60A.
This price difference may make the Rover 60A more appealing to those on a tighter budget or with smaller solar systems.
However, it's essential to consider the additional features and capabilities of the Rego 60A, such as the ease of installation and extended warranty.
Warranty
The Renogy Rego stands out with a generous 5-year warranty, providing extended peace of mind and protection for your investment.
This extended warranty coverage can be particularly appealing, as it ensures support and assistance from the manufacturer in case of any issues or defects within the warranty period.
In contrast, both the Renogy Rover and Renogy Elite solar charge controllers come with a standard 2-year warranty, offering a more limited duration of coverage compared to the Rego.
While this shorter warranty period may be sufficient, it is worth considering the potential benefits of the longer warranty offered by the Rego when making your decision.
Installation Process
Installing a Renogy MPPT solar charge controller in your RV or camper is relatively straightforward. Here's a simplified step-by-step process:
Determine the ideal location for the charge controller, ensuring it's close to the battery bank and away from heat sources.
Mount the charge controller to the wall using the provided mounting holes.
Connect the battery cables to the charge controller's battery terminals, taking care to match the positive and negative polarities.
Connect the solar panel cables to the charge controller's PV terminals, again paying attention to polarity.
Connect the load cables to the charge controller's load terminals if applicable.
Turn on the charge controller and configure the settings using the LCD.
Always consult the user manual for detailed instructions, and consider hiring a professional if you need clarification on any part of the installation process.
Comparing The Most Popular Sizes
When choosing between the Elite, Rover, and Rego series, consider your vehicle's size, solar power system requirements, and future expansion plans.
Here's a quick comparison of the three:
Elite: Ideal for smaller RVs and campers with modest power needs. Best suited for 12V/24V battery systems and solar arrays up to 520W with a max input voltage of 100V.
Rego: A versatile option for mid-sized vehicles with larger solar arrays. Compatible with 12V battery systems and solar arrays up to 800W with a max input voltage of 100V.
Rover: Perfect for large RVs and campers with extensive power requirements. It can handle 12V/24V/36V/48V battery systems and solar arrays up to 1300W with a max input voltage of 150V.
Final Verdict and Noteworthy Takeaways
The Renogy MPPT solar charge controller range is:
efficient,
versatile, and
user-friendly.
The best model for you will depend on your specific needs and system requirements:
Choose the Elite series for smaller vehicles and modest power needs.
Opt for the Rego series if you have a mid-sized vehicle with larger solar arrays.
Go for the Rover series if you own a large RV or camper with extensive power requirements.
No matter which series you choose, always focus on safety during installation and consult the user manual for detailed guidance.
Graham Bogie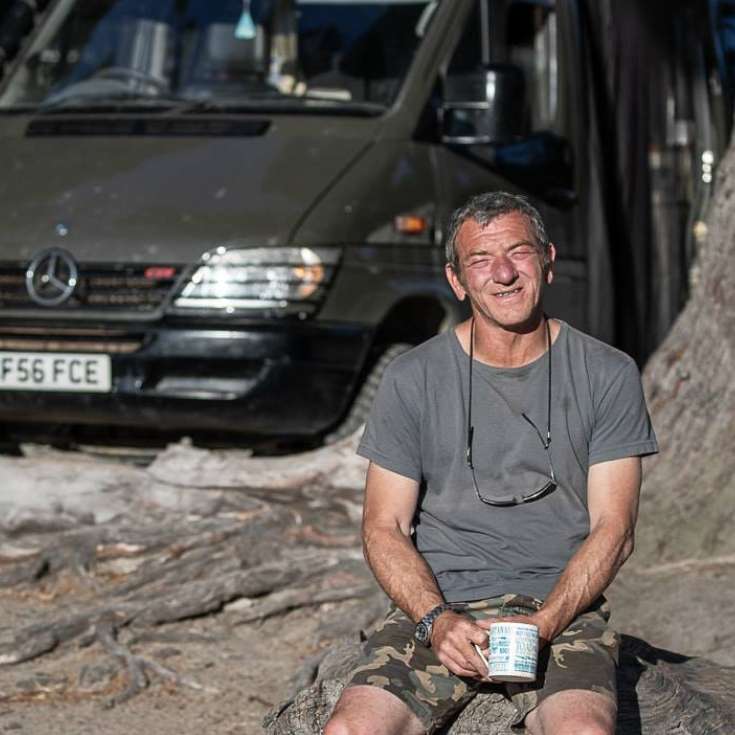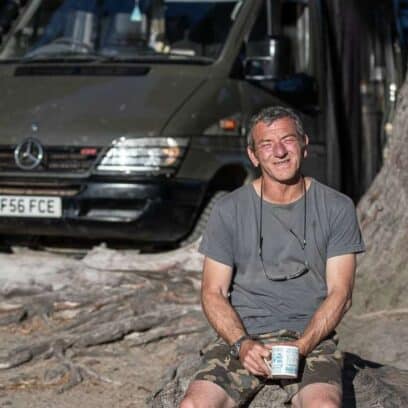 Graham is a seasoned marine electrical engineer with two decades of experience designing customized electrical systems for plant machinery and converting campers and overland vehicles. His expertise has led him to author the reputable Campervan Electrics Handbook and become the chief designer of the RV Wiring Design Tool. As a knowledgeable figure in the field, his YouTube channel, blog, Facebook group, and newsletter, offering electrical advice and product reviews, reach more than a million users each year.