When we started our overland adventure over 18 months ago, we did so with 6 tyres on Mowgli the Unimog.
She was wearing 4 and we carried 2 as spares. Many mountain tracks, plenty of pot-holed East European roads and 30,000 km later they're showing signs of their hard life.
Our recent incident on Cirque de Jaffar in Morocco was one mountain track too far for Mowgli's rubber soles and it's time for a new set.
But replacing Unimog tyres in Morocco isn't as straightforward as it may sound.
30,000 km ago, we started our overland adventure with 2 good tyres, 2 reasonable tyres, one reasonable spare and a rimless spare-spare tyre.
The journey has taken its toll on Mowgli's shoes and several patches, splits and inner tubes later we're left with 2 reasonable tyres, 2 African patched, borderline tyres and a patched with inner tube spare.
Our rimless spare-spare tyre was beginning to perish under the direct sunlight.
During our tumble on Cirque de Jaffar, one reasonable tyre broke its bead and I had to re-inflate it on the mountain.
The very next day, one of the African patched, borderline tyres split and we're left running on 6 buggered tyres. It's time to go shoe shopping.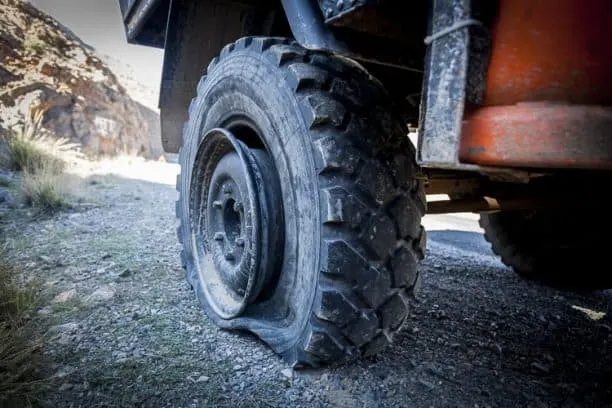 ---
Want to see how we rolled our Unimog and managed a self recovery? Click here!
---
There are many tyre shops in Morocco. Many will repair tyres to get you back on the road; repairs you simply wouldn't get any tyre shop in Europe worth their salt to do.
Ideally we wanted new tyres and a size up from the 335's we were currently wearing, but would take a repair if that was the best we could get.
Replacing Unimog Tyres in Morocco
Pulling into the large town of Er Rachidia, we found the local tyre dealer.
Even he wouldn't repair a couple of our tyres and spent the next half hour on the phone having heated conversations, in an attempt to source a new set.
Several cups of Moroccan tea later, he excitedly informed us he'd sourced a set of 5 Mitas 365/80 R20 tyres.
Just what we were looking for but the price, even after haggling, was eye wateringly outrageous.
It would have been cheaper for us to drive back into Europe and replace them there. We could secure the tyres with a deposit and he promised they'd be delivered from Casablanca in a few days.
Not that desperate to agree to any deal at the first shop, we went and found a campsite nearby with wifi to research our options.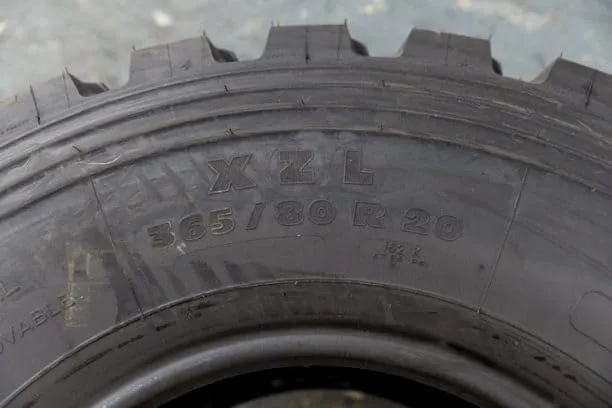 We were upgrading from Michelin XZL 335 /80 R20 to a set of 5 new 365/80 R20. There are only a few companies that make this size: Mitas, Continental and Michelin.
I'm sure there are a few other brands from China and Russia, but this is a big investment so we needed to keep to recognised names.
After a few days of googling, waiting for responses and calls outs to various forums, and many conversations in our finest Frarabish (a unique blend of French, Arabic and English) we received a message from Overland Sphere about Pneumatique Bensouda in Fes.
We emailed Pneumatique Bensouda and Tarik, the owner's son, quickly responded.
He told us that there are no Mitas tyres in Morocco, so if we choose to go with someone who says they can get them within days, to be careful about such claims.
Pneumatique Bensouda have been in business for 40 years. They have a website which shows a professional looking workshop.
We at least felt more confident dealing with Tarik's outfit than the dusty shop in Er Rachidia.
Tarik said there were 6 Michelin tyres of the size we wanted left in Morocco and he could take delivery within 2 days.
After a few calls to other dealers, including their UK representatives, we decided to drive back up to Fes to see Pneumatique Bensouda.
We pulled up to find a very large tyre distributor and a very well equipped workshop.
This shop was as good as any we've seen in Western Europe and way better than we are used to in the rest of North Africa.
After coffee, as well as meeting the local Michelin rep, we agreed a price and delivery. True to their word, a couple of days later, our tyres were sitting in Tarik's workshop.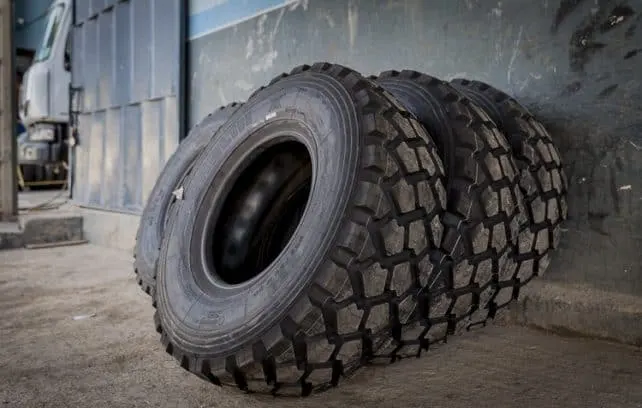 As we pulled up, two mechanics had our 5 new tyres lined up on the forecourt and they immediately began lifting Mowgli and refitting her new shoes.
Storing the spare was a little more challenging. According to the Mercedes manual and my internet research, the larger size tyre would fit but it took a lot of effort and we had to store it deflated.
Within an hour we were rebooted and our front wheel alignment checked.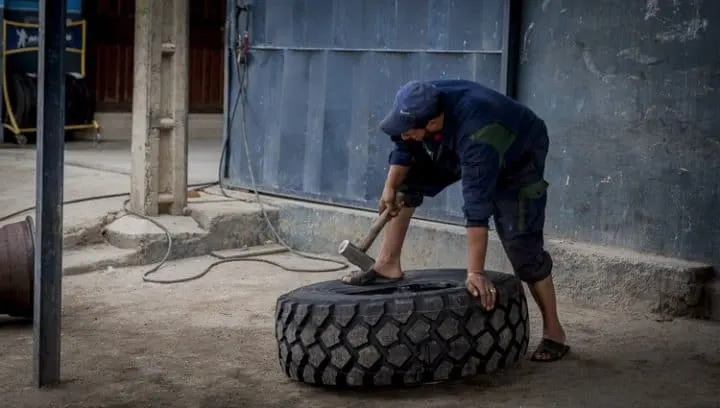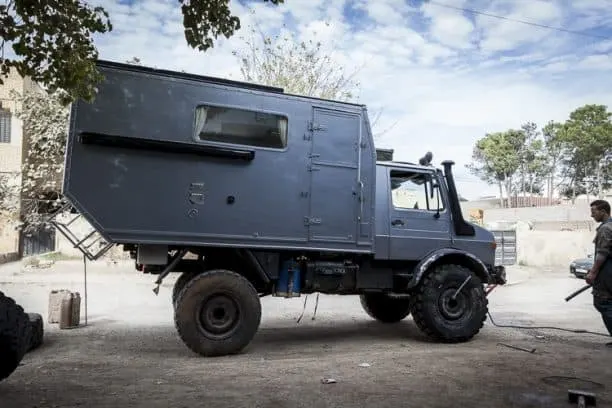 Mowgli has just got a few inches taller and in theory she's also got a little faster. My wallet also got a lot lighter, but we think the price we paid here for a full set was marginally cheaper than in Europe and 25% cheaper than in the UK.
So now we have 5 new good tyres and one under sized reasonable spare-spare rimless tyre which is currently being used to store our emergency water cans. I suspect in time this will go and I will run with only one spare.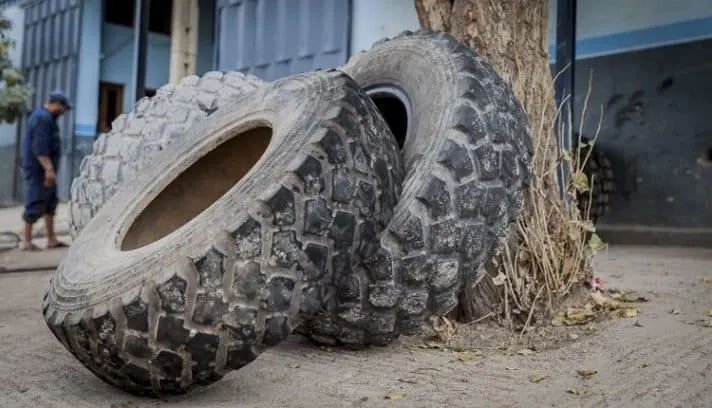 So tonight, somewhere in Morocco, there will be 5 "lightly used" Michelin XZL 335/80 R20 tyres available at a knock down price and Mowgli and her new shoes will be not going on anymore tracks for at least a week!
Pneumatique Bensouda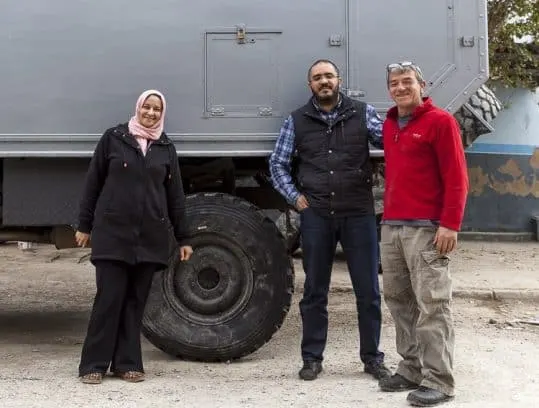 We know it's sometime difficult to source parts, including tyres, whilst in Morocco.
When you do find someone allegedly able to help you out, you always question how honest they are being. Are you about to be ripped off?
Will the tyres ever arrive? Should you hand over the cash and be at the mercy of the garage owner.
But in Pneumatique Bensouda, we found a professional, friendly and honest business.
If you're in need of tyres whilst in Morocco, you'd be well advised to call Tarik first and foremost. Here's their gps points and contact details in the event you ever need their services.
Pneumatique Bensouda
GPS: 34° 00′ 39.12″N 5° 03′ 06.82W
74, lot Mabrouka, Quartier Industriel Bensouda, 30000 Fes, Maroc
Tel: +212 5 35 72 80 60
Email: [email protected]
From Mowgli Adventures to Tarik and all the team at Pneumatique Bensouda – Thank You!
Like it? Pin it!