Rewilding Iberá National Park is a long term project to return Argentina's wetlands to its former glory. As visitors to the northern reaches of the park, we witnessed first hand, some of the project's early successes.
As night receded, giving way to a cloudless sunrise, the wildlife too began to rise.
Southern Lapwings announced the start of the day with their familiar screeching chatter.
The first screecher was soon accompanied by his gang of rowdy pals. And with them the dawn chorus was underway.
An unseen woodpecker led the percussion on a nearby tree trunk.
Tuneful Red-Crested Cardinals foraged for seeds, their bright red helmets glinting in the early morning rays.
Dew twinkled on the campsite lawn as Capybara families emerged from tall, dense reed beds, munching through their first meal of the day.
Graham and I sat immersed in this cacophony, guests in the natural wonderland, clutching our steaming hot coffee.
And then the perfect orchestral start to the day came to an abrupt, squawking halt.
Esteros del Iberá National Park
We were once again in Esteros del Iberá wetlands, now a National Park, in northeastern Argentina.
The wetlands became a National Park at the end of 2018, largely thanks to the efforts of Tompkins Conservation.
As with vast swathes of Chilean Patagonia, like Pumalin Park and others along the Carretera Austral, Kristine Tompkins and her late husband Doug donated land through their foundations Conservation Land Trust (CLT) and Flora & Fauna Argentina.
Last year, we visited Colonia Carlos Pellegrini on the east of the National Park. The town makes Iberá wetlands quite accessible to visitors.
Boat trips, horse riding and guided walks allow visitors to get up close to passing caiman, anaconda and howler monkeys without intruding on their environment.
With simple amenities and tourists services, the local community benefits from the influx of visitors, all wanting a glimpse of the vibrant natural world covering over 1.5 million acres of Corrientes province.
Cambyretá Portal and Camping Monte Rey
After 5 days in Colonia Carlos Pellegrini this year, we wanted more of the nature and fewer fellow tourists. We decided to head to the northern gate at Cambyretá.
To access this area of Iberá National Park, we need to navigate a 30 kilometre sand track.
The watery landscapes stretch out to the distant horizon, only broken by pockets of jungle forest.
We set off along the track a little after dawn. The wildlife we watched was staggering.
Caiman lined the track, soaking up the heat of the day, slithering into the marshes as we approached.
Enormous 5 foot tall jabiru storks flew overhead, landing like prehistoric dinosaurs in the watery roadside.
Birds of prey circled and hovered, pouncing on their small prey, often leaving empty clawed.
Capybara enjoy family outings, fearlessly dining on succulent roots.
We too stopped for breakfast, savouring the idyllic world we were entering.
The short journey took us 4 hours.
Rewilding Iberá National Park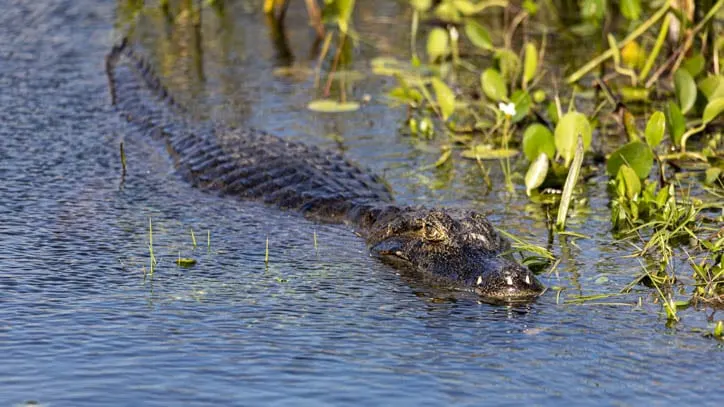 The sand track ends at Camping Monte Rey.
The grounds are well kept, lawn mowing duties shared between rangers and capybara.
Anna welcomed us to the camp. She's been a ranger for 6 months and prefers this to her full time job as a pharmacist. And who could blame her?
Anna tells us about the CLT Argentina rewilding project in Iberá National Park.
Many species of mammals and birds became extinct in this region at the hands of humans.
Jaguars, giant anteaters, marsh deer and tapirs numbers dwindled through hunting and their ever shrinking natural habitat.
People captured Green Winged Macaws to gaze at them in cages in drawing rooms or pluck their colourful feathers.
The rewilding process aims to recover wild areas of Argentina, the main goal to bring back the locally extinct species and to increase population numbers of the existing ones.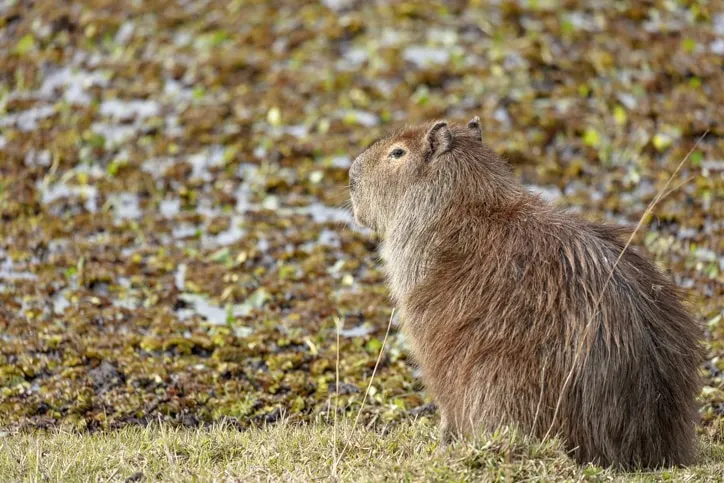 Jaguar cubs
In 2015, the Jaguar Reintroduction Center was established in the heart of the Iberá wetlands, in San Alonso Island. The first jaguar cubs have been born and, now over a year old, have been raised without any human contact.
Soon, they'll be released and the regions top predator will once more, prowl the wetlands.
The rewilding project has already successfully released Giant Anteaters, Pampas Deer and into Iberá National Park.
As part of the reintroduction project, Collared Peccaries, a small pig like animal will also once more forage for insects and fruit.
And with it, the seeds of native plants will spread far and wider.
Enjoying the solitude of Iberá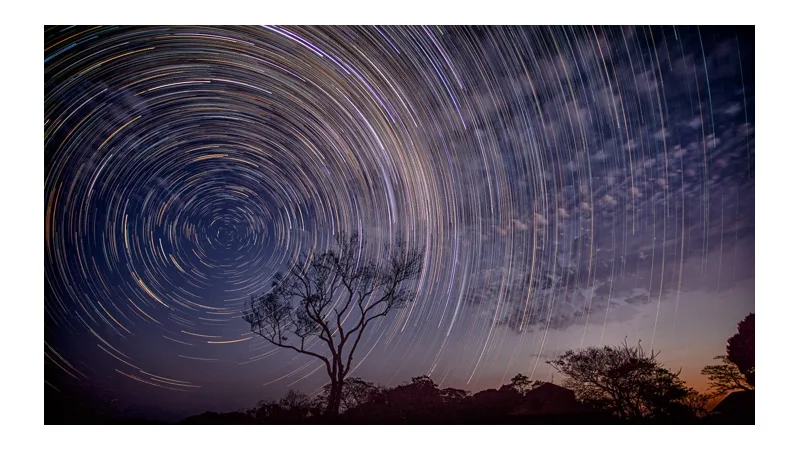 We spent the afternoon alone beside the lake, honoured to share our surroundings with the resident wildlife.
As the sunset, still completely alone, we watched the stars begin to shine.
2 tall foxes prowled by, passing within a couple of feet of us, on the lookout for an easy meal.
Fireflies flitted around the trees and bushes, chased by bats who flew too close to our heads on occasions.
The milky way arced across the sky above us, only dimming a few hours later as the moon began to rise.
We went to bed surrounded by utter silence. The dawn chorus was the only thing to drag us out of our slumber.
Return of the Green Winged Macaws
Steaming coffee in hand, the offensive squawking got louder. We scanned the sky and the trees, searching for the source of the interruption.
A flash of colour, rapid movement and a long feathery tail caught our attention. A shrill, louder squawk and another flash of colour and there they were.
2 dazzling Green Winged Macaws preened each other in a tree before us.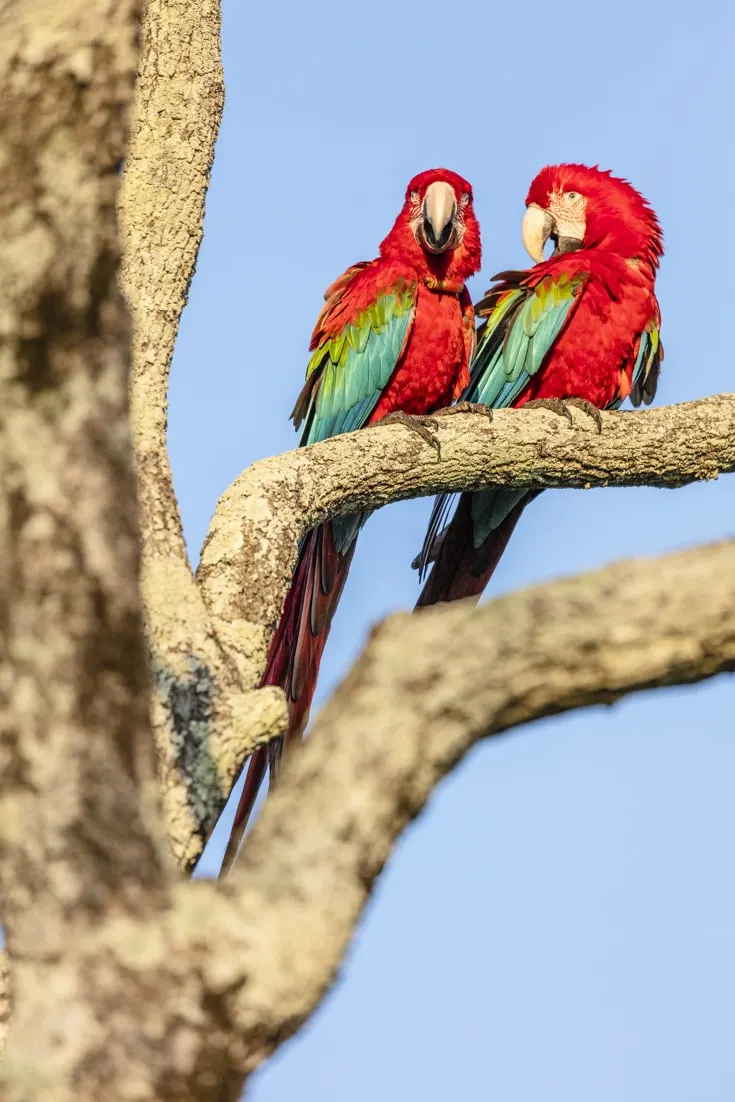 No longer a bird to be kept in a small cage by humans wanting something pretty to adorn their homes.
Protected from having their feathers removed to decorate hats and dream catchers.
And no longer extinct from this area of Argentina.
These glorious birds are home. Helping to spread seeds throughout the region and doing their bit to conserve Iberá National Park.
This marks another step towards returning Esteros del Iberá to its former glory.
These birds come from captivity and have gone through an intensive training program to improve their flight abilities and recognise native fruits before being released.
A huge aviary remains in a corner of the camping ground. This was once their training ground before 11 birds were released.
Now they come and go, peering into the aviary from the outside. But with no locked doors or bars.
As the Macaws become increasingly confident, their territory will grow.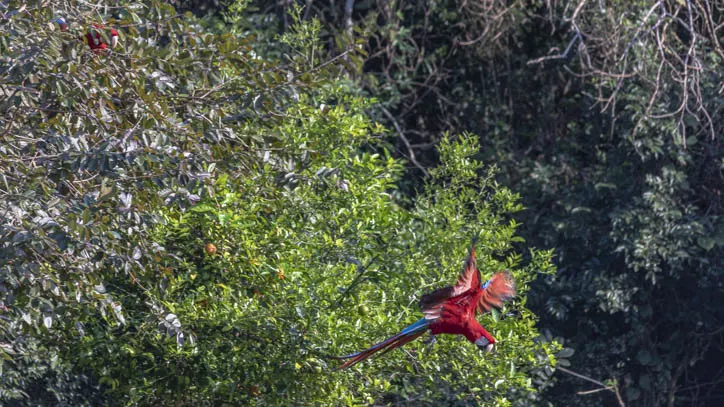 And their young will be the first of their species in Iberá in over a century to be born free.
As we poured a 2nd cup of coffee, a marsh deer and her fawn emerged from the woodland, nibbling young shoots.
The Iberá rewilding project is taking hold.
Where to stay in Cambyretá Portal, Iberá National Park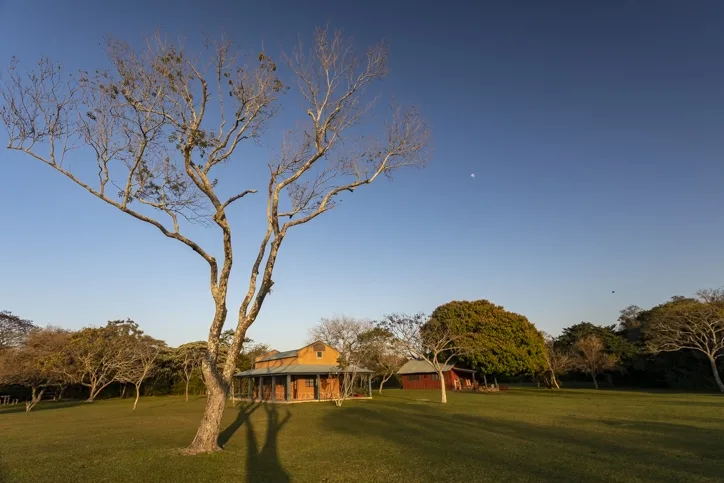 Camping Monte Rey is free. Facilities include parrilla, bathrooms and cold showers, welcome in the heat of summer.
There's no electricity, wifi or shops so make sure you arrive with enough supplies to last you for your entire stay. And a few days more too, in case you'd like to stay a little longer.
Top tip: there's a brick archway leading into the campsite and at 3 metres tall, we just squeezed under it. This place isn't suitable for taller rigs.
Like it? Pin it!