Late October in northern Portugal and it's chestnut harvest season. Not the chestnuts we British use to play conkers.
No. we're talking about the horse chestnuts that are a delicious roast nut feast. So when in Portugal, why not go along to the local roasted chestnut fiesta?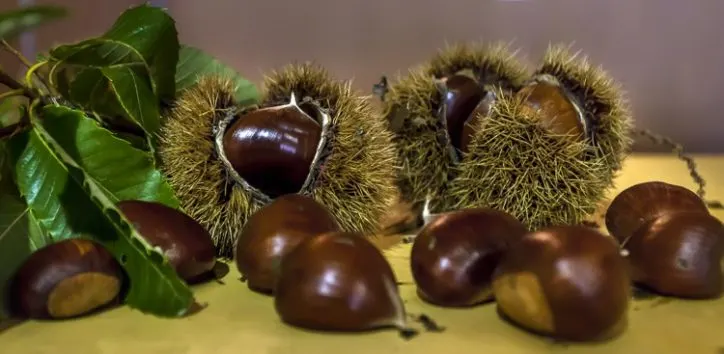 As we drove through the Parque Natural de Montesinho to Bragança, we saw mountain villagers picking the chestnut crop from their smallholdings and many signs for a festival in Vinhais for the upcoming weekend.
We joked that maybe it's a chestnut fiesta. How right we were!
We pulled into Vinhais and a very full camper stop. Down the hillside, were a host of marquees and an air of excitement that even the overcast drizzle could not dampen.
Vinhais hold the world record for roasting the most chestnuts at any one time. They won this in 2007 and the massive chestnut roasting pan was in full use during the festival.
As the nuts were being roasted, the locals stampeded to take a bag full to eat while drinking many tin cups of the local black wine.
As worldly travellers, we joined in full heartedly and drank and ate a fair amount ourselves.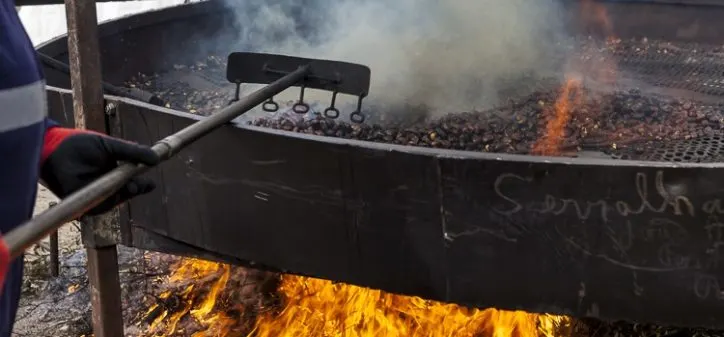 The festival must be important as RTP, Portugal's premier TV station held an all-day outside broadcast for day time television.
They had a make shift studio in the largest marquee and held regular featured outside broadcasts.
The male presenter and his pearly whites, is obviously well known and must be a bit of a heart throb judging by all the older ladies swooning at his every word.
According to some of the women we spoke to, his female co-presenters were unknowns!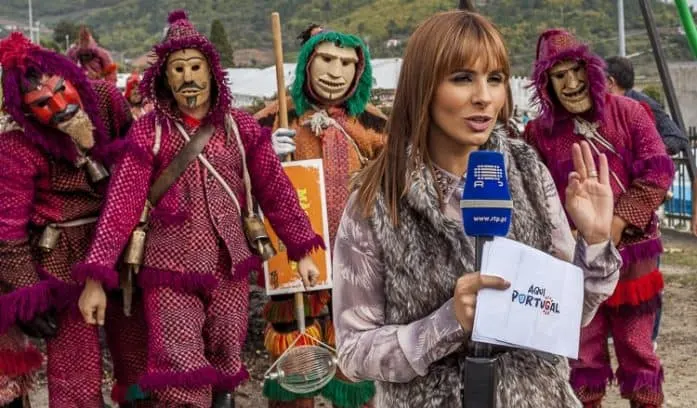 The festival was not only about roasted chestnuts; it included a range of local producers displaying their fabulous wines, cheeses and hams.
There was even a formal restaurant serving four course dinners using only local ingredients, including of course, the humble horse chestnut.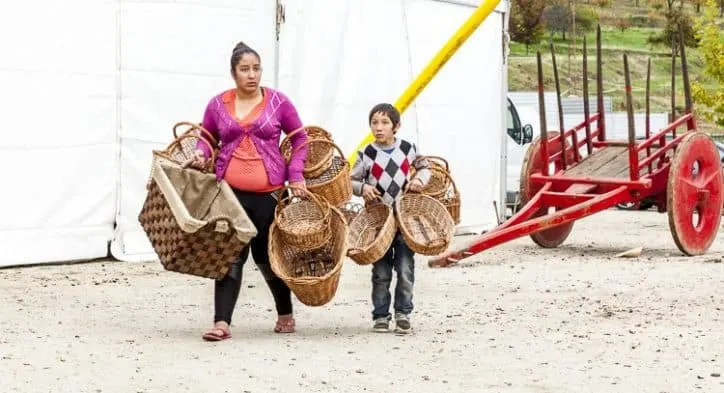 Other displays were typical of any local festival and included displaying their show winning livestock, new farm plant machinery and traditional hand-made wicker baskets.
All of this was intermingled by the local cow bell & face mask wearing rascals, who mischievously kidnapped young ladies by throwing them over their shoulder and running away with them to steal a kiss.
They even did this to the unknown RTP reporter while she was attempting a make a live outside broadcast about the chestnuts currently being roasted.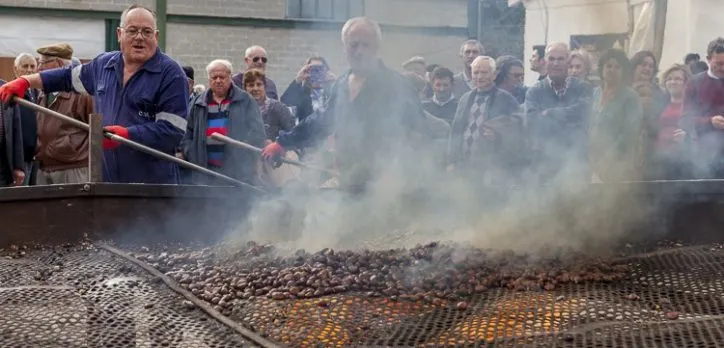 As the day wore on the rain held off and there was more chestnut roasting, more wine, cheeses, hams and pork being consumed, all in a good friendly atmosphere.
There were stalls selling roasted pork and chestnuts, lamb stew and chestnuts, port and chestnuts.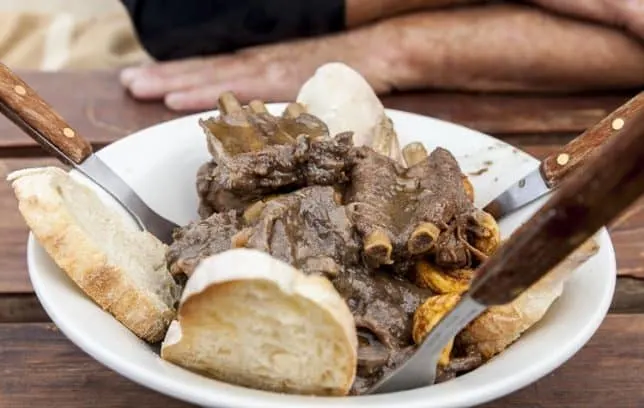 In fact, chestnuts were the entire theme of the day. Even the local children entered into a fashion show, dressed in, naturally of course, their finest chestnut costumes.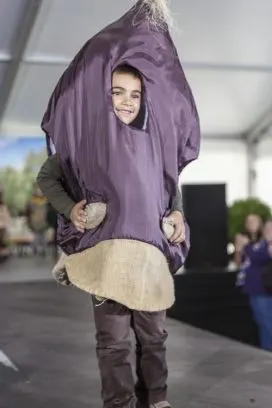 All this fun carried on well into the evening, when the band came on to give a stomping set of 1960s foot tapping rock and roll.
The Lucky Duckies Band is also semi famous here in Portugal and even had a music slot on the TV show earlier in the day.
Although it was mimed and their lip syncing needs some practise, but still it was on live TV, and that makes it a very tenuous claim to fame for us.

So in our pursuit of finding events and things to see that are not on the tour bus route, the annual and world record holding horse chestnut festival in Vinhais, during late October is right on the money and well worth a visit.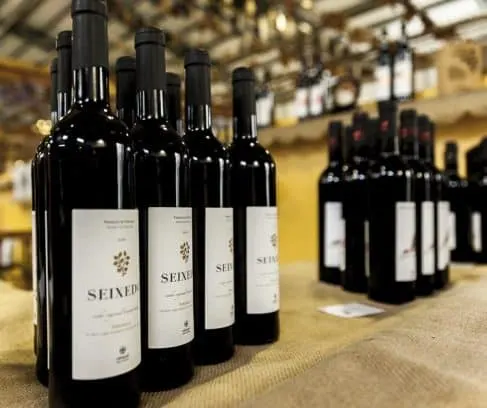 Drink, eat, dance and be merry, what more could you ask for from the humble roasted chestnut?
And no we did not feel the need to introduce the game of conkers into this enjoyable weekend.