Google things to do in Patagonia and you'll be spoilt with iconic images of Mount Fitz Roy in El Chalten, crashing icebergs at Perito Moreno Glacier in El Calafate and the towering peaks of Torres del Paine in Chile.
The Carretera Austral road trip may even make an appearance in the results.
But northern Patagonia, Argentina is blessed with some epic landscapes too.
If you fancy a road trip, whether you're here for the summer sun or the winter ski season, Argentina's Lake District is nothing short of spectacular.
The 7 lakes route (Ruta de los Siete Lagos in Spanish), winds through gorgeous scenery of snow-capped mountains, deep, cold lakes, lush native forest and gushing waterfalls.
And it's even perfectly manageable in 1 day!
So without further ado, here's everything you need to know about driving Ruta de los Siete Lagos, Argentina.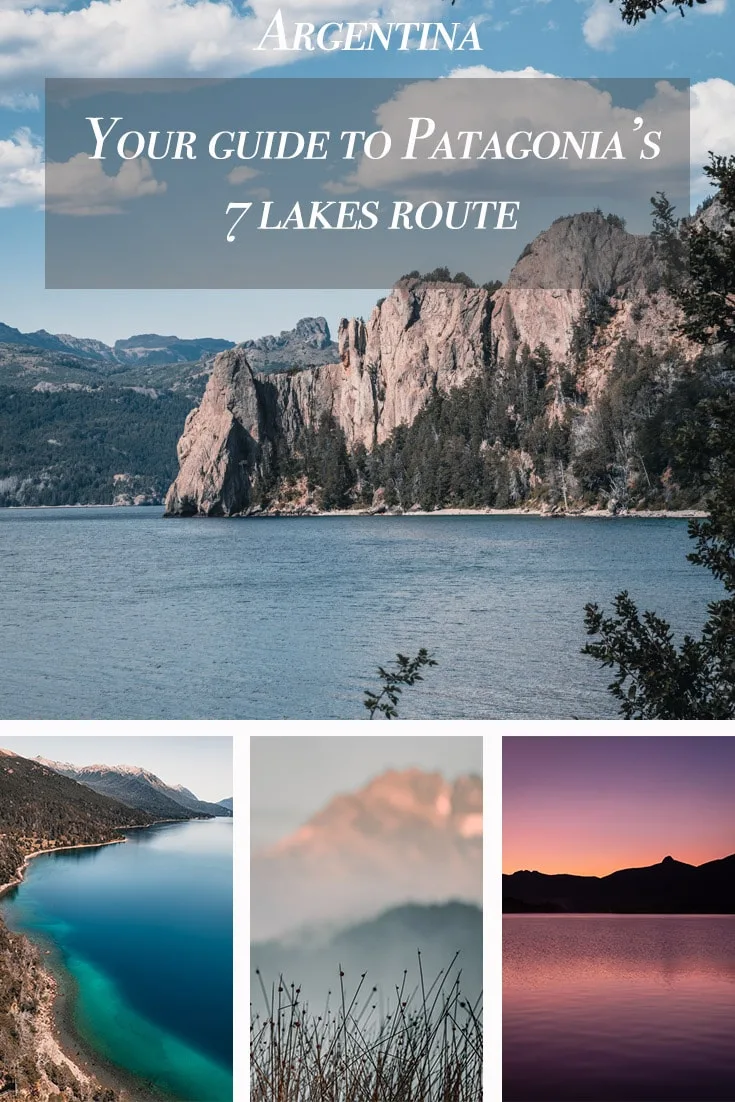 Ruta de los Siete Lagos map
This is a map of our Ruta de los Siete Lagos itinerary. Click on the image or the link to open it in Google maps.
The blue route is the "official" seven lakes road. The green lines indicate our recommended diversions.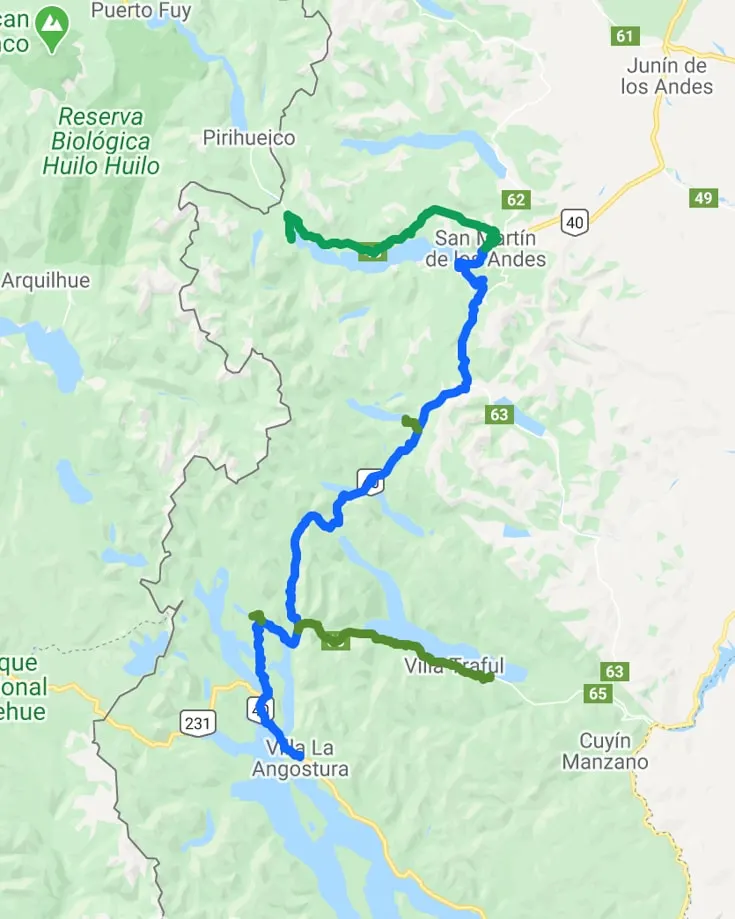 The drive follows Ruta Nacional 40 (or Ruta 40), aside from the optional diversions.
The 7 lakes are actually 11
If you just stick to Ruta 40, the road skirts 7 lakes but with a few small diversions, there's at least another 4 to add to the list.
From Bariloche to San Martin de los Andes, the 7 lakes "officially" making up the route are:
Lago Nahuel Huapi
Lago Correntoso
Lago Espejo Grande
Lago Escondido
Lago Villarino
Lago Falkner
Lago Machónico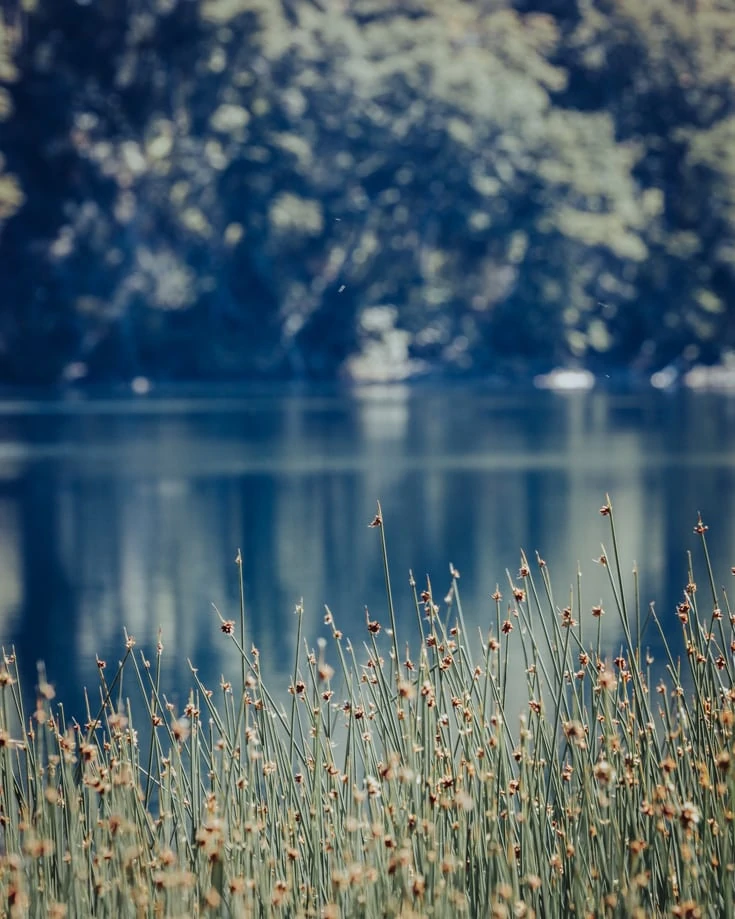 Yet San Martin de los Andes sits on the shores of the enormous Lago Lácar but that's not counted.
And access to these other nearby lakes is simple too and definitely worth stopping at:
Lago Traful
Lago Espejo Chico
Lago Hermoso
To be honest, they're all stunning and each offers something a little bit different. Whichever you choose to visit, take time to breathe in the clean air and maybe dip a toe into the cold water.
Ruta de los Siete Lagos | Our recommended itinerary
This is our recommended route for self-driving the Ruta de los 7 Lagos.
We've started in Bariloche because most people will but you can also do it in reverse.
The entire route is doable in 2 or 3 days at a relaxed pace. Make sure you add in a couple of hours for the return journey if you plan on doing a round trip.
If you only have 1 day, just skip the diversions we've noted below and pick up your pace.
If you're anything like us though, you'll want to enjoy the scenery and will find it difficult to drag yourself away.
So don't. Instead, take your time over this road trip.
The last time we drove the Seven Lakes Route we took 7 days, and that didn't take into account the time we spent in San Martin de los Andes and Villa La Angostura.
Lago Nahuel Huapi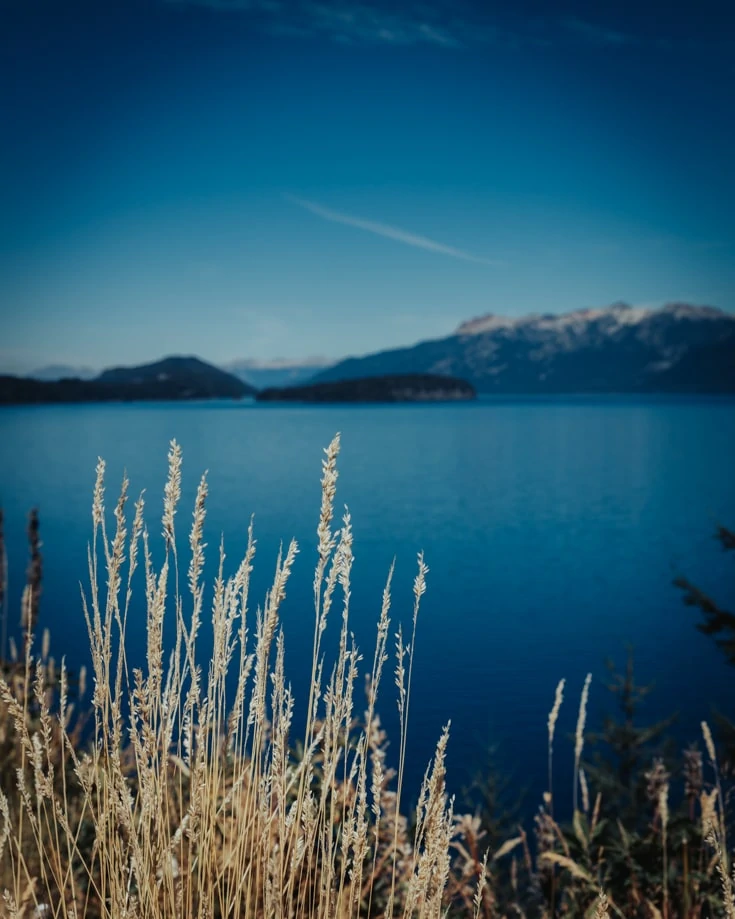 The largest of the lakes covers a huge 557 square kilometres. Stretching from Bariloche in the south to well past Villa La Angostura in the north, Lago Nahuel Huapi sits completely within the National Park of the same name.
And with over 350 kilometres of coast, there's no shortage of beaches.
Many people pass through the pretty Patagonian town of Villa La Angostura, stopping for little more than a coffee.
We did the same twice but on our 3rd time, decided to spend more time here and explore a little.
We can highly recommend it to enjoy lake views and hiking, skiing and watersport opportunities.
As you follow Ruta 40 out of Villa La Angostura, make sure to stop at the small bridge over Rio Correntoso. The signs claim this is the smallest river in the world.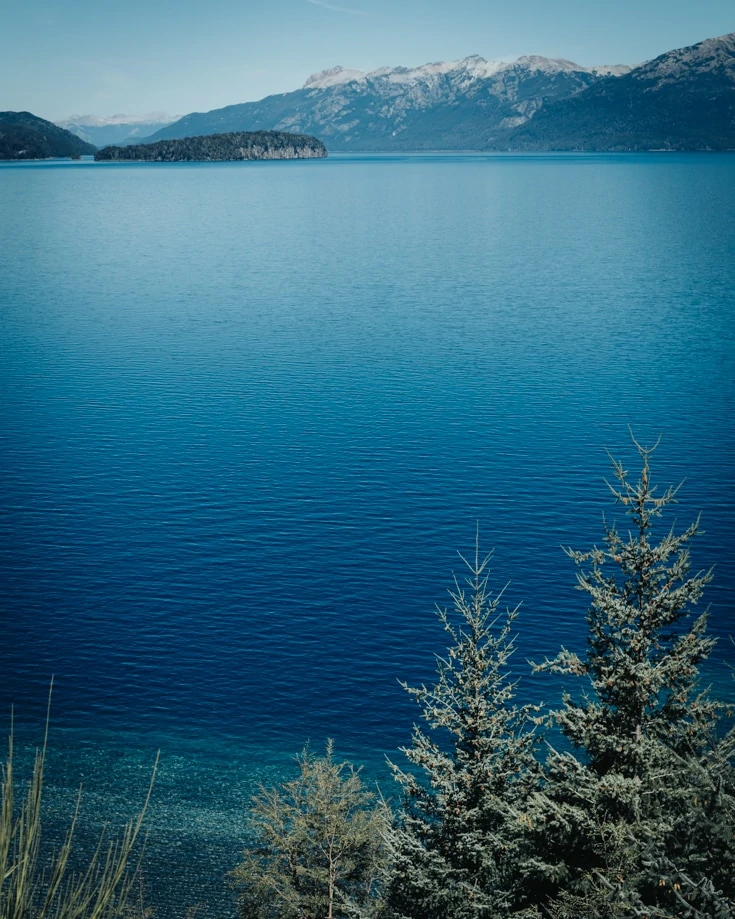 We think that accolade goes to Roe River in Oregon but let's not let the facts get in the way of a good story, or photo opportunity.
Mirador Inalco is another pretty viewpoint, although this one has a slightly darker edge.
The trees in front of the viewpoint camouflage a house said to be where Hitler holed up after WWII, if the conspiracy theorists are to be believed!
Lago Correntoso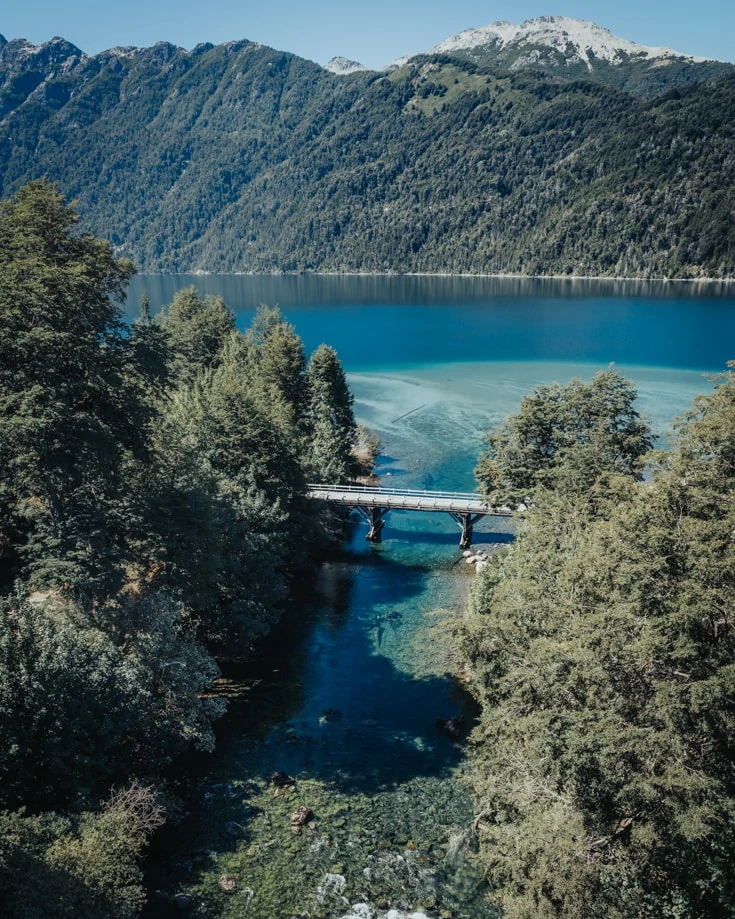 Lago Correntoso has one of the most lovely views and that's saying something on this route.
The beach is easily accessible just past the bridge over the Rio Correntoso only 3 kilometres from Villa la Angostura.
As you drive north on Ruta 40, there are several other viewpoints of the lake too but for the best, stop at the beach near the town. And maybe have a dip!
Lago Espejo Grande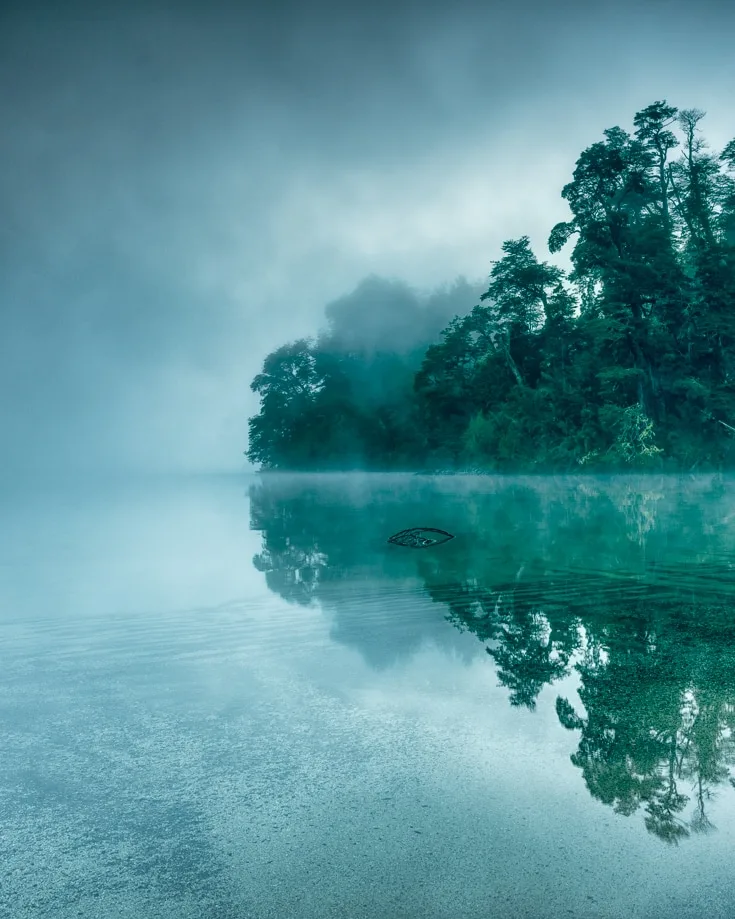 Or as we prefer to call it, our lake.
We camped on the shore of the Lago Espejo Grande twice although, at the time of writing, camping in a vehicle or overnight parking isn't allowed here.
Even so, the place is idyllic for an afternoon on the beach, swimming and kayaking.
There are no facilities here although you can hire kayaks on the beach by the day or hour.
Continue north on Ruta 40, stopping for the viewpoints of Lago Correntoso and the ruins of an old bridge over Ruca Malen.
Lago Espejo Chico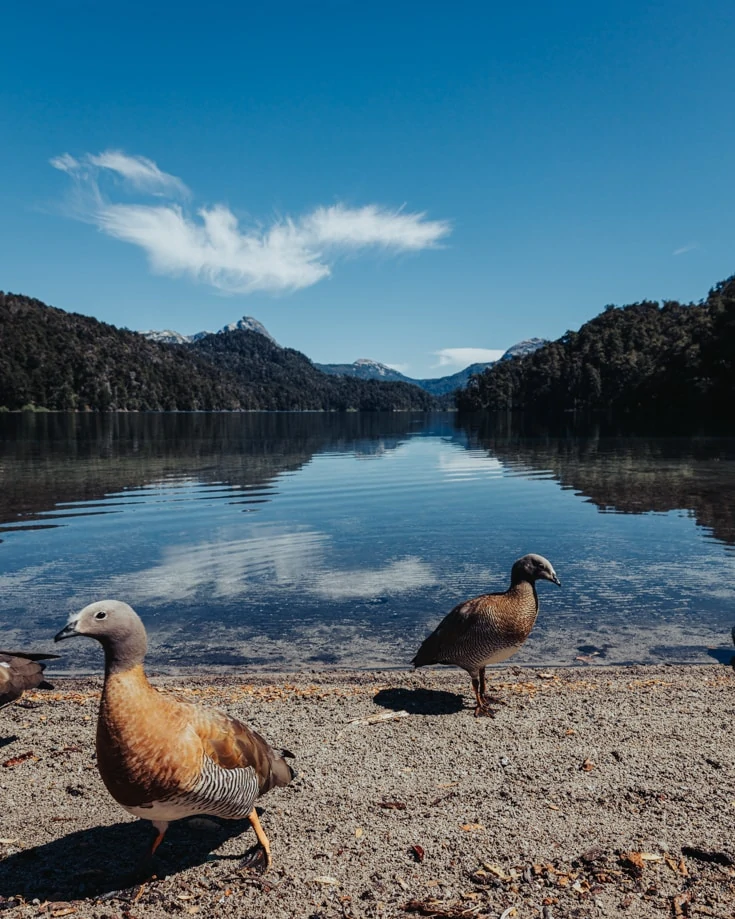 Lago Espejo Chico is the first lake from Bariloche not on the official trail but if peace and tranquility is your thing, this is a must-visit.
The lake is well signposted from Ruta 40. Follow the bumpy dirt trail for about 2 kilometres.
There's parking at the beach and if you want to spend more time here – and we wouldn't blame you in the slightest – there's a campsite, restaurant and small snack shack.
You can enjoy a stroll along the river bank and through the native forest here too.
Compared to many of the other places on the Ruta de los Siete Lagos, this was the quietest we visited.
Lago Traful, waterfalls and river camping
Lago Traful isn't one of the official lakes on the Camino de los Siete Lagos but for us, was our absolute favourite.
A visit to Lago Traful is the longest diversion from the official route and the track dusty, bumpy ripio. You don't need a 4×4 to drive the route but do take your time.
To get there, join RP65 about 8 kilometres from Lago Espejo Chico. After about
11 kilometres you'll reach the lakeshore.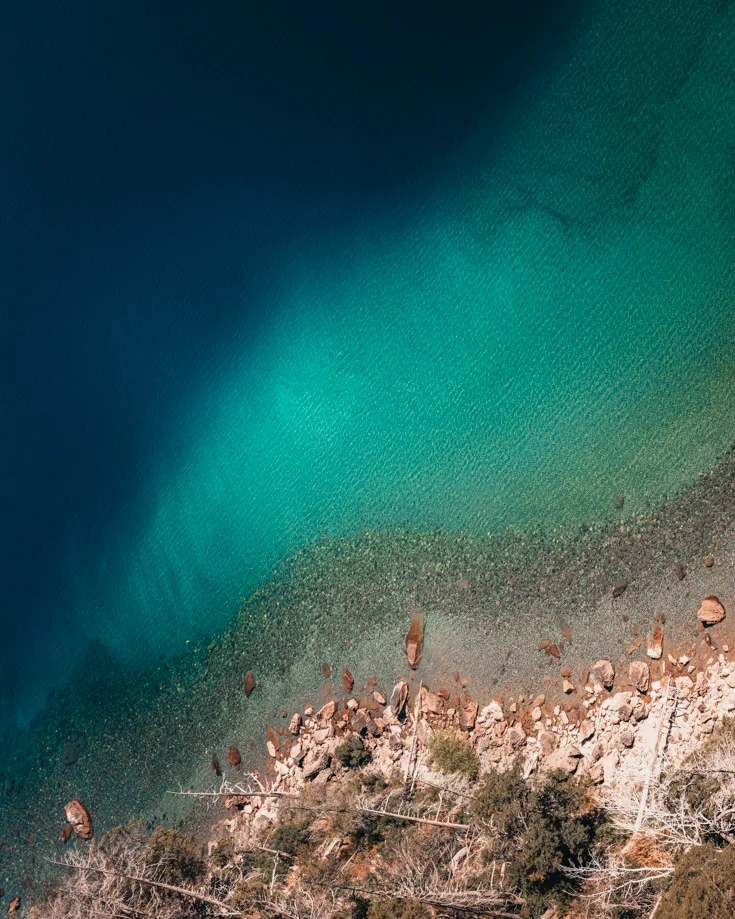 The road follows the length of the lake along the southern shore.
Take advantage of the numerous viewpoints along the way and time to dip your toes in the icy water.
You can find basic supplies in the tiny town of Villa Traful.
Wild camping is not permitted in this area of Nahuel Huapi National Park but there's an abundance of campsites to choose from and one rather fancy-looking lodge.
Make sure to drive 5 kilometres east of town to the mirador on top of the cliffs. Breathtaking!
We spent 2 nights in Villa Traful at Camping Paloma Arauca soaking up the late summer rays. It's just blissful.
With direct access to the pebble beach and surrounded by mountains, it has perhaps the best view of any campsite we've stayed at in South America.
Hey, they even have hair driers and believe me, it doesn't get much better than that!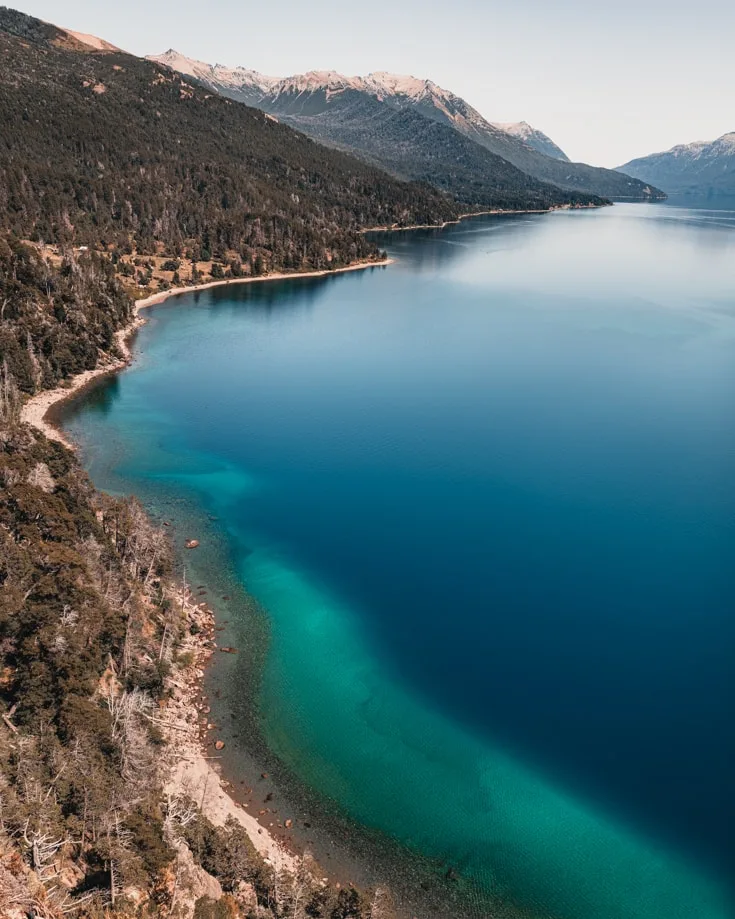 Nivinco Waterfall
From Villa Traful, try to make time for a 2-hour hike to Nivinco waterfall. We were pretty excited about this hike but the trail was closed when we visited last.
If you feel like stopping for the day at this point, you can free camp on the bank of the River Pichi Traful.
The entrance is about 6 kilometres after the Nivinco Waterfall just before the bridge.
If you'd prefer an established campsite, try Camping Pichi Traful on the right. You can walk up to see a small waterfall from here.
The owners wanted to charge us 450 pesos to park while we went to see the falls as we didn't want to camp there.
We figured Iguazu Falls was better value and declined the offer. It's supposed to be a beautiful hike though and worth it if you're already camping there.
Lago Escondido
The name translates to 'hidden lake' and indeed, it's not visible from the road. When you pull over at the viewpoint, it doesn't get much better either.
We almost felt short-changed!
However, arrive early in the morning before the crowds and grab a coffee.
The thick forest here is teeming with birds, some of which we've never seen before. Simply watch and listen to the forest waking up.
And it's moments like these, even in the high season, where you create unique Patagonian memories and have the place all for you.
Lakes Falkner and Villarino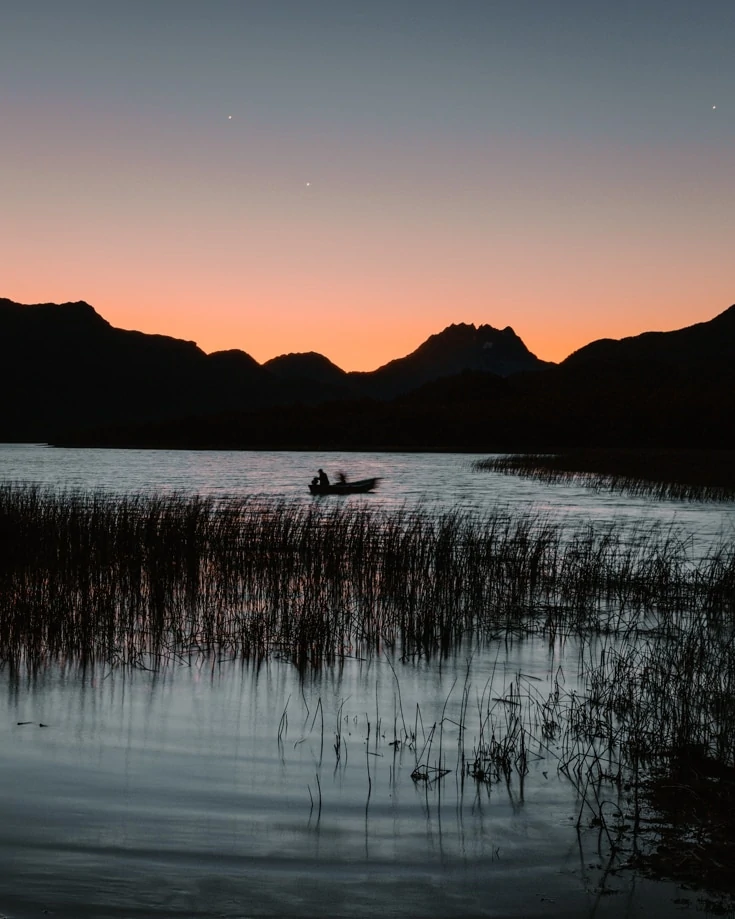 These 2 lakes are virtually side-by-side.
Only 4 kilometres from the viewpoint of Lago Escondido, Lage Villarino shimmers in the afternoon light.
The designated viewpoint gives an interrupted view. Instead, proceed a little further and on the left, you'll find the entrance to a free campsite.
This is where you'll get the best views of the lake.
We spent 2 nights here in late summer. The water is cold but refreshing on a hot day.
Sunsets are glorious and sunrise makes for a perfect start to the day.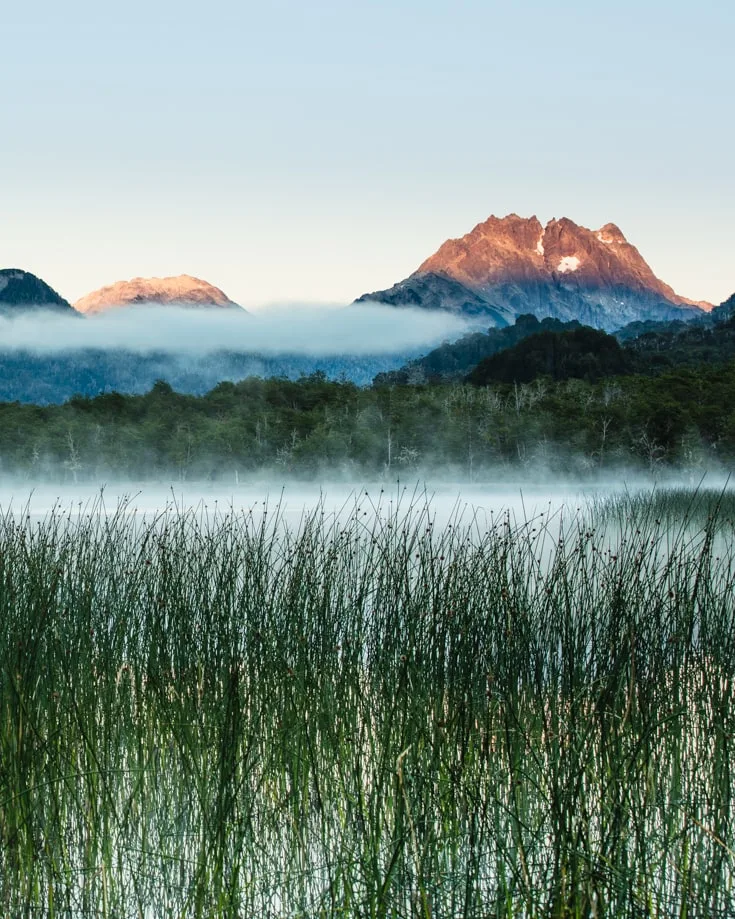 There are no amenities on the campsite so you'll need to be self-sufficient. Come prepared but please camp responsibly.
Leaving the camp, the road crosses the tiny stretch of Rio Villarino joining Lakes Villarino and Falkner.
The first time we visited Lake Falkner there was a wonderful picnic spot on the shore.
This has since been absorbed into a formal campsite so no longer accessible for passing traffic unless you're a guest.
The road is wide enough to park a few metres before you reach the camp.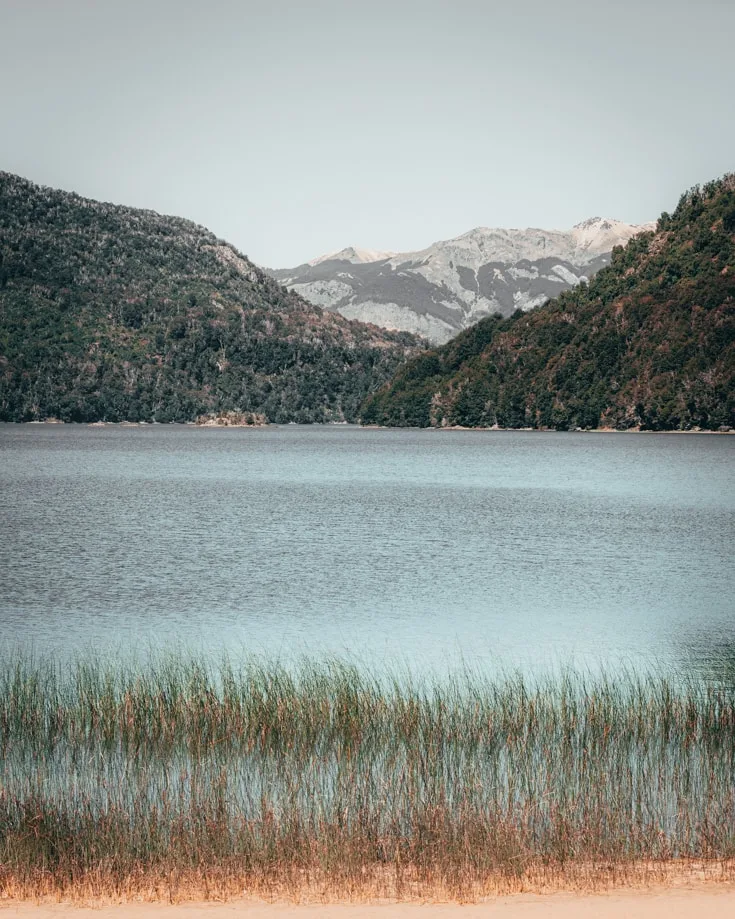 Pull over here to enjoy the views down the lake and of the mountains opposite.
A few kilometres north and the next viewpoint awaits.
Vullignanco waterfall, most impressive in spring, crashes over a ravine within sight of Ruta 40.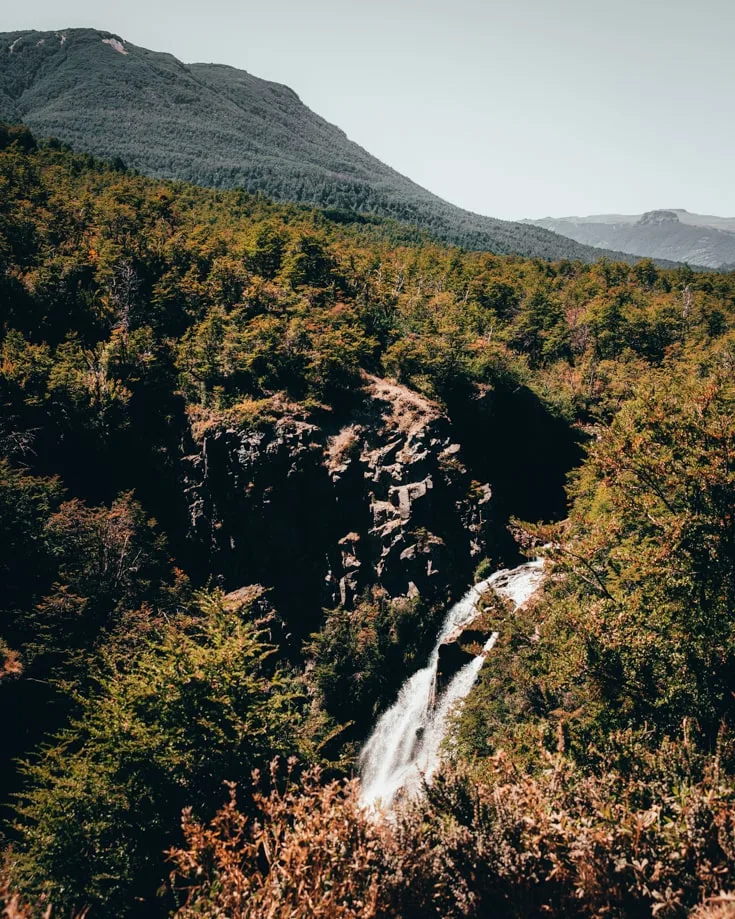 If you camped at Lago Villarino the evening before, you'll have driven almost 3 kilometres by the time you reach this point.
Must be time for a tea break!
Lago Hermoso & Laguna Pudu Pudu
Leaving Parque Nacional Nahuel Huapi behind, Ruta 40 now enters Lanin National Park.
While not on the official route, Lago Hermoso is only a 2.5 kilometre diversion from Ruta 40 down a gravel track.
We visited hoping to have the entire lake to ourselves but someone told the Argentinians it's here!
Even so, we spent a delightful afternoon.
Thick, native forest carpet the steep hillsides tumbling into the deep, cold waters.
The pebble beach, a perfect picnic spot. The pier an ideal diving board.
There's a restaurant and campsite nearby if you don't want to find a private spot for the night.
The kayak hire shack looked promising but despite the number of potential customers lying on the beach and swimming in the lake, including us, it remained closed all afternoon.
Don't miss the short walk from the restaurant to the tiny Pudu Pudu lagoon.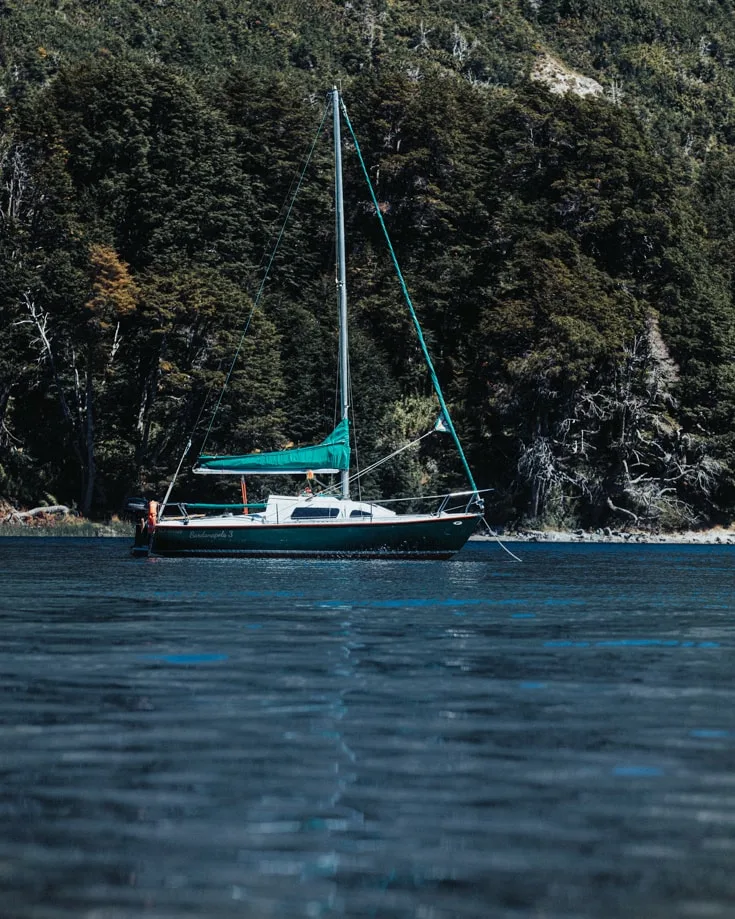 Lago Machónico – the final "official" lake on the route
On Ruta 40 there's one small viewpoint to pull over in to see Lago Machónico. The views are ok but mostly interrupted by quite high trees. It's a convenient stop for a tea break.
If you want to get up close to the lake, with uninterrupted views and nobody else around, you need to stop a kilometre earlier.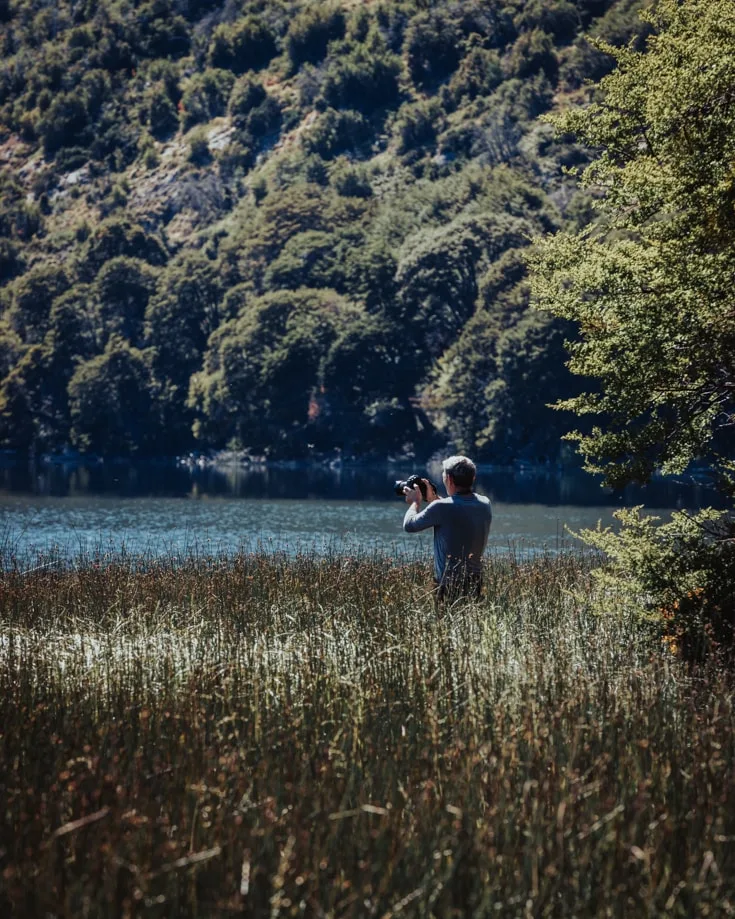 Park just off the road at the top of a marked path. You can see it on maps.me at the southern end of Lago Machónico.
Follow the dirt trail for about 100 metres to the shore. It's a beautiful stop, especially in the afternoon with the sun behind you.
Wander through the long grasses, watch the pollen loving insects flutter about the flora and the insect loving insects chasing them.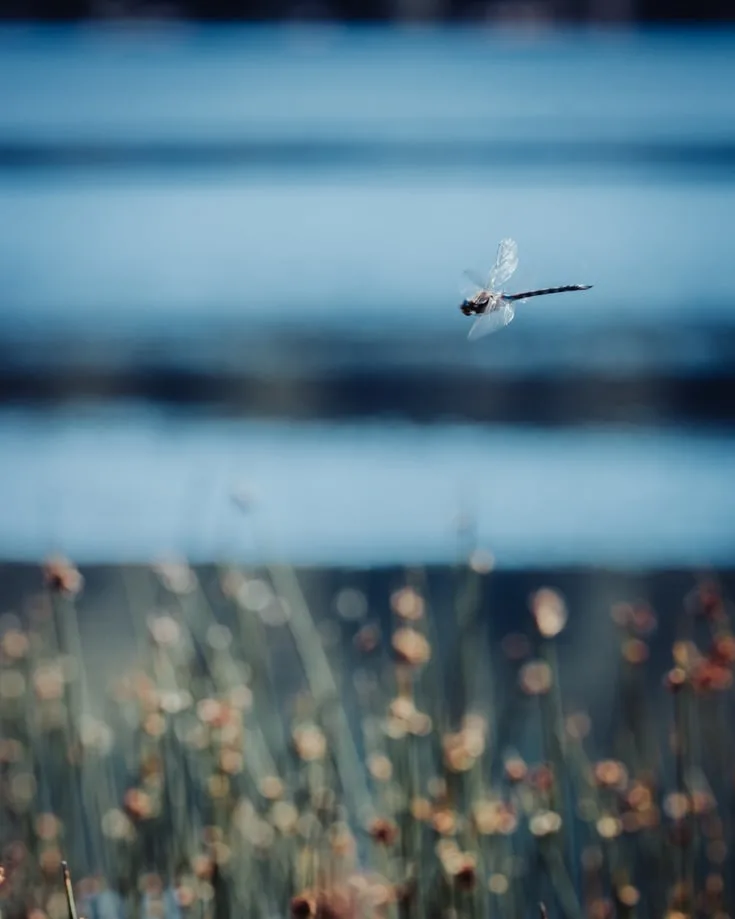 This is how you explore tourist attractions without other tourists, even at the height of the busy season.
Lago Lácar, San Martin de los Andes
5 kilometres before reaching San Martin de los Andes, you'll get your first glimpse of Lago Lácar.
Mirador Pil Pil has lots of parking and offers the first views of the lake in the distance.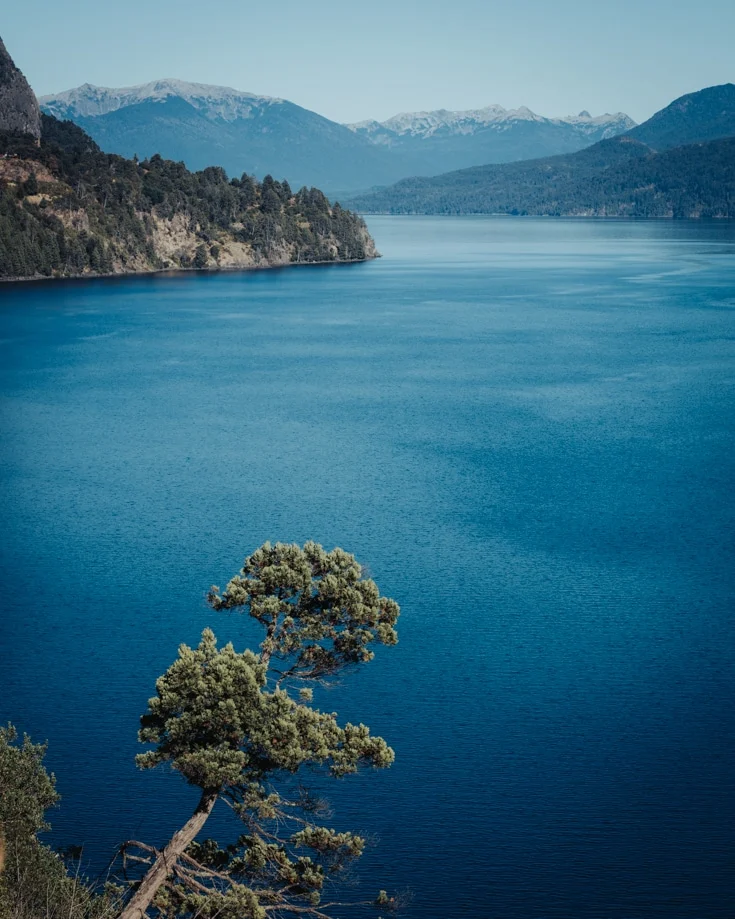 There are another 2 viewpoints, including Arroyo Partido, before you reach the town, and both give terrific views down the length of the lake.
The beach and pier are accessed from the town from where you can arrange boat trips should you wish.
For a less-visited viewpoint of the lake, drive around to the northern side. It's a gravel road but the views o the lake are spectacular. You'll see La Islita island from here too.
It can get windy up here, so hang on to your hats!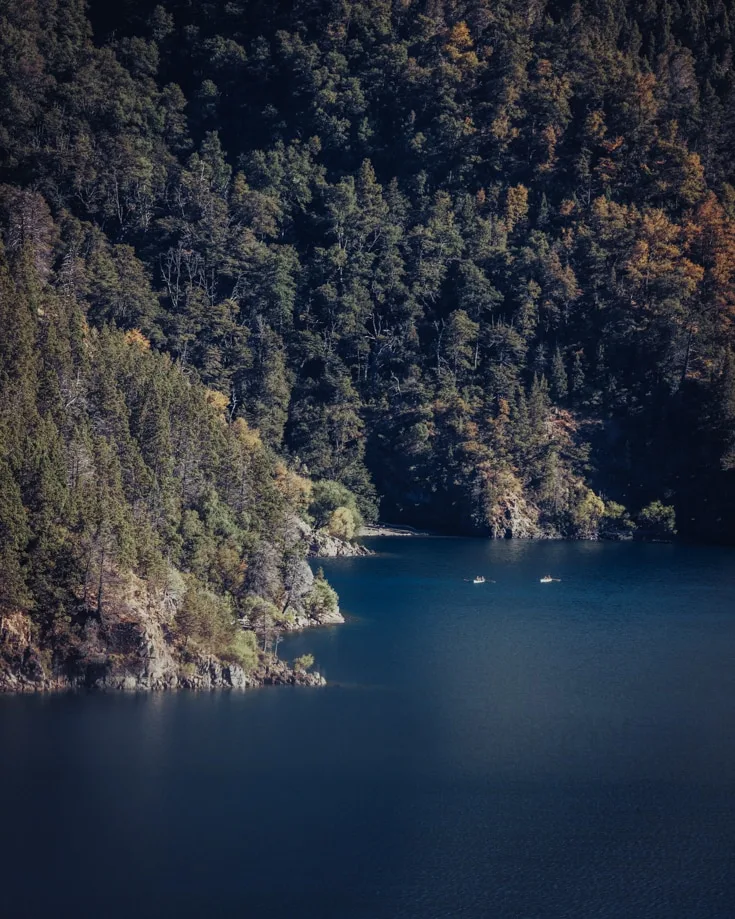 If you want to explore the area around here, take a look at our guide of things to do in San Martin de los Andes and the near vicinity.
It really is quite a special place to relax and enjoy nature.
Best time to visit Ruta de los Siete Lagos
When you click on links to various merchants on this site and make a purchase, this can result in this site earning a commission. As an Amazon Associate we earn from qualifying purchases. For more info, please check our disclosure page.
The road is in the best condition from mid-spring to autumn. The winter months experience a lot of snow so driving conditions will be more difficult.
The winter ski season around Chapelco Hill runs from around mid-June to mid-October. The busy summer season is perfect for hiking and water sports on the lake.
January and February are especially busy during the Argentinian summer holidays.
Check out our guide on the best time to go to Patagonia if you're heading further afield.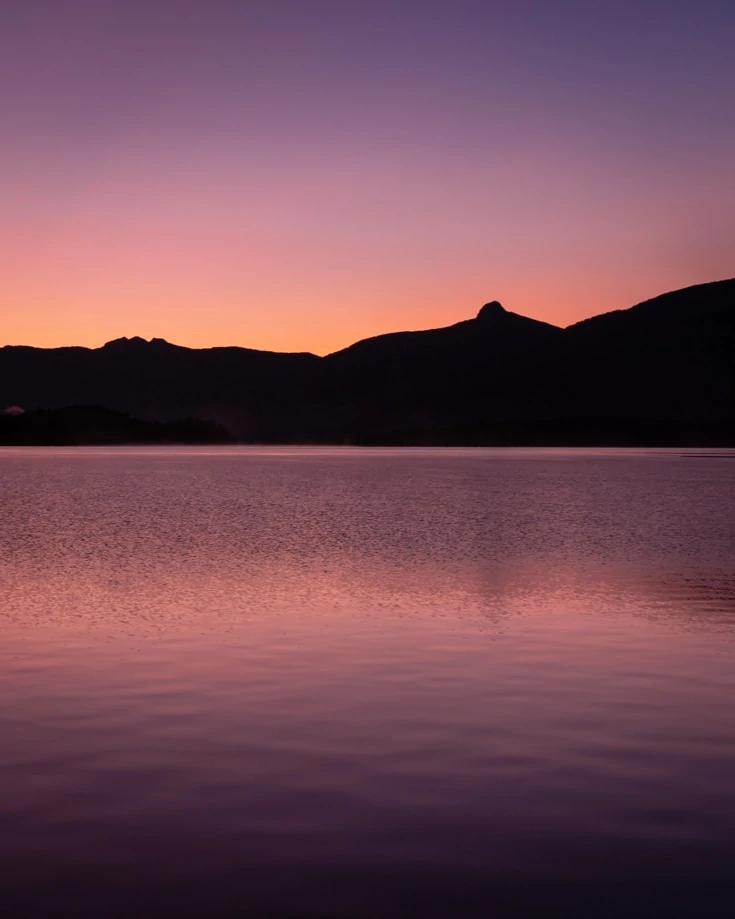 How to get to Bariloche
Bariloche is the main point of entry for visitors to the northern reaches of Argentinian Patagonia.
So let's take a look at the different options you have to get to Bariloche, depending on where you're coming from and how you're travelling.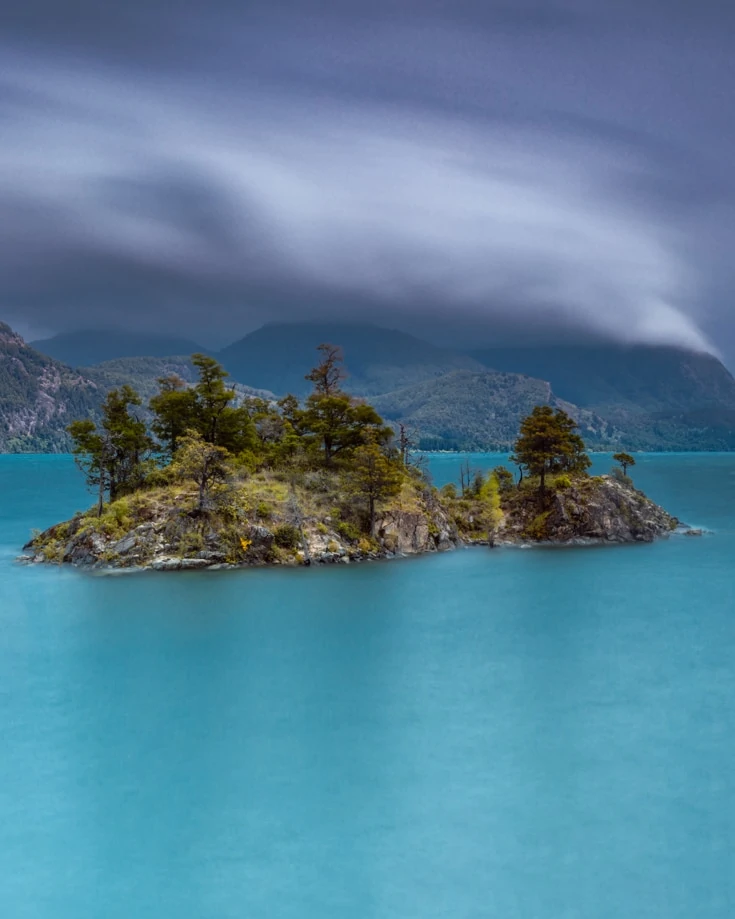 How to get to Bariloche from Buenos Aires
Flights from Buenos Aires to San Carlos de Bariloche run frequently. There are up to 3 flights a day running out of Aeroparque Jorge Newbery, not far from Buenos Aires city centre.
The flight takes a little over 2 hours and if you book in advance, can get a one-way ticket for around GBP £50 | US $60 | ARG $5000.
Bariloche airport is a short ride from the city centre. We recommend you pick up a hire car from the airport or get a taxi or airport transfer to your accommodation.
If your travel plans include visiting Perito Moreno Glacier, Torres del Paine National Park or El Chalten in southern Patagonia, you can fly from Buenos Aires to El Calafate then onto Bariloche.
You can get the latest prices and availability for flights to Bariloche here.
If you don't want to fly, you can get a 24-hour bus from Buenos Aires to Bariloche. A one-way ticket costs around GBP £35 | US $43 | ARG $3500.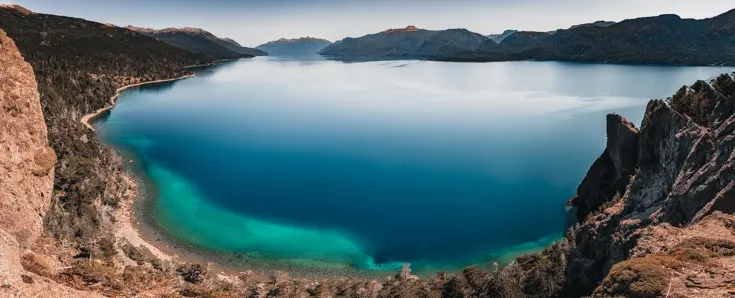 Driving to Bariloche
Bariloche is just off Ruta 40, Argentina's epic 5000 kilometre long road. Anyone touring Argentina and Chile in a vehicle is bound to cross Ruta 40 at least once on their trip.
If you arrive in Bariloche from the north, you'll drive the Camino de los Siete Lagos en route.
From the south, leave El Bolson and stick to Ruta 40 for around 125 kilometres.
Chile is to the west. If you have a rental vehicle, make sure you have the necessary paperwork, insurance and authority to take your vehicle across the border.
Make sure to read our guide to driving in Argentina before you go to help you have a safe trip.
Security in Bariloche
You only need to read a few entries for points of interest in Bariloche city on iOverlander to know it's a crime hotspot for vehicle break-ins.
The thieves seem to target to overlanding vehicles. There have even been reports of break-ins during broad daylight and supermarket car parks.
Our advice is to not leave your vehicle unattended in the city and only use established campgrounds or hotels with secure parking.
For a more complete article with tips and advice to help you plan your trip, take a look at our complete Argentina travel guide.
Tips for a Self-Drive Tour of Ruta de los 7 Lagos
A vehicle provides the opportunity to explore this route and the many diversions at your leisure.
You don't need to stick to Ruta 40, or even our itinerary. Instead, find your own hidden gems along the way. We highly recommend hiring a vehicle, even if it's only for this drive.
Car rentals are in high demand between December and February. If travelling at this time, try to book as far in advance as possible.
Hiring a vehicle in Bariloche is cheaper than in San Martin de los Andes. There are more rental firms there and they're more likely to cater for any last-minute bookings.
You can get a free comparative quote for a rental car here.
The road condition of Ruta 40 between San Martin de los Andes and Bariloche through the Neuquen Province is good.
Some of the diversions in our itinerary include driving on gravel or dirt roads but these are all good too. There's no need for a 4×4 vehicle.
The area is full of opportunities to camp for free. There are several established campgrounds along the way too. So pack a few car camping essentials to take advantage.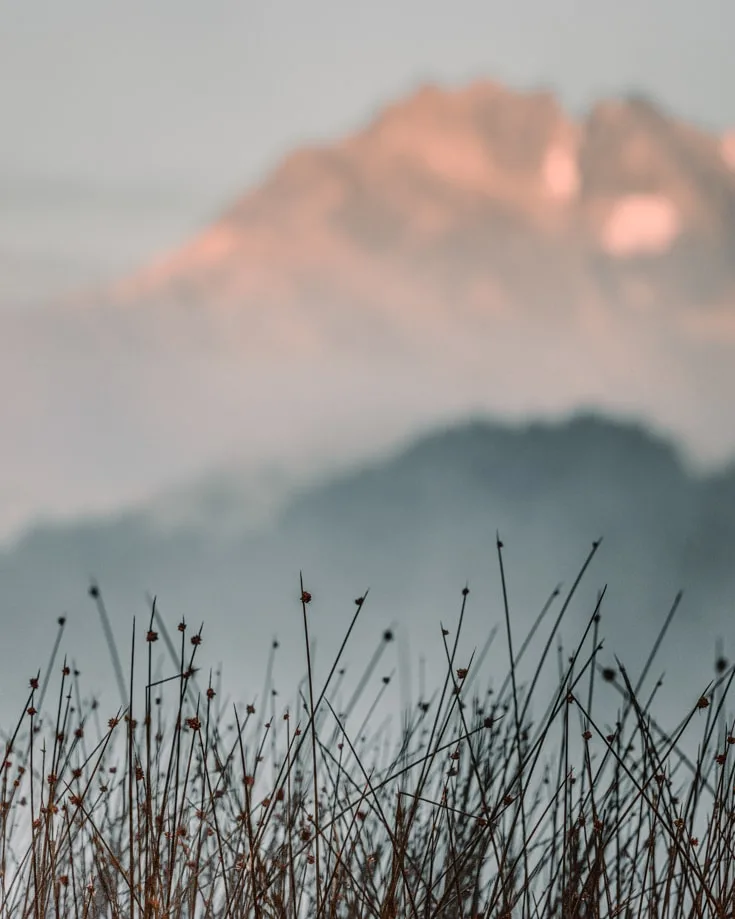 The route has fabulous viewpoints along the entire length. They're well-marked, usually 500 metres before you arrive, giving you time to slow down to pull in.
We find maps.me helps for navigation a lot too as most of them are marked.
If you plan to drive Seven Lakes Road from north to south, set out early in the morning. This way the sun will be behind you until early afternoon.
It'll make driving easier without the sun in your eyes and the views more spectacular.
If driving from Bariloche or Villa la Angostura towards San Martin de los Andes, avoid the sun in your eyes by driving the route after lunch.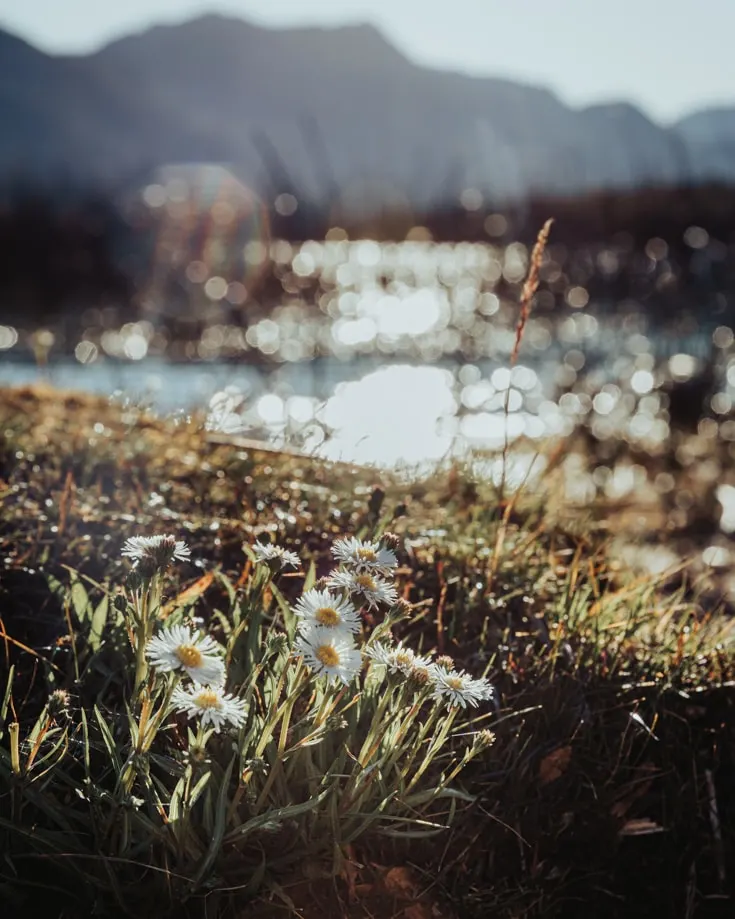 Ruta de los Siete Lagos Tour with Transport and a Guide
If you'd prefer, you can arrange a guided tour of the entire length of the route.
This highly rated full-day tour of the Camino de los Siete Lagos includes a round trip from Bariloche and stops at each of the 7 main lakes along the way.
You'll get to enjoy a brief stop in the pretty town of Villa La Angostura en route.
The tour includes a couple of hours of spare time for lunch and exploring the chocolate box town of San Martin de los Andes too.
Use this link to book your 7 lakes tour.
How long do you need to visit Ruta de los 7 Lagos?
The entire route from Bariloche to San Martin de los Andes is 190 kilometres.
However, if you plan to start the route from San Martin de los Andes, you only need to go as far as Villa de Angostura to fit in all the lakes and highlights.
This shaves 80 kilometres off the trip so ideal for anyone with limited time.
The road is in good condition so if you only have 1 day spare, a round trip is possible.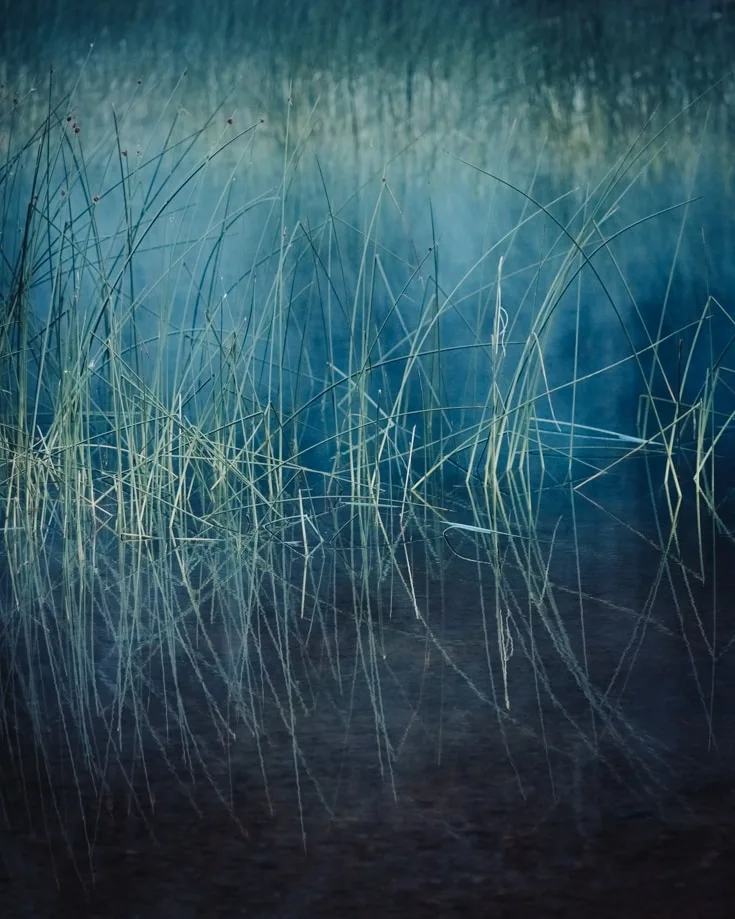 One day gives you enough time to stop at each of the viewpoints along the main route.
You can stop for a coffee break along the way and have a couple of hours free for a leisurely lunch, before returning along the same route.
We think this is too rushed though so if you have a little longer, consider making it at least 2 days so you can enjoy the views at a slower pace.
Try to take time to see more of what San Martin de los Andes has to offer too.
We took 3 weeks over 3 visits exploring this region of Argentinian Patagonia. If time is on your side, pack a few camping essentials and relax in this beautiful part of the world.
Where to Stay on Ruta de los Siete Lagos
We love the great outdoors and travel in our self-built campervan so our go-to accommodation is (usually free) camping.
This area has loads of options from established campgrounds to free 'wild' camping spots on the lake shores.
We use the iOverlander app offline to see where other travellers have stayed in the region and get an idea of a suitable spot for us.
If you do choose to camp this way, we encourage you to do so responsibly. For more information, read our guide to wild camping responsibly in your camper van.
If you prefer to stay in hotels or hostels, Bariloche, San Martin de los Andes and Villa la Angostura all have plenty of accommodation options to suit most budgets. Check out Hostelworld for their latest rates and availability.
Where to Stay in San Martin de los Andes
Luxury | A charming mountain lodge, Rio Hermoso Hotel De Montaña is set in the middle of the Patagonian woods of Lanin National Park.
For a luxurious stay with open fires, river views and passing deer in the heart of Patagonian nature, this place is for you.
Check prices and availability for Rio Hermoso Hotel De Montaña here.
Mid Range | For a mountain style guesthouse, Casona Del Alto has terrific views.
A few minutes' ride out of the town and with a highly regarded restaurant on-site, it's an ideal getaway for any season.
Check prices and availability for Casona Del Alto here.
Affordable | There's plenty of affordable hostels and guest houses in San Martin de los Andes, although they do get booked up quite quickly. Hostería El Arbol Duende is a well-rated affordable guesthouse.
Near the lake and the town, the location is perfect for those who'd prefer not to drive or get a taxi to and from their hotel. And their breakfasts are highly recommended too!
Check prices and availability for Hostería El Arbol Duende here.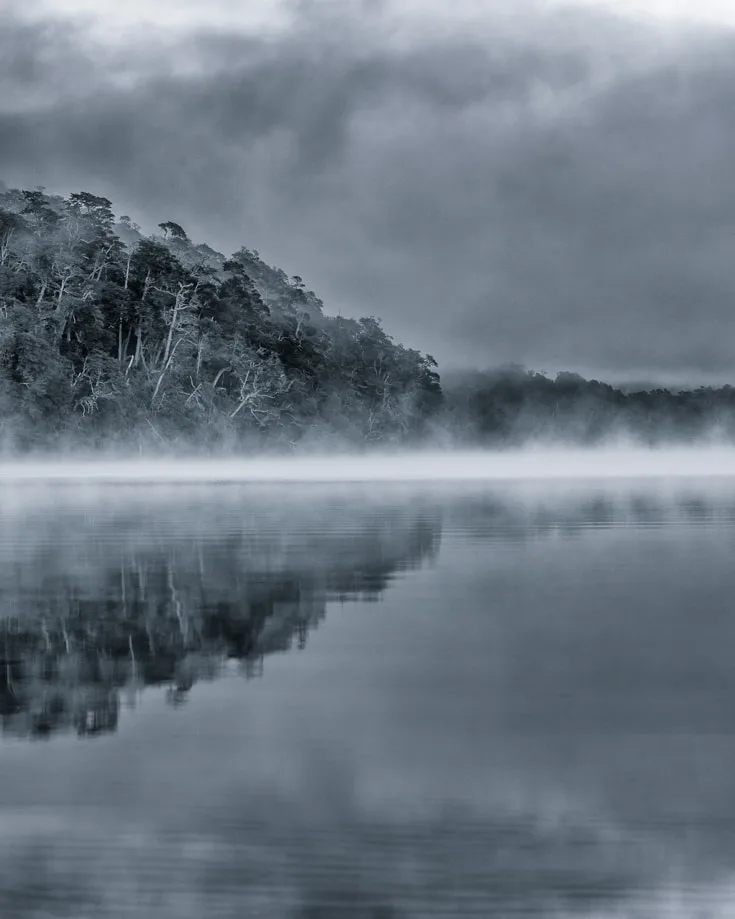 Where to Stay In Villa la Angostura
Luxury | Located right where the Correntoso river joins Nahuel Huapi Lake, guests of the luxurious Correntoso Lake & River Hotel are bestowed with phenomenal views of the Andes Mountains and the national park.
Roaring open fires will keep you cosy if you can drag yourself away from the outdoor heated pool.
Check prices and availability for Correntoso Lake & River Hotel here.
Mid Range | Dos Bahias Lake Resort is a pretty fancy mid-range hotel a little bit out of town. With a beachfront location and majestic views yet you won't need to re-mortgage the house to stay here.
Some rooms have a hot tub and a fireplace too. Perfect for a cosy evening in!
Check prices and availability for Dos Bahias Lake Resort here.
Affordable | Hostería Las Cumbres is a fabulous guest house just out of town. With outdoor areas to enjoy the surrounding nature and a communal kitchen to help keep costs down, it's hard to beat this budget option in the area.
Check prices and availability for Hostería Las Cumbres here.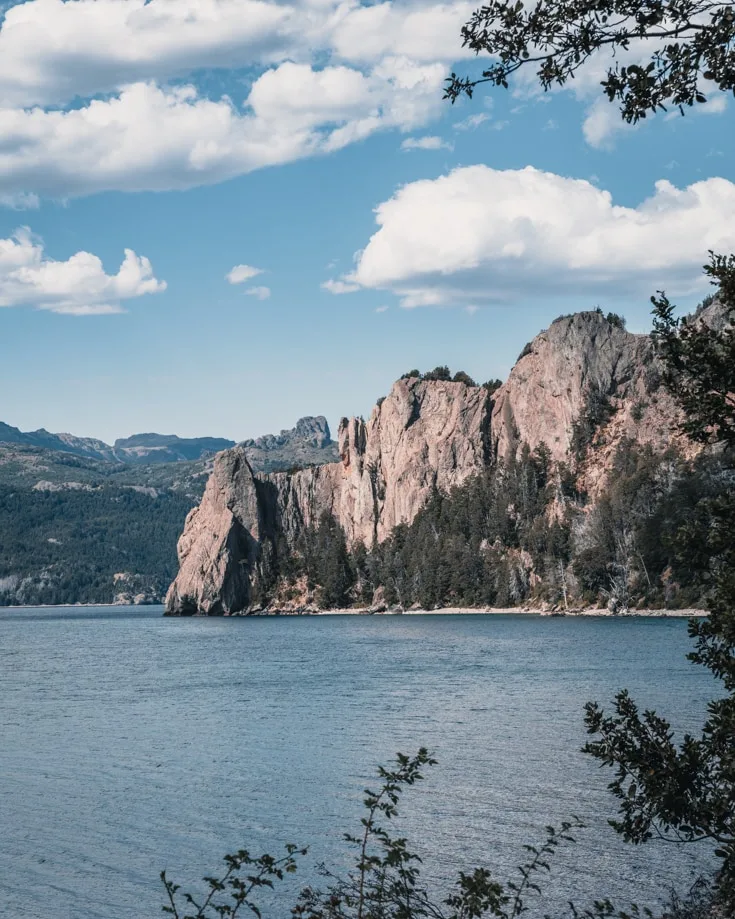 Where to Stay Near Bariloche
Luxury | Llao Llao hotel is the ultimate luxury option. About half an hour drive from the town and with views to blow your mind.
You'll need deep pockets and a reservation to join the A-listers at this exclusive hotel but you'll get a million-dollar view.
Check prices and availability for Llao Llao Resort here.
What to Pack
Packing for the 7 lakes route is pretty much the same as packing for the rest of Patagonia.
Layers, layers, sun cream and more layers!
Check out our definitive Patagonia packing list to make your trip preparations a little bit easier.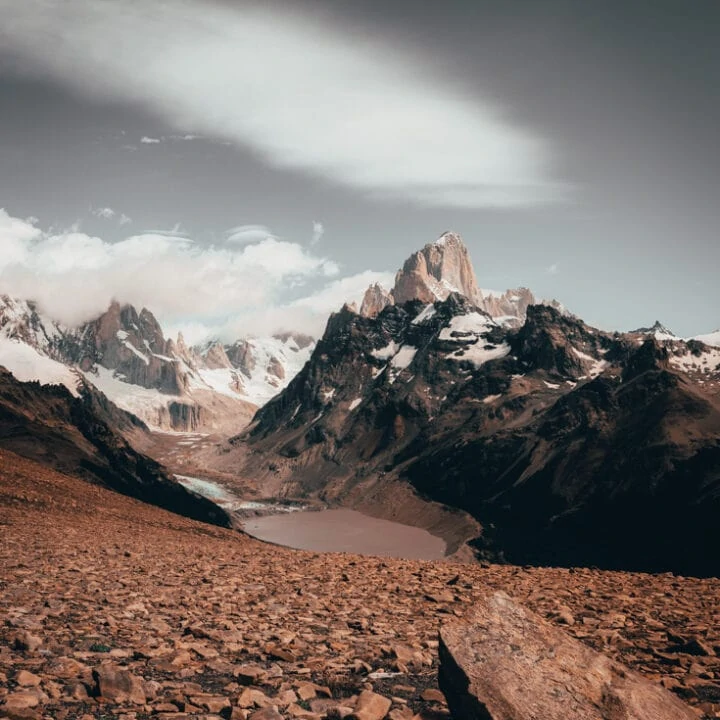 Patagonia Travel Tips
Important tips and resources for planning an incredible trip to Patagonia, based on our extensive experience travelling through the entire region.
Tools
Instructions
Find the best time to go to Patagonia for the things you enjoy.
Book a cheap flight to Patagonia with Skyscanner. Better still, if you're planning a long-term trip, ship your camper van to South America as we did!
Plan a rough itinerary with an idea of how long you'll stay in each place. But be flexible - Patagonia will get under your skin and you'll wish you had more time. Get a copy of the Moon Patagonia travel guide to help you plan your itinerary.
If you want to explore Patagonia in a rental car, make sure to book in advance. Especially if you travel between December and February. Get free comparison quotes with rentalcars.com.
Check out our extensive and still growing guides to Patagonia for more information on both Chilean and Argentinian Patagonia with places to go, things to do and see & loads more.
Book your accommodation in advance, at least for the first destination. For hotels, use booking.com. For apartments use Airbnb and get a discount on your first booking. For free camping, use the iOverlander app offline.
Try to learn Spanish or at the very least have some basic phrases. English is widely spoken in the major tourist towns in the south, like El Calafate, El Chalten and Puerto Natales. Everywhere else, you'll need some basic language skills to get the most out of your trip.
Reserve your tours and activities in advance with Viator and Get Your Guide.
Get your rucksack ready with our definitive Patagonia packing list.
Go have the adventure of a lifetime!
Notes
We hope this helps you plan your travels in Patagonia. It's an enormous region and one we completely adore. Yet we found it difficult to plan our first trip, so we've written extensively about it to help you out!
If you have any questions about Patagonia, travelling in a vehicle or even building a campervan, contact us by email at [email protected].
Like it? Pin it!