An RV water pump is a crucial piece of equipment for your camper, especially if you plan to boondock regularly or if your camper doesn't have a city water connection.
The RV pump is what pressurizes your water lines, bringing water from your fresh water tank to your plumbing elements like your sink, shower, or toilet.
Running water makes so many tasks easier in a camper, so it's crucial to choose a reliable water pump that will meet your needs.
So, what are the best 12V RV water pumps for campers and RVs? Let's dive in.
When you click on links to various merchants on this site and make a purchase, this can result in this site earning a commission. As an Amazon Associate we earn from qualifying purchases. For more info, please check our disclosure page.
At a Glance: Top 5 RV Water Pumps
13 Best RV Water Pumps Reviewed
Now, let's jump into some more in-depth assessments of the 13 best RV water pumps.
This water pump is by far the most popular among vanlifers and RVers, and for good reason. It's simple, affordable, and the Shurflo brand is known for quality and durability.
This pump has a flow rate of 3.5 gallons of water per minute and is factory set to a pressure of 45 PSI, although it can be set as high as 50 PSI.
When set to maximum pressure, the pump draws only 4.5 amps, so it won't unduly drain your house battery system.
It has thermal protection and won't be damaged by running dry, but the simple three-chamber design means that it can be louder than other more sophisticated pumps.
However, Shurflo sells a silencing kit, and since it's an on-demand pump, it won't cycle unless you run the water. This is a constant speed water pump.
This is the pump that we personally use, and it has been a champ so far. It was easy to install, has an affordable price, and has worked flawlessly for several years already.
This pump is like the bigger, beefier brother of the Shurflo 2088. It's larger, heavier, and designed to handle a plumbing system with multiple fixtures while still providing excellent water pressure.
It has a mechanical internal bypass function to provide a variable flow rate, giving your plumbing a home-like feel.
Another self-priming pump with constant speed flow, the Seaflo 33 series can produce water pressure anywhere from 17 to 60 PSI, although it can only provide a flow rate of three gallons per minute.
This may make this pump unsuitable for systems that include a shower or multiple fixtures. However, if you're just plumbing a sink, this is an excellent and inexpensive option.
Like most pumps on this list, it has rubber mounts to minimize vibration and noise, and it won't be damaged by running dry.
Bayite's 12V water pump is one of the most affordable models on the market, although it can only pump about 1.2 gallons per minute. But, it can provide water pressure of up to 100 PSI, although of course that's not advisable in an RV water system – 30 to 40 PSI is the norm.
It's self-priming and has rubber feet to minimize vibration, and it only requires 3 amps to operate. Again, this pump would be best-suited to a simple plumbing system with only one fixture.
This Remco pump is another bargain option that is compact and simple. It provides a flow of one gallon per minute and won't be damaged by running dry. It's small, inexpensive, and effective!
Shurflo's 5059 model is a heavy-duty pump that can offer a flow rate of up to 5.3 gallons per minute and a maximum pressure of 60 PSI. It uses up to 17 amps and self-primes up to 8 feet, meaning the pump can be mounted up to 8 feet above the fresh water tank.
This pump would work well with more complicated plumbing systems that have multiple fixtures.
This Seaflo pump is a mid-range option that offers a flow rate of up to 4.5 gallons per minute at a pressure of 40 PSI. It draws 6 amps and can be a perfect option for a plumbing system that includes a shower and a faucet.
It can run dry without causing damage and has soft rubber mounts to minimize noise.
Seaflo also offers this 55-series 12V pump that is a bit more powerful than the previous model on this list. It has a flow rating of up to 5.5 gallons per minute and a maximum PSI of 60.
The pump can self-prime up to 9 vertical feet and draws up to 20 amps. Even though it's a pretty beefy pump, it's still relatively compact, making it an excellent option for campers and RVs where space is tight.
Flojet's self-priming pump provides a flow rate of up to 4.9 gallons per minute and a maximum pressure of 40 PSI – ideal for camper plumbing setups that involve multiple fixtures. It draws 8 amps and can handle a vertical lift of up to 8 feet.
It is a fairly large pump, but it's easy to install and has a four-piston design that allows for the higher flow rate. As with most other 12V pumps, it can run dry without causing damage or overheating.
This heavy duty pump is made in America, and the company offers a satisfaction guarantee. Although it's more expensive than some other options, it's designed to handle even the most rigorous use.
The USA Adventure Gear pump has a 5-chamber design and can self-prime up to 14 vertical feet.
Even if you mount the pump in the undercarriage of an RV and have a luxuriously tall shower, you know you'll get stellar water pressure. It has a flow rate of 5.5 gallons per minute, a maximum pressure of 150 PSI, and draws 8 amps.
Amarine also makes a bargain 12V water pump with a flow rate of 1.1 gallons per minute and a water pressure of 35 PSI. It is self-priming and won't be damaged by running dry.
This is another great option for a simple plumbing setup that doesn't require a high flow rate.
Lippert's 12V water pump provides a flow rate of 3 gallons per minute at 50 PSI. It's self-priming and draws a maximum of 9.5 amps. The pump is solidly built and comes with an inline strainer and two connectors for easy installation.
Lastly, we have one final bargain water pump from Camplux. It's self-priming, has a flow rate of 1.2 gallons per minute, a maximum pressure of 45 PSI, and draws 3.5 amps.
The pump itself is very compact, weighing just under 1.5 pounds. As usual, it can run dry without causing any damage.
12V Water Pump Buyer's Guide
When choosing the right water pump for your camper, it's important to know what all the specifications mean and which features you'll actually need. So, we've put together a buying guide to help you know what to look for.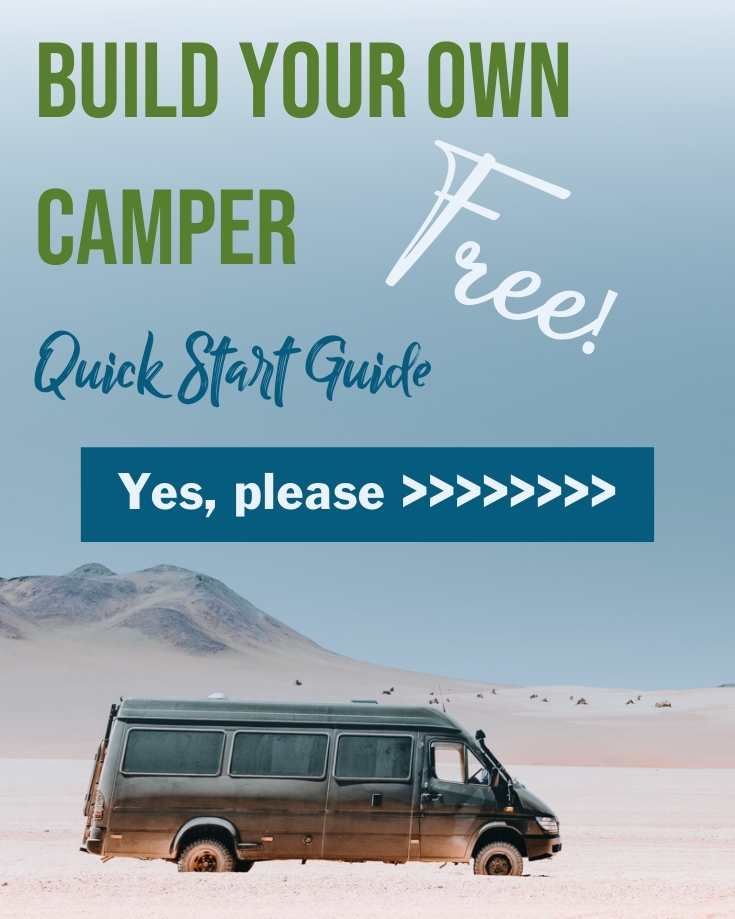 What is an RV Water Pump & How Does It Work?
An RV water pump moves water through your plumbing system, carrying it from your fresh water tank to your sink, shower, and toilet.
The electric pump pressurizes the water, and it controls how many gallons per minute can flow through your water fixtures.
Types of 12V Water Pumps
There are three common types of 12V water pumps:
Constant Speed Water Pumps
Constant speed water pumps are the most widely used in RVs and campers because they are the simplest and cheapest options.
They can only deliver water at one speed, so the flow is either on or off with no real flow adjustment capabilities.
These types of pumps use a simple switch to determine when the motor turns on and off.
Variable Speed Pumps
Variable speed water pumps have pressure sensors that change the speed of the motor to match the demand for water. So, for instance, if you turn the faucet on a tiny bit, the motor will run slowly and provide a trickle of water.
If you fully open the faucet, the motor will run much faster to produce a strong flow of water. These pumps are often quieter than constant pumps, and they feel more like the plumbing would in a traditional house.
However, they are generally more expensive than constant speed pumps.
High-Volume Water Pumps
High-volume water pumps deliver higher flow rates – generally, anything over 4 gallons per minute is considered a high-volume pump.
These pumps are often used in large RVs with more demanding plumbing systems, larger fresh water tanks, and more available electricity.
Electrical Demands
Most water pumps require electricity to run, and typically RV pumps are 12V (or DC, as opposed to 120V/AC or 240V/AC used in homes). It means that they do not have a standard plug on them but must be wired directly to the 12V house battery system in your RV.
Each time you turn on the faucet, the water pump will pull electricity from your batteries and run until you turn the faucet off. So, it's important to be mindful of both water usage and electricity consumption.
Most manufactured RVs and travel trailers have a water pump already installed, but if you plan to replace or upgrade your pump, be sure that you choose a model that will be powerful enough for your plumbing system, but that will not deplete your battery power.
For DIY camper or van builds, include enough battery capacity that you will not be stressed every time you want to run the water.
Check out our electrical series of posts for more information about campervan electrics including our online calculators to size your setup to meet your demands.
Water Pressure (PSI)
Water pressure is measured in pounds per square inch (PSI). This metric tells you the force at which water will be pumped through your plumbing appliances.
Normal water pressure in a home is between 30 and 80 PSI, although generally lower water pressure is considered safer in an RV system – often between 30 and 40 PSI.
Manufactured RVs often come with specifications regarding the safe water pressure for the system, so be careful not to select an unnecessarily high pressured pump if you choose to replace the original.
Many RV water pumps have adjustable pressure settings so you can tune your system perfectly.
Water Flow (GPM or LPM)
Water flow is measured in gallons per minute (GPM) or litres per minute (LPM). The flow rate is important because it determines what type of water pressure your system can achieve.
However, balance is important when it comes to water flow. With higher GPMs or LPMs, your system will draw more power, and you'll use up your water supply more quickly.
If the flow rate is too low, you won't have enough pressure for things like washing dishes or showering comfortably. In general, a flow rate between 3 and 4 gallons per minute is ideal for an RV water system.
Noise Levels
Every 12V water pump is going to create some noise when it's on since there's a motor involved, but there are certainly some that are quieter than others.
Pumps with a five-chamber design are generally the quietest, although the method you use to mount the pump also plays a big role in how much noise it will generate.
Most of the noise is actually a result of vibrations, so mounting the pump on rubber feet and adding a silencing kit can cut down dramatically on how much noise is produced.
The quality of the pump also determines how much noise it will make. The smoother the operation, the less noisy it will be, so buying from a trusted brand like any of the ones on this list will likely result in a quieter pump.
User reviews can also give you a more accurate idea of how each pump performs in real-world conditions.
Features
Beyond the major metrics listed above, there are several other features that might inform your decision:
Size
Obviously, make sure the water pump you select will fit into the available space. This is especially important if you are replacing an existing water pump in a manufactured RV that has limited space, but it's good to keep in mind for DIY builds as well.
Most 12V water pumps are relatively small, but you'll also need to account for the water lines that will be attached since they can't be bent too sharply and may require additional space outside the footprint of the pump itself for a successful installation.
Thermal Protection
Thermal protection is basically a safety feature that prevents the pump from overheating, which can cause damage to the pump, injury to users, and even potentially a fire. This is definitely a good feature to have!
Pump Cycles
Since the pump doesn't need to run all the time, it will cycle on and off as needed. So, for example, when you turn on the faucet, the pump will cycle on and then once you've turned off the faucet and the pump sensor recognizes that the system is adequately pressurized, it will cycle off.
Sometimes, your system may lose pressure even when you haven't run any water, and the pump may briefly cycle on and off to restore pressure. If your pump is cycling too frequently, you can adjust the settings. High quality pumps that are set up properly should not cycle so much as to be annoying.
Ease of Installation
Almost any 12V water pump can easily be installed even without any formal plumbing training. Any pump that claims you need to hire a professional is probably not right for your RV or camper system.
Generally speaking, you will need a screwdriver, some Teflon tape, and a few other basic tools to install any 12-volt water pump. You probably already carry these in your RV toolkit anyway.
The exact process will vary based on whether you are replacing an existing pump or building a new system and what type of pump you select.
Accessories
There are also several accessories that you may want to consider including in your plumbing system:
An inline strainer attaches to the inlet port on the water pump and catches any particles or debris that may have worked their way into your fresh water tank before they can get into the water pump and damage it.
A water pressure regulator is an important component if your system has a city water connection because city water often has higher water pressure than an RV system can handle.
A portable water pressure regulator can be screwed directly onto a city water source to protect your water system.
Many water pump companies make silencing kits that can be used to reduce the noise created by vibrations of the pump.
These kits generally consist of two pieces of braided hose that connect to the inlet and output ports on the pump and sometimes pipe nipples to incorporate other elements.
An accumulator is essentially a reserve of pressurized water that's installed between the pump and your faucets and other plumbing fixtures.
This reserve helps save power and reduce noise by providing pressurized water when the faucet is turned on for short bursts, since it won't trigger the pump to cycle on right away. However, accumulators shouldn't be used with variable speed water pumps because they will reduce the pump's efficiency.
Water filters aren't required for an RV water system, but they can give you peace of mind when filling up your potable water tanks from unfamiliar sources and ensure that your water is safe and tastes good.
There are several different types of water filters that can be incorporated into a camper water system, but the easiest is an inline water filter that attaches to your water fill hose.
Some manufactured RVs are built with cheap shower heads that are not the peak of efficiency, but you can always upgrade to a better shower head that will increase your water pressure without using a ton of water.
A 10 LPM water pump with a water saving 5 LPM shower head is perfect. That's the US equivalent of about 3 GPM pump and 1.5 GPM shower head.
The water pump provides a consistent pressure of 10 litres per minute. The water saving shower head reduces the aperture of the pipe so reduces the amount of water that flows – a bit like pinching a hosepipe.
This has the effect of giving you a good power shower without using too much water. If you put a normal shower head on the same pump – you'd not get as much power and use more water. And if you used a smaller pump – you'll be dancing around the shower trying to get wet.
The same thing applies for faucets and taps – often, the stock models in manufactured RVs are not the greatest, but they can be upgraded. If you are building a camper from scratch, consider water conservation and pressure when selecting your hardware.
Even if they are more expensive upfront, these higher end fittings will likely save you money and water in the long run.
How to Install a 12V Water Pump
Most RVs and campers come with the water pump already installed, but if you are building your own camper or for some reason your RV doesn't have one, it's a relatively simple process to add one. Especially if you just need a water pump to operate a sink, it's a doable DIY project.
Essentially, you will need a fresh water tank, a gray water tank, a sink, a drain, a faucet, a 12V water pump, a 12V power source, and lots of hoses.
You can optionally add a water heater and/or any of the accessories we listed above. It's best to use plastic fittings wherever you can to avoid damaging the hoses or any cracking since the whole system will be shaken around as you drive.
First, install all of your components, ensuring that you leave enough space around them to accommodate the hoses. Then, run hoses from your fresh water tank to your water pump, from your water pump to the cold tap line in your faucet, and from your sink's drain to your gray water tank.
Either plug the hot tap line or connect your water heater.
Most 12v water pumps are supplied with plastic threaded pipe connectors. You'll need to attach the hose or pipe to the ends of these connectors.
To prevent leaks, use plumber's tape to seal each threaded connection and hose clamps to hold the hoses securely where they need to be attached. Hand-tighten the connections rather than using tools to avoid over-tightening.
Then once everything is hooked up and your fresh water tank has water in it, connect your pump to a fuse box and 12V power source.
Most 12V pumps are self-priming, so you can simply open the cold water faucet, and water should begin to flow.
If you are installing an accumulator, follow the same process but place it between the pump outlet and the faucet in an upright position.
Water Pump Care and Maintenance
Water pumps don't require much maintenance if installed correctly, but it's a good idea to visually inspect your pump at least a few times per year to check for leaks or any damage or corrosion.
It's also important to regularly check your inline strainer and water filter if you have one to ensure that your water quality remains excellent.
If you plan to leave your RV somewhere cold for winter and there's a possibility that your water pipes might freeze, it's best to drain your water system completely ahead of time to avoid any chance of cracking your pipes which can cause a catastrophic leak and damage to your entire RV.
Download our free RV winterizing checklist here.
How to Replace an RV Water Pump
Replacing an existing RV water pump is even easier. Simply turn off your water pump if you have a switch or disconnect it from the power source.
Then open all the faucets in the camper to depressurize the system and turn off the fresh water storage valve if you have one.
Disconnect any wiring from the old pump and disconnect the water connections. Have a towel and a container at the ready to catch any water that may have been left in the system.
Finally, remove the filter if you have one and take out the mounting screws holding the pump in place.
Then, put the new RV water pump in place and secure it with the mounting screws – you may have to put them in a different place if your new pump is designed differently. Hand-tighten the water lines to the new pump and reconnect the wiring.
Turn the switch and the water storage valve back on if applicable. Finally, open the faucet and visually check that there are no leaks or problems with the system. It may take a few seconds to clear all the air out of the lines and begin to function normally.
How to Prime an RV Water Pump
Since most 12V pumps are self-priming and won't be damaged by running dry, this is a super simple process.
When you are done with pump maintenance or replacement or reconnecting to a water source, just open the cold water faucet in your camper and turn on the water pump.
Once water starts flowing, shut off the faucet. If you have multiple faucets or fixtures, repeat this with each one.
This will get rid of any air in the water lines and pressurize the system so that you'll get a steady stream of water when you next use the water.
FAQs
Now, let's look at some frequently asked questions to help you choose the best RV water pump for your camper.
How can I make my RV water pump less noisy?
The most significant way to make your pump quieter is to reduce vibration, which can be achieved with a silencing kit and with some modifications to how the pump is installed. As we covered above, a silencing kit usually comes with some heavy duty hoses that are designed to reduce vibration on both the water inlet and output connections.

Installing your pump on its own specific mounting board can help reduce vibrations throughout the whole RV. If you attach the pump to a wall that has shelves on it, the contents of the shelves may rattle every time the pump comes on. Additionally, you can install a small pad underneath the pump to further minimize noise and vibrations.

Finally, you can adjust the pressure settings on the pump to reduce excessive cycling on and off.
Why are some RV water pumps advertised as "on-demand"?
On-demand pumps are the standard in RVs now, and they have a switch to turn the whole pump on and off. When the switch is off, the pump will not come on even if you open a faucet. This can be nice to avoid any annoying cycling overnight or whenever you don't need water. When the switch is turned on, the pump will run to pressurize the RV plumbing system and continue to run even after all faucets are closed to maintain the pressure. On-demand pumps save on energy since you can turn them off when they aren't needed.
How do I winterize my RV water pump?
Winterizing your RV water pump is probably the single most important maintenance step you can take before storing your RV or camper for the winter. There are two ways to do this: you can either drain all the water and run air through the lines or replace the water with antifreeze.
Conclusion
There are many different affordable 12V water pump options available. While performing pump maintenance isn't the most glamorous part of traveling in a camper, running water makes the whole experience so much easier!
Whether you are searching for a replacement or upgraded water pump or you are converting a van or bus into a camper, any one of the water pumps on this list will be more than adequate for your needs.
Like it? Pin it!