Everything You Need For A Fully Customized RV Wiring Diagram & Design
Introducing the Interactive RV Wiring Diagram – the ultimate tool for designing electrical systems for RVs, campervan conversions, skoolies, travel trailers & motorhomes.
Designed to provide a comprehensive and efficient solution to the complexities of the wiring systems in campers.
Automatically Create Your Bespoke RV Wiring Diagram
Includes 110v & 240v, solar, B2B, batteries, inverters, 12v, 24v & 48v systems, wire gauges in AWG & mm² & much more!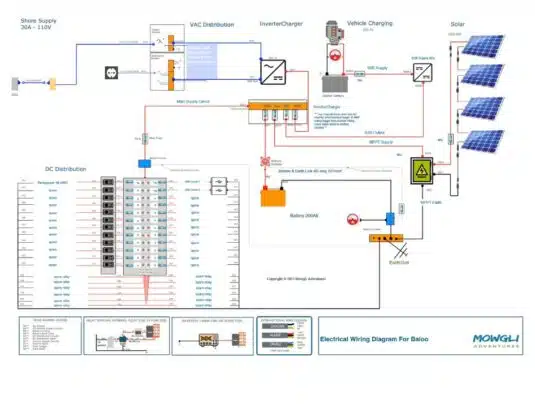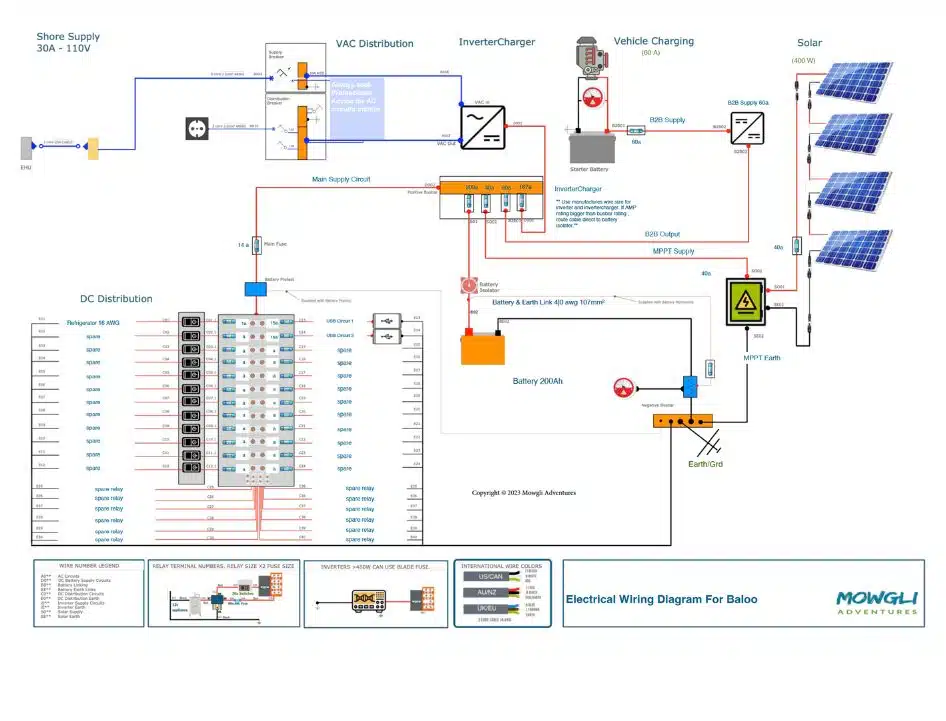 All-In-One Interactive RV Wiring Diagram Features
Interactive PDF: With our user-friendly PDF, you can easily navigate through the wiring system of your RV at your convenience.
Detailed Schematics: Our product provides a detailed wiring schematic for each component, ensuring that you have all the information you need at your fingertips.
Customizable: With our product, you can customize your wiring diagrams to fit your specific needs.
Printable: The PDF wiring diagram is a full colour, high resolution image and can be printed up to 91 x 67 cm (34.9 x 26.56 in).
✅ Choose shore power hook up for 110-130v OR 220-240v mains supply.
✅ Calculates how much power your solar panels can produce wherever you are in the world, year-round!
✅ Tells you if you have enough solar to provide all your power needs and if not, exactly what the shortage is in amp hours, so you can compensate by charging while you drive, shore power or extra battery capacity.
✅ 12v, 24v AND 48v battery banks supported.
✅ Calculates battery bank size for Lithium, AGM AND Gel.
✅ Calculates the minimum size inverter needed, without limitations.
✅ Select a combined inverter charger or a separate inverter and battery charger (converter).
✅ Calculates alternator charging B2B size.
✅ Enter your circuit lengths in metres OR feet.
✅ Automatically calculates wire gauges in either AWG OR mm².
✅ Every component is customizable when you want to override the calculated minimum sizes.
✅ One size fits all! Use the Interactive RV Wiring Diagram regardless of what size system you have.
Calculate & Customize Your Camper's Entire Electrical System
Designing the perfect RV electrical system for your camper just got easier with the Interactive RV Wiring Diagram.
Our powerful tool allows you to effortlessly calculate the ideal solar, battery, wire gauge, fuse, switch, and relay sizes needed for your unique needs – no more guessing required!
With just a few simple details, our built-in calculator will size your entire electrical system and generate a personalized wiring diagram, making your installation process faster and hassle-free.
Plus, our customizable options allow you to tailor each component to your specific needs, ensuring a perfect fit.
Say goodbye to confusing and complicated electrical systems, and say hello to the stress-free and efficient solution provided by the Interactive RV Wiring Diagram.
Start planning your perfect electrical system today!
Audit Your Existing System & Upgrade Your Design
If you're experiencing trouble with your RV's electrical setup, the Interactive RV Wiring Diagram is the perfect solution.
It's designed to help you audit your RV's electrical system easily.
Visualize your existing setup, identify issues and discprenecies with the existing system size versus the recommended set up , and find solutions to optimize your RV's power and ensure the most reliable travel experience.
Whether you think your battery bank isn't big enough, the solar panels are inefficient or your inverter is struggling with overloaded circuits, the interactive RV wiring diagram has got you covered.
Our diagram comes equipped with innovative tools that allow you to customize and visualize the best power setup for your RV.
It simplifies the entire audit process, providing you with a clear assessment of your RV's electrical system.
From overloaded circuits to underpowered inverters and usage limits, everything you need to optimize your RV's electrical system is at your fingertips.
The interactive RV wiring diagram is the perfect solution to any electrical woes that you may be experiencing with your RV.
Knowing exactly which components are compatible with your RV's electrical system will help you avoid costly mistakes down the road.
With the Interactive RV Wiring Diagram, you can be sure you're buying, installing, and operating the right components for your RV's electrical system, ensuring maximum reliability and efficiency.
By taking control of your RV's electrical system, you're sure to save money while ensuring efficient and reliable travels.
Join the growing list of RV travelers who have taken control of their electrical systems with our innovative Interactive RV Wiring Diagram.
What You Will Get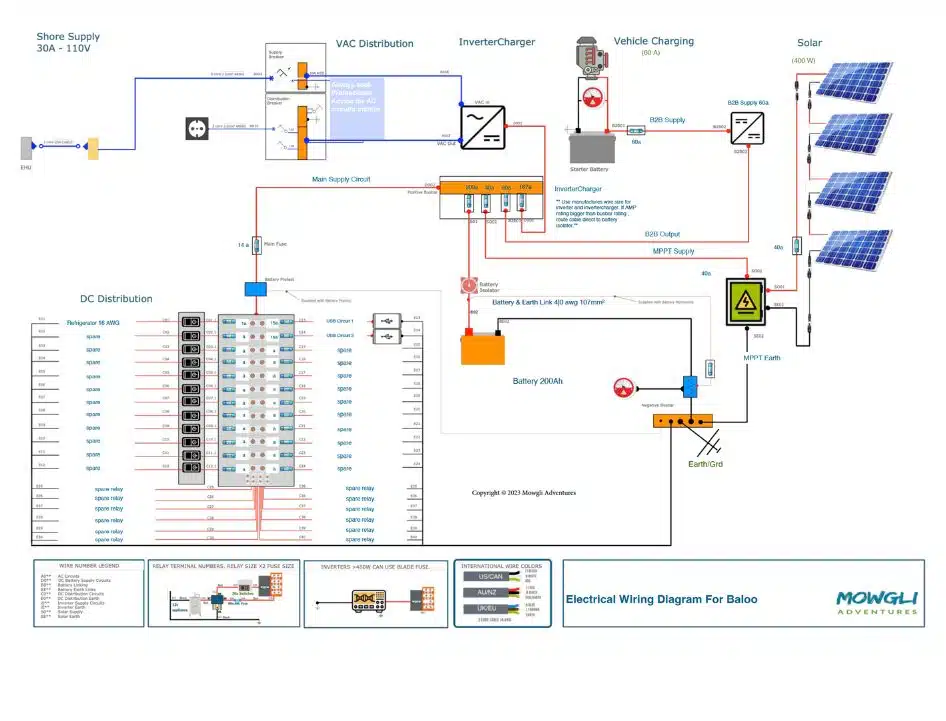 One electronic copy of the 27 page Interactive RV Wiring Diagram. This is an interactive pdf file.
You need Acrobat Reader on a laptop or desktop to fully utilise the interactive wiring diagram and in-built calculator.
The pdf won't work with an internet browser or preview apps such as Apple Preview.
If you experience any difficulties, make sure that JavaScript is enabled in Acrobat Reader. You can set it by following these steps: Edit > Preferences > JavaScript > Enable Acrobat JavaScript.
Acrobat Reader will not request a password to open this PDF, unless you attempt to edit the source file. For hassle free access, make sure you use Acrobat Reader and not PDF editing software.
The download link is received immediately after the transaction is complete.
You can print copies of your wiring diagram in full colour, high resolution image and can be printed up to 91 x 67 cm (34.9 x 26.56 in).
Buy Your Interactive RV Wiring Diagram Now
Automatically Create Your Bespoke RV Wiring Diagram
Includes 110v & 240v, solar, B2B, batteries, inverters, 12v, 24v & 48v systems, wire gauges in AWG & mm² & much more!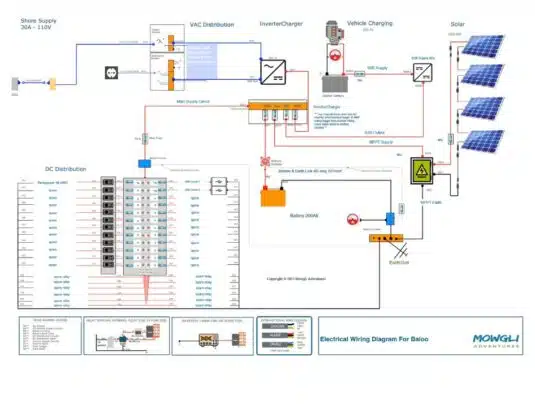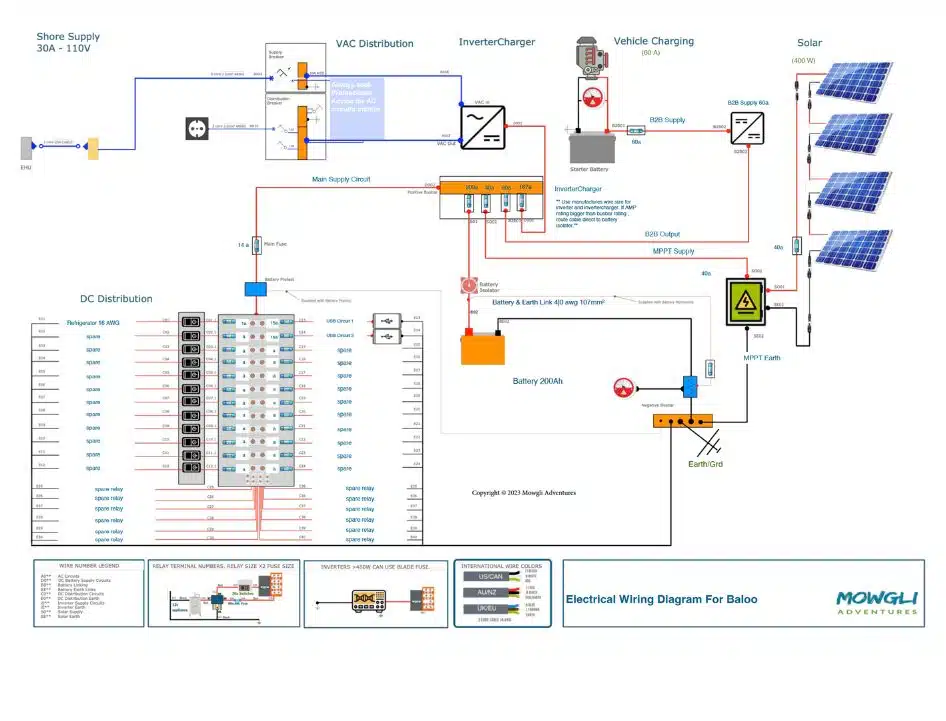 Lots Of Educational Material
When designing your RV electrical system, we understand that knowledge is power. That's why, in addition to our Interactive RV Wiring Diagram, we offer additional educational material through our Campervan Electrics Handbook, our website and YouTube channel.
Campervan Electrics Handbook
The Campervan Electrics Handbook provides a step-by-step guide to designing and setting up a functional electrical system.
It covers major components, circuits, battery technologies, charging methods, sizing components, conversion of AC to DC, installation, safety, and troubleshooting.
Readers will learn how to calculate their electrical usage and choose the best battery type, and will gain knowledge on wiring, fuses, busbars and breakers.
Everything you need to know about campervan electrics. Now available in ebook and paperback!
Learn how to design, size, install and troubleshoot your camper's electrical system.
Mowgli Adventures Website
Our website is home to a wealth of informative articles, providing in-depth knowledge on all things related to electrical sytems for RVs, campervan conversions, skoolies, travel trailers & motorhomes.
From simple how-to guides to more advanced electrical principles, our site covers topics to suit camper enthusiasts of all skill levels.
Mowgli Adventures YouTube Channel
If you prefer a more visual learning experience, check out our YouTube channel.
We regularly upload informative videos that cover everything from product reviews to step-by-step guides for electrical installations.
Our videos are easy to follow and designed to help you feel confident tackling any electrical project on your camper.
We take pride in providing our community with the best possible resources for their camper electrics needs.
Community & Support
Need help & advice with your camper electrical setup?
Our book, website and YouTube channel are just some of the additional educational materials that we offer alongside our Interactive RV Wiring Diagram.
We don't just provide top-notch resources for your camper electrical needs. We foster a community of like-minded individuals who share your passion for camper living.
Our page is more than just a resource hub – it's a place where RV enthusiasts gather to share their experiences, knowledge, and expertise.
Whether you're a seasoned pro or a novice in the world of RV camper electrics, you'll find a welcoming and supportive community here.
From advice about common electrical issues to innovative DIY solutions, our page is the go-to place for all your RV electrical needs. With our friendly and knowledgeable members, no question goes unanswered.
Join us today and become part of a community that shares your love of RV living.
Together, let's create a space where we can share our experiences, learn from each other, and build a genuine support group.
Want more inspiration for your camper conversion?
Sign up for our mailing list to receive valuable build tips and van life hacks!