Popular among Argentinians for its annual gaucho festival, San Antonio de Areco is barely visited by international tourists.
Indeed, until a few days before we arrived we hadn't heard of the quiet centre of the Argentinian gaucho culture only 115 kilometres northwest of Buenos Aires.
Deep in the heart of Argentina's Pampas, the compact town is set around the 18th century church in the central plaza.
Colonial styled buildings and al fresco eateries and bars flank the square on cobblestone pavements.
The Rio Areco marks the northern boundary of the town, meandering through Parque General San Martin, complete with free roaming horses.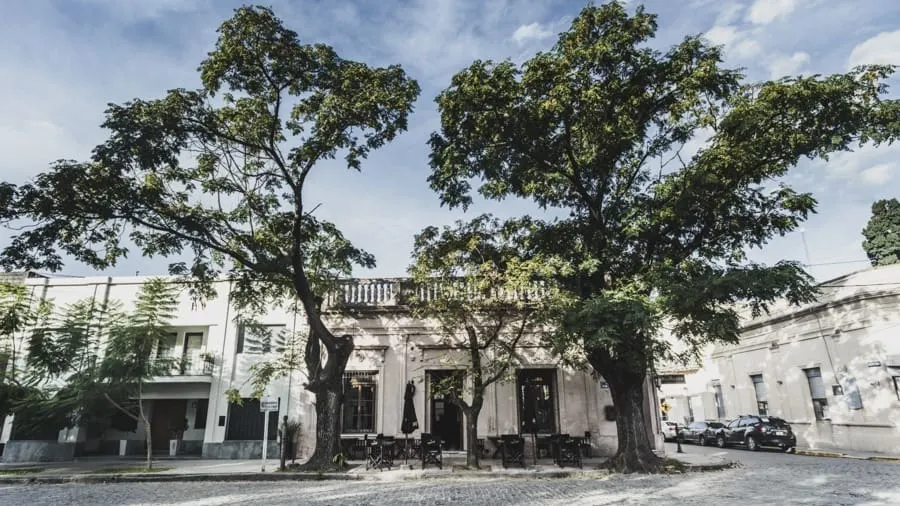 San Antonio de Areco isn't a place to come for big ticket attractions. There's no dramatic mountains of the west, incredible wildlife of the north or phenomenal highlights such as those in the Argentinian Patagonia.
No. San Antonio de Areco is the place to come to relax, unwind, enjoy the countryside and immerse yourself in a little local culture. And one of the best day trips from Buenos Aires too!
Things to do in San Antonio de Areco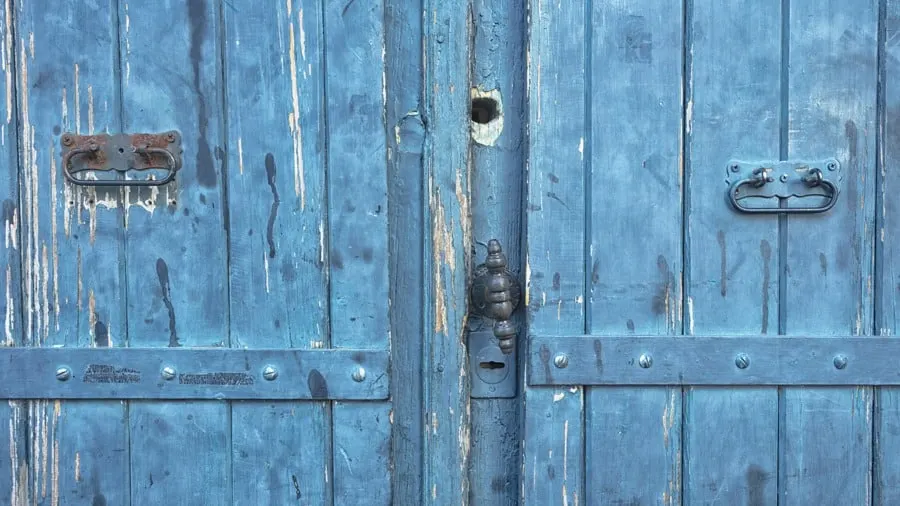 Join in the annual gaucho festival
Every November 10th San Antonio de Areco celebrates the annual Dia de la Tradicíon.
If you're in or around Buenos Aires at this time of year, it's a must visit. Gauchos from all over the Pampas region descend upon the town – the day is all about celebrating their culture.
Gaucho games and horse skills take centre stage, all to the backdrop of music and dance as the air fills with mouthwatering smells of slowly cooked meats from the parrillas. Enough to tempt many a vegetarian.
If you can't make it out here from Buenos Aires, don't miss a Sunday afternoon in Feria de Mataderos instead. This is the closest thing you'll get to the gaucho culture in the big city.
Relax at an estancia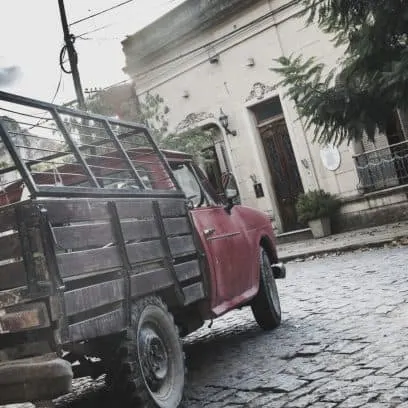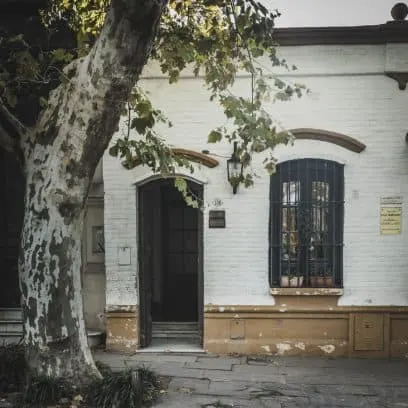 Many tourists have staying at an estancia high up on their Argentinian bucket list. And here's the place to do it. In the heart of gaucho country, there are a few estancias to choose from.
While we stayed at a campground, Estancia El Ombu De Areco was highly recommended to us.
Cook up an asado by the river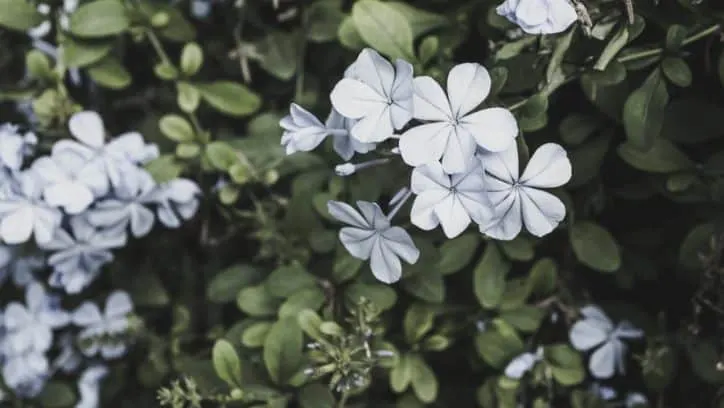 Hey you're in the centre of the universe when it comes to a BBQ after all and with parrilla (grills) available along the river bank why wouldn't you enjoy a little of the local cuisine, home cooked style?
Pop into the local butcher and choose a selection of meats, pick up a bag of charcoal, a little fresh bread from the panaderia, a bottle of malbec and maybe some garnish and you're all set!
Typical meat for the asado includes sausage (chorizo), black pudding (morcilla), sirloin steaks (bife de chorizo) and short ribs (costillas). And no need to worry about the cost. The meat won't set you back as much as it would in Europe and it's excellent quality.
Wander the cobbled streets in and around the plaza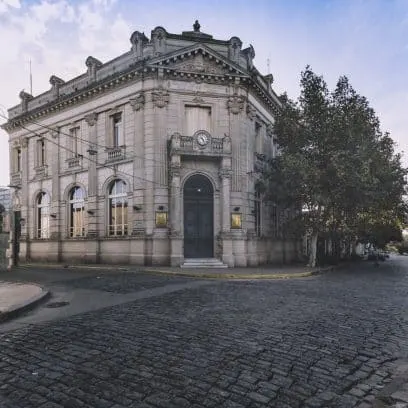 Strolling around the cobblestones of San Antonio de Areco is the best way to get a real feel for the lifestyle here.
If you head out anytime between 1 and 4pm, you can expect to have the street pretty much all to yourself. This is siesta time so the already quiet town is all but deserted.
Shops and cafés close so it's an ideal time to wander around and explore the old colonial buildings.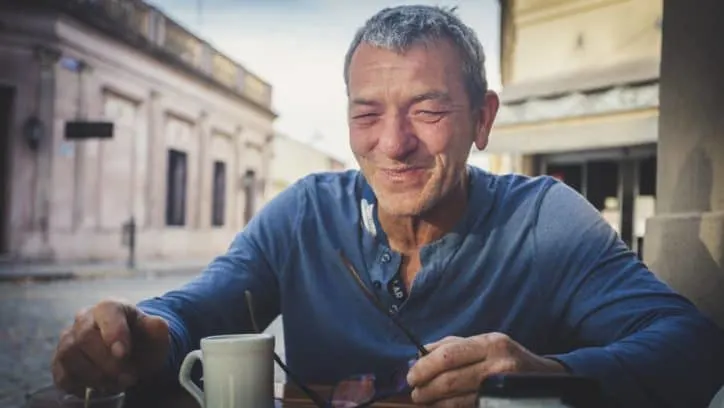 Come 5pm, the town starts to return to life. The al fresco bars and restaurants begin to fill up – definitely try a coffee on the square too. We had the finest coffee we've had for months here.
Best time to visit San Antonio de Areco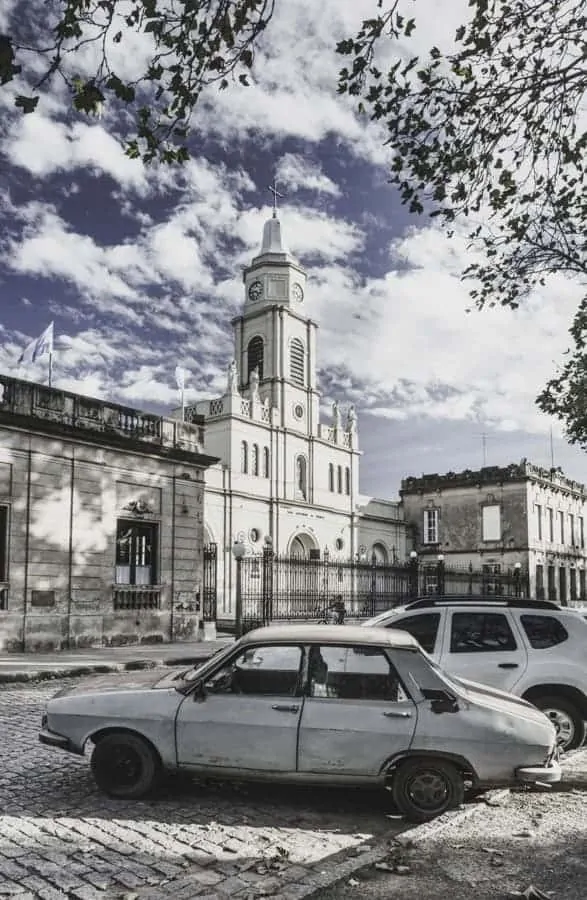 Given San Antonio de Areco's proximity to Buenos Aires and its popularity with Argentinian tourists, it's unsurprising the town has become busy during holiday periods. Semana Santa, weekends, the summer period from December to January are all busy times.
The most popular time to visit is for the annual gaucho festival on 10th November. The one day festival attracts visitors from many miles around so accommodation prices shift up a level.
Accommodation gets booked up well in advance so make your reservations early.
Where to stay in San Antonio de Areco
Camping Club River Plate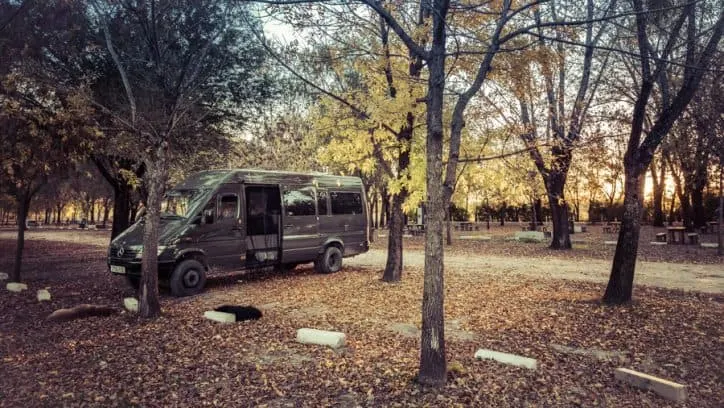 The campsite is a pleasant walk from town and is set along the banks of the river. With many parrilla dotted around and a good ablution block, it's a popular spot for day visitors and is quiet at night.
The lack of wifi is arguably a good thing although the high price tag of ARG $520 for a camper van with 2 people would usually command an excellent wifi connection.
Estancias
For an authentic gaucho experience, you'll be hard pushed to beat staying at an Argentinian estancia.
Homemade meals, gaucho style barbecues and living on a working ranch is as close to the culture as you can get. San Antonio de Areco has a few to choose from too.
With free bikes, outdoor swimming pool, lush gardens and free wifi, Estancia el Ombu de Areco is always in high demand. Make sure to book a few hours horse riding too!
For more options for accommodation in San Antonio de Areco, click here.
Hostels
If you'd prefer more budget accommodation, make sure to check out Hostelworld for their latest rates and availability.
How to get to San Antonio de Areco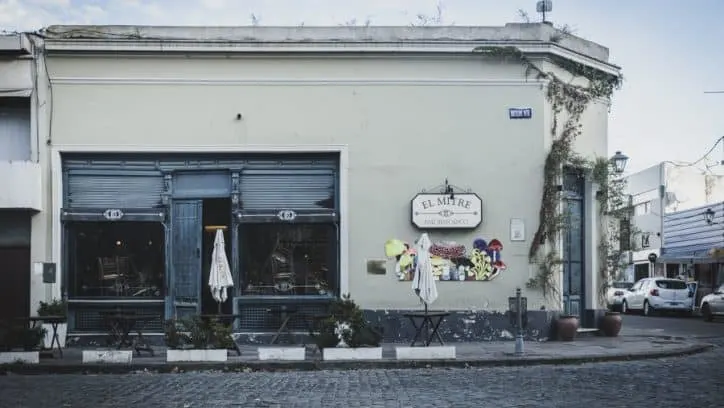 Driving directions from Buenos Aires
San Antonio is on Ruta Nacional 8, around 115 kilometres northwest from downtown Buenos Aires. Join Ruta 9 in Buenos Aires, heading west before joining Ruta 8 after about 35 kilometres.
Make sure you bring cash too as there are a few toll booths along the way, many of which don't accept card payments. The toll booths have a different price at each and a varying scale according to the size of yoru vehicle.
We paid around US$15 in total on the drive into Buenos Aires.
Make sure to check out our guide to driving in Argentina for lots of tips and advice.
Buses from Buenos Aires
Buses run regularly from Buenos Aires to San Antonio de Areco, take around 2 hours and cost a little under ARG$300 or about US $7. Check with Omnilineas.com for all the up-to-date schedule and prices.
Like it? Pin it!