The city's oldest barrio, San Telmo is the heart of Buenos Aires.
Evidence of its rich history remains. Cobbled streets are tough on the ankles for those not wearing sensible shoes.
Antique lamp posts still illuminate plazas, spilling their dim light onto couples performing impromptu tango dances.
The crumbling facades of once grand colonial mansions now house antique shops, restaurants and milongas. The rest serve as apartments, hotels and conventillos.
The air is filled with the aromas of Argentinian steaks cooking over hot parrillas and pepperoni from pizza houses run by 3rd generation Italians and the occasional unpleasant scent wafting from one of the neighbourhood's down and outs.
It all adds up to a unique bohemian atmosphere – one we imagined in our mind's eye before ever arriving in Argentina, let alone Buenos Aires.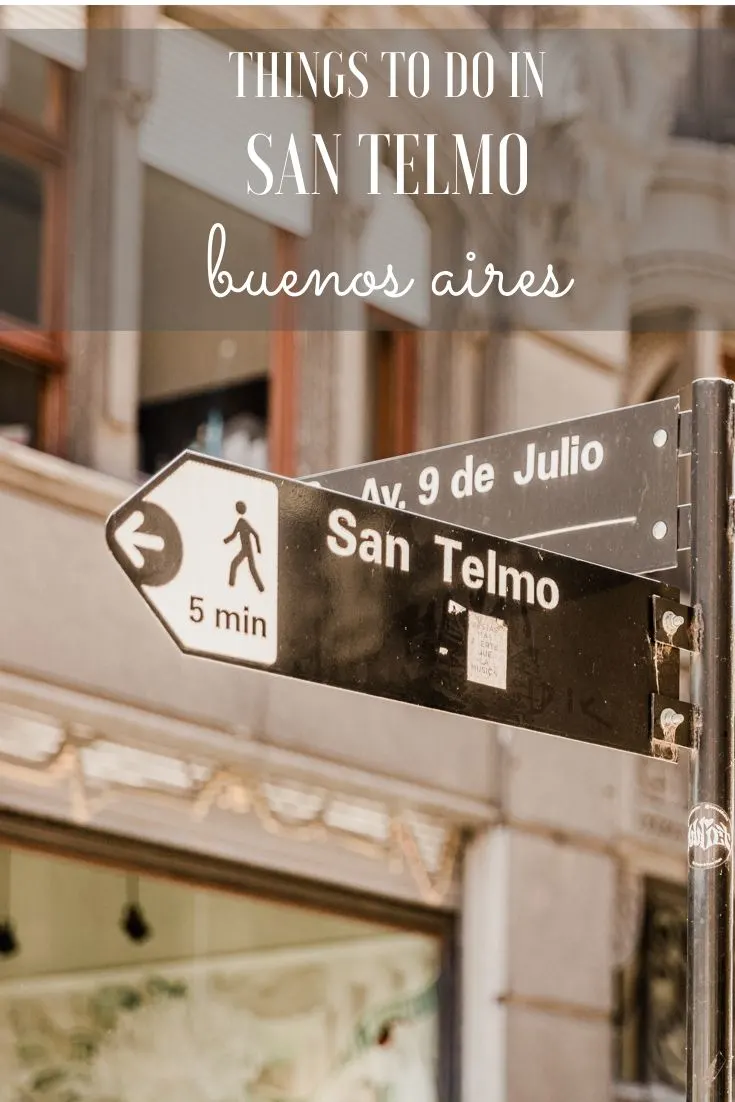 Things to do in San Telmo
To us, San Telmo is the essence of Buenos Aires. Here's our favourite things to do in San Telmo.
Perhaps the most well known attraction in the barrio, the San Telmo Sunday market attracts thousands of visitors every week.
Sprawling out across the neighbourhood's cobbled streets from Calle Defensa, antique sellers, artists and craft stalls sell their wares.
The streets are full of characters too. From mime artists to buskers, puppet shows to clowns. If souvenir shopping or bargain hunting isn't your thing, don't miss Feria de San Telmo for the people watching.
The market begins closing around 5pm but the action keeps going.
Candombe troupes fill the air with incessant drumming as they parade towards Plaza Dorrego, an ever growing crowd joining them as they go. Once they disband, the tango dancers take over the square.
Feria de San Telmo may just be the highlight of your trip to Buenos Aires.
And if you love a bit of gaucho culture, don't miss a day trip to Feria de Mataderos.
Buenos Aires is full of historic coffee shops come restaurants come bars known locally as bares notables.
Café Tortoni is probably the best known in all of Buenos Aires but it's outside of the city's oldest neighbourhood.
San Telmo's cafés don't disappoint though. There's cafés on almost every corner and most of the historic ones aren't difficult to miss.
The wooden sash windows sporting fileteado livery, tiled floors and original fittings ooze their age, filling the room with character hard to find elsewhere.
Bar Plaza Dorrego, Café Poesía, Bar El Federal and the list goes on and on.
Whether you want a morning coffee, brunch or dinner, San Telmo cafés have you covered.
And most are open for upto 20 hours a day.
The Buenos Aires tango scene is one of the main attractions of Buenos Aires.
Wander the cobbled streets of San Telmo, especially on a sizzling summer weekend, and you'll find tango performances almost everywhere. The standard varies (to our non expert eye) but all pass a hat round to collect donations after each dance.
Then there's the organised shows. Hugely popular, professional dancers perform well polished routines, akin to a West End show. The intimate setting with dinner, wine and cocktails makes for a fabulous night out, although you'll need to book in advance for most.
But if you're looking for the authentic tango scene, where real porteños go to learn and practice, you should visit a milonga.
For us, as for most tourists in San Telmo, this is an opportunity to get a feel for the real tango scene. The evening usually starts around 9pm with a tango class. Regardless of how good you are or how many left feet you prance around the dance floor with, you won't be alone.
After class, the music continues and couples practice. The band sets up, and by 11pm, the tables around the dance floor are packed leaving standing room only.
Things get serious when the live music begins and the tango maestros hit the dance floor. Expect a late night, as the milonga spills into the early hours, even on weeknights.
Argentinians take their meat seriously and barbecuing is the cooking method of choice. The grill is called a parrilla.
You can find extended families gathering for an asado virtually every weekend around Argentina.
An asado isn't just a barbecue though. It's as much about the social gathering as it is about the food.
In Buenos Aires, finding a public outdoor space with a parrilla to use is pretty much impossible. The only way to go to (or host) an asado is to get an invite or rent an apartment with its own parrilla.
Fortunately, most restaurants have a parrilla. In fact many in San Telmo are dedicated to it, serving only grilled meat and occasionally fish with a small selection of side.
To say the meat is succulent is an understatement of the highest order.
A bife de chorizo or sirloin steak cooked on an Argentinian parrilla will ruin every barbecue you ever have again. Do not miss dining in a steak house in San Telmo.
Fancy a dash of urban archaeology on your tour of San Telmo? Head to El Zanjón de Granados and explore the labyrinth of tunnels beneath Calle Defensa.
The once abandoned 1830's mansion was bought by Jorge Eckstein who wanted to turn the place into a restaurant.
But during the restoration work, one of the floors began to collapse and he discovered the ceiling of an underground tunnel.
Jorge called in a team of archaeologists who found a labyrinth of wide, vaulted brick tunnels under the mansion extending to the wider neighbourhood and city.
Following some wonderful restoration work, visitors can explore the tunnels and even some parts of an original settlement dating back almost 400 years.
History buffs will love the San Telmo tunnels!
Practical info
This private museum is open to the public and admission costs ARG $800. This includes a 50 minute guided tour.
Tours run in English at 12pm, 2pm and 3pm Monday to Friday and every half hour on Sundays from 11am to 5pm. It's closed on Saturdays.
Don't miss Casa Minima across the road when you're there.
Billed as the narrowest house in Buenos Aires, Casa Minima is less than 2.5 metres wide.
Legend has it, the house was once part of the larger properties either side of it. When slavery was abolished, one of the slaves was given a portion of the property as a parting gift from his captor. Kind of a "thank you for your service" present!
Whether the rumours are true or not, if you're in San Telmo, you'll probably be passing within a few steps of this anyway.
Practical info
Casa Minima is on San Lorenzo Passage across the road from El Zanjón de Granados and operated by the same company.
Opening hours are limited. Tours run at 11am on Wednesdays and between 11am and 5pm on Sundays.
If you're anywhere near Calle Defensa, don't miss at least walking by the house, even if it's closed.
San Telmo may not be known for its green outdoor spaces, but Parque Lezama is exactly that.
A few blocks away from the San Telmo Sunday market, Lezama Park is a perfect spot to unwind and escape the heat of the city.
Originally a splendid, upscale garden of a well-to-do Porteño family, they donated it to the government on the condition it became a public park. And so it is to this day.
Lezama is a wonderful park, filled with grassy lawns, blooming Jacaranda trees, fountains (some pretty weird so look closely) and impressive sculptures.
Families enjoy picnics, couples sip maté, fitties practice yoga on the lawns and Graham and I indulge in some of the finest Italian ice cream from Heladería Florencia near the east gate.
Don't miss the bright blue domes of the Russian Orthodox church or the National Historical Museum, both located beside the park.
Top tips
The park is on the border of La Boca neighbourhood and can be a bit sketchy after dark. Take care of your belongings and follow our safety tips below.
Once you've heard Candombe, you can't unhear it. The incessant rhythm of the pounding drums gets into your bones.
And it's not only the reverberation you feel.
Candombe troupes are passionate about keeping the city's Afro-Argentinian culture alive.
Each Sunday evening before dusk, the streets around Plaza Dorrego come alive. Candombe troupes parade and onlookers join in, following along and dancing to the beat.
Condombe is a big deal here in Buenos Aires but also in Montevideo, Uruguay.
Top tips
If you miss a Sunday performance, try hanging out near the amphitheatre in Lezama Park where troupes often gather to practice.
A massive Candombe fiesta takes place in San Telmo on the first Saturday of every December where all the finest costumes get an airing.
If modern art floats your cultural boat, head to Avendida San Juan and visit Museo de Arte Moderno de Buenos Aires (Buenos Aires Modern Art Museum).
The museum houses a permanent collection of over 7000 piece of art from around the world. And it showcases local talent too.
Not just an art gallery, the museum displays installations and sculptures many of which, to our untrained eye, look like a pile of randomly thrown together artefacts.
If modern art isn't your thing, the museum is set in an old tobacco factory, so the building's wrought iron and exposed brickwork is worth seeing.
Practical info
Entrance to the museum is ARG $50, free on Wednesdays and closed on Tuesdays.
The street outside the museum is sometimes closed off in the evening when the Buenos Aires Philharmonic Orchestra set up for a free live concert. A wonderful experience!
The well known comic strip walk, snakes through San Telmo, Puerto Madero and Monserrat neighbourhoods.
The sculptures draw a lot of interest from passers by, many serving as a landmark meeting point.
While the characters may be unfamiliar to non Argentinians, it doesn't seem to stop anyone grabbing a selfie.
Mafalda on a bench is especially popular, probably in part because she appears on virtually every conceivable souvenir you can buy in Buenos Aires.
San Telmo's indoor market is partly responsible for the success of the entire neighbourhood.
When it opened in 1897, it brought convenience to the doorstep of the influx of Europeans who'd taken over the area following the earlier yellow fever epidemic.
Today, the original market still exists and has expanded over the years.
We spent many happy hours wandering around the market stalls. Browsing through the bric-a-brac stalls, rummaging in the antique shops, picking up fruit and vegetables we've found difficult to buy elsewhere (like mushrooms and basil) and feasting on some terrific handmade pasta and empanadas.
Top tips
San Telmo market is busy at weekends, especially on Sundays when the outdoor Feria de San Telmo is open.
If visiting on a Sunday and you want to eat here, try to get a table before 1pm to avoid waiting.
If you're a Brit, and all this Argentinian culture and architecture becomes a bit overwhelming, escape to the familiar surrounding of the Gibraltar Pub.
Perhaps no longer typical of a modern day Brit pub, it's more of a throwback to the comfy bars of the late 1970s.
They don't serve Newcastle Brown Ale or a pint of Pride but you can get fish and chips, a curry or a steak and ale pie.
Live sport, usually football, is streamed live and there's even a pool table in the back.
The Gibraltar gets pretty crowded at the weekends so if you're after a quiet pint, try visiting in the afternoon.
Address | Peru 895 at the intersection with Estados Unidos
How to get to San Telmo
If you're staying in San Telmo and arriving by air, you will most likely land at Ezeiza International Airport.
A taxi will cost around US $30 – make sure the driver puts his meter on.
Shuttle buses are cheaper. They tend to run only on weekdays and depending on how much luggage you have, cost around US $8.
If you're staying in another neighbourhood of Buenos Aires, San Telmo is easily accessed on the public transport network.
Ferries from Montevideo and Colonia del Sacramento in Uruguay arrive in Buenos Aires at Terminal de Buquebus in Puerto Madero. It's a little over 3 kilometres. If you've visiting San Telmo on a day trip or have luggage, catching a taxi is the quickest option.
Otherwise, the C metro line has a station nearby at General San Martin.
Metro lines A, B, C, D and E have stations that stop near San Telmo and loads of buses head there too. This interactive map will help you figure out what bus or train you need to catch.
Make sure you buy a SUBE card for the public transport first and check out our definitive guide to getting around Buenos Aires before you go.
Best time to visit San Telmo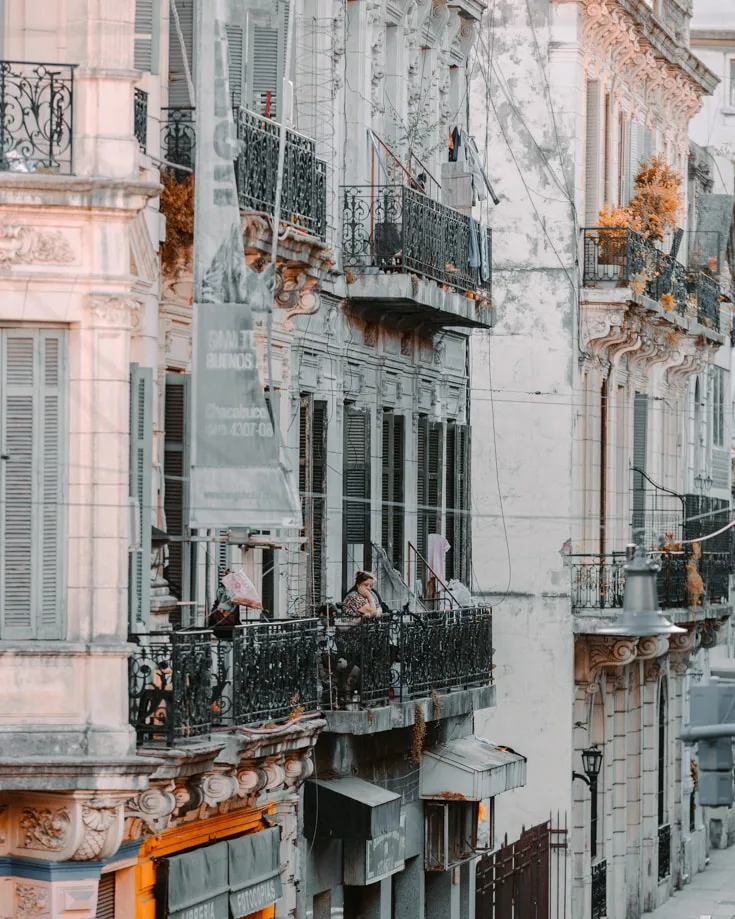 If you're planning on only spending a day here, the best day to visit is Sunday when the markets are at their best and many of the roads are closed to traffic.
Otherwise, evenings are always busy in Plaza Dorrego and weather permitting, street tango shows almost guaranteed.
Safety in San Telmo
We've read so many articles about safety concerns in San Telmo so thought it worth stating our views.
Buenos Aires is a massive city. While there's plenty of wealth here, as in just about every other major city around the world, it has its share of poverty. And with the stumbling Argentinean economy, this is only getting worse.
Aside from the tourist attractions, street performances and restaurants, San Telmo is an inner city suburb. And inner city suburbs aren't always the safest places to hang out.
During the day, San Telmo is a hive of activity. While we didn't feel we could walk around the quieter back streets with a camera hanging off our shoulders, we didn't feel unsafe either.
We carried our cameras in backpacks until we reached the busier areas.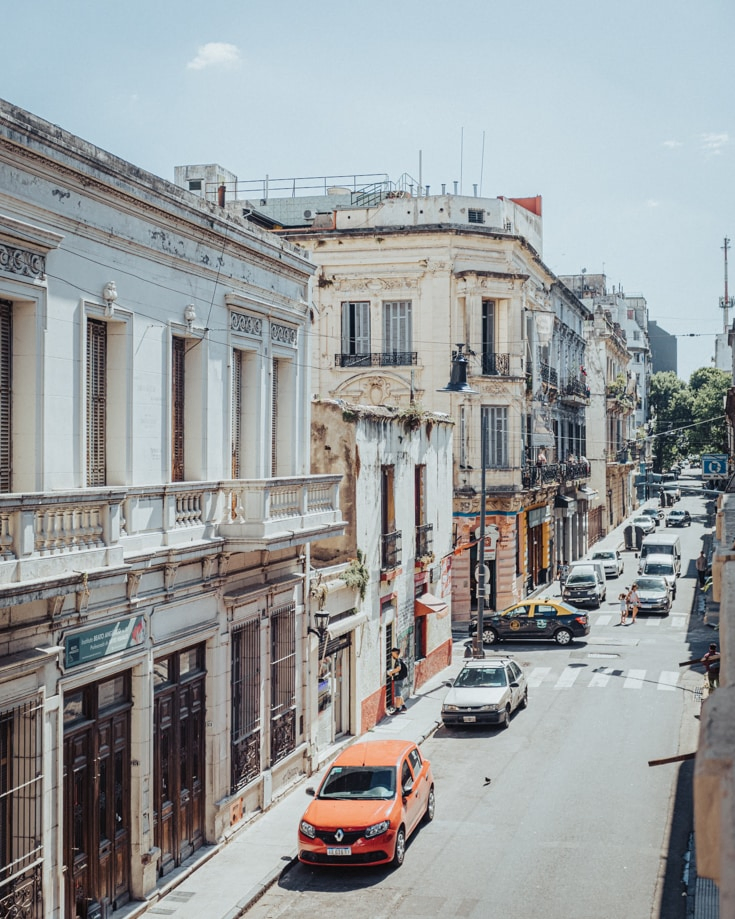 San Telmo by night feels a little more iffy than by day. The side streets become less busy, except an occasional small group of heavy drinkers.
Our Airbnb was in an apartment block on once such side street. We often came back late at night.
There was almost always someone around – not always the most salubrious – so we'd make a beeline for the front door.
Whilst we never had any issues, neither of us would feel totally comfortable walking around the streets of San Telmo alone at night.
Follow these basic tips to help stay safe in San Telmo:
Stay aware of your surroundings
Don't wear flashy jewellery or carry expensive electronics (you'll make yourself a target)
Avoid walking the quiet back streets alone at night – take a taxi instead – they're cheap in Buenos Aires
Trust your instincts
Have a good travel insurance policy
If we were to base ourselves in Buenos Aires again, we'd choose the same neighbourhood so don't let safety concerns put you off.
Where to stay in San Telmo
Tourists love San Telmo but not so many base themselves here. We think this is a massive pity.
The barrio oozes everything we love about the entire city. Basing ourselves here for weeks on end was the best decision we made when planning our trip to Buenos Aires.
It's a very walkable neighbourhood and you don't need to use public transport to explore.
Even parts of Puerto Madero and Microcenter are in walking distance. To go further afield, a SUBE card makes catching buses and the subway a breeze.
Airbnbs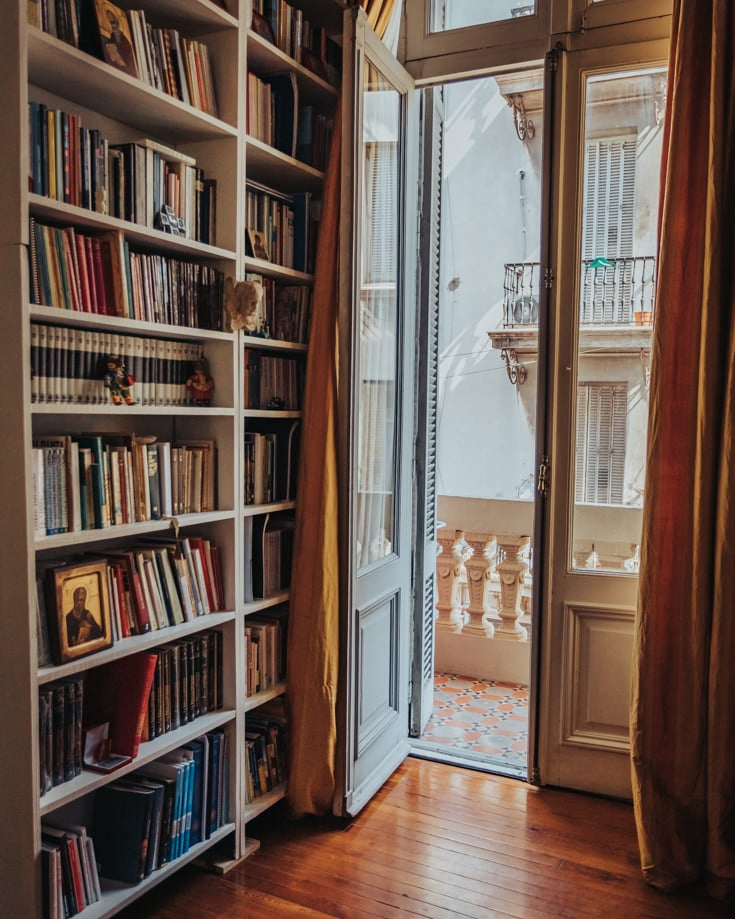 We've been staying in an Airbnb in the heart of San Telmo since we arrived a few weeks ago, and at the time of writing we're still here. The apartment wasn't the cheapest option but it's completely wonderful.
It's full of character and the balcony overlooks the narrow street – we don't even have to leave for a photo opportunity.
There's lots of great value, stylish and character Airbnbs – take a look here. And if you've not already registered, save a few dollars on your first rental with this link.
Hotels in San Telmo
For luxury – Anselmo Buenos Aires | Slap bang on Plaza Dorrego, this luxury hotel in an old colonial mansion ticks lots of boxes. Location doesn't get much better than this in San Telmo but try to avoid arriving and leaving on a Sunday, when the entire plaza is a market place. For more information and to check availability and prices, click here.
A little romantic – Residencia Esplendida | Think grand old palace complete with period furniture, a shaded patio garden, tall ceilings with modern day amenities like wifi, a kitchenette and jacuzzi. This is a unique accommodation certainly lives up to its name! For more information and to check availability and prices, click here.
Great value – Telmho Hotel Boutique | Sophisticated design and modern facilities but with a boutique feel, this is a perfect spot to watch tango in the plaza from. And it won't bust the budget either. For more information and to check availability and prices, click here.
If you'd prefer more budget accommodation, make sure to check out Hostelworld for their latest rates and availability.
For overlanders
Seasoned overlanders won't be surprised to find no formal campsites in Argentina's capital city.
Despite this, for those travelling in self contained vehicles there's a surprising amount of opportunities for free overnight camping.
The most suitable places to park and stay in your vehicle overnight is around the upscale Puerto Madero area. The spaces are a short walk from Reserva Ecológica Costanera Sur for when you need to get back into nature to escape the city madness.
To get around the city and see all Buenos Aires has to offer, grab a Sube card and hop on the nearest subway.
You can use the iOverlander app offline to check on the latest updates in respect of overnight parking in Buenos Aires.
If you'd prefer to stay in a hotel or Airbnb while you're in Buenos Aires, there's loads of secure parking lots around the city. Just look out for the big blue 'E' signs and check for height restrictions before you drive in.
Like it? Pin it!