Any visit to San Telmo would be incomplete without wandering through the century old San Telmo market.
Not to be mistaken for the Sunday Feria de San Telmo, the Mercado de San Telmo opened for business in 1897.
Designed by Juan Antonio Buschiazzo – the same chap that designed Recoleta cemetery – the indoor market oozes 19th century Italian architecture.
Wrought iron girders support a glass and metal sheet atrium. The flagstone floor's so worn it sports a permanent high gloss sheen.
Based here in Buenos Aires' most historic neighbourhood, we became frequent visitors and made a regular shopping trips to the market.
At first we wanted to see what all the fuss was about, like any other tourist. As the days of our stay in Buenos Aires turned into weeks, we found ourselves regular visitors.
As the European immigrants for which it was built did, we'd replenish our supplies of fresh fruit and vegetables.
A coffee break to admire the architecture high above our heads was often in order. Coffee Town and Merci are both popular cafés here.
Or we'd browse through vinyl records, enamel bric-a-brac and old costume jewellery.
If we passed by near lunch time, we couldn't resist the aromas, spoilt for choice from homemade pasta dishes, empanadas or the infamous Argentinean parrilla.
We're not antiques experts but suspect there's little chance of a finding a pot of gold here.
But if you're on the lookout for a second hand leather jacket or a modern day replica of the fileteado artwork style Buenos Aires is synonymous with, San Telmo market is right up your street.
A photo journal of San Telmo Market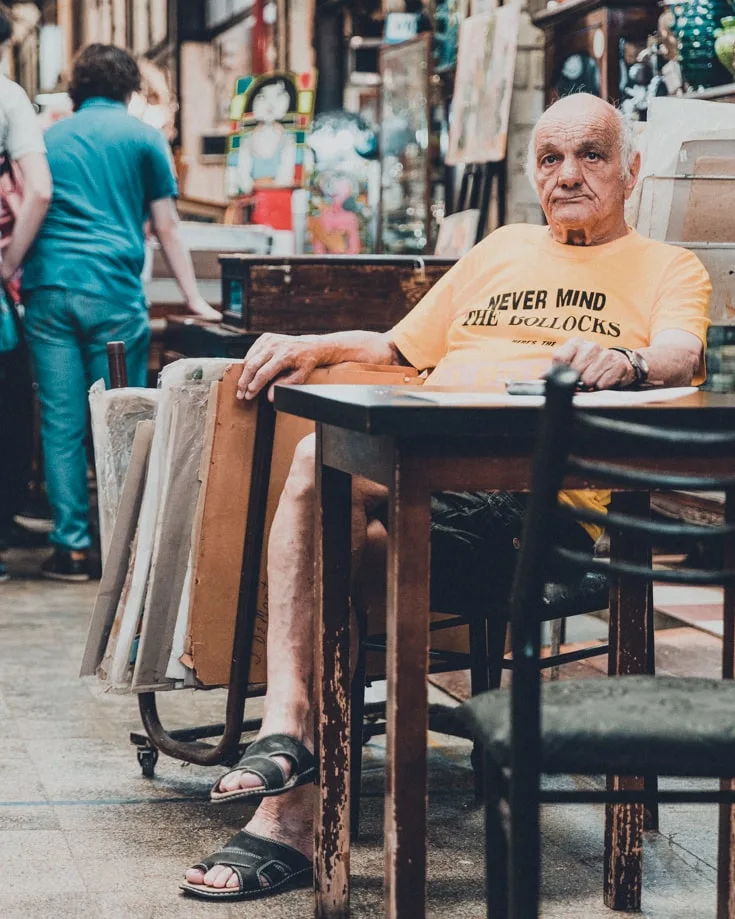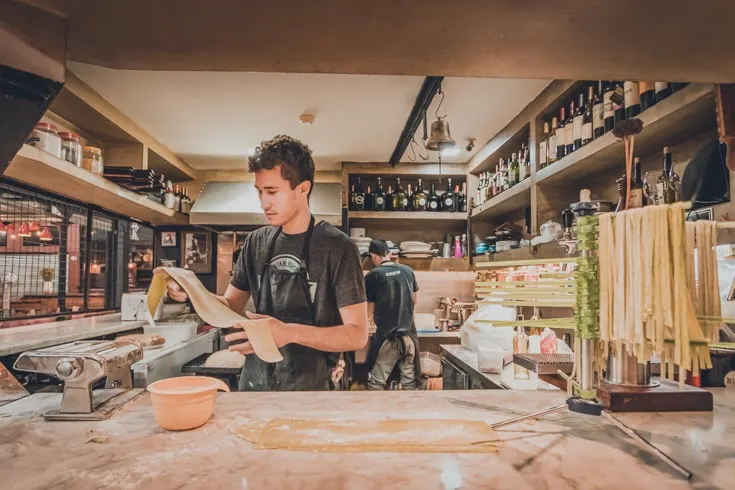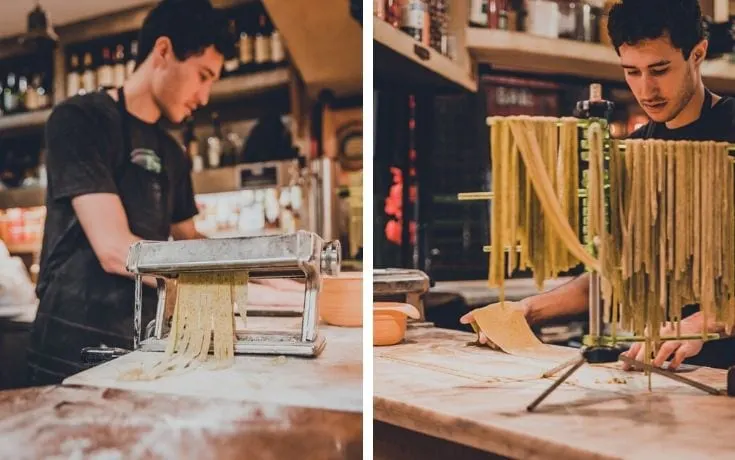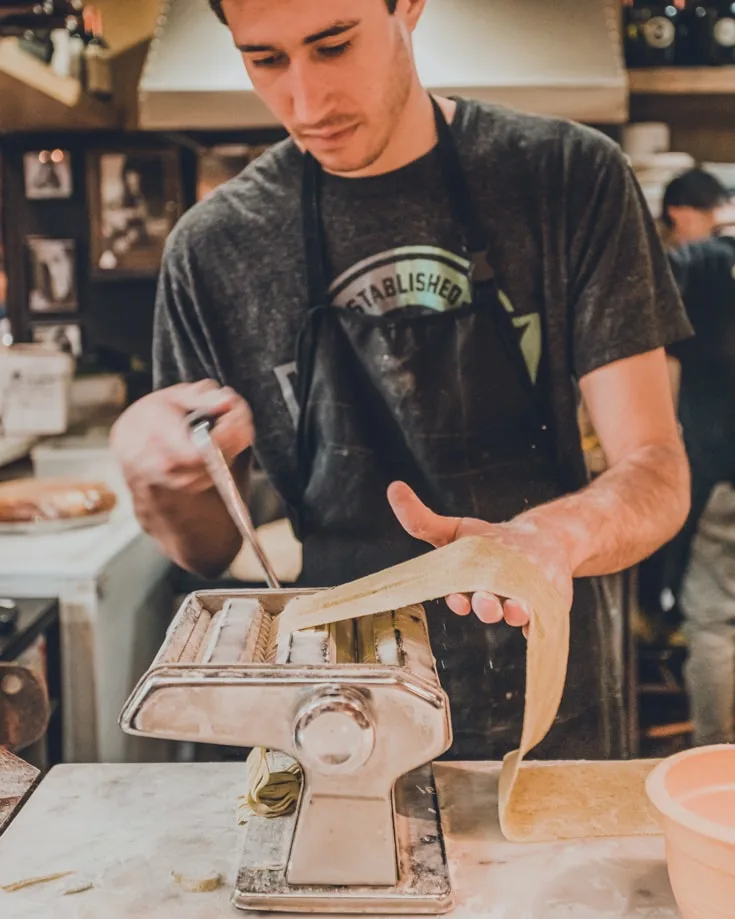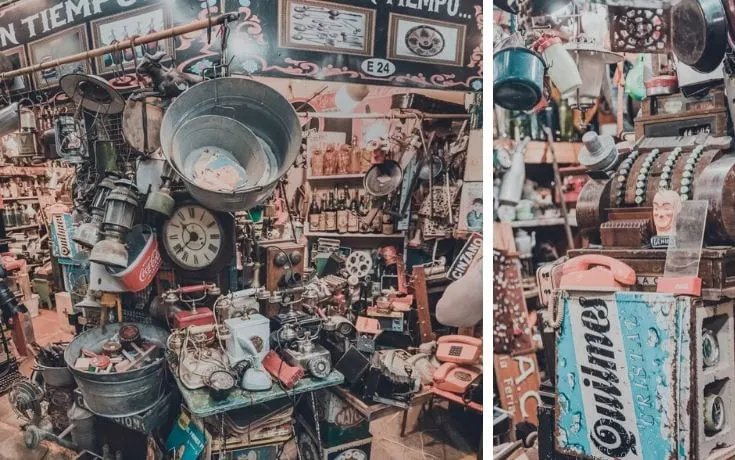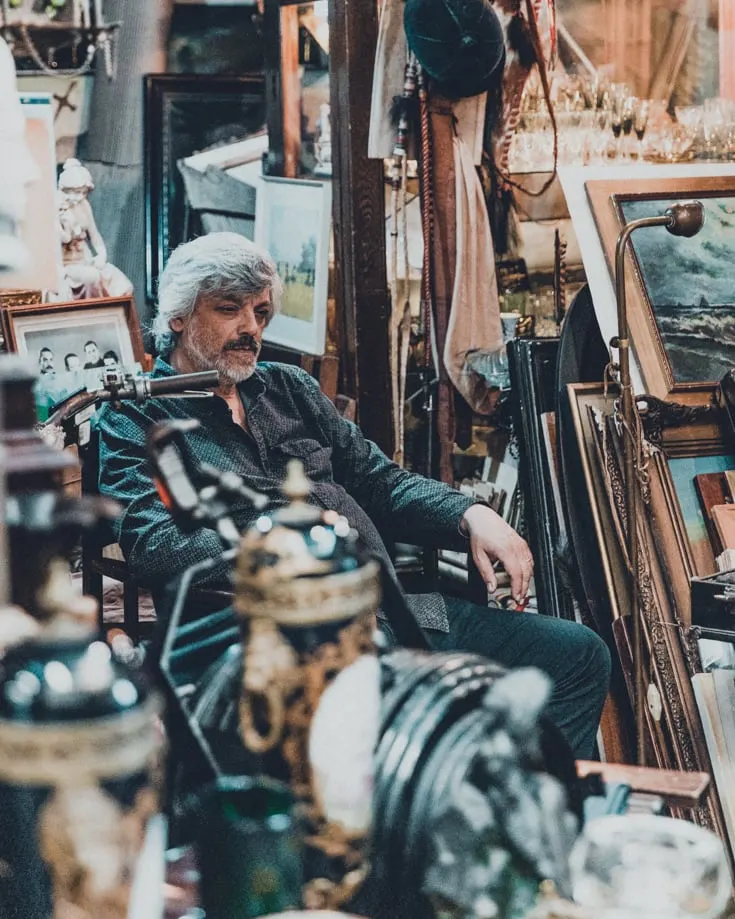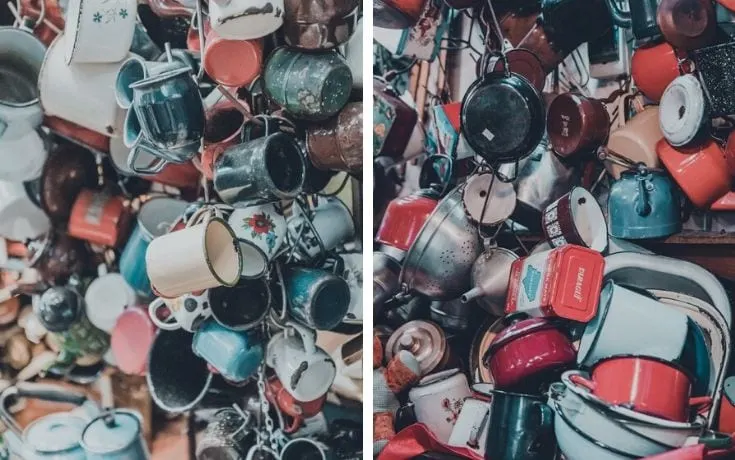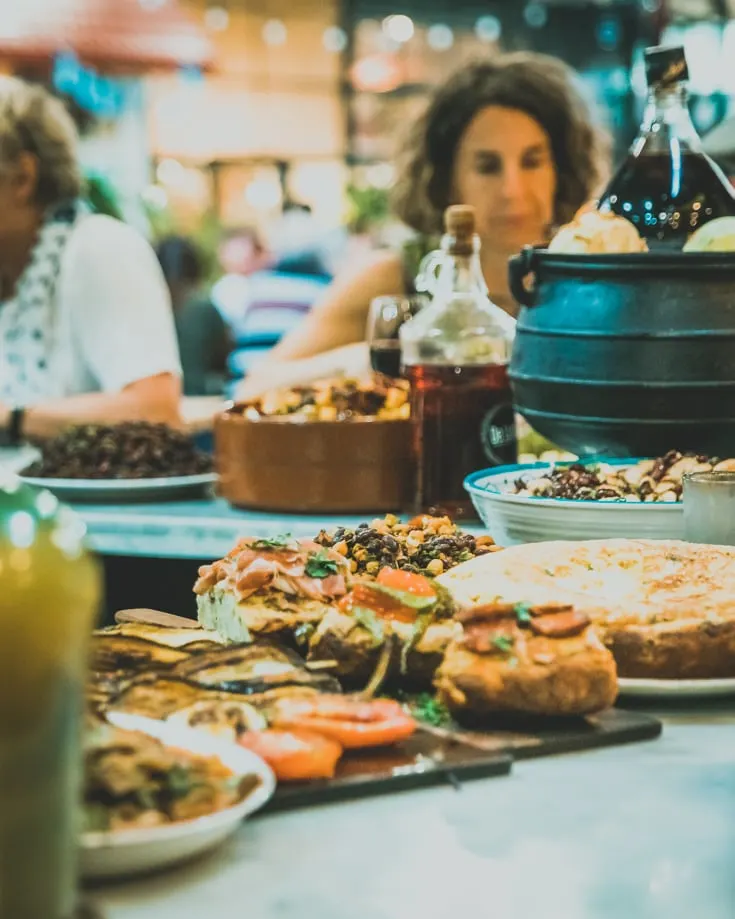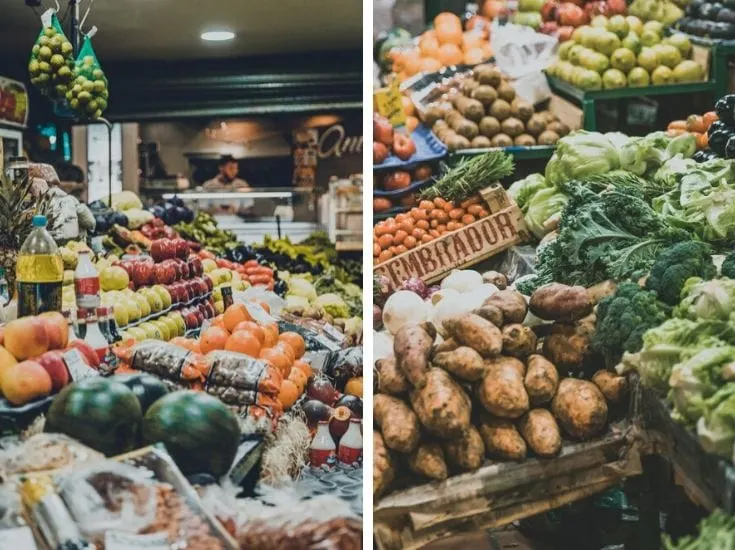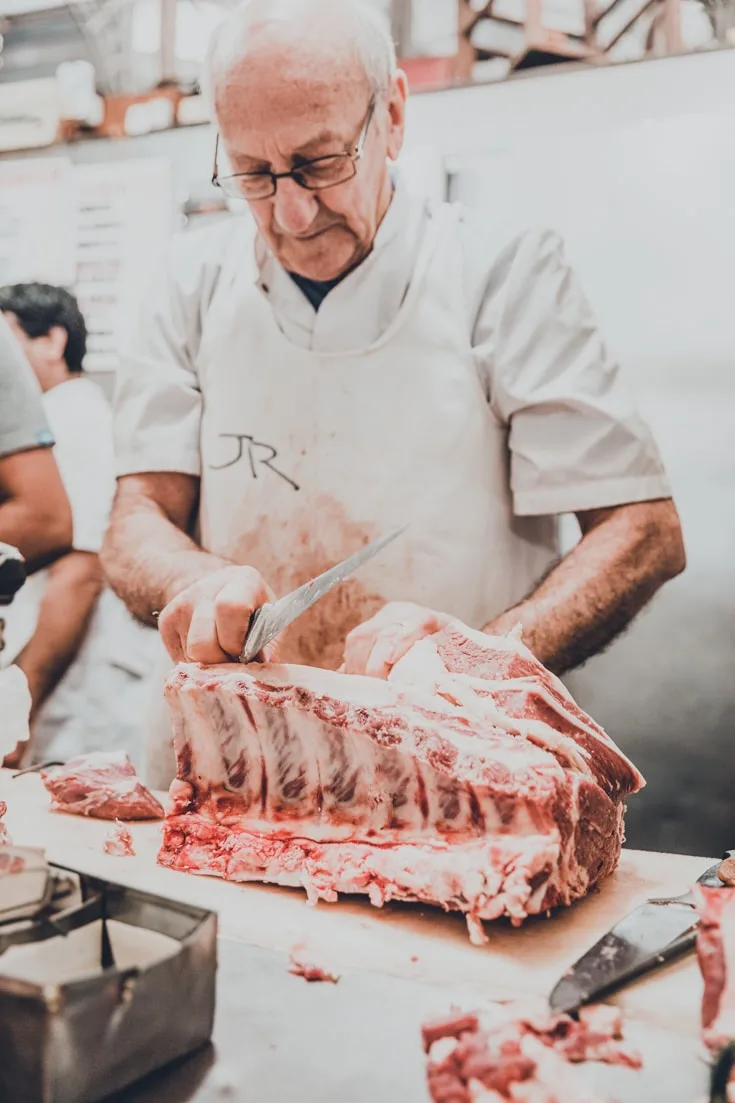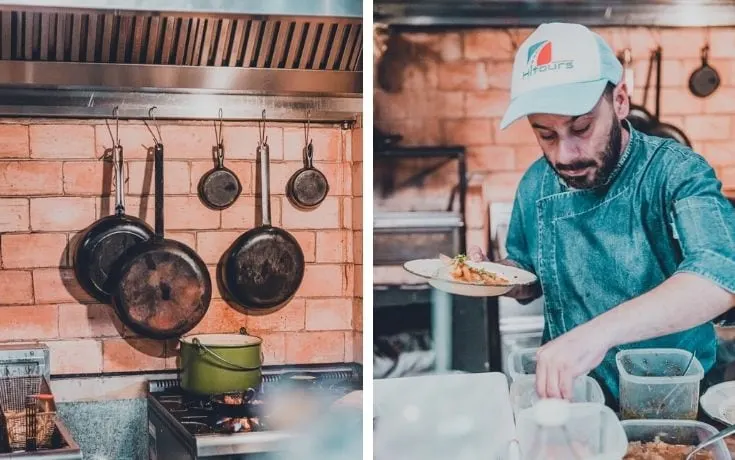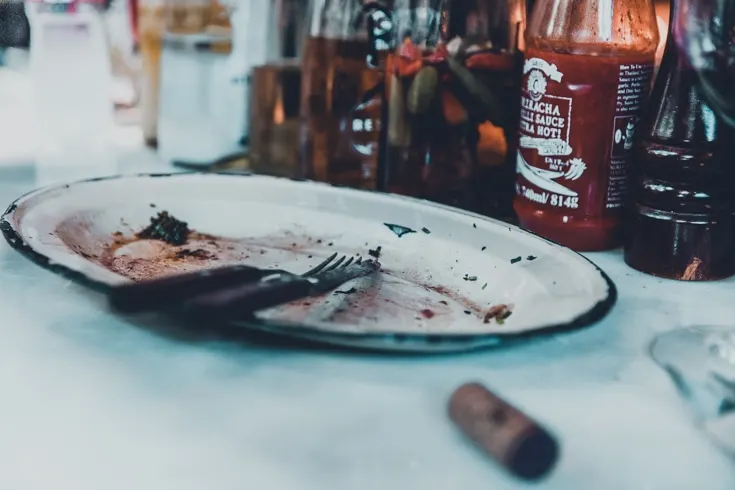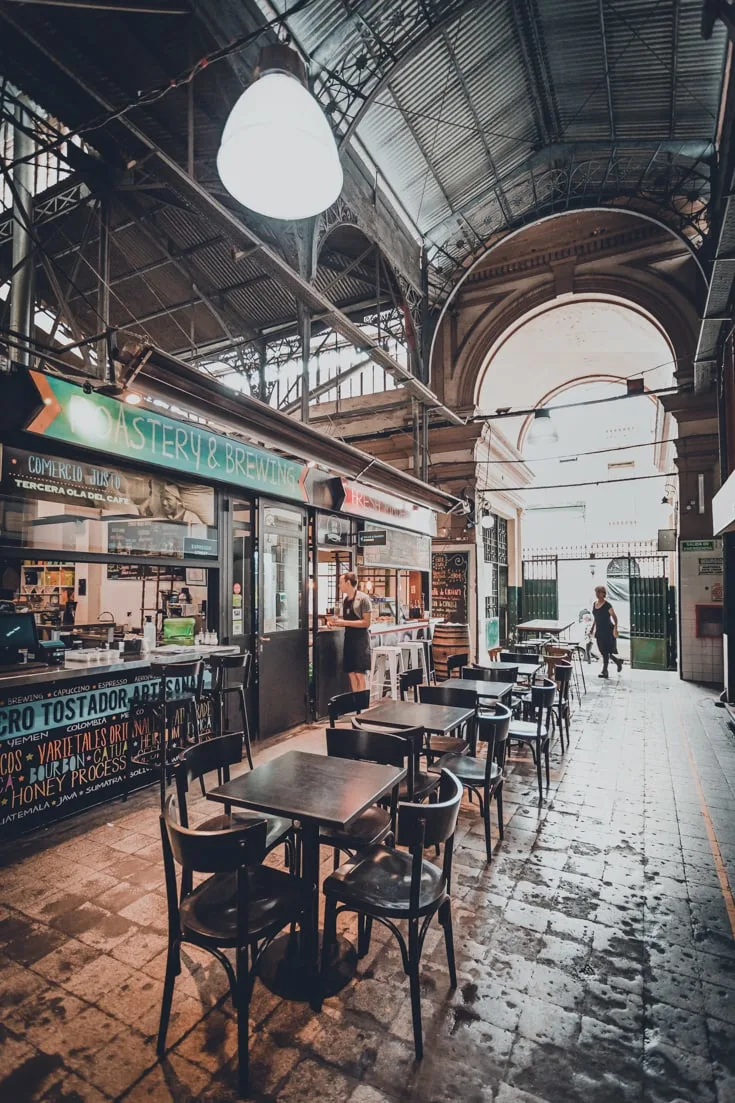 How to get there
To get there, make your way to Plaza Dorrego. The market is a block north from the square along Defensa. There's further entrances on Carlos Calvo, Bolivar and Estados Unidos too.
Make sure to check out our definitive guide to getting around Buenos Aires before you go.
When to visit Mercado de San Telmo
The market is open daily from 10:30am to 9pm.
For buying fruit & veg, you're best to visit early as the stallholders take delivery of the day's fresh produce.
San Telmo market gets overcrowded on Sundays because the outdoor Feria de San Telmo is outside all day. All the market stalls and antique shops are open at the weekend but grabbing a seat at the food vendors is more challenging. Be prepared to wait or visit on any week day when it's less busy.
Useful tips
While many of the food vendors accept card payments, the grocery stalls and antique dealers only take cash
Grocery shopping in the market is more expensive than many of the other independent grocery shops around San Telmo but they do have a wide variety pf produce available – like mushrooms and basil!
Things to do nearby
Feria de San Telmo | the outside Sunday fair that sprawls for several blocks
Parque Lezama (Lezama Park) | a delightful park with a much needed splash of green to escape the city heat
El Zanjón de Granados | explore the flaking walls of the San Telmo tunnels
Feria de Mataderos | not close at all, but this is Buenos Aires' gaucho market. You've got to go!
Like it? Pin it!