One of the major decisions when planning a camper van conversion, is whether to install a shower or not.
There's plenty of ways to maintain personal hygiene on the road without a shower so they're not essential. Take a look at our van life hacks for more advice too.
If you do want a shower in your camper, do you know what type?
There's loads of options for campervan showers on the market. From portable showers used outdoors to fully fitted luxury bathrooms, and much in between.
This guide will help you decide what type of camper shower to choose for your van lifestyle.
When you click on links to various merchants on this site and make a purchase, this can result in this site earning a commission. As Amazon Associates, we earn from qualifying purchases. For more info, please check our disclosure page.
Do I Need A Campervan Shower?
Before making a decision about what camper shower to install in your van, give a passing thought to your actual needs.
Living in a van isn't the same for everyone.
Some people only ever sleep in their vans on campsites with bathroom facilities. If this is you, do you even need a shower in your campervan?
Though we don't stay on campsites often, when we do, we never use our campervan shower. We use the camp's facilities.
Will you spend most of your van life in the wilderness, away from built up areas? Perhaps an outdoor shower will suit you best so saving valuable indoor space.
When we're living off grid, we only ever shower outdoors. Anything to avoid unnecessary water vapour in the van.
Or maybe you'll boondock in urban areas. Showering outdoors isn't appropriate in a town but there's other solutions like using the showers at fuel stations, gyms or sports centres.
But an onboard shower does reduce the need to find paid facilities and anything to reduce van life costs is a help.
If you only use your campervan at weekends or for short trips, can you live without a shower onboard?
Even if you don't need a shower in your campervan, you might still want one. We understand that.
The convenience and independence, at least for us, makes long term camper travels more manageable. We think we'd get tired of having to find shower facilities everyday or two.
What Type Of Campervan Shower Do You Need?
So you've decided you want a campervan shower installed.
There's a few things to consider when deciding what type of shower will suit you best.
Space | Where will you install your camper shower? A dedicated shower room takes up space. Is your van big enough for it?
Electric | Anything but the most basic camper showers need electric to work. Does your campervan electrics system have the capacity to cope with it?
How to heat water | In the right climate, you could get away with only a cold shower. Otherwise, at least in our opinion, there's no point installing a shower in your campervan unless you can heat the water.
Water tanks | Showers can use loads of water, even when frugal in your use. Is your campervan water system big enough to cope?
And make sure you balance the weight in your diy camper build for the best handling.
Take these factors into consideration when choosing the best van to live in and planning your camper van conversion.
Are you buying a campervan with a fitted shower installed? Check thoroughly for leaks before you buy.
Indoor v Outdoor Showers
As with most things to do with converting camper vans, where you install your shower is all about compromises.
The key is trying to meet all your needs with as few compromises as possible for your lifestyle.
There's no one size fits all answer.
Indoor Campervan Shower
Many camper van dwellers opting for an onboard shower, fit an enclosed wet room to house their shower and campervan toilet.
We had a wet room in our Unimog camper, Mowgli.
The convenience and privacy an indoor shower provides is excellent but there are a few downsides too.
Floor space | A wet room with a toilet needs about 0.75m2 floor space minimum to be practical.
Height | You need to be able to stand up in the van for an indoor shower.
"Wasted" space | A wet room isn't used for much else other than showering and using the toilet. We use ours to store our dirty laundry, wet coats and boots too.
Waterproofing | A wet room needs to be waterproofed. Well! You don't want unseen leaks destroying your van.
Drains | You need to fit a drain that won't let odours rise up from the grey water tank, water to drain efficiently and doesn't take up so much depth to reduce head space.
Condensation | A hot shower will create condensation so your campervan ventilation system needs to be able to get rid of any steam before it has a chance to wreck the van.
Some of these disadvantages can be mitigated to some degree with creative layout design.
Temporary indoor shower rooms utilise space for showering only when it's in use.
A retractable shower curtain or screen pulls out into the living space area and a drain cover removed from the floor.
Some large campervans fit the shower cubicle at the entry door. As you walk in to the living quarters you actually walk through the bathroom.
This is quite a clever solution because you utilise what would otherwise be dead space anyway.
Adding a separate roof vent above the shower will help stop condensation in a campervan.
Outdoor Campervan Shower
The alternative to an indoor camper shower, is having an onboard shower capability but for use outdoors only.
In our Sprinter van conversion, we have a fitted toilet cubicle for our composting toilet but we didn't install the shower in there.
Instead, we fitted our shower at the backdoor.
We attach the shower head to the door, hang a shower curtain across the doors and hey presto! An outdoor shower under the blue skies above.
We figured if we wanted to move the shower indoors, it would only take a bit of re-routing pipes and adding a drain so a relatively easy job in the future.
2 years in and we've never felt the need. At least, not yet.
Outdoor showers are ideal for space saving and eliminates condensation and water drainage problems.
If you need to wash dogs or outdoor gear, they're perfect.
But they have disadvantages too.
Climate | Outdoor showers aren't a great solution in colder weather
Stealth camping | You can't shower at the back of your van in a city. Well not responsibly, at least.
Privacy | There's not much privacy with an outdoor shower, even with a shower curtain.
With a longer hose you could use a pop up shower tent. It's more effort to set up but you get a little improvement on privacy.
For our lifestyle, which is mainly lived in the great outdoors in temperate climates, the outdoor shower option is ideal.
Portable Camp Showers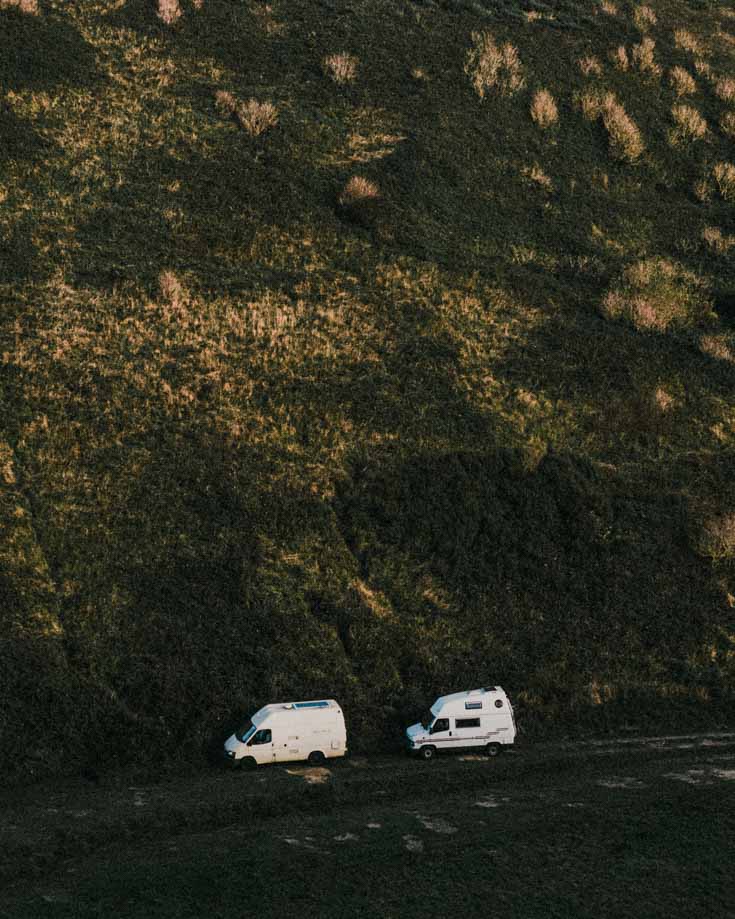 A perfect addition to a small campervan, a portable camping shower will mean you can stay clean without installing a fully functioning bathroom.
Portable camping showers are designed for outdoor use. So how do you choose the ideal portable camping shower for you?
Here's a few things to look out for when considering the best portable camping shower for you.
How Portable Is It?
When looking at portable camping showers, consider your camping lifestyle and if you can actually carry it.
If you hike and carry all you gear on your back, how will you carry a shower?
Consider its weight and bulk too. Will it fold away when not in use for easy storage and carrying?
Can you collect water for showering where you plan to camp, say from lakes or rivers?
Or will you need to carry water? A litre of water weighs 1 kilogram and for a quick shower you need a minimum of 12 litres.
What Capacity Does It Have?
Consider if the portable shower has sufficient capacity to meet your needs.
A ultra quick shower for 1 person uses at least 12 litres of water. How many people will use the shower and where is the water source?
Think through the practicality of this before investing in anything more than the budget options.
What Water Pressure Does It Give?
Don't expect power shower level water pressure from a portable shower.
Even so, a shower with low water pressure is next to useless.
Water pressure is provided to portable showers by either gravity or a pump and we'll look at each of these options below.
Gravity Fed Portable Camping Showers
The most budget-friendly and lightweight of all portable camping showers is a simple shower-in-a-bag gravity shower.
For a warm water shower, place the bag in direct sunlight. Even on a cloudy day, the water temperature will rise a little so you can enjoy a quick solar shower.
Place it on the car bonnet and use the heat from your engine to give it a little boost.
When ready to use, hang the bag above your head, on a tree or your car and let gravity do its job.
Good for | Short camping trips, backpacking, car camping, small campervans
Pros
Low cost
Lightweight
Packs away flat, using little storage space
No need for indoor plumbing
No power source
Cons
Water pressure isn't brilliant
Relatively low water temperature
Foot Pump Shower
A small step up from the gravity fed shower, a foot pump shower doesn't need to be hung above your head.
Instead, a foot pump provides the means to pressurise the water flow so the water bag can sit on the floor if necessary.
You need to pump up the pressure every now and then to maintain water pressure.
Good for | Short camping trips, backpacking, car camping, small campervans
Pros
Relatively low cost
Lightweight
Packs away flat, using little storage space
No need for indoor plumbing
No power source
Cons
Relatively low water temperature
Submersible Pump Camping Shower
Moving up the techie ladder a little here. This is basically a rechargeable submersible water pump with a shower hose attachment.
Instead of holding the water in a container, you drop the pump into an external water source be that a lake, river or bucket.
It gives a pretty decent water flow with just over 2 litres per minute.
The rechargeable battery lasts upto an hour of continuous use and is recharged with a mobile phone recharger or USB.
The only down side we can see is it doesn't heat the water at all.
If you want a warm shower, you'd need to heat kettle of water and add it to the bucket.
Good for | Short camping trips, backpacking, car camping, small campervans in warm weather
Pros
Relatively low cost
Lightweight
Compact
No need for indoor plumbing
Decent water pressure
Cons
Tankless Propane Camping Shower
This is a top of the range product when it comes to portable camping showers.
Like the submersible pump shower, this device doesn't have a water reservoir. Instead, you drop a hose into the water source.
An in-built water pump draws the water up where it's heated by a propane boiler and pumped out to the shower head at around a gallon per minute.
The rechargeable battery lasts upto 40 minutes of continuous use and is recharged by AC or DC power. Full recharging takes quite a long time though.
Good for | Overlanding, car camping, van life
Pros
No need for indoor plumbing
Decent water pressure
Hot water
Cons
Needs propane gas
Bulky
Expensive
Recharging time is lengthy
Installed Showers For Campervans
For a more robust solution for your personal hygiene needs, a permanently installed campervan shower is the way to go.
The first thing you need is an onboard campervan water system.
Water is supplied to the showers from your fitted water tanks.
You can still have an indoor or outdoor shower. The only difference is where you fit it and whether you need drainage and a grey water tank.
Let's take a look at the types of fitted campervan showers.
Road Shower
The simplest fitted shower is this road shower unit.
They're quite popular on smaller campervans and overland vehicles like the VW T5 and Land Cruiser campers.
It's basically the same as the portable shower-in-a-bag but in a tube fitted to the roof rack.
But a word of warning. In our opinion, this is way overpriced for what it is.
You can just as easily make one out of some guttering, sealant and a couple of hose attachments for the shower and to fill it.
Here's a good tutorial on how to build your own.
Good for | Overlanding, car camping, van life
Pros
Low cost (the DIY version)
No need for indoor plumbing
No power source
Cons
Water pressure isn't brilliant
Relatively low water temperature
Take care about the roof weight and how that affects your vehicle's handling
Electric Propane Tankless Water Heater
Adding hot water to your fresh water system starts to add complications. Heating water takes a lot of energy.
A common shower solution in campervan is a tankless electric propane water heater.
Similar to gas heaters in houses, a small unit is mounted in your campervan.
A propane bottle is safely connected and the unit hooked up to a pressurised water supply and battery powered.
For your own safety, install and maintain these units as per the manufacturer's recommendations including fitting a CO2 alarm and adequate outside ventilation.
Depending on where you plan to travel, you may need to buy multiple adaptors for removable bottle connections.
Also be mindful you may have difficulty exchanging different gas bottles in countries.
Some campervan builders fit a fixed LPG/propane gas tank as a substitute.
The propane is cheaper to refill than the bottles. Bear in mind the refill connectors vary outside of Europe and the US.
North American systems are fillable in much of Latin America. Europe is also standardising LPG fixed tank refill regulations.
These gas tanks should be professionally fitted.
Good for | Campervans using propane to cook with
Pros
Hot water on demand
No power source
Low running costs
Easy installation
Cons
Dependancy on propane
Need regular safety checks
Tankless Water Heater – Electric
If you expect to spend most of your time on campsites and can depend on a good electrical hook up and water supply, a 240v/110v AC electric water heater can provide an onboard hot shower facility.
Electric water heaters are heavy on power consumption so not practical to rely on your deep cycle campervan batteries. Instead, you'll need to use a main hook up supply.
You could getaway without the need for large water tanks so keeping your vehicle's weight down if you can attach a hose to the campsite water supply.
While these heaters are fairly good value for money, we wonder if you plan to spend your time on campsites, why not use their showers too?
Then you don't need an onboard shower at all.
Good for | Those who will only ever use campsites
Pros
Water pressure is as good as the campsite can provide
No need to carry water tanks
Good value for money
Cons
Useless without a main electrical supply
If you plan to rely on the water supply from a campsite, you can fit an external hose and connect to their water supply.
It's worth carrying a water pressure regulator to help stabilise the external water pressure and flow.
Electric Immersion Heater
Campervan 12v/240v water heater tanks offer a more specialised solution for campervan showers.
When driving, the 12v supply provides energy to a heating element and warms up an entire tank of water, ready for your arrival.
It can also be plugged into the mains at the campsite.
It's worth noting that as the hot water is used, its replaced by cold water so as you shower, the water gradually gets cooler.
When operating on 12v, these water heaters draw around 25 amps so quite a heavy demand on battery capacity.
Even with campervan solar panels installed, your electrical design is unlikely to cope with such a load without 240/110v campsite hook up.
Good for | Those who will only ever use campsites or accept they have to drive to get hot water
Pros
Not dependant on mains supply or gas
Simple installation
Larger tanks take longer and more energy to heat
Cons
Expensive (very)
Limited hot water
Remembering to switch off the hot water heater when you're not driving
Combined Heat Exchanger & Electric Water Heater
We have a combined heat exchanger and electric water heater installed in our camper.
When we're on mains electric, we can use the immersion heater to provide constant hot water. In reality, we don't use it to shower but for washing up.
The electric water heater works exactly the same as we described in the previous section.
However, when we drive, we don't turn on the 12v supply to the tank.
Instead, cold water is heated through a heat exchanger with the engine coolant.
So when the engine is running, the coolant is diverted to the heat exchanger on its way to the vehicle's radiator.
So not only do we get freely heated water, we also improve our engine cooling capacity – ideal when driving in hot conditions.
Good for | Overlanding, van life
Pros
Not dependant on mains supply or gas
Simple installation
Free water heating capability
Improved engine cooling capacity
Cons
Expensive (very)
Limited hot water
Not recommended to run engine without water in the tank
Vehicle Mounted Hot Water Shower
Of all the campervan accessories we own, the vehicle mounted hot water shower tops the list of our favourites.
We have a Bushranger. It's basically a tankless water heat exchanger and is seen in action in the video on this post.
Using the same principles as our onboard shower heater, the Bushranger has a pump and hose connections.
We drop a hose into a water source (a lake, river or bucket) and switch on the pump. So long as the vehicle's engine is warm we can have hot showers for as long as the water supply can last.
So a pretty long one if we're at a lake or river.
This simple solution is an outside shower and takes up very little space in the engine bay.
Despite it having quite a high upfront cost, for us, it's a complete luxury and one we use daily in areas like Patagonia.
Good for | Any vehicle dependant traveller
Pros
No need for indoor plumbing
Endless hot water
No need to carry water tanks onboard
Excellent water pressure
Cons
Expensive outlay
A bit fiddly to fit
Campervan Shower & Bathroom Accessories
To make your campervan showering experience a little more civilised, here's a few bathroom accessories to include on your van life essentials packing list.
Pop Up Shower Tent
Protect your modesty with this pop up shower tent
Shower Curtain
For outdoor use and, with some creativity, indoors too
Shower Head
A trigger shower head will help you save water
Long Shower Hose
For greater flexibility, fit a long shower hose
Shower Mat
To keep your feet clean
Eco Friendly Shampoo & Soap
Help protect our planet
Microfiber Towels
Microfiber is practical, not bulky and they dry ultra fast
Hanging Organiser
Keep all your toiletries tidy
Waterproof Toilet Roll Holder
Be kind to your bum and keep your toilet roll dry and dust free