One of the most remarkable things we've found while travelling around Argentina is how some of the country's most marvellous National Parks are relatively unknown.
We've all heard of Los Glaciares National Park with Mount Fitz Roy and Perito Moreno Glacier. And who hasn't heard of Iguazu Falls?
But what about Sierra de las Quijadas National Park? A little like Lihue Calel National Park, it's another of Argentina's hidden gems.
So you want to get off the tourist trail while visiting the infamous Mendoza wine region? Here's your chance!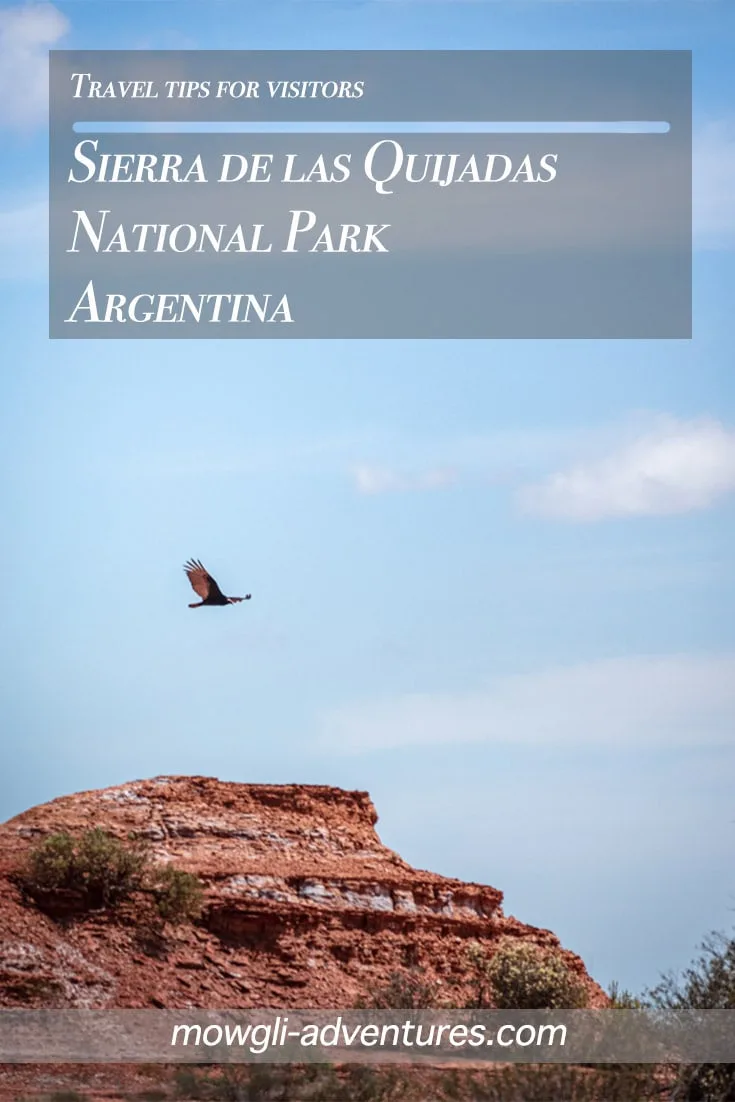 A bit about Sierra de las Quijadas National Park
With a geological past firmly rooted in Gondwana continent of some 130+million years ago, Sierra de las Quijadas National Park is a sight to behold!
Huge cathedral like columns rise up to form red rock canyons and stretch for mile upon mile.
You'd never even know they were here until you happen upon these vast rock formations.
The park is also a safe haven for a rich variety of wildlife. Pumas are said to roam here, although you'll need a lot of luck to spot one.
But guanaco and Patagonian hares (or Mara) are prolific here.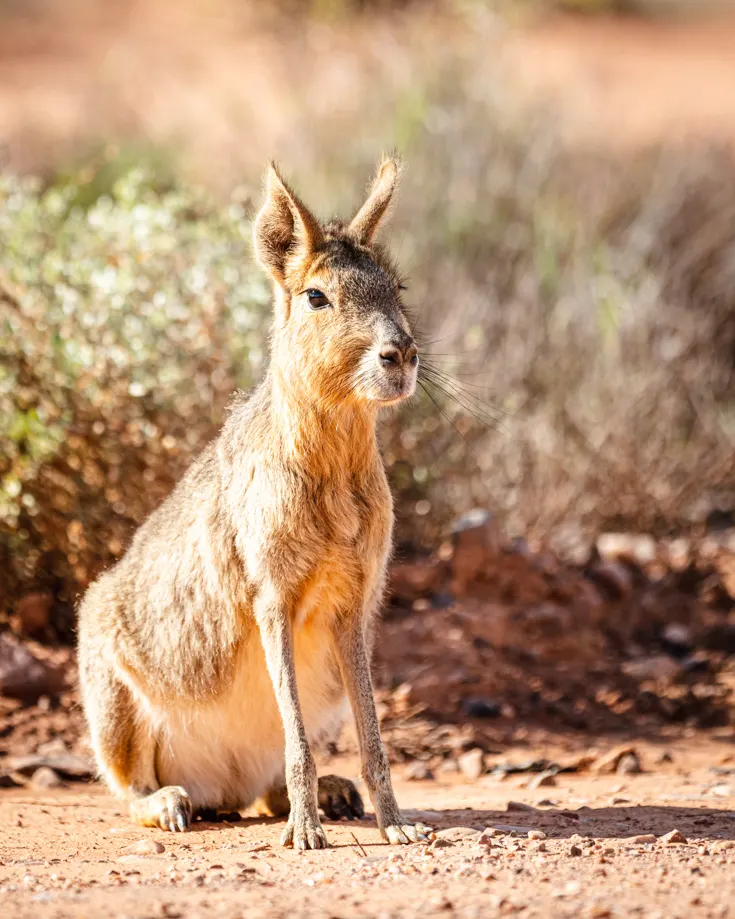 And the birds! Condors, vultures and eagles soar above the canyons, at eye level from many viewpoints on the trails.
Parrots and lizards, frogs and foxes all make Parque Nacional Sierra de las Quijadas their home.
Sit still for a few minutes and you're almost guaranteed to spot something of interest.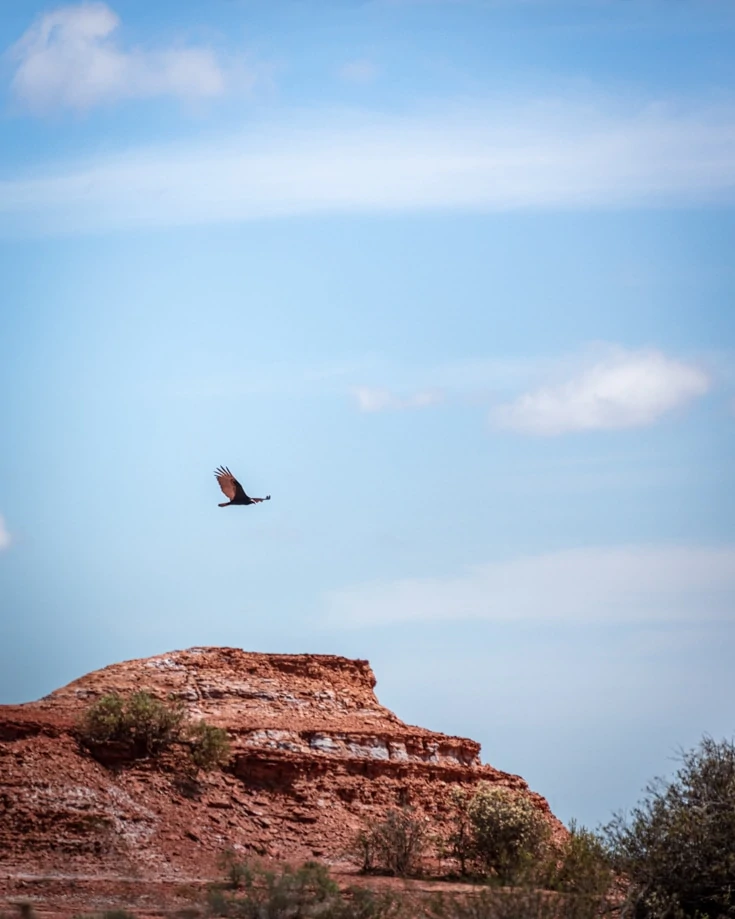 Hiking in Sierra de las Quijadas National Park
For those passing by or visiting on a day trip from one of the relatively nearby towns, the National Park has a couple of trails easily completed in a couple of hours.
Take your time driving through the red sandy tracks towards the edge of the cliffs overlooking the vast sprawl of canyons of Potrero de la Aguada below.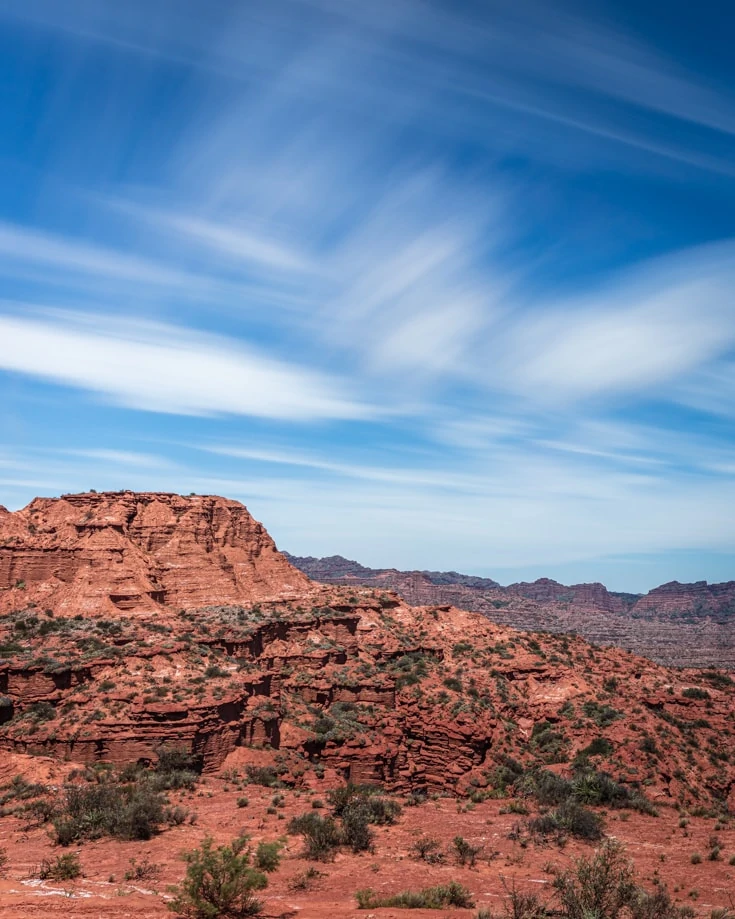 We spotted most of the wildlife we saw in the park while driving along the 7 kilometres trail.
From the parking lot near the cliff edge, 3 self guided trails begin.
They're all signposted from the car park.
Aside from the Guanacos Trail, they're easy hikes. Just check conditions with the rangers before you head out.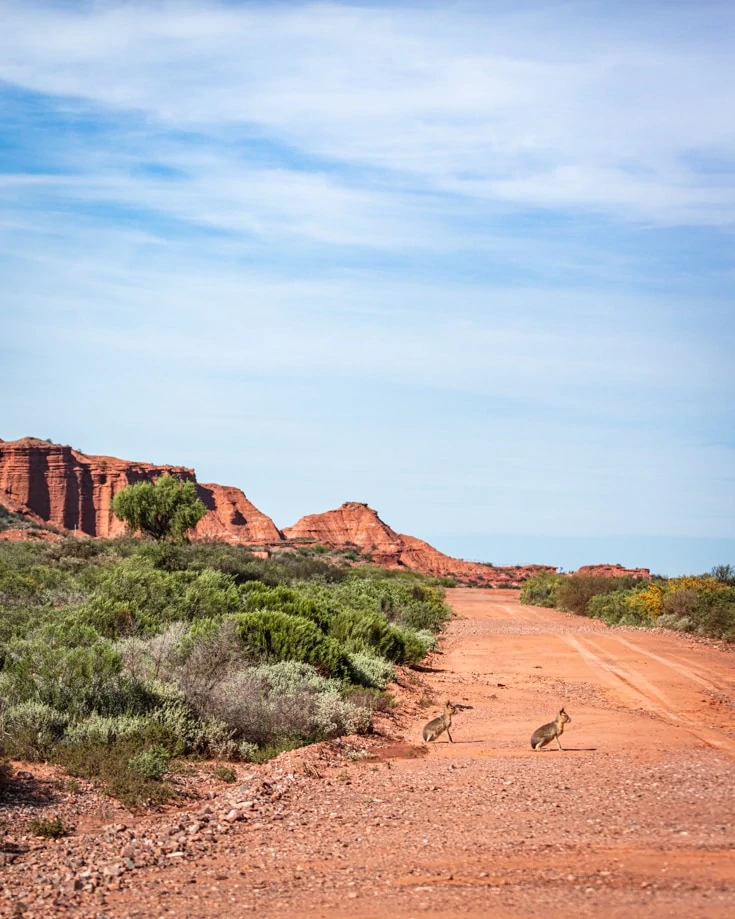 If you want to do the Guanacos Trail, make sure you register with the rangers first at the entrance to the park.
For a more close up encounter through the canyons, you can hire a private guide for:
the Las Huellas del Pasado Trail – treats hikers to a 2 hour walk through the canyons to reach some (dubious) dinosaur footprints or
the longer Farallones Trail takes around 4 hours and winds deeper into the canyons, taking you to cross Potrero de la Aguada and Rio Desaguadero and Guanacache lagoons.
Useful information for visiting Sierra de las Quijadas National Park
When you click on links to various merchants on this site and make a purchase, this can result in this site earning a commission. As Amazon Associates, we earn from qualifying purchases. For more info, please check our disclosure page.
The National Park is pretty remote so you should come prepared. Here's everything you need to know to make the most of your visit.
How to get to Sierra de las Quijadas National Park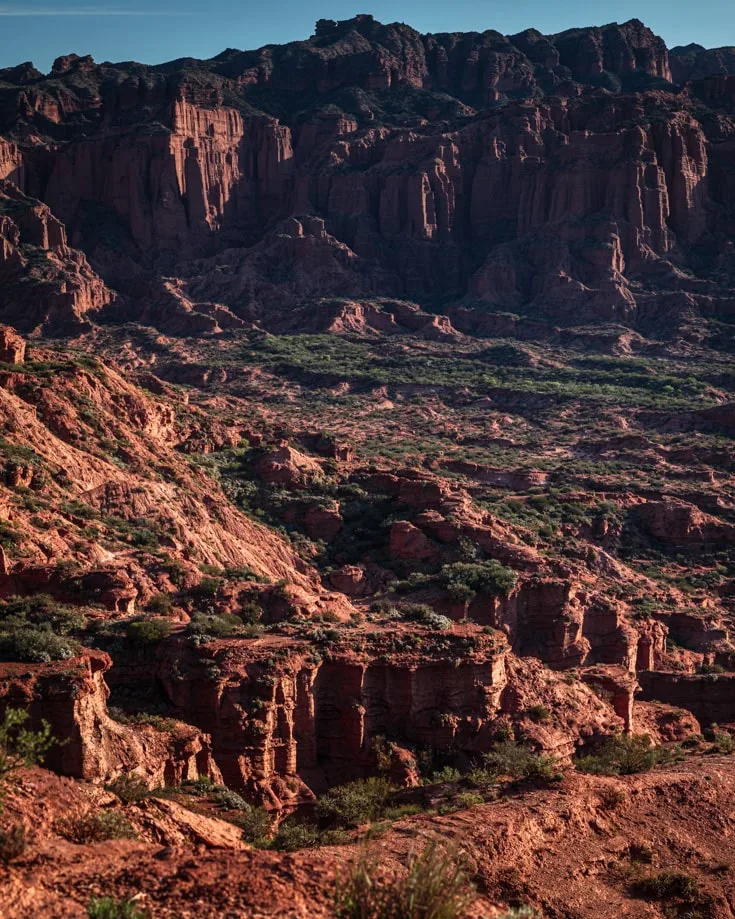 There's no public transport to the national park and you won't find it on any tour itinerary either.
You can arrange a private tour from San Juan or San Luis from these towns but we've read they're almost impossible to book as there's such little demand.
The best thing is to make your own way there. Hire a car from Mendoza, San Juan or San Luis.
Driving in Argentina is manageable so, if you're used to driving a manual vehicle, this is the best way to get there.
If you don't want to hire a car, try to negotiate a good rate with a taxi company through your hotel or hostel.
The park is located on the RN147 in Argentina's San Luis province.
From San Luis city, follow the RN147 northbound for about 120 kilometres.
From San Juan, follow the RN20 southbound for about 195 kilometres before joining the RN147 for the final 12 kilometres.
From Mendoza, follow the RN40 northbound for about 28 kilometres until RP34. Turn right here and drive for another 28 kilometres to the intersection with RN142. Follow the RN142 for 93 kilometres to meat the RN20 at Encón. Turn right onto the RN20, then right again onto the RN147.
The total journey from Mendoza is 260 kilometres.
Entrance Fee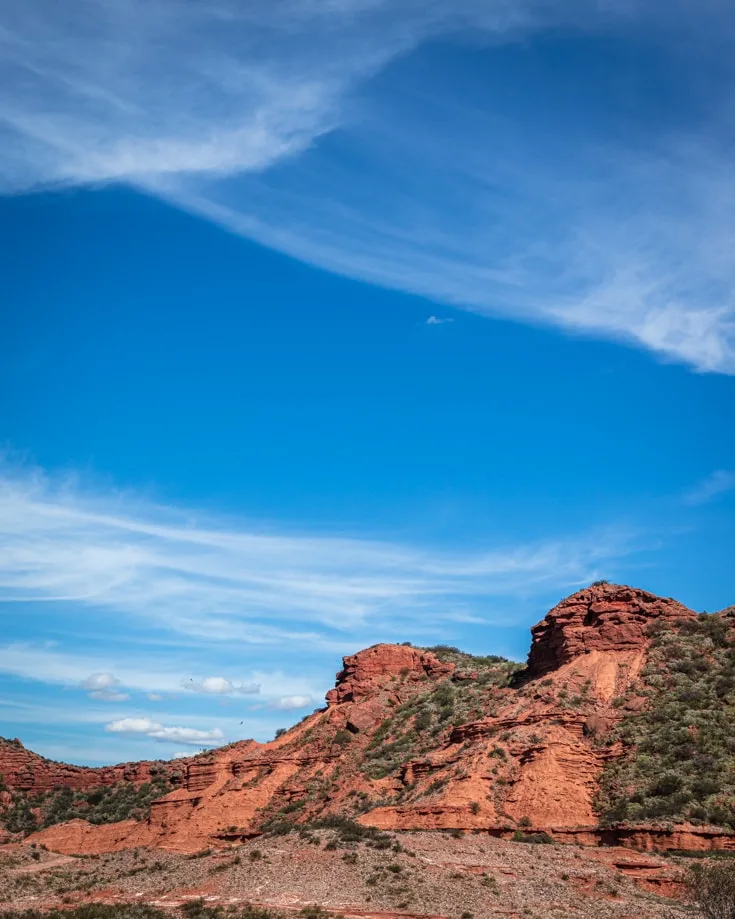 This is a bit confusing. The park's official website states entrance tickets are ARG $360 per person for foreign visitors.
But we registered at the rangers' office on arrival and they told us both entrance and camping are free.
Some years ago we heard of other travellers who did pay but since about 2017, we've only heard of free entry.
But, if you do need to pay the ARG $360 entrance fee, it's well worth it. Just check the latest situation with your travel money in Argentina to check its still good value.
Opening times
The park is open from 9am to 7pm from April to December. During the summer months of January to March, the hours are extended to 7am to 8pm.
For those camping in the park, simply stay off the tracks and trails outside of these hours.
Access and extreme weather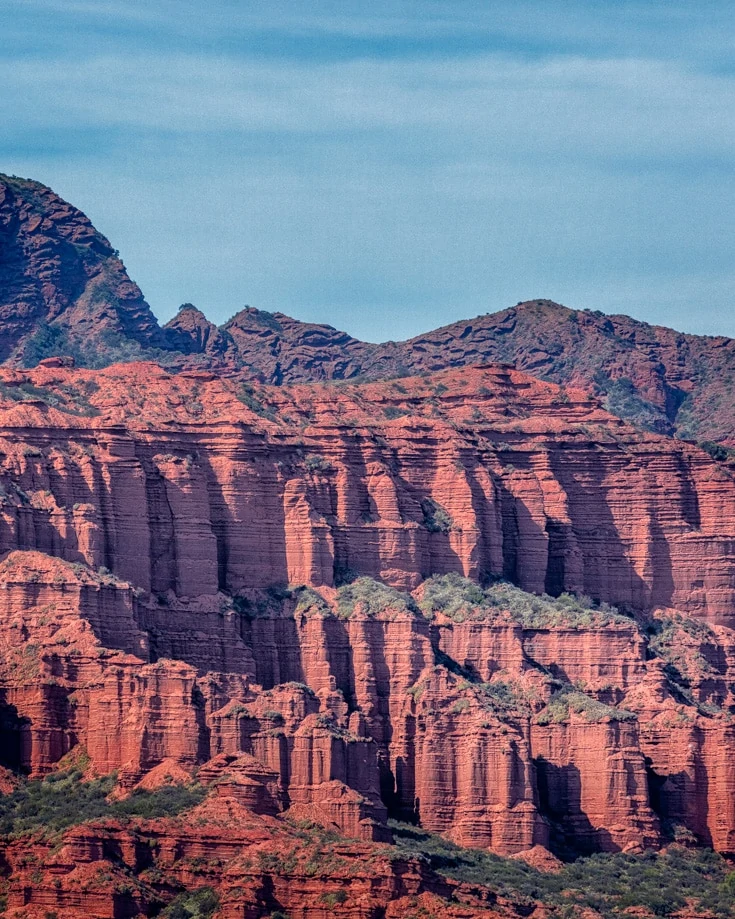 The area around Sierra de las Quijadas can experience significant rain and hail storms.
A few days before we arrived, one such rain storm passed through, closing the Guanacos trail to visitors.
The rangers also told us there was a 50/50 chance of an afternoon hailstorm. Should it begin, they told us drive back to reception where they'd shelter our camper van from the tennis ball size hail!
Check the forecast before you leave and ask the rangers before you go hiking.
On the flip side, this area is semiarid and gets really hot in the summer.
You can easily get through a few litres of water hiking in the area. Bring enough water to keep hydrated as there's no drinking water in the park.
Wear a sunhat and plenty of suncream too.
Fuel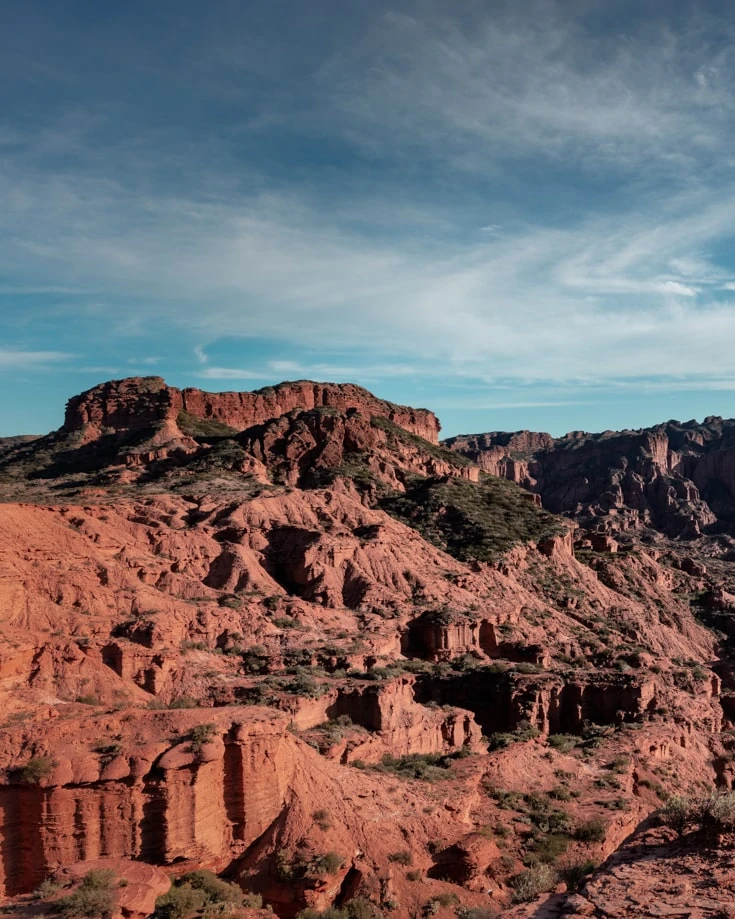 The nearest fuel station to Sierra de las Quijadas National Park is in Encón, 93 kilometres northwest of the entrance.
There's also a fuel station in Luján, 113 kilometres east where the RN 20 meets the RN146. Fill up here if you're travelling from Cordoba.
If you're travelling from San Luis, San Juan or Mendoza, fill up in town before you leave.
Supplies
There's a tiny shop & café near the entrance for emergencies but don't rely on its limited supplies.
With no shops within the park, you need to bring everything you need with you. San Luis, San Juan or Mendoza have large supermarkets to stock up there.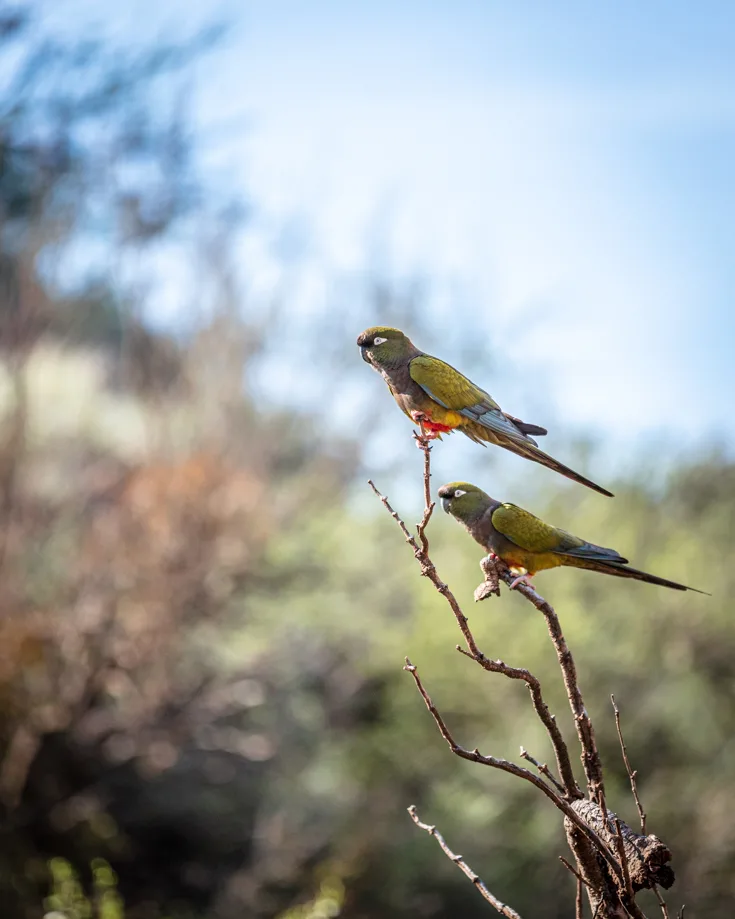 If you plan to head into Mendoza Province after visiting Sierra de las Quijadas National Park, remember you're not allowed to bring any fresh fruit or vegetables across the provincial border.
There are checkpoints en route where you can hand in any leftovers. You may need to pay a few Argentine Pesos for your wheels and under carriage to be fumigated so bring some small change with you.
This only applies going into Mendoza Province, not out.
There's no access to potable, drinking water within Sierra de las Quijadas National Park. If you have a camper van, fill your fresh water tank at the last fuel stations en route.
Otherwise, bring enough bottled drinking water for your stay with you.
Camping
Camp facilities in the National Park are simple and free.
There's clean bathrooms with cold showers. Bring your own toilet paper.
There's a large flat parking area that could easily accommodate several camper vans, motorhomes and overland rigs but the chances are, you'll have it to yourself.
We stayed for a long weekend during the Argentinian spring and met no other visitors. And oh! The night sky? Mind blowing!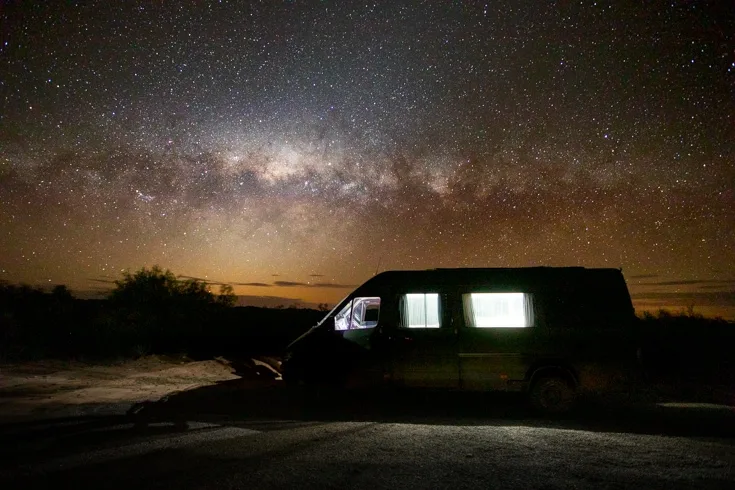 For campers with tents, just choose your spot around the designated fire pits. Check out our list of essentials for car camping before you set off.
No power hook ups are available but if you ask, the rangers may be willing to charge small devices.
The camp has designated fire pits. Please only use the designated areas for your BBQ or campfires.
There's no bins here to help protect the environment so you'll need to take your rubbish away with you. Pack some bin bags and check out our Patagonia packing list so you bring everything you need.
You can forget access to WiFi or a phone signal though inside the park but you can get a reasonable wifi connection at the rangers station.
Other accommodation near Sierra de las Quijadas National Park
The best way to enjoy the National Park is to camp.
Given the proximity of the park to Mendoza, San Juan and San Luis, it's possible to visit on a day trip.
There's loads of accommodation options in the three cities. Click these links for hotels and guesthouses in:
If you'd prefer more budget accommodation, make sure to check out Hostelworld for their latest rates and availability.
Like it? Pin it!