Going on an African safari is pretty high on most travellers bucket list. We were lucky and had both been on safari in the past, but not together. So when we had the chance to go on a week's safari, we jumped at the chance to seek out the Big 5 in Tanzania together.
Spotting Africa's Big 5 in Tanzania
Where to see the Big 5
Tanzania is one of only a few African countries having resident populations of the Big 5. Even so, they can remain elusive.
If you can only choose one destination in Tanzania, the Serengeti National Park possibly gives the best chance to see all of Africa's Big 5 animals. The Ngorongoro Crater is a close 2nd.
Of course because they're wild animals, they don't pitch up for you to photograph on schedule, so there's no real guarantee.
On our one week safari in Tanzania, we encountered 4 of the Big 5 in Serengeti and the Black Rhino eluded us.
We didn't even have a close encounter and had to wait until we reached Ngorongoro Crater to see one from a distance!
Check out our first-timers guide before you book your safari in Tanzania
What are the Big 5?
Elephant
The largest of Africa's Big 5 the elephant is the heavyweight of Africa's Big 5. The largest land mammal on the planet, an adult bull can weigh in at 6 tonnes, is 3 metres tall and upto 7 meters long!
That's almost the same dimensions as Mowgli! Elephants live in herds led by the matriarch and are sadly highly sought by poachers for their ivory tusks.
Numbers have recovered in recent years thanks to the conservation efforts. Even so, poaching still happens.
These majestic animals take your breath away when you encounter them face to face.
They're huge and yet appear so gentle and quiet. You'll hear deep rumbling sounds as they communicate with each other and if you're lucky to encounter a family, you can sit quietly and watch them interacting with each other for hours. An absolute delight.
Be warned though, they're not the gentle giants they might appear. A 6 tonne elephant charging at you will hurt!
Keep your voice low, don't make any loud noises and don't intrude. If an elephant starts flapping its ears, shaking its head and throwing dust around, it's a good sign they're probably a little pissed off.
Time to give them some space!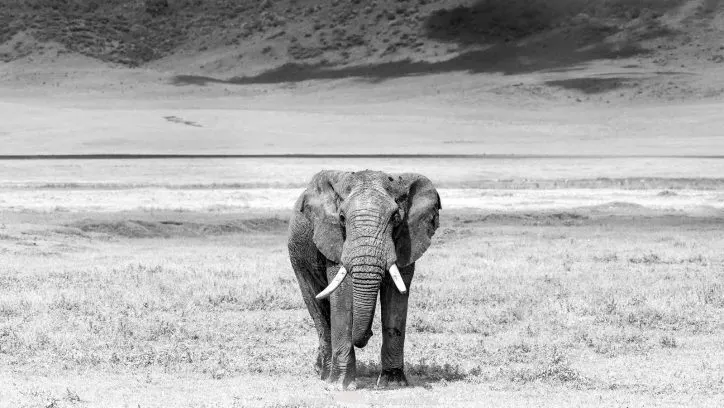 African Cape Buffalo
Weighing a tonne and with horns, the cape buffalo is renowned as aggressive, bad tempered and bloody dangerous!
Most guides we spoke with said this is the most dangerous animal to man in Africa, after the mosquito of course!
They look like pretty big cows and not so dangerous really. Well not until they look at you anyway!
We couldn't help but feel they were incredibly grouchy and quite keen for us to hop out of the safari truck so they could have a go.
Don't forget, the cape buffalo will defend their young from lions as an entire heard. Not a fight you want to get into!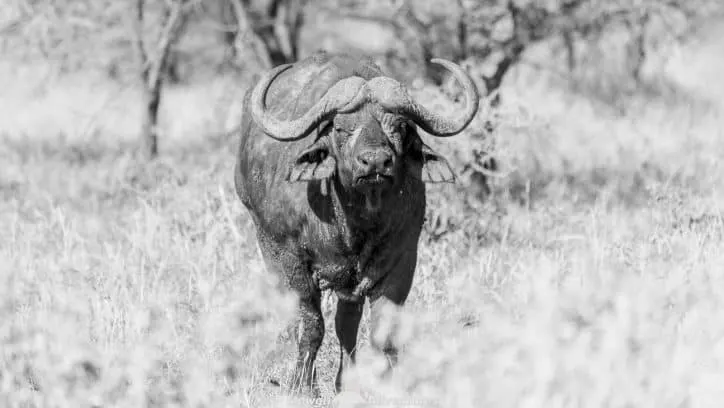 Leopard
The leopard is my favourite of Africa's Big 5. Look at him! He's just beautiful. Incredibly elusive, the leopard is a master of camouflage so it's always a privilege to spot one in the African bush.
They usually hunt at night and spend their day lounging in a tree, so it's little wonder they're so difficult to spot.
We were lucky to see this leopard in Serengeti. We spotted him high up in a sausage tree and we ate lunch as we watched him lounging.
After a short time, he decide it was time to stretch his legs and he climbed down from the tree before wandering off.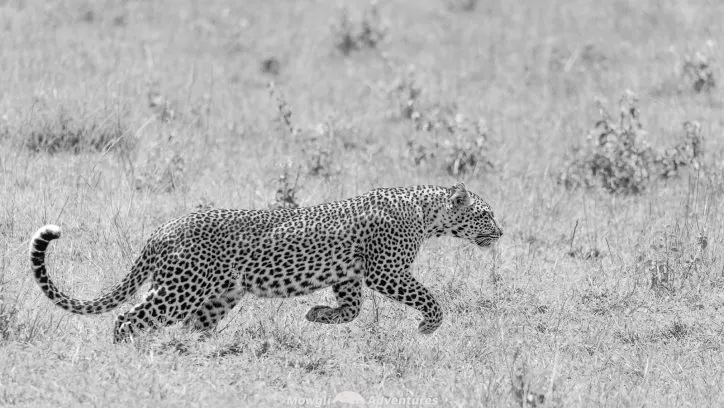 Lion
King of the jungle? There's not much jungle in Tanzania but the lion is certainly the king of the savannah.
We had many encounters with lions in both the Serengeti and Ngorongoro Crater. Early morning and late afternoon are the best times to see them.
They don't generally hunt during the day, preferring to spend their time under a tree or bush out of the direct sunlight.
If you get a chance to watch them hunt though, it's an experience you won't forget.
Regardless of whether their attempt is successful or not, watching their tactics is fantastic!
Their team work is phenomenal although they're often unlucky in their efforts. And for the record, their shit stinks!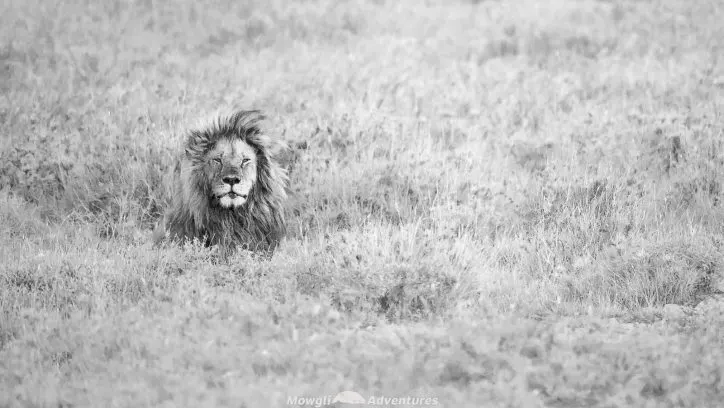 Black Rhino
There are only about 20 black rhino remaining in Ngorongoro Conservation Area.
With one horn fetching as much as $100000 it's perhaps not difficult to see why they are so endangered.
The Ngorongoro Crater is highly protected in an effort to keep poachers away from the final few rhino living here.
Black rhino are considered quite volatile but rather shy, solitary and elusive too.
We saw this black rhino at quite a distance from the track. He'd rather wallow in a mud puddle than come any closer to us and considering their vulnerability, is no bad thing.
It would be a sorry state of affairs if human beings are responsible for the extinction of such a magnificent animal.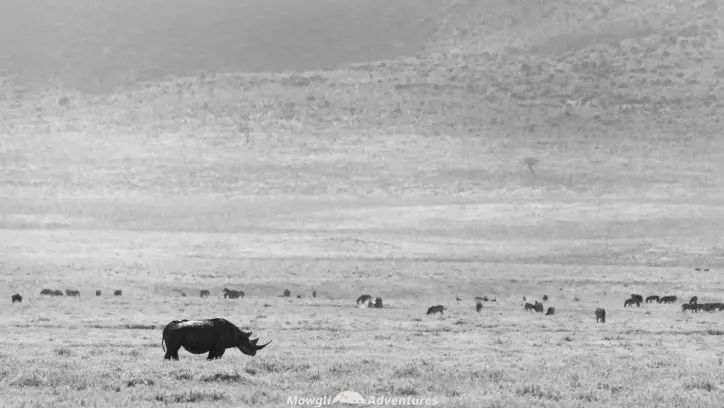 More than just the big 5 in Tanzania
When you're on safari in Tanzania, there's so much more to see than the Big 5. There's the Small 5, the Ugly 5 and the birding opportunities are outstanding!
There are thousands of species of insects, birds, reptiles and animals in Tanzania. Some of the most remarkable behaviours might be where you least expect them.
In fact, one of the top highlights of our trip was an encounter with a pangolin and her baby! And we'd never even heard of a Pangolin before!
Like it? Pin it!