Morocco is a perfect destination for a road trip and travelling independently. Despite what many people think, you do not need a specialised vehicle.
Sure there's lots of off-road routes you can take, but most of the country in accessible without a 4×4. Just stick to the roads.
Many people have asked us about the Moroccan border process for entering with your own vehicle. Taking a car into Morocco is easy and this guide will help you through the process.
Border control: taking a car into Morocco
This guide on taking a car into Morocco focusses on travel from Europe. We've also entered Morocco (Western Sahara) in our own vehicle from Mauritania. The entry process is the same and just as simple.
How to get to Morocco overland
If you're travelling to Morocco overland, you have a couple of choices about your entry route. If you're travelling from mainland Europe you'll need to take a ferry from either Spain or Italy.
The map below shows the locations of the ferry ports from Spain into Morocco.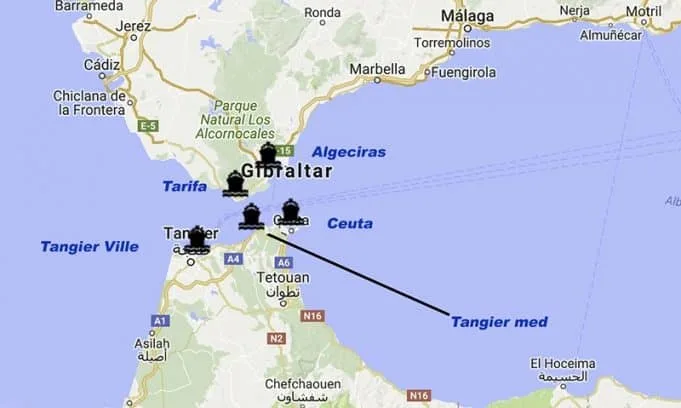 From southern Spain, you can sail from:
Algeciras to Ceuta in 2 hours
Algeciras to Tangier Med in 90 minutes
Tarifa to Tangier Ville in 90 minutes
Ceuta is a Spanish enclave so you will need to drive about 5km from the port to the Moroccan land border. In our experience, there's a little more hassle here in the form of fixers and less orderly passage.
We'd suggest you avoid this in favour of Tangier Med or Tangier Ville. From northern Spain, you can take a ferry from Barcelona to Tangier Med in 32 hours From Italy, you can take a ferry from Genoa to Tangier Med, via Barcelona. This is a 48 hour crossing.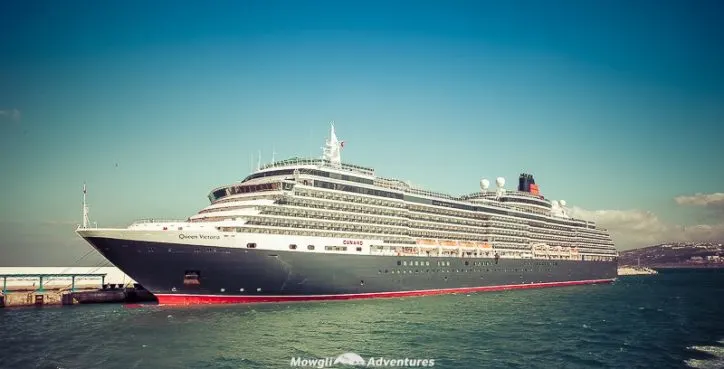 We've always used FRS ferries for our ferry crossings between Spain to Morocco. You can buy tickets at the port, at the booths on the motorways as you approach the port area or book in advance online. And sorry but that's not an FRS ferry above. That's the Queen Victoria moored at Tangier. Now that would be a grand entrance!
Don't miss our road trip travel guide to the Sahara Desert. No specialised vehicle required!
Taking a car into Morocco – the formalities
Morocco Border Control
Anyone that's driven across borders knows the challenge at customs tends to be with your vehicle, rather than the traveller.
Most countries want to ensure that you're not bringing the vehicle in to sell it, so avoiding import taxes. The Moroccan authorities protect themselves from this situation and you don't need to buy an expensive insurance policy.
This is the list of documents you will need to take your car or any other motorised vehicle into Morocco.
1. Passport
2. Driving Licence
3. Vehicle registration documents (V5c for UK registered vehicles)
4. Valid MOT certificate (to prove road worthiness of your vehicle)
5. Vehicle insurance (at least 3rd party)
Points of note
Road Worthiness
The Moroccan authorities have never asked for our MOT certificate. In fact, if you're travelling long term and your MOT expires while you're away, this isn't a problem in Morocco.
I don't believe there is any requirement to prove road worthiness of your vehicle in Morocco. Let us know if you can confirm this or otherwise.
Driving Licence
The Moroccan authorities have never asked for our driving licence at Morocco's border control. You may need to present it at checkpoints further south in the country. It's sensible to bring it with you regardless.
Vehicle Insurance for Morocco
The Moroccan authorities won't ask for your insurance documents at the border. Yet it is a legal requirement and of course, appropriate insurance cover is common sense.
For European vehicles, check with your insurance company before you travel that you have a Green Card and that it covers Morocco. A Green Card extends your insurance policy to many other countries, usually giving 3rd party cover.
Yet, many policies differ in respect of the countries included.
If your policy doesn't include Morocco, it's worth asking your insurance company to extend the cover. If they won't, you can buy insurance just outside the border control area.
At Tangier Ville, just after you leave the border gates, there is a kiosk on your right. It's not usually open before 10am so consider the timing of your ferry.
Border areas aren't places you want to be hanging around for too long because there's lots of people trying to make a quick buck.
Read more: Find Best GPS For Overlanding & Off-Road Adventures
Morocco Border Control Formalities
Regardless of which border you arrive at, the formalities are the same. If you don't know how to enter Morocco in your own vehicle, this explains the process. It's simple and straight forward. Just watch out for the fixers.
How to spot a fixer
A fixer is likely to offer to help you through the formalities. This is wholly unnecessary. Avoid getting caught out by one of these chaps.
They tend to wear high vis jackets and act with authority. You'd be forgiven for thinking they are officials. A high vis jacket is NOT an indication that you are speaking with an official. In fact, the officials don't wear high vis jackets at all. Just a blue uniform.
Do not handover your passport to anyone that you are not 100% certain is an immigration official. Keep hold of your passport, be polite and decline the offer, waiting until you meet an immigration official.
If you do get caught out, and handover your passport to a fixer, it's not that big a drama. Ask for it back. You may not get it because the fixers are the height of efficiency.
He'll have run to one of the officials and be dealing with your paperwork before you realise what you've done. Of course, you're expected to handover a few euro before you'll receive your paperwork back!
If you do get caught, don't give anymore than €5 and check that you have all the necessary stamps as explained below.
Passport control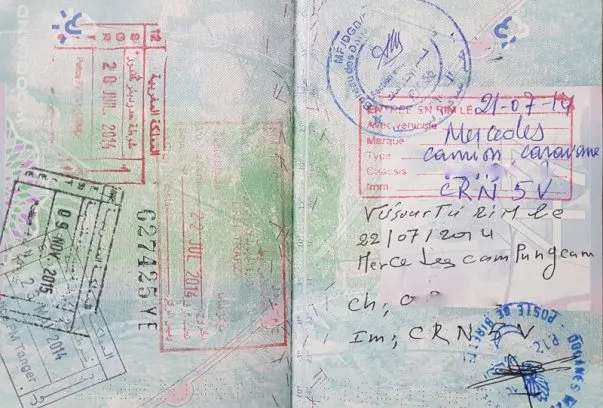 Upon arrival you will need to present your passport first.
The immigration officials will add an entry stamp with a number. Make sure you receive the entry stamp before leaving the border area, to avoid problems later.
European tourists to Morocco are currently given 90 days visa free. It's best to check the latest entry requirements with your Foreign Office before you travel.
If you want to stay longer, you can arrange extensions in Rabat and Marrakech with the Royal Gendarmerie.
Customs & taking a car into Morocco
Once you have your entry stamp, you need to present your vehicle registration papers to the customs officials. They may search your car and may have sniffer dogs.
Or you might be lucky and they may just ask if you are carrying anything you shouldn't be. They're just interested in weapons and drugs.
Once the customs officials are content, they'll write your vehicle details in the main drivers' passport with your entry stamp. They'll give a form which you must keep safe as you'll need it to leave the country.
The passport holder with the vehicle details entered, is not allowed to leave Morocco without the vehicle. As a point of note, the last time we entered Morocco in 2015, the customs officials asked us if we were carrying a drone.
Many years ago, we were asked if we carried a CB radio, and some years after if we had a GPS. Clearly modern technology seems something to be wary of if you're a customs official.
I'm not sure what they'd have done had we said yes and we're not aware of any restrictions on carrying a drone. Let us know if you've had any experiences bringing a drone into Morocco.
Read next: All you need to know about driving in Morocco
That's all you need to know!
And that's how to take your car into Morocco. Simple isn't it? Now you know how to enter Morocco in your own vehicle. We said it was simple. It could take anything from 10 minutes to 2 hours to get through.
This depends on how busy your ferry is and how energetic the officials are feeling. Just relax and take your time. There's no need to stress and no bribes to pay. Even the fixers are friendly!
Guide book & road maps
When you click on links to various merchants on this site and make a purchase, this can result in this site earning a commission. As Amazon Associates, we earn from qualifying purchases. For more info, please check our disclosure page.
If you're preparing to for one week in Morocco, it'll be useful if you're carrying a paper road map. It won't take up much room in your luggage and we find them useful for planning our routes. It's much easier to get an idea of distance and what you'll be passing on the way than your GPS.
You can buy your Morocco road maps here, today. We also suggest bringing a guide book with you. We've always used a Lonely Planet one but the Bradt guides are good too.
We should update ours because it's about 10 years old now, dog eared and just a tad out of date! Take a look here and check out what guide books are on offer.
Booking accommodation
When it comes to booking accommodation, we just wing it. But then it's a little easier when you're travelling in your own vehicle and able to camp just about anywhere.
If your week in Morocco is a fly-drive,we advise you book your accommodation for your arrival date and the day before departure, at least.
It'll take the stress out of the start and end of your holiday. You can book accommodation pretty easily en route after this.
In fact, we suggest you don't book in advance to avoid having a fixed itinerary. Half the fun of road trips is having the flexibility to do as you like, when you like. You lose some freedom with a pre-booked reservation.
To book your arrival and departure night accommodation, click here.
Like it? Pin it!