Tarabuco market is 60 kilometres southeast of Sucre in Bolivia and sits at almost 3300 metres above sea level. It's a key weekly event for the Yampara, the indigenous people of the area.
From Saturday evening, traders travel from miles around to set up their stalls.
The Tarabuco Sunday market is Bolivia's largest rural market and a fabulous way to while away a Sunday morning.
Yampara culture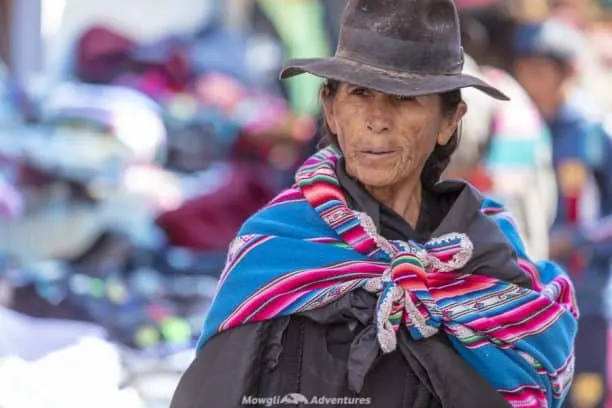 Bolivia's population is around 60% indigenous and yet only 12 years ago, did the country elect their first indigenous President, Evo Morales.
His election represented profound change for Bolivia, promising a better deal for the nation's indigenous people.
The new president passed a new constitution, explicitly recognising 36 indigenous communities and granting them comprehensive rights of land ownership and increased autonomy.
Tarabuco Market is the best place to experience the unique indigenous Yampara culture, and get amongst the locals in their eye-catching traditional dress and vast array of hats.
Mass is held early on Sunday morning and is said in the local Quechua language rather than Spanish.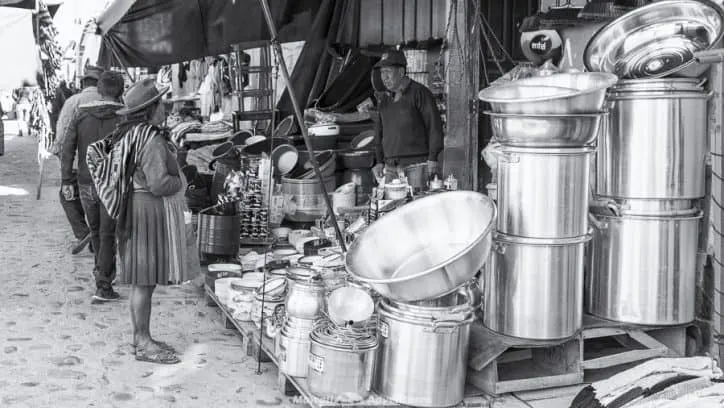 Then the market opens for business. Grains are traded and bartered for in large quantities. Coca leaves are bought and sold by the sackful – a great help at this altitude!
Villagers come to Tarabuco market for their weekly shop too. Fruit, vegetables and dubious looking butchers all trade their produce here. And if you need a big cooking pot, you've come to the right place too!
And of course the textile market is a kaleidoscope of colour.
Read more: Incredible things to do in Sucre
Tarabuco textile market
A large part of the market has a heavy focus on textiles. Many Sucre tour companies promote the textile market as a must visit attraction.
Sadly, despite the claims, many shops and stalls sell wares they've bought from mass production factories in Peru. Gone are the days when all the products arrived in Tarabuco by donkey.
Today, delivery vans and lorries clog up the narrow lanes on Saturday evening's.
All is not lost though. Some stalls still sell genuine, authentic handicrafts. Many take months to make and the skills and craft is a step above the mass produced alternatives.
Where to eat in Tarabuco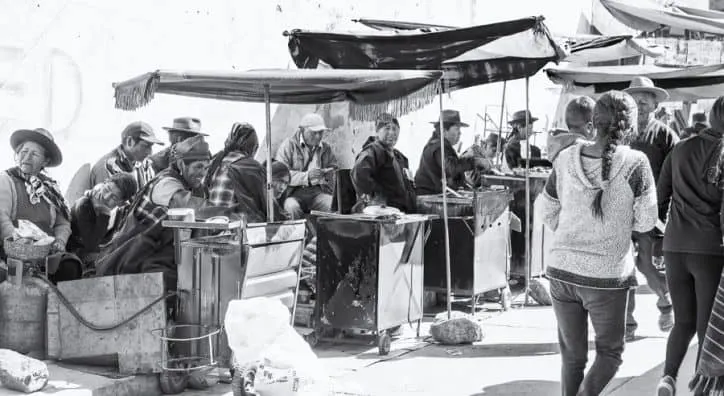 The Tarabuco market of course caters to hungry customers and tourists alike. There's lots of street food available. We ate an early lunch of fried chicken and salad for a tiny price.
We shuffled up on a bench alongside the locals and they laughed at our poor Spanish – little did they know it was already improving as a result of us studying Spanish in Sucre!
Read more: learning Spanish in Sucre, Bolivia
Tarabuco festival of Pukllay
Pukllay is held to commemorate the 1816 Battle of Cumbate, when the people of Tarabuco liberated their town from the Spanish.
Along with celebrating independence, the festival is dedicated to the dead and expresses gratitude to Mother Earth. It's such an important Bolivian festival, even the president attends.
If you spend any time near Sucre in March, look out for the festival dates and don't miss what's sure to be a colourful fiesta. It's usually held on the 3rd Sunday of March.
Tarabuco Sunday market in photos
Here's a selection of our favourite photos from our weekend in Tarabuco. We hope you enjoy them! For tips before you go and information on how to get to Tarabuco, scroll down past the photo gallery.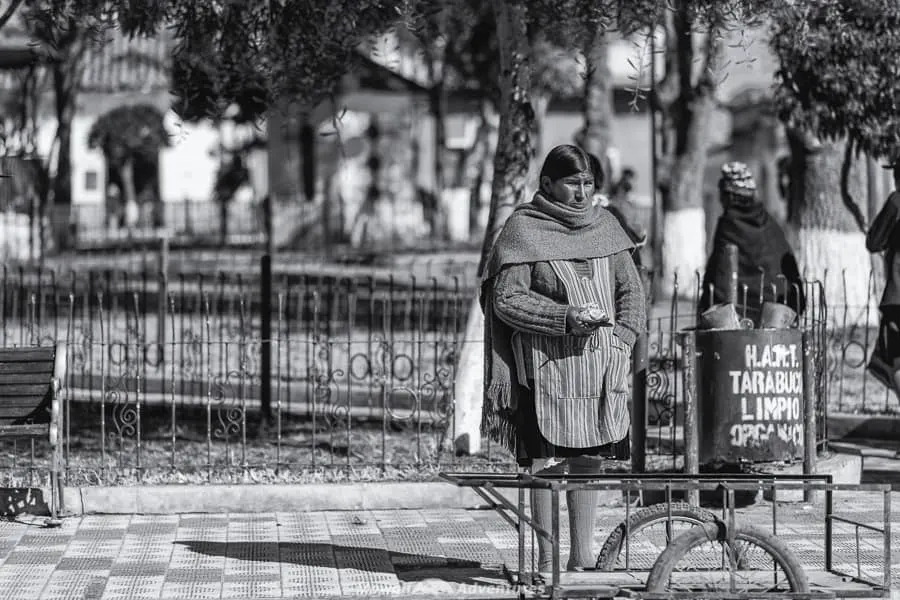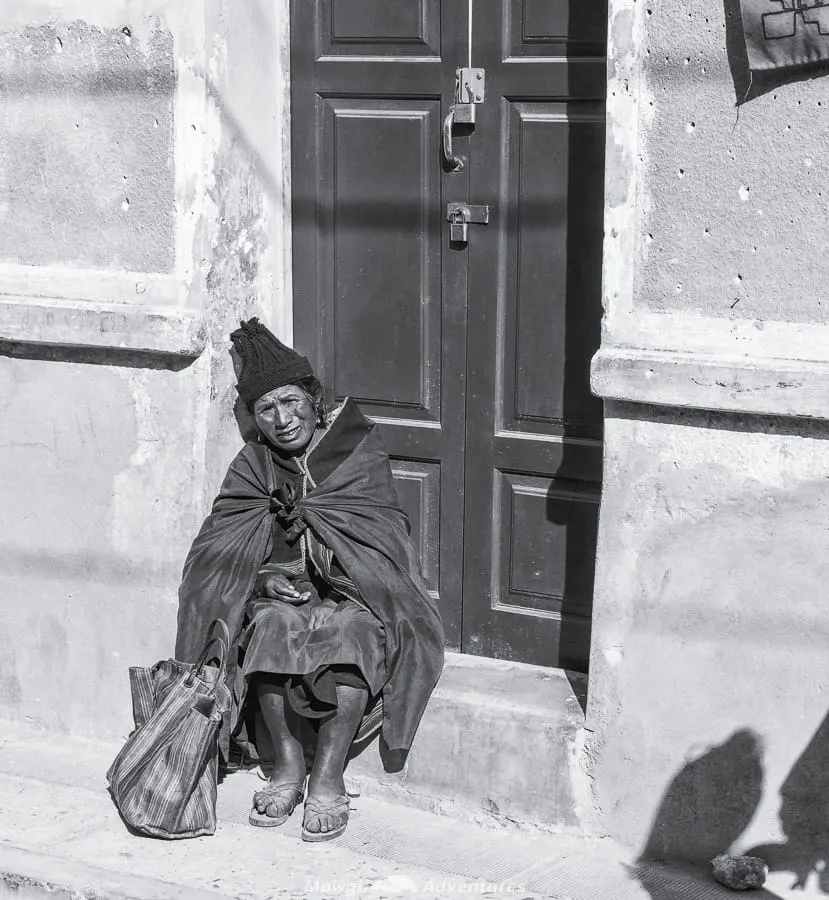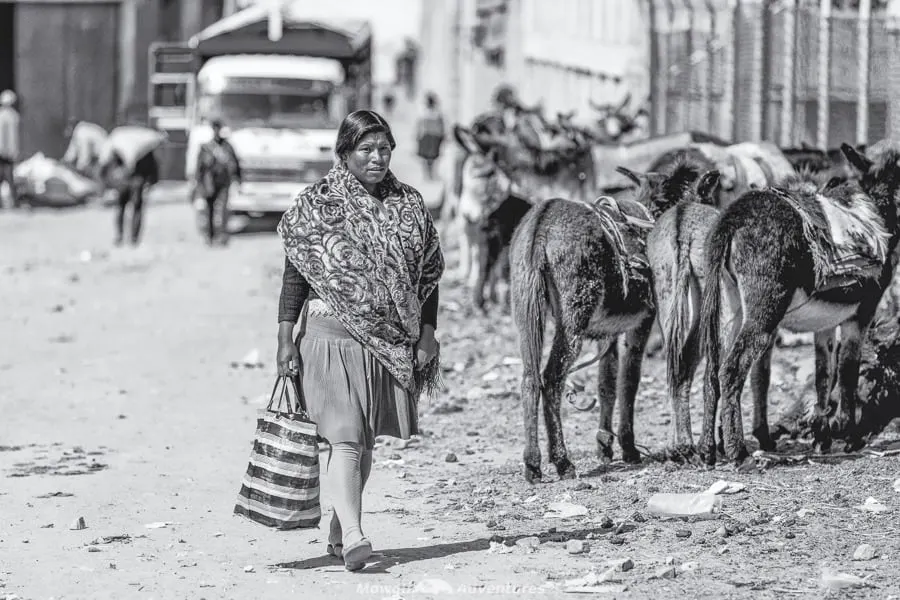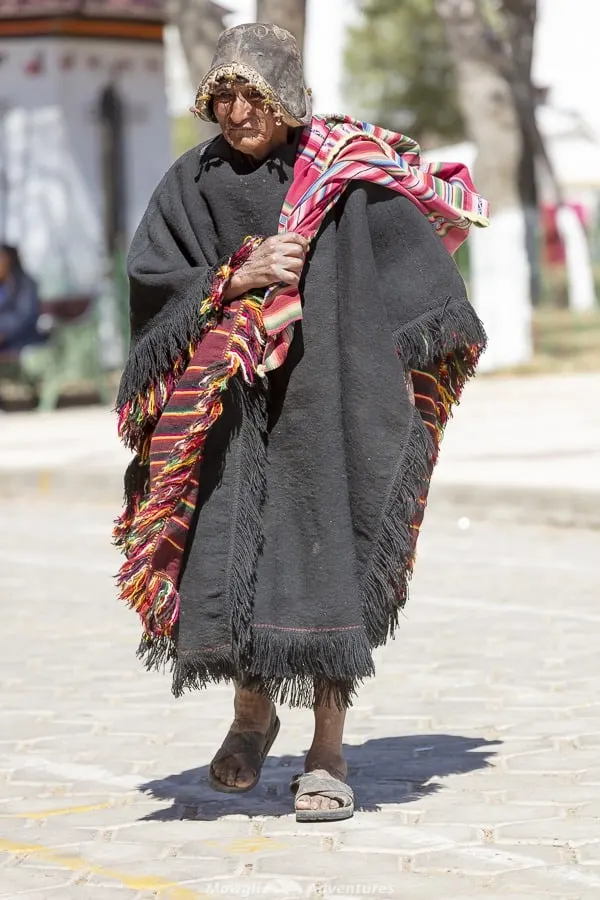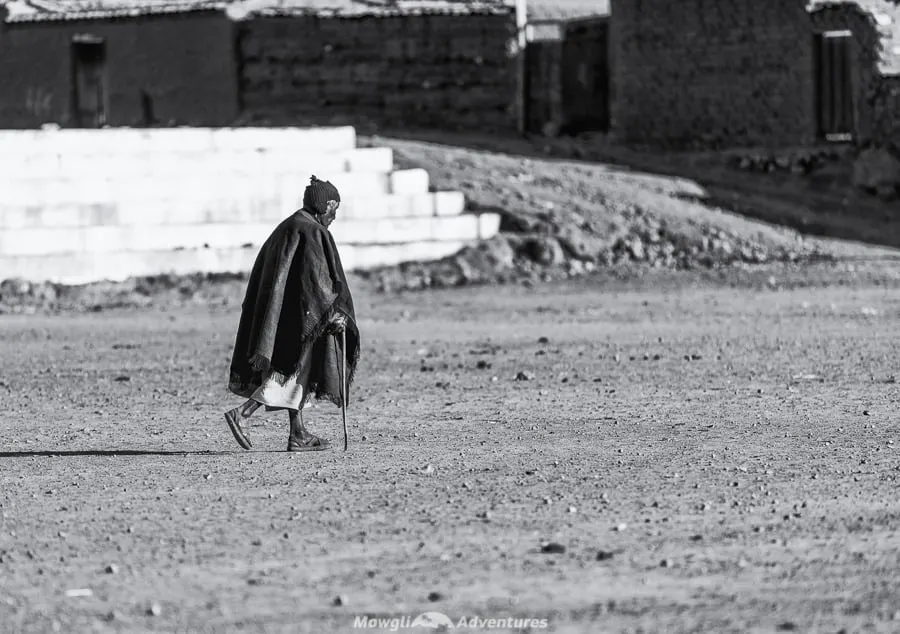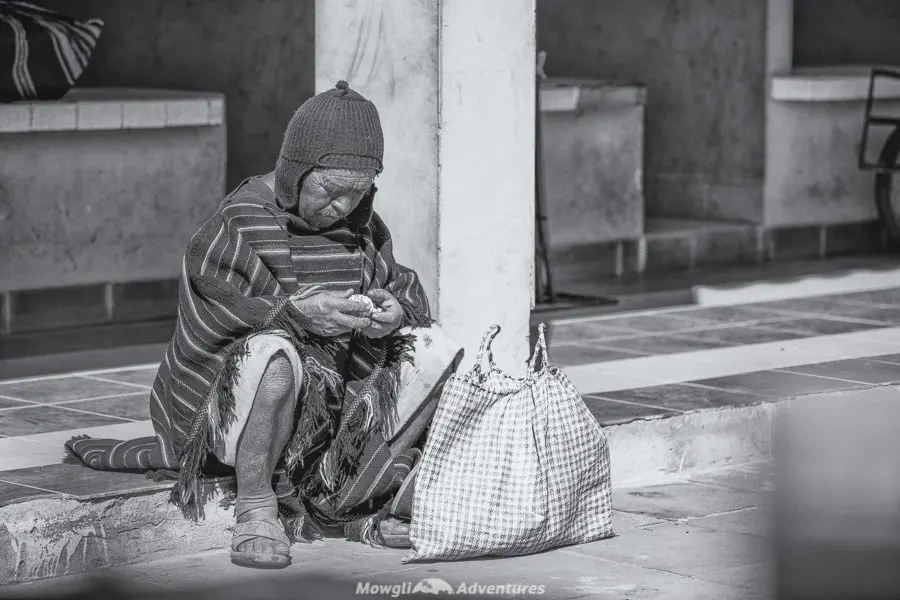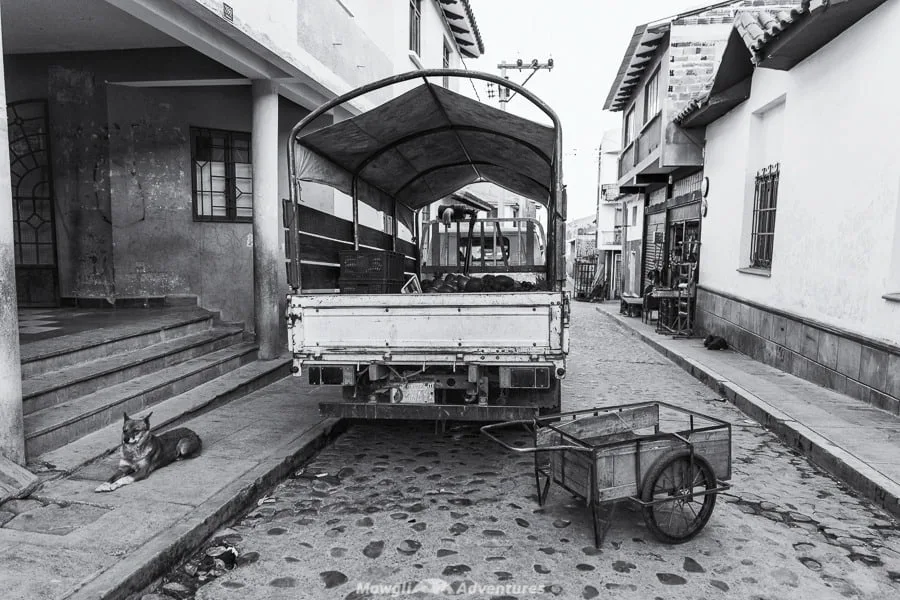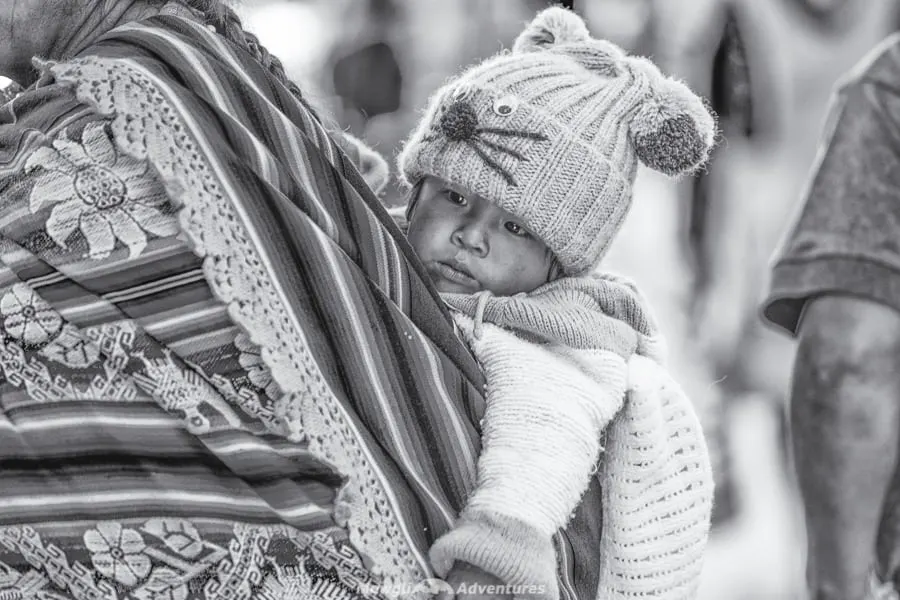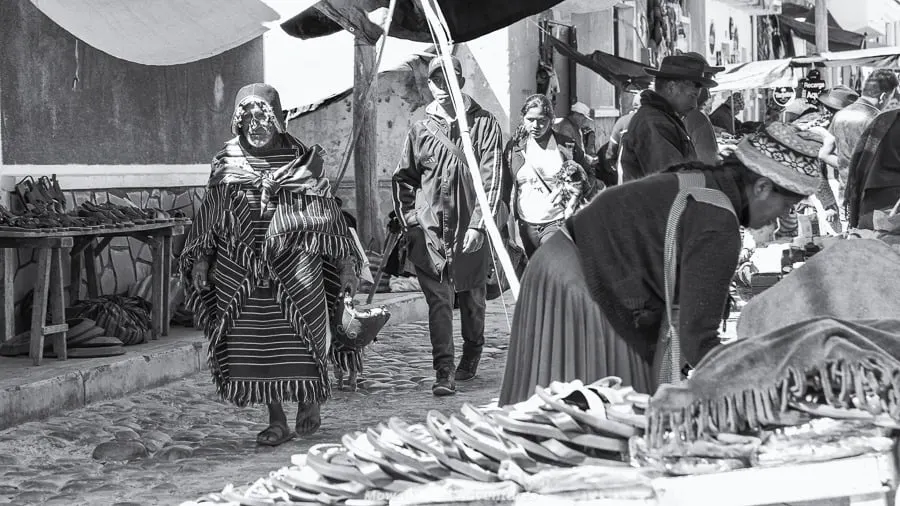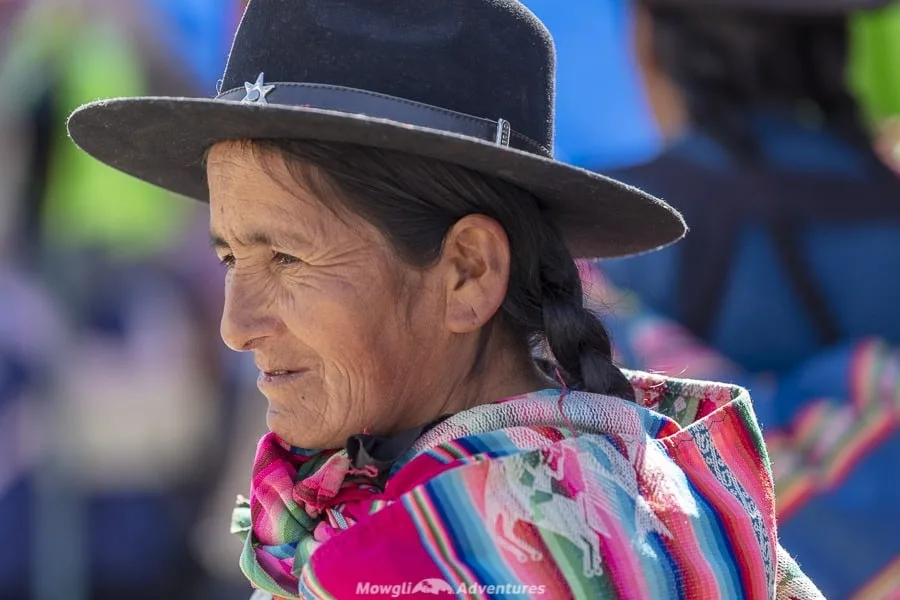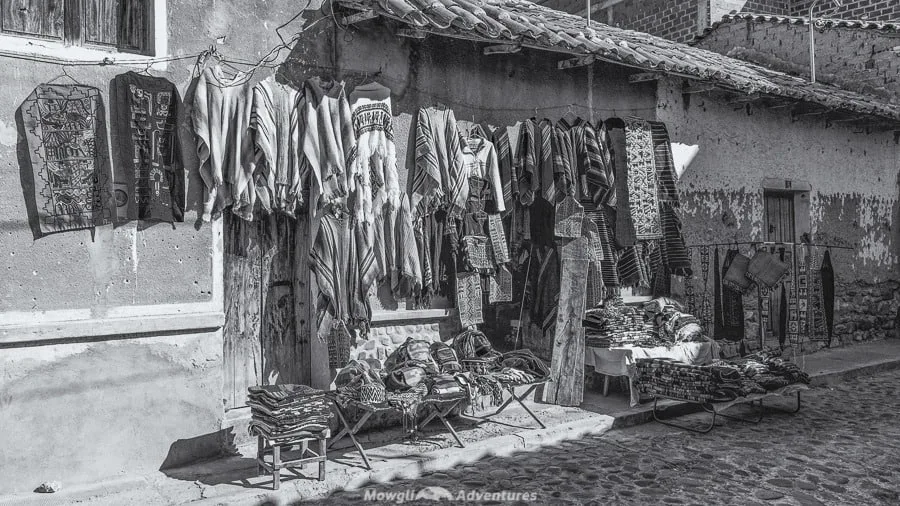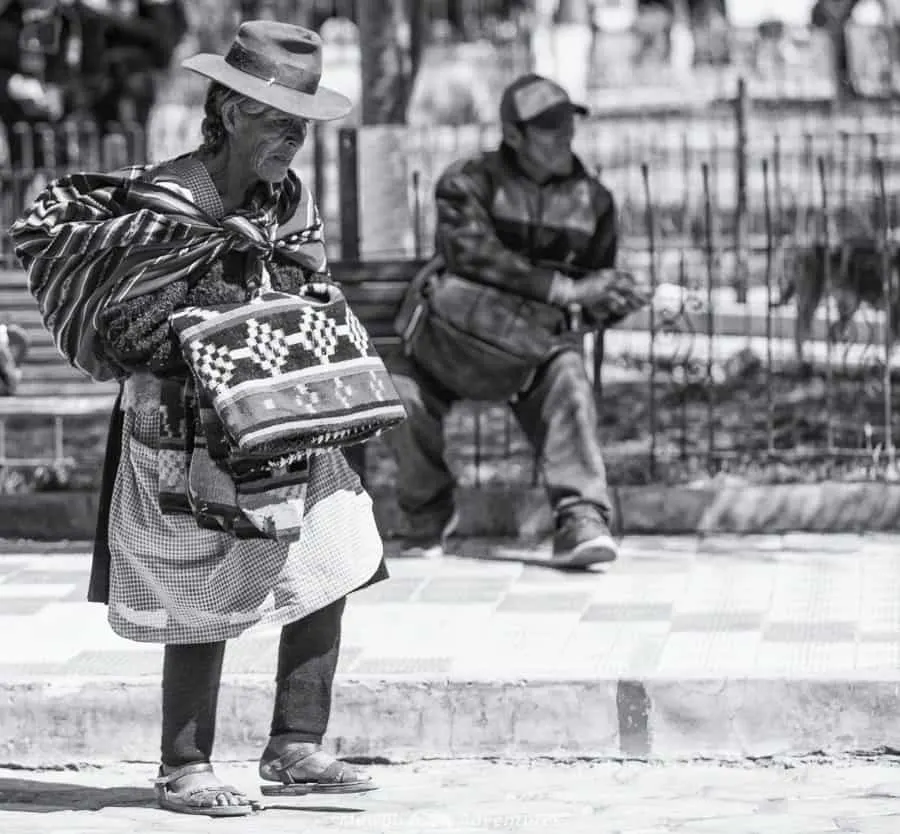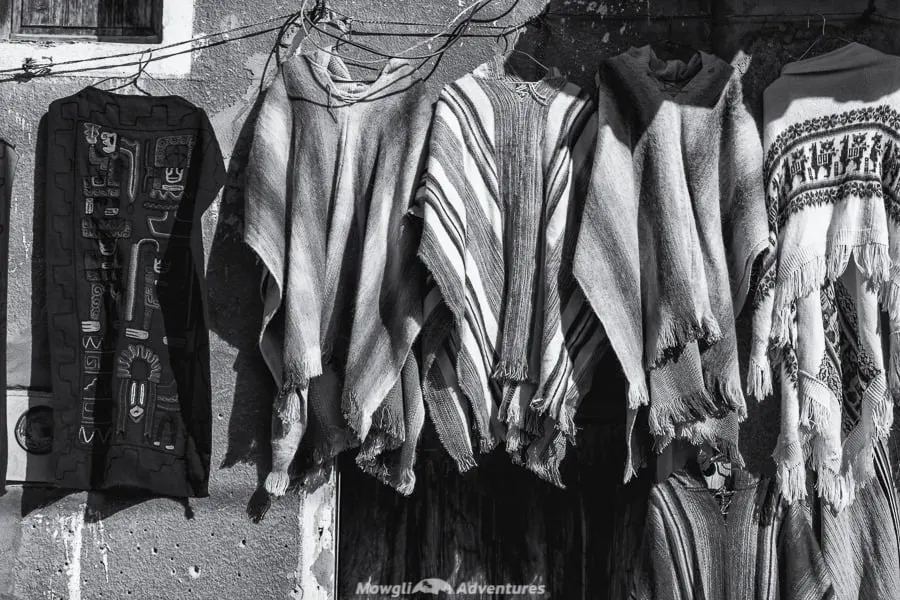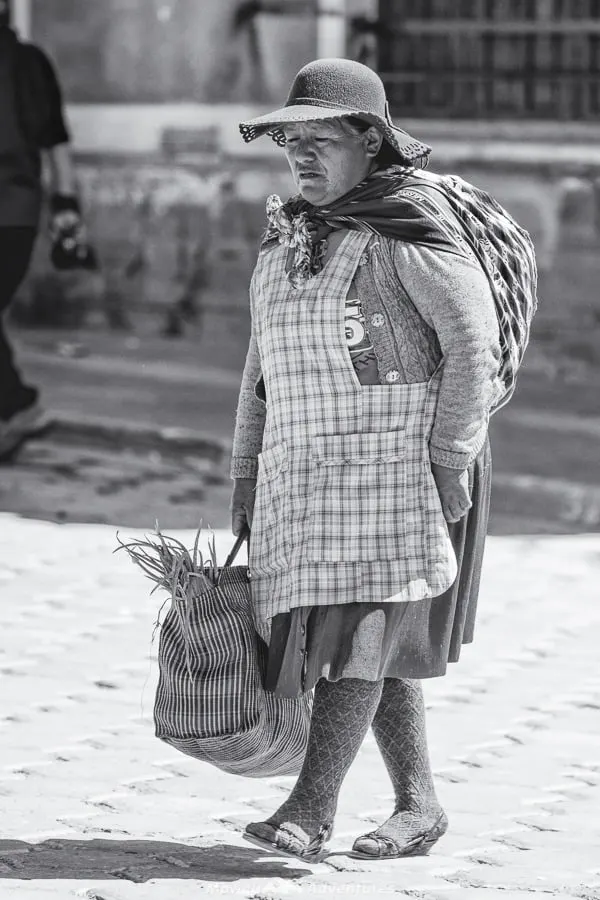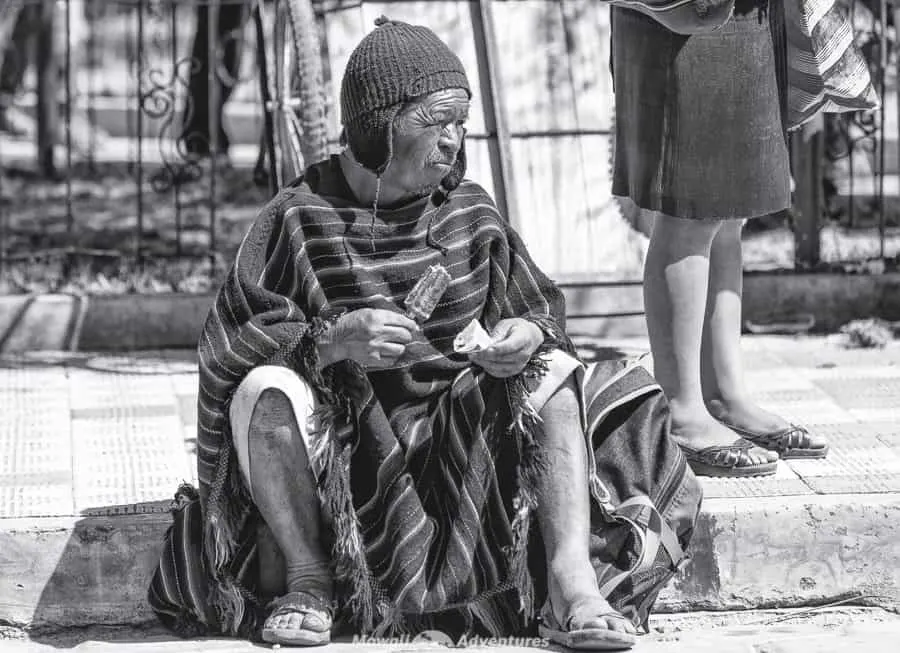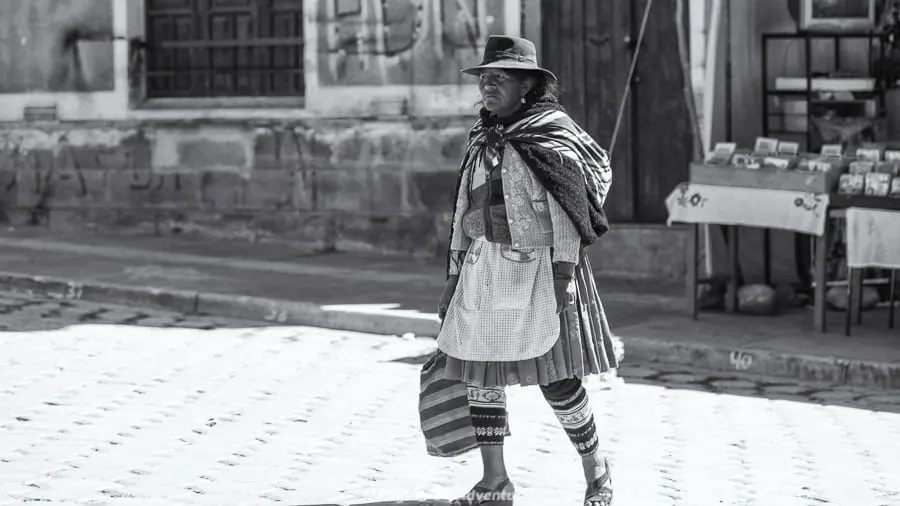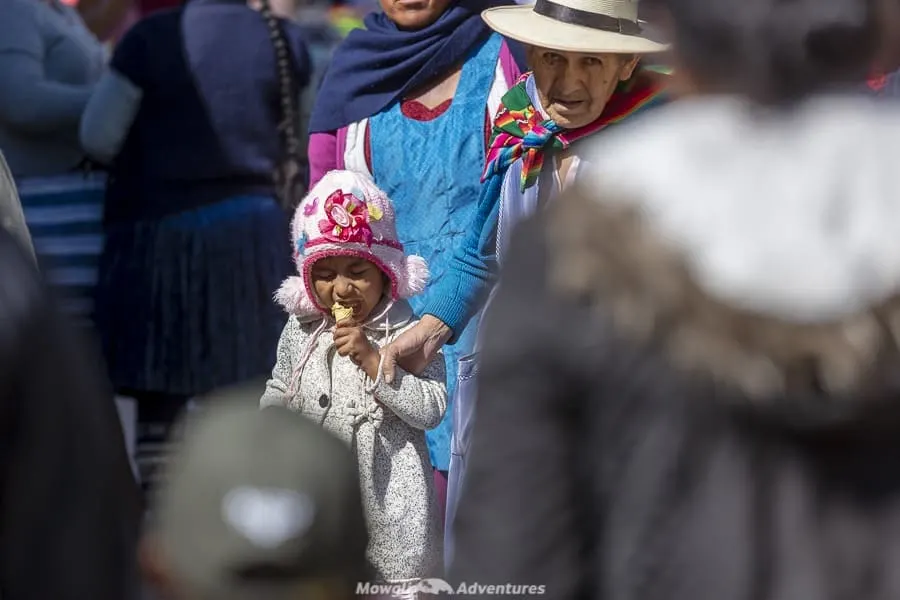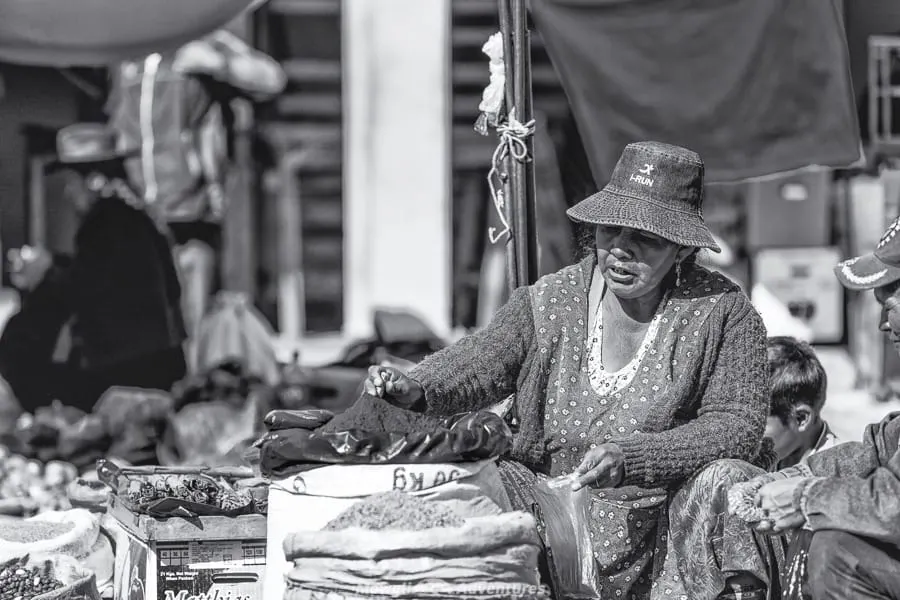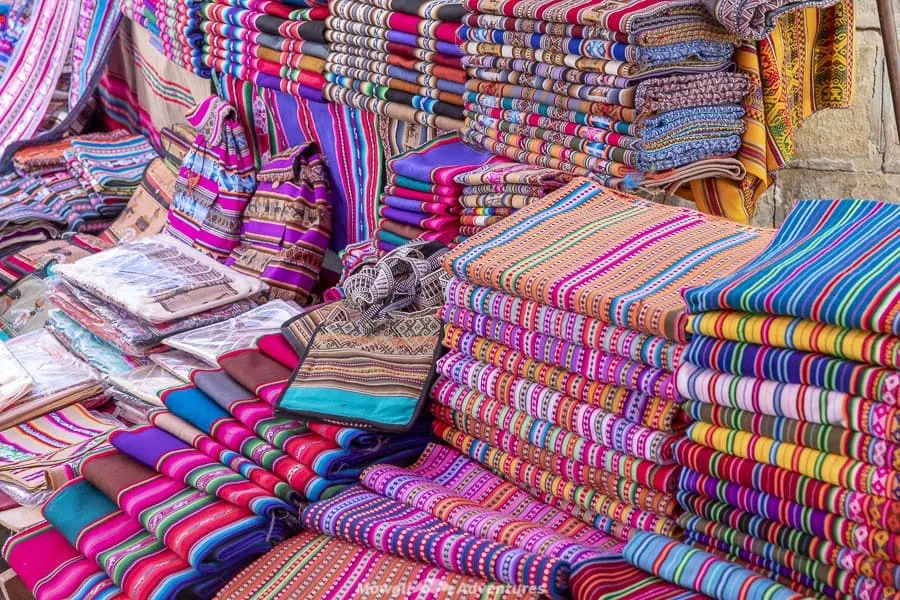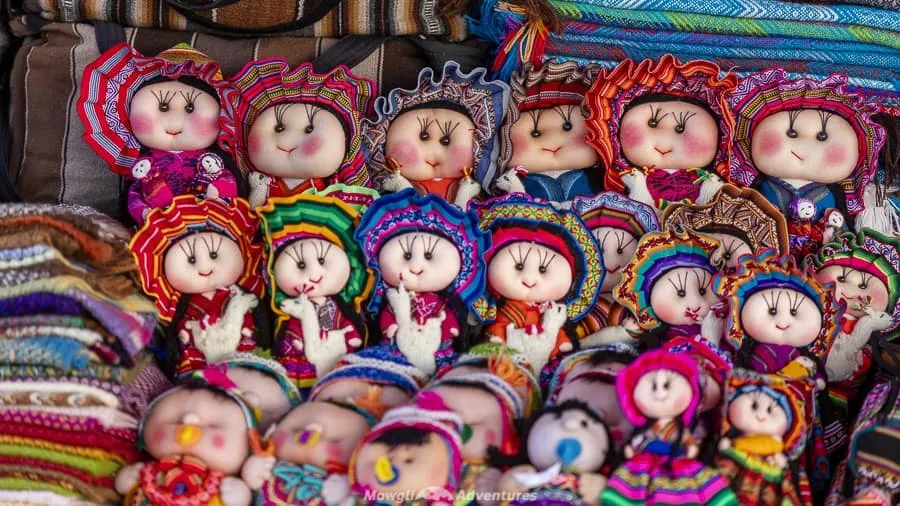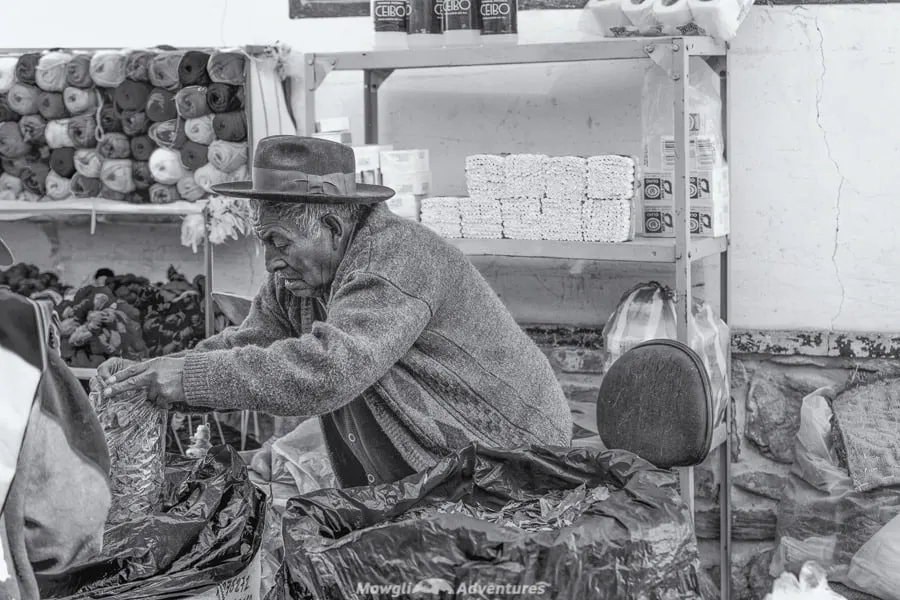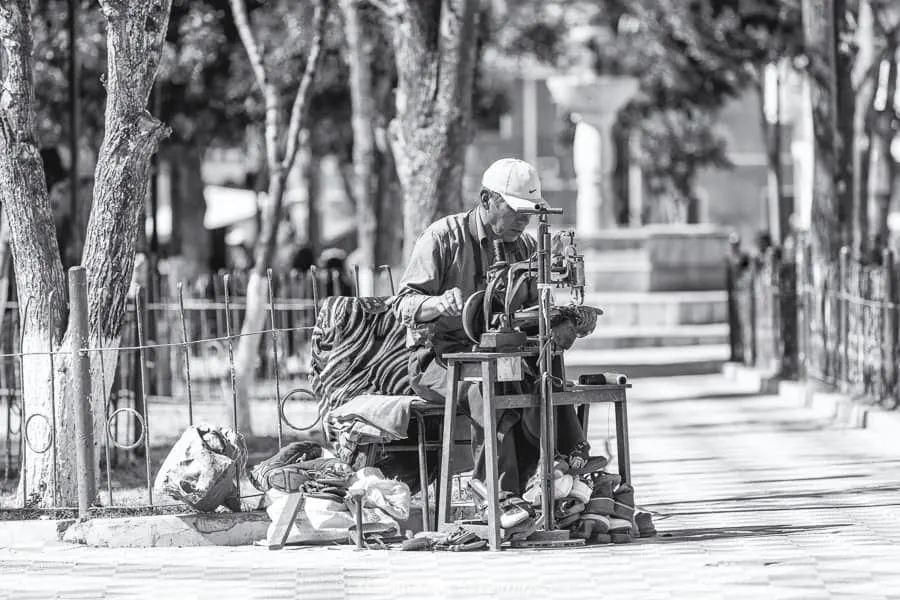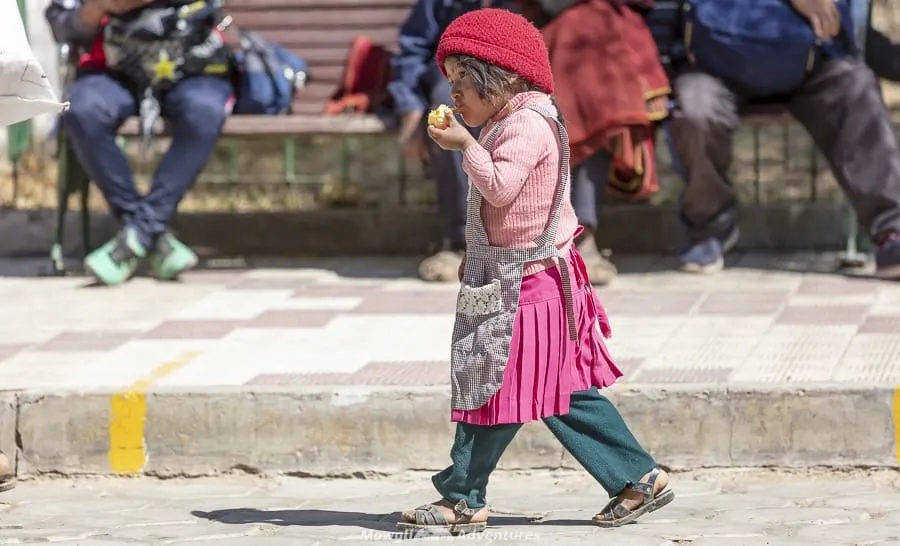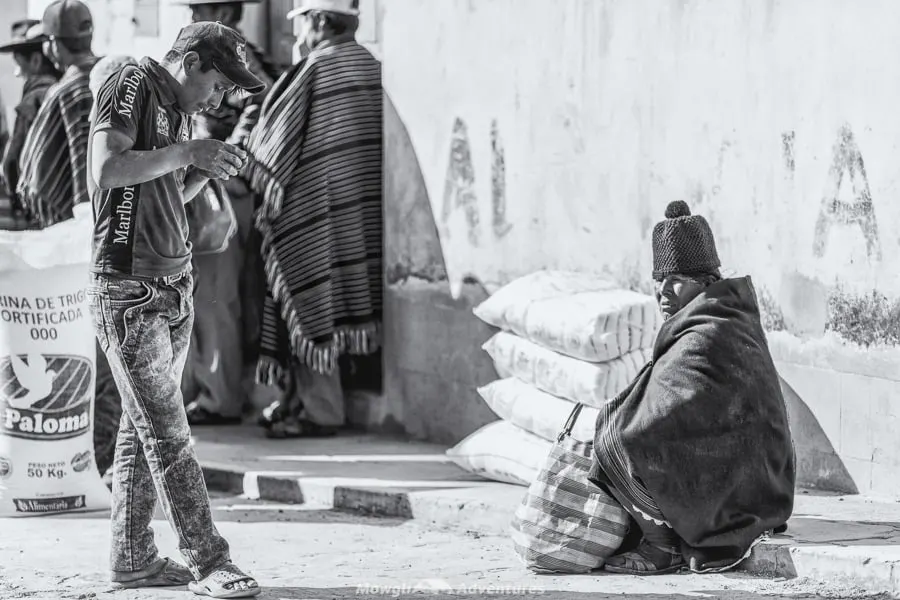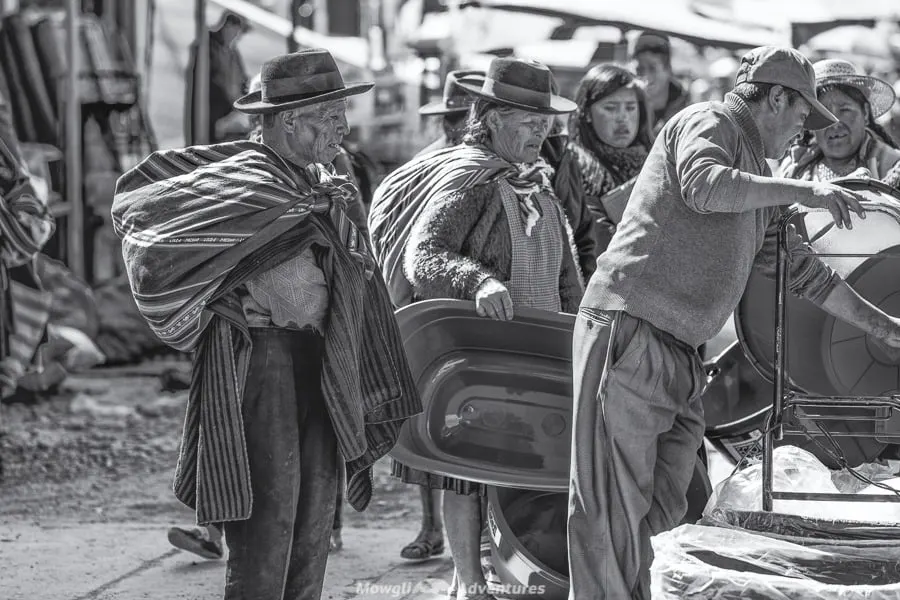 Things you need to know before visiting Tarabuco Market
The market springs into life early in the morning and by early afternoon, the marketeers start to pack up. Aim to arrive at the Tarabuco Sunday market around 9am to enjoy tge best of the atmosphere.
The main reason to visit the Tarabuco Sunday market is to immerse yourself in the authentic side of Bolivian life. Take your time exploring the streets and browsing, practice your Spanish and share a bench with the locals for a cheap lunch.
For us, the prices for some things we hoped to buy was really quite high. We wanted a couple of good quality ponchos to help keep us warm when we headed upto even higher altitudes.
Unfortunately, we could buy the same product much cheaper in Sucre. Don't go to the Tarabuco Sunday market expecting a bargain.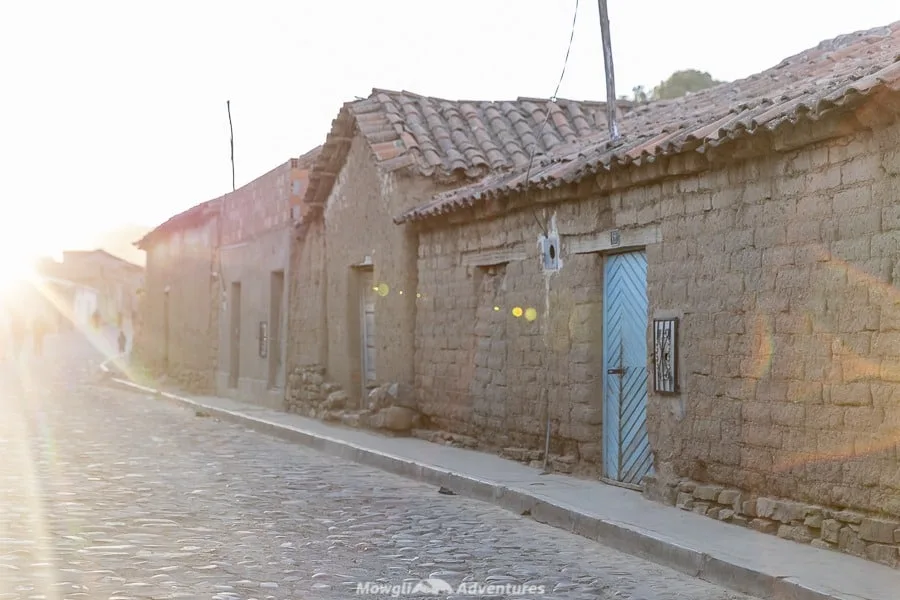 There's no ATM in Tarabuco and as you may expect, the stall owners don't accept payment by card. Bring cash with you in small denominations.
Leaving Tarabuco on a Sunday in your own vehicle can be a challenge because the road you probably drove in on tbe previous day, is now a market so closed to traffic. We took the dirt track east and joined Ruta 6 1km out of town.
The Tarabuco festival of Pukllay is usually held on the 3rd Sunday of each March. Do check the dates out though as it may change is if coincides with Easter festivities.
If you want to take photos of people in Tarabuco it's best to ask them first, especially if you're close to them. How would you feel if some strangers pointed their camera in your face? Alternatively, for candid shots, use a longer lens and take your photos from further away.
Getting to Tarabuco Sunday market
Tarabuco is about 60km from Sucre along Ruta 6. If you have your own vehicle, there's a fuel station in Tarabuco and the road from Sucre has one toll booth costing about 10 Bolivianos each way.
If you don't have your own vehicle, public transport will get you to Tarabuco is a couple of hours. You can hail a collectivo (a local bus shared with others) in Sucre's main plaza and it should cost around 20 Bolivianos each way.
Although it's only 60 kilometres, the scenic route took us a couple of hours. It's slow progress and we had to stop for photographs and a brew a couple of times too.
Where to stay in Tarabuco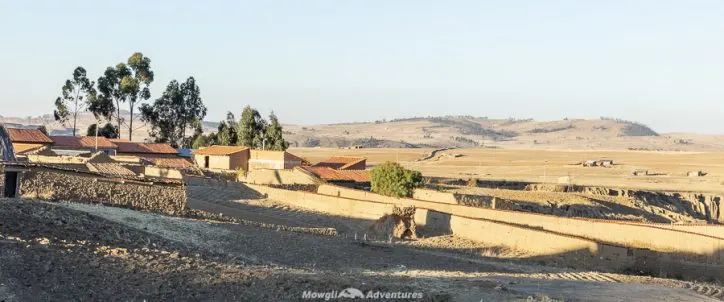 Camping
There's no established campground in Tarabuco so wild camping is necessary. We parked on the edge if the village football field after the neighbours gave us the ok. Aside from the local pigs, goats and donkeys coming by to check us out, we had a peaceful night.
Guest houses and hostals
There's basic accommodation available in Tarabuco although most visitors choose to travel back to Sucre for a wider choice. There's a few AirB'n'B hosts in the town too but try to book early if you're keen to stay over.
Like it? Pin it!