Set against a backdrop of the Rif Mountains, Tetouan is a most unusual destination, far off the tourist route.
Enter the medina in Tetouan and you'd be forgiven for thinking that you've taken a step back in time.
Step outside the medina, and you'd be forgiven for thinking you've stepped into an Andalucían town in Spain.
The heritage of the Arabs, Spanish and Jewish is plain to see in the whitewashed walls, Moorish doorways and red tiled roofs.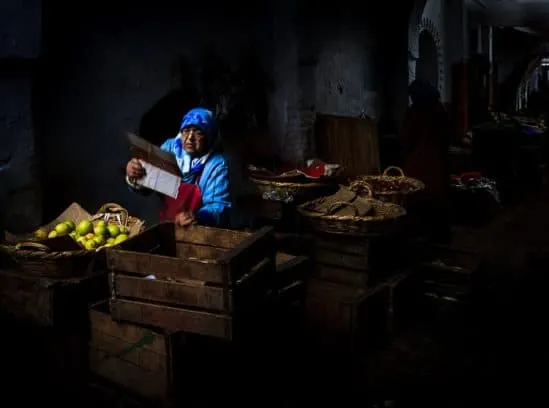 Tetouan is not the greatest introduction to Morocco. It offers little in the way of tourist attractions, fancy hotels or souvenir shops but it is rather unique.
There is nowhere else in Morocco where you are as likely to be greeted in Spanish, as in any other language.
If you're in search of a true insight to the everyday life of a working medina without all the tourist traps, then Tetouan has what you're looking for.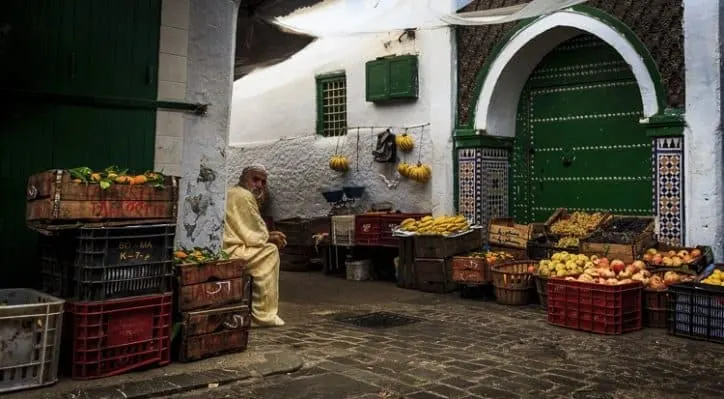 Tetouan – The Medina
The medina certainly feels like a glimpse into the past. Inside its maze of narrow, winding alleys set within 300 year old city walls, life's daily chores of shopping unfold and all your senses will be under attack.
From the colourful garments of the women selling vegetables, to the smells of spices intermingled with the scent of freshly cut mint; you'll not miss the call to prayer from one of the many small mosques dotted around the medina but you may need to quickly jump out of the path of an oncoming donkey carrying a stallholders wares.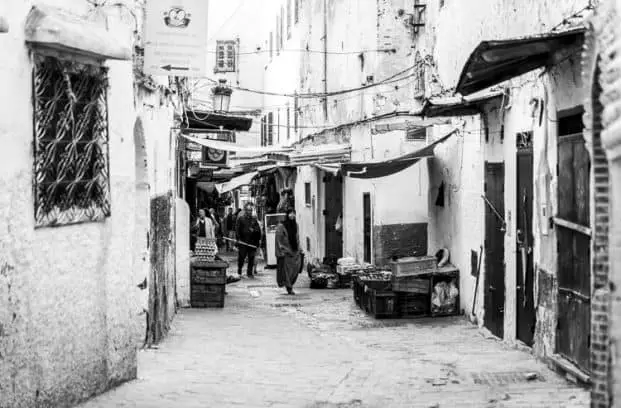 There is little in the way of souvenirs and tourism here. There are a handful of shops designed to meet the needs of the few tourists that visit Tetouan.
You won't experience the hassle you can expect in Fes and Marrakech and if you want to browse the goods on offer, then one of these stores is a great place to do so.
Keep an eye out though; they are not obvious from the alleys of the medina.
Once inside, they resemble Aladdin's den, full to the rafters of leather goods, rugs and nik-naks, probably marked with a fixed price in euros.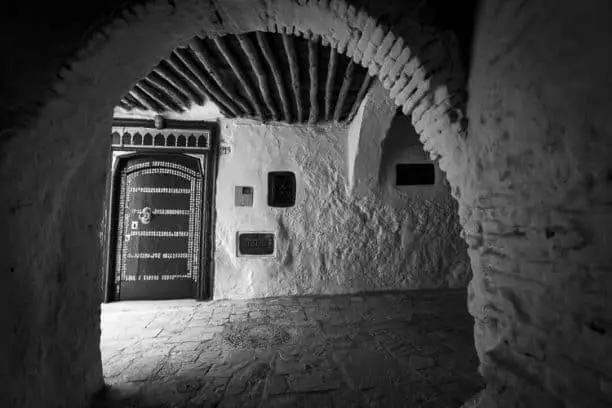 Despite the lack of attractions, you're still likely to be approached by touts offering to guide you around the medina for a few shekels. Unless you really want to, this isn't necessary.
You can lose your way wandering around. Indeed, that is part of the fun. But if you want to find your way back to a recognised landmark, simply follow the flow of human traffic until you reach a main path.
This is sure to lead you to one of the gates of the medina and the way out.
Tetouan – Ville Nouvelle
The new part of town couldn't be more in contrast to the medina. It really is like being in an Andalucían town in Spain, although you will probably find more free wifi in the vast number of cafés here!
The area is clean, bright and modern. Spanish architecture is evident in the buildings, their balconies and red tiled roofs.
There is even a Spanish cinema if you want to catch up on the latest blockbuster.
Other than offering a variety of places to eat and an escape should you need one from the medina, the ville nouvelle has little to offer you as a visitor.
Whilst we wouldn't go out of our way to visit Tetouan, we would definitely suggest you stop by if you're passing.
It's close to Tangier and if you're heading directly for the Mediterranean coast or Chefchaouen, you'll be passing by anyway.
It'd be a shame to miss this historical insight and mixture of cultures that is unique in Morocco.
Where to Stay
We stayed out on the coast at Martil, some 6 kms to the east of Tetouan. There is a range of mid-priced hotels and a reasonable camp site.
The coastal boulevard is a pleasant modern development with multiple cafés to sip coffee whilst you watch the relaxed world go by.