Cork is the largest county in Ireland and it sure packs a punch! From rugged cliffs tops, stunning beaches, colourful villages and a wild peninsulas, touring Cork won't disappoint.
Here's 15 things to do in Cork, Ireland you really shouldn't miss on your Wild Atlantic Way road trip.
Our Wild Atlantic Way route through County Cork
The Cork leg of our route began in the culinary capital of Ireland, Kinsale and followed a 200 mile route along much of the coastline to the Beara Peninsula. Here, the Wild Atlantic Way Cork leg ends as the Kerry leg begins.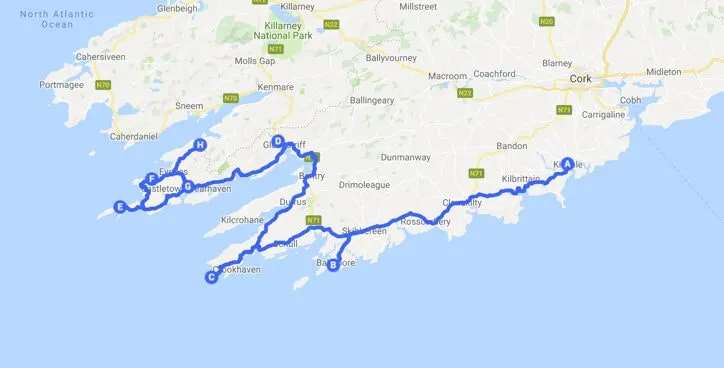 15 incredible things to do in Cork
Dining out in picturesque Kinsale town
Once a medieval fishing port, Kinsale town is a spectacular start to the Wild Atlantic Way in Cork and a great base for exploring the south of the county.
Its long waterfront and bustling harbour are surrounded by colourful shops and houses, enough to brighten and gloomy winter's day. Kinsale is home to loads of bars and restaurants so finding something to your taste and budget is no trouble at all.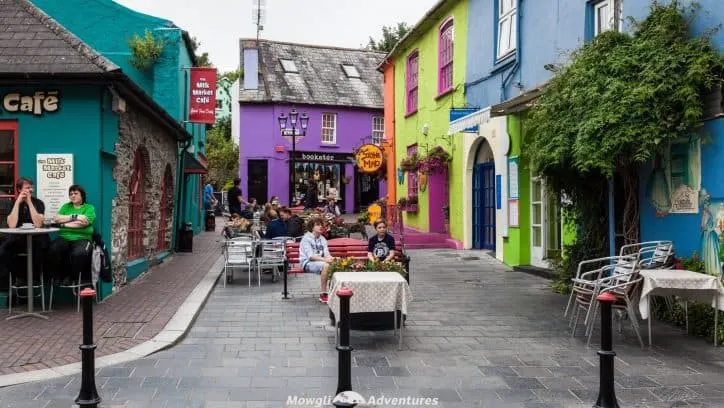 Step back in time at Charles Fort
If you're a bit of a history buff, Charles Fort is right up your street. Just 2 or 3 miles from Kinsale town, the fort dates back to the 17th century.
The star shaped fort sits on the edge of cliffs overlooking the Bandon River estuary. The guides give an interesting insight into the design, construction and life in the fort and is a poignant place to reflect on the history of Ireland.
Take your time here to enjoy a wonderful walk with great views of Kinsale harbour. You can even make out the Old Head of Kinsale on a clear day.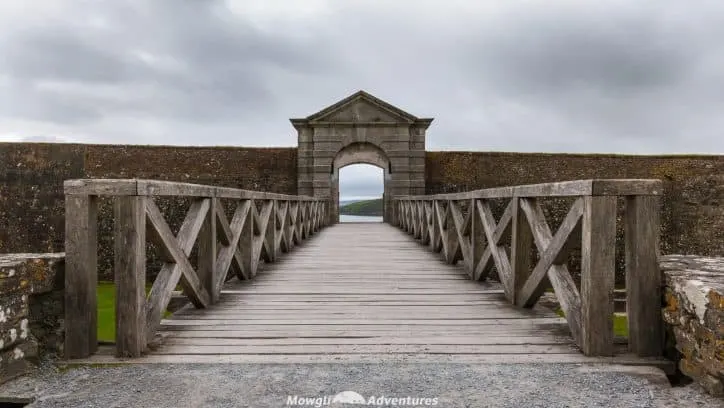 Devouring warming home cooked food
Nowhere more so than Cork did we experience home cooked food as good. Generous portions, fresh local produce and lashings of warm soda bread set you up for all the outdoor activities the area has to offer!
And don't forget to wash it all down with a smooth glass of the black stuff!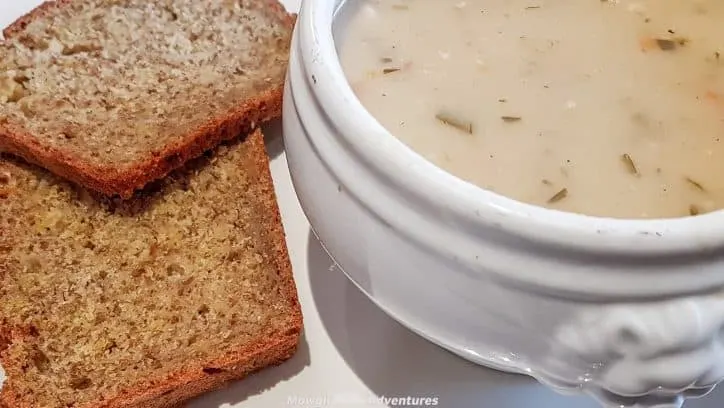 Walking the cliffs at Old Head of Kinsale
When we first visited the Old Head of Kinsale, we could barely see beyond the cliff edge. And yet within half an hour, the thick fog lifted to reveal these dramatic cliffs!
There's an easy 6 km walking path offering superb views. Make sure to dress for the changeable Irish weather, regardless of the season.
Essential reading: what to pack for the Wild Atlantic Way

Discovering Cork's isolated beaches
With over 1000 km of coastline on Cork's Wild Atlantic Way, finding an isolated beach is as easy as having a 2nd pint of Guinness. Some are sandy, others rocky, all are fabulous!
Visit the ruins of Timoleague Abbey
The substantial remains of the 13th Century Franciscan Timoleague Abbey dominate this pretty little village. Surrounded by a wonderful, peaceful landscape and beside a colourful medieval village, explore the ruins; even the graveyard is fascinating!
Visit in August and you can enjoy the pig racing at the annual Timoleague festival. Now who would want to miss that spectacle?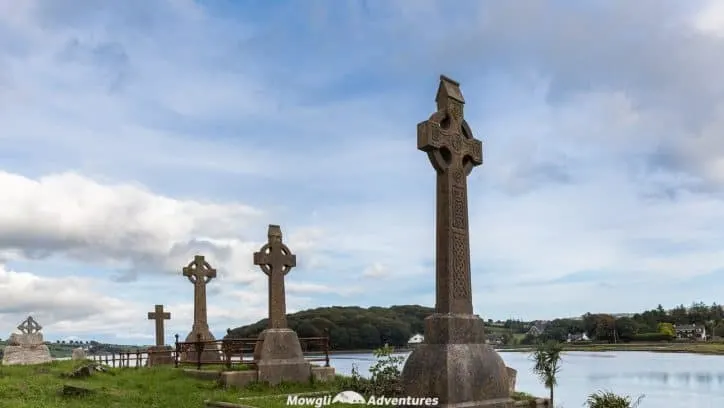 A little further along the coast from Timoleague, the lifeboat station at Courtmacsherry was one of the first in Ireland and local volunteers make sure it continues to serve the community.
And just look: the village is as pretty as a picture. With loads of hidden coves and bays along the seafront, Courtmacsherry is a terrific spot for fishing and even a little birdwatching.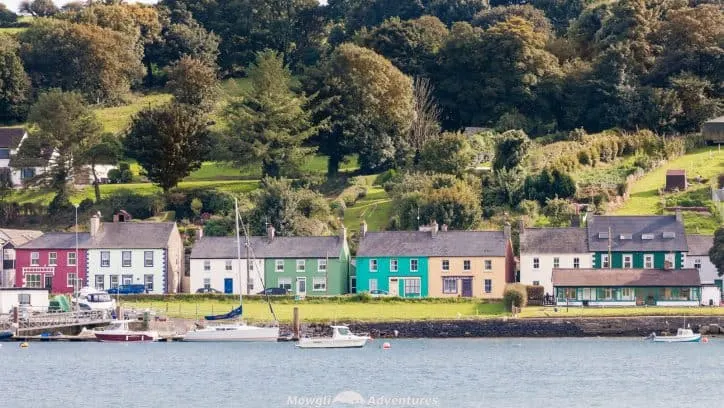 Pay homage to human history at Drombeg Stone Circle
Ok so it's no Stonehenge but these 13 stones date back to 1100BC. That's old. Really old! Not higher than 2 metres, the circle lines up with the winter solstice. On the same site, you can walk among the remains of a primitive kitchen and a sacred well.
Drombeg Stone Circle is well hidden. To find it, take the R597 at Clonakilty and follow this for about 3 miles or so. You should pick up the signposts from here. There's a small car park and from here, follow the gravel path to the site entrance.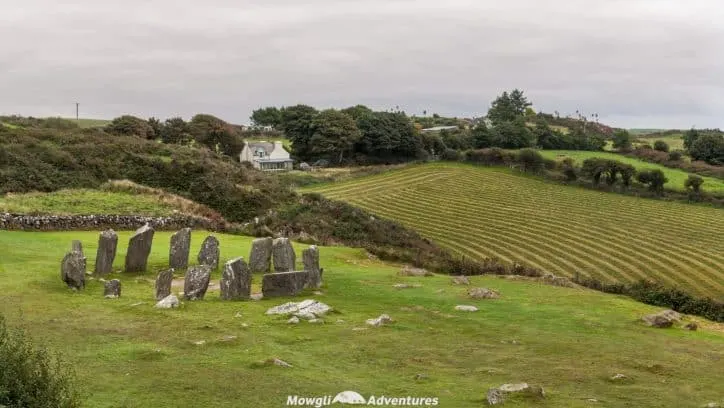 A little more archaeology at Altar Wedge Tomb
This was an unplanned stop on our way to Baltimore. It's located at the roadside beside a small parking area and you'll need to have a sharp eye to spot the sign post.
About 7 km west of Schull on the side of R 592 where it bends at the edge of Toormore Bay. This tomb dates back to 3000BC and archaeologists recently found burnt human bone here. As with so many of the places to visit in Cork, the surrounding scenery is fabulous.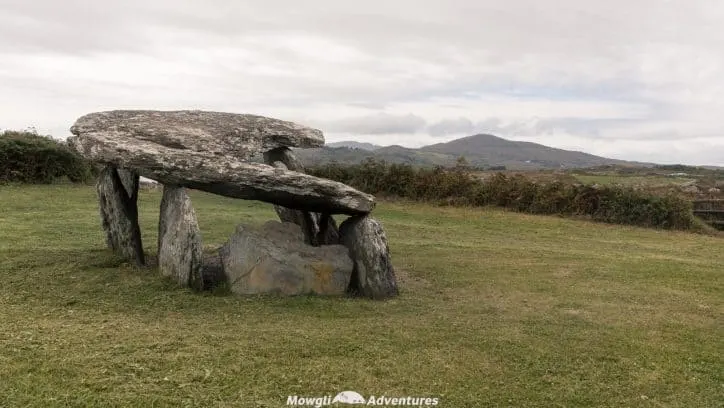 Feel the wind in your hair at Baltimore Beacon
The stone beacon stands proud and painted white at the entrance to Baltimore Harbour. Positioned high above the channel between the mainland and Sherkin Island, the spectacular views towards Sherkin, Cape Clear, the harbour and the mouth of the Ilen River will delight you. It's a terrific place for a brisk walk! You're sure to feel the wind in your hair.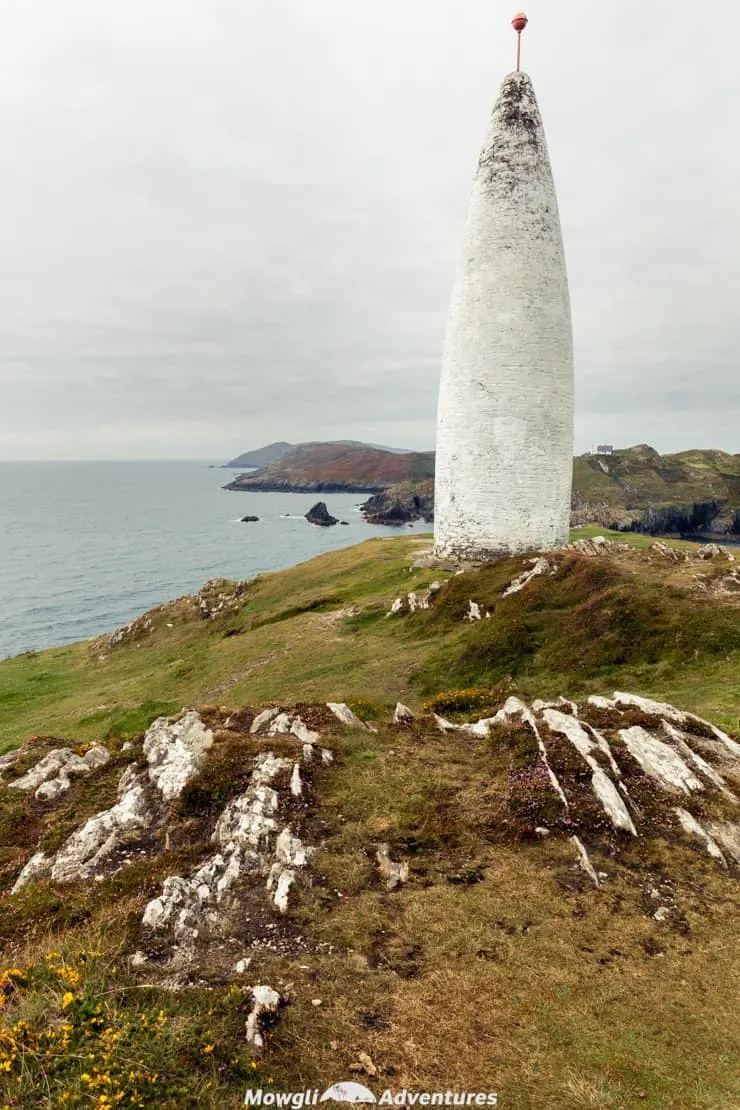 And the sand between your toes at Barleycove Beach
Barleycove is a large beach backed by sand dunes. The dunes were created by a tidal wave which swept Europe after an earthquake in Lisbon in the 18th century.
The dunes here are protected as European designated Special Areas of Conservation. And rightly so. On a bright warm day it's hard to believe this beach is in Ireland!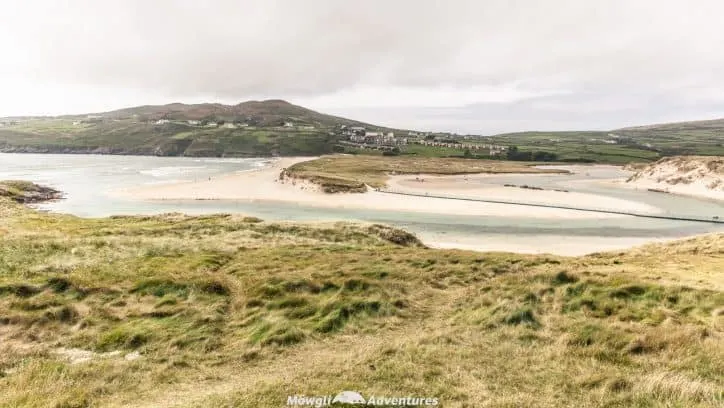 With a head for heights, visit Mizen Head
The dramatic cliffs of Mizen Head are well worth the drive to the tip of the Kilmore Peninsula in County Cork. The very tip of the peninsula is almost an island so visitors with a head for heights walk across the bridge to the old signal house and lighthouse.
The Atlantic is wild here, dress well and keep an eye out for the seals playing under the bridge!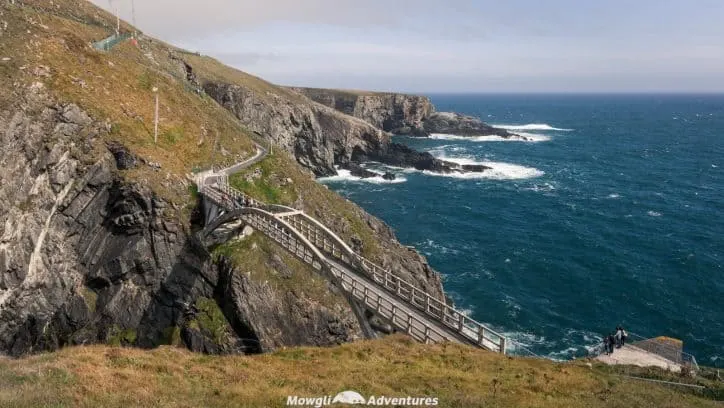 Drive the Ring of Beara
The Beara Peninsula is one of the most beautiful locations in Ireland with loads of things to do and see, especially for outdoor enthusiasts.
Villages on Beara Peninsula include Allihies, famous for its stunning views and its copper mines, and Eyeries, one of the most picturesque villages in Ireland.
So many road trippers on the Wild Atlantic Way rave about the Ring of Kerry. Sure it's wonderful but the Beara Peninsula is by far our favourite.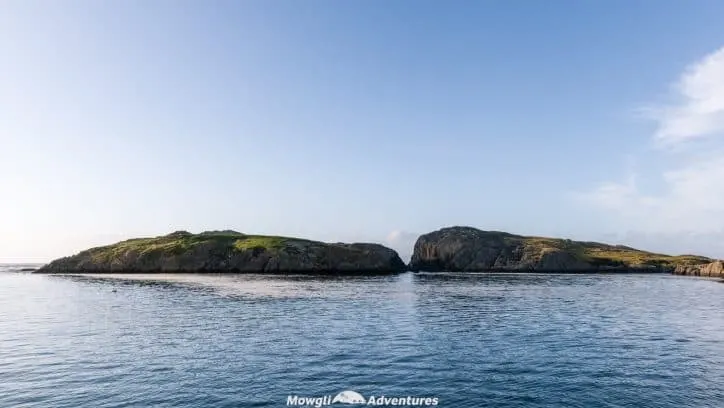 Amazing roads: Check out the best scenic drives in Cork
Take Ireland's only cable car to Dursey Island
Dursey Island is at the western tip of Beara Peninsula and only 4 miles long by 1 mile wide. Its size makes it perfect for a day of walking in wild and rugged terrain.
There are no shops, pubs or restaurants on the island so make sure to bring supplies. Oh, and try not to miss the last cable car back to the mainland at the end of the day! There's no other way back.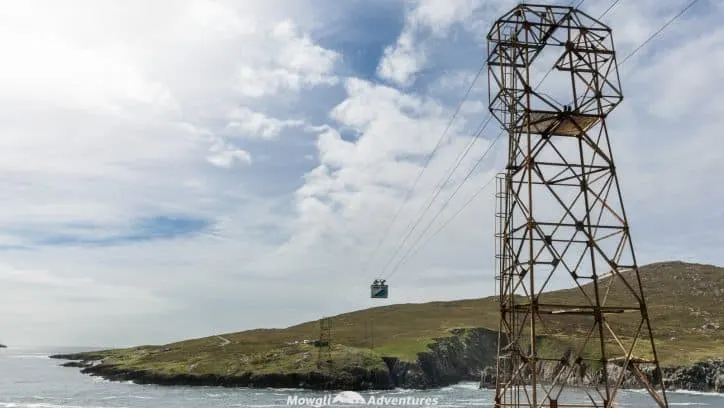 Weeeeeeee! Healy Pass
Healy Pass is a dream road. Because it's often overlooked by tourists in favour of the Ring of Kerry route, you'll meet hardly any other drivers.
The road twists, winds and turns through the desolate landscape of the Caha mountain range. With scenery littered with rocks and grazing sheep, waterfalls and lakes it's an exhilarating journey.
Healy Pass actually spans both Counties Cork and Kerry, so bringing our Cork leg of the Wild Atlantic Way to an end.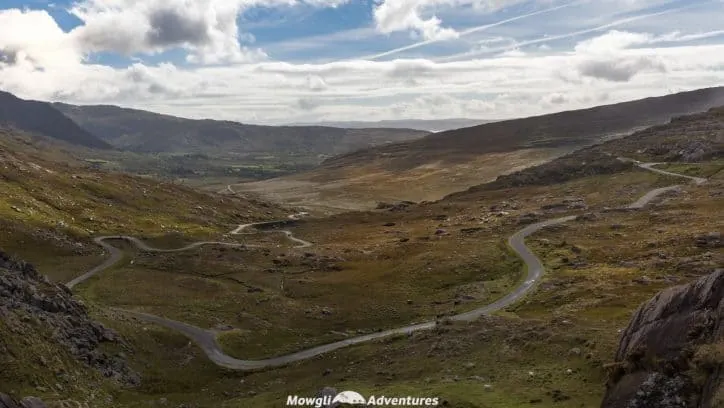 Essential reading: A brief guide to Beara Peninsula
Planning tips for the Cork leg of the Wild Atlantic Way
Tips for driving in Ireland
Driving in Ireland is easy but there are few things to know before you set off.
Road users drive on the left in Ireland, so take care to keep to left too. Remember this especially while driving on narrow lanes, your passing place is on the left!
Road signs in Ireland are pretty straight forward. Major routes and motorway signs are blue, green for national roads and white for local roads.
Places of interest are signposted on brown signs with white letters. Sometimes you will see signs in Gaelic, especially in the Gaeltacht region. They almost always show the same sign in English.
In more remote parts of Ireland and certainly along some of the Wild Atlantic Way, there is often long distances between petrol stations. Make it a rule of thumb to fill up once you hit half a tank and you should avoid running out of fuel.
Although distances don't seem too great, don't overestimate how far you can drive in an hour on Ireland' roads. Around 40 miles per hour on average is a good figure to work to but on some stretches, that's perhaps twice the speed you'll actually achieve.
Don't rush, avoid over ambitious distances and enjoy!
Accommodation in Ireland
As with most of Europe, Ireland has loads of choice when it comes to accommodation but unless you're travelling in a camper van or camping, you're best bet is to book into a local B&B or guesthouse. They're homely and welcoming and give a really personal experience.
Don't forget to pack…
When you click on links to various merchants on this site and make a purchase, this can result in this site earning a commission. As Amazon Associates, we earn from qualifying purchases. For more info, please check our disclosure page.
A Gaelic phrase book is a little over the top unless you really want to throw yourself into the rural Gaeltacht culture.
Most people in Ireland speak English although there are still a few of the older generation who don't. It's definitely a good thing to learn a few words before you arrive.
So many of the things to do in Cork involve the outdoors so make sure to pack a decent pair of walking shoes.
Essential reading: what to pack for the Wild Atlantic Way
The weather in the mountains is unpredictable at times. Even in the height of summer, the winds can pick up to a fair gust. Pack a good all weather raincoat to protect you from the worst of it. They're light to carry in your back pack too.
Of course, we strongly advice you take out a good travel insurance policy too.
Essential reading: 19 common travel insurance mistakes & how to avoid them
We hope you find some inspiration in amongst these things to do in Cork, Ireland. And do let us know if we missed any little gems.
Like it? Pin it!