There are few places in the world, let alone Patagonia, so perfect for adventure seekers as Futaleufu.
In this guide, you'll find everything you need to plan your visit, including the best things to do in Futaleufu, plus advice on where to stay and essential travel tips.
---
For whitewater rafting enthusiasts, the village of Futaleufu, and the river after which it is named, is a mecca, guaranteed to deliver their next adrenalin rush.
Fly-fishers, kayakers, trekkers and hikers, will delight in all the area has to offer. But leaving here exhausted probably means you've missed out on witnessing the authentic rural side of Patagonia and a slower, more tranquil pace of life.
This is one of the most popular travel stops on the Carretera Austral, and for good reason. Yet visitors need to take a not so short diversion from Ruta 7 to reach here, a journey serving only to add to the sense of adventure.
In this guide for travelers, we've shared our advice on making the absolute most of your time in Futaleufu.
From the best hikes, river activities, views, and photography spots to tips on the best time to visit, responsible travel, getting there, where to eat, and picking the right place to stay in the adventure capital of Chilean Patagonia, we've got you covered.
Here are 10 wonderful things to do in Futaleufu, plus all you need to know to plan your visit.
When you click on links to various merchants on this site and make a purchase, this can result in this site earning a commission. As Amazon Associates, we earn from qualifying purchases. For more info, please check our disclosure page.
The Best Things To Do In Futaleufu
1. Go White Water Rafting On Futaleufu River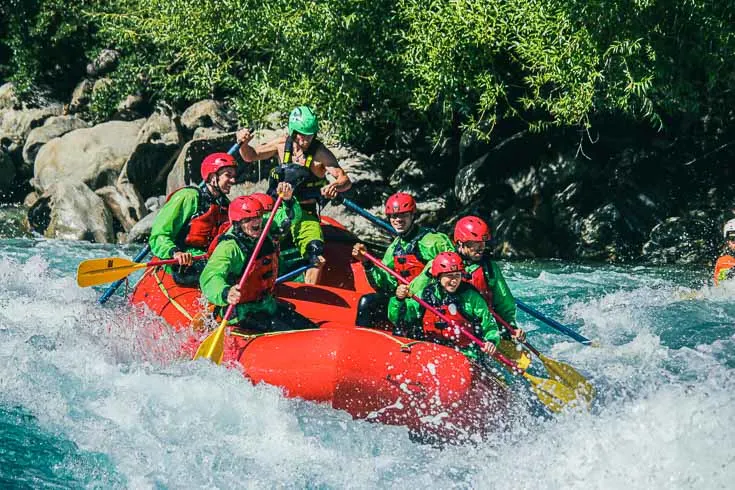 Futaleufu River, often just called the Fu, is world-famous for adrenaline-pumping rapids. Its name means Big River in the indigenous Mapuche language, and it's a fair, if somewhat understated, description.
Rushing turquoise water forms a striking contrast against the dark granite cliffs it carves through.
Flanked by lush green forests and snow-capped peaks, rafting in this part of Patagonia is nothing if not gorgeous.
Class IV and V rapids satisfy the most adventurous travelers. For those not familiar with the technicalities of the sport, names like The Terminator, Wild Mile, and Inferno Canyon provide a flavor of what awaits the brave.
When // Rafting season on the river runs from October to March. The river levels are highest in October and November after the Spring melt. If the river is too high, though, excursions can be canceled for safety reasons.
With falling river levels later in summer, the rapids become more technical as boulders are exposed and white water increases.
Time Needed // Rafting tours range from 4 to 7 hours from pick up to drop off. Most tours have a photographer on the team, so don't worry about bringing a camera.
Book // You can book your rafting tour in advance. Choose from 3 of the most popular trips – we took the 6-hour trip and LOVED every minute.
Tips // Looking for more extreme activities to keep the adrenaline pumping? Test your mettle as you go canyoning over Los Molinos Canyon. The tour companies in town can arrange it for you, and because it only takes a few hours, it's ideal for those short on time.
More // We've shared all our advice and tips for Rafting in Chile in our post: Rafting Futaleufu River: An Adventure Travelers Guide (coming soon)
2. Find A Secluded Riverbank For Some Peace & Tranquility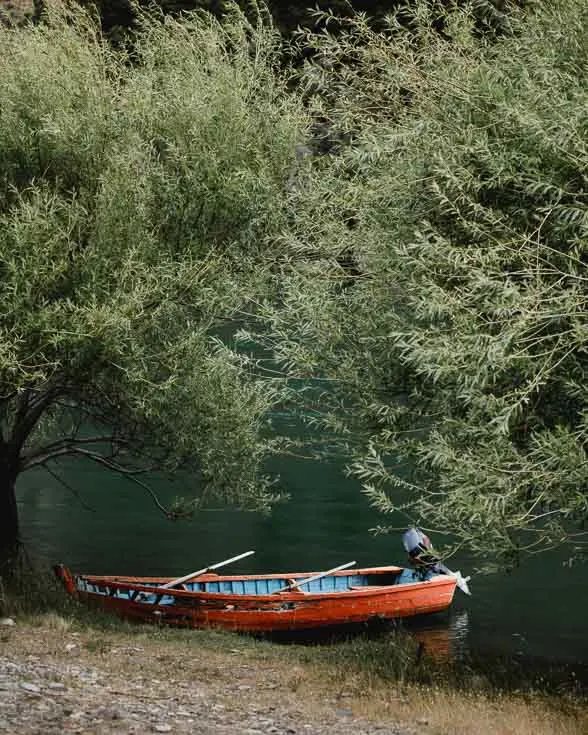 If you're not quite ready for exhilarating white water rafting adventures, fear not; Futaleufu is blessed with more than one river. You're never far away from an idyllic haven, tucked away from tracks and trails, so you can indulge in secluded tranquility.
There are plenty of locations along the river banks, well-frequented by locals and tourists alike; you won't have these to yourself, though.
We recommend exploring the back road along the Rio Espolon and further afield towards the Azul River to find your own hidden gem. And when you've found it, fallen in love with it, and had your fill, keep it a secret.
Tips // Enjoy the Patagonian landscape responsibly and safely. The rivers are indeed gorgeous, but calm surfaces often disguise turbulent dangerous currents.
Leave nothing behind that wasn't there when you arrived and take nothing you didn't bring (unless you happen upon someone else's trash).
Be considerate when parking. You'll find no parking lots out here, and many roads are narrow and winding, so park well off the road. You can usually find a suitable place to pull over but don't open gates or park on private land.
3. Fly-Fishing in Patagonia's Crystal Clear Rivers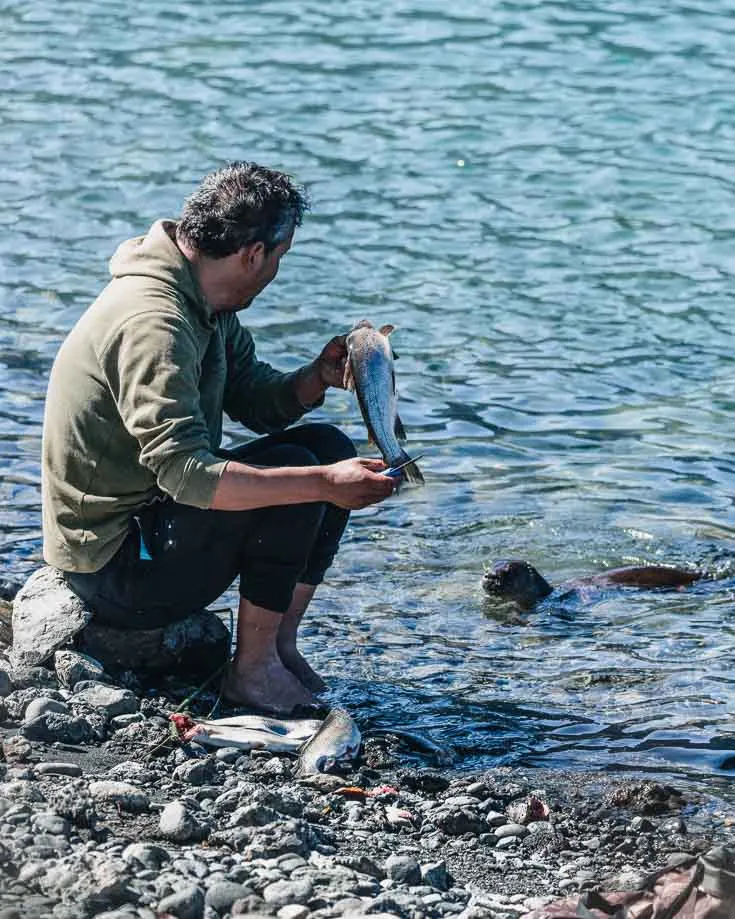 With two massive rivers on the doorstep, both perfect breeding grounds for tasty mayflies, caddis, and dragonflies, Futaleufu's waterways are a paradise for fly-fishers.
Whether you prefer to wade thigh-deep into the crystal clear waters, fish from the riverbank, or float on a cataraft, the rivers are full of trout and, at the right time of year, salmon.
Booking an organized fly-fishing trip means you don't need your own gear, your guide taking you straight to the heart of the action.
If you have your own tackle, simply choose your spot. Fishing supplies are readily available in virtually every store in the village.
For quality flies, pay a visit to the glorious La Bodega de las Moscas (fly shop), next door to Antigua Casona restaurant on the plaza.
Fortunately, the sport isn't exclusively for experienced anglers. The tour guides are patient, friendly, great fun, and well used to complete novices. And believe us, once you've landed your first catch, you'll be hooked too.
When // The fishing season runs from November to the end of April. If fishing without a guide, you must buy a fishing license from the tourist office. Spot checks happen regularly, so carry your permit with you.
Tips // Fishing permits can be used nationally, so if you hope to fish in other places in Chile, consider buying a monthly or even annual permit. If your trip is longer than a month, the annual permit offers the best value.
Some guided fishing tours are on a catch and release basis. Check with the guides before you book, so you get the type you prefer.
4. Hiking to Piedra de Aguila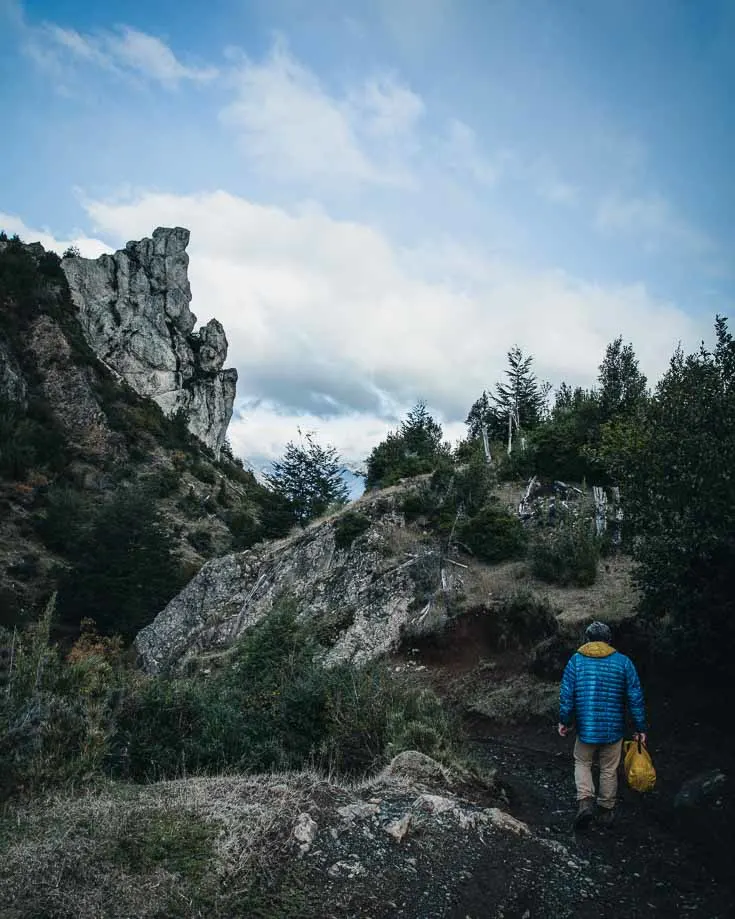 Hiking in Patagonia isn't a pastime exclusive to Torres del Paine, Cerro Castillo, and Mount Fitz Roy.
Lesser-known trails leading to hidden viewpoints leave thousands of trekkers spellbound each year.
Sure, there are popular, well-known treks but many more are devoid of signposts, seemingly exclusive to those in the know.
Piedra Del Aguila is one such hike.
It's the most popular day hike in Futaleufu and well signposted once you know where to look. But even at the height of the season, you won't share the trail with hoards of visitors.
If you only have time for one relatively short hike in Futaleufu, this is for you.
A steep, winding, uneven climb is rewarded on your arrival at the summit of the Rock of Eagles with romantic lake views and snow-capped peaks.
Where & When // From Futaleufu, reaching the trailhead is the same on foot as it is by road.
You can find it here on Google Maps.
The dirt road from the village follows high above the meandering path of Rio Espolon. There are several viewpoints along the way, best experienced on foot.
Take the trail right after Puente Bella Vista, then follow the signposts for about a kilometer. There's no formal parking lot but plenty of space. Just be respectful of the land and other trail users.
During the long summer days, starting in the early morning or late afternoon allows you to avoid the midday heat. Always be aware of the conditions on the trail and the weather forecast before setting out.
Time Required // It's a 2.5 km ascent, with the latter half being quite steep. We recommend allowing at least 2-3 hours to complete it plus a bit for a post-hike dip in the river on the return to the village.
Tip // The final stretch of the hike is on private land. The owner charges a small admission fee, so bring some small change in pesos.
5. Climb Mirador de Cerro La Bandera for Panoramic Views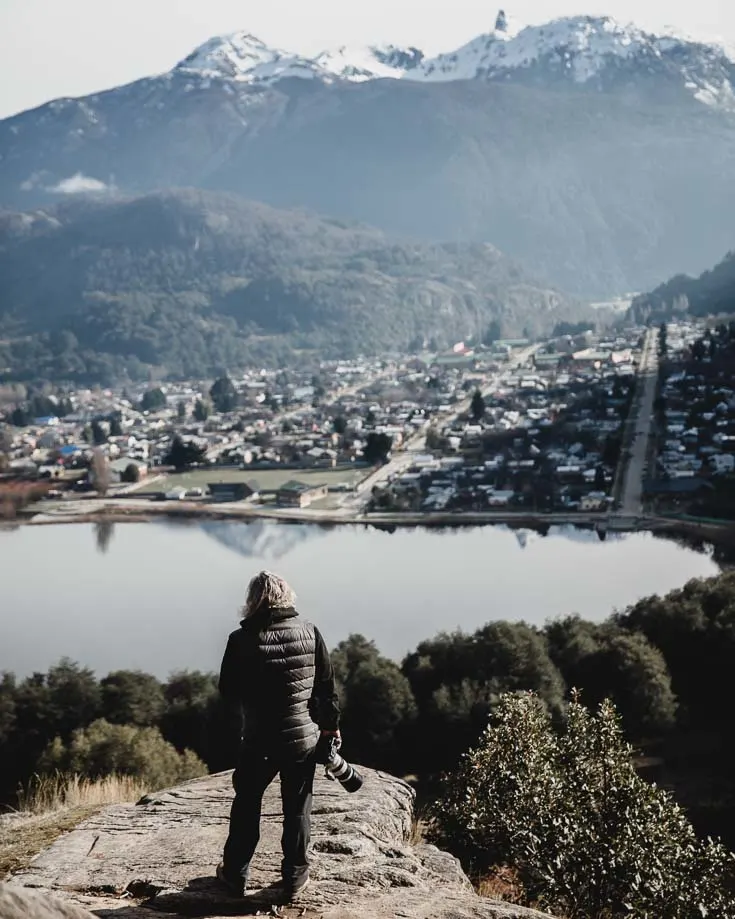 Only with a bit of altitude do you get a real sense of Futaleufu's position within the landscape. And that's why Mirador de Cerro La Bandera is so fantastic.
The Chilean flag proudly adorns the top of the hill, the ultimate destination after the steep climb. The ascent can be slippery after rain and, in places, a puzzle to navigate.
Perseverance is rewarded with hidden waterfalls, the tranquility of the dense forest, panoramic views of the Big River, mountain peaks and an appreciation of how the village snuggles into the landscape.
It's also home to one of our favorite vistas of the valley. The reason the locals proudly refer to Futaleufu as a landscape painted by God is no more evident than from here.
Where // The trailhead is half a mile from the plaza (Google Maps). There is a rangers office, and if it's open, you may be asked to pay a small fee, so bring small change.
Tips // There's no sensible place to park at the trailhead, so arrive on foot. Leave your vehicle at your accommodation or in the plaza.
Time Required // The walk takes 1-2 hours. However, we recommend allowing between 3 and 5 hours for the whole trip, so you have plenty of time to soak in the various views.
Don't have enough time? For another stellar view, take the 20-minute trail to Mirador Torre De Agua (Google Maps), or Water Tower. Located alongside Laguna Espejo, the ascent involves climbing a steep concrete staircase, climbing a stile, and a short scramble to the top.
6. Wildlife Spotting in Futaleufu National Reserve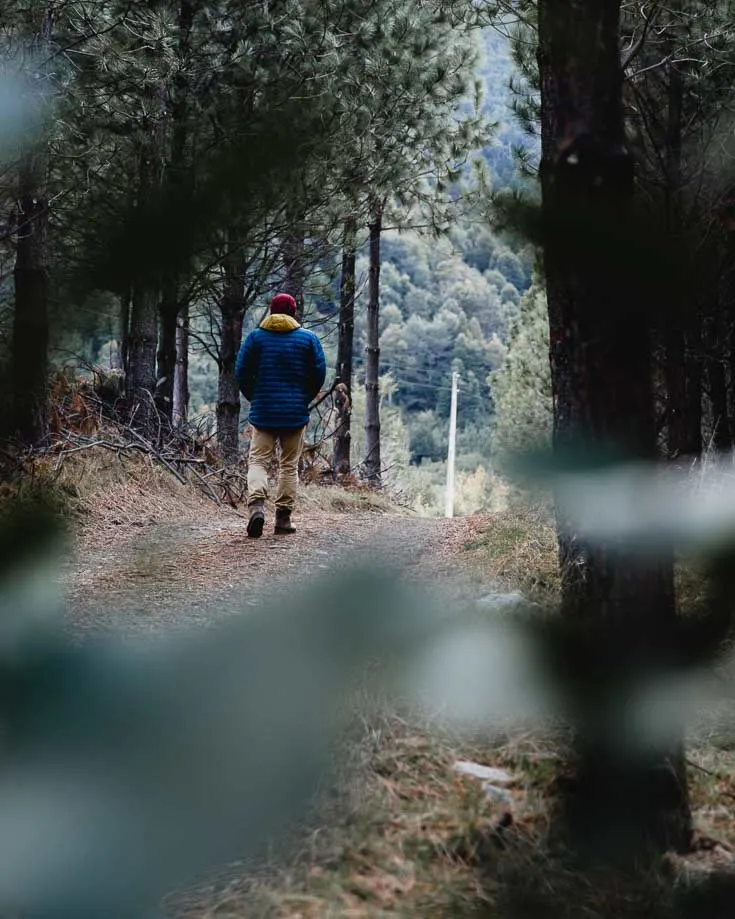 Chile is home to 10 of the World's Biosphere Reserves, including Torres del Paine National Park and San Rafael National Park.
Along with other reserves like Alerce Andino, Hornopiren, and Villarica, Futaleufu National Reserve is part of the World Biosphere Reserve of the Temperate Rainforests of the Austral Andes.
It's a local treasure and forms part of one of the largest and most ecologically intact forest remnants on the planet.
Home to puma, skunks, Andean foxes, and the endangered huemul, a deer native to Chile and Argentina and incredibly difficult to sight.
Twitchers will love the reserve, and condors, woodpeckers, and even the Austral Parakeet are all easy to spot here.
Hiking routes lead through the forest trails to viewpoints for stunning vistas of high waterfalls and the dramatic valley.
Where // The entrance to the reserve is about 2.5 km from town (Google Maps), and admission is free. Find the latest information about opening times and any visitor restrictions on Conaf's website.
Tips // There are no amenities in the reserve, so bring supplies and please, leave no trace.
There are various walking trails available, so you can easily find a route to fill a morning or a whole day.
7. Horse Riding to Lago Las Rosas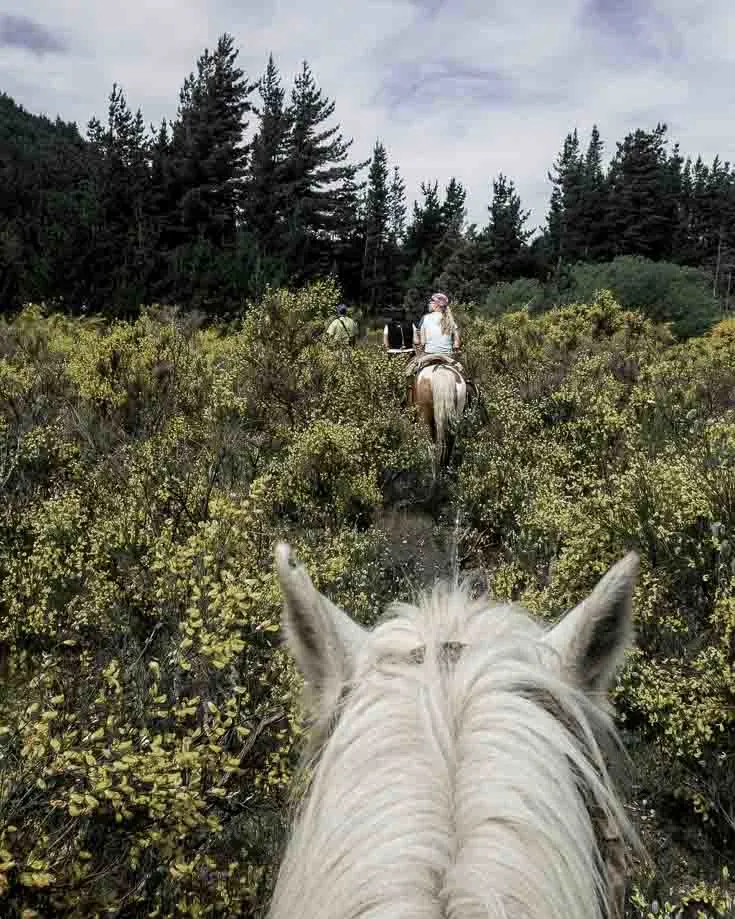 The first settlers to Futaleufu in the early part of the 20th century arrived on horseback. With continued reliance on cattle ranching and the rugged terrain of the surrounding landscape, horses remain an essential part of rural life.
But they're also an ideal means of transport for getting to places no 4WD can reach.
An extensive network of huaso senderos – cowboy trails – criss-cross the landscape, most dissecting private lands.
On this guided ride to Lago Las Rosas, you'll explore the native forest, ride past Piedra del Aguila and enjoy a traditional lunch in a rural Patagonian home and learn more about Andean culture.
With twists and turns, steep ascents, and uneven terrain, the meandering route is no challenge for the strong Chilean Corralero horses.
The entire trip takes around 12 hours so have a hearty breakfast before you leave.
Book // You can book your trip in advance here. There will never be more than four travelers in a group, so this won't feel like you've jumped on a tourist bus tour. Local guides will arrange pickup from your accommodation or the plaza.
8. Mountain Biking in the Andes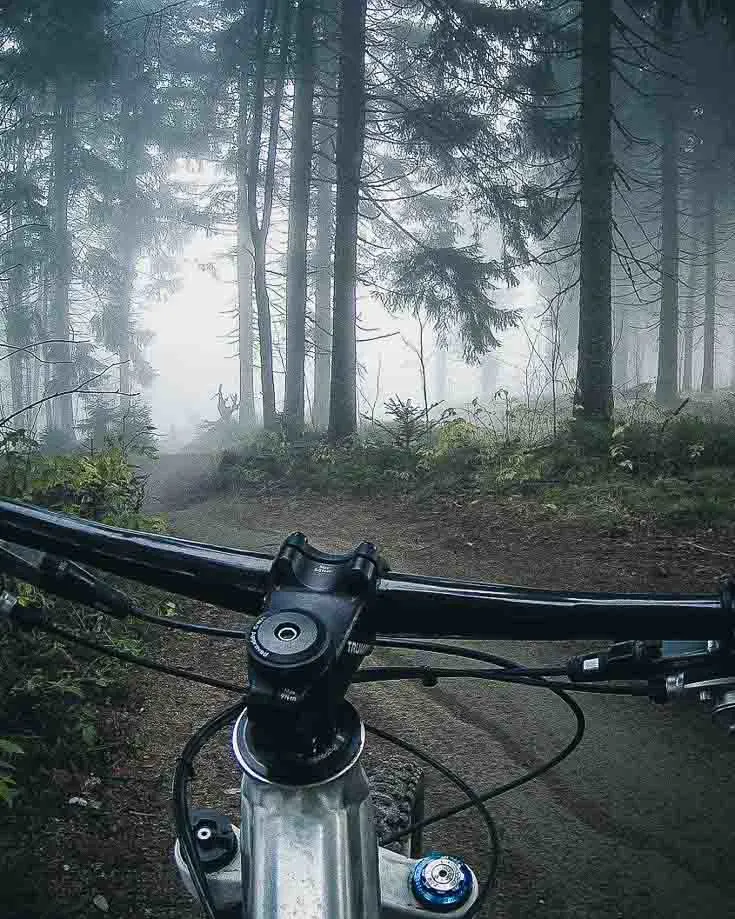 Every January, Futaleufu hosts the 57km Ruta de Los Valles mountain bike race. Now we're not suggesting you partake, but it does go to show there's no shortage of trails to explore.
You can hire bikes from the plaza and some hotels and hostels.
We're no biking experts, but we have spent a lot of time in Futaleufu. So we recommend taking a circular route around the River Futaleufu to discover some incredible views, cycle through dense forest, and still have a physical challenge.
The trails aren't marked on Google Maps so download Maps.Me for free. Here's a screenshot of our recommended route. We think you'll get the best views by taking it in a clockwise direction from town.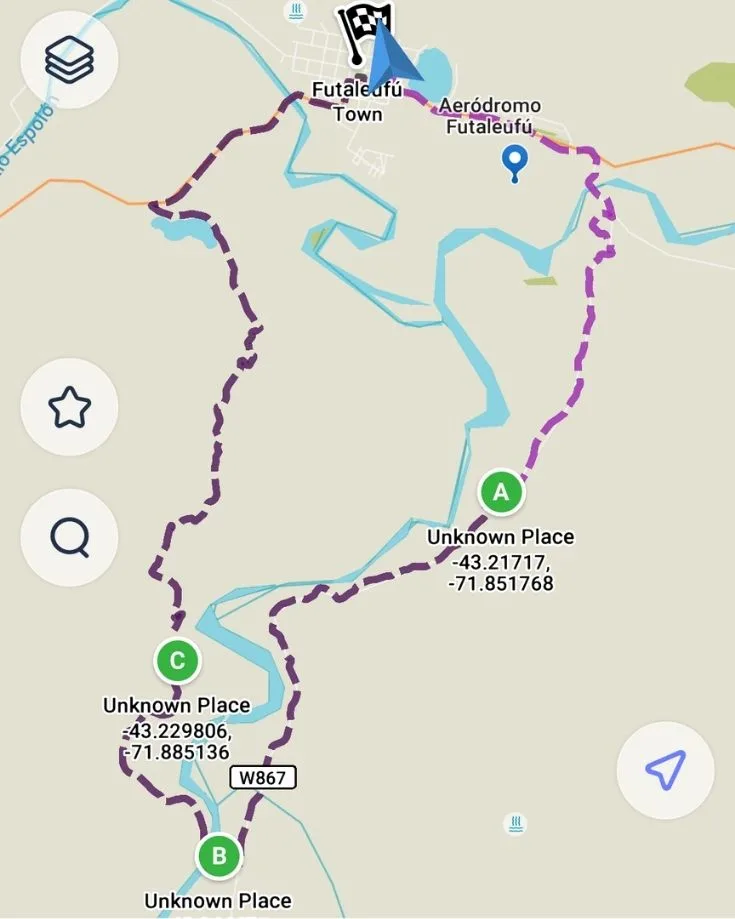 The route passes Laguna La Paz, where the dirt trails begin before climbing up through the forest into Las Escalas Sector.
The suspension bridge across the Futaleufu River marks the southernmost point on the route. The return leg of the route follows the river more closely, towards Futaleufu National Reserve.
Take time to enjoy the Fu's epic views and mesmerizing color as it crashes through the deep granite canyon below Puente Gelvez.
Tips // This route is just over 20 km, and as you can see from the bottom of the screenshot above, it's pretty steep in parts.
The circular route is not possible by car because the suspension bridge is for pedestrians only. So if you want to drive the route, you'll need to take each side separately. The west side is best done in a 4WD, especially if it's wet.
9. Explore the Rural Side of Patagonia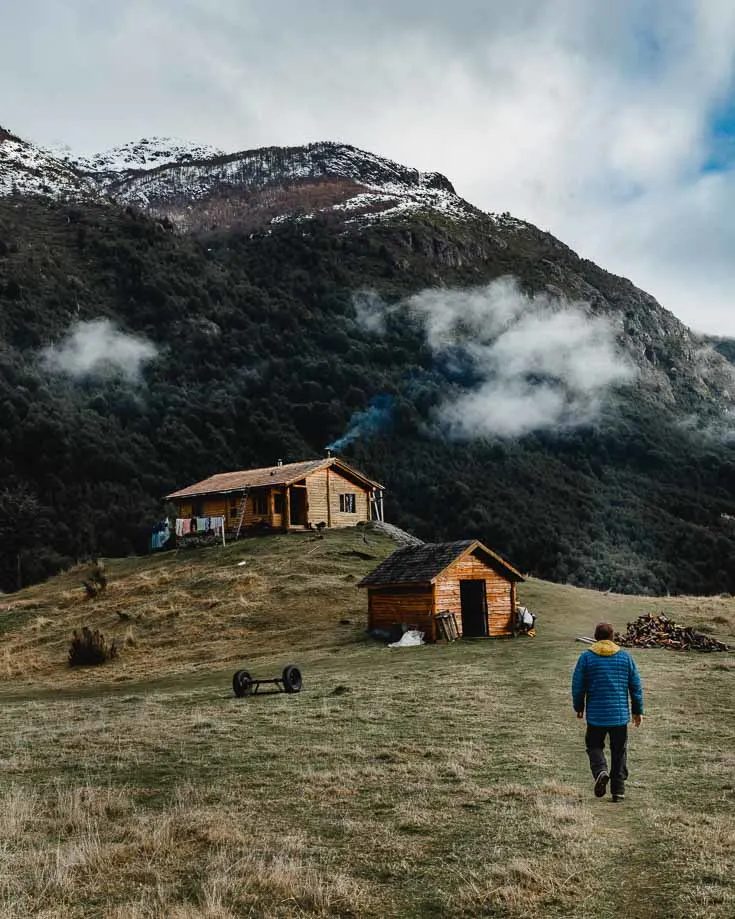 The rivers may well be the major attractions to draw in visitors, but it's the traditional Patagonian lifestyle that wins them over.
Estancia's have been in the same families for generations, and their fundamental way of life is seemingly unchanged.
With no central heating, firewood, or leña, is crucial for winter survival, and its importance is evident everywhere. Those with forested land supply the townsfolk with logs perfectly cut to fit in their stoves. These campos are managed, old trees are felled, making room for new growth, and maintaining their wooded lands' natural balance. Felled trees are left in situ for 2-3 years before being chopped and carried to town. It's a guaranteed job for life.
Others with smaller plots of land fell and chop their own trees, filling their wood stores to the rafters. Again their woodlands are managed to maintain their future supplies.
Swollen rivers transport fallen trees, depositing them conveniently for the keen-eyed gauchos, quick to claim extra leña for their stores.
Birthdays provide a perfect excuse (as though one is needed) for a gathering of friends and family. A lamb is slaughtered and butchered, respectfully prepared for the open fire Asado.
The feast of potatoes, salads, and BBQd lamb is washed down with a mug of chicha, an apple cider made right here in Futaleufu. It packs a punch and the secret ingredient for improving our spoken Spanish.
Beers, wines, and spirits are readily available if cider isn't your thing, and with enough, it works just as well at improving your linguistics!
To experience even a glimpse of rural life, you need to get off the already unbeaten path of Futaleufu and into the dusty tracks of the surrounding sectors.
Head out to areas like El Azul, Rio Chico, Pasarelo Ramos and Noroeste, Las Escalas, La Confluencia and La Difficultad.
You'll meet sinewy gauchos on horseback, clutching a tin mug of chicha or a maté flask, herding their cattle or sheep with the assistance of a couple of working dogs.
You'll get unique views of the landscape, rivers, waterfalls spilling into and out of lakes and feel a million miles away from anywhere.
This is the Patagonia we dreamed of when preparing for our South American adventure; only it's no longer a dream. It really exists; we've lived it, sheltered here throughout the dramas of 2020/21, and it's forever etched in our souls.
Tips // Try to book a few nights in a rural cabaña or ask the owners of your accommodation if they can recommend a farm visit. For a more organized affair, boutique hotels put on authentic experiences for guests. We've shared our accommodation recommendations at the end of this post.
Driving in rural areas is best left to experienced drivers. You don't need 4WD for many tracks if they're dry. But after heavy rainfall, they can get tricky. If you're unsure, always check the conditions with the locals in town or the tourist information office before you set out.
10. Take a Leisurely Boat Trip on Lake Espolon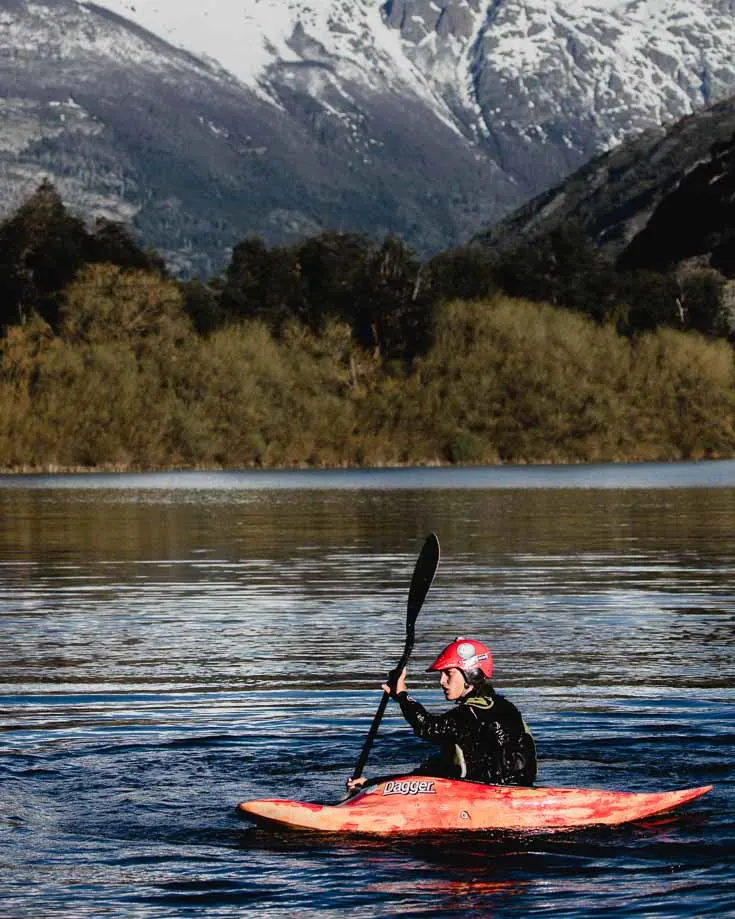 The final thing to do on our list brings us back to the water, though this time, it's a little more tranquil.
Surrounded by snow-capped mountains, spilling numerous waterfalls through thick forest to the shore below, Lake Espolon is a peaceful place for a kayaking adventure.
You'll find no crazy rapids or fast-paced activities here. Instead, look out for hidden beaches, enjoy lunch in a traditional Patagonian homestead and soak in the incredible surroundings.
You can book kayaking tours in advance here.
And if this feels like too much exertion, take the passenger barge from Puerto Calderon to El Espolon, at the far end of the lake.
No roads lead to El Espolon, so all residents and visitors must use the barge then hike 5 km into the village. Don't be surprised if you have to share the deck with livestock, either.
The boat trip takes about 90 minutes, each way. It only runs on some days, so check at the tourist office for the next scheduled trip.
The mouth of Lago Espolon opens up into Garganta del Diablo – Devil's Throat – a 200-foot high waterfall leading to the river below. You can explore the area on foot from Paserelo Ramos or use the footbridge from Puerto Calderon to view it from the top.
Where Is Futaleufu?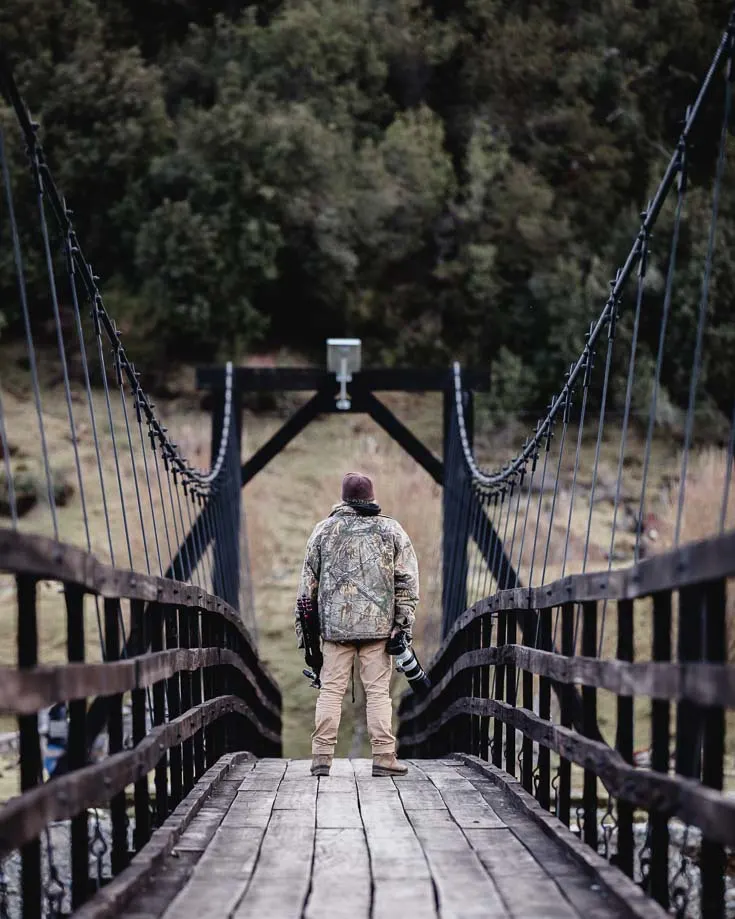 Futaleufu (Google Maps) is in Chile's Los Lagos region, 77 km from the main route of the Carretera Austral. The infamous Ruta 7 is undoubtedly one of the world's most epic road trips.
As with any road trip worthy of such infamy, the driving conditions present their own challenges.
The region's geography means the 400 km journey from Puerto Montt (Google Maps), the nearest Chilean city to the north, involves 2 or 3 ferries. Sinkholes, rockfalls, and landslides aren't uncommon, and the going is slow.
The town is only 10 km from the Argentinian border crossing, Paso Futaleufu, and it's this proximity that makes getting here far easier from Argentina than from Chile.
You can drive from Esquel in Argentina (Google Maps) in a little over an hour, making the village an excellent option for a cross-border, adventurous self-drive excursion.
The village of Futaleufu, on the shores of Laguna Espejo, is relatively small and the hub of tourist amenities. There are restaurants and cafes, campsites and accommodation, an ATM that usually works, a fuel station, a small mechanic's shop, and a good selection of grocery and hardware stores. The tourist office and most tour agencies are concentrated on, or close to, the plaza.
But while the village caters well to the demands of domestic and international tourists, the rewards for getting here are found in the surrounding landscapes and rivers.
How to Get To Futaleufu
Futaleufu is pretty remote even by Patagonian standards, so getting there is half the fun.
While there's a small airstrip in town, it's only serviced by private charters, so the only way to reach Futaleufu is by road.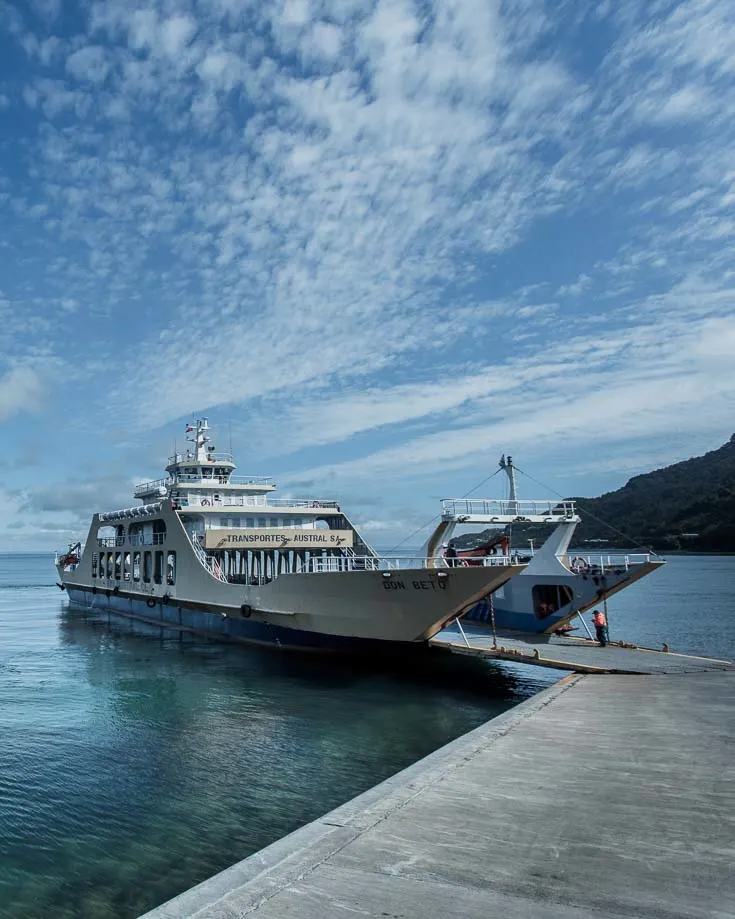 By Public Transport
From Northern Chile // Buses run from Puerto Montt to Futaleufu. But it's quite the journey involving 2, sometimes 3, ferries, change bus in Chaiten and takes a minimum of 15 hours. Better to take a couple of days to enjoy Chaiten and Pumalin Park before taking the 4 hours bus ride to Futaleufu.
Ferries also run to Chaiten from Puerto Montt. If traveling from Chiloe Island, take the ferry to Chaiten from Quellon on the island before boarding the bus directly to Futaleufu.
You can check the ferry prices and schedule with Naviera Austral and the bus schedule.
From Southern Chile // The closest large town south of Futaleufu on the Carretera Austral is Coyhaique, some 420 km away. Unfortunately, there's no direct bus, so if you rely on public transport, you'll need to take the bus to Chaiten and then catch another bus back down to Futaleufu.
Alternatively, you can change at Villa Santa Lucia, but you'll need to plan the timing well or find accommodation in Villa Santa Lucia. Currently, buses only run twice a week between Chaiten and Coyhaique. Check on the latest schedule and ticket prices here.
From Argentina // Buses run from Esquel to the Chilean border, via Trevelin twice a week. Once through the border formalities, the Futaleufu tourist bus brings you a few kilometers into the village. During the summer season, extra services are scheduled. Check the latest schedule and prices here.
Self-Drive
We recommend exploring the Carretera Austral at your own pace as a self-drive road trip.
Rental cars are available from Puerto Montt in the north and Punta Arenas in the south. Bear in mind, you'll pay extra if you drop it off at a different destination.
Better still, rent a campervan. Wicked Campers and Soul Vans are popular rental providers and can provide the necessary permit to allow you to drive it across the border into Argentina.
More // You can read more about driving in Patagonia here.
Where To Stay in Futaleufu
If you're focused on enjoying Futaleufu across a few days or just with a one-night stopover, it makes sense to stay in and around the village.
Depending on your travel style and budget, this could end up as a self-catering cabaña, a boutique hotel in town, a cozy, locally-run cabaña, a campsite in earshot of the Rio Espolon, a friendly hostel with dramatic views of the landscape, or a unique boondocking find.
There are many options in and around Futaleufu village, but consider heading out of town to a luxury lodge for something really special.
If the booking site shows no availability, either contact the hotel directly or just turn up. Unless your visit coincides with a big event like the Ruta de Los Valles mountain bike race, there will probably be room at the inn.
We've selected the accommodation options and tried to ensure you can find something great, regardless of your travel style and budget.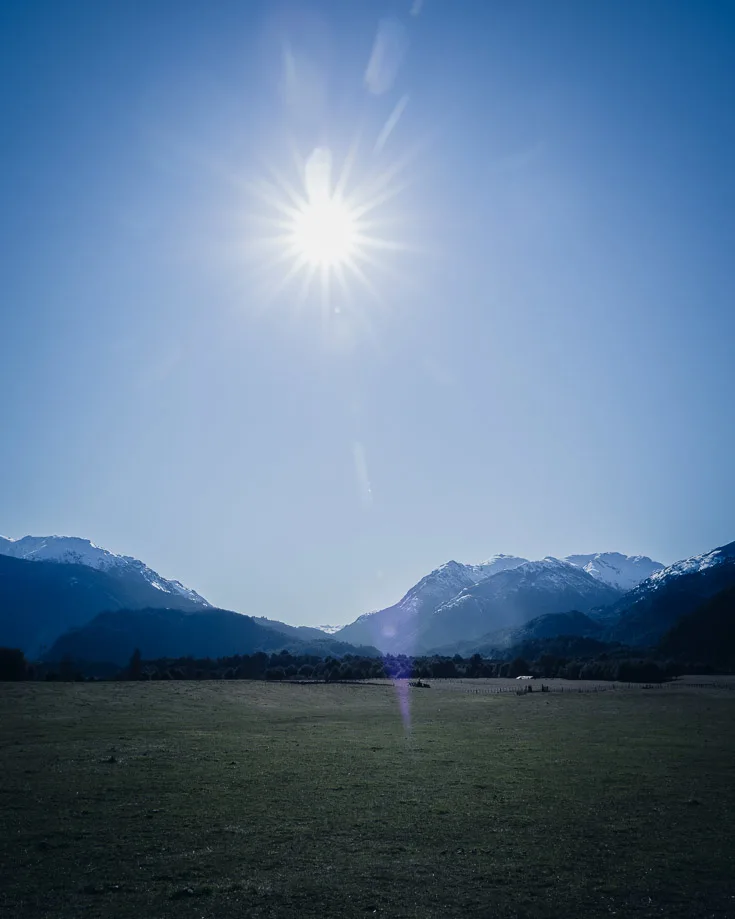 Unique Stays
Bio Bio Basecamp // If you want to focus on the activities Futaleufu has to offer with experienced guides in an incredible location with fantastic food and wood-burning hot tubs, Bio Bio Basecamp is right up your street. They offer multi-day rafting experiences, kayaking lessons, horse riding, and hiking in a rustic glamp overlooking the Fu. The reviews are incredible, so this is one to check out definitely.
Pata Lodge // Set in a 250-acre working farm, Pata Lodge is in an idyllic setting. Overlooked by snow-capped peaks, dense forest clinging to the adjacent cliffs, and hemmed in by the turquoise waters of the river, you might just struggle to leave here. The farm itself is part of a conservation and sustainable farming project, and you're invited to discover more about it. The accommodation is luxurious, but the wood-burning stoves and rustic chic create a relaxed, laid-back atmosphere that's hard to beat.
Take a look at this short video for a tiny glimpse into the picture-perfect Patagonian setting.
Hotels, Hospedajes & Cabañas
Peuma Lodge Patagonia // For a truly luxurious experience, look no further than this cozy Patagonian lodge in the heart of the native forest. Think rustic charm, wood-fired hot tubs, plush rooms with private wood-burning stoves, and great food in wonderful surroundings.
Although located over 20 km outside of Futaleufu village, everything you need is on hand. You can arrange all your activities on-site. The excursions from town begin with a drive to the more remote areas like this, so if anything, it's more convenient.
Hotel El Barranco // Arguably the most popular hotel in Futaleufu. With forest views and a private swimming pool, El Barranco is a homely, family-run hotel. With a great restaurant and well-stocked bar, you can unwind at the end of an adrenalin-filled day in absolute comfort.
Futaleufu Hostels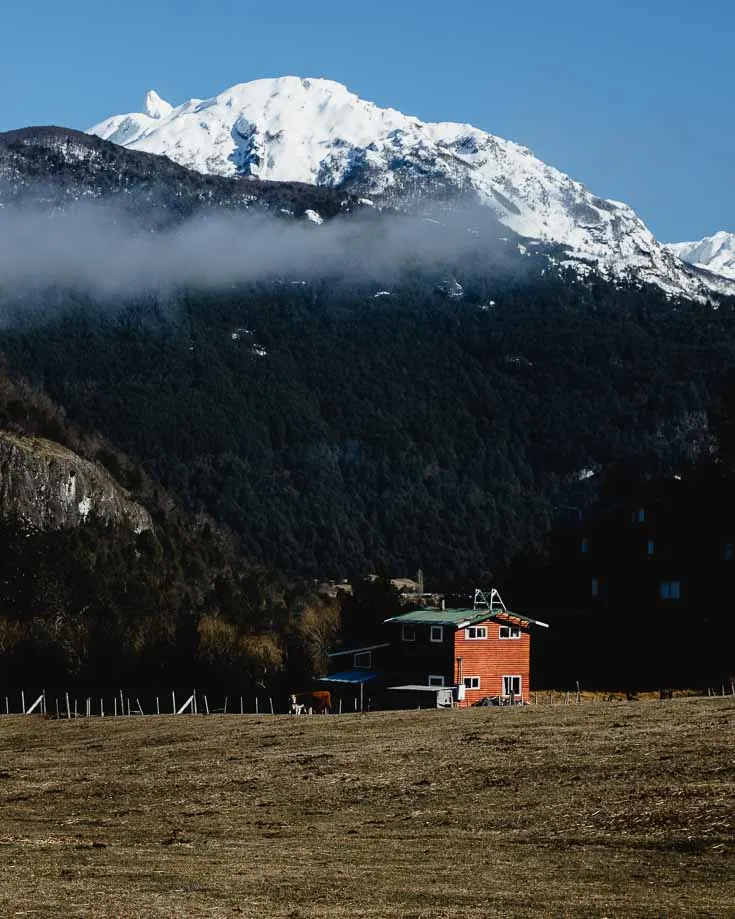 Hostel Las Natalias // At the foot of the Cerro La Bandera, Hostel Las Natalias has a commanding position with fabulous views. It's a traditional hostel, warm and cozy, with an organic garden from which you can buy produce, has a good guest kitchen and helpful staff. The reviews of this large hostel are excellent, but it does mean it's in high demand, especially in January and February.
Outdoor Patagonia La Yunta // Basic but clean and well situated to local restaurants is the budget traveler's option. The team at La Yunta organizes and runs rafting excursions too.
Hosteria Futaleufu // Clean, comfortable rooms, free wifi, complimentary breakfast, and friendly, helpful staff right in the village. What more do you need?
Campsites in Futaleufu
Camping El Pescador // Located two blocks from the plaza and one block from the shore of Laguna Espejo, Miguel and Rosa of Camping El Pescador provide a warm welcome to tent campers. Facilities are simple but functional, with hot showers and a cozy quincho to provide shelter on rainy days.
Camping Los Coihues // Riverside camping, providing electricity, picnic tables, and lights at each pitch a few minutes walk from the plaza.
Camping Aldea Puerto Espolon // On the opposite bank of the Rio Espolon from Camping Los Coihues, and has an on-site micro craft brewery called FutaAlhue.
Boondocking in Futaleufu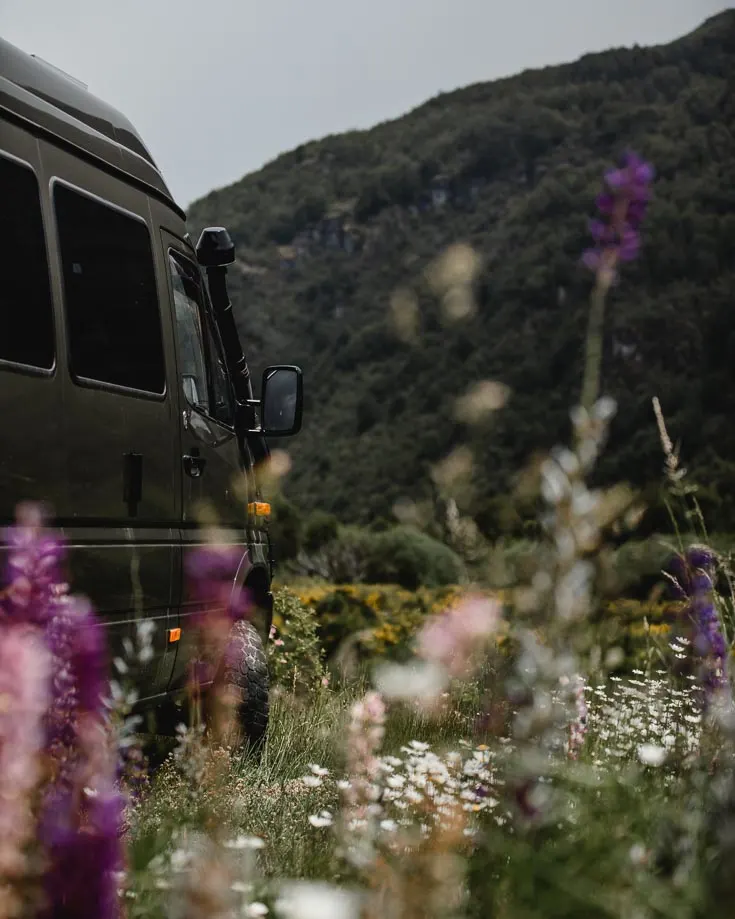 Boondocking is freely available in most of Patagonia. It's a fabulous way to enjoy the natural environment, with unique views in tranquil seclusion.
Avoid parking too close to rivers. Weather conditions change quickly, and if there's a big melt or sudden rainfall, water levels can rise rapidly, even a long way down the valley.
Please, if you intend to wild camp or boondock, do so responsibly. Be respectful of the environment, residents, and landowners too.
If you find a place to camp overnight but close to houses, it's probably not suitable. If in doubt, ask the neighbors if it's ok to stay.
More // We've shared all our advice and tips for wild camping responsibly in our post: Wild Camping for Motorhomes: A Dry Camping & Boondocking Guide
Where To Eat
There are more restaurants in Futaleufu than you would expect a small village to handle, but it reflects the area's popularity.
During our extended stay in Futaleufu, most restaurants were closed or had limited opening times due to the strict and ever-changing quarantine rules.
We still managed a few meals out, and here are our absolute favorites:
Tour Agencies in Futaleufu
If you haven't booked your excursions in advance, speak to the local tour agencies to see what tours they're running and their availability.
Most of the hotels and hostels can liaise with them, or you can speak with them directly.
Here are a few tour agencies; their offices are located on or around the plaza on Pedro Aguirre Cerda:
How Long Do You Need in Futaleufu?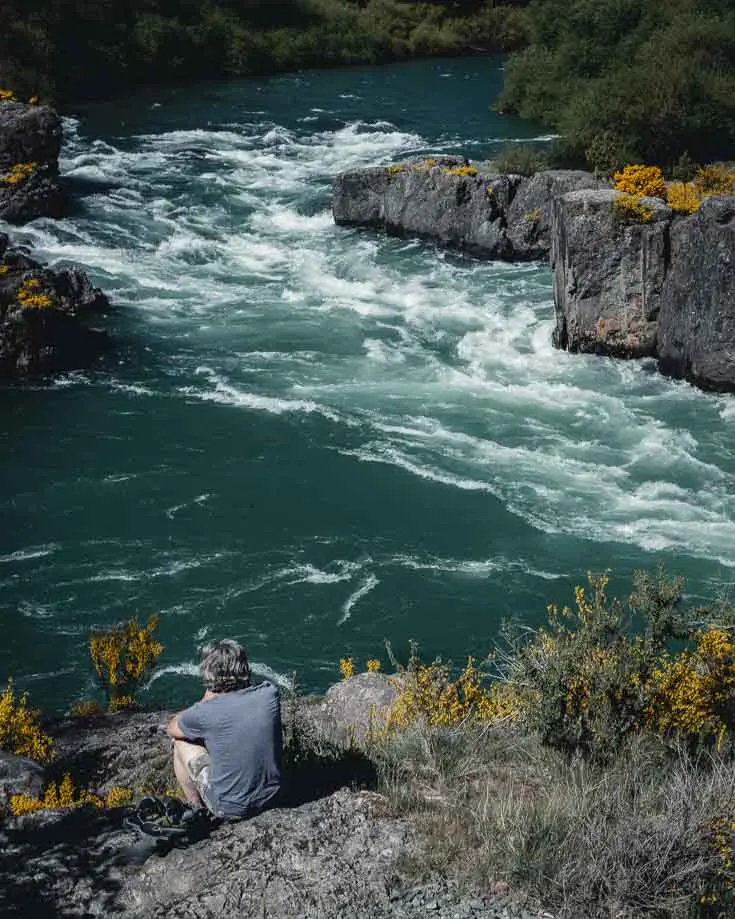 It depends on what you want to do during your visit.
Futaleufu's primary draw is the phenomenal white water rafting experiences on offer. In theory, you could spend just one day in Futaleufu, take an organized rafting excursion, and consider your visit to Futaleufu complete.
But such a short stay simply doesn't do this part of Chilean Patagonia justice.
Instead, it's better to spend time exploring. Reconnecting with the great outdoors is easy when surrounded by such natural beauty.
If time and budget allow, we recommend choosing to travel slower. A stay of 3 nights will allow you to immerse yourself in Futaleufu's tranquillity, take several hikes, spend an hour or so lazing by the river, and resupplying for the next leg of the Carretera Austral.
If you're in even less of a rush, take time here. Local hiking routes can fill as many days as you have. Paddling in the glacial rivers offers a welcome break from the mid-summer heat and the outlying farms a glimpse into traditional Patagonian life.
Best Time to Visit Futaleufu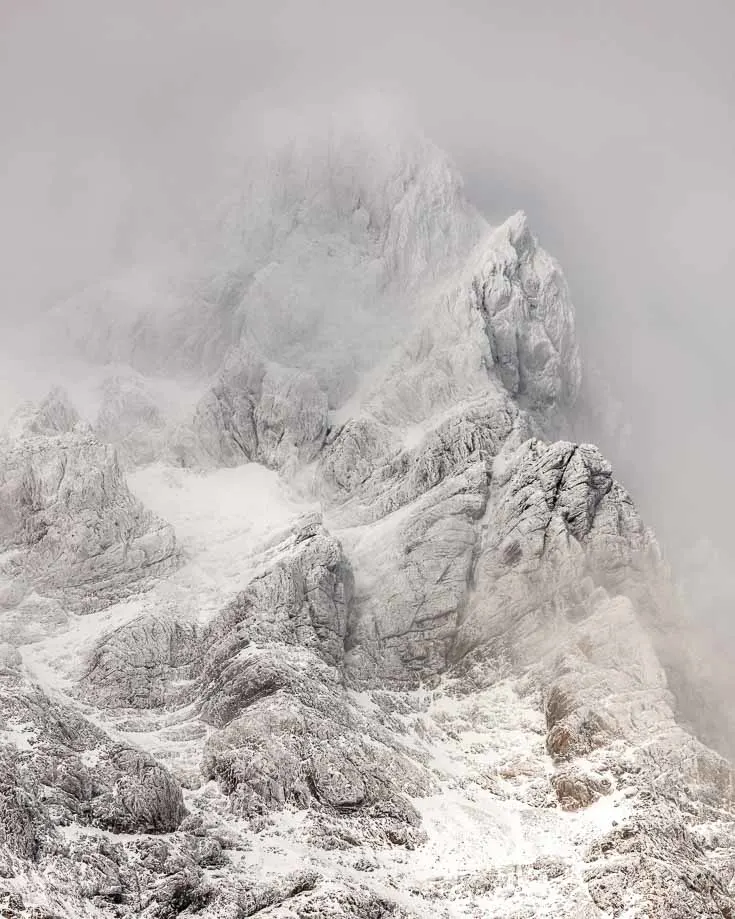 December to February is the most popular. The long summer days mean pleasant temperatures and a better chance of good visibility and sunshine. With the air filled with the aroma of blossoming broom and lupins, the rivers are at their fullest from spring to the end of summer, a prime time for water sports and activities.
It also coincides with Chilean school summer vacations, so demand for accommodation and activities is at its peak. If your heart is set on staying at a particular accommodation in January or February, consider booking in advance to avoid disappointment.
The popular summer season doesn't guarantee sunshine, though. Northern Patagonian weather is temperamental. The mountain peaks can be shrouded in low-hanging clouds, rain isn't out of the question, and the summer Patagonian winds can whip up without notice.
Fall brings a burst of color. A smattering of golden poplar trees glows in the late afternoon sun, while the Coihue forests higher up the mountains turn to deep rust. Unfortunately, rainfall is high throughout June, and disruption along the Carretera Austral and the Navimag ferry schedules do occur.
Visiting in winter, with the peaks covered by a blanket of snow, is magical but getting there becomes a challenge. Snow chains are essential, even on the major routes. Hiking routes can be closed, fishing isn't an option, and there's little in the way of tourist services available.
More // For more detailed information, check out our post on the best time to visit Patagonia. It includes loads of information about what to see and do during every season.
River Safety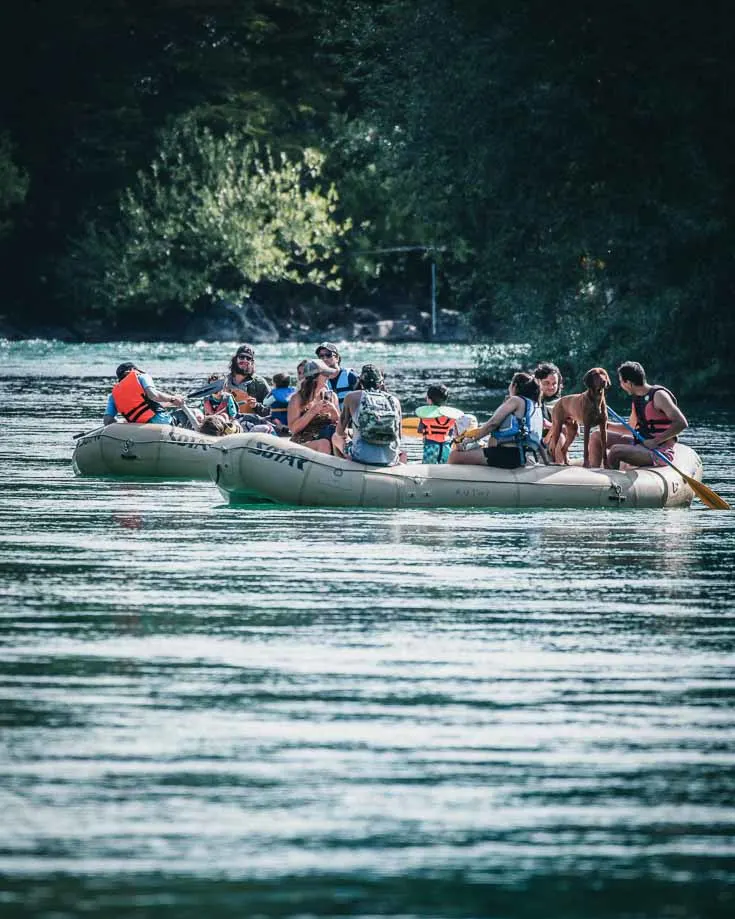 The rivers in Futaleufu are truly stunning but don't underestimate the hazard they present. Even the most tranquil-looking stretches can hide strong undercurrents.
Don't jump off bridges, ever – we've seen the consequences, and it's not pleasant for the kayakers who will need to recover your remains!
If possible, wear a flotation device and if you have any doubt about the safety of the water, keep out of it.
If you do get swept away on a river, lay back, feet pointing downstream, and always keep your arms and legs raised – this will help you avoid getting snagged on fallen branches beneath the water.
Environmental Issues
Futaleufu is ranked in the top 100 sustainable destinations in the world, and they are rightly proud of their environmental efforts.
Futaleufu recycles pretty much all its waste with hardly anything going to landfill.
Hopefully, you don't need us to tell you not to leave any litter behind but just in case, don't. This is a pristine part of the world, and it's best kept that way.
Always carry a spare rubbish bag with you to take your litter back to town or collect anything you see lying around.
Despite the rainfall, Patagonia suffers from forest fires that devastate the local flora and fauna. Strong Patagonian winds can pick up embers in a moment, and there's nothing you can do to stop it from spreading.
It is strictly forbidden to light fires in Chile outside of designated facilities across the country, and you risk fines, deportation, and even criminal charges.
Border Crossing Into/Out Of Argentina
No fresh fruit, vegetables, dairy, or meat are allowed to pass between Chile and Argentina.
The process is the same in both directions. You deal with the vehicle's paperwork first with the Aduana – customs officials – stamping it out of the country – or, if it's a non-Chilean vehicle, handing in your Temporary Import Permit (TITV).
Then visit the immigration officials to get your passport's exit stamp. When leaving Chile, you must hand in the PDI ticket you were given on arrival.
On the other side of the border, visit the immigration officials for your passport stamp, then the Aduana. It's all relatively painless unless the Aduana decide to search for a rogue slice of ham.
Books to Inspire Your Patagonian Adventure
Andes | Michael Jacob // A fabulous read where the author travels in the footsteps of early explorers along the continent's backbone, discovering history, legends, and myths en route. A must-read (at least once) and as much an education as it is entertaining!
In Patagonia | Bruce Chatwin // There aren't enough superlatives to explain how much I completely love this book. To read it once before arriving in Patagonia makes you even more excited than you probably were when you booked your trip. But read it while you're in Patagonia too. And again when you've left. Breathtaking!
Where to Next?