Marrakech is one of the most evocative places in the world. Just the name conjures up images of a melting pot of red sandstone buildings, dusty streets, ancient medinas, vibrant souqs and exotic entertainment.
All this set against a backdrop of the High Atlas Mountains and deep blue skies. There are so many things to do in Marrakech and you may well want to squeeze much of it into a short weekend break.
It's impossible to see it all in such a short time so to help you plan your visit, we've put together this short guide to Marrakech.
Things to do in Marrakech | A short guide
Nothing can really prepare you for your first visit to Marrakech. It's everything you imagine. More even. But for many, it's so much less. It's not a city for everyone.
You'll see some sights that don't lie well with you. You'll be lucky to escape the medina without the slightest bit of hassle and the heat can become overwhelming.
Love it or hate it, your first visit to Marrakech is an unforgettable experience.
Things to do in Marrakech
Shopping & haggling in the vibrant souqs
Of all the things to do in Marrakech, most visitors want to experience the infamous market place. The souqs of Marrakech are vibrant; a whirlwind of colour and noise.
Crowds of people weave through the tight, dimly lit alleys. Hundreds, if not thousands of stall owners all jostle for your attention.
Djellaba clad stallholders offer brightly coloured leather goods, Moroccan lanterns, rugs and ceramics, all at the 'best price' of course. Haggling is mandatory but no guarantee the salesman won't rip you off.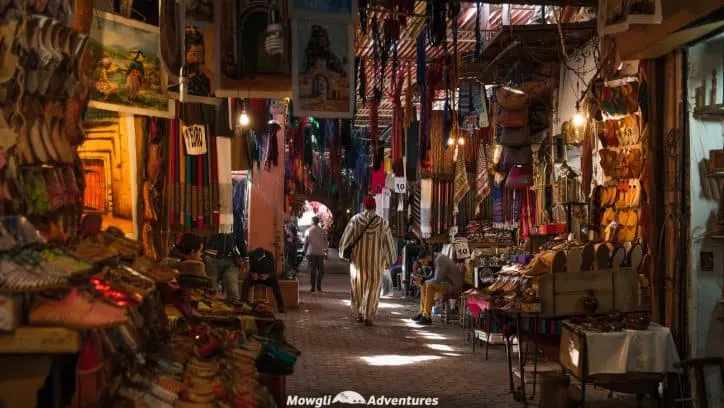 The souks aren't for everyone. The hustle and bustle can make it stressful and you'll receive plenty of attention from stallholders competing for your trade.
Add to this the unfamiliar aromas, oppressive heat and an increasing sense of getting lost and you've got the perfect mix for an eventful day.
If you've never visited a souq before it's a must see. Just take your time, try not to panic if you feel lost and enjoy the experience!
Dining out at Jemaa El Fna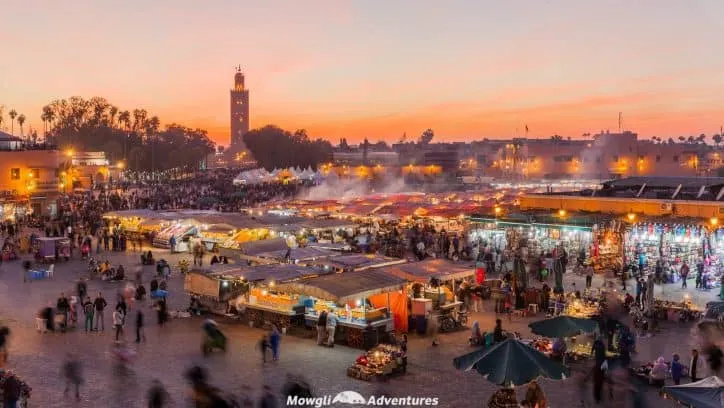 The main square of Morocco's red city is a large open space during the day, dotted with a few snake charmers and fresh orange juice carts.
It's not the most pleasant space, at least not in our opinion. But as dusk falls, the call to prayer from Koutoubia mosque echoes across the square and the place comes alive with exotic entertainers, authentic dining stalls, story tellers and musicians.
The atmosphere is electric. Don't miss this because there's nowhere else in Morocco like it. Of all the things to do in Marrakech, this will be the most memorable, whether you love it or hate it.
Marvel at the architecture of the Saadian Tombs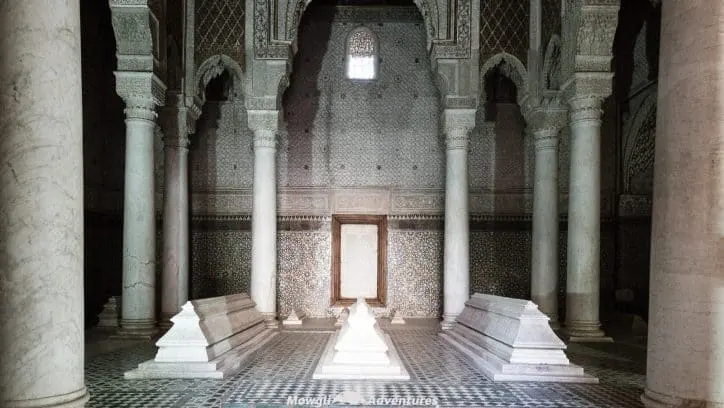 Saadian Sultan Ahmed al-Mansour ed-Dahbi exuded extravagance and wealth during his life. So much so it's evident in his death.
The tombs lay undiscovered until 1917 and this mausoleum is the final resting place for the Sultan and 60 of his family. The grand mausoleums decorated in gold and marble make for a lavish resting place.
Although it doesn't take long to see it all, it's a peaceful place to visit. The grounds are a delight, full of colourful bushes, orange trees and resident felines try to stalk the chirpy birds or grab a morsel from a generous visitor.
Admission to the Saadian tombs is a mere 10 MAD and by far the best value interlude to the more hectic side of Marrakech.
Admire the Ben Youssef Madrasa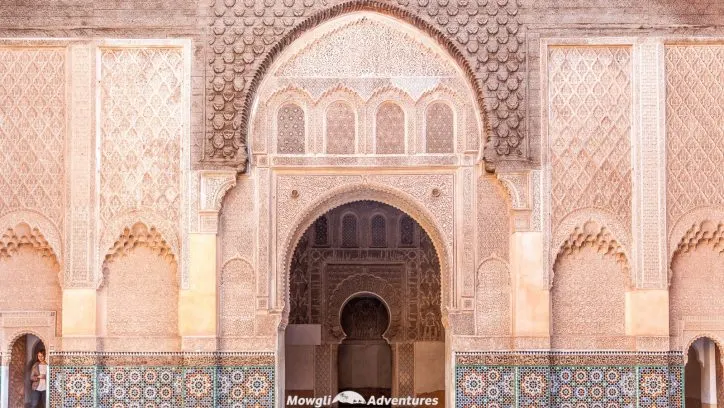 Ben Youssef Madrasa is the largest Qur'anic teaching college in Morocco and an impressive sight indeed. The 130 dormitory rooms seem more like cells, all located around a cool central courtyard complete with (waterless) fountain.
It's no longer a working college and today is a popular tourist attraction.
The architecture inside Ben Youssef Madrasa is wonderful. Wander around to admire the ornate archways, decorative tiles and make sure to head upstairs to see the pokey cells so many students once called home.
Cool down in Bahia Palace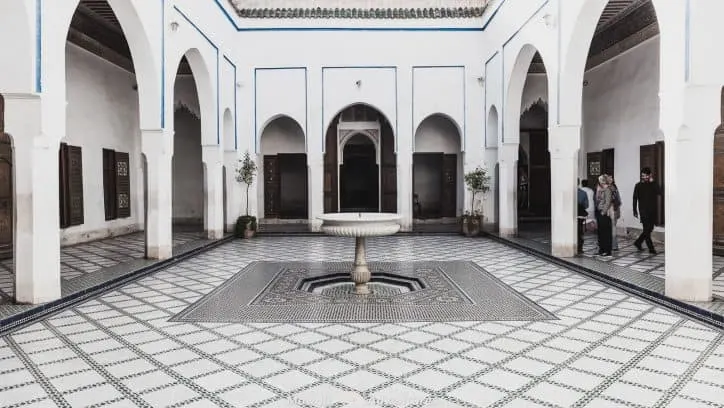 Morocco's most noble artisans built the beautiful La Bahia Palace over 14 years. Although the palace has 150 rooms, only a fraction of it is open to the public.
It's a shame because what you can see is extraordinary with stained-glass windows, painted ceilings and handwoven silk panels.
In the midday heat, it provides a cool escape, especially in the interior courtyard garden. The entrance fee of 10 MAD won't even put a dent in your small change.
Wander the gardens of Jardin Majorelle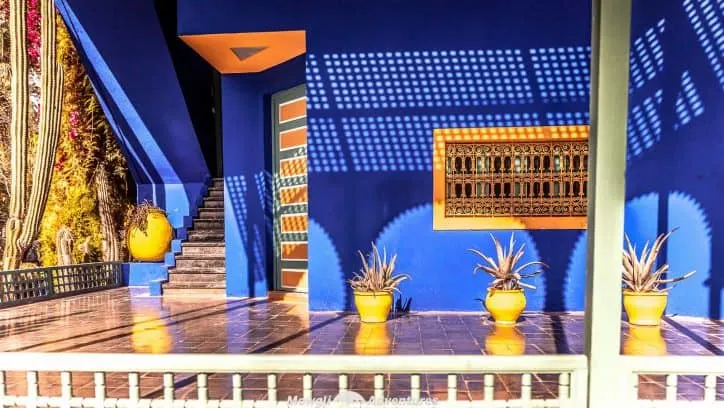 The Jardin Majorelle is one of Morocco's most visited tourist attractions. The French painter, Jacques Majorelle created the gardens between 1886 to 1962.
It took him forty years and utter passion and dedication to finish it. It's yet another cool escape from the hectic life on Marrakech and ultra-cool place to laze away a couple of hours.
There's a 70 MAD entrance fee for the gardens and another 30 MAD fee for the onsite Berber museum.
Stroll around the Seven Saints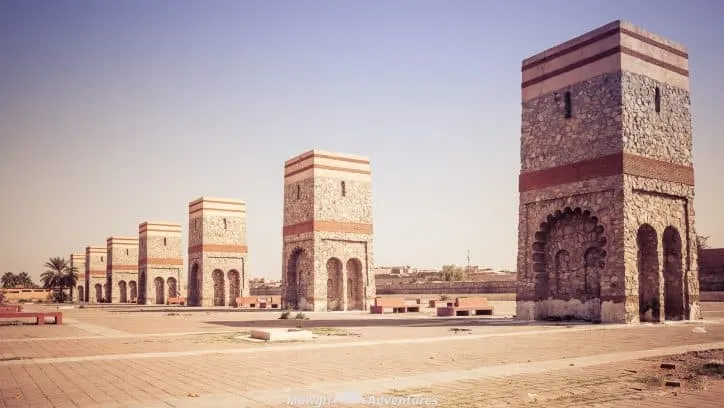 Marrakech has seven patron saints who were Sufi mystics and Islamic scholars. Moroccan's believe they look after the city and each has a mausoleum where pilgrims and those wishing for help from the Saint or Sidi can pray at his tomb.
You can visit each, spread all over the city. In 2005, seven towers were built to honour the seven men, who are part of the history and culture of Marrakech.
However, the area is dirty and unkempt and says little of the importance of the men it is supposed to honour.
Step back in time at the high tech souq
The high tech souq is the weirdest and most unusual place in Marrakech. It may not be on everyones list of things to do in Marrakech but it's fascinating.
An area of the souq is given over to the high tech market. The contrast of the high tech gadgets in the tiny stalls that have existed for over a thousand years is so unusual, we simply found it amusing.
You should take the high tech name with a pinch of salt though.
Many of the gadgets available may have been high tech in their day but they've definitely been superseded since. It's more of an antique market to be honest.
Indulge in a glass of fresh orange juice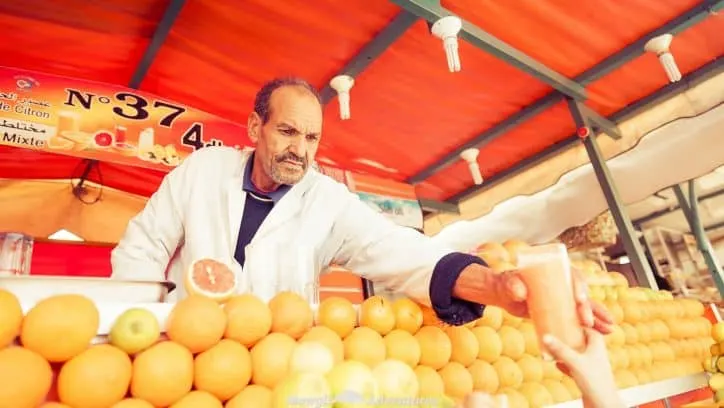 Orange juice sellers have stalls all over the centre of Marrakech and especially around the edge of Jemma el Fna. The orange juice is the perfect refreshment in the heat of the day and will set you back around 4 dib dobs. That's about 30p!
Top tip – some unscrupulous sellers water down the juice and keep it in a jug behind the counter. Avoid this by watching your seller freshly squeezing the fruit.
Trips from Marrakech
Marrakech is a terrific city break in Morocco but it's also a great base for a few excursions. For the trip of a lifetime, take a few days out to venture into the Sahara Desert.
You don't even need to do this with a tour group. Read this post on how to get to the Sahara Desert in Morocco with a tour guide.
If you'd like to get away from the mayhem of Marrakech and looking for a few days to relax at the beach, then head out to Essaouira.
Essaouira offers fantastic beaches, authentic culinary experiences, gentle Moroccan charm and just enough sophistication to make this an exclusive destination. It's a wonderful getaway for a weekend or more.
Organised tours around Marrakech
Marrakech can become overwhelming and a short visit may not be enough time to explore everything you'd like. This is where organised tours of Marrakech come into their own.
Guided by local experts, these tours are ideal for getting a taste of Marrakech in a short time, without some of the hassle of exploring on your own.
Full day tour
A full day tour of Marrakech is perfect if you have limited time in the city or don't feel confident enough to explore on you own.
This tour offers you the chance to see the city's famous historical, natural and culinary highlights in one convenient package.
Stroll through some of Marrakech's most picturesque gardens, wander the labyrinthine streets of the Medina and relax over lunch in a traditional restaurant. Complete your tour on a rooftop terrace with views over the plaza of Jemaa el Fna.
Walking tours of Marrakech
We're big fans of walking tours in a city because of the fun and knowledge the local guides bring to the experience.
There are a few walking tours on offer in Marrakech including foodie tours, guided walks around the souks and even a tour of the artisan workshops to see those souvenirs handcrafted.
Cooking class
Discover the secrets of classic Moroccan cuisine at a cooking class in Marrakech. Make a tagine or a couscous dish and visit a souk to pick up ingredients.
Learn how to create the dish with tips from a local chef, and take a seat to savour the lunch you created. Ideal for preparing to impress your friends back home!
For those preferring to visit Marrakech's tourist attractions as part of a private or group tour, there are plenty of trips to choose from.
Where to stay in Marrakech
Marrakech is full of accommodation to suit every budget and travel style.
Most overland travellers to Marrakech head to Le Relais de Marrakech campsite. The owners keep the site in top condition and there's a lovely swimming pool and garden.
It'll cost about £8 by taxi into town and there's usually someone you can share a taxi with to split the fare.
If you are looking for something a little special, this luxurious riad is highly recommended. Riad Al Jazira is a sprawling17th century building with a courtyard big enough for a swimming pool and spa! You may never want to leave.
For more options for hotels and riads in Marrakech, take a look over here. Some places get booked way in advance so if you have a specific place in mind, you may want to book in advance to avoid disappointment.
Hints and tips for your visit to Marrakech
Photography
Taking photos of people can be a risky pastime. In Marrakech, the local people are a little more used to tourists and their cameras but it's still quite easy to upset someone by pointing your lens at them. If you want to take a photograph of someone, ask them. It's a great chance to interact too.
French & Arabic
French and Arabic are widely spoken across all of Morocco. In Marrakech, even English is well understood by locals. Even so, if you are able to speak even the smallest of Arabic, you will impress your hosts no end!
Take a look at this post for a few Arabic phrases to learn before you get there. It's not so difficult to pronounce.
Taxi drivers
Taxi drivers will try it on with the price. Our first attempt at getting a taxi from Marrakech back to the campsite was mind blowing.
The driver actually tried to charge us 4 times the price it had cost us to get into town. Don't get irritated with them though.
Haggle the price down to something you are happy to pay. If you can't get the price down, walk away. There's another taxi behind that one.
People offering to help
Marrakech is full of wonderful people but also many entrepreneurs so rarely will you find someone helping you out for the sake of being nice.
If someone offers to help you out, the chances are they are after something. Maybe they simply want a few dib dobs for guiding you, or they'll take you to their family shop to try to sell you something.
Worse still they may get you lost inside the labyrinth of the medina to meet some very shady characters. Don't be naive and don't trust anyone offering unsolicited help.
If you need directions or advice, ask a shopkeeper who will usually be happy to assist.
Local currency
Make sure you have lots of small change. Things don't cost so much in Morocco and if you only carry relatively large notes, you will struggle to get change in many shops.
Often, you'll find yourself hanging around for quite some time for change from a large note.
And don't forget, the Moroccan Dirham is a closed currency so you can't take the money in or out of Morocco. Check out this post for more information on closed currencies.
Dress code
Morocco is a Muslim country and although most people are religious, they are tolerant and easy going. In the coastal tourist areas, the dress code appears quite relaxed.
In the cities though, locals people are less tolerant and will frown upon you if you dress disrespectfully.
The dress code is quite simple if you're to avoid offending anyone or attracting unwanted attention. Cover your shoulders, upper arms and anything above the knee and steer clear of revealing necklines.
That pretty much goes for both men and women. There's no need for women to wear veils or headscarves although they are great for keeping cool in the midday heat.
For practical reasons, dress in layers. Temperatures can get hot during the day but also quite cold at night. Pack loose fitting long trousers, t-shirts, blouses and a pashmina or fleece and you'll be set for anywhere in Morocco.
Like it? Pin it!