Are you planning a city break in Montevideo, Uruguay? A different kind of capital city awaits you.
Spend a few days strolling the promenade, browsing flea markets and exploring the iconic architecture. You can even bask on the beach. And it's a great trip to do from Buenos Aires too.
Read on to discover the best things to do in Montevideo.
As capital cities go, Montevideo breaks the mold. No problem parking, even on a Saturday morning. Many of the streets feel long deserted, if not for the recent addition of colourful murals. No chaos and no smog filled air.
Montevideo takes everything you ever associated with a capital city and turns it on its head.
The entire population of Uruguay stands at less than 3.5 million. So while half of all Uruguayans live in Montevideo, the city itself feels more like a large town.
With a 22 kilometre promenade providing access to beach after beach after beach, Montevideo surprises visitors with a seaside tranquility nearby Buenos Aires can only envy.
While Montevideo is refreshingly calm and laid back, it has no shortage of things to do and see.
We spent around 10 days in Montevideo over several trips and fell in love with its vibe. For a couple who aren't huge fans of cities, that's quite an achievement!
Read more: explore more of the country with our Uruguay travel guide
A map of Montevideo's tourist attractions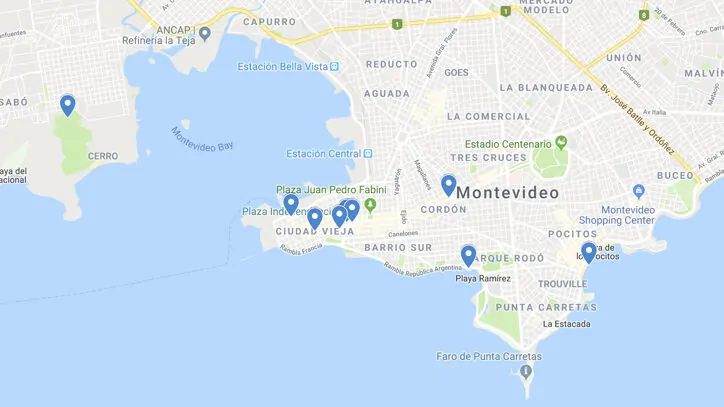 Things to do in Montevideo
Museums, architecture, history, arts, restaurants, beaches and street performers all combine to ensure Montevideo has plenty of things to do to fill a long weekend, or more.
Here are some of our favourites.
Get the lie of the land with a free city tour of Montevideo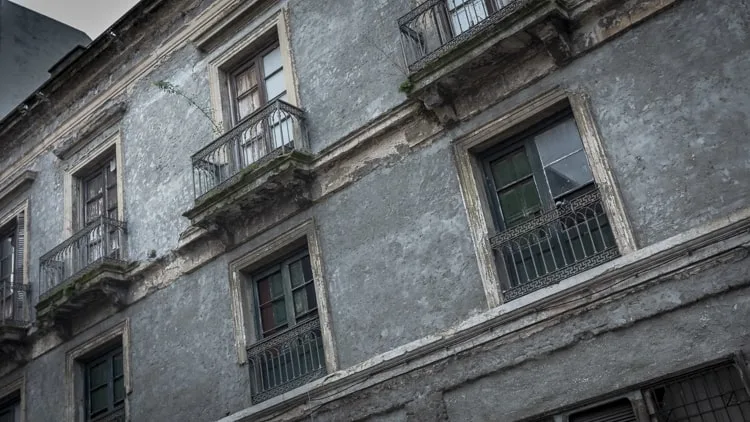 Walking tours provide even the most unprepared traveller with a few hours of organised sightseeing.
Learning about the city and its history from a local expert's point of view gives an insight no guide book can offer.
We arrived at the meeting point in Plaza Independencia, cameras at the ready and joined a group of a dozen other travellers. As the only English speakers among the group, we ended up with a private tour!
As in other cities around the world, free walking tours of Montevideo offer terrific value.
Passionate guides work for tips only so you pay whatever you think the tour was worth at the end. There's no pressure to pay anything at all.
Our guide Rosio, works with Free Tour who have a huge catalogue of free walking tours around the world.
The 2 hour tour of Montevideo highlights the importance of the some of buildings, shedding light on the history of Montevideo and Uruguay as a whole.
If you only have a few hours in Montevideo, don't miss this.
Take a look at Free Tour's website for days, times and language schedule. They run tours in English, Spanish & Portuguese. Booking is optional so you can jut turn up.
Plaza Independencia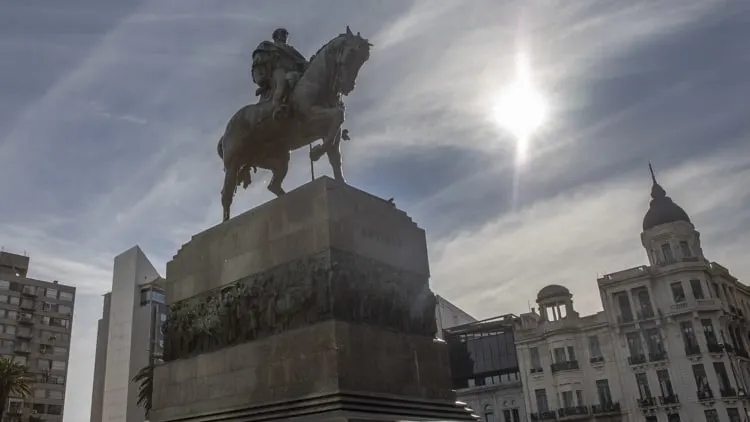 Montevideo's Plaza Independencia is iconic. A vast square, it separates the Ciudad Vieja or Old Town from the new.
On one side, pedestrians walk through the remnants of the gateway to the city, the old stone supported by new.
On the other side the wide tree lined 18 de Julio Avenue stretches away into the new city.
Smack in the middle is an enormous statue to the Uruguayan national hero, Artigas. When we joined the walking tour, we realised this is his mausoleum too.
You can visit the impressive underground mausoleum where soldiers stand guard over his remains round the clock.
Impressive buildings surround Plaza Independencia. Don't miss out on Palacio Salvo where you can ride the elevator to the top for views over the city and visit the Tango museum on the ground floor.
Go to a concert at Teatro Solis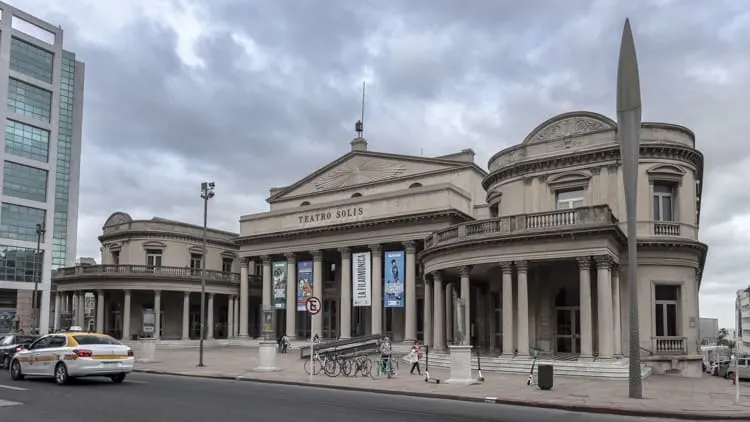 Located just off Plaza Independencia, Teatro Solis is Uruguay's oldest theatre. The elegant building offers tours in English, often for free.
Better still, book a ticket for one of the budget friendly concerts. We're going to see the Symphonic Band of Montevideo in a special tribute to tango in a couple of weeks and we can't wait! All for the grand price of about 500 UYU, $15 or £11.
Wander the streets of Ciudad Vieja – Old Town, camera in hand
As the oldest part of Montevideo, Ciudad Vieja attract more tourists than any other part of the city. Small, compact, quirky and historic all at the same time.
Street vendors, musicians, tourists and shoppers fill the streets during the week. At weekends, most of them leave and you can wander around as though in an abandoned town. It's hard to believe you're in a capital city.
Don't forget your camera!
Stroll along the La Rambla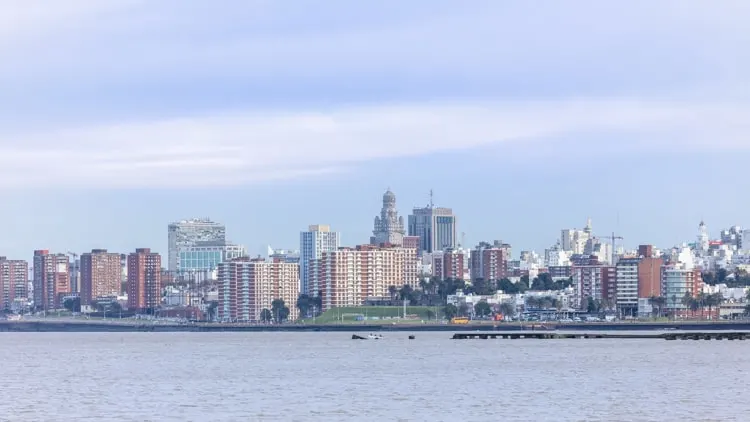 If you visit Montevideo on a weekend, we have no doubt you'll wonder where all the people go. Once you hit the promenade, you'll wonder no more.
Few cities have the luxury of 22 kilometres of promenade and this one sure doesn't go to waste.
Speed walkers, joggers and cyclists share this well built walkway with the likes of us, out for a leisurely stroll.
Uruguayans flock to La Rambla in their maté circles, complete with deck chairs and flasks.
La Rambla gets a little more busy at the end of the day as the whole city seems to turn up to watch the setting sun, before retreating home.
For the best views of Montevideo's skyline and to get under the skin of the rhythm of Montevideo, take a stroll along La Rambla on a Sunday afternoon. It's a must!
Top tip – look out for the holocaust Memorial on La Rambla near Playa Pocitos.
Head to one of Montevideo's beaches (if you can choose from so many)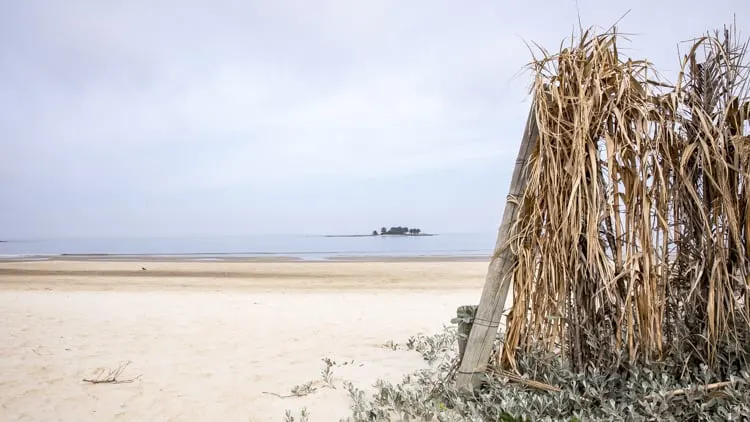 Located on the Río de la Plata estuary, Montevideo beaches stretch for miles! The hard part is choosing which one to head for.
Montevideo enjoys pleasant weather from October through to March, perfect for water sports and sunbathing. All Montevideo beaches are within easy reach of the city centre.
The 22 kilometre stretch of the La Rambla promenade leads to all the best beaches.
For popular beaches close to the city centre, head to Playa Pocitos or Playa Ramirez. For surfing try the beaches further east of the city like Playa Malvín or Playa Carrasco. And for a quiet afternoon to yourself, try Playa de los Ingleses.
Dine out in the historic Mercado del Puerto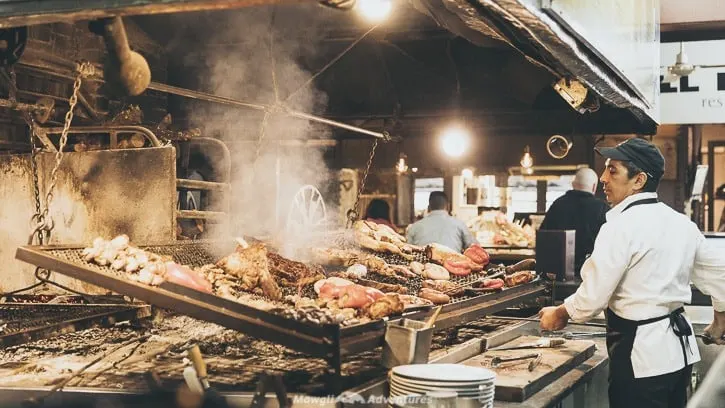 The Mercado del Puerto is one of the best things to do in Montevideo for meat lovers. The entire building and its clock were constructed in England, shipped to Uruguay and assembled. Opening in 1868 as a market, today asado restaurants fill this historic building.
Pull up a stool, indulge in a glass of medio y medio (a slightly sparkling wine unique to Uruguay) and order a hunk of succulent meat.
The chefs cook the meat in front of you and will even serve it with a little garnish for the health conscious!
It's not the best place for vegetarians but most restaurants cater well for pescaterians.
For us, the restaurants in Mercado del Puerto were overpriced but the food was good. Even if you don't eat here, the wrought iron superstructure is impressive and definitely worth a visit.
Top tip: the area around Mercado del Puerto comes alive at the weekend with colourful street performers and musicians. A perfect introduction to Montevideo's candombe scene.
Get involved with the South American maté ritual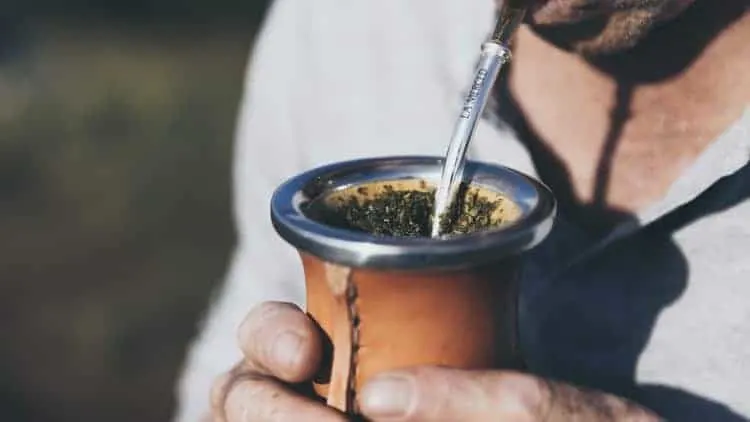 You'll see Uruguayan locals clutching flasks and maté gourds everywhere you go in Montevideo and all over the country. Shop assistants, bartenders and tour guides. Parents running after their children, office workers and policemen. Literally everyone.
And in the age old saying, if you can't beat 'em, join 'em!
Maté isn't a beverage to drink alone. Neither is it one you can buy in a maté equivalent of a coffee shop. The best way to get your first taste is to make friends with Uruguayan and get an invite to their maté circle. Failing that, you can buy the paraphernalia needed at any local store at rock bottom prices.
Learn more about the maté phenomena in our post from when we visited a yerba maté factory in Argentina.
Get your culture fill in some of Montevideo's best museums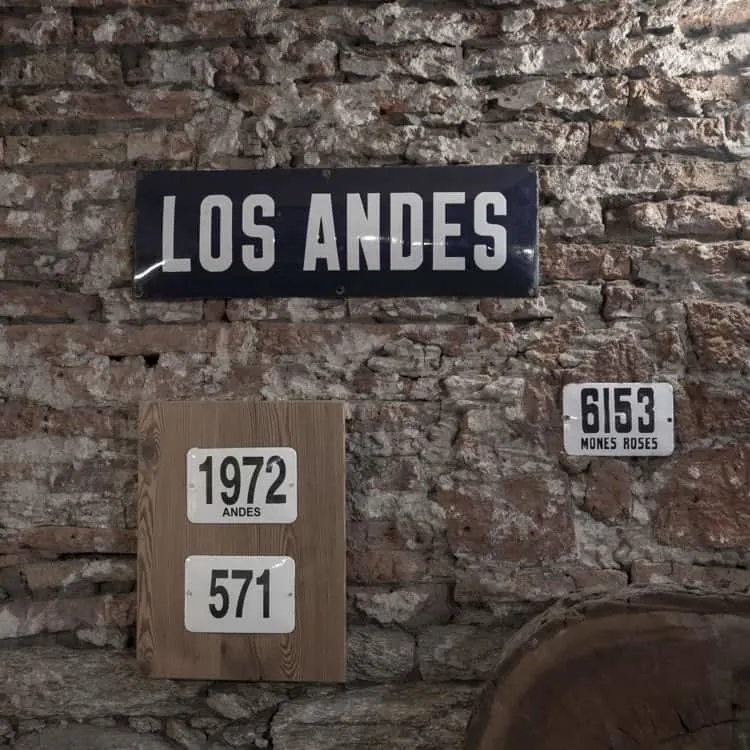 Uruguay has a history of struggling to free itself from the clutches of its big brother neighbours and Europeans. The independent Uruguay of today lays out its past in a treasure trove of museums in Montevideo.
Montevideo has museums dedicated to history, art, presidents, carnaval, tango, plane crashes, gauchos and even football. In Montevideo there's a museum for virtually every taste.
Top tip: don't miss the Andes 1972 Museum dedicated to telling the real life story of the plane crash on which the film Alive is base.
Listen to the beat of candombe
You can often hear the beating of candombe. The drumming music is unique to Uruguay. Stemming from the dark period of slavery, candombe has become a part of Uruguayan culture.
You'll see groups of drummers and dancers marching down the street year round. A troupe perform on corners and squares throughout Ciudad Vieja at weekends.
Take time to enjoy a street performance and get into the groove.
Browse the jumble at Feria de Tristán Narvaja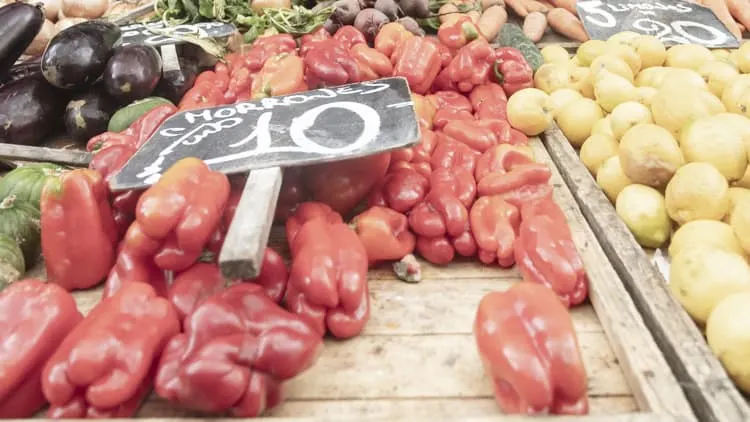 The best market in Montevideo, wasn't all we'd hoped for. Every Sunday, the Feria de Tristán Narvaja takes over the whole of the Tristán Narvaja street and a few blocks surrounding it too.
The selection of stalls is impressive. You can buy toothpaste, meat, wonderful fresh fruit and vegetables at great prices and creamy cheeses too.
As for the rest of the stalls? We'd describe them as bric-a-brac. Tat even. But then one person's tat is another's treasure.
Read more: take a day trip to Uruguay's oldest town, Colonia del Sacramento
Check this post to find the best Airbnbs in Montevideo & this one for the best hotels in the city to suit your budget.
Like it? Pin it!