Are you looking to escape to the country for a few days or even longer? Or to sample some of Britain's finest historical sites? Then Northumberland, England's northernmost county, is a perfect choice.
In our guide you'll find recommendations for things to do in Northumberland, where to stay, what to pack and plenty of photos to inspire your trip.
Northumberland really is the perfect English country escape!
Why visit Northumberland?
Taking a break from the city and getting into the English countryside is as rewarding for us Brits as to tourists from abroad. We often crave getting away from so many people and breathing in the fresh air.
And this is exactly what we found in Northumberland.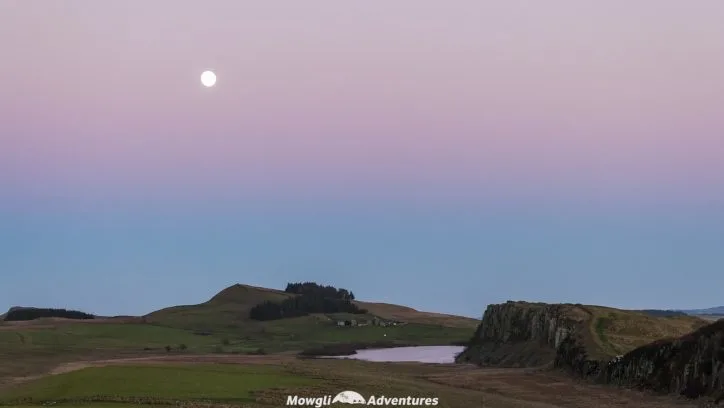 We enjoyed Northumberland so much, we've visited three times. Our second visit was a diversion on the way home from our NC500 road trip.
On our third visit, over the New Year period, we extended our stay twice. Northumberland's vast landscapes, dark skies and lashings of historical sites to explore will have the same affect on you. Here's why you should go to Northumberland.
Things to do in Northumberland
When you click on links to various merchants on this site and make a purchase, this can result in this site earning a commission. As Amazon Associates, we earn from qualifying purchases. For more info, please check our disclosure page.
Hadrian's Wall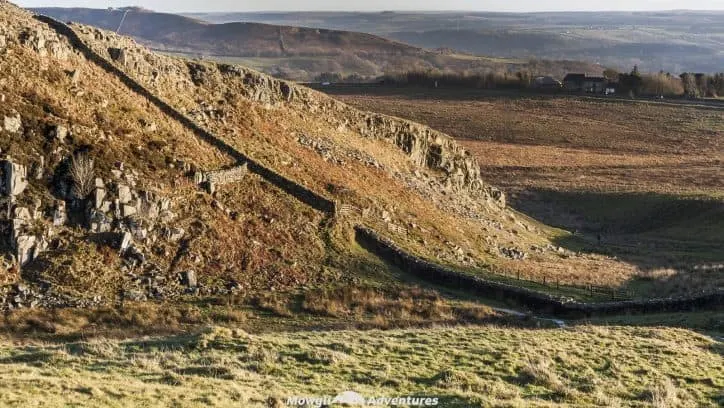 As a designated UNESCO World Heritage site, Hadrian's Wall is one of England's must see landmarks. It even inspired the Wall in Game of Thrones.
Dating back almost 2000 years, Hadrian's Wall stretches around 80 miles from Wallsend on England's west coast to Newcastle on the east.
Marking the northern frontier of the Roman empire, the impressive stone defence is 3 metres thick in some parts. Today, much of the wall remains intact and the ruins of many of the 80 forts along the route are accessible to explore.
Hadrian's Wall is free to visit and because it runs through some of the finest Northumberland countryside, is a perfect place for a day of walking, any time of the year.
We wanted to see what is possibly the most photographed spot in all Northumberland, Sycamore Gap. A lone sycamore tree grows at the centre of a deep dip with Hadrian's Wall following the lie of the land either side of it. So we took a few hours to walk a circular route around Steel Rigg.
This website has a great free map of Hadrian's Wall to download. It shows sections of the wall and walking routes so you can choose one to suit you.
Regardless of the stretch you choose, you'll need some decent walking boots as in parts, the route is very steep but it's a fabulous walk and well worth the effort.
Don't miss: Birdoswald Roman Fort is the longest continuous remaining stretch of Hadrian's Wall. It's just over the border in Cumbria and a short drive from Steel Rigg.
Northumberland Castles
Northumberland has more castles than any other county in England. With over 70 castles, you can almost guarantee to pass at least a signpost for one on any short drive.
Many are ruins, some remain in remarkably good condition and a few are in private hands and still lived in. Whether you prefer your castle remote, rugged and ruined or perfectly preserved, Northumberland is the county to find your perfect castle.
Here's just a 3 of the better known castles in Northumberland:
Alnwick Castle
Alnwick Castle is most recognisable as the place where Harry Potter had his broomstick training. You can even join in on a broomstick training session with some of the resident wizarding professors!
Alnwick Castle is open between March and October so make sure to check dates and ticket prices before you visit.
Tynemouth Priory and Castle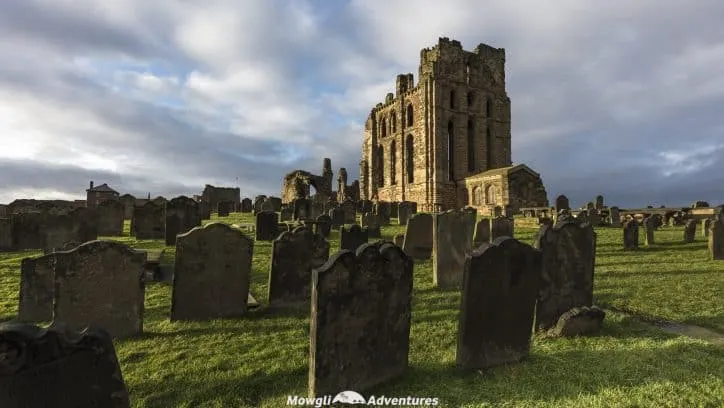 Tynemouth Priory and Castle stands proud on a rocky headland, overlooking King Edward's Bay. The moated castle, gatehouse and keep sit alongside the ruins of a Benedictine priory.
The graveyard in the grounds of the priory is the final resting place for early kings of Northumbria and even one of Graham's ancestors!
Bamburgh Castle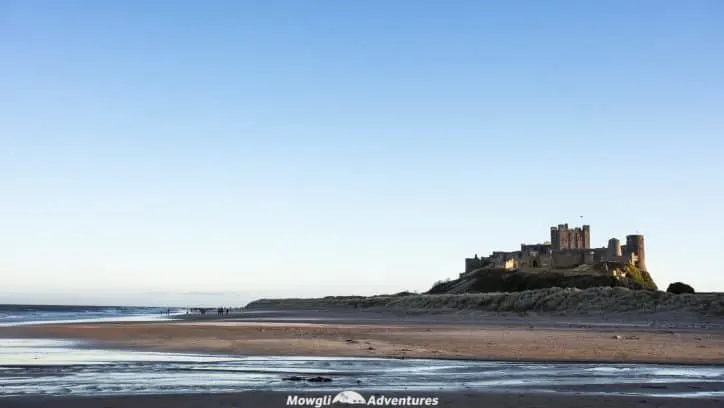 One of the largest inhabited castles in England, Bamburgh Castle is an imposing sight on the northeast coast. Once the royal seat of the Kings of Northumbria and built in the 6th century, it's little wonder there are so many myths and legends to uncover.
Set high above a long sandy beach and overlooking wild grasses of the sand dunes below and the Farne Islands in the distance, Bamburgh is a terrific place to spend a few days.
Sleep in a Castle
Why not combine your Northumberland visit with a massive treat by staying at a Castle?
Built int he 14th century, Langley Castle Hotel is a luxurious castle experience a stone's throw from Hadrian's Wall. With 9 guest rooms within the Castle itself and a further 18 rooms in the grounds, the uniquely furnished rooms more than earn its 4 stars.
Check rates and availability here
St Mary's Lighthouse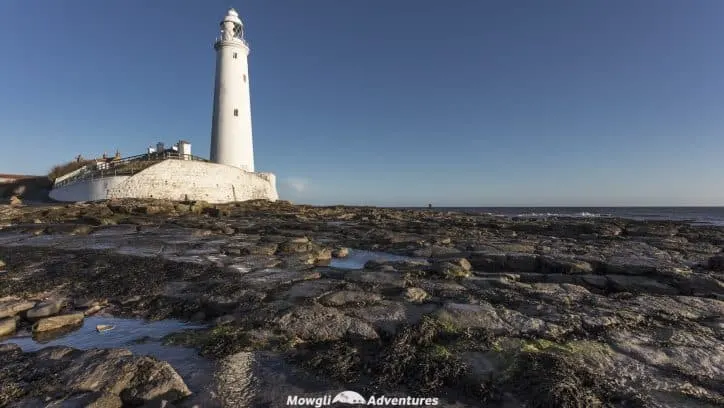 Reached between the tides via a short causeway, St. Mary's Lighthouse stands on a tiny rocky island. The lighthouse is no longer operational but this means visitors can climb the tower for fabulous views of Whitley Bay.
The whole area around the lighthouse has a maze of long coastal cliff paths to wander along whilst breathing in clean salt fresh air.
It's a wildlife and fauna conservation area so full of wild flowers and coastal birds. If you're lucky, you might spot seals and dolphins. When the tide is out, the rock pools are fascinating but mind the rocks as they can get slippery.
Make sure to keep an eye on the tide. If you get caught on the island once the tide comes in, you're in for a long wait before you can return to shore.
Top tip: parking attendants lurk around almost every corner and Tynemouth and Whitley Bay are notorious for getting penalised for parking violations.
There is a free car park at the northern end of the beach, past St Mary's Lighthouse.
The postcode is NE26 4RB. It's right on the network of coastal paths and next door to Old Hartley The Caravan Club campsite which is not open all year round.
When we visited at New Year, we parked overnight for free in the same spot without any bother.
Walking & hiking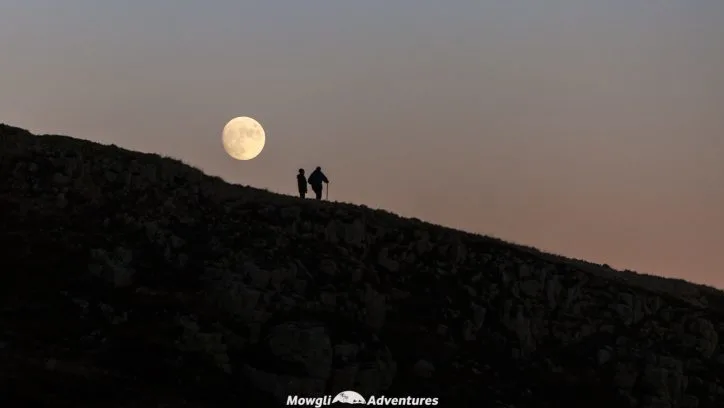 With huge skies, dramatic landscapes and oodles of history, walking in Northumberland is a perfect way to get out and see the area.
There are hundreds of miles of marked footpaths and bridleways, and if you want to find a perfect walking route for your fitness level and time you have available, then take a look the Northumberland National Park website.
There's loads of information here from where to find car parks, to weather reports and walking routes to suit you.
Landscapes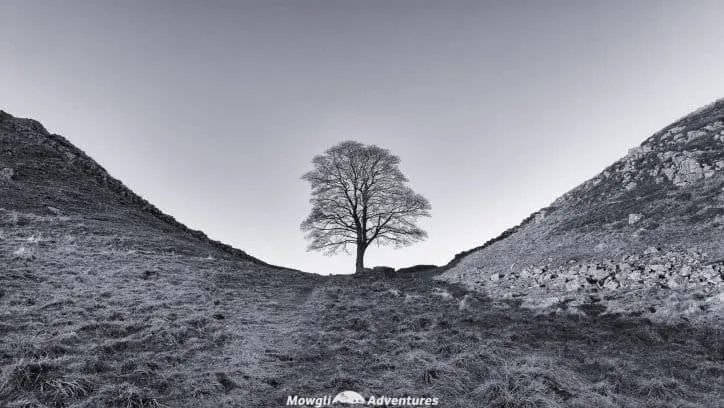 Northumberland National Park is 400 square miles of wild, dramatic landscapes, England's darkest skies and wonderful wildlife.
It's a perfect playground for outdoor pursuits like walking and cycling and as you'll see below, some amazing beaches.
Kielder Water & Forest Park is outstanding and one of Northumberland's most popular attractions. It's home to deer, badgers and otters and the man-made lake is enormous.
The park is ideal for stargazing because there's hardly any light pollution so a visit to Kielder Observatory located in the heart of Northumberland International Dark Sky Park is fantastic.
Beaches and sand dunes
Perhaps through absolute ignorance, but before I visited Northumberland I never associated the northeast of England with incredible beaches.
Then again, the entire stretch of coastline is designated an Area of Outstanding Natural Beauty so I shouldn't have felt surprised!
You're in for a real treat along this wild stretch of the UK coastline. Bring your dog who will love the vast stretches of sand.
If you love birdwatching, don't forget your binoculars and birding book. And bring a kite because the wind along these vast white sand beaches are perfect for flying.
Beadnell Beach is popular with windsurfers and if you love underwater sports, there's loads of great wreck diving.
The beach below Bamburgh Castle is perfect for beach lovers and you'll get terrific views from here of Holy Island and the Farne Islands.
Cheswick beach is one of the largest beaches and backed with wild sand dunes to explore. If you want to get away from everyone and up for a walking a couple of miles, you can always spend some time out at Ross Back Sands and Sugar Sands.
People don't overdress on Ross Back Sands mind – or even dress at all so you have been warned!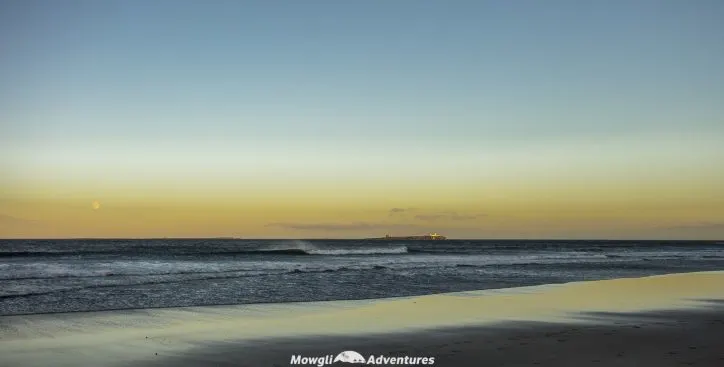 Things to do near Northumberland
Angel of the North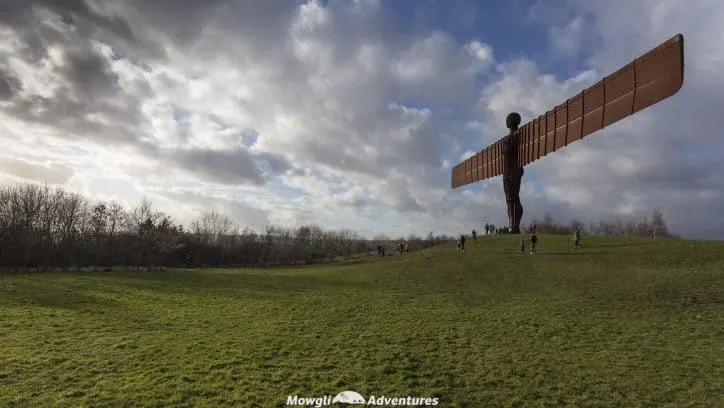 Travelling along the A1, you can't help but notice this 20m high and 54m wide sculpture.
The Angel of the North is an Antony Gormley sculpture installed in 1998 and stands proud, welcoming visitors and residents alike to Gateshead.
It's definitely worth taking a 2 minute detour off the A1 to pay a visit. And its free too!
Cumbria's Lake District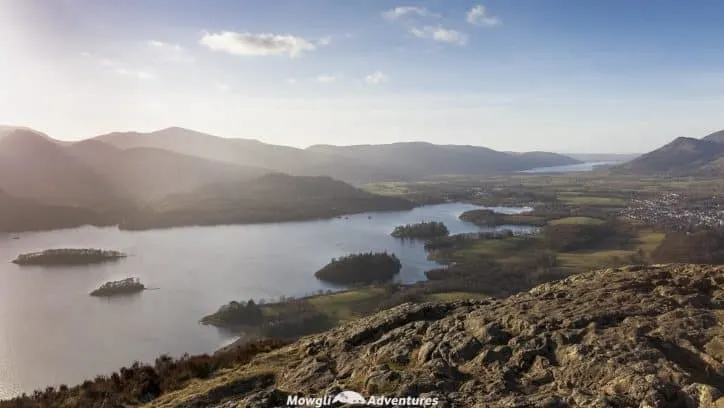 Awarded World Heritage status in 2017, the English Lake District is a place you will want to return to again and again.
With amazing countryside, of course stunning lakes and outdoor pursuits to suit every fitness level, your only dilemma is choosing where to base yourself!
Things to know before visiting Northumberland
Where is Northumberland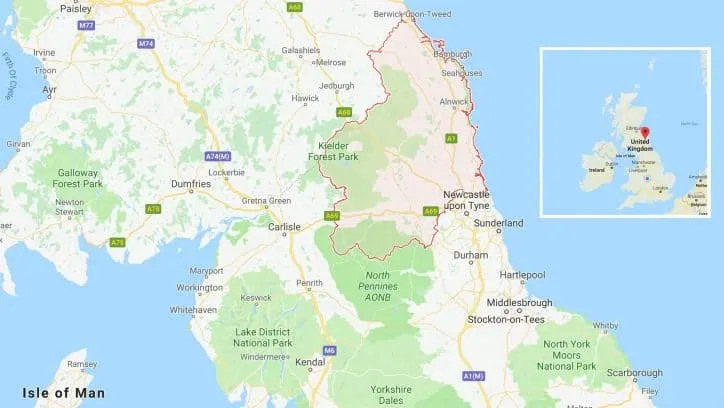 Northumberland is England's northernmost county. It's located with the North Sea to the east, Scotland to the north, Cumbria to the west and borders with both Tyne & Wear and Durham on the south.
How to get there
By air: flights land at Newcastle International Airport, a 25-minute drive from Morpeth and 45 minutes drive from Alnwick. As well as domestic flights, Newcastle welcomes international flights including direct flights from Australia and New Zealand.
Look for the cheapest flights on Skyscanner here.
By train: less than three hours from London Kings Cross, stations on the East Coast mainline to Aberdeen include Newcastle, Morpeth, Alnmouth and Berwick-upon-Tweed.
Connecting westbound services are run by CrossCountry and Hadrian's Wall Country Line.
By road: the scenic drive into Northumberland from the south passes the Angel of the North at Gateshead travelling on the A1 northbound. Heading southbound into Northumberland from Scotland, the A1 crosses the River Tweed. From the west, take the A69.
Take a look at our guide to driving Scotland's North Coast 500
How to get around Northumberland
Is it any surprise to hear us say the best way to travel around Northumberland is by campervan? Well we wouldn't say anything else would we?
If you haven't already converted your own camper, take a look at the rental rates here and give it a go. You don't fancy the van life for a few days?
I can't imagine why not but we think for convenience and flexibility, your own transport is best.
If you haven't travelled to Northumberland in your own car, it's worth hiring a car if you want to get around and see the county.
We're not loyal to one rental firm, and will simply go with the one that offers the best value – and that means using a comparison website. For us, Rentalcars is by far the best, and our first choice, every time.
Accommodation in Northumberland
Wild camping or informal camping in a camper van is possible in many places in Northumberland and so long as you apply some common sense, you won't have a problem.
Take a look at our guide to wild camping in your motorhome for more information.
Many spots display parking restrictions including no overnight parking and/or sleeping so keep an eye out for the parking notices.
Many other locations have no parking restrictions. We didn't use campsites at all on our latest 4 night trip in Northumberland.
Northumberland has plenty of campsites to choose from with a small number open all year round. Take a look on the UKCampsite website to find campsites in Northumberland.
I suspect they get quite busy during the height of the season. Let us know if you've had any experience of the campsites in Northumberland during the busy summer months.
And even though you are driving your bed around and don't need to stay at guesthouses, hotels or castles, you still can if you want to.
So if you find somewhere a little bit special or feel like treating yourself you can park up your camper van for the night and enjoy the facilities of one of the many places to stay in Northumberland.
Best time to visit
I don't think there is a best time to visit Northumberland because every season has something to offer.
We've visited in spring, autumn and winter although with the fab beaches here, perhaps summer is also a terrific time. In reality, the weather in Northumberland is as unpredictable as most of England, all year round.
Pack in anticipation and you won't be disappointed.
Don't forget to pack….
Northumberland guide book: Local, characterful guides to Britain's special places (Bradt Slow Travel)
Road map for Southern Scotland & Northumberland (OS Road 3) (OS Road Map)
Like it? Pin it!