Imposing volcanoes, deep blue lakes, hiking trails and a Swiss ski village charm make San Martin de los Andes an idyllic setting to kick off your Patagonian adventure.
Not nearly as busy or built up as Bariloche, 190 kilometres further south, San Martin de los Andes is a more laid back alternative.
Resting on the shores of Lake Lácar and surrounded by Lanín National Park, the town caters well for both summer and winter visitors.
Artisan chocolate and handicraft souvenirs sold from chalet-style stores line the main street, alongside outdoor gear shops and empanada shacks.
And with the steep mountains throughout the national park, San Martín is a fabulous winter skiing destination too.
We've visited San Martin de los Andes 3 times in the past 2 years and have explored many of its attractions.
This is a complete guide with everything you need to know from how to get there, where to stay and things to do in San Martin de los Andes, Argentina.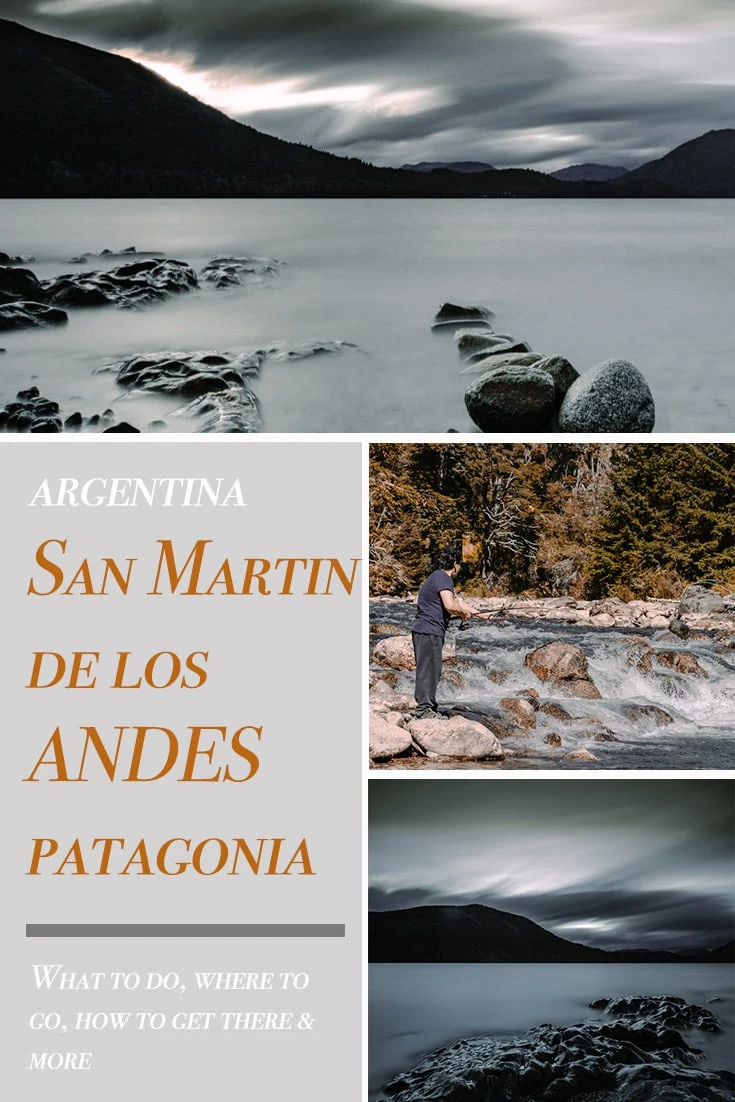 Best Things to Do in San Martin de los Andes
The town is right in the heart of the Argentinian lake district so it's no surprise that the best things to do in San Martin de los Andes are centred around the water.
While the town itself sits on the shore of Lago Lácar, there are other lakes, lagoons, rivers and waterfalls within easy reach.
San Martin makes a perfect base for a visit to the region. Here are our favourite things to do in San Martin de los Andes.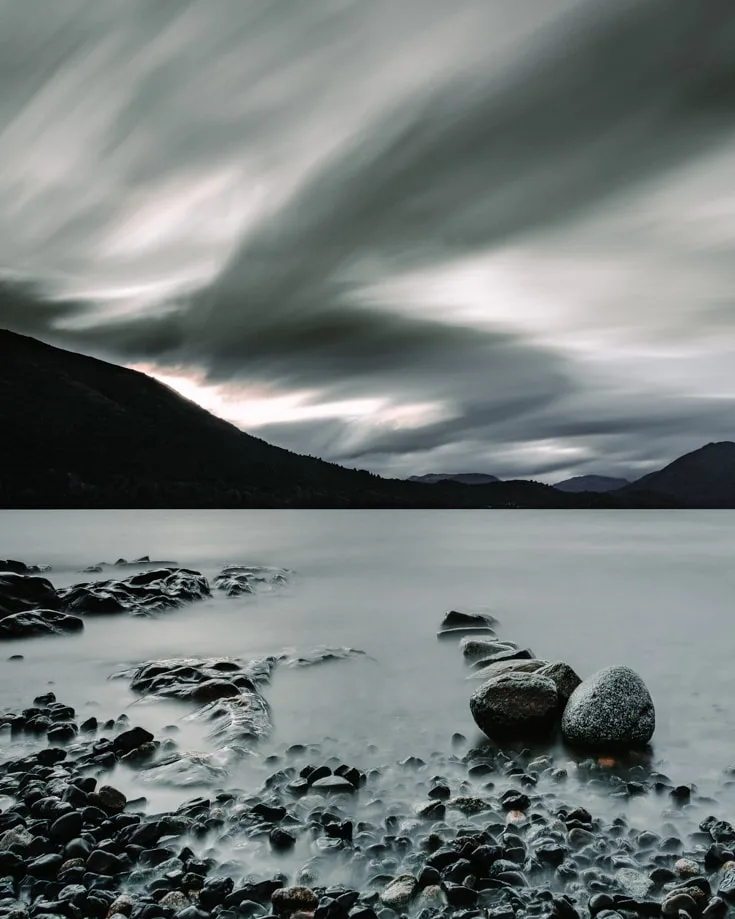 Road Trip through Lanin National Park
The road (RP48) around the northern shore of Lago Lácar is stunning. If you're short of time, this 90 kilometre round trip on gravel roads can easily be enjoyed in 1 day.
But with so many fabulous viewpoints along the way, you can take a few days or more.
To get the most from the route, we recommend you hire a car and pack a few camping essentials.
There are lots of free and paid campsites along the way to enjoy nature at its best.
On our latest visit to San Martin, we spent 4 nights on this one trail alone.
If you don't fancy camping, but would like to spend more than one night, you can book rooms at Hua Hum Hosteria.
Here are our recommended places to stop and things to do along the way.
Visit Mapuche Territory, La Islita & Playa Bonita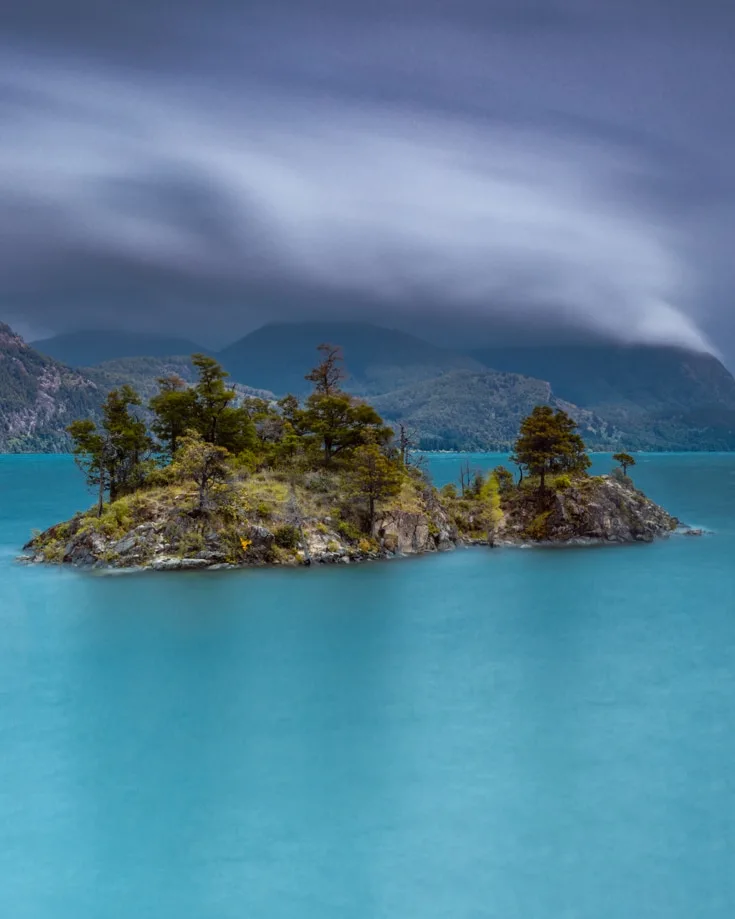 La Islita is within the Mapuche community's land, the indigenous people of this region of Patagonia.
You'll need to pay a small fee to enter their territory – we paid 100 Argentinan pesos each.
La Islita, as the name suggests, is a tiny island just off the shore. The beach around the corner, Playa Bonita, is wonderful.
If the weather is warm and you're brave enough to plunge into the frigid cold water, you can swim a few metres across to La Islita.
Isolated and wild, you'll feel you have the whole of Patagonia to yourself!
If you don't have transport, you can enjoy a 4 kilometre hike from town through a fern-lined forest trail.
It leads through a stretch of Parque Nacional Lanín, around the Lago Lácar and over Cerro Bandurrias.
It's an easy walk but bring a day hiking pack including water, sunscreen and mozzie repellant.
Climb Cerro Colorado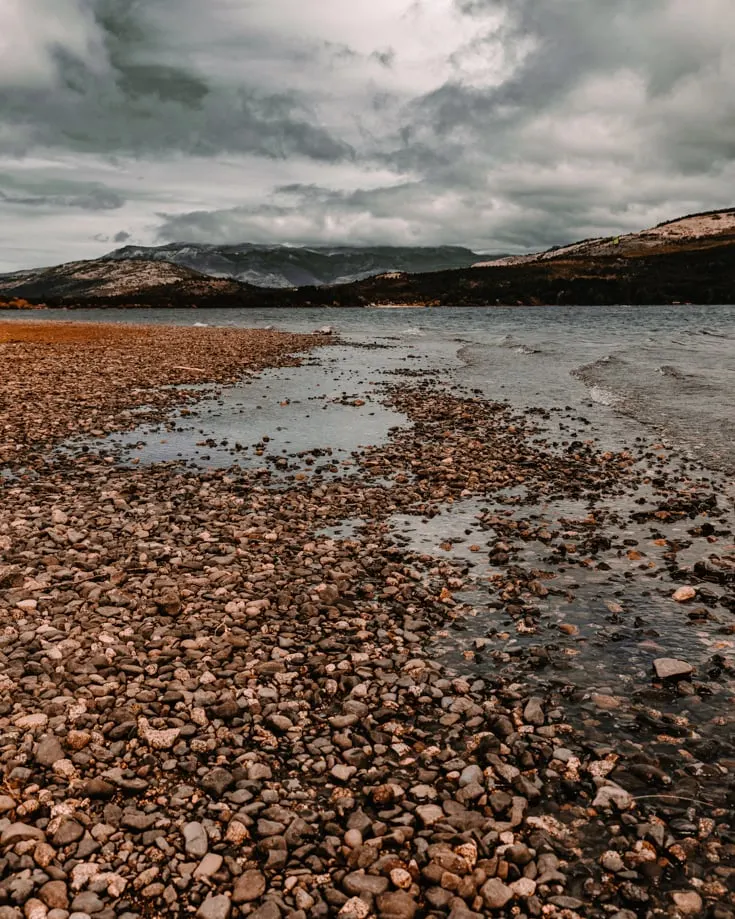 As the track through the Mapuche territory rejoins the RP48, you'll find the trailhead to the summit of Cerro Colorado.
While the hike is only 3.5 kilometres in each direction, it's a pretty challenging climb.
But from the top, you get unparalleled views of Lanin National Park, with 2 lakes, Lácar and Lolog below.
Have a Beach Day on Playa Yuco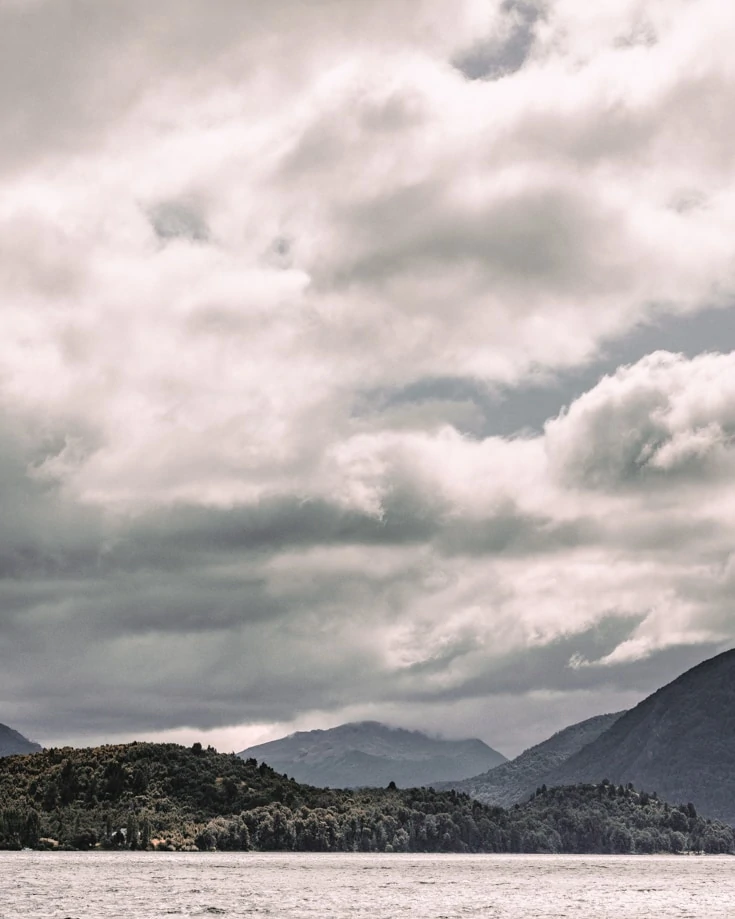 Playa Yuco is just one of several isolated beaches along this stretch. There's a small parking lot, before a steep clamber down to the beach, so not the easiest access if you're legs aren't great.
But the clamber is worth it, especially if you can get a day when it's not as busy as when we visited in February – the height of the high season.
In December, Playa Yuco was completely deserted and a wonderful way of spending a morning.
You know? Doing absolutely nothing except sitting back on a rock, looking out a yet another completely beautiful view and wondering how on earth you can use unique superlatives to describe the Patagonian scenery.
Lago Nonthue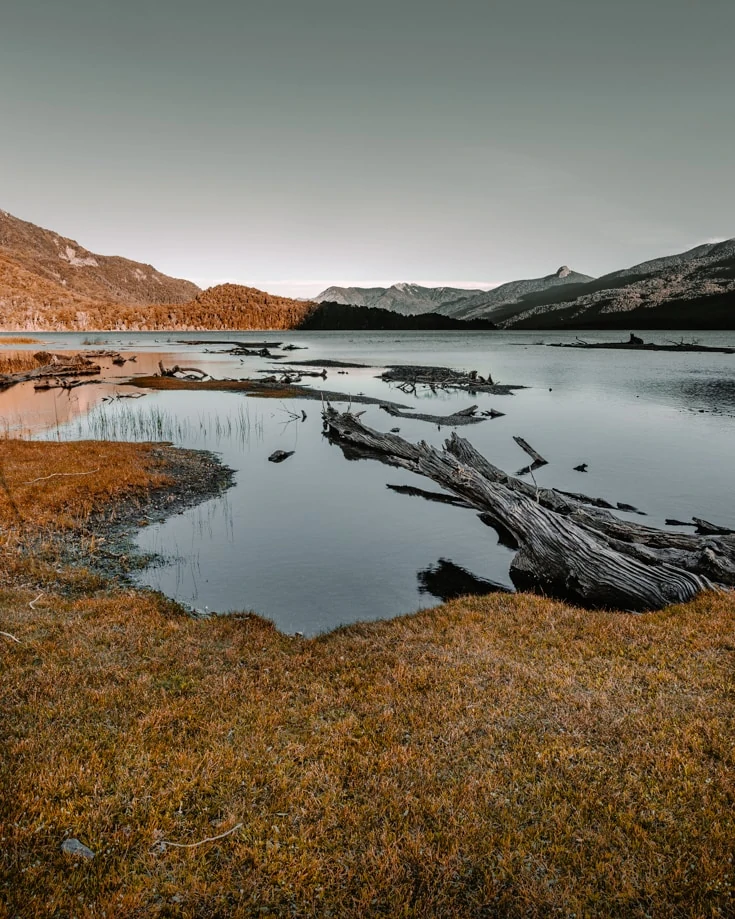 Our absolute favourite place on the route from San Martin de los Andes.
Lácar Lake joins Lago Nonthue at its western edge. The lake is surrounded by lush forest, steep-sided hills and the raw beauty of Patagonia.
Flocks of birds of prey patrol the skies, screeching at each other as they circle overhead.
The crystal clear water is cold. No, not cold. Frigid! Yet once submerged, it feels wonderful on a hot day.
We camped here for 4 nights, swimming and birdwatching in the late summer sun.
It's completely free and although there are no facilities, there are clean bathrooms near the trailhead for Cascada Chachín and a small café.
Hua Hum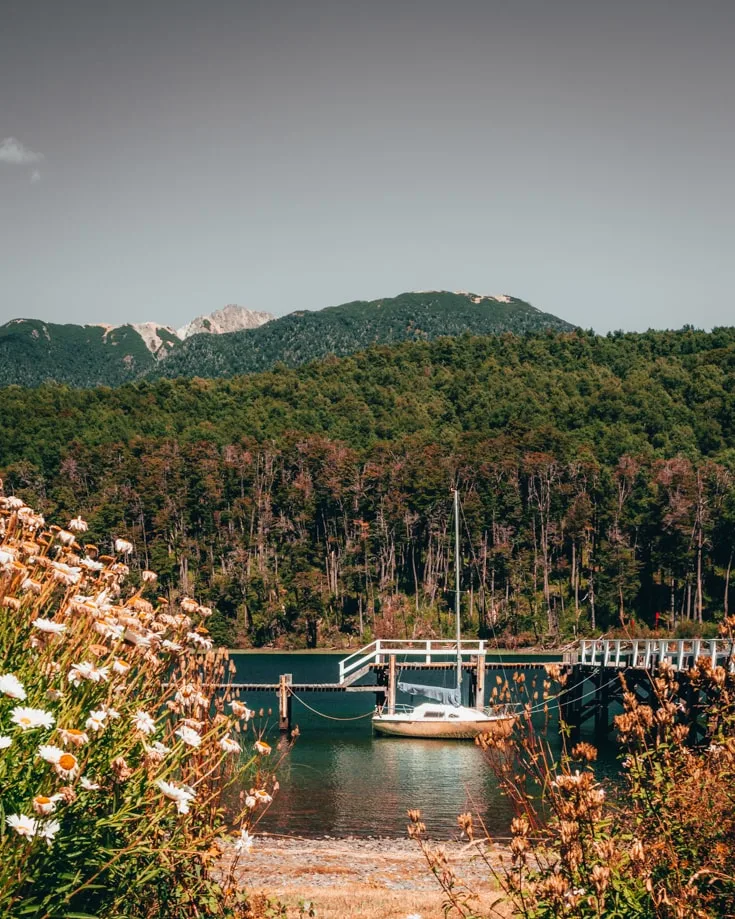 Easily accessed from the main road, Hua Hum is a wonderful spot on the shore of Lago Nonthue.
If you're only taking this route as a day trip, you can stop for a picnic on the beach, lunch at the Hosteria or spend the night.
When we visited Hua Hum, there was a huge sporting event taking place. Similar to a triathlon, teams were competing in a cycling, rafting and running competition. We were exhausted filming it!
It is possible to arrange a boat trip from San Martin to the pier here at Hua Hum if you'd like to visit without renting a car. Ask in the tourist office in town for more information.
Cascada Chachin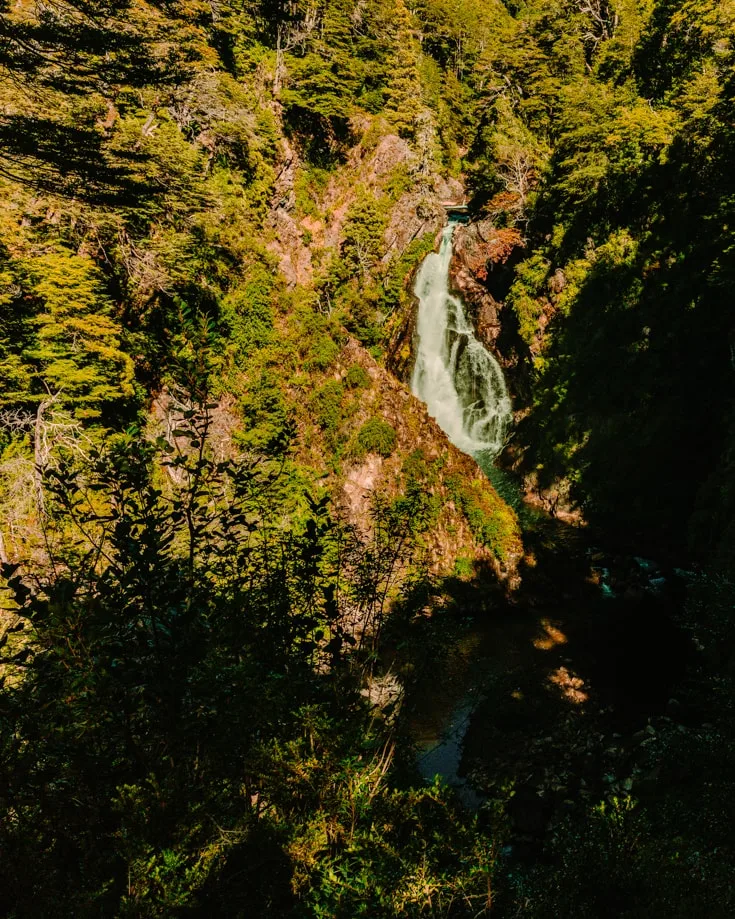 Who doesn't love a decent waterfall? We're quite partial to them too.
Lumsdale Falls in the UK, the epic natural wonder of Iguazu Falls and the northeast of Argentina have some other wonderful waterfalls too.
Lanin National Park isn't short on them either.
A short hike through the forest from the western shore of Lago Nonthue is a lovely waterfall, Cascada Cachín.
If you're extremely lucky, you may even spot a Pudu (a tiny deer) on the trail.
The trail is an easy 2 kilometres from the lake through a humid forest.
At the top, take a seat. Bring a book and maybe a flask for your maté.
Enjoy the tranquility of the forest, surrounded by all those negatively charged ions to boost your happiness levels!
Take a Boat Trip on Lago Lácar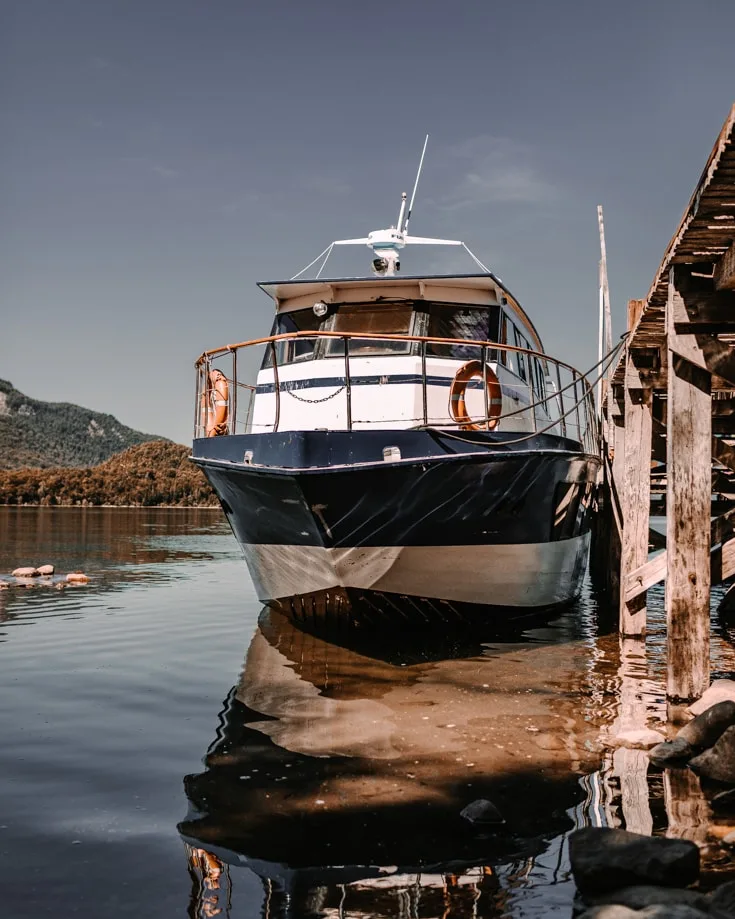 Operators run boat tours from the pier in San Martin year-round.
So if you'd like to see some of the highlights of the region without travelling by road, this is a relaxing, scenic alternative.
Boat trips run to Quila Quina, Cascada Chachín and Hua Hum. But be warned, you'll look on at all the campers when you arrive with envy!
Wander Around San Martin de los Andes Town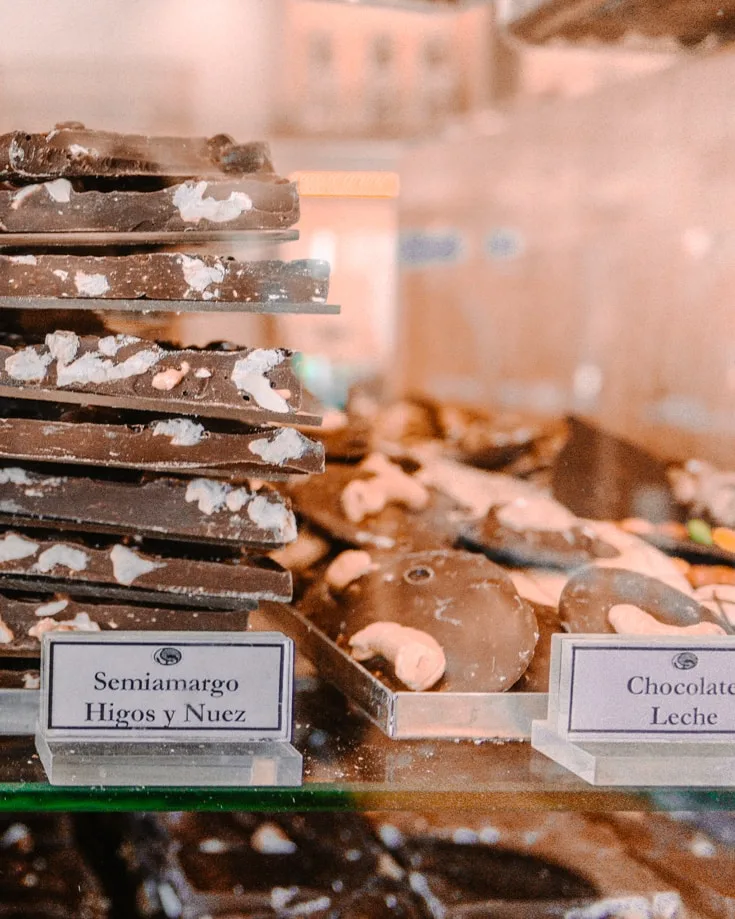 San Martin is a chocolate box town in more ways than one!
Not only is it picture-perfect pretty but the artisanal chocolatiers make lush rich chocolate, in any number of flavours.
With plenty of supermarkets to stock up on supplies, souvenir shops and outward bound gear shops, the town has everything you need to enjoy the outdoor activities in the region.
We even managed to replace our lost binoculars here!
Take your time to enjoy the coffee shops, the wonderful deer filled empanadas and the charming waterfront on the shore of Lake Lacár.
Drive the 7 Lakes Route | Ruta de los Siete Lagos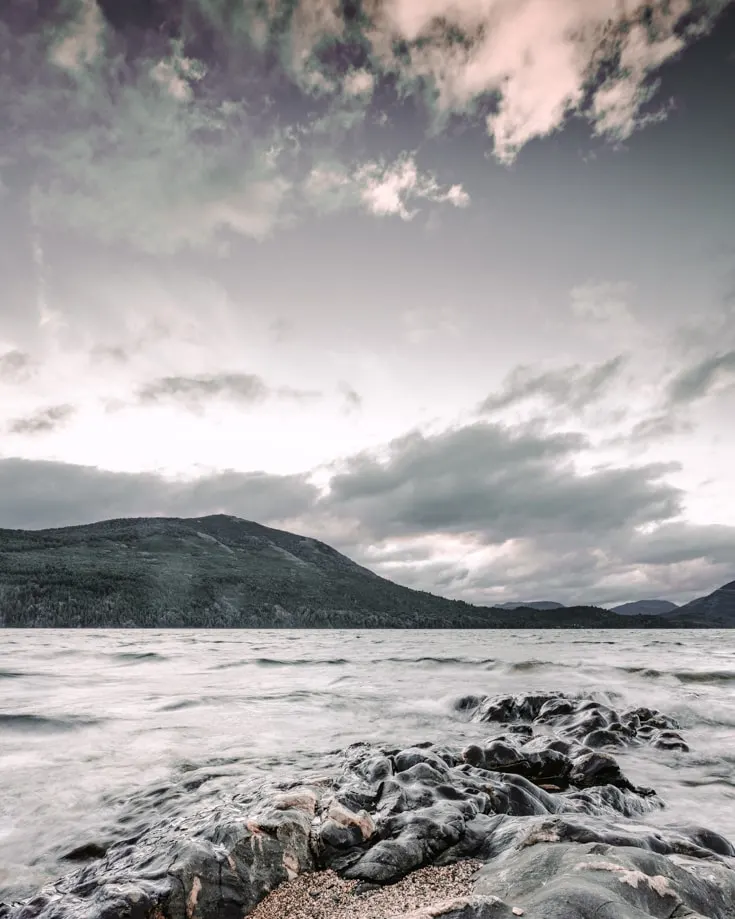 When in the Argentinian lake district, there's no better way to explore many of the lakes than taking this fabulous road trip.
The 7 lakes route (ruta de los siete lagos in Spanish), will leave you floored with incredible views of the Patagonian landscape.
If you're in a rush, you could do a round trip from San Martin and back along the seven lakes route in 1 day.
But of course, we recommend taking your time.
Notwithstanding Abra del Acay and Quebrada de Cafayate to the north, this stretch of Ruta 40 is one of the most spectacular on its 5000 kilometre route.
While you can book an organised tour to explore the 7 lakes route, the best way is to do a self-drive tour.
Skiing on Chapelco Hill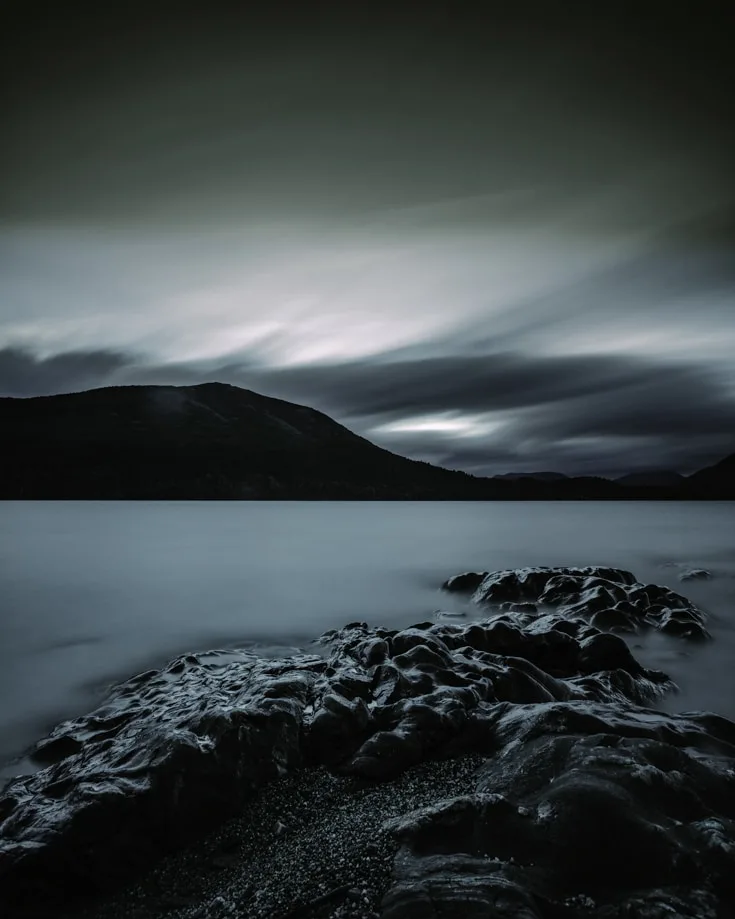 Winter in San Martin attracts a different kind of visitor. Long gone are the kayakers and sun worshipers.
June through to October is all about the snow!
Less than 20 kilometres from the town, the Cerro Chapelco ski resort caters well for skiers and snowboarders alike.
And if you're like Angela and not a skier, you can opt for dog sledding and snowshoeing instead.
And of course, there's always the après ski!
Bird Watching at Laguna Rosales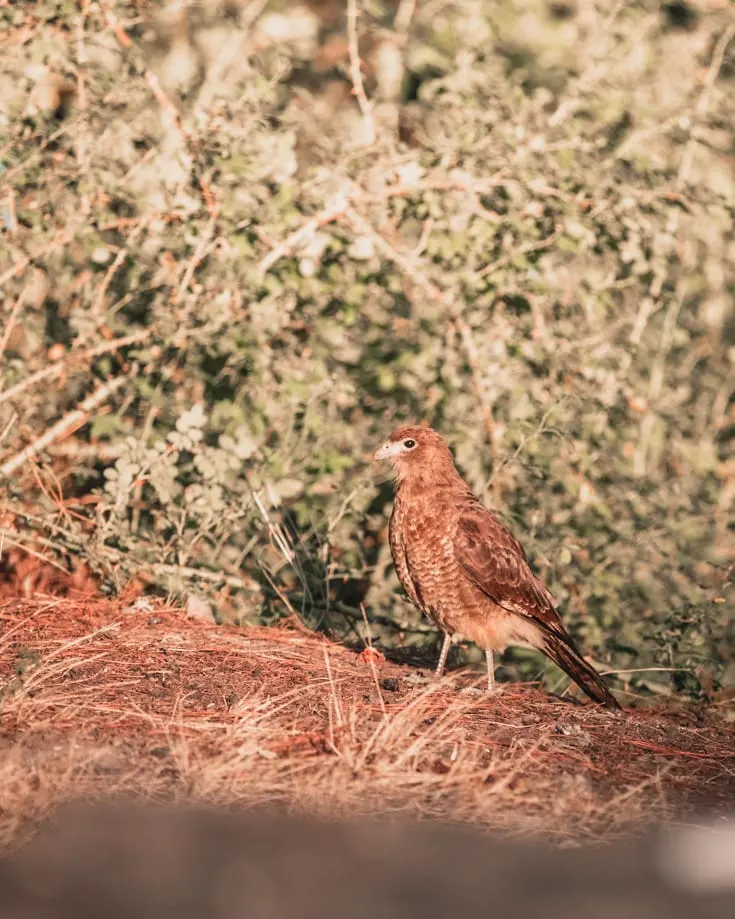 The region around San Martin de los Andes is a terrific spot for bird watching.
Once out of town you can expect to see Condors, Buzzard Eagles, Andean Lapwings, Patagonian finches and a whole lot more.
Satisfy your inner twitch with a hike up to Laguna Rosales for unrivalled spotting.
If you'd like to go with a professional birder, you can book an organised tour here.
Kitesurfing on Lago Lolog
Continue a little further along the same dirt road from Laguna Rosales and you'll reach Lago Lolog.
Only 12 kilometres from town, this is one of the 2 lakes you can see from the viewpoint on top of Cerro Colorado.
The pebble beach is typical of the lake shores in this region of Argentinian Patagonia. As is the wind.
So with windy conditions, glorious scenery and a vast, dark blue lake there's only one thing for it! Kitesurfing.
You can hire equipment in town and if you're a complete novice, you can arrange lessons too.
Try Your Luck at Fly Fishing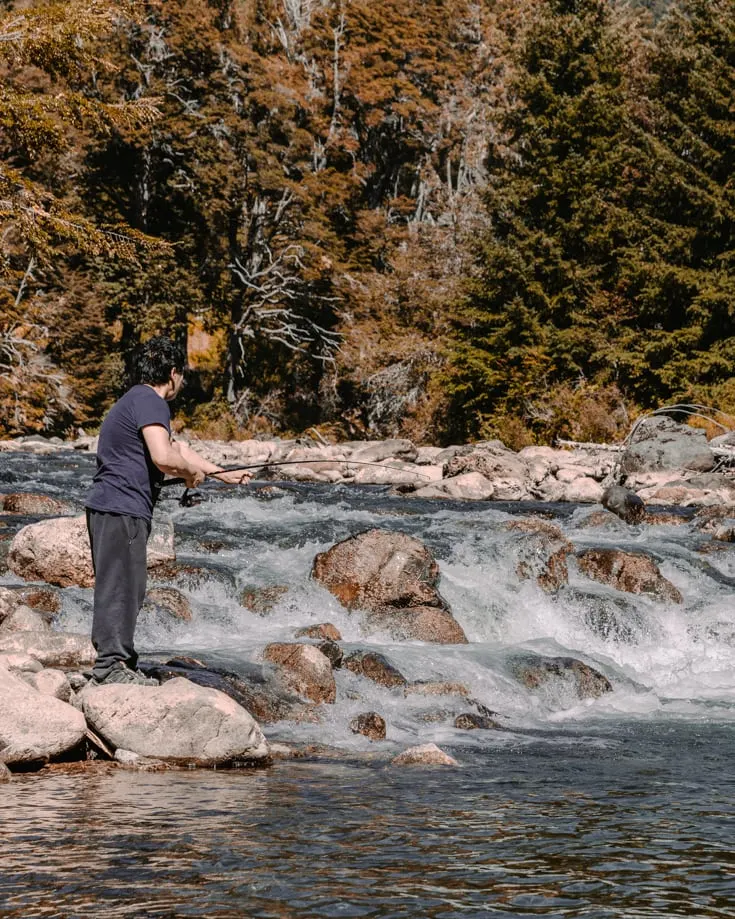 With a backdrop of snow-capped mountains and volcanoes, try your luck and patience at fly fishing in the pristine rivers around the town.
The season runs from October to April and a permit is essential to fish in the Neuquen province. You can arrange this in any sports shop in town.
If you can pull a group of up to 4 people together, you can arrange a private tour from Bariloche.
For those passionate about fly-fishing, you can even arrange a multi-day, all-inclusive fishing program. Check out this incredible 4–day program at Estancia Arroyo Verde for size.
For complete novices, speak to one of the many outfitters in town. Damonte Outfitters Fly Fishing & Fly Shop comes highly recommended.
They'll gear you up and even arrange lessons to teach you all the tips and tricks needed to reel in a big catch of trout or salmon.
Visit the Mapuche Village of Quila Quina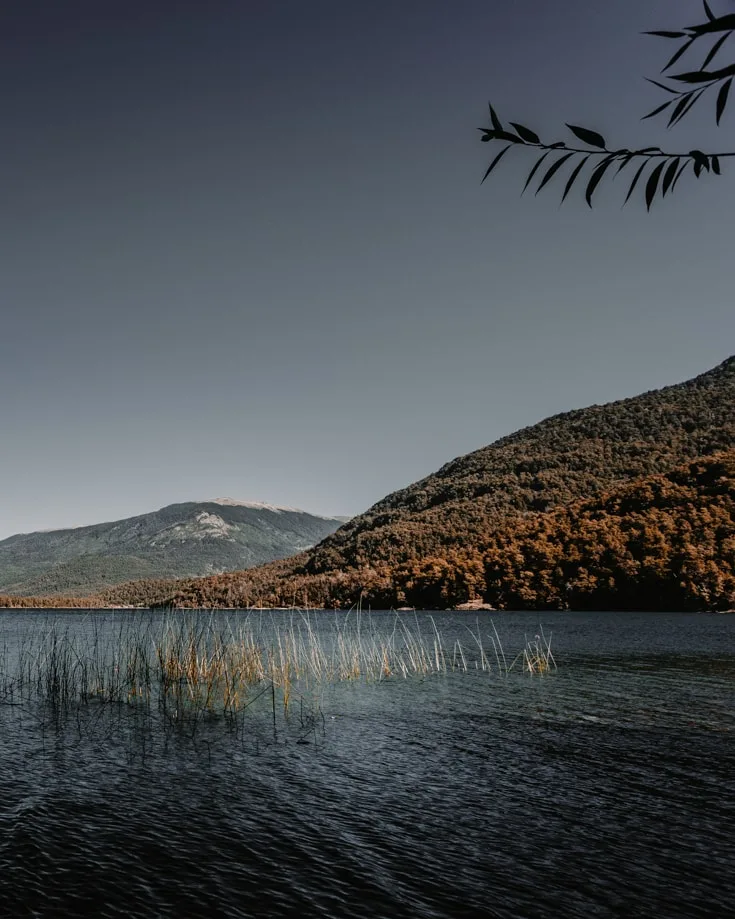 The Mapuche settlement of Quila Quina has an idyllic location on the southern shore of Lago Lácar.
With traditional homes surrounded by orchards and smallholdings, visitors can get a flavour of indigenous life.
Yet the community has moved with the times, catering for the hoards of day-trippers from town.
You can escape the worst of the crowds by visiting in December. Otherwise, drive a little further down the trail and find a quieter spot away from the restaurant and pier.
More popular than La Islita and Playa Yuco, you won't have Quila Quina to yourself.
Hiking in Parque Nacional Lanín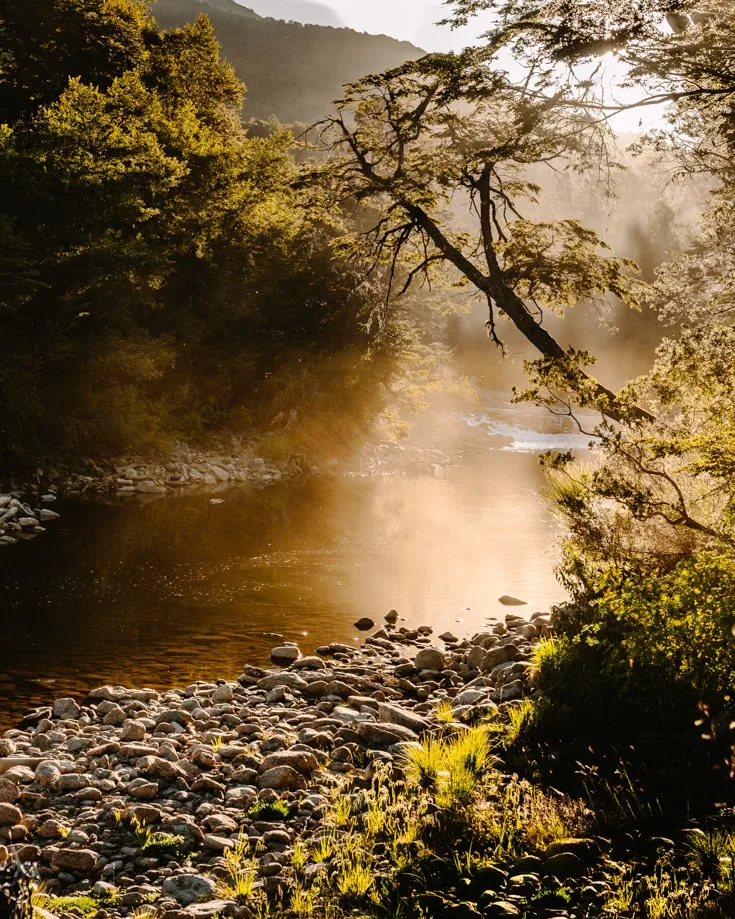 Hiking in Lanín National Park is a popular activity to do in and around San Martin.
We've already mentioned Cerro Colorado and Laguna Rosales. And there are loads of hiking trails around Quila Quina too.
Much further north from San Martin, you can even hike up Lanin volcano that gave the National Park its name.
Keep an eye out for our upcoming articles on other things to do in Neuquen province and Parque Nacional Lanín.
Total Solar Eclipse 2020
Junin de los Andes is another small town (much smaller than San Martin de los Andes) only 40 kilometres north along Ruta 40.
This is fly-fishing central in the region but more special, it's right on the path of totality for the December 2020 solar eclipse.
So if you're looking for an adventure vacation with a chance of seeing a total solar eclipse, San Martin is completely the right place to be for the austral summer.
If you plan to visit the area for this year's solar eclipse, drop us a line to let us know. We'd love to meet up and share a glass of wine or 2!
Best Time to Visit San Martin de los Andes
When you click on links to various merchants on this site and make a purchase, this can result in this site earning a commission. As an Amazon Associate we earn from qualifying purchases. For more info, please check our disclosure page.
There really isn't a best time to visit San Martin. Rather it depends on what activities you want to do when you get here.
The winter ski season around Chapelco Hill runs from around mid-June to mid-October. The busy summer season is perfect for hiking and water sports on the lake.
January and February are especially busy during the Argentinian summer holidays.
Check out our guide on the best time to go to Patagonia if you're heading further afield.
How to Get to San Martin de los Andes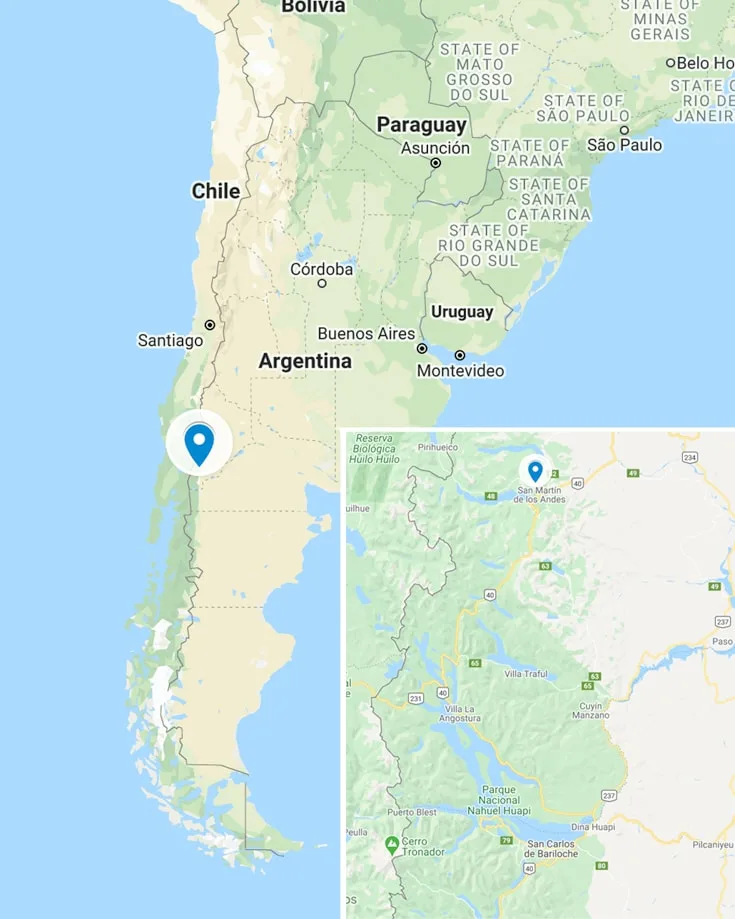 San Martin de los Andes is right on Ruta 40 at the eastern shore of Lake Lácar. It has an airport and a good road network from every direction.
If your trip is part of a wider adventure throughout the country, don't leave home without checking out our complete Argentina travel guide.
How to get to San Martin de los Andes from Buenos Aires
If you plan to fly, choosing Bariloche is often a cheaper option.
Flights from Buenos Aires to San Carlos de Bariloche run frequently. There are up to 3 flights a day running out of Aeroparque Jorge Newbery, not far from Buenos Aires city centre.
The flight takes a little over 2 hours and if you book in advance, can get a one-way ticket for around GBP £50 | US $60 | ARG $5000.
You can get the latest prices and availability for flights to Bariloche here.
If you don't want to fly, you can get a 24-hour bus from Buenos Aires to Bariloche. A one-way ticket costs around GBP £35 | US $43 | ARG $3500.
To get to San Martin de los Andes from Bariloche, you'll follow the 7 lakes route.
Driving to San Martin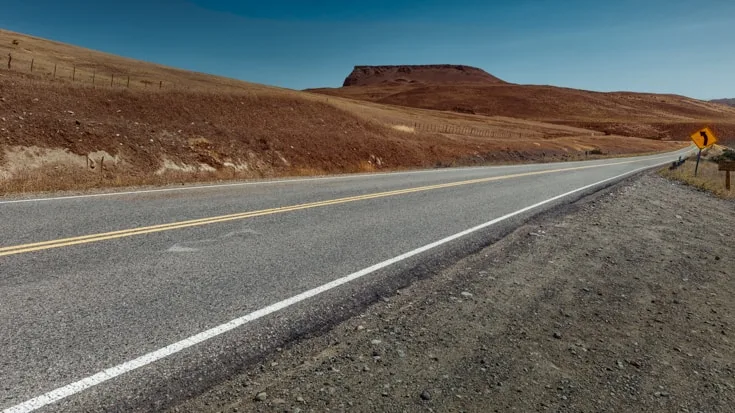 From the south, leave Bariloche and stick to Ruta 40 for around 190 kilometres.
From Buenos Aires in the east, follow RN 5 to Santa Rosa, then head towards Lihue Calel National Park via RN35 and RN 152. As RN152 leaves La Pampa province and enters Neuquen, it changes to RP6. Follow it until you reach RN22 and turn right towards Bariloche and follow it until you reach Ruta 40 at Junin de los Andes.
Chile is to the west. If you have a rental vehicle, make sure you have the necessary paperwork, insurance and authority to take your vehicle across the border.
Make sure to check out our guide to driving in Argentina for lots of tips and advice.
How to Get Around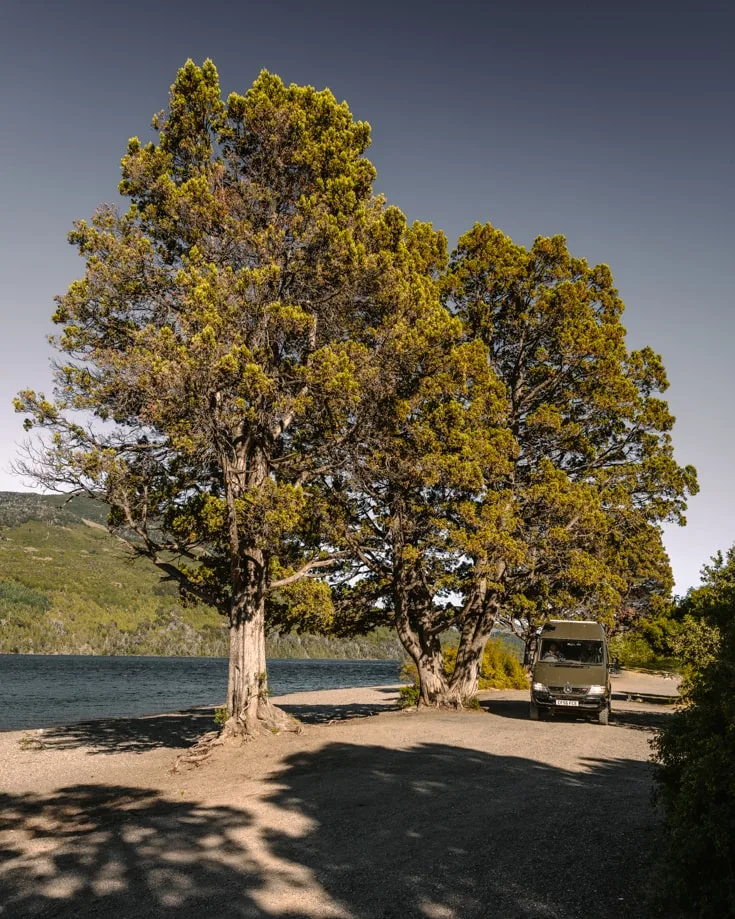 While the town is easily visited on foot, to explore the region within Lanin National Park, we recommend you hire a car.
If possible, hire a car from Bariloche because it's cheaper and you'll probably have more options and availability there too.
If you're travelling from Buenos Aires, it's more economical to hire a car from Bariloche or San Martin de los Andes than to drive the 1600 kilometres across the country.
Get a free rental car quote here.
Camping
We love the great outdoors and travel in our self-built camper van Baloo, so our go-to accommodation is (usually free) camping.
This area has loads of options from established campgrounds to free 'wild' camping spots on the lake shores.
We use the iOverlander app offline to see where other travellers have stayed in the region and get an idea of a suitable spot for us.
If you do choose to camp this way, we encourage you to do so responsibly. For more information, read our guide to wild camping responsibly in your camper van.
Where to Stay
If you prefer to stay in hotels or hostels, San Martin de los Andes has plenty of accommodation options to suit most budgets.
Luxury | A charming mountain lodge, Rio Hermoso Hotel De Montaña is set in the middle of the Patagonian woods of Lanin National Park. For a luxurious stay with open fires, river views and passing deer in the heart of Patagonian nature, this place is for you.
Check prices and availability for Rio Hermoso Hotel De Montaña here.
Mid Range | For a mountain style guesthouse, Casona Del Alto has terrific views. A few minutes' ride out of the town and with a highly regarded restaurant on-site, it's an ideal getaway for any season.
Check prices and availability for Casona Del Alto here.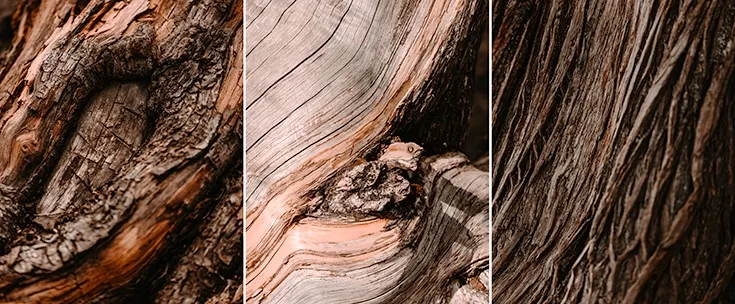 Affordable | There are plenty of affordable hostels and guest houses in San Martin de los Andes, although they do get booked up quite quickly. Hostería El Arbol Duende is a well-rated affordable guesthouse.
Near the lake and the town, the location is perfect for those who'd prefer not to drive or get a taxi to and from their hotel. And their breakfasts are highly recommended too!
Check prices and availability for Hostería El Arbol Duende here.
If you'd prefer more budget accommodation, make sure to check out Hostelworld for their latest rates and availability.
What to Pack
Packing for San Martin de los Andes is pretty much the same as packing for the rest of Patagonia.
Layers, layers, sun cream and more layers! And don't lose your binoculars!
Check out our definitive Patagonia packing list to make your trip preparations a little bit easier.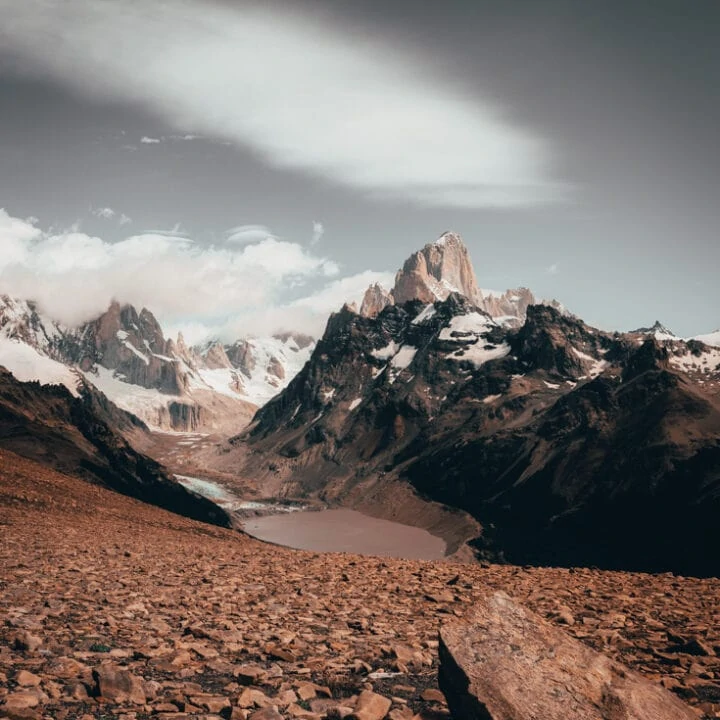 Patagonia Travel Tips
Important tips and resources for planning an incredible trip to Patagonia, based on our extensive experience travelling through the entire region.
Tools
Instructions
Find the best time to go to Patagonia for the things you enjoy.
Book a cheap flight to Patagonia with Skyscanner. Better still, if you're planning a long-term trip, ship your camper van to South America as we did!
Plan a rough itinerary with an idea of how long you'll stay in each place. But be flexible - Patagonia will get under your skin and you'll wish you had more time. Get a copy of the Moon Patagonia travel guide to help you plan your itinerary.
If you want to explore Patagonia in a rental car, make sure to book in advance. Especially if you travel between December and February. Get free comparison quotes with rentalcars.com.
Check out our extensive and still growing guides to Patagonia for more information on both Chilean and Argentinian Patagonia with places to go, things to do and see & loads more.
Book your accommodation in advance, at least for the first destination. For hotels, use booking.com. For apartments use Airbnb and get a discount on your first booking. For free camping, use the iOverlander app offline.
Try to learn Spanish or at the very least have some basic phrases. English is widely spoken in the major tourist towns in the south, like El Calafate, El Chalten and Puerto Natales. Everywhere else, you'll need some basic language skills to get the most out of your trip.
Reserve your tours and activities in advance with Viator and Get Your Guide.
Get your rucksack ready with our definitive Patagonia packing list.
Go have the adventure of a lifetime!
Notes
We hope this helps you plan your travels in Patagonia. It's an enormous region and one we completely adore. Yet we found it difficult to plan our first trip, so we've written extensively about it to help you out!
If you have any questions about Patagonia, travelling in a vehicle or even building a campervan, contact us by email at [email protected].
Like it? Pin it!