San Pedro de Atacama is in the driest hot desert in the world, in northern Chile. The Atacama is a world away from the huge sand dunes of the Sahara and often times, feels a world away even from this planet.
From snow capped volcanoes, salt flats, flamingoes and the most spectacular landscapes, the Atacama Desert is a kaleidoscope of colour. A place no visitor could forget.
This post is our definitive guide to San Pedro de Atacama and the surrounding attractions. It's an epic post and provides you with everything you need to know to have a fantastic trip.
Contrary to popular belief, there are few places in and around San Pedro de Atacama you need to book a tour for. If you have your own vehicle, well it's easy to visit most places in this guide.
If you have a driving licence, hiring a car will save you lots of cash and you'll get to see loads more for less too.
This guide helps you to plan your travel budget for your Atacama Desert trip too, with tips on where to stay, shopping and other practical travel information you'll need. Enjoy!
Free things to do in and around San Pedro de Atacama
Chile is expensive. Expensive by European standards let alone South American. And because we live on a pretty tight budget, we love to find free things to do on our travels.
This is a list of all the free things we discovered to do in and around San Pedro de Atacama. While you need to make travel arrangements to get to these places, there aren't any entrance fees.
Stargazing in the Atacama Desert
Learn about ALMA observatory
Visit Chile's salt flats at Salar de Tara
Browse the shelves of Libreria Del Desierto
Pay homage to Sidney Hollingworth
Visit Valle de la Muerte, or Death Valley
Visit the 16th century Church of San Pedro de Atacama
Stand in the shadow of the Volcano Licancabur (or climb it)
Explore Valle Arcoiris (Rainbow Valley)
Take a road trip along Sico Pass, Ruta 23
Cross the Tropic of Capricorn
Be awed by the colours of Aguas Calientes
Can you drive yourself to the attractions around San Pedro de Atacama?
Most of the things to do and see in San Pedro de Atacama can be arranged through a tour guide but it's an expensive option.
There's plenty of places in the Atacama Desert accessible in a 2 wheel drive vehicle. Hiring a car in San Pedro de Atacama is a great way to cut down on tours costs and see more for less.
The only things to do in San Pedro de Atacama on this list you need a 4×4 vehicle for is a visit to EL Tatio Geysers and Valle Arcoiris (Rainbow Valley).
The roads to these places are long, rough and punishing on a small 2 wheel drive car. You should also check with the locals in San Pedro about the road and weather conditions before you travel.
If you don't have access to a 4×4 vehicle, tours can be booked in town.
Things to do in San Pedro de Atacama
What follows is our guide to some of the best things to do in and around San Pedro de Atacama.
Explore the Valle de la Luna (Moon Valley)
The landscape at Valle de la Luna (Moon Valley) is one of the main reasons people visit the Atacama Desert. It's full of astounding views, crazy rock formations, dark caverns and a huge sand dune.
Cuevas de Sal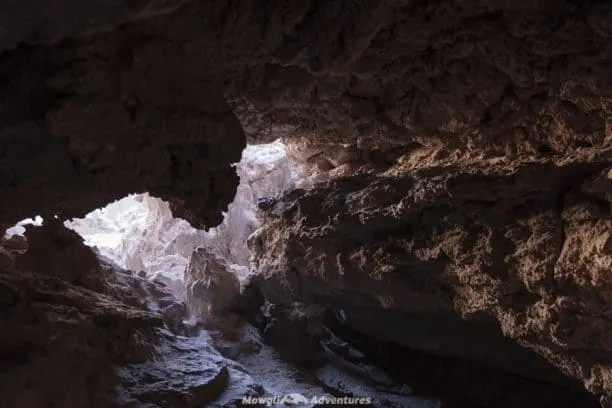 The Cuevas de Sal is the first stop once inside the park. The area is formed from soft salt and sandstone rock, shaped by the little rain that falls and the big winds that blow here.
In one area, there's a gully through the rocks. As we walk through the gulley it becomes more narrow and eventually turns into a tunnel. Climbing up and through it in pitch dark was an adventure in itself.
Amphitheatre in Valle de la Luna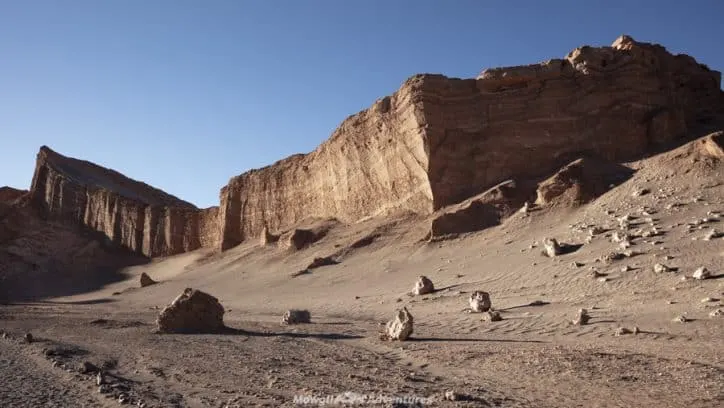 The amphitheatre is a huge red rock protruding from the desert floor. It gets its name from its shape. Make sure to climb up the hills opposite the amphitheatre for fantastic views.
Las Tres Marias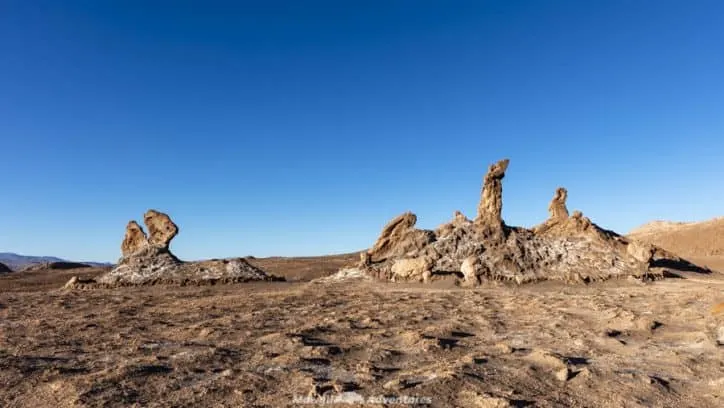 Tres Marias are rock formations composed of clay, salt, gems and quartz. They're thought to be around a million years old!
Sunset from the Grand Dune

It takes around 20 minute to climb from the car park to the top of the Grande Dune. From here, loads of tourists witness the sun setting over the Atacama Desert every day.
There's no chance of having the place to yourself at the end of the day so maybe enjoy this spot earlier and find a quieter place for sunset.
Things to know before you visit Valle de la Luna
Entrance to Valle de la Luna is 3000 CLP or 2500 CLP before midday.
Valle de la Luna is only 13 kilometres from the town of San Pedro de Atacama on a tarmac road, so there's no need for a 4×4 vehicle. To really explore the park well, you need to spend a few hours there.
The tracks around the park are gravel and sand but there's no need for a 4×4.
To get to Valle de la Luna you can either drive your own vehicle or hire car, cycle if you're so inclined, or jump on board one of the numerous tours you can book in town.
There's very little shade inside the park so make sure to bring suncream and plenty of water too.
You'll spend a lot of time climbing sand dunes and clambering through caves and over rocks so wear walking boots not your flip flops.
If your chosen mode of transport is bicycle, consider the distances you need to cycle around the park too.
Camping inside the park isn't allowed. Yep – we were disappointed too!
Watch the sunrise at El Tatio Geysers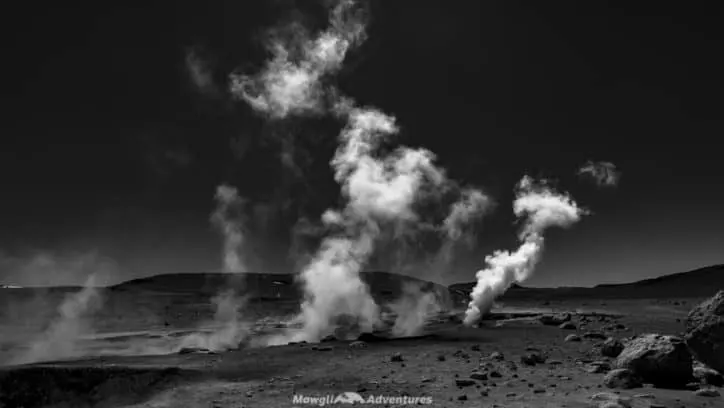 El Tatio Geysers is the most popular place to visit in the Atacama Desert outside of San Pedro de Atacama. The geysers continuously spray water and billowing steam clouds high into the air.
As we came to expect from the Atacama, the landscape out here is otherworldly and the clouds of steam add to the sense of mystery and beauty.
Things to know before you visit El Tatio Geysers
The best time to visit El Tatio Geysers is at sunrise when the low sunlight highlights the rising water jets. If you're in your own vehicle, camping the night before in an option.
Just bear in mind the geysers are at an altitude of 4300 metres above sea level so it's going to be a very cold night, well below zero, no matter what time of year you visit.
Entrance tickets are 10000 CLP.
El Tatio Geysers are about 80 kilometres from San Pedro de Atacama and most of this is on rough track. In good weather, this is doable in a 2 wheel drive albeit it probably isn't the fastest or most comfortable way to get there.
If there is heavy snow, the track up to El Tatio Geysers might be closed. Check with the locals in town on the road conditions before you travel.
If you don't want to drive the rough tracks in your own vehicle or have no other choice, you can arrange a tour in San Pedro. The tours leave as early as 4am so you arrive at El Tatio Geysers in time for sunrise so plan for an early night before.
Stargazing in the Atacama Desert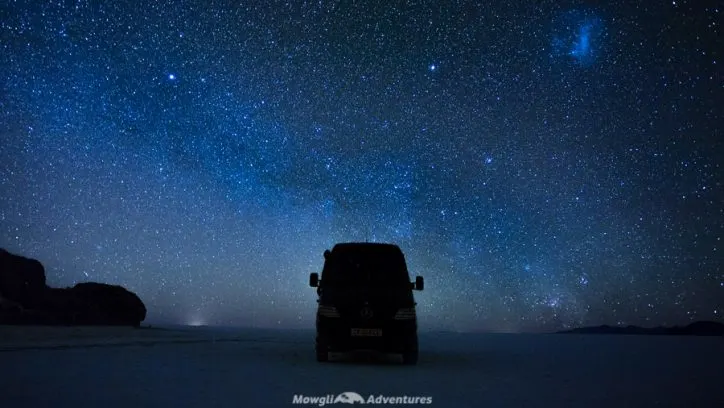 Because the Atacama Desert is one of the driest places in the world, the area around San Pedro de Atacama is an astronomers playground.
Coupled with the high altitude and dryness of the area, there's virtually no air pollution and views of the sky are uninterrupted. It's the perfect recipe for a night of stargazing.
Stargazing on a budget in the Atacama desert is easy. Simply travel a few miles away from the lights from the town of San Pedro de Atacama on a moonless, clear night, lie back and watch the sky.
As your eyes become accustomed to the dark, the stars will pop. The longer you watch, the more stars you'll see.
If you want a more interactive and educational experience, San Pedro de Atacama is perfect for watching the night sky through a telescope. You can book stargazing tours in town from a multitude of agencies. Just look out for the telescopes outside of their offices. Take a look at our advice on booking tours in San Pedro de Atacama at the bottom of this post.
Learn about ALMA observatory
Sticking with the night sky theme, if you're really interested in astrology, bag yourself a free tour to learn about the ALMA observatory.
The Atacama Large Millimeter Array (ALMA) is a radio observatory of more than 60 dish antennas linked together with sophisticated electronics and computers. Images of deep space captured are said to be 10 times more detailed than those taken by the Hubble Space Telescope.
The visits include a tour of the operations facility. You can get a guided tour of the control room, laboratories, and sometimes an antenna in maintenance and antenna transporter.
It's just a shame they don't arrange tours to the actual dishes on Chajnantor Plateau.
You need to register online to secure your free space. If the date you plan to visit is already fully booked, you can add your details to a waiting list.
If the waiting list is also full, you can just turn up early for the tour. More often than not, there will be a few available spaces.
Pick up is from the town of San Pedro de Atacama so if your accommodation is outside of town, you need to make your own way there.
For more information on how to secure your free place on the ALMA observatory tour, take go their website here.
Visit Salar de Tara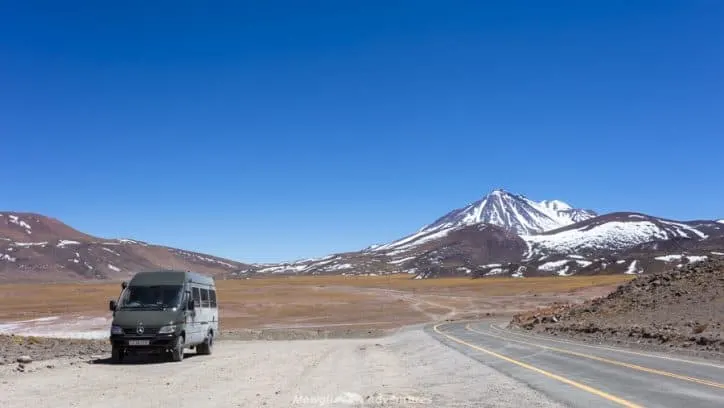 Salar de Tara is Chile's answer to the famous Salar de Uyuni salt flats of Bolivia. If you can't make it to Uyuni from Chile, then a visit to Salar de Tara is the next best thing.
Even so, the landscape of Salar de Tara isn't kilometres upon kilometres of pristine white salt as in Uyuni. The area here is green, with more wildlife and unique rock formations.
Set in amongst Los Flamencos National Reserve, the entire area is a sight to behold.
The greatest attraction in Tara is the Monjes de Pacana, giant vertical rocks resembling the silhouette of monks.
Salar de Tara is about 140 kilometres from San Pedro. This is a high altitude route so make sure you've acclimatised before you travel to avoid altitude sickness.
Browse the shelves of Libreria Del Desierto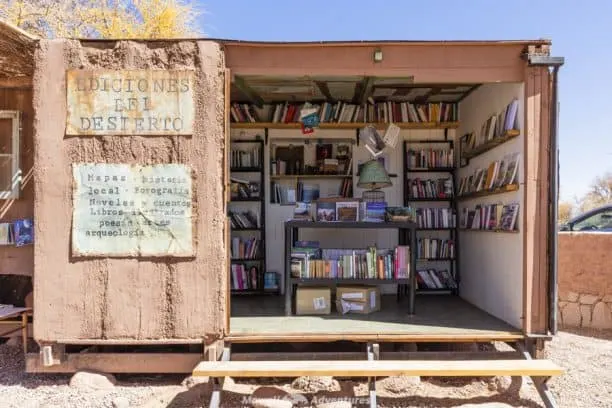 If you're a bookworm and looking for something pretty unique to do in San Pedro de Atacama, you must pay a visit to Libreria Del Desierto.
Facing the iconic volcano Licancabur, Libreria del Desierto is a bookstore set in an oasis of tranquility. As soon as we arrived, Mauricio swung open the front wall of a wooden structure to reveal the quirkiest little bookstore.
While Mauricio made us a brew, we perused the shelves.
Libreria Del Desierto is also an independent publishing house and has a wide selection of books. Most are in Spanish, of course but you can find a few in English too.
The owner's house next door is a stunning adobe building and doubles as and art gallery and family home. After a fabulous pot of tea, Mauricio gave us a short tour of the house and garden.
A visit to Libreria Del Desierto is a perfect way to while away a couple of hours away from the chaos of the streets of San Pedro de Atacama. You can find out more about Libreria Del Desierto from their website and their Facebook page.
Libreria Del Desierto is about 6 kilometres from San Pedro de Atacama. It's accessed along a few sandy tracks, no problem for a 2 wheel drive car. You could even hire a bike in town and cycle there.
Pay homage to Sidney Hollingworth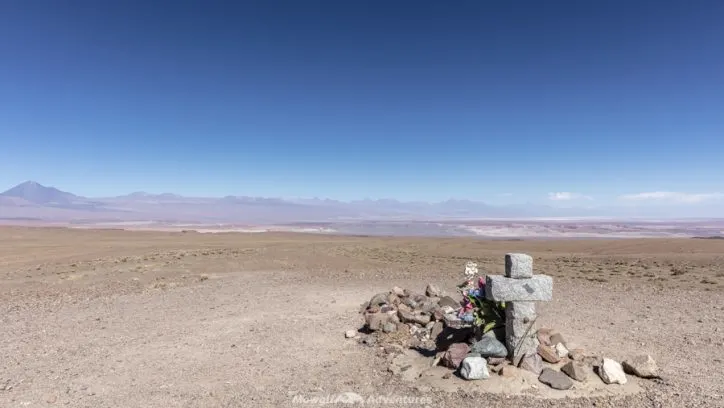 "Who is Sidney Hollingworth?"I hear you cry! Good question. We didn't know either until on random day we pulled off the road into San Pedro de Atacama to make a cup of tea and enjoy the stunning views below us.
The mountain roads of South America are adorned with memorials and the wreckage of cars and buses where people have lost their lives.
As we drove back into San Pedro de Atacama from Calama, we pulled off a road to enjoy the views over the desert. It happened to also be the place of what we thought was yet another memorial or roadside grave.
To our surprise, the headstone told us this was the final resting place for one Sidney Hollingworth, a British Geologist. So of course, we looked him up.
Turns out he helped create maps & memoirs for parts of north England we've lived and have family – Brampton, Whitehaven and Cockermouth.
Sidney once took a research trip to Chile and so loved this view, he asked to be buried here. A completely random chance and a fabulous resting place too!
If you have any idea how we can contact Sidney's family we'd love to hear from you! We'd like to let them know we paid our respects. His resting place is in good order and still regularly visited judging from the flowers left at the site.
Float In the Atacama's salt lakes
With so much salt around, it's perhaps not surprising there's a few salt lakes in the Atacama Desert. Within half an hour's drive of San Pedro de Atacama you can visit a few.
The most popular one seems to be Laguna Cejar but at 15000 CLP per person for entrance, it's a tad steep for us.
At 5000 CLP per person, Laguna Baltinache is a more sensibly priced option and has far less crowds too.
Driving to the salt lagoons around San Pedro is easy in a 2 wheel drive – not advisable on a bicycle though!
Try sand boarding in Valle de la Muerte, or Death Valley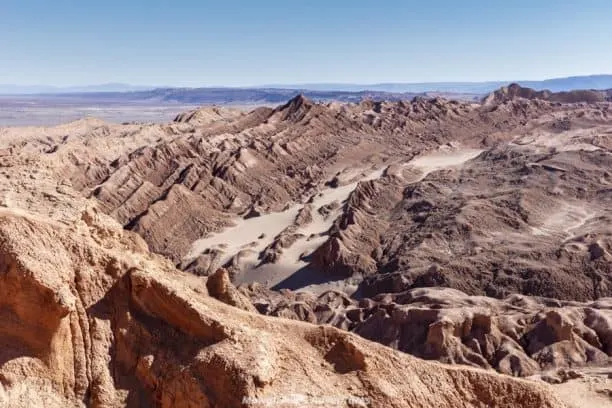 Valle de la Muerte, or Death Valley is about 13 kilometres from San Pedro de Atacama and a stone's throw from Valle de la Luna. This sprawling environment is bursting with crazy, rugged and weathered rock formations, and some huge sand dunes.
We loved the silence, the peacefulness of this place and the views are simply incredible.
Also known as Mars Valley, Valle de la Muerte is a popular place to go sand boarding down the dunes. You can rent a board from San Pedro de Atacama, or join a tour.
Visit the 16th Century Church of San Pedro de Atacama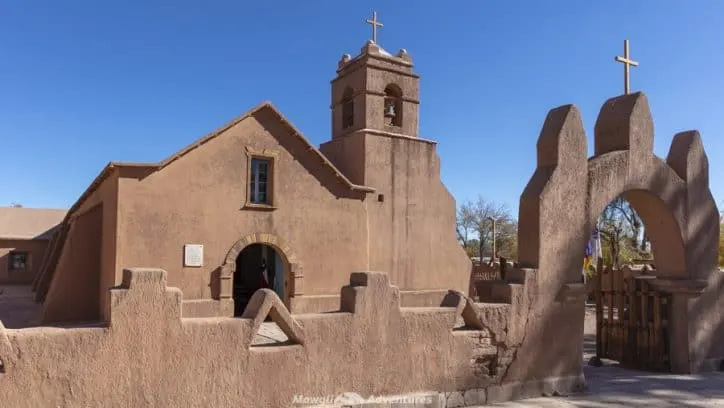 San Pedro de Atacama is a bit of tourist town. It's a popular base for exploring the highlights of the Atacama Desert, but there's very little in the way of authentic Chile here. Except perhaps for this ancient church in the town plaza.
The streets of San Pedro de Atacama are lined with adobe buildings. The Church of San Pedro de Atacama is too but dates back to the 16th century and is simple and elegant. Built from adobe and cactus wood, it was once painted white. A few years ago the locals stripped the paint away and left it in its original, mud style.
A visit to the church of San Pedro de Atacama will only take a few minutes and is completely free. The interior is simple but make sure to look up at the cactus wood ceiling.
Stand in the shadow of the Volcano Licancabur (or climb it)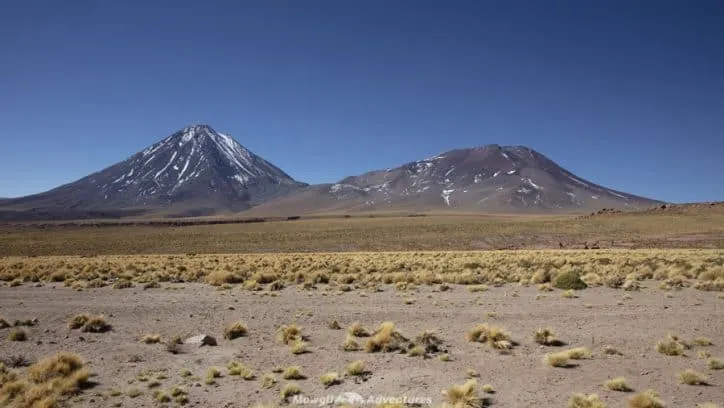 No matter where you are in and around San Pedro de Atacama, Volcano Licancabur is visible. It's located 60 kilometres east of the town.
Our first glimpse of this almost 6000 metre volcano was from Laguna Verde on Bolivia's Laguna Route. As we arrived in Chile and drove the steep descent down into the town, we drove directly passed it.
If you're up for it, it's possible to arrange hiking expeditions to the summit of Volcano Licancabur. The crater cradles a huge lagoon which more often than not, remains frozen.
Explore Valle Arcoiris (Rainbow Valley)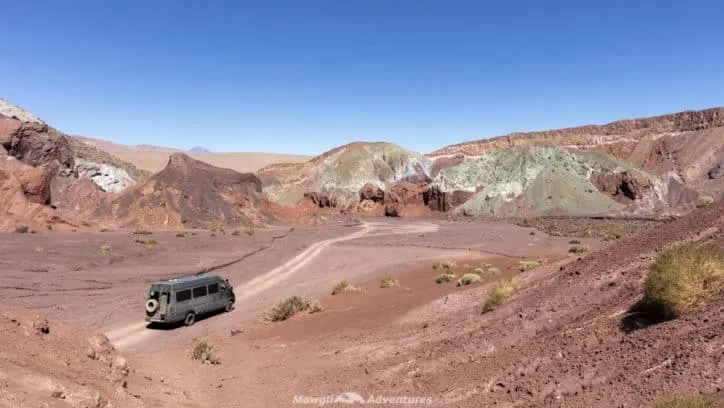 The Valle del Arcoiris (translates into English as Rainbow Valley) is located in the Rio Grande Basin, about 90 kms from San Pedro.
It owes its name to the variety of colours seen in the hills surrounding the valleys and gorges. High concentrations of minerals in the rocks here result in the intense colourings.
Formed by millions of years of tectonic movement and the creation of volcanoes, Valle del Arcoiris is only accessible by 4 wheel drive vehicle.
The tarmac road from San Pedro de Atacama ends abruptly and rough tracks and river crossings pave the way from there.
The area has experienced flash floods before now so before you go, check with the locals if river crossing are passable. While you can book tours from town to Valle del Arcoiris, make sure you check the area is accessible during your visit.
Camping is permitted anywhere in the park and we highly suggest you do so it. Set up camp, watch the sun dip below the horizon and then spend the night staring up at the one of the clearest skies you will ever see.
Discover ancient messages at the Yerbas Buenas Petroglyphs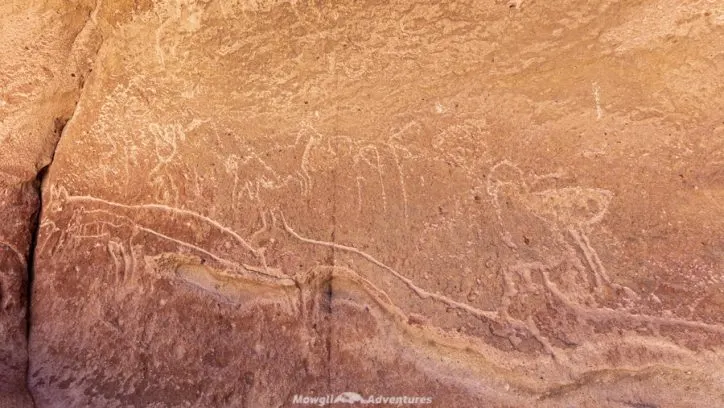 Once upon a time, there was no such thing as instant messaging. Can you even believe it? Yet way back then, people still communicated with each other in the form of messages, just not quite so instant.
Instead, travellers left messages for each other in the form of art, carved into the soft sandstone rocks and cliffs of the Atacama Desert.
The Yerbas Buenas Petroglyphs are located on the road towards Rio Grande and Valle Arcoiris and the site is covered with ancient carvings. They tell of the of local species and people in the area; foxes, flamingoes and alpacas. They date from somewhere between 2500 and 10000 years old.
Entrance to Yerbas Buenas Petroglyphs is 3000 CLP per person and the route is easily accessible from San Pedro in a 2 wheel drive vehicle.
Flamingo finding at Laguna Chaxa
Who doesn't love a flamingo? Their knees bend backwards so they walk a bit funny, they have weird beaks and they're pink! Laguna Chaxa is the best place to see them in the Atacama Desert.
Nature being, well nature, there's no guarantee the flamingoes will be hanging out waiting for you to visit though. We've heard some people say they'd seen hundreds the day before someone else saw only a handful. It's the luck of the draw I guess.
Entrance is 3000 CLP per person and it's easily accessible in a 2 wheel drive vehicle. Try to avoid sunset if you also want to avoid the crowds.
Take a road trip along Sico Pass, Ruta 23
For us this was the most spectacular place in the Atacama Desert. Ruta 23 stretches almost 200 kilometres from Calama in the west to Sico Pass in the east. The highest point on the pass is almost 4600 metres and the end of the road is the Chile/Argentina border post.
At this point the lush Chilean tarmac ends and 130 kilometres of rough, gravel washboard leads to the Argentinian town of San Antonio de los Cobres.
What makes this road trip so special though is the most spectacular scenery along its entire length. Here's just a few of the amazing highlights…
Hiking along Valle de Jere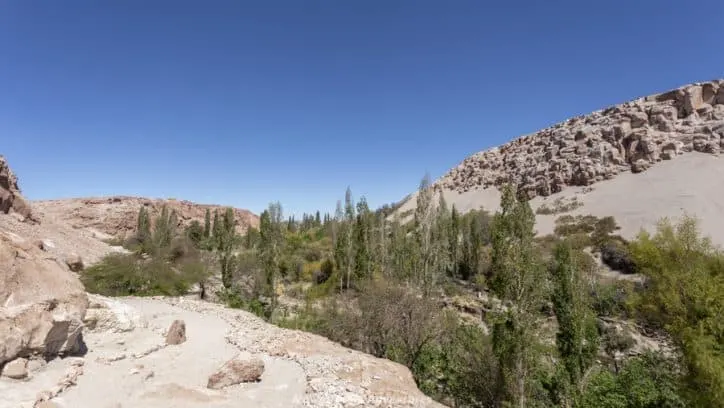 There's a couple of towns worthy of a stop off east of San Pedro de Atacama called Tocanao and Socaire. While you're in the area, make sure you pay a visit to the oasis at Valle de Jere.
The desert gorge is cut by a cool running stream, the banks flanked by lush vegetation. You can hike along the sides of the canyon walls but come prepared. These paths seem well maintained to start with but soon become more of a scramble, especially if you want to reach the petroglyphs at the end of the trail.
Entrance tickets are 1500 CLP per person and the access road is easily accessible to all vehicles.
Cross the Tropic of Capricorn
We've crossed the Tropic of Capricorn 3 times on our South America trip so far. The first time we were at sea, sailing on a cargo ship from Europe to Uruguay.
The second time we drove across it in Paraguay somewhere but didn't notice any signs. Now the 3rd time is here in Chile. We'll cross this arbitrary line a few more times yet on this trip too.
I have no idea why this is so fabulous but it is!
Enjoy breakfast at the Altiplanic Lagoons of Miscanti and Miñique

Los Flamencos National Reserve covers an area of 740 square kilometres and its altitude reaches from around 2300 metres to the giddy peaks of the highest volcanoes at around 6000 metres.
The Altiplanic Lagoons of Miscanti and Miñique are one of the seven sections of the reserve. They're surrounded by volcanoes and separated from each other by a kilometre of lava flow.
It's not possible to get too close to the shores of these lakes because it's a protected area for endangered nesting birds. But hey – the best views are all around anyway. An incredible place for breakfast!
Entrance tickets to the Altiplanic Lagoons are 3000 CLP per person. Well worth every peso!
Be awed by the colours of Aguas Calientes

There are plenty of lakes in and around San Pedro de Atacama. We've already shown you a few in this article. But this one was by far our favourite out of all of them.
Salar de Aguas Calientes is another salt flat in the Atacama Desert and this stunning lake sit right inside it. The light turquoise colours, the white salty shore, the deep blue sky and the surrounding snow capped mountains and volcanoes make for yet another out of this world landscape. Mother nature at her finest!
It's free to visit Aquas Calientes too.
Seriously, this route is completely fabulous and we suggest you try to camp out along the way to get the most out of it.
Map of attractions
This is a map indicating where each of the things to do in and around San Pedro de Atacama are in relation to the town.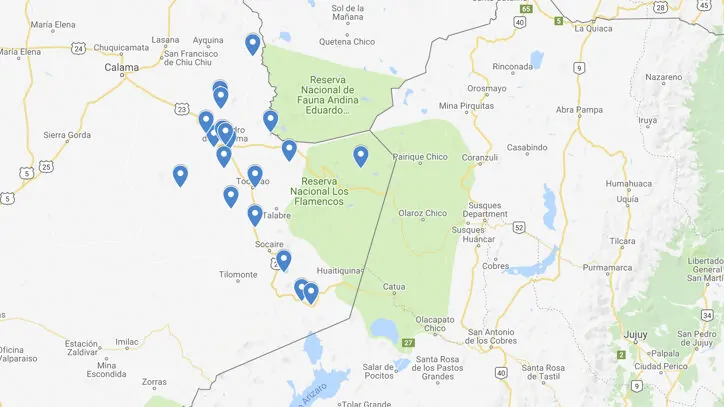 Tips on booking tours in San Pedro de Atacama

Ask how knowledgeable the tour guide is about the destination – or if he/she is only a driver. The guide will make or break your trip.
Make sure your guide will conduct your tour in English. The tours aren't cheap and you want to ensure it's targeted at English speakers. Otherwise you run the risk it'll be spoken in Spanish in the main, only for a brief overview to be given in English.
The Atacama is cold at night. For any night time tours, like the stargazing trips, make sure your tour guide will provide blankets and hot drinks – or bring your own.
If your accommodation isn't in the town of San Pedro de Atacama, make sure you arrange for the guide to pick you up and drop you off.
Some will try to insist you meet them in town but dig your heels in. There's dozens of agencies all offering the same tours so competition is high. They will agree.
Check the cancellation policy before you book. Some tours won't run in poor weather so you want to be able to get a refund in the event it's cancelled.
Ask how many people will be on the tour with you. Large groups may be a little cheaper than a small tour but your experience will be less informative and probably enjoyable.
Don´t buy all your tours in bulk at one company. Instead, book one tour to see if you're happy with them before booking another. Tell the agency this is what you're doing too.
Make sure you check if the entrance fees are included in the tour price. Often, you need to pay for admission on arrival. And bring cash.
While there's no need to book tours in advance outside of the high season, if you really want to, feel free to use our affiliate link to Viator.
Accommodation in San Pedro de Atacama
San Pedro de Atacama has a massive range of accommodation options.
From campsites to budget hostels and mid-range guesthouses to luxury resorts, there's no shortage of places to stay in San Pedro de Atacama.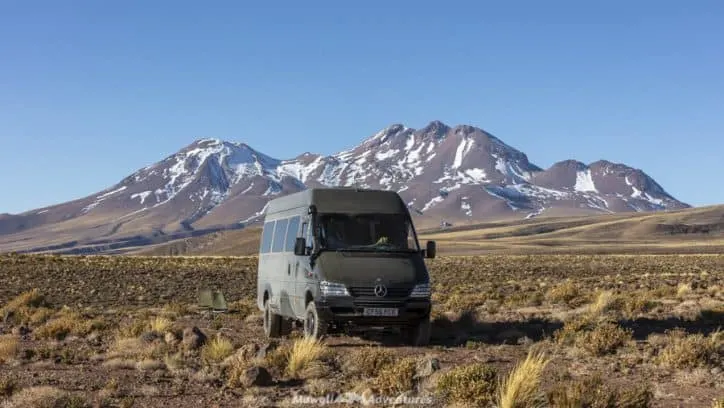 Camping in San Pedro de Atacama
This is one the most challenging places we've stayed at on our South American trip so far.
There's no established campground close to the town centre. There are at least 2 guesthouses that accommodate camper vans but it's not their main business.
All this results in effectively camping in a car park. While we had use for all the facilities, the price was very high and we paid 17000 CLP per night plus 5000 CLP for electricity.
That converted to around £24 per night. European prices without European standards so we felt a little hard done by.
Further out of town there's a cheap hostel that allows camping in the garden and a little further afield is an established campsite, albeit the facilities aren't so great.
The best options we found were to use the established campsite for cheap use of the washing machine then find a perfect wild camp spot at your leisure. Perfect for those of you self sufficient in your camper vans.
Take a look at iOverlander for the latest from other travellers for established, informal and wild camps in and around San Pedro de Atacama.
Hostels in San Pedro de Atacama
There's loads of hostels to choose from in town. Based on guest reviews, one of the best in town is Hostal Campo Base.
It's only a 5-minute walk from the bus station and a 10-minute walk from the town centre, and better still, has great wifi and a complimentary buffet breakfast!
Best Luxury Hotel In San Pedro de Atacama
Featuring free WiFi and breakfast, Terrantai Lodge is set in the historic centre of San Pedro de Atacama. With charming rooms the hotel is built from local natural stone.
Attention to detail and service are definitely strong factors here, right down to making sure guests receive extra large towels for visits to the geysers. How's that for service!
There's a lot of hotels in and around San Pedro de Atacama so don't worry if this one is fully booked. Click here to check what accommodation in San Pedro de Atacama is available for your trip.
Car hire
Whilst we drive our own vehicle, we appreciate that many people will want to fly into Chile and hire a car. We've never hired a car in Chile.
But we know enough to say you should really book with a reputable firm because you need assurance the car is well maintained and your insurance is valid.
We're not loyal to one rental firm, and will simply go with the one that offers the best value – and that means using a comparison website.
Rent a bike in San Pedro de Atacama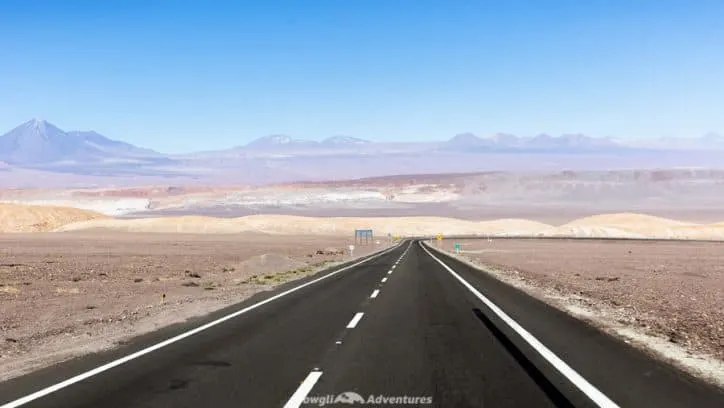 There's no shortage of bicycle rentals in the town of San Pedro de Atacama so best shop around for a good deal. Don't just look for the cheapest option though.
Make sure the bike is in good condition, preferably with front shocks for the rough terrain and test the brakes before you leave. Also, make sure you are provided with a good helmet for your own protection and a lock for security.
Most bike rentals shops will provide a map and give you some advice on distances.
Prices seem to vary little for bike rentals in town, so go with the best bikes and advice and don't worry about the price. A full day tends to cost about 8000 CLP, so about GBP£8 or US$10.
Practical matters for your stay in San Pedro de Atacama
Cash
There are a few ATM's in and around San Pedro de Atacama so in theory, you shouldn't have much trouble accessing cash. That said, it took us several attempts at different ATMS to successfully withdraw any funds. We have no idea why it was a problem either.
Fuel stations
There's aren't too many fuel stations around the Atacama Desert. Calama has plenty of fuel stations so there's no problem there. San Pedro de Atacama only has one.
The journey from San Pedro de Atacama to San Antonio de los Cobres in Argentina along the Paso Sico is a long drive and we didn't see any fuel stations along the route. Our advice is to fill up your tanks whenever you can.
Buying groceries
There aren't any large supermarkets in San Pedro de Atacama but there are a few convenience stores. To save money, buy fresh produce at the local fruit and vegetable market.
It's expensive by South American standards but cheaper then the small shops.
Wine is best bought by the litre. It's cheaper than 750cl bottle and not bad quality either.
Don't miss the french bakery at the east end of town either! La Franchuteria sells the best bread and croissants we've had for a long time!
When is the best time to visit the Atacama Desert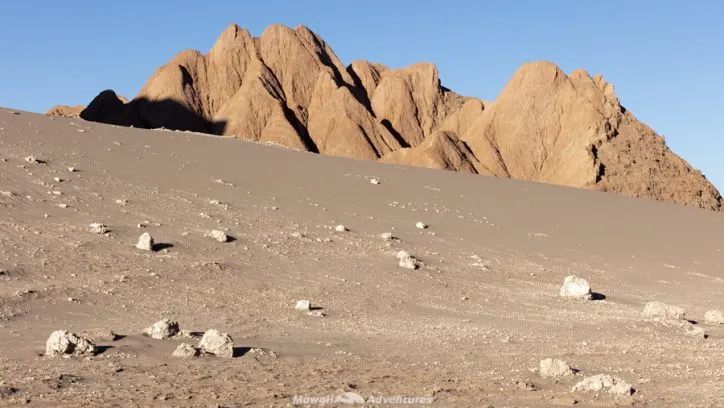 In our opinion, anytime of the year is good to visit the Atacama Desert. Most visitors (including us) base themselves in San Pedro de Atacama. The altitude is 2400 metres so not too high. This means the temperatures aren't too cold during the day, even in winter.
December to February are the summer months in the Atacama and also the high season. Tours sell out fast, accommodation in town is full and prices increase. While the climate is perfect, this makes for a busy and expensive trip.
Winter is low season and runs from July to September. Temperatures are still pleasant during the day but colder at night. Even so, we visited San Pedro de Atacama in September and it was fabulous.
Sure it was cold at night, but nothing a decent fleece jumper wouldn't resolve. The downside, of the winter months is it's the time of year when roads are most likely to become impassable, especially at higher altitudes.
We didn't have any problems when we visited though.
The rest of the year, spring and autumn, are a good mix lower prices, not too many visitors and pleasant temperatures so a good compromise.
What to pack for a trip to the Atacama Desert
When you click on links to various merchants on this site and make a purchase, this can result in this site earning a commission. As Amazon Associates, we earn from qualifying purchases. For more info, please check our disclosure page.
Given the varied temperatures and landscapes in the Atacama Desert, dressing in layers is the sensible approach. Here's our suggested packing list to prepare for your trip:
A warm jacket or fleece for the cold nights
Swimsuit
Sun cream, sun hat and sunglasses
Warm trousers, sweater, fleece, windbreaker, gloves and hat
Like it? Pin it!