We're not huge fans of cities but Sucre changed all that for us. Renowned for its laid back atmosphere and peaceful ambiance, Sucre drew us in. In fact, we loved Sucre so much we might even come back and settle here for a short time.
There's loads of things to do in Sucre too and it's all free or incredibly cheap too.
Things to do in Sucre
Soak up the atmosphere at Mercado Central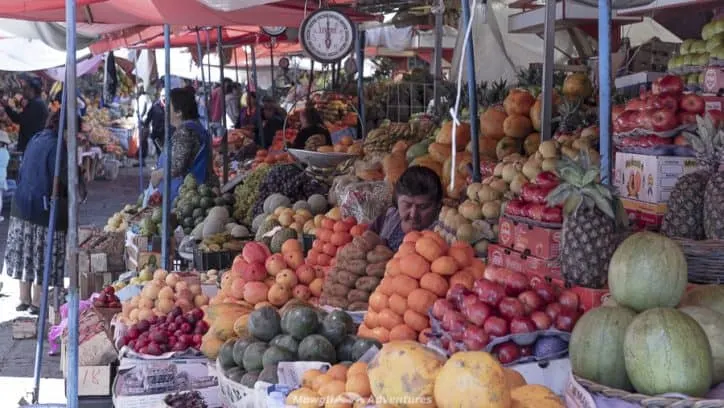 Mercado Central is the go to market for all your fresh groceries. You'll find stretches of the market dedicated to fruit, vegetables and meat counters selling every part of an animal imaginable, often dripping from swinging butcher's hooks.
It's clear the competition is high and the stall holders must be living on the margins. Business is often won by those with the most attractive displays, so much of the days' efforts are spent on rearranging, polish or sprinkling the fruit in water spry.
Raw Sucre life is on display here. This isn't a tourist attraction and you won't hear any English either. You'll see a few street kids though, old people begging for scraps or a few dib dobs and dogs that seem to fare better than either.
Upstairs in the Mercado Central, you can enjoy an incredibly cheap lunch alongside Sucre's locals. Just make sure you're stomach is already hardened as hygiene may not be what you're used to here.
Don't miss the jugos stalls at the back of the market either. For less than $1, fresh fruits are juiced and served up for your refreshment. Delicious!
Learn Spanish in Sucre
Sucre is a popular place in South America for improving your Spanish. Bolivian's speak relatively slowly, especially compared to their neighbours in Argentina and Chile.
So too, the Spanish language spoken in Bolivia is clear and unaffected by local dialects. This makes Bolivia a terrific South American country to learn and improve your Spanish.
Add to this a private 1-2-1 lesson costs around £4.50 GBP per hour and with loads of schools to choose from, there's nothing to hold you back.
We spent 3 weeks taking Spanish lessons in Sucre and not only did we learn more than we could have hoped for, we enjoyed every minute of it too!
This is one of the most popular things to do in Sucre for many visitors, whether you're a beginner or just want to improve your language skills.
Read more: learning Spanish in Sucre
Plaza 25 de Mayo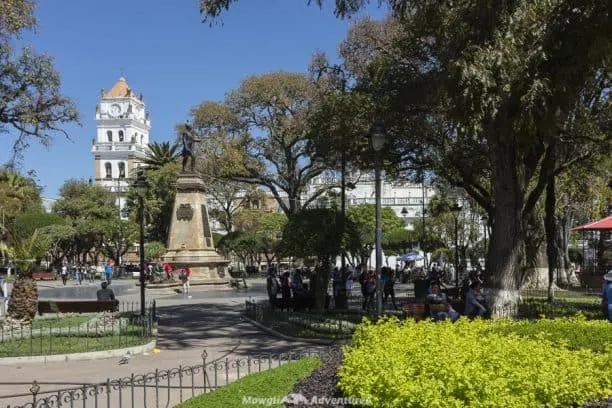 As with most South American towns and cities, Sucre life revolves around it's central Plaza 25 de Mayo.
It's a hive of activity with juice sellers, shoe shiners and snack vendors, local families, pigeons and tourists all enjoying the plaza's shade and water features.
Despite its popularity, Sucre's central plaza remains peaceful, making it the perfect spot to relax before your afternoon Spanish class and indulge in a spot of people watching.
Relax in the shade of Sucre's General Cemetery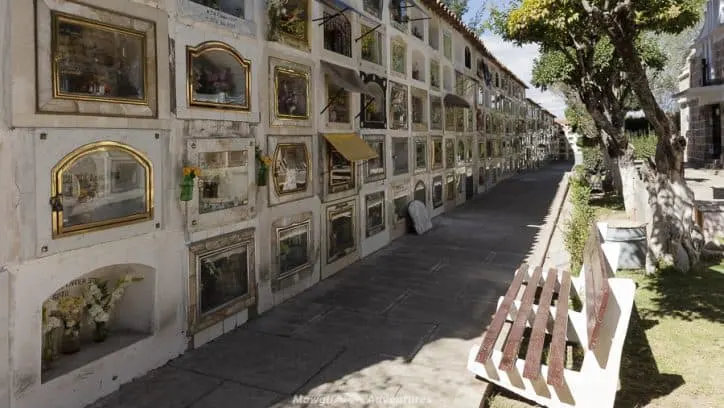 It may not sound like a top, must do activity on a visit to Sucre but believe us, an afternoon at Sucre's General Cemetery is wonderful.
The grounds offer some welcome shade and coolness from the relentless sunshine and the hustle and bustle of city life fades away at the gates.
The general cemetery is vast and has countless graves stacked high and hidden behind glass shrines filled with photos, flowers and objects left by the deceased's family & friends.
There's a strange sense of calm and peace here and if you're so inclined, you can hire one of the dozens of children who are paid to tend the graves as a tour guide, to show you around and point out one of the few graves of the rich and famous.
These kids are even paid to pray for the souls of the dearly departed. Although somehow delegating prayer seems somewhat of a strange concept to us.
Despite being so large, Sucre's General Cemetery is at capacity and plots are in high demand. So much so that a plot is only leased for upto 7 years.
After that, the family must claim the remains and move them somewhere else. If the remains aren't claimed, the cemetery arranges the removal to a mass grave somewhere else. This is quite contentious, as you can imagine.
Sundowners at La Recoleta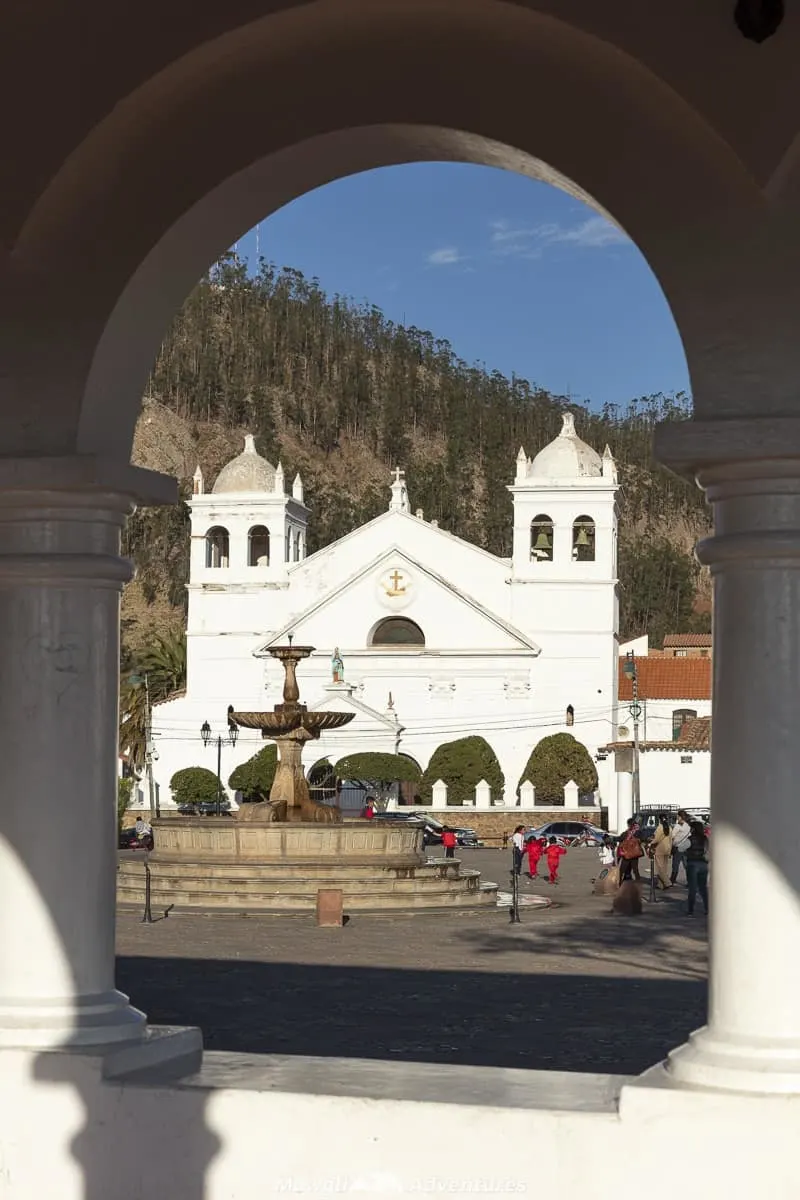 Not La Recoleta Cemetery in Buenos Aires but the square in Sucre.
For the best panoramic views over the city, climb the steep streets upto La Recoleta and enjoy your sundowners at the cafe there. The square here is clean and there's a few touristy stalls selling souvenirs, if you're so inclined!
Walk in footsteps of dinosaurs, literally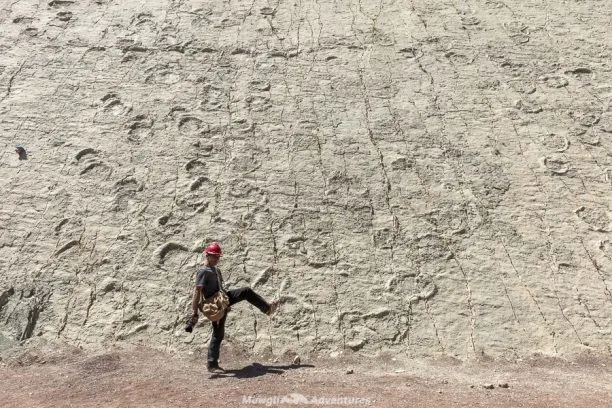 68 million years ago Sucre was on the shore of a huge ocean inlet where dinosaurs hung out.
They quite enjoyed a paddle and dipping their toes in the water, leaving their huge footprints behind in the clay. Since then, layers of sediment fell, compacted and protected those footprints.
Shifting tectonic plates created the spectacular Andes, thrusting Sucre up to almost 3000 metres above sea level. That once flat, clay shore is now at a 70 degree angle, thousands of kilometres from any ocean.
After years of quarrying by a local concrete firm, the sandstone layers protecting the footprints became exposed.
The elements and a few earthquakes finally eroded this layer too and in the mid 1990's, over 5000 perfectly preserved footprints were revealed.
Erosion continues so if you're in Sucre, don't miss a visit to Parque Cretácico. The huge stretch of footprints are the highlight of the visit.
There's also life size models of dinosaurs and loads of information about their life and extinction too.
We took a guided tour with JC, an English speaking ranger whose passion was infectious!
Things you need to know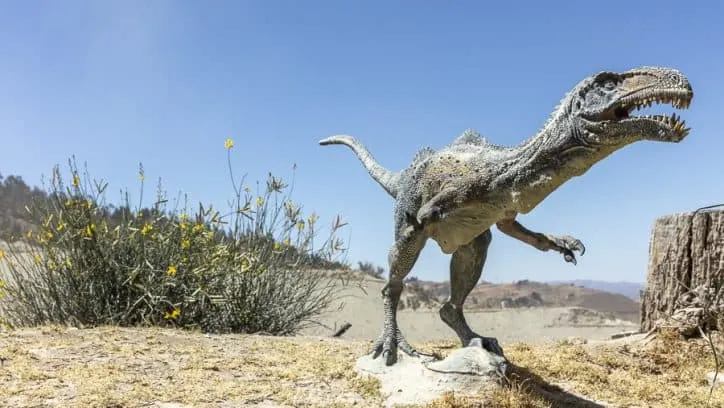 Admission to Parque Cretácico is 30 Bolivianos each plus 5 for a photography permit.
Because of the position of the sun in the sky, the footprints are best seen between noon and 2pm. The park allows visitors to get up close to the wall at only 2 daily tours, at noon and 1pm.
If you miss these, you can only see the footprints from a distance.
The close up tour of the footprints involves a steep descent and of course, if you go down, you must also come back up. At 3000 metres, where the air is getting quite thin, this takes some effort.
Wear sensible walking shoes, bring some water and take your time.
We drove Baloo to Parque Cretácico where there's plenty of free parking. You can also get a taxi from Sucre for 25 Bob each way. And the DinoBus leaves the Plaza at 11:30 and 12:30 each day too, just in time for the guided tours.
Spend a night out at Papa George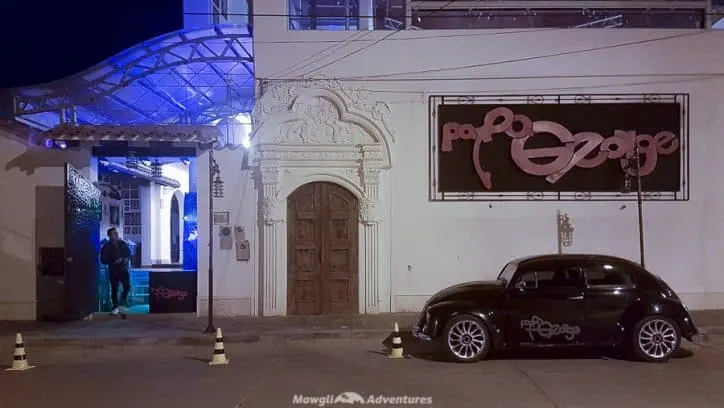 Now we don't splurge on nights out too often while we travel – they usually kill our budget and we spend the next few weeks trying to recover.
While a night out at Papa George also killed our budget, we had a completely fantastic night and went along with a group of fellow overlanders to see a Pink Floyd Tribute band – Bolivian style!
A funky venue, whisky sold by the bottle and a taxi home for next to nothing. What's not to love?
Visit the Tarabuco Sunday market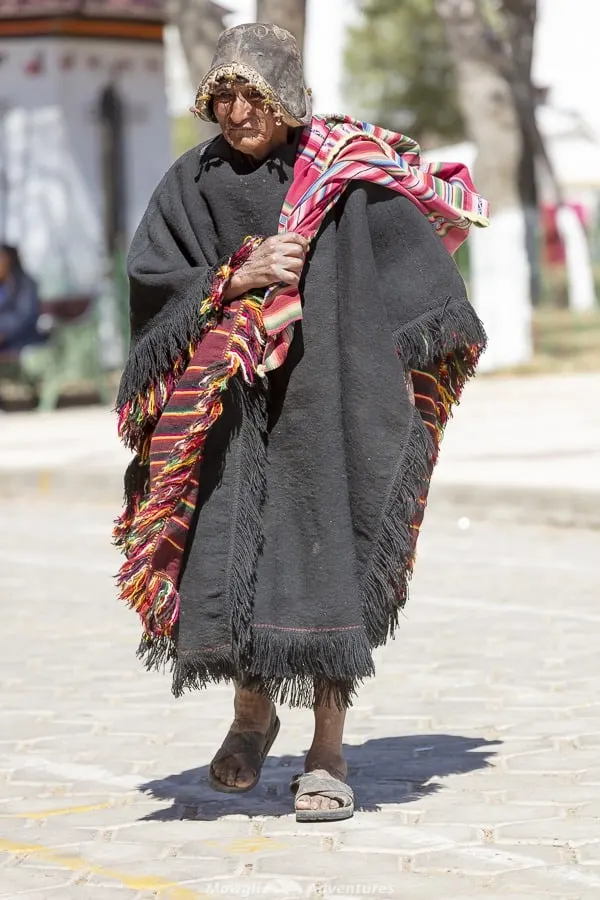 Tarabuco is a small town about 60 kilometres east of Sucre. The town consists of little more than a few dusty streets, lined with adobe houses, surrounding the central plaza.
Tarabuco is a small town about 60 kilometres east of Sucre. The town consists of little more than a few dusty streets, lined with adobe houses, surrounding the central plaza.
Sleepy for much of the week, Tarabuco bursts into life each Sunday, when it plays host to hundreds of traders who travel from miles around.
While some stalls compete for the gringo dollar, the majority of traders and customers are Bolivian.
The diversity of Bolivia is laid bare to see at Tarabuco's Sunday market. Locals arrive wearing traditional outfits and there's an impressive variety of hats on display.
To visit an authentic Bolivian market and see Bolivia's Aymara and Quechua communities dressed in their finest, don't miss a visit to Tarabuco's Sunday market. Just don't count on bagging a bargain.
Read on: Tarabuco Sunday market- a photo journal
Where to stay in Sucre
Camping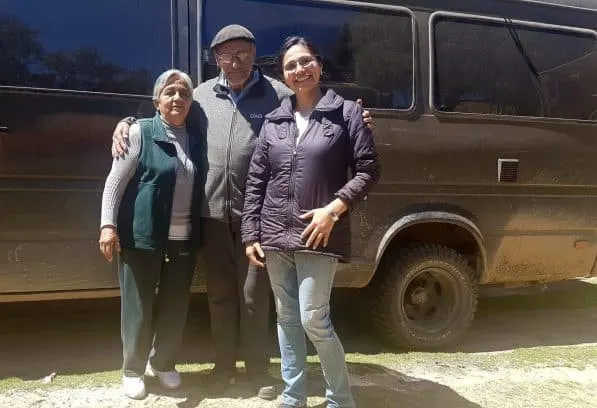 There's few options in Sucre for camping, especially if you're in an overland vehicle. Ioverlander has a few options for overnight street parking and if you only plan to spend a few days in the city with no need for facilities, these are a good budget option.
We planned to stay in Sucre for a few weeks because we wanted to go to Spanish school in the city so we needed some facilities to make our stay more comfortable.
The only place to camp in our camper van in Sucre is an unofficial campsite run by the lovely couple, Felicidad and Alberto. The address is 70 Mama Bolero but it's not signposted.
Upon arrival you need to track down Alberto or Felicidad to let you in. Alberto may be in his workshop on the property, knock loudly on the red door number 70, or at their house which can be found around the corner at 416 Aniceto Arce.
The location is superb and only a few minutes' walk to the central plaza. The facilities are basic but clean and wifi is available, albeit it's not always superfast.
Despite the simplicity of the site, Felicidad, Albert and their daughter Carolina could not do enough for their guests.
Whether it was arranging hospital visits, helping with importing parts to fix guests vehicles or pointing out how to get cheap fuel – they would go out of their way to make sure all their guests had everything they needed.
They are the most hospitable hosts we've encountered!
Hostels & Hotels
There's no shortage of accommodation in Sucre, especially if you don't need parking. There's hostels galore available and you can get a bed in a shared dormitory for as little as £6 per night. Take a look here for a selection hostels aimed at the budget traveller.
For something more private, take a look at the best of the rest here.
Getting around Sucre
The city streets are narrow, steep and congested. If you have your own vehicle, leave it parked up rather than trying to navigate around Sucre.
Most places in Sucre are within walking distance but you can always jump on a bus or taxi. A taxi will take you anywhere within the city limits for 5 Bob per person – that's about 70p.
Micro buses can be hailed along their predetermined routes and cost 2 Bob per person each way around the city.
Like it? Pin it!