For many of us, the Netherlands is Holland and Holland is Amsterdam. So when we think of things to do and places to visit in the Netherlands, we think of walking along the canals, stopping by at a coffee shop for a slice of space cake on the way for a bit of voyeurism in the red light district.
Or maybe that's just us.
With around a week to spend in the region before sailing to South America, we decided to explore more of the Netherlands and give Amsterdam a miss altogether.
Because the Netherlands is relatively small, travelling around is quick and easy, especially by road. In just 7 days, we managed to pack a fair bit in and all without rushing. Here are a few of the best things to do in the Netherlands.
Holland on a budget? Check out what we spent in the Netherlands
Things to do in the Netherlands
Spend a day in Haarlem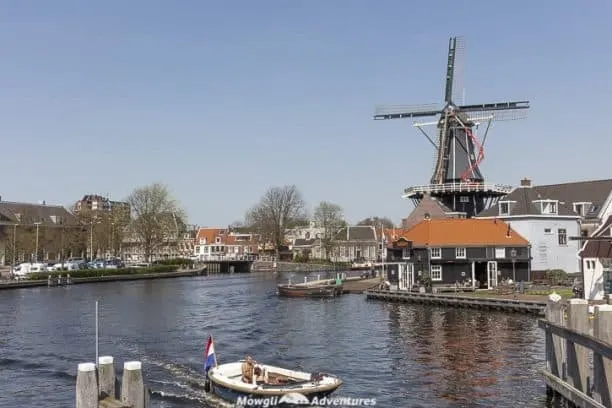 If you're looking for a day trip from Amsterdam or an alternative city break, Haarlem is a perfect choice. Only 25 km from Amsterdam, Haarlem has every thing Amsterdam has to offer but without the crowds and is a little more budget friendly too.
Wander the pretty canals flanked by 200 year old houses, explore the narrow, cobbled alley ways and marvel at the scientific contraptions and artistic paraphernalia at The Teylers Museum.
And of course, you can't miss Haarlem's landmark, Molen De Adriaan windmill.
We visited Haarlem mid-week and towards the end of the Easter holidays. Maybe that's why the whole of Grote Markt was crammed with fairground rides and squealing kids.
Grote Markt sits in the centre of the old town and is home to the impressive church, Grote Kerk. As in all self respecting old towns, the square is surrounded by shops, bars and restaurants perfect for al fresco dining when the fair ground moves on.
Instead of eating in a café, we opted for a more budget friendly picnic. Some fresh bread, local cheese and a nice bottle of wine was all we needed and we spent a hot afternoon resting our weary feet under a tree in Kenaupark.
Haarlem travel tips
We parked overnight at a free spot a few kilometres outside of the city and took the bus into town. However, the ticket was a hefty 6 euro per person, each way.
In fairness, we could have used the ticket on any bus for 90 minutes but we only needed 1 so it was more expensive than parking the van in town for a few hours.
Parking in Haarlem isn't cheap but it's worth weighing up the cost of the bus compared to the parking charges to see if it's worth it for you.
Essential reading: a brief guide to driving in Holland
Visit Alkmaar cheese market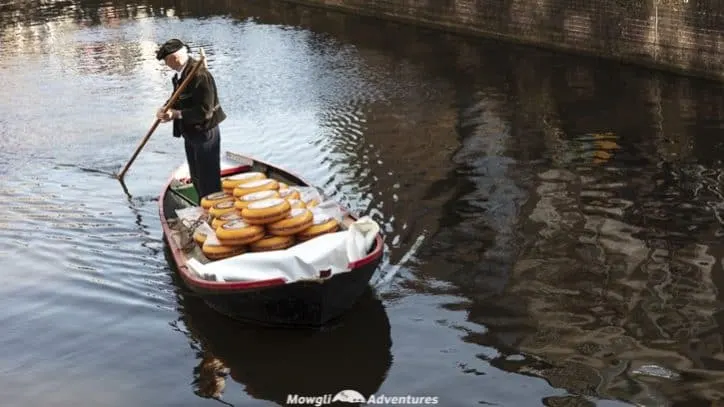 Traditionally, Dutch cheese farmers brought their cheeses to the market square in town to sell. Teams of porters donning different coloured straw hats carry the cheese out on barrows for potential buyers to taste.
If they like the cheese, they negotiate a price with a ritual handshake routine. Once a price is agreed, the porters carry the cheese to the weighing house and load up the buyers wagon. In summary, that's how a cheese market goes.
During the summer, Alkmaar hosts a traditional cheese market every Friday. It's safe to say it's no longer a real market but a tourist event laid on by the city officials.
The show starts at 10:00 (on the dot) and by then the market square is heaving with coach loads of tourists.
As show time nears, a few traditionally dressed actors in their clogs wander around, encouraging you to take their photographs and buy €10 bags of cheese.
At 10am, a local celeb or special guest rings the cheese bell to open the market. In our case, the Swedish Ambassador to the Netherlands opened the market, before a local presenter interviewed him at length.
While the presenter narrates, the actors go about their well rehearsed performance of buy, selling, weighing and loading cheese and well, that's about it really.
The crowds are three and four deep so unless you have a ring side seat you won't see much.
Around 12:30 the show wraps up, the bus loads of tourists swamp the cafés and restaurants for lunch and the cheese is (probably) put back in a refrigerated lorry to wait for next week's performance.
Perhaps many years ago, when the Alkmaar cheese market was the real deal it would have been kinda gouda!
Tips for your visit to the Alkmaar cheese market
Reserve your ring side spot early doors. Arrive in town between 8am and 9am when you'll see the cheese laid out, along with the barrows.
The colourful straw hat clad porters will be enjoying their morning coffee in one of the many cafés around the square so you can easily catch a few candid photos.
If you arrive too late, don't try to tip toe for a peek but stand well back and enjoy the performance on the large screen above the weighing house.
And keep an eye on the canal to see a few of the cheese bearers punting the cheese to market along the waterways.
If visiting Alkmaar on a day trip from Amsterdam, you could visit Zaanse Schans in the same day. Alkmaar to Zaanse Schans is only a 20 minutes journey en route back to Amsterdam.
Tour the tulip fields in Holland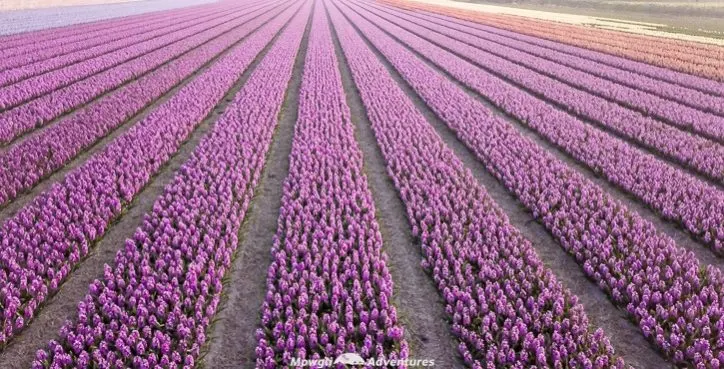 Tulips are in bloom during the European springtime. With the Netherlands such a huge producer of the stunning flowers, it's a peak tourist season.
Most tourists want to see the blooming tulips by visiting Keukenhof with its sculpted and pristine gardens. It does look beautiful in all the photos we've seen but it comes at a price.
Not only is it around €16 each to enter, when we drove past the entrance the crowds were greater in number than in Alkmaar.
The fields all around Keukenhof were makeshift car parks and we knew, if we dared enter, we'd be sorry for it. So we opted to keep our money in our pockets and go for the free version instead.
With a little planning you can avoid the crowds and visit the tulip fields in the surrounding areas. There's a massive unauthorised camperstop about 5kms from Keukenhof.
Well over 100 camper vans and motorhome owners choose this spot to park up along a single track lane. And right among the tulip, daffodil and hyacinth fields too.
Sleeping among the tulip fields of Holland
Be aware, there is a massive concrete road block half way along this road but simply take your 4×4 sprinter van and drive over it.
I just love the heads popping out of other camper vans with a look of envy, aghast and even admiration.
Seriously though, if you don't find a spot to park by the time you reach the road block and you don't have a high ground clearance, you can go around the block to the other side of the road.
Not to be put off by the count of white yogurt pots from Germany, France, Britain and of course the Netherlands, find a spot amongst them all and camp up.
Take time to stroll or cycle along the tracks around the tulip fields and soak up your own free tour of the tulip fields in Holland.
Admire the windmills at Kinderdijk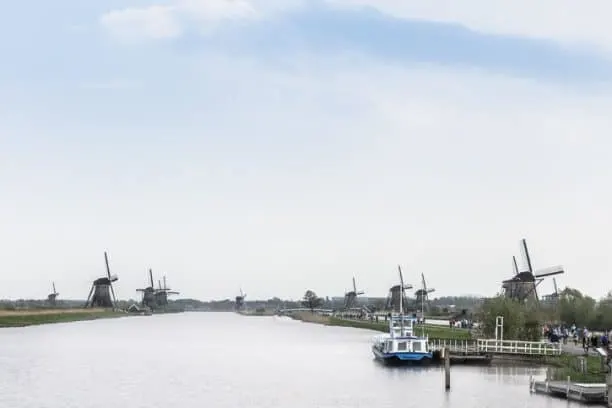 Did we say the Netherlands had a few windmills? It has a lot, around 1000!
Something to do with pumping out water from all the reclaimed land between the numerous dykes here.
One of the most impressive concentrated sites of windmills is a few kilometres from Rotterdam at the 270 year old village of Kinderdijk. The entire windmill system is now part of a UNESCO World Heritage Site.
Here there are 19 windmills along a 5 km tow path with a cracking viewpoint near the ticket office. For 7 euros you can walk along the tow path to see them up close, visit the museum and learn more about the windmills purpose and history.
Or of course you can pull up into the car park, take in the landscape from the viewpoint and move on to a less busy spot.
We found a free overnight parking spot about 5km away and spent a perfect afternoon lazing around watching a couple of horses and a herd of cows out to pasture beneath a windmill beside us. Bliss.
Lose yourself in the Delft street antique market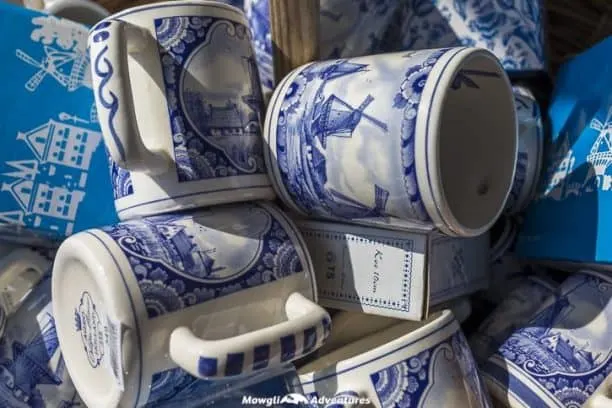 Delft is a town famous for its pottery. Delft pottery is decorated with Dutch landscapes of windmills and canals and painted blue and white. It's known as Royal Delft and some of the older pieces are worth a small fortune and are collectors items.
Like many Dutch towns, Delft centre has a traditional square with a large impressive church surrounded by cafés and restaurants.
We watched a happy chappy show how to make clogs and we did a bit of window shopping. We decided to stick to our melamine oddly matched set when we saw the price tag of some vases and plates.
A small Delft pottery vase can cost as much as 700 euros. A small plate can easily reach 30-40 euros. Or you can grab a souvenir mug for less than 10 euro.
Each Saturday, the narrow alleys and lanes around the square hosts an antique market. Here stalls sell a range of antiques, bric-a-brac and olde worlde curiosities.
The stalls display a large quantity of Delft pottery tiles and plates and perhaps look a little more authentic and unique than those for sale in the main square. Further away from the square you will find trendy good quality and reasonably priced local cafés.
Holland travel itinerary: our 1 week road trip through the Netherlands
Take a cycle trip around a Dutch town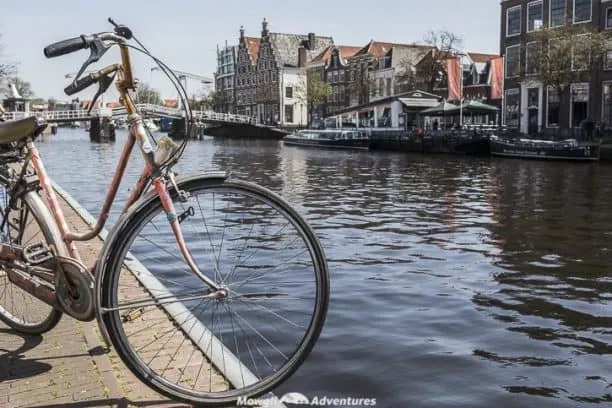 The Netherlands is completely geared up for cycling. It's not even as a way of keeping fit as much as a mode of transport and everyone is commuting to work or school, to the shops, doctors or dentist on their bicycles.
Every shop, office and street has hundreds of bikes racked up outside.
Some of the bikes look ancient and even the newer ones aren't all that modern in their design. With the Netherlands being so flat, gears are pretty much redundant.
Most bikes have convenient racks on the front for shopping bags or school books and it's not unusual to see the school run done with the child strapped to the back, straddling the handlebars or being towed in dinky carriages.
So instead of getting in their way (and believe us when we say being a pedestrian often feels like a dangerous sport), why not join them?
There's a bicycle shop on most main streets and loads of hire shops around. For around 10 euros a day and an imprint of your bank card you can hire a bike and take a cycle trip around a Dutch town.
Despite being in Europe, the land of health & safety gone mad, here in the Netherlands, wearing a helmet on a bicycle seems to be personal choice.
So there's just a few things to do in the Netherlands to keep you going on your own trip. We didn't spend a lot of money in the 7 days we were in the Netherlands either and some of what we did spend, we could have avoided or reduced in hindsight.
Travel resources for your road trip in the Netherlands
Accommodation in the Netherlands
We didn't pay for any accommodation in the Netherlands. We used free overnight parking spots for the entire duration. Accessing water was a little challenging but we managed to top up at a fuel garage.
The tap was well hidden mind. Check out this guide for how you can save on accommodation costs in your camper van throughout Europe here.
Failing that, there many campsites dotted around the country or you could treat yourself to a guesthouse or hotel.
Read more: Where we camped in the Netherlands & how we did it for free
Car hire
While we drive our own vehicle, we appreciate that many people will fly into Europe and hire a car. We've done a few of our road trips by hire car in Europe too.
Always use a reputable firm because you need assurance the car is well maintained and your insurance is valid.
We're not loyal to one rental firm, and will simply go with the one that offers the best value – and that means using a comparison website. For us, Auto Europe is by far the best, and our first choice, every time. They even do camper van rentals!
Click here for a no obligation car rental quote
Like it? Pin it!