Looking for a perfect Cornish day trip? Or to soak up some of the finest and most dramatic sea views in the county?
Then Tintagel, perched on the cliffs of the north Cornwall coast, is just what you're looking for.
Our guide will show you exactly how to spend a day here (or longer). We've included things to do in Tintagel Castle, the village and recommendations for things to do nearby too.
We've got lots of useful travel tips, recommendations of where to eat and where to stay too.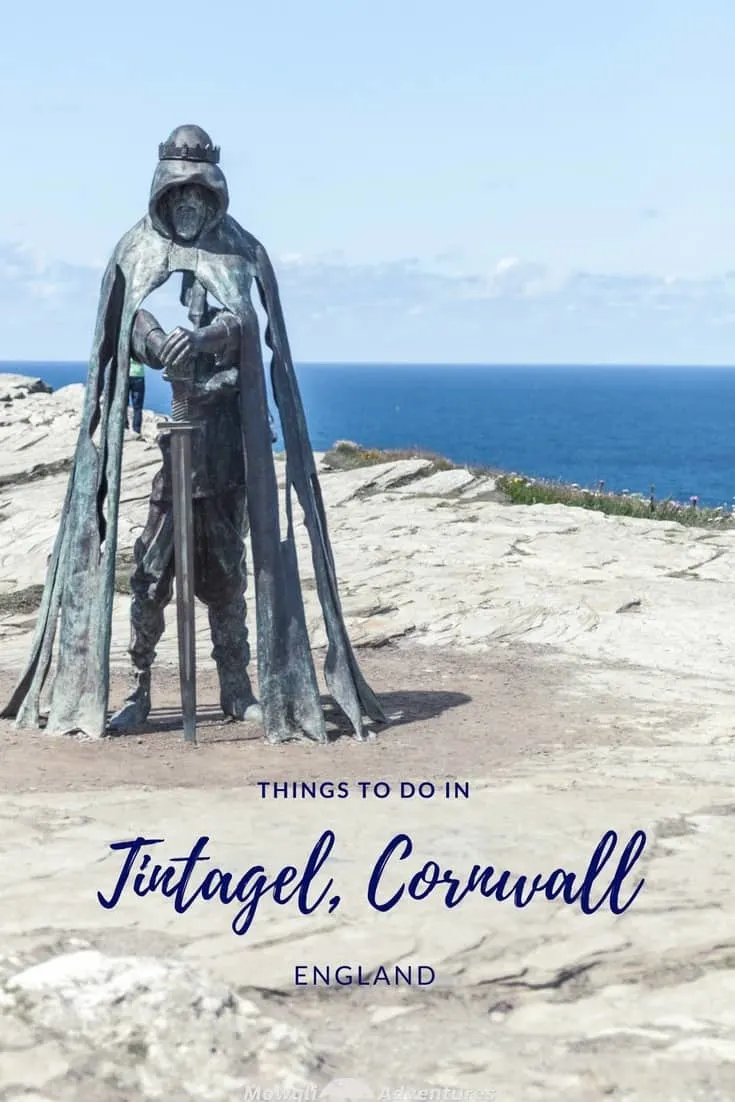 Why visit Tintagel?
History, myths, legends and amazing scenery.
If there is only one place you can visit in Cornwall, Tintagel is the place to choose.
It has it all and is by far our favourite place in the county.
King Arthur's castle is set high up on a headland and the surrounding dramatic views make it well worth the effort of getting around the site.
Here's our favourite things to do in Tintagel and the reasons to add it to your must see list.
Things to do in Tintagel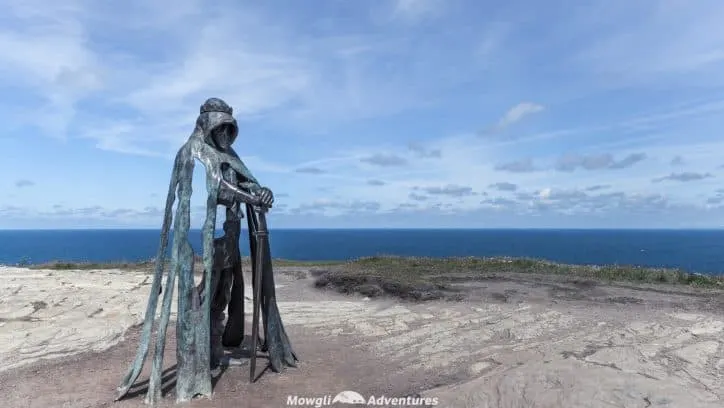 An Area of Outstanding Natural Beauty, steeped in legends and myths and oozing histroy, there's plenty to do in and around Tintagel.
While of course Tintagel Castle is the biggest draw to the village , expand your horizons and see what else the area has to offer.
Explore the ruins of King Arthur's Castle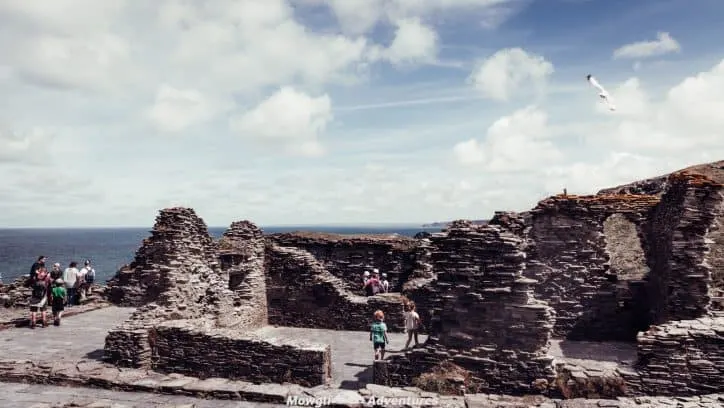 The UK has loads of castles but Tintagel is in a league of its own.
More than medieval ruins, legend and myth, the surrounding landscapes, dark cliffs and crashing waves far below make this quite wonderful.
The castle ruins are actually built half on the mainland and half on a craggy island.
The castle's courtyard ruins are on the mainland. Visitors can access this area without tickets for great views of the bridge and castle on the opposite side.
Tickets holders are allotted times to cross the bridge so unless you've booked in advance, buy your tickets when you arrive so you can return later.
Walk across the bridge high above the fierce waves, caves and ocean views to the fascinating ruins.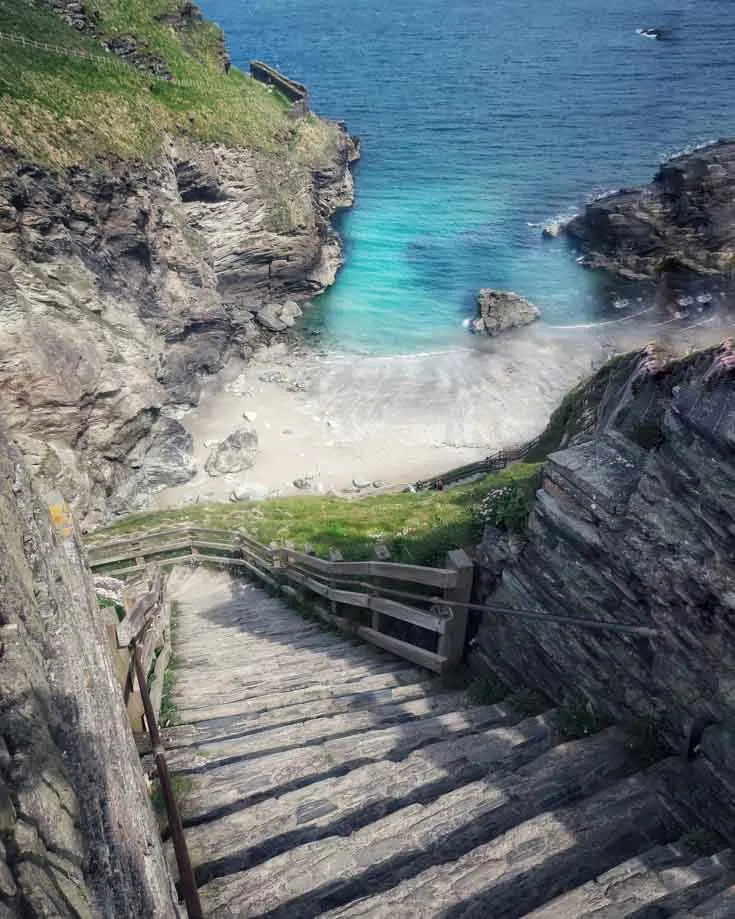 When you visit Tintagel Castle, you'll see loads of small ruined walls and tunnels, scattered right across the island.
The majority of these bricks aren't Medieval or even castle ruins, but date back to the Dark Ages!
They originate from around 450AD so quite a long time ago!
Back then King Arthur was but a twinkle in an ancestor's eye and Tintagel was a small settlement and trading-post.
Even by medieval times, in the 12th and 13th century, they would have been unrecognisable making them all the more intriguing.
Learn about the legend of King Arthur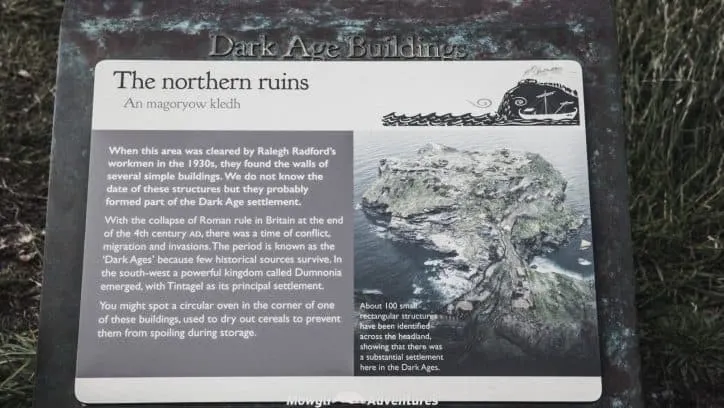 Dubbed the place where history meets legend, Tintagel is steeped in both.
As you wander around the Tintagel Castle ruins, both are brought to life through information boards dotted about at key points.
They're easily missed as hit's hard to take your eyes off the amazing scenery, at the same time catching your breathe from the steep climb.
The steep steps up to the castle ruins and the bridge that crosses to the island are worth the climb.
We may not be able to say for sure if the legends surrounding King Arthur are true but there's no doubt that these views are something of legend.
Enjoy a picnic on Tintagel Island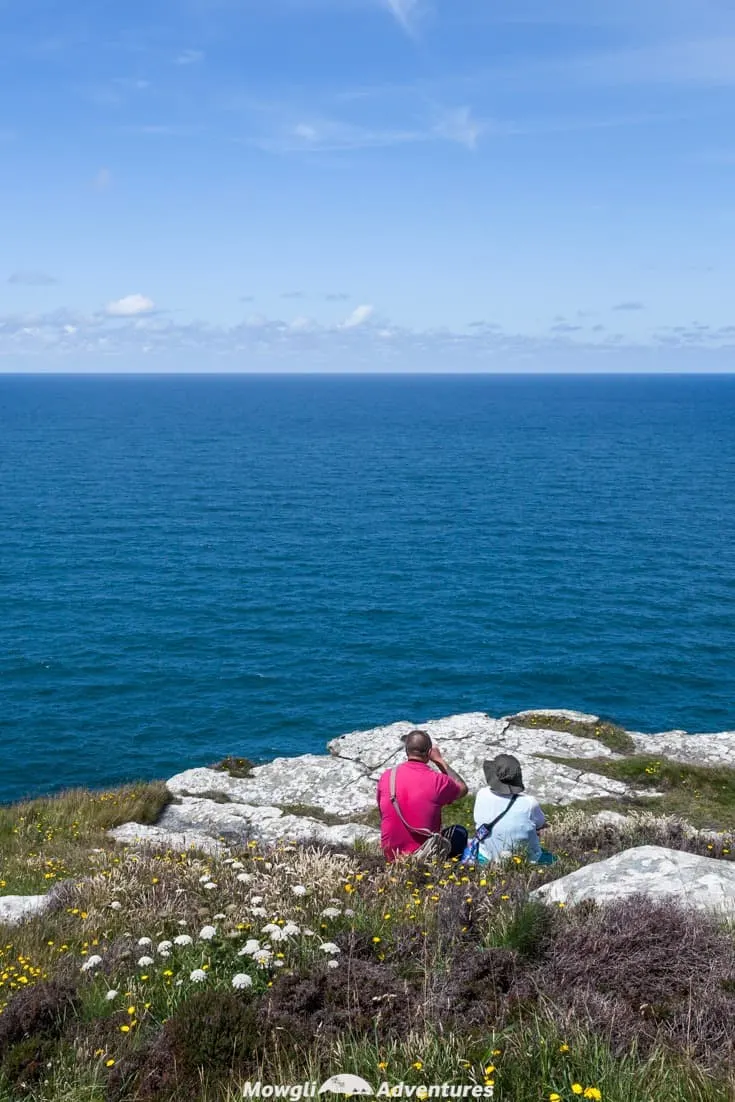 Despite Tintagel's popularity, with 18 acres to explore, it's not too difficult to find a quiet seclude spot to enjoy a break and a bit of lunch on the clifftops.
And it's an excuse to soak in the big sky, steep, craggy cliffs and massive expanse of the ocean below.
Don't miss King Arthur's statue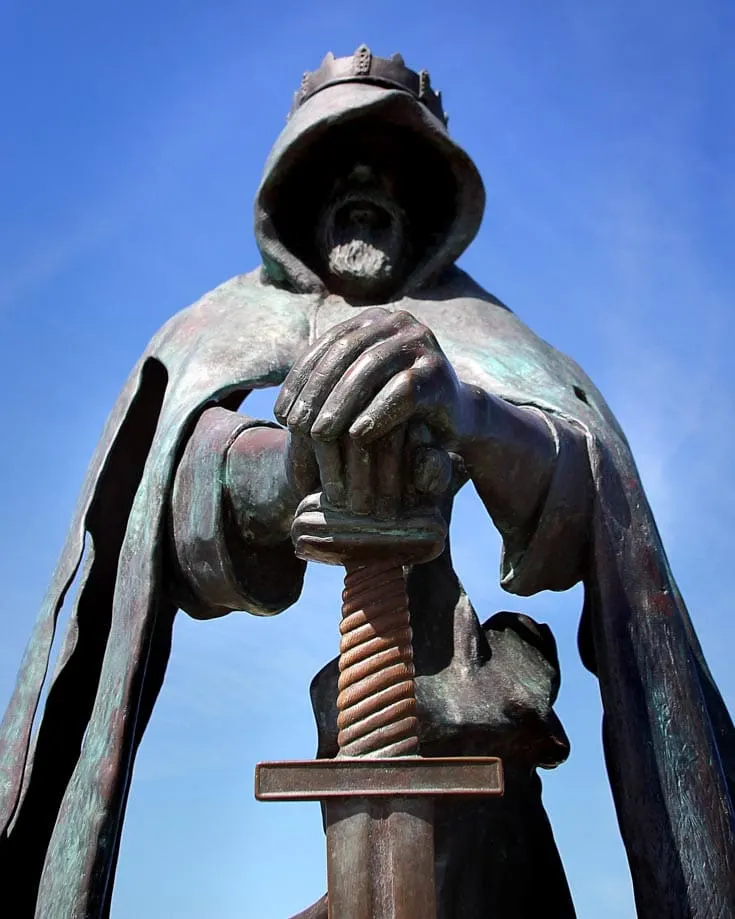 English Heritage installed the bronze statue in 2016. It's so large and heavy they airlifted it onto the site by helicopter.
English Heritage say it's called Gallos – the Cornish equivalent of power – and was inspired both by King Arthur and other stories from the Castle's history.
The statue is very much part of the visitor's experience of learning about the castle's history and the legend of King Arthur.
Venture into Merlin's Cave & Tintagel Beach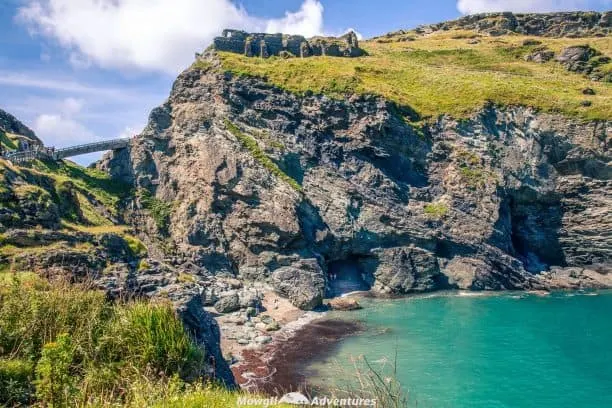 Merlin's Cave is 100 metres long and passes completely through Tintagel Island.
If you believe the legends, Merlin once lived here and still walks in the cave today. Listen carefully and you may be fortunate to hear his magical voice.
The caves are accessible from a footpath although the beach is strewn with huge boulders at the bottom so you need good sturdy footwear to protect you ankles.
At low tide, you can walk all the way through the cave to the other side. It's well lit inside by natural daylight and the colours of the rock formations give a whole new perspective.
Take care down here though and keep one eye on the sea. You don't want to get trapped by the incoming tide!
Take a stroll on the South West Coastal Path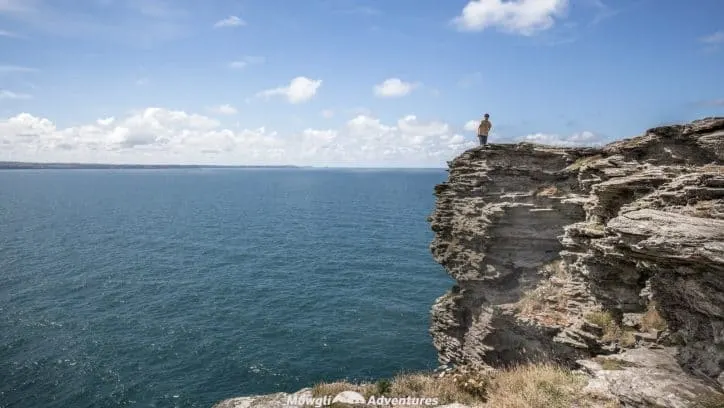 If you still have some energy to burn, taking a stroll along part of the South West Coastal Path is a perfect way to take in more of the stunning coastline.
Cornwall has a 300 mile section of the path and it passes right through Tintagel.
If you're really up for it, the 9 mile walk from Tintagel to Port Isaac is said to be a particular challenge.
The Tintagel Circulars are three walks from Tintagel village leading to the open clifftops. and well signposted.
The Old Post Office in Tintagel
Tintagel Old Post Office dates back over 600 years. It's a traditional Cornish longhouse, built from Cornish slate and oozes charm.
The famously wavy roof of the restored 14th century Yeoman's farmhouse is unmissable.
Don't miss the views from the back garden.
Cornwall road trip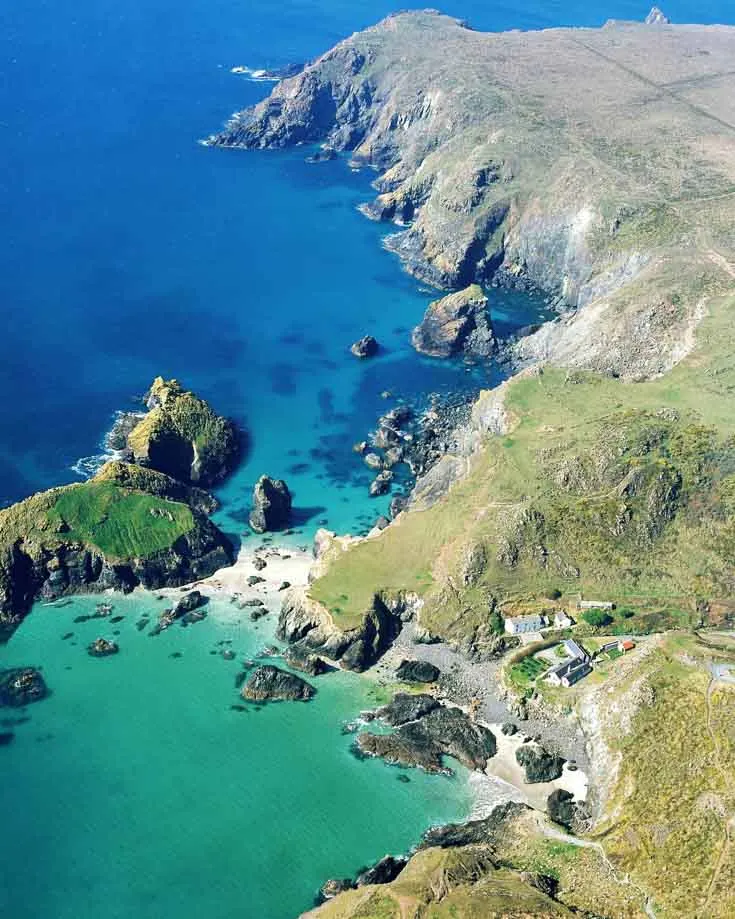 Cornwall is a wonderful English county with incredible diversity of landscapes.
Country lanes lead to hidden coves and secluded beaches, hemmed in by dramatic cliffs and lush green fields.
It's an English country perfect for a road trip.
We ended our 1 week Cornwall road trip in Tintagel – a fitting end to an incredible 7 days!
When you click on links to various merchants on this site and make a purchase, this can result in this site earning a commission. As Amazon Associates, we earn from qualifying purchases. For more info, please check our disclosure page.
How to get to Tintagel Castle from London
Located on the west coast of Cornwall, a county with no motorways and a rural local transport system, Tintagel isn't the easiest place to get to from London in a day.
We think visiting Tintagel is best done as part of at least weekend trip to Cornwall, if not longer.
By road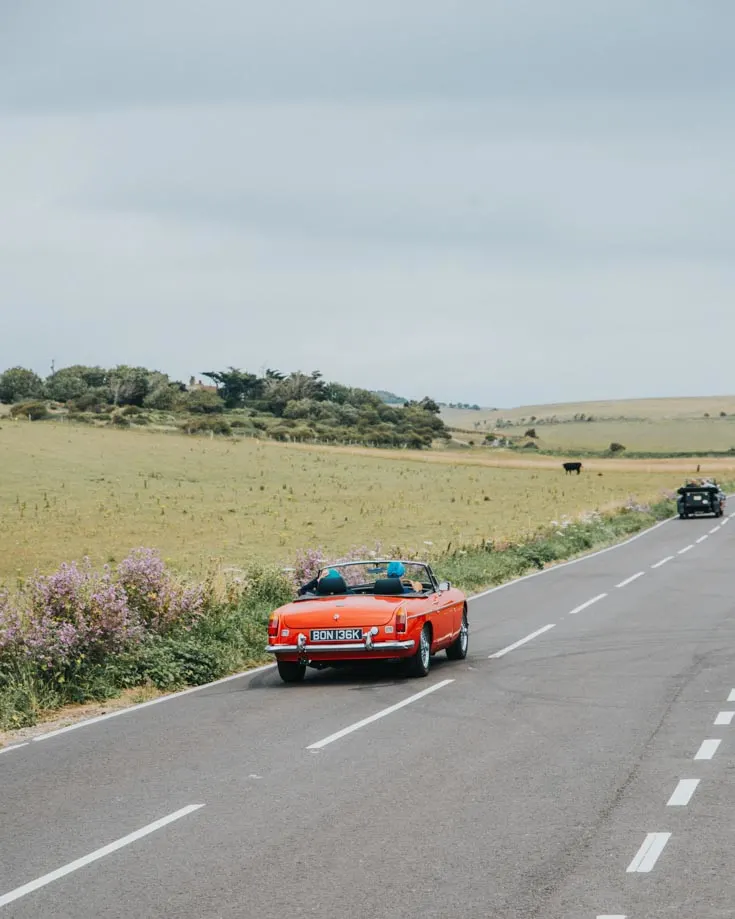 The best way to get to Tintagel from London is to drive. It's almost a 400 kilometre journey though and takes a little over 4 hours on a good day.
To make the journey worthwhile, make Tintagel the first or last stop on a long weekend break or as part of a bumper packed Cornwall road trip.
If you don't own a car or visiting the UK from another country, car rentals are easy to come by. You can get a free comparison quote on a car rental here.
By train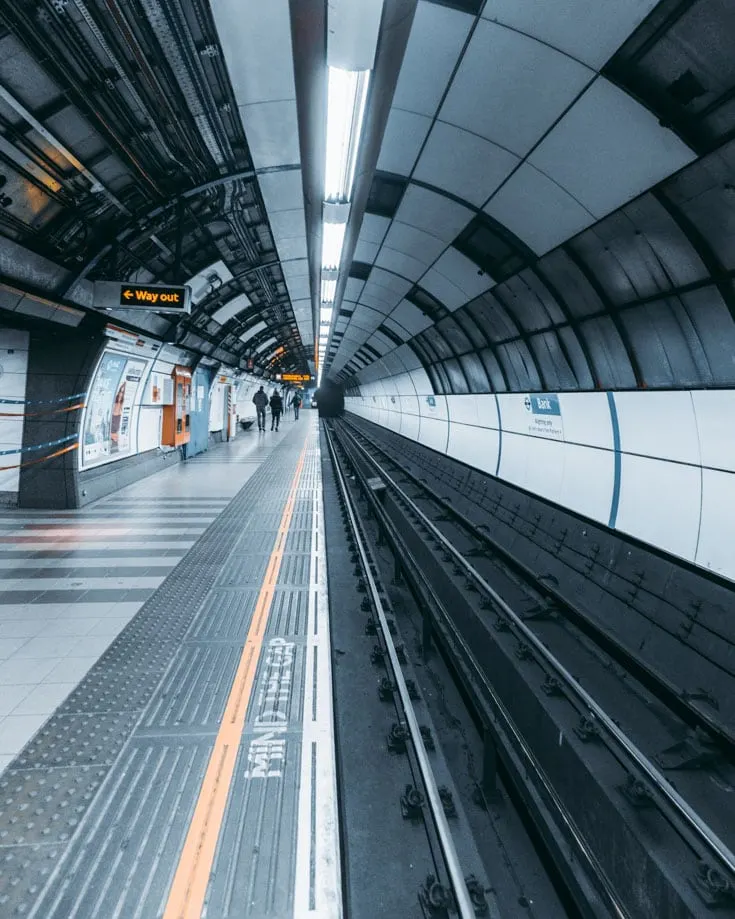 The nearest train station to Tintagel is Bodmin Parkway, almost 16 miles away.
The fastest London Paddington to Penzance train takes about 4 hours each way and can take up to 6 hours at weekends.
From Bodmin Parkway station, you can get a 75 bus to Wadebridge bus station, then a 584 bus to Camelford, then a 595 bus to the Tintagel Visitor Centre. Life is too short!
With the price of a return adult train ticket at about £110 and we have no idea how much 3 bus tickets will set you back, it's far cheaper, more convenient and quicker to hire a car, even if you want to travel solo.
Organised tour
Organised tours offer a convenient way to visit Tintagel without the hassle of arranging your own transport.
We've rounded up the best tours and activities that include Tintagel on the itinerary so you can pick those that suit you best.
What to pack for the weather in Tintagel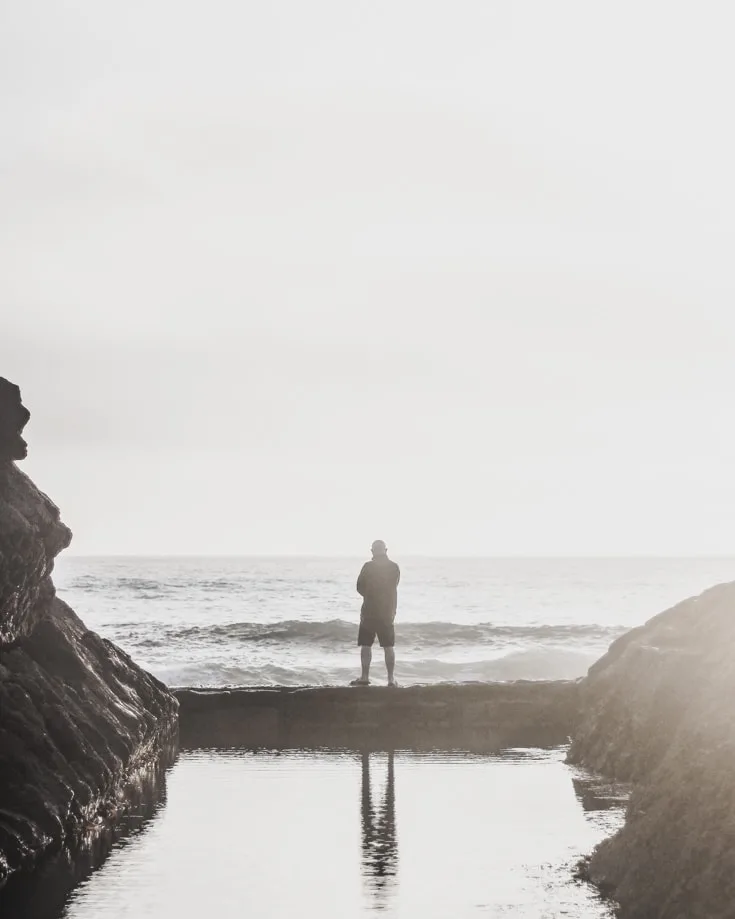 West Cornwall has some of the warmest weather in England. But it is still England.
Prepare for rain at anytime of the year, even in summer.
The walking trails along the South West Coastal Path, Tintagel Castle and some other attractions nearby have uneven, rocky terrain in parts and can get muddy.
Regardless of the time of year, it could be slippery underfoot. Expect some windy gusts on the cliff top walking routes.
Where to eat in Tintagel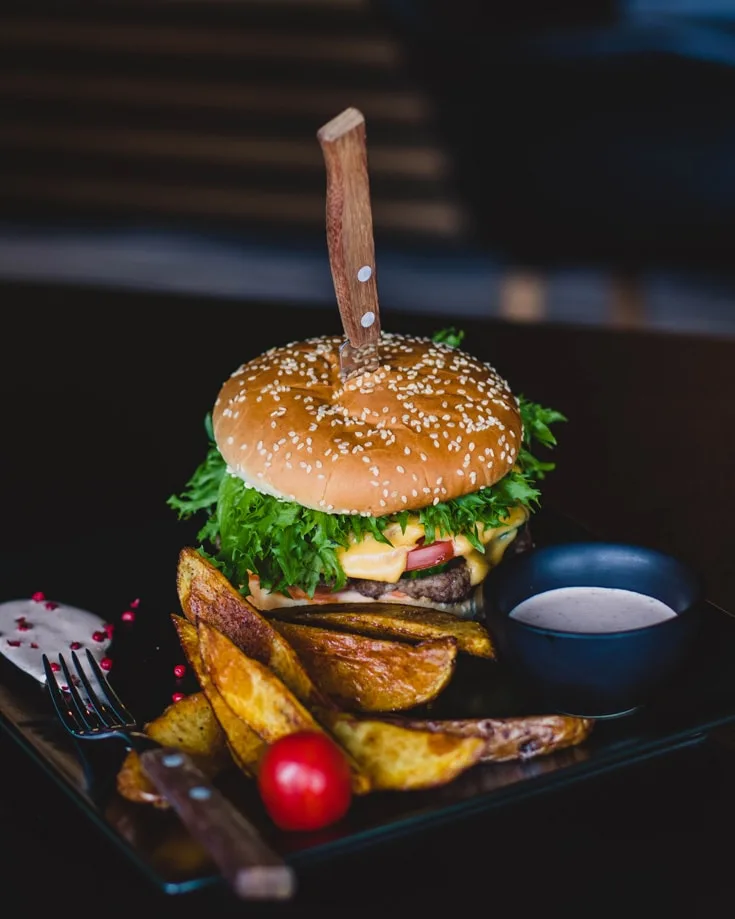 Charlie's Cafe Restaurant & Deli | A perfect spot for a family lunch serving locally sourced produce. It's vegan friendly too and the children's menu serve small portions of the regular meals.
King Arthur's Arms Inn is one of the most popular pubs in Tintagel. Offering fabulous homemade pub food menu of gastronomic delights. A dinner date in a warm, cosy setting with a friendly service is a perfect way to see out a day in Tintagel.
They offer excellent accommodation here too.
Tintagel accommodation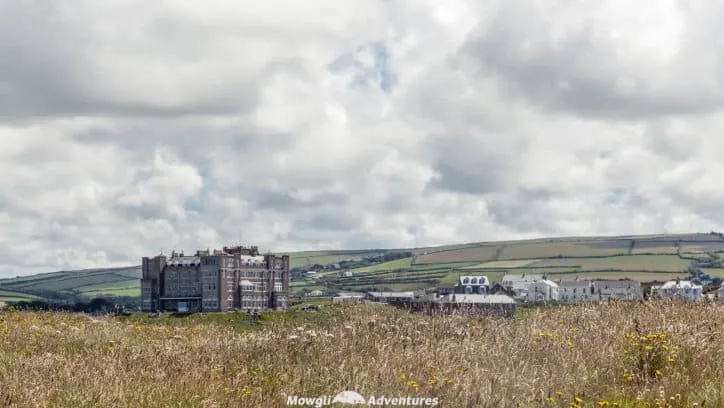 Tintagel is a tourist hotspot yet despite this, there are few large hotels in the village. Demand for accommodation in the village is high, matched only by the prices.
Budget accommodation is a little scarce.
Guesthouses are a plenty though and offer friendly hospitality and great home cooked breakfasts.
With demand for accommodation in Tintagel so high, book well in advance if you want to stay in the village.
Camping | Across the road from the Old Post Office in Tintagel Village, King Arthur's Car Park is licensed for motorhomes to stay overnight.
There's a small fee (£3 per night when we visited) but no facilities and the toilet is closed overnight.
It's perfect if you're in a self contained campervan or motorhome.
Budget | Gordon House B&B offers cosy, no frills accommodation and terrific breakfasts. How can you go wrong?
Mid range | The Avalon is situated a little further out of the village but in a great spot for the beach and has free parking.
Luxury | Camelot Castle Hotel is a large hotel with plenty of luxury on offer. Perched high up on the cliffs overlooking Merlin's Cave and King Arthur's Castle, it's in a prime spot for your visit to Tintagel.
Practical tips for visiting Tintagel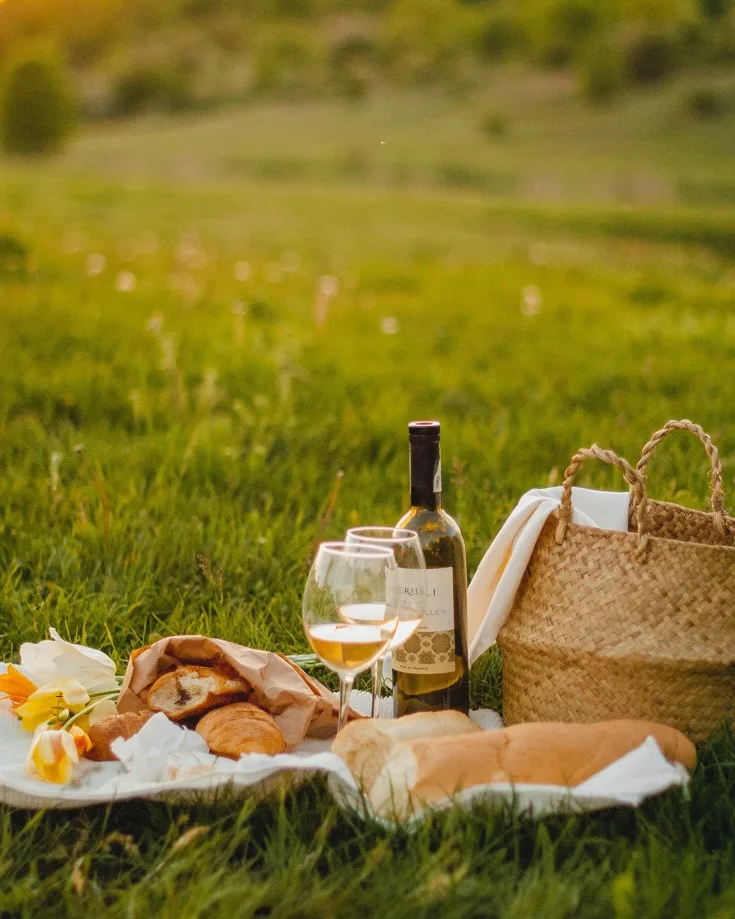 Parking | As you drive into the village along the B3263, there is cheap parking in the field on the left. It operates an honesty box so bring coins. It's about a 10 minute to the village from here. There is parking in town too but it's mega expensive and often overflowing.
Money saving tips | Tintagel castle is managed by the English Heritage Trust. Members can visit the castle for free. Annual fees are about £63 per person though you can save on buying membership for couples or families. Membership grants free access to over 400 historic sites.
Accessibility | For visitors with accessibility needs, Tintagel Castle isn't great. The steps are steep and narrow in parts. Even the walk up from to the visitor centre is tough though you can hop into a Land Rover for a lift up.
Bring a picnic | Tintagel is a wonderful place for a picnic and it's not too hard to find a quiet spot to yourself. If you haven't brought your own, remember to stop off at one of the sandwich shops in the village.
Navigating | We use Maps.Me and iOverlander offline for all our navigational needs and never need to rely on wifi or mobile phone data to use them.
Like it? Pin it!