One of the most gorgeous and unforgettable sites in the Peak District (and all of England, really), Thor's Cave Walk provides hikers with a variety of stunning views. So whether you enjoy peering into enchanting caves or gazing out on majestic valleys (complete with rivers running through them), this walk has something for you.
Situated near the small village of Wetton, Thor's Cave is reasonably easy to access and explore. However, you'll want to bring shoes with excellent traction, as the rocks can be slippery, and there are plenty of downward slopes in the area. You'll also have to cross a seemingly endless array of gates and stiles, so be prepared for that.
It's all well worth it, though, as you'll be rewarded with fantastic views from the cave itself, as well as from the hill the cave sits in and a bridge nearby. This walk also has a built-in break in the middle, as once you reach Wetton Mill, you'll have public toilets and a tea room awaiting you.
The trails are clearly marked, so you run little risk of getting lost, but save a few paved and gravel roads, they're mostly natural paths. Unfortunately, this makes it very easy to slip and fall, so be careful.
As you can imagine, given all the beauty located here, Thor's Walk is quite popular, so you might want to plan your trip for non-peak hours (usually midday during the week). This will make it easier to find parking — both for your car at the Wetton car park and yourself at one of the small eateries in the area.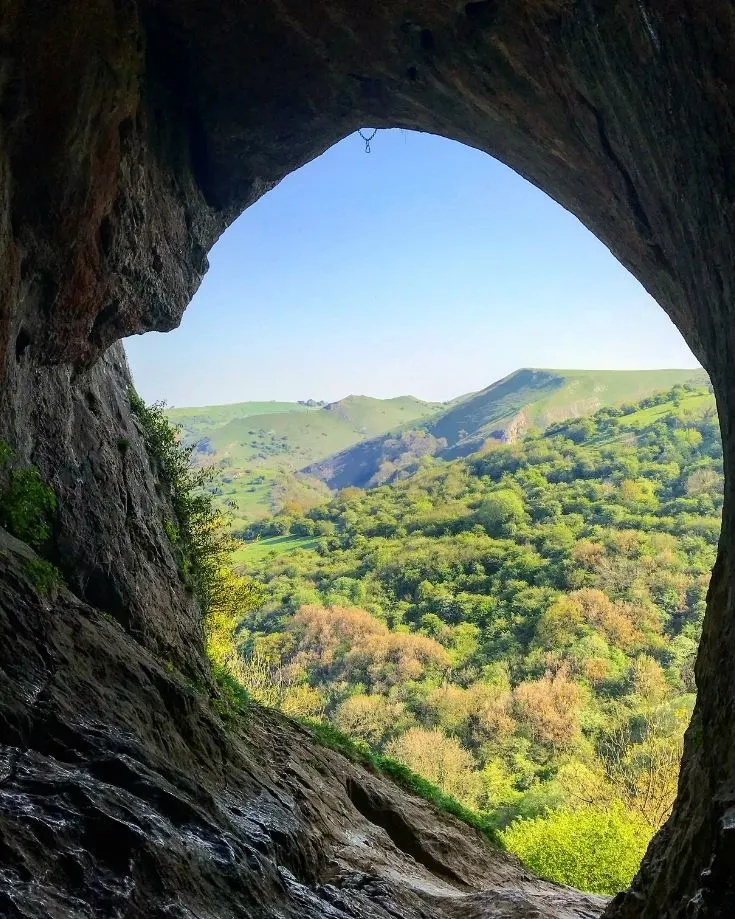 When you click on links to various merchants on this site and make a purchase, this can result in this site earning a commission. As Amazon Associates, we earn from qualifying purchases. For more info, please check our disclosure page.
Thor's Cave Walk Stats
Distance: 4.7 miles/7.5 km
Type of trail: Circular
Parking options: You can find free parking at the car park in Wetton near the start of the trail. The park is small and fills up quickly, but they have overflow parking nearby — simply follow the posted signs. The car park is open from 8 am to 6 pm Mondays through Saturdays or all day on Sundays and holidays. There is other free parking to be found throughout Wetton and a car park at Wetton Mill, but the latter requires amending your walk.
Walk points of interest: Thor's cave and surrounding cave system, Manifold Valley, Wetton Mill
How long does Thor's Cave Walk take? 1–3 hours
Accessibility: There are 7 stiles you must cross on the trail, so anyone with mobility issues will have difficulty traversing them (and wheelchairs and prams will likely find them inaccessible). There are several places on the walk where the footing isn't very stable, and you may need to scoot on your butt as well.
Total ascent for Thor's Cave Walk: 997 ft./303 m
Are there public bathrooms? There are public toilets at the start of the trail and another set once you reach Wetton Mill.
Best places to eat nearby: The Old School Tea Room is in downtown Wetton, making it convenient for a quick snack both before and after your trek. The Royal Oak is nearby as well, and it offers a variety of excellent home-cooked fare.
Best places to stay nearby: The Royal Oak Inn (great for couples), Waterside Lodges (ideal for families)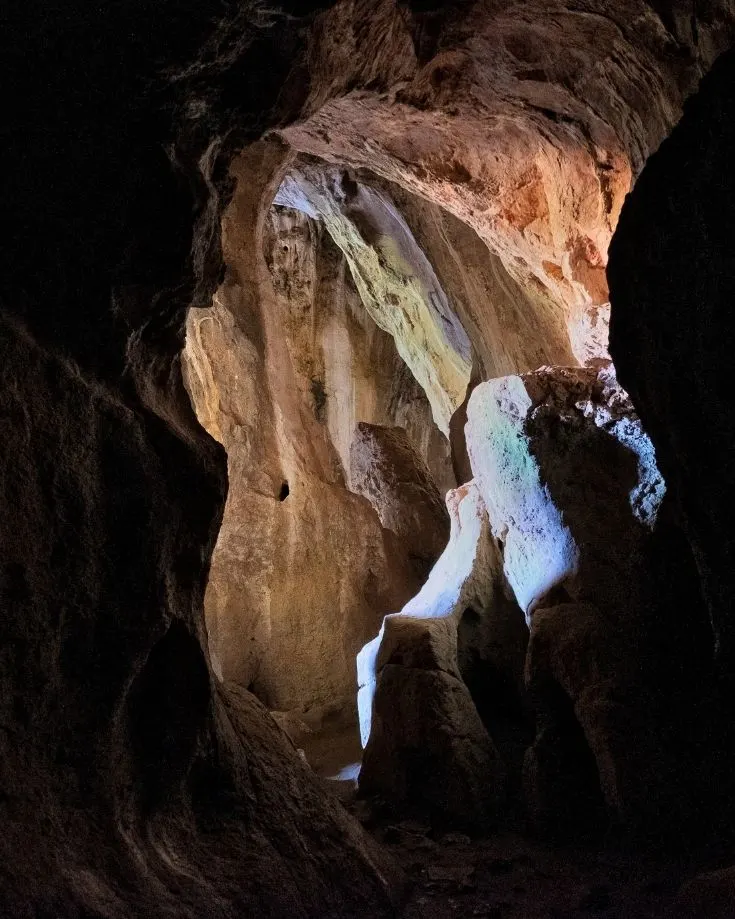 Thor's Cave Walk Routes
While there are several different ways to walk Thor's Cave, the most common route is likely also the most spectacular, so that's the one we've outlined below.
Start at the car park in Wetton. Just past the toilets, you'll see a sign for Wetton Mill. Make a right and follow the road between the stone walls.
Upon reaching the end of the road, take a left on the concession path to the cave. Stay here until you reach a gate and stile. Cross the stile and take the path on your right through the field. The hill containing Thor's Cave should be visible from this point.
Follow the up-and-down path to the little gate at the base of the hill. The rocks here are smooth and can be pretty slippery, especially after rain, so take your time and be careful.
When you get to the gate, you'll be faced with an option: climb the hill and look down on the valley from above, or continue down to Thor's Cave. The climb up the hill is well worth it, but it's extremely steep and can get muddy after wet weather.
If you elect to head on to Thor's Cave, enter the cave and explore it at your leisure. Once you're finished, take the steps towards the Manifold Trail and take a left. You'll need to cross the bridge over the Manifold River and then cross the path until you reach another gate.
After crossing through the gate, follow the National Trust Ladyside sign up through the Ladyside Woods. After you emerge from the woods, look behind you if you want to be greeted by an incredible view of Thor's Cave.
Turn back around and take the steps up to another gate in a field. Pass through the gate and continue up the hill towards the signpost.
When you reach the signpost, turn left through another gate, and follow the church spire towards Grindon. Then, take a right up the path towards Wetton Mill; you'll have to go over another stile on the way.
After crossing the stile, head left, following the green arrow towards — you guessed it — another gate and stile. Once you're over, take a left towards the church.
At the church, you'll see a path that leads down to Ossom Farm. Take it, but before you reach the farm, turn left and proceed down Ossoms Hill until you reach a stream. Cross the stream and take a right towards Wetton Mill.
If you're feeling a bit winded, this is a good spot to take a quick break. You'll find public toilets here, as well as the Wetton Mill Tea Room, which has tea, coffee, and small bites like cakes.
Once you feel up to it, cross the bridge over the River Manifold and follow the signs through the farm. You'll end up in a hidden valley behind the mill; enjoy the views, then take the path to the left between Wetton Hill and Sugarloaf.
You'll soon reach a tarmac lane; take a right and follow the path, keeping the stone wall on your right. There's a grassy path that leads back to Wetton, but before you get there, you'll need to go through one last gate. Then, take the gravel path to the right and follow the signs to the car park.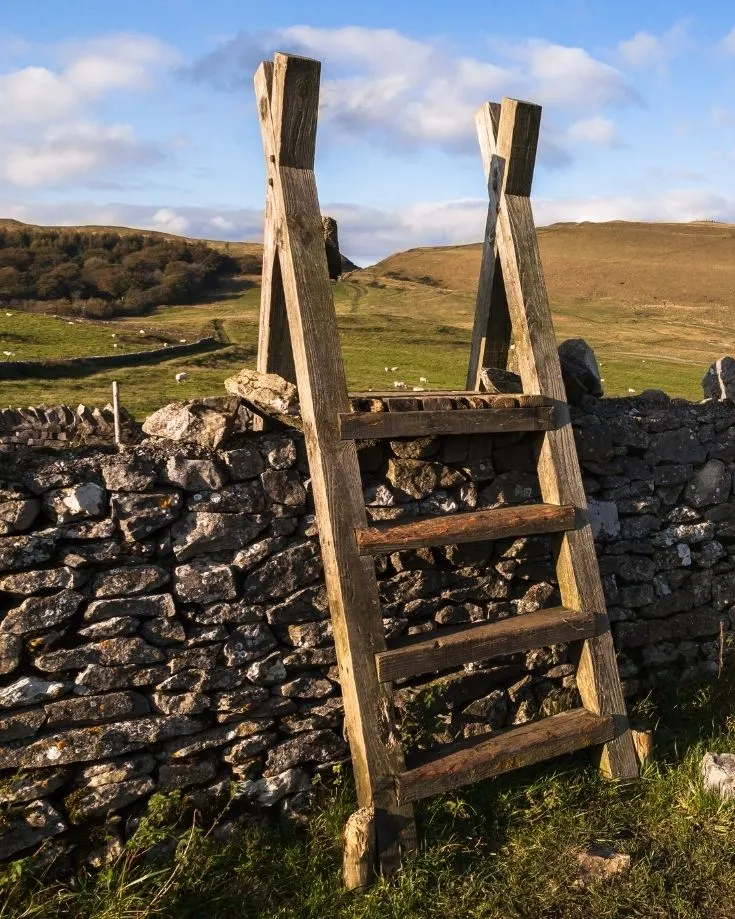 Facilities on Thor's Cave Walk
There are public toilets at the main trailhead in the Wetton car park and more at Wetton Mill on the route. There are also a few restaurants and shops within Wetton village, but we recommend purchasing something if you will use their facilities.
Best Places to Eat Near Thor's Cave Walk
The nearby village of Wetton isn't very big, so there aren't many options for getting a bite to eat. Luckily, though, what they do have is fantastic, including our two favourites:
Calling itself the "Old School Tea Room" is actually a bit of false advertising, as this place is much more like an old-school tea ro—oh. Oh, we see — criticism withdrawn. This place is as charming and inviting as the name suggests, and it's the perfect spot for grabbing something quick and easy.
The variety won't blow you away, but the tea and sandwiches are incredible. They also have an excellent selection of coffee and cakes to help you keep your energy up. Vegans, vegetarians, and gluten-sensitive folks will find food they can eat here as well.
The Royal Oak is a bit more of a sit-down restaurant, so take some time to enjoy your meal and relive your walk once you're done. It's also dog-friendly, so if you took your pooch exploring with you, they're welcome to recharge here, too.
The food is home-cooked, traditional, and fantastic. There's a beer garden here (fully covered with heat lamps, in case the weather doesn't cooperate), and the menu includes a ton of different food and drinks. You might want to plan your stop in advance, though, as the place fills quickly.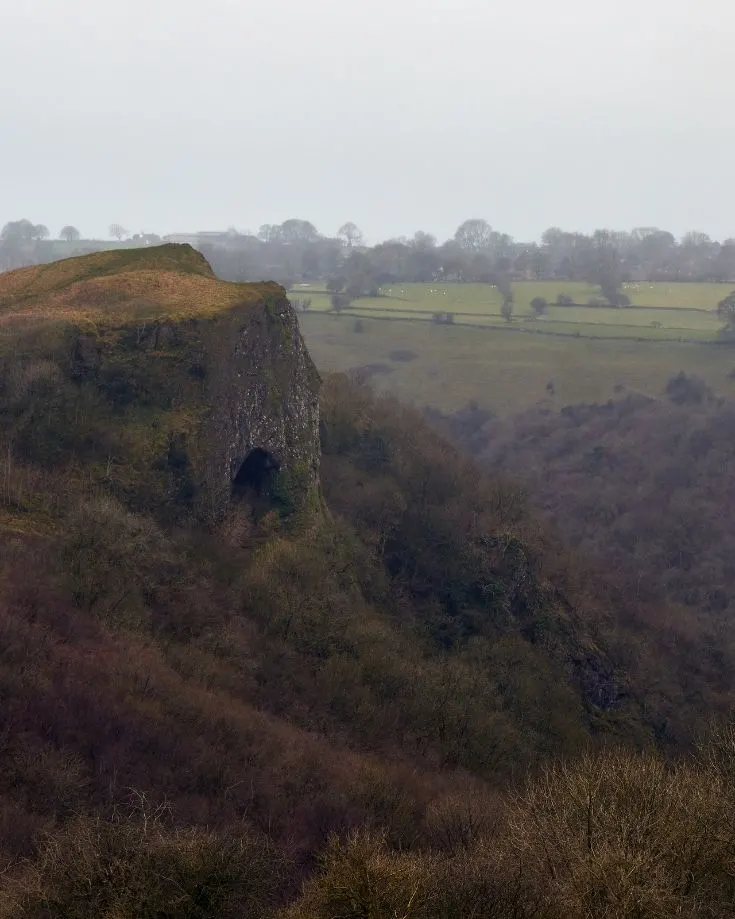 Best Places to Stay Near Thor's Cave Walk
As with the restaurants, there aren't many lodging options close by — but again, Wetton seems to value quality over quantity.
Once you're finished with your meal at The Royal Oak, stumble over a few steps and check into the Inn portion of the business. The rooms have been recently refurbished and are quite beautiful, although they're a bit on the cosy side. If you're hoping to have a romantic rendezvous, though, that's all the better.
Each room has a private bathroom and plush furnishings, and private parking can be arranged for a small fee. Everything is quiet and peaceful here, making it the perfect place to rest and recuperate after your walk.
If you have a larger brood in tow (and peace and quiet aren't likely to be an option), then Waterside Lodges will be perfect. This is actually a three-story cottage with room for six people, making it the perfect base camp for you and your family.
The facilities include 40 acres of lush countryside for your kids to explore, a laundry room, a full kitchen with a dishwasher, free Wi-Fi, and even a hot tub. You won't lack entertainment options, either, as in addition to Thor's Cave, there are also cycling and fishing opportunities in the area.
Best Place to Camp Near Thor's Cave Walk
If you'd like to sleep in a tent or your camper, this is our favourite campground in the area:
You'll find Big Hillsdale Farm overlooking the Manifold Valley, just between nearby Grindon and Leek — about 7 miles (11.2 km) from Thor's Cave. It's actually a family farm, but they supplement their income by running a campsite on the side.
The campsite is well-maintained and luxurious, with hot showers, electrical hookups, and toilet facilities on-site. Kids will undoubtedly enjoy exploring the farm and introducing themselves to all the animals as well. This is a smaller campground, though, as it only has 23 pitches available.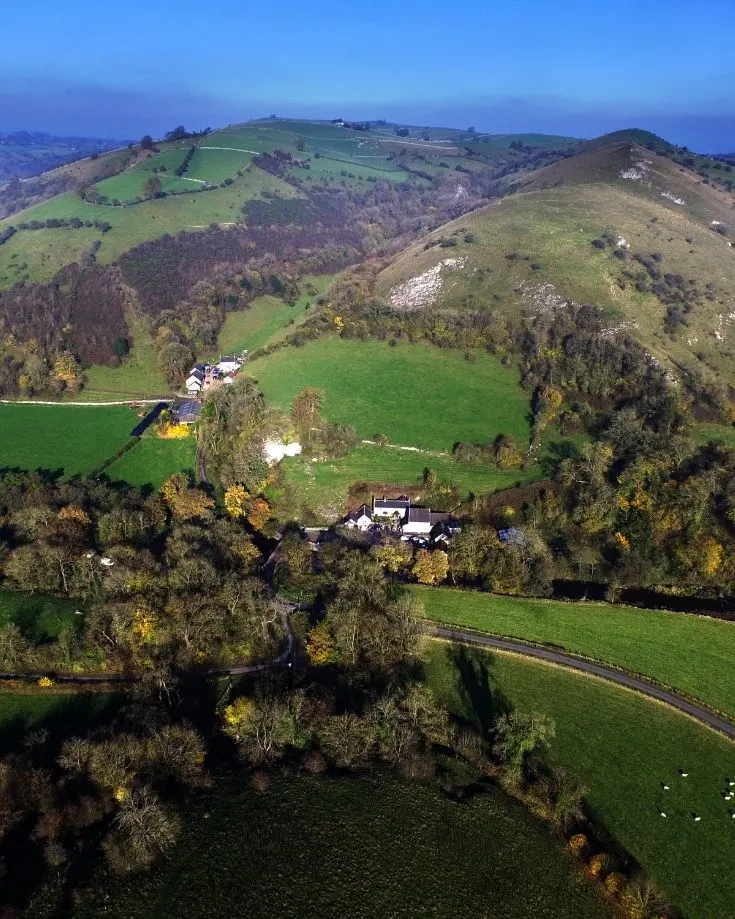 Thor's Cave Walk Route Map
A detailed map of Thor's Cave Walk is available from Ordnance Survey. Unfortunately, we can't share the map here because the copyright belongs to the Crown, but you can see it in detail on their website.
For anyone planning on exploring many of the beautiful Peak District walks on offer (and there are lots to discover), we recommend you arm yourself with a paper map. Two ordnance survey maps cover the entire Peak District:
OL1 – Dark Peak Area – basically the northern side of the National Park
OL24 – White Peak Area – the southern end
OL24 covers the Thor's Cave Walk.
Compare the price of buying the maps at Amazon or direct from Ordnance Survey. You can expect to pay less than £10 for a standard map, but Amazon is often a little cheaper than buying directly from OS. Weatherproof maps are more hardwearing and won't disintegrate in the inevitable rain showers. They generally cost a couple of pounds more.
Compare prices here:
Ordnance Survey also has a highly rated app if you prefer a mobile app for mapping purposes. Keen walkers will get a good deal from their annual subscription. Monthly options are also available and more cost-effective for occasional jaunts.
A budget-friendly option is also available on the app's website where you can select a walking route and print the map to a printer or pdf for free, so you can keep it on your phone for reference.
How To Get To Thor's Cave
Wetton is the nearest village to Thor's Cave. Set within Manifold Valley in Staffordshire's half of the Peak District, it's about 17 miles (28 km) west of Matlock and 14 miles (23 km) south of Buxton.
By Car // The easiest way to get to Wetton is by car. Use The Royal Oak's postcode – DE6 2AF – to navigate. They have some parking but there's also free parking on Carr Lane. The coordinates are 53°05'37.2″N 1°50'18.9″W.
If you're visiting the area without your own wheels, consider getting a rental car to get the most out of your visit to the Peak District.
By cycle // The fabulous National Cycle Network, has well marked routes throughout the Peak District, making it an ideal environmentally friendly way of getting here. Check out the detailed National Cycle Network on OS maps.
Other Useful Info About Thor's Cave Walk
While you're much more likely to have the walk to yourself in wet or cold weather, the trail becomes much more difficult as well. So wear shoes with excellent traction, plan to get wet and muddy, and don't be afraid to scoot down on your butt on several of the steeper sections.
It can get quite dark inside the cave (who would've guessed?), and you'll likely want your hands free in case you slip. As a result, it's a good idea to bring headlamps with you.
Mobile phone signals are spotty at best along the walk, so don't expect to use your phone as a map. You should also tell someone where you're going and when you'll be back, just in case the worst-case scenario happens.
No one knows why it's called "Thor's Cave." Some speculate that it's named after the Norse god of thunder, but there's little evidence to support this. It could also be a variation of "tor," which is a large, free-standing rock that sticks out of otherwise smooth terrain. Personally, we prefer to think the entire cave was built as a marketing stunt by Marvel.