When you click on links to various merchants on this site and make a purchase, this can result in this site earning a commission. As Amazon Associates, we earn from qualifying purchases. For more info, please check our disclosure page.
The name "Three Shires Head" may conjure up images of pristine, Tolkienesque grasslands and rolling hills — and as it turns out, those images aren't too far off from the truth.
This gentle, lazily-paced hike will take you through farmland, over grassy knolls, and alongside the picturesque River Dale. It culminates at Three Shires Head, a spot with bridges, a waterfall, and plenty of places to spread a blanket for a picnic.
This isn't a hike designed to challenge you or push you past your comfort zone. Rather, it's simply a long walk for you to enjoy, as you'll constantly be surrounded by gorgeous scenery, and the terrain is largely friendly.
Things can get slick and muddy, though, especially after rain. In addition, much of the walk will force you to traipse through farmland and other undeveloped terrains, so it might be a good idea to leave the white trainers behind in favour of some comfortable hiking boots with excellent traction.
There's more to do here than just put one foot in front of the other, of course. Many people spend hours splashing around underneath the waterfall, so expect to see a crowd by the time you get there. You'll also encounter rope swings, climbing trees, and plenty of wonderful picnic spots.
As you might expect, a place like this tends to be very popular, especially when the weather cooperates. If you want to have a little bit of it to yourself, you should arrive early or aim for off-peak times (although the weather is less likely to be favourable then).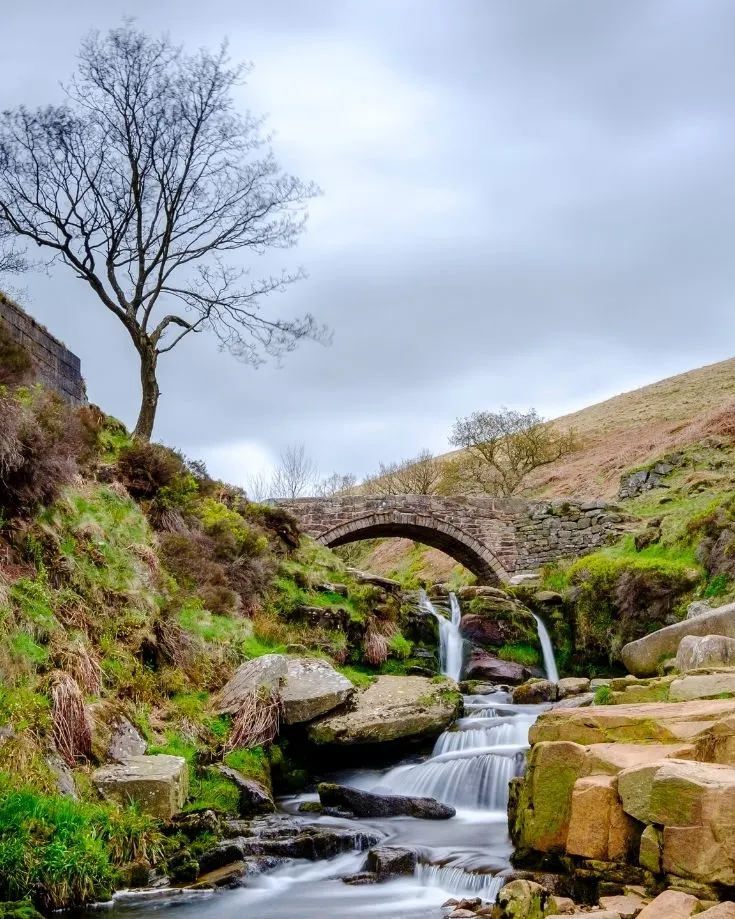 Three Shires Head Walk Stats
Distance: 4 miles/6.5 km
Type of trail: Circular
Parking options: There's free parking at The Roaches Gradbach car park near the trailhead, but like free parking everywhere, it fills up quickly. There's more free parking at a layby off A54, but it's a bit of a trek, so add about a kilometre to your walk each way if you decide to park there (and the return trip will take you up a steep incline).
Walk points of interest: Waterfalls at Three Shires Head, Panniers Pool, River Dane, Shutlingsloe Hill, Packhorse Bridge, various old quarries
How long does Three Shires Head Walk take? 2–5 hours, depending on if you swim or not
Accessibility: The terrain along the walk isn't inherently challenging, but there's plenty of boggy ground that would make pushing a wheelchair or pram extremely challenging. There are also several stiles to navigate. Also, much of the terrain becomes incredibly slippery when wet, so be careful after rain.
Total ascent for Three Shires Head Walk: 711 ft./217 m
Are there public bathrooms? There aren't any public toilets along the walk or at the car park, so you'll need to take care of business before you arrive. If nature calls while you're in the area, the Riverside Cafe, which is about 500 metres from the trailhead, has toilets. It also has food, drinks, and picnic tables
Best places to eat nearby: There aren't very many places within a short walk of the trail, but The Knights Table in Buxton and The Lazy Trout in Leek are both excellent and well worth the quick drive.
Best places to stay nearby: The Old Hall Hotel (best for couples), The Alexandra Court Hotel (most elegant option)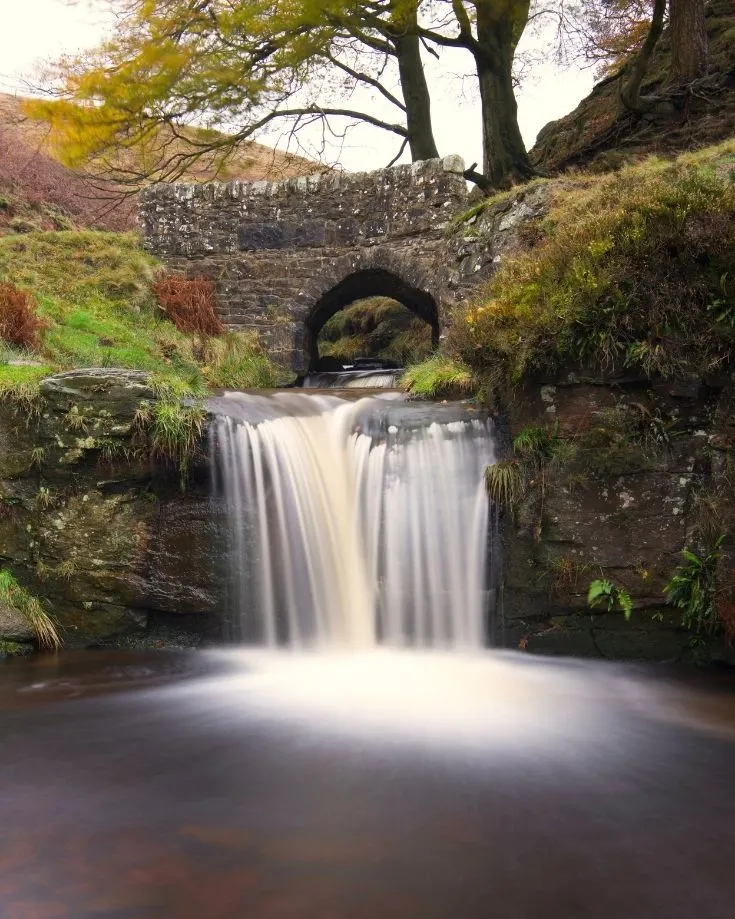 Three Shires Head Walk Route
The most common route (and the one we've described in detail below) is roughly 4 miles (6.5 km) in length, although the official total can vary depending on whether you stray from the path or not.
There's also an extended version that's 8 miles (13 km) long, but we feel it doesn't add much in the way of beauty, just distance, so we didn't include it here.
After dropping your vehicle off at the car park, head to the road and take a left. At the end of the car park, you'll see a little stream on your left. Cross it via the bridge (or the rope swing, depending on just how swashbuckling you feel that day).
You'll enter a field; cross it diagonally, being sure to keep the River Dane to your left. At the end of the field, you'll see a small gate that you should pass through before hanging a right.
The lane will start to slowly gain elevation and lead you to the Dane View House. Here, you'll find a sign saying "DVW" next to a footpath. Follow the footpath through the gates and across the open fields.
You'll eventually reach a crossroads with a large signpost. Take a left to follow the path towards Three Shires Head. This is a grassy walk that forks unexpectedly after about 200 metres, at which point you should take a right.
The grassy path will soon turn rocky. Keep on it for another 200 metres or so, then take a right through the space in the stone wall.
This will lead you to an uphill path that cuts diagonally across a small hill. Take this path, and resist the temptation to follow the second path that heads into the trees (that path leads to Mordor — we assume, anyway).
The path that leads over the hill will cross rocky terrain before leading you through a gorgeous valley. Be on the lookout for some of the trees along the way, as they're great for climbing.
Once you pry yourself or your kids out of those trees, continue walking downhill until you reach Three Shires Head. You'll see bridges, waterfalls, and pools. Feel free to splash around a bit or spread a blanket for a picnic, but watch your step, as the rocks can be incredibly slippery in this area.
After you've had your fill of fun in the water, cross the main bridge and then take a left. This will put you on a path heading back the way you came but on the opposite side of the river.
Follow this path for around 400 metres until you see a small signpost on your left indicating a footpath off the main track. Take this path through several fields and a gate, then take a left when the path forks. This will take you through a stone wall with another small signpost. This is a bit of a detour, but one that's well worth it for the scenery you'll encounter.
This path will eventually meet up with a larger one near a small cottage. Take a left on the larger path so that you head downhill and through a gate. This will take you through the valley again. When you pass the barn on your left, keep your eyes peeled for barn owls!
You'll see a farm on your left called "Hole Edge." Resist the urge to make juvenile jokes and take the footpath on the left. This path will take you through some rocky, mossy terrain, so be careful.
This path culminates in a stile that you'll need to cross, after which you'll find another path. Take a left and walk until you pass Gradbach Methodist Church. From there, cross the River Dane again and walk for about 300 metres until you see the same gate that you entered at the trailhead. Pass through the gate, head back to the car park, and try to remember where you parked.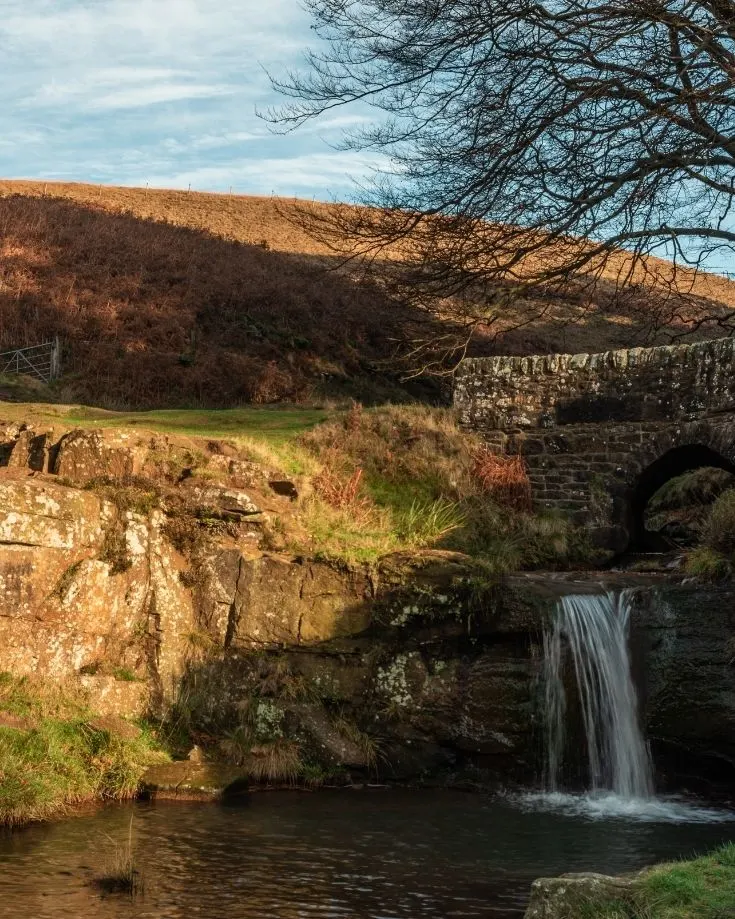 Facilities on Three Shires Head Walk
There are not many unflattering things you could say about this walk, but the lack of public toilets is one of them. You won't find any at the car park or along the trail, but a small cafe about 500 metres away from the trailhead has public facilities available.
They're free to the public, but you should buy something while there, just to be polite (and also because the food is quite good).
Best Places to Eat Near Three Shires Head Walk
The closest village to the trail is Gradbach, which is lovely and has a few quality dining options (including that cafe we told you about above). However, our favourite spots in the area are:
Situated in nearby Buxton, The Knights Table has — you guessed it — a medieval theme. However, the theme is more charming than cheesy, and it certainly helps that the food is excellent. They have traditional fare like liver and onions, steak, burgers, and more, and their dessert menu is truly something.
The ambience is as inviting as the cuisine, with medieval-style furniture, candlelit rooms, and stone-paved floors. Of course, we can't guarantee you'll feel like you're in King Arthur's service while here, but it sure beats cramming yourself into a booth at McDonald's.
The Lazy Trout is a traditional-style pub in Leek, about 3 miles (4.8 km) away from the trailhead. It serves everything you'd expect an English pub to make — and it does them well. The lamb and black pudding is a fan favourite, as are the fish and chips.
The atmosphere is casual without being sloppy, making it equally suitable for a romantic dinner as it is for hikers stumbling in off the trails. It's a dog-friendly establishment as well, so every single member of your hiking party will be welcome here.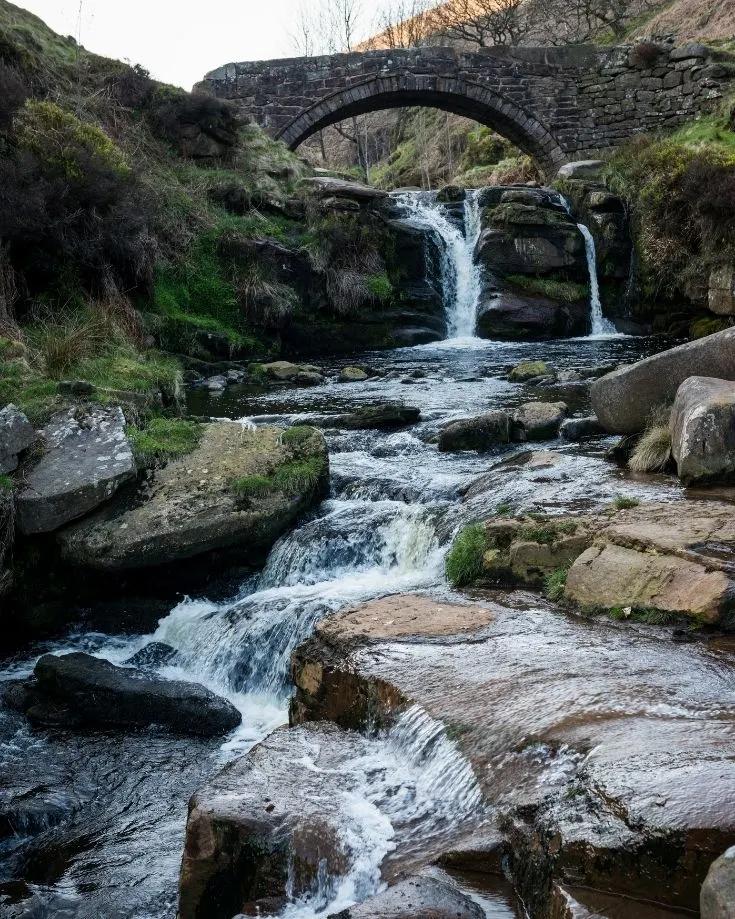 Best Places to Stay Near Three Shires Head Walk
As with the restaurant situation, the pickings are fairly slim in Gradbach. However, there's no shortage of fine establishments in the area, including our two favourites below.
Roughly 7.5 miles (12 km) away in Buxton, The Old Hall Hotel is an enchanting spot that's perfect for couples looking to rekindle their passions. It's actually purported to be the oldest hotel in all of England, as it dates back to at least the Restoration period.
You won't be stuck in the past while you're here, though, as it has all the modern amenities you could ask for, including free Wi-Fi, flatscreen TVs, and in-room coffee and tea service. You can spend hours walking the grounds and drinking in the history, or you can retire early to a cosy room with your beloved (and in case your romantic efforts are less than successful, the hotel is also dog-friendly, so at least you won't be lonely).
A boutique establishment in nearby Congleton, the Alexandra Court Hotel has 13 en suite rooms available, each with a TV and free Wi-Fi. There are a variety of room types on hand, including standard singles, deluxe doubles, and family rooms. Breakfast is also included with your booking.
There's plenty to do while you're here, as the hotel often hosts theatrical productions and is close to the Astbury Mere Country Park. While not as romantic as the Old Hall Hotel, this option is comfortable, elegant, and a great place to bring the kids.
Camping Near Three Shires Head Walk
While the hotels listed above are luxurious, dripping with history, and pride themselves on catering to your every whim, sometimes you just want to get back to nature. If that's the case, consider firing up the camper and pitching up at our favourite campground:
Nestled at the southern edge of the Peak District in the village of Leek, this campsite certainly doesn't lack scenery. You'll have breathtaking views in almost every direction, and some of the most entertaining trails in the area are within walking distance.
The site offers a recently refurbished toilet block and full hookups for caravans, motorhomes, and campervans. In addition, they allow a variety of BBQs, and there are even laundry facilities and a dishwashing area for you to use.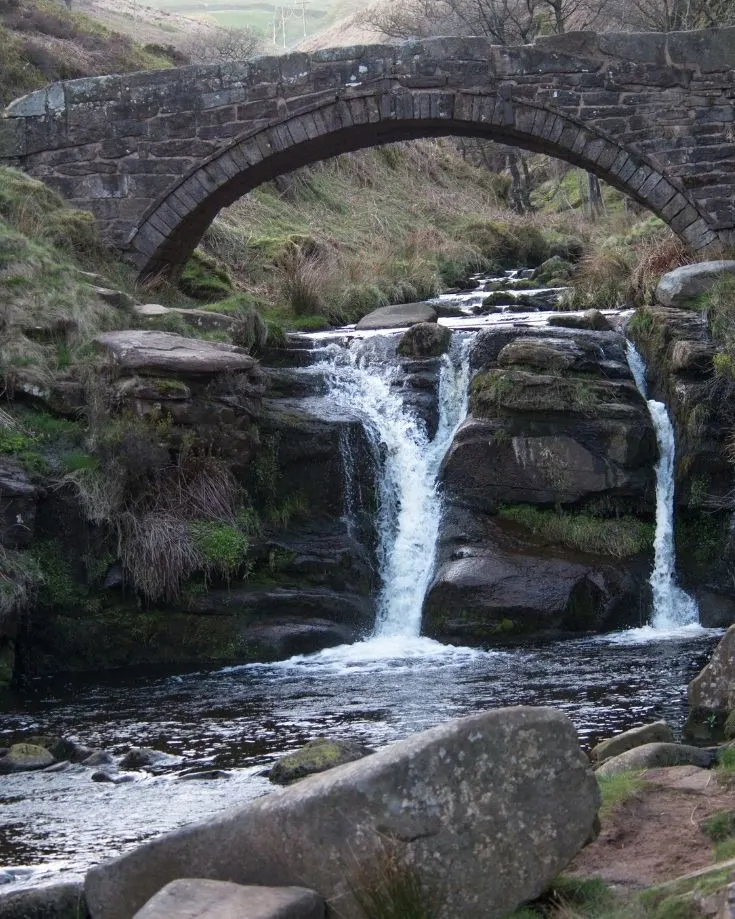 Three Shires Head Walking Route Map
A detailed map of Three Shires Head walk is available from Ordnance Survey. Unfortunately, we can't share the map here because the copyright belongs to the Crown, but you can see it in detail on their website.
For anyone planning on exploring many of the beautiful Peak District walks on offer (and there are lots to discover), we recommend you arm yourself with a paper map. Two ordnance survey maps cover the entire Peak District:
OL1 – Dark Peak Area – basically the northern side of the National Park
OL24 – White Peak Area – the southern end
OL24 covers the Three Shires Head walk.
Compare the price of buying the maps at Amazon or direct from Ordnance Survey. You can expect to pay less than £10 for a standard map, but Amazon is often a little cheaper than buying directly from OS. Weatherproof maps are more hardwearing and won't disintegrate in the inevitable rain showers. They generally cost a couple of pounds more.
Compare prices here:
Ordnance Survey also has a highly rated app if you prefer a mobile app for mapping purposes. Keen walkers will get a good deal from their annual subscription. Monthly options are also available and more cost-effective for occasional jaunts.
A budget-friendly option is also available on the app's website where you can select a walking route and print the map to a printer or pdf for free, so you can keep it on your phone for reference.
How to Get to Three Shires Head
The Three Shires Head walk begins in the tiny hamlet of Gradback, 7 miles (11 km) south of Buxton and 8 miles (13 km) north of Leek.
By Car // The easiest way to get to Gradback is by car. Use the Roaches car park coordinates – 53°11'37.03″N 2°0'11.88"W – to navigate, or take a look on Google Maps. You can use the postcode SK17 0SU, but most Sat Navs don't do a great job of navigating all the way to the car park, so the coordinates are a better option.
If you're visiting the area without your own wheels, consider getting a rental car to get the most out of your visit to the Peak District.
Public Transport // Gradback is a pretty remote village as far as the Peak District goes and there are no public transport services nearby. The closest you can get is to Buxton. You can get a taxi to Gradback from there, but you may need to wait a long time for a pick up after the walk.
By cycle // The fabulous National Cycle Network has well-marked routes throughout the Peak District, making it an ideal environmentally friendly way of getting here. Route 559 is the closest to Gradback but doesn't quite go all the way. Check out the detailed National Cycle Network on OS maps.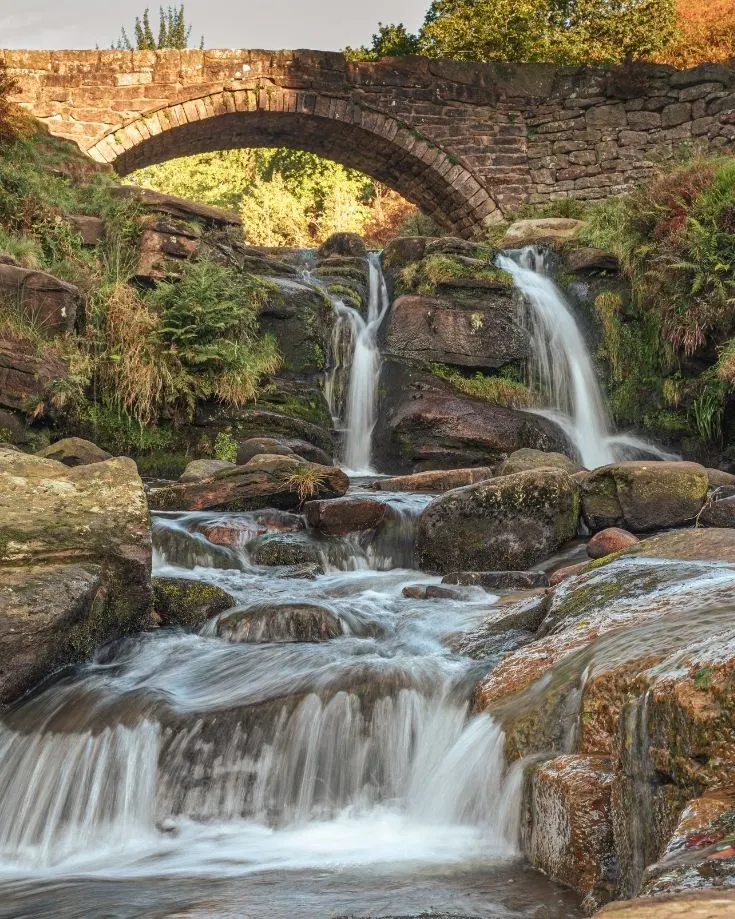 Other Useful Info About Three Shires Head Walk
During the walk, there are several points when the footpath gets hard to follow, so pay careful attention as you go. It would behove you to bring a map along as well, as the phone signal is nonexistent.
Be careful when jumping in the water at Panniers Pool, as it's not quite as deep as it looks. However, there are definitely pockets where small children or weak swimmers could get in trouble, so keep an eye on your kids at all times.
You can bring your dog along, but keep them on a short lead. Also, you may run into free-roaming sheep, so please don't allow your pooch to chase them.