Tierra del Fuego National Park is best enjoyed hiking. Our 3 days here had us peering into beaver dams, gazing over fjords & hiking to Chile.
Split between Chile and Argentina, Isla Grande de Tierra del Fuego is the largest island in the archipelago of the same name with rich, diverse landscapes.
Extreme winds, dense forests, glaciers, jagged mountain peaks, swathes of pampas and considerable marine wildlife cohabit on the land of fire.
Tierra del Fuego is the southernmost point in Argentine Patagonia and as far south as you can drive anywhere in the world.
Most visitors make a beeline for the city of Ushuaia, the main base for those venturing yet further south on Antarctic expeditions.
But if you've travelled as far as Ushuaia, you simply must visit one of our favourite Argentinian National Parks.
Hiking is best way to explore the diverse landscapes and phenomenal views the park has to offer.
And Tierra del Fuego National Park hiking trails are perfect whether you have a day or more to enjoy this area of Patagonia.
Hiking in Tierra del Fuego National Park was one of our very favourite things to do in Ushuaia. This guide will allow you to plan an enjoyable stop on your Patagonia itinerary.
We explain more about the park, tips on how to get there, loads of photos and our top picks on where to stay.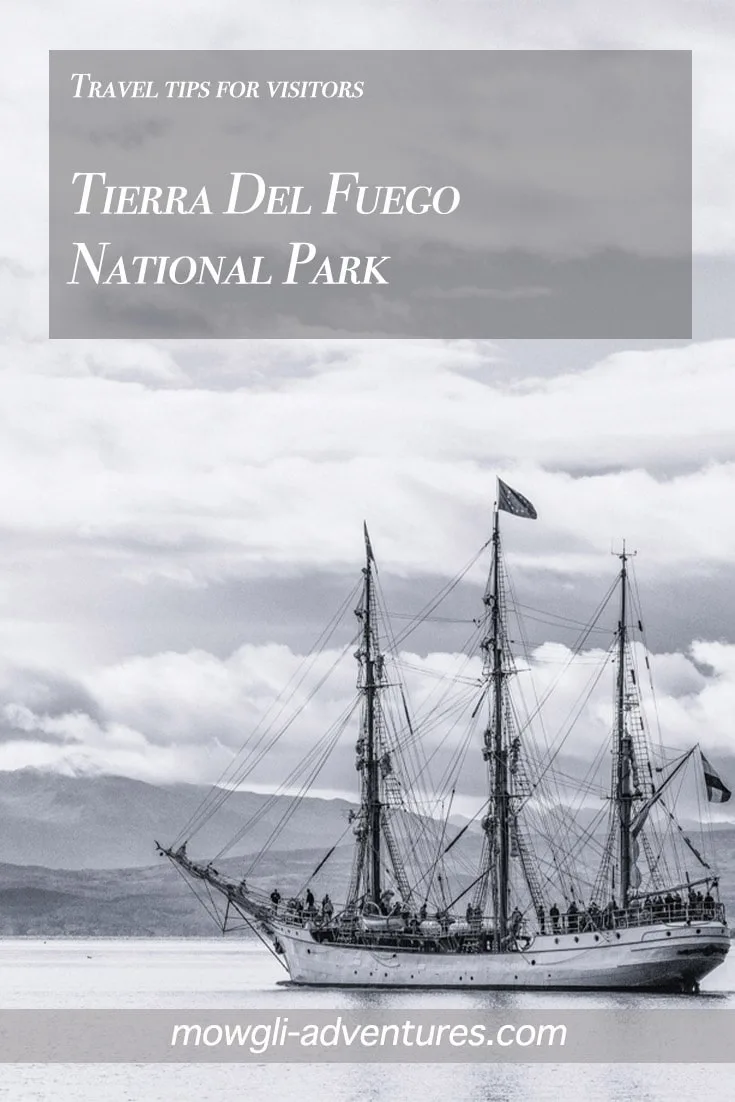 Where is Tierra del Fuego and Ushuaia's National Park?
Tierra del Fuego is an archipelago at the southern tip of South America.
Separated from the mainland by the Strait of Magellan, Tierra del Fuego is made up of Isla Grande de Tierra del Fuego, Cape Horn and a rake of other smaller islands.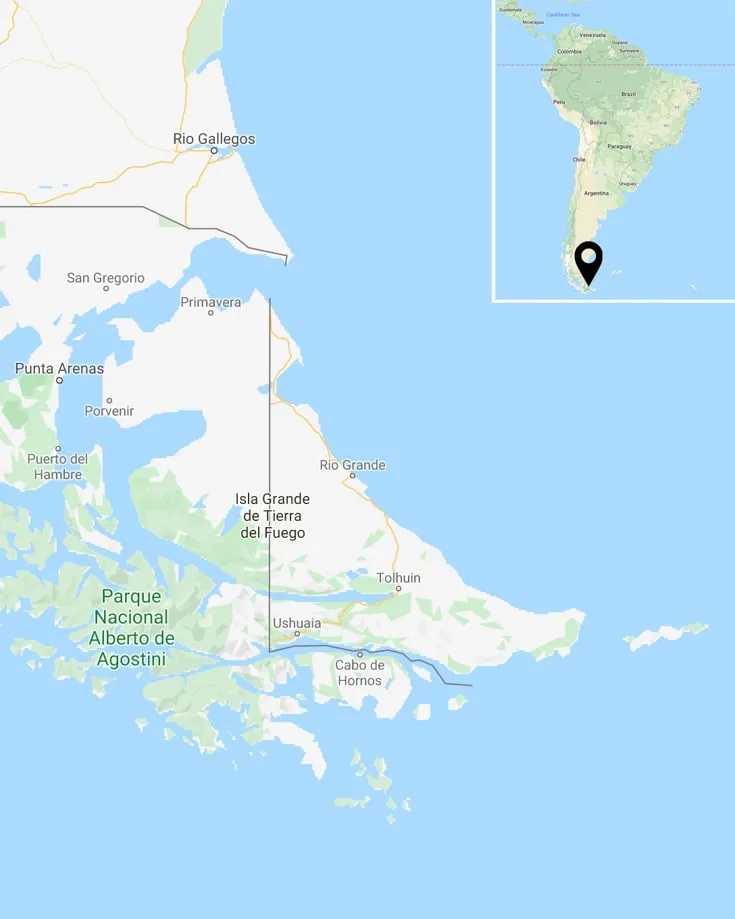 About Tierra del Fuego National Park
Tierra del Fuego National Park or Parque Nacional Tierra del Fuego in Spanish, is the first of Argentina's National Parks established along its coastline.
While it covers over 600 square kilometres, only a fraction of this is accessible to the public while conservation efforts protect the remainder.
The deep fjords surrounding the park were formed by retreating glaciers. Bahía Lapataia or Lapataia Bay, is one of the highlights of any visit here.
This region of the park was once inhabited by the indigenous Yámana people. They hunted seals and guanaco, supplementing their diets with mussels and king crabs.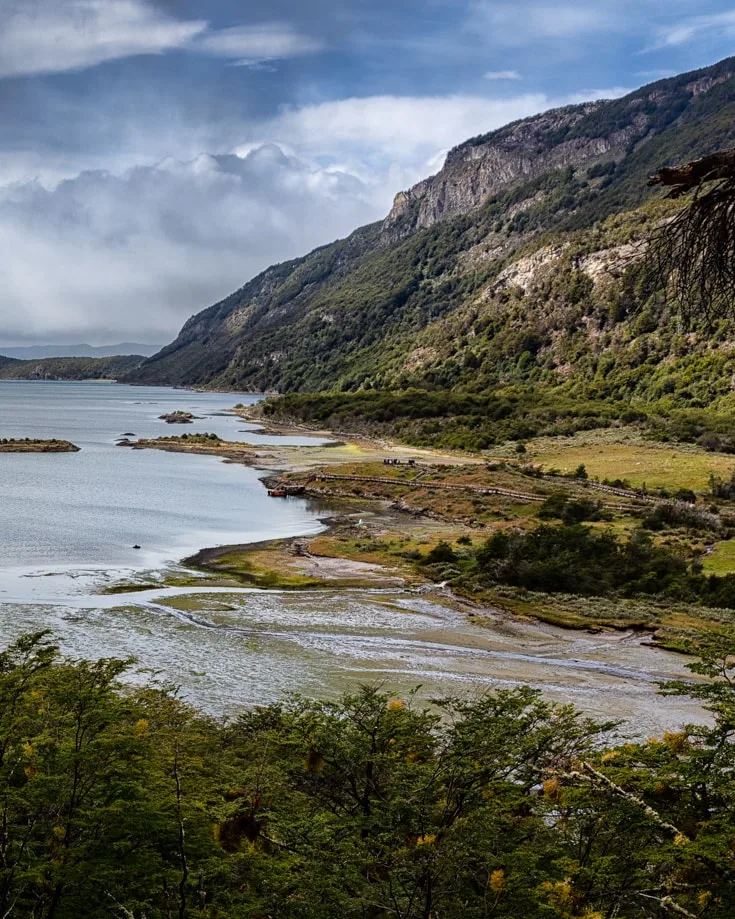 Travelling between the islands by canoe, they lived simple, nomadic lives.
The arrival of the Europeans in the 19th century brought small pox and measles to the region, decimating the population of the Yámana people.
Today, grass covered mounds of shells and bones are all that remains of the tribe.
The scenery within the park is glorious. Snow capped mountains flank dazzling lakes. Dense forests butt against the fjord's rocky coastline.
And once you get away from the dusty road the tour buses use, the birdlife is abundant.
Things to do in Tierra del Fuego National Park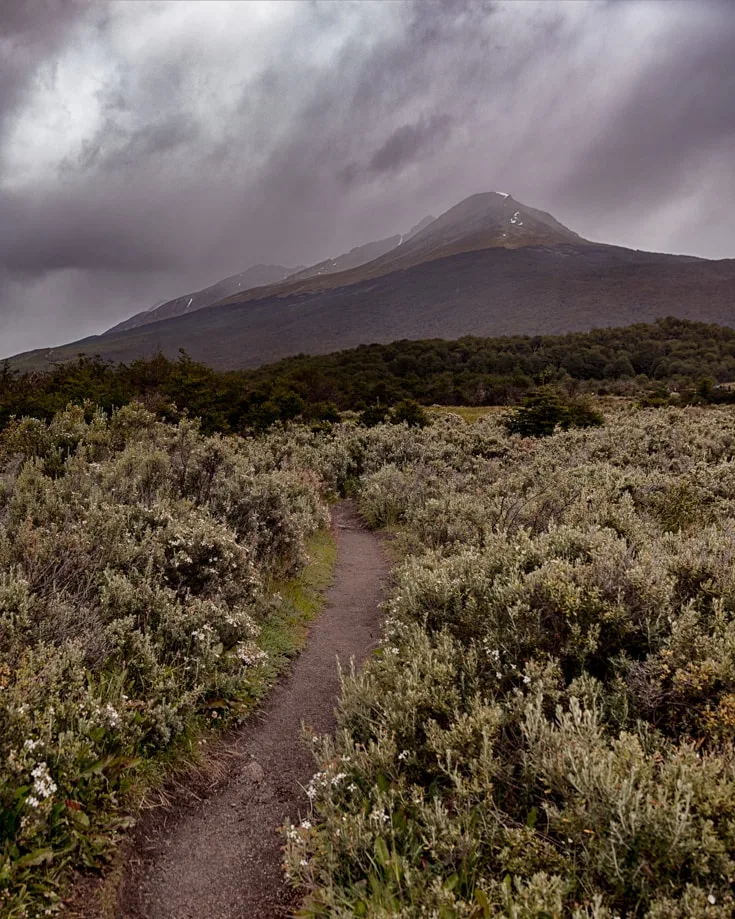 Ushuaia's National Park is unlike any of the other Argentina National Parks we've visited.
The varied landscape stands out and makes each of the hiking trails unique.
The interpretation of the Yámana culture in this wild, hostile land makes you stop and think about how these people survived.
Get away from the main tourist trails and the wildlife ventures out, a treat you're unlikely to experience in a tour group.
Here's a few things to do in Tierra del Fuego National Park to help you explore.
El Tren del Fin del Mundo
The Southern Fuegian Railway, or the Train of the End of the World is a steam railway.
Once serving as a means of transporting timber to the prison in Ushuaia, it's since been overhauled and now operates as a tourist attraction.
And touristy it is!
Passengers are loaded into snug, heated carriages after having cheesy photos taken, then printed in time for you to buy on the return leg.
A short journey through thick forest leads to La Macarena station. Disembark here and avoiding the staff clad in prison uniforms, take the short hike to Macarena Waterfall.
From here, the train continues, criss-crossing the Pipo River until it reaches the park station.
We gave this touristy experience a miss but many people we spoke with really enjoyed it.
Check out the El Tren del Fin de Mundo official website for more information on ticket prices and the daily schedule.
Birdwatching & wildlife spotting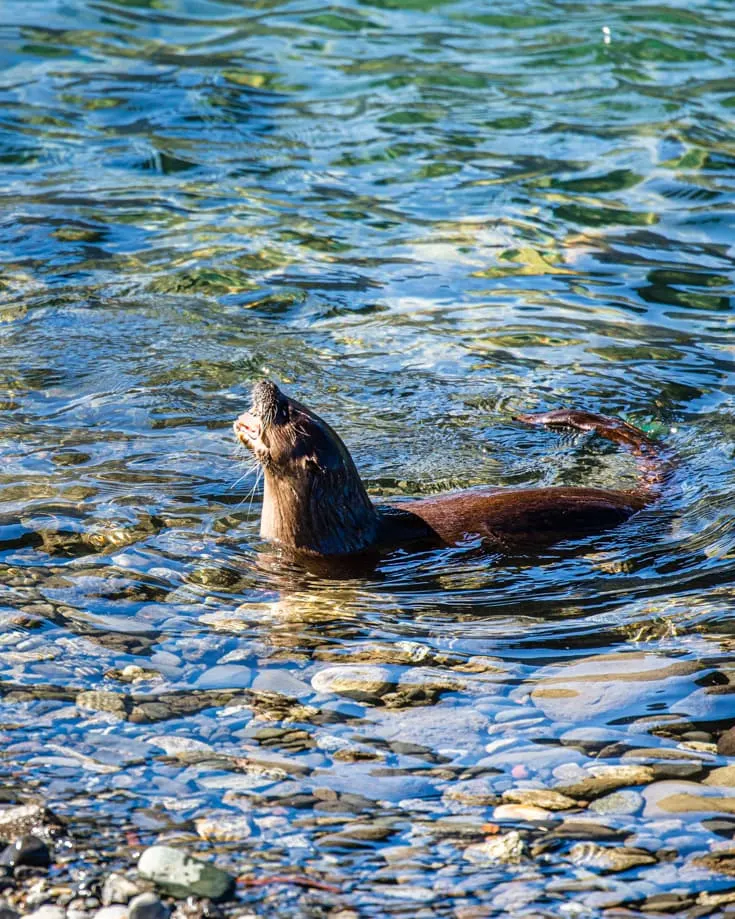 Tierra del Fuego National Park is a haven for Patagonian wildlife so you're in for a real treat here.
From giant Magellanic woodpeckers to tiny Patagonian Sierra finches. Flightless steamer ducks to ashy headed geese. Even condors. Check us out!
If you're lucky, you can spot sea otters, seals and dolphins in Bahia Lapataia too.
There's also invasive species like the American grey fox and beaver, both responsible for decimating much of Tierra del Fuego.
Top tip | To increase your chance of seeing wildlife and birds in the park, you must get away from the well trodden paths.
The tour buses herd passengers along these trails and the wildlife simply stay away.
Take your time and explore the quieter trails for the best chances of wildlife encounters.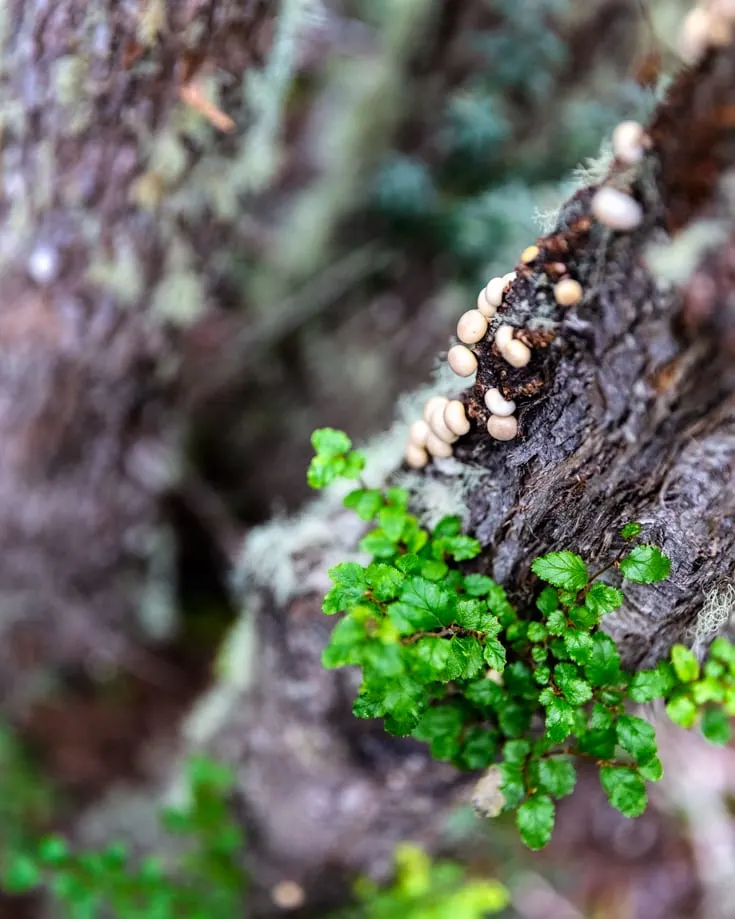 Tierra del Fuego National Park hiking trails
There's dozens of kilometres of hiking trails in the park to choose from. Here's a handful to whet your appetite.
Pampa Alta Trail | 10.5 km | 3 hours
A gradual climb through a thick lenga forest leads you up to a clearing for panormaic views over Beagle Channel.
There's many fallen trees and the route passes a beaver dam where if you're lucky, you may spot one of the invasive cretins.
Cerro Guanaco Trail | 15 km | 5 or 6 hours
A popular and challenging half day hike, the 15 kilometre Cerro Guanaco Trail leads up to commanding views over Beagle Channel and towards the snow-capped Andes Mountains in Chile.
The trail is steep in parts so consider bringing hiking poles for this one.
Sendero Costera Trail | 8 km (in 1 direction) | 2 hours
More of a coastal walk than a hike, this trail leads from the post office.
You don't need to walk the full length to enjoy the views, pebble beach and plenty of wildlife spotting opportunities.
Hito XXIV Trail | 10 km | 3 hours
Setting off from the Alakush centre, there's no climbing involved on this hike. Following the coast of Lago Roco, the trail leads to the border between Chile and Argentina.
There's no formal border crossing but don't be tempted to cross into Chile – the area here is pretty wild and hostile!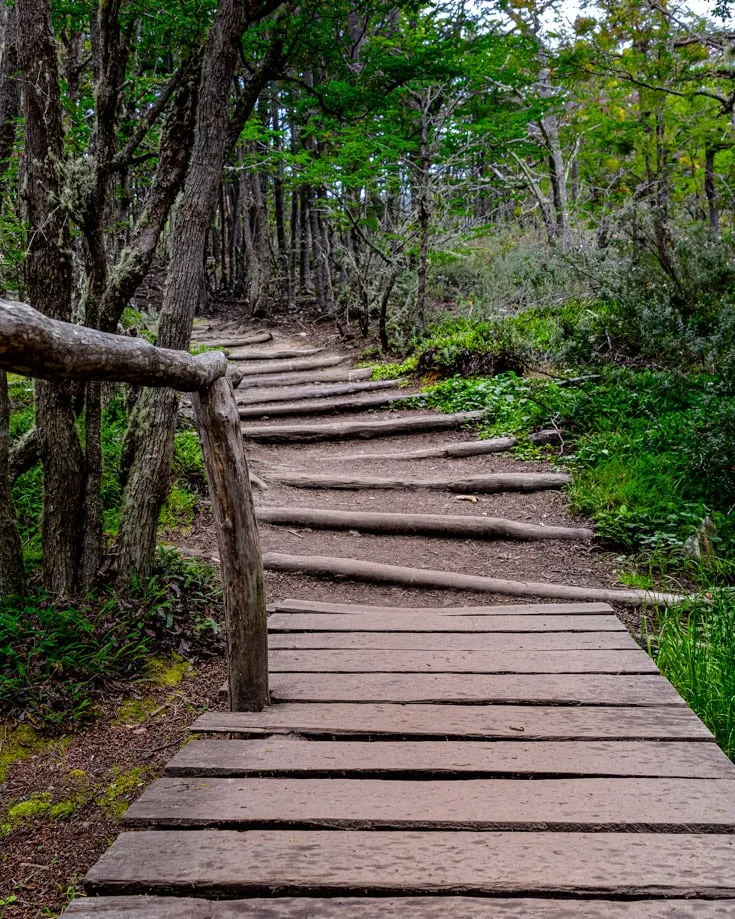 How to get to there
The entrance to Tierra del Fuego National Park is 13 kilometres west of Ushuaia. Despite being on the doorstep, there's no public transport as such from the city.
To get to Tierra del Fuego National Park from Ushuaia you have 4 options.
By shuttle bus
Shuttle buses run from Ushuaia's main bus station on the coast road near the tourist information office.
The bus schedule depends on the time of year but during the summer, they run every hour. A round trip costs ARG $800 per person.
The bus has 3 set stops within the park. Check with the driver what time they return to Ushuaia.
If you'd rather, you can try to arrange this with your hotel or hostel.
By taxi
You can arrange a taxi to pick you up and drop you off at the park from Ushuaia. Expect to pay around ARG $2500 in total.
The good thing about this is you could arrange to be collected the following day if you want to take advantage of the free camping within the park.
On an organised tour
Most people we met in the National Park were on an organised tour.
It's the most costly way to visit the park and the opportunity to enjoy the hiking is limited.
But of course, you do get to enjoy a pick up and collection from your accommodation in Ushuaia, transport around the park and get an English speaking guide too.
Sadly, most tour operators only offer half day trip and to be honest, this isn't enough time to do the park justice.
But if you're short on time they're a great way to get brief taste of what the park has to offer.
Try this half day trip to Tierra del Fuego National Park with an optional journey on the End of the World Train.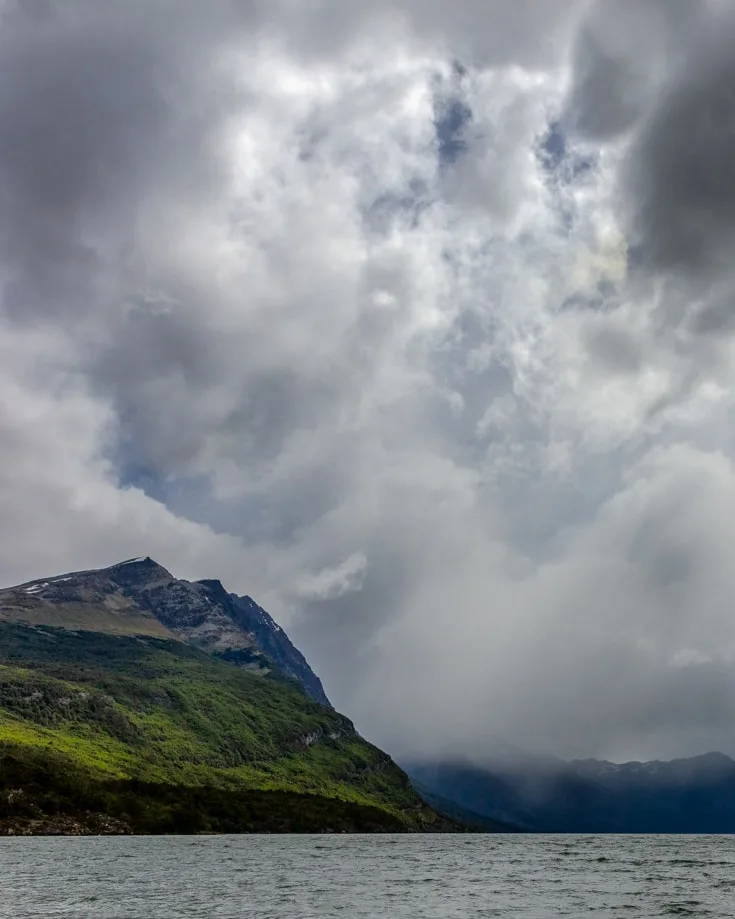 By car (or camper van)
With our own camper van, we obviously opted for this option. If you're also on a road trip in Patagonia, exploring the Carretera Austral or Argentina's ruta 40, this is a no brainer.
But you can also hire a car in Ushuaia. This will give you complete flexibility so you can hike whatever trails you want and in your own time.
It'll work out more expensive than the shuttle bus but if there's at least 2 of you, it's cheaper than a guided tour.
Follow the RN3 westbound from Ushuaia city centre all the way to the park entrance. There's parking lots near each of the hiking trail heads.
And if you want to spend more than a day in the park, keep reading to check out the free camping options.
In winter, snow chains are mandatory – you can buy chains at most fuel stations in Ushuaia. That said, most of the hiking trails are closed at this time of year.
In summer, the dirt roads can kick up a fair amount of dust.
Drive at a steady pace, leaving plenty of space between you and any vehicle in front so your view isn't obscured and to reduce the risk of stone chips.
You can check out our guide to driving in Argentina to help prepare too.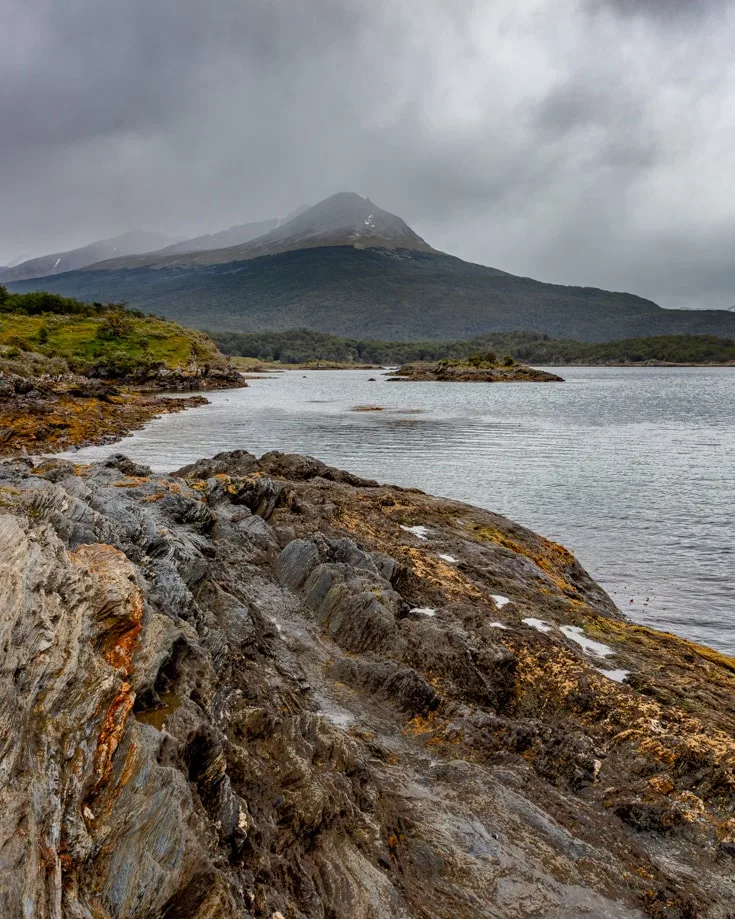 Entrance tickets
No matter how you choose to get to the park, you'll need to budget for your entrance fee when you arrive.
As at February 2020, the entrance price a foreign adult is ARG $560 and ARG $90 for kids age 6-12.
Check on the National Park's website for the latest prices. Make sure to pick up a map of the hiking trails as you enter too.
Top tip | The Argentinian peso is somewhat volatile and there's a black market for currency conversions.
Check out our guide to travel money in Argentina to help you get the best exchange rates.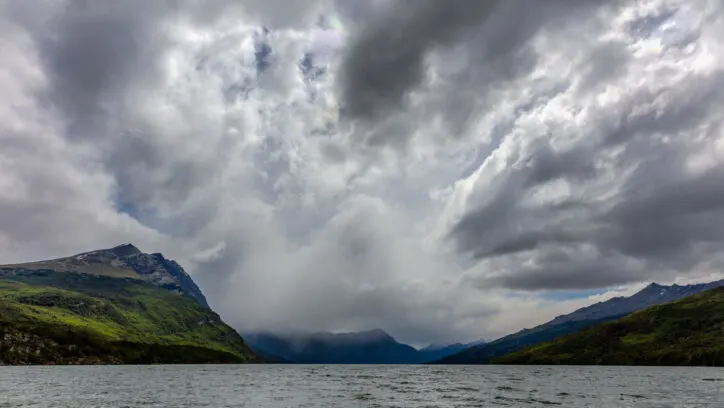 Where to stay
Most visitors to Tierra del Fuego National Park only spend a day or less. But they're missing out.
There's 4 designated camping areas within the park at Río Pipo, Ensenada and Laguna Verde, Cauquenes and Laguna del Caminante on the Andorra-Oveja trek.
The first 3 have chemical toilets available from November to April.
Best of all, the camps are completely free. If you don't have a camper van, you can rent a few car camping essentials in Ushuaia for a budget friendly trip.
Other than the free camping areas, there is nowhere to sty inside the national park. Instead, most hotels and hostels are based in and around Ushuaia.
For a dose of luxury and commanding views over the Beagle Channel, check out Arakur Ushuaia Resort & Spa. We stayed here the evening before we boarded a cruise ship to the Antarctica.
After more than 12 months living in a van, it was the first opportunity we had for a long soak in a luxury bath tub! Heaven!
For something a little more cosy, try to get a reservation at Utaka Cabañas y Apartamentos. The views will blow you away.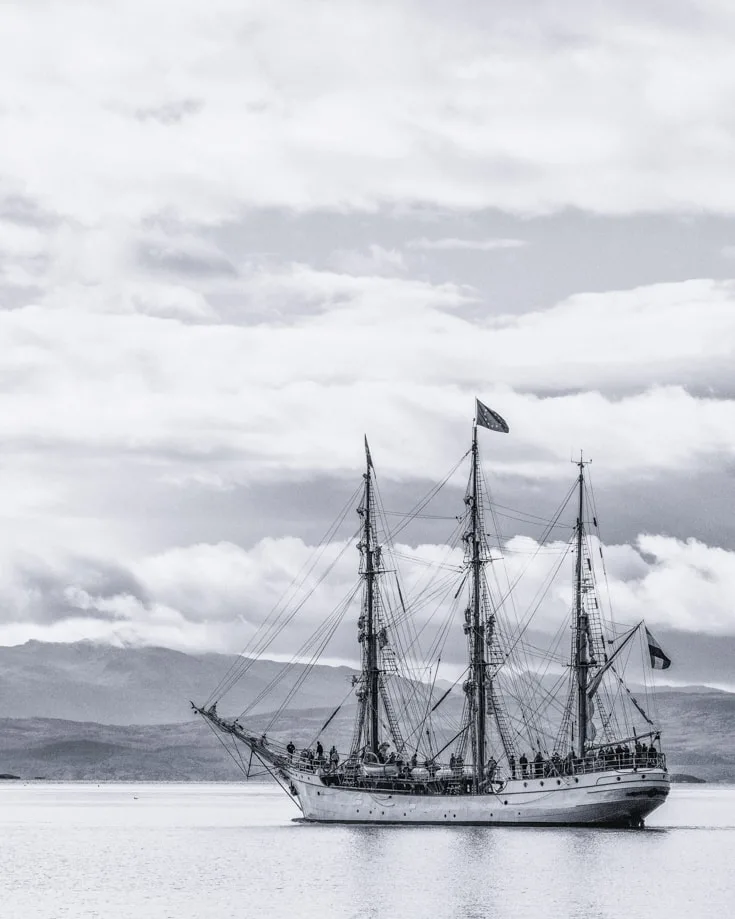 What to pack
When you click on links to various merchants on this site and make a purchase, this can result in this site earning a commission. As an Amazon Associate we earn from qualifying purchases. For more info, please check our disclosure page.
The weather in Tierra del Fuego is typical for Patagonia. Unpredictable. Regardless of the forecast, always expect at least a little rain.
We've published a complete Patagonia packing list covering everything you need when planning your trip to Patagonia.
The things from that list essential for visiting Tierra del Fuego National Park are: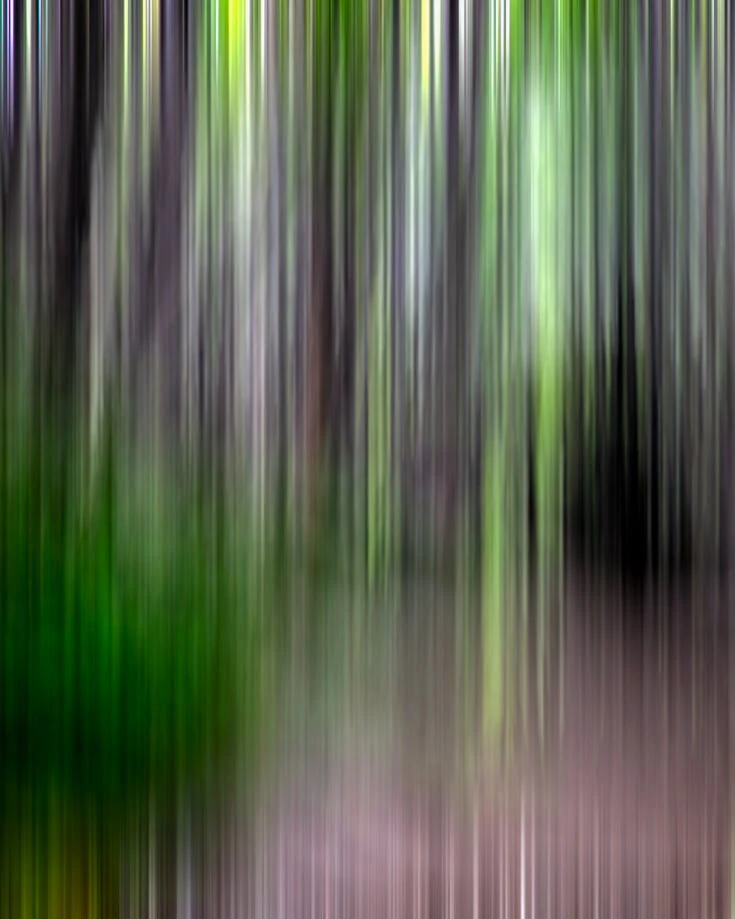 Travel insurance
If you can't afford a travel insurance policy, you can't afford to travel.
If you don't know where to start, take a look at our guide of mistakes to avoid when choosing your insurance cover.
We've also written a detailed guide of the 3 travel insurance companies we recommend for long term travel insurance.
Whatever you do, don't leave home without appropriate travel insurance for your trip.
Like it? Pin it!