First aid kits are often overlooked by travelers, mainly because most minor ailments only occur when you're surrounded by other people or medical supplies are readily at hand.
But when the biting ants gnaw between your toes on a secluded beach, believe me, you'll wish you packed a travel first aid kit.
So, check out our advice below on organizing and buying your kit, as well as what items to include.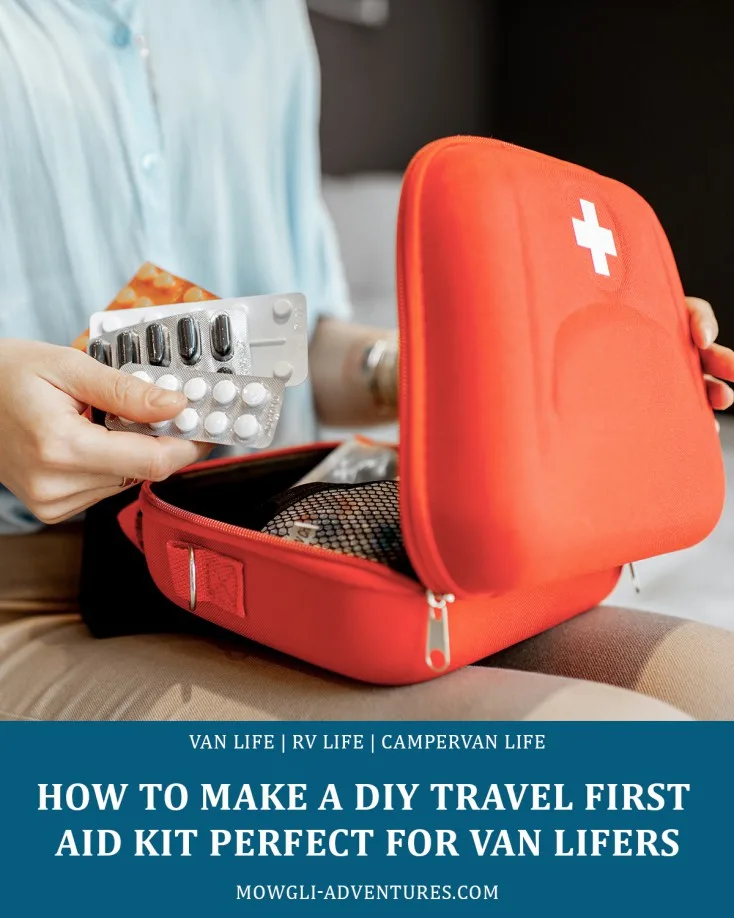 How To Organise Your DIY Travel First Aid Kit Like Your Life Depends On It
Organizing your DIY first aid kit is an important part of packing for any camping trip. After all, you're bringing it in case you need it.
And in the event you need it, you really want to know it's organized and fit for purpose. Otherwise, there's little point. So here are our top tips on organizing your homemade first aid kit:
Have a dedicated home for it in your van, backpack, or luggage, and always know exactly where it is. In the event of an emergency, you need to go straight to it. Not start fumbling around looking for it.
Know exactly what your first aid kit contains and how to use the contents. There's not much point otherwise.
Make sure you stock your aid essentials kit to suit your own needs and the type of trip. The contents of your kit will look different for a hiking trip in Scottish Highlands than for a road trip across America.
Keep a copy of your travel insurance policy and claims line in your first aid kit along with any emergency contact number.
Check this out: Packing Essentials For Your Road Trip
Buying Your Travel First Aid Kit
The easiest way to get one is to buy a travel first aid kit at your local chemist. Take care though because there's a tendency to think you're sorted for any medical eventuality.
Perhaps this is true but does make sure an off-the-shelf travel first aid kit contains everything you may need. And make sure to consider your personal health needs an off-the-shelf kit won't cater for, such as any prescription medication.
If, like us, you prefer to save a little money, find a suitable storage bag and fill it with the contents you need. It's way cheaper to buy a good quality toiletry bag and fill it with items specific to your own needs.
Sure it's not as convenient but it'll certainly be bespoke to you.
Essential Contents For Any Travel First Aid Kit
For dressings (cuts, bruises, and sprains)
1 x roll of medical tape
1 x box of plasters in different sizes
Non-adherent dressings
2 x bandages (1 large, 1 small)
1 x small scissors
Tweezers
Latex gloves (to protect you from someone else's blood)
1 box band-aids – for minor cuts
Top tips for dressings
Cling film is fantastic for burns and other abrasions and as you can see through it, you can keep an eye on a wound without tampering with the dressing.
You don't really need to carry safety pins – just tie a knot in the dressing and avoid stabbing someone :-)
Medication
Antiseptic (You can buy bottles or sprays of standard antiseptic, or get ready-prepared antiseptic wipes.)
Aspirin
Ibuprofen
Antihistamines
Anti-diarrhoea drugs
Other items that may be useful in certain circumstances
Medicine to prevent altitude sickness (white ibuprofen)
Water purification tablets
Commercial suture/syringe kits to be used by a local healthcare provider
Your personal prescription medications
A spare pair of reading/driving glasses
Thermometer
Also read: 50+ Must-Have Tools for your RV Toolkit
Travel First Aid Kit Packing Tips
Some countries have extremely strict rules about both over-the-counter medications and prescribed drugs entering their borders. Check before you travel that you are not breaching any of those rules.
A first aid quick reference card is really useful in the event of needing to use the contents of the first aid kit. Read it before you need it and keep it in your DIY first aid kit for future reference.
Make sure you keep the dosage information leaflets with your medications. If you don't know how to use the contents of your travel first aid kit, you are almost better off without it.
Think about where you're going and what you'll be doing. What are the more likely accidents you may need to pack for? Go going to the desert? You might need to think about heat exhaustion or sunburn. Going to the Arctic? Maybe you need to think about hypothermia treatment.
First Aid Training
Having a well-stocked and organized first aid kit is great but knowing how to use it is as important. If possible attend a first aid training course before your trip. It'll give you peace of mind on what to do in the event of some injuries, and who knows, you may even save somebody's life one day.
Travel Insurance
We bang on about it a lot, but please make sure you're covered with a good travel insurance policy. You can't afford to travel without one. We've heard stories of people who have had to use ALL their money (and then some) because they didn't have travel insurance. You can get a free quote in the widget in the sidebar.
This may seem like a lot of medical kits, but it's surprisingly light and compact. Keep it well-stocked, make sure the medications remain on a date and always have it handy. You never know when you might need it.
If you liked this article about travel first aid kit essentials, consider checking out some of our other favorites below —
Like it? Pin it!