When you click on links to various merchants on this site and make a purchase, this can result in this site earning a commission. As Amazon Associates, we earn from qualifying purchases. For more info, please check our disclosure page.
Van life with a dog can be a rich and rewarding experience — so long as you properly prepare for it. Pups have unique needs, just as you do, so it's important that you take that into account if you're planning on living on the road with a dog.
Preparation for traveling with a pooch goes far beyond making sure they have food and a place to sleep. Your pup will be the co-pilot that goes everywhere you do, but they're also completely dependent on you to keep them safe and happy.
Ready to bring your pup on the adventure of a lifetime? Check out our tips below first to help make life on the road a happy and agreeable time for everyone.
Get Organized, and Keep It That Way
Even if you've got a roomy van, it won't take much to fill it up. Think about all the things you need to bring for your own comfort and how cosy things will get, and then add the dog's belongings on top.
To keep from tripping over shoes, food bowls, and other obstacles, it's essential that you find a place for everything — and then keep everything in its place. This will keep you on your feet when you need a late-night drink, but it will also make it easier to prepare for excursions, keep the van clean, and create an overall feeling of zen.
Have a Space Just for Your Pup
When you're building your van camper or planning where you'll put your stuff before hitting the road, take some time to create a space just for your dog. Depending on the space available, this could be as elaborate as a built-in kennel or as simple as a designated corner.
The idea here is to give your pet a spot that's all their own. It could be the spot where they stay when you're driving, when it's bedtime, when they're playing, when they're scared, or any combination of the above.
Note: If your dog likes to stay up front with you while you're getting from point A to point B, make sure to properly secure them. Whether they're sitting in a chair or lying on their own platform, make sure they're wearing a car leash or doggy seat belt to protect them from falling or running away should you stop short, take a corner too hard, or get into an accident.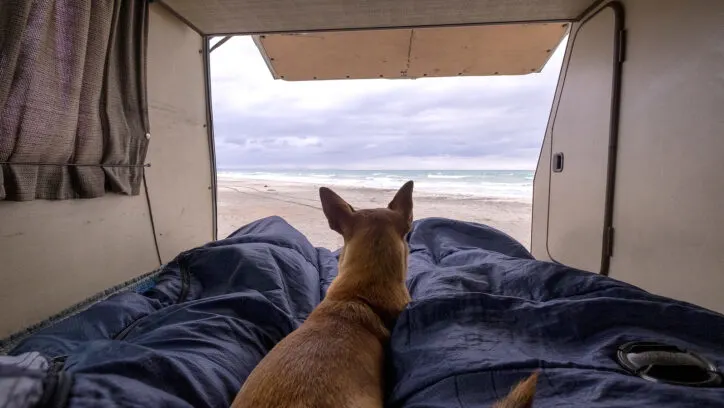 Bring Everything Your Pet Needs — Plus Extras
Picture this: Your pup is whining because they have to pee, like, right now, but you can't find their leash anywhere! This can lead to quite a stressful situation, forcing you to trust your dog to follow your commands to pee and get back inside. This can be especially hard if you're at a gas station or other crowded area when your pet may get distracted.
The easiest way to avoid these types of issues is to simply pack extra, especially when it comes to safety equipment like leashes, harnesses, and collars with identification. These items are so small and lightweight that you can afford to stow them all over the van, from under the kitchen sink to the glove compartment, ensuring you've always got an emergency leash (or three) within reach. Other items to bring extras of include medications, pet food, and towels or rags.
Make Sure Your Pet is Well-Identified
Speaking collars with identification: They're absolutely vital. When you're on the road, you don't have a permanent place to call home, so it can be incredibly difficult or even impossible for your pet to retrace its steps and find you if it was to somehow become lost.
At the very least, you should have your dog microchipped and make sure that your contact information is up to date. It's much better to also ensure that your pet is wearing a sturdy collar or harness with your phone number. If your pup is lost at a camping site, there will be no way to read a microchip, but helpful strangers can most likely make a call.
Get That Doggy Up to Date on Shots
Not only is ensuring that your dog is up to date on its vaccines the responsible thing to do, it may be a legal requirement in some parts of the country. Most locales require that dogs at least have the rabies vaccine, but getting your pup all its recommended shots will protect them from a host of illnesses.
Also remember: Preventatives save lives! If you'll be traveling to an area where your dog may encounter mosquitos, fleas, or ticks, talk to your vet about preventatives that could protect against heartworm, Lyme disease, and other illnesses.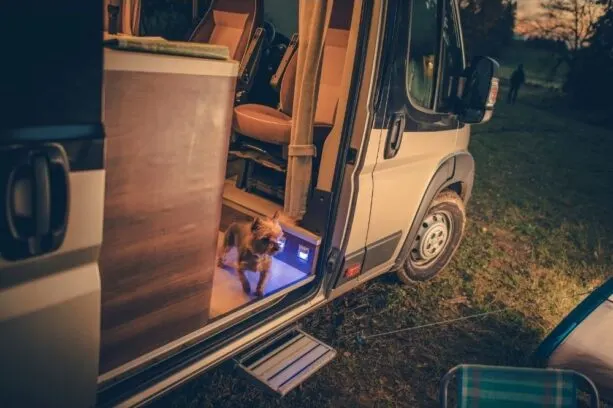 Camp on BLM Land to Avoid Pet Restrictions
An unfortunate reality of many national parks and campgrounds is that they don't allow pets. Even those that do may only allow them in parking lots and pavement. This means you can't take them on a hike, down to a stream, or really anywhere else you'd like to spend your day.
One way to avoid this dilemma is to camp on BLM (Bureau of Land Management) land. The US government manages nearly 250 million acres of land, and most of it is open to the public at absolutely no cost. When you camp on BLM land, there are no pet policies to which you have to adhere, so you can take your furry friend everywhere you go.
Take (Lots of) Steps to Control the Inside Temperature
When you leave a vehicle out in the sun, it heats up, and it heats up quickly. Likewise, vans don't have a ton of insulation, so when it gets cold outside, it's going to get cold inside too.
To keep your space comfortable for yourself and your pet, it's imperative that you find ways to manage the interior temperature. In warm weather, you can accomplish this through use of vent fans and air conditioning. You can also:
Use reflective screens in the windshield and windows to keep sunlight and its heat out
Provide your dog with plenty of water, and if it's really warm out, pop in a few ice cubes
Get your pup a cooling pad, a specially designed mat that uses cooling gel or fibers to offer relief from the heat
When it's cold outside, you can use a heater to keep your space toasty. Heating blankets are another great idea for cuddling with.
Stick to Regular Routines
Dogs thrive on routine, so when possible, maintain your own when you're out on the open road. This may include regular pitstops for walks, a set time to eat dinner each evening, or special treats before bed time.
While routine is good for pups, it's good for humans too. It's easy to get lost in the need to get from one place to another, and stopping for rituals with your pup will give you a chance to take a break so you can enjoy the ride as much as the destination.
Plan Some Doggy Adventures Too!
Keep your pup in mind when you're planning your adventures. After all, they want to have fun too! When deciding where to go or where to stop, think about how the weather and the surroundings will affect your pet.
For example, in the summer, stay away from places like Arizona and New Mexico that get super hot. Your pup will not have a great time if their paws get burned every time they step out of the van. Likewise, avoid areas that get super cold, unless you've got the right gear for it.
As far as specific destinations, look for dog parks, dog-friendly beaches, pet-friendly cafes, and other places where your dog can spend time socializing with new friends and running to their heart's content.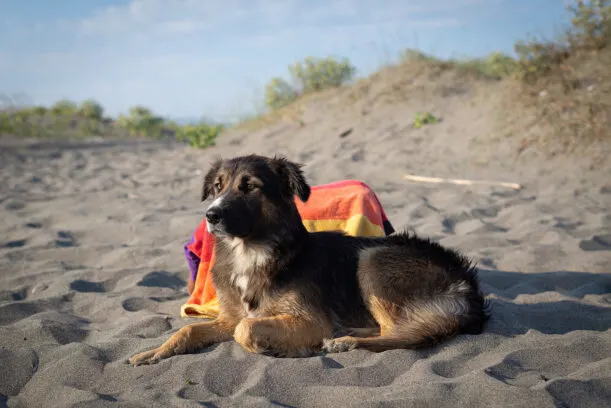 Van Life with a Dog FAQs
Can you leave your dog in the van?
In general, no — leaving your dog in a van is a bad idea. As you know, vehicles can heat up quickly, and the last thing you want to do is accidentally hurt or possibly kill your dog because you underestimated how hot it may get. Worse, you may leave them with a properly functioning cooling or heating system, only to come back to a dead battery or generator and a dog that's suffering.
If you must leave your dog in the van, it should be for only a very short while, and only if the van maintains a comfortable temperature and remains in your sight. Examples of times when you might leave the pup in the car include stopping at a farmer's market or picking up snacks at a gas station.
Read more: Top RV tips & tricks to boost your camping experience
How do you keep the van clean?
In most cases, you won't be able to avoid a dirty van, whether you have a dog or not. Dust, dirt, and spills are an inevitable part of van living, but how quickly you deal with messes will play a big part on how clean your space stays.
Here are some ways to keep the dirt at bay:
Give your van a quick cleaning daily or every other day. It doesn't have to be a deep clean, but make it a habit to at least sweep it out and use all-purpose cleaner on hard surfaces.
If you've got a dog that sheds, brush often. Depending on how bad the shedding is, this could be a daily or weekly activity. The more fur you get off outside the van, the less that will fall off inside.
Keep a large supply of rags and towels handy for cleaning off your pet when they enter the van. Even if your pup just went for a quick pee in the grass, use a damp rag to wipe their feet. For larger messes, use a spray bottle with clean water and a towel.
Stop regularly to do laundry. Depending on how many towels or bed linens you bring with you, weekly or biweekly laundry stops may be sufficient. If you can't stop so often, consider shaking out your linens every couple of days and hanging them so they can air out.
Also read: Van Life Laundry | How to Wash Clothes Living in a Campervan
Are there disadvantages to living on the road with a dog?
There can be, just as with any living situation. However, you can typically overcome many disadvantages to van life with dogs pretty easily. The most common obstacles you may encounter include:
Limited activities. You can't take your dog everywhere, so you'll have to plan accordingly. This may mean having to skip some restaurants, attractions, and destinations sometimes, because leaving your dog in the car for a few hours or even all day is simply not an option. However, thanks to the power of the internet, you don't always have to give up all the things you want to do because you've got a furry friend in tow. It's easy to find pet-friendly attractions before you reach your destination, and if there's something you really want to do (mountain biking, kayaking, theme parks, etc), you can use a pet-sitting service like Rover to find someone to watch your pup for the day.
Pet messes. Let's face it: Dogs can be incredibly messy creatures, and living in a van with a dog can make things extra exciting. Depending on your dog's age, breed, level of training, and personality, you might have to deal with things like potty mistakes, chewed furniture, or fur flying everywhere. And then, of course, every trip outside the van is an opportunity for your dog to get dirty. If you're lucky, you'll get away with muddy or sandy paws. If you're not, you could be spending time cleaning up a dog that's just rolled around in some questionable muck. The only thing you can do in these types of scenarios is to prepare for them and deal with them with love and patience as they come.