With climate change, pollution, over fishing and off shore drilling, the long term survival of sea turtles hangs in the balance.
In La Coronilla, a small Uruguayan village with a tiny population, efforts to help save one of the ocean's most loveable creatures are underway.
It's late afternoon. The sky is grey and overcast. The distant rumble of thunder warns the light drizzle could turn into a downpour at any moment.
We'd spent all day exploring the area around Taim Ecological Station in Brazil before crossing the border into Uruguay. Tired and hungry, we pull up at a quiet beach parking area.
We haven't even taken our seat belts off when we spot a woman walking towards us, a whole green turtle cradled in her arms.
We look at each other, immediately forgetting our weariness. Our attention piqued and our sense of animal preservation, care for our environment and British characteristics of fair play kick in. WTF!?!
We both jump out of the van. In my mind I try to find the right Spanish words to forcibly say, 'Put that animal back where you found it! Don't you know to leave the wildlife alone?' Or words to that effect.
After the past 3 months of travelling around Brazil speaking an incoherent form of PortuSpanglish, my previous limited grasp of Spanish fails me.
We approach the turtlenapper, still confused about why she had the animal in her grasp.
We meet and with a big beaming smile, she asks, "Do you want to release this turtle? Perhaps you can give it a name?"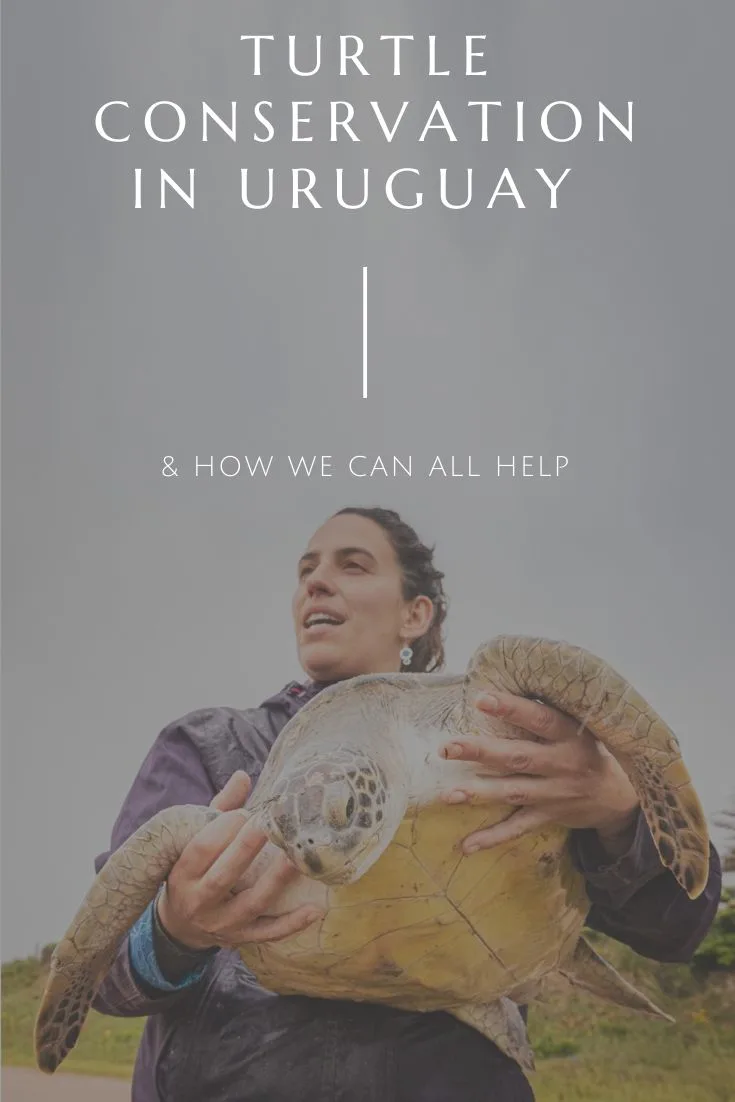 Karumbé turtle conservation
Our initial anger and upset immediately turns to relief.
She is no turtlenapper or uneducated fool playing with the local wildlife but a turtle's guardian angel.
On the windswept beach car park, we'd stumbled upon Karumbé, the only sanctuary dedicated to turtle conservation in Uruguay.
Gabriella introduced herself as one of the staff. A native of Madrid, Spain, she came here 10 years ago as a volunteer and never left.
We were joined by a couple of volunteers, Karen and Benedict from Germany. After brief introductions Gabriella handed me the turtle.
"Grip him by his front flippers and place your arms underneath him," she said.
Following her instruction, I held onto him, grabbing the front flippers. Immediately the turtle began to wrestle as if trying to swim away from me.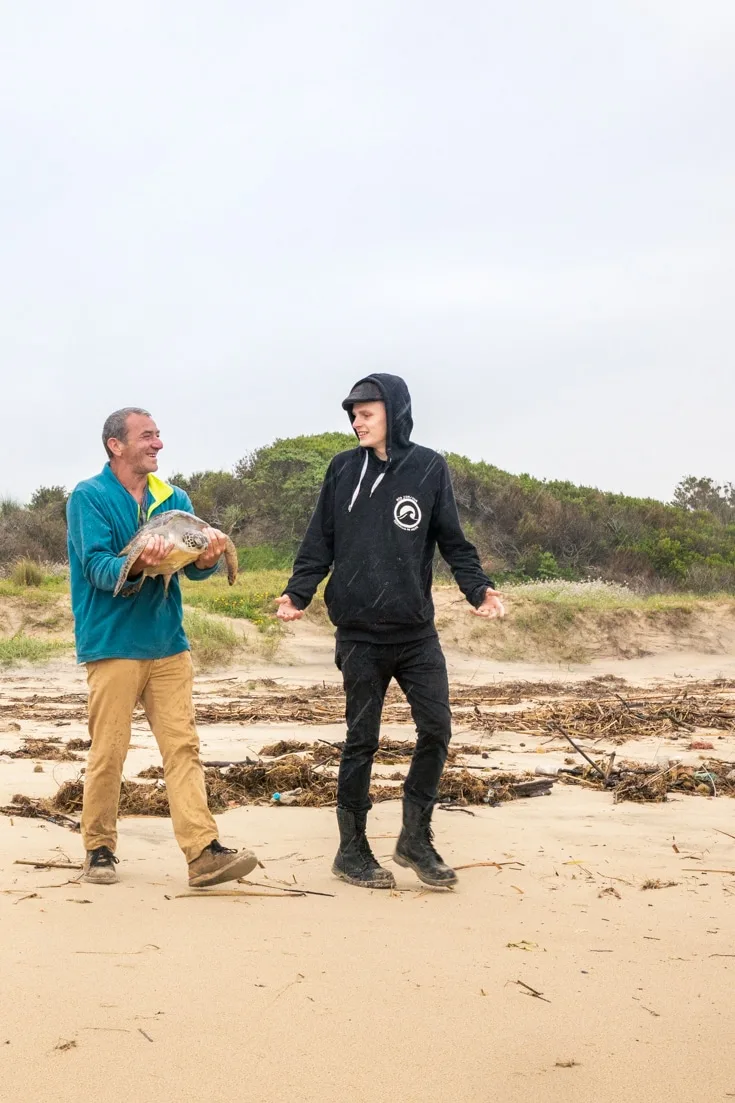 He was strong. So strong I had to tighten my grip and hold my arms steady.
I was scared he'd wrestle free and I'd drop him. My imagination ran wild with the damage I'd inflict if I let him fall.
Clinging on, we baptised him Mowgli (what else?), noted his tag number and took pictures of our newly adopted family member.
We walked towards the ocean, chatting to Karen and Benedict as we went.
They too are overlanders travelling in a 4×4 Sprinter not unlike our very own Baloo. They'd shipped their van from Europe and collected it in Montevideo 10 days ago.
As they passed by La Coronilla they joined a call to arms to help over 90 stranded turtles on the beach.
Why did the turtles get stranded?
As we walked I learnt that Uruguay doesn't have any turtle breeding grounds. These turtles were born near São Paulo, Brazil about a 1000 miles north from here.
Most newly hatched and baby turtles don't make it to adulthood, hence the large number of eggs they lay in each nest site.
Those that survive their traumatic, dangerous birth and actually make it to the sea will seek shelter in shallow waters like here at La Coronilla.
Green turtles use the coastal waters on Uruguay's Atlantic coast like a finishing school. There's a food rich channel where they take shelter to avoid ocean going predators. After a few years when they're big enough, they'll leave for the big wide ocean.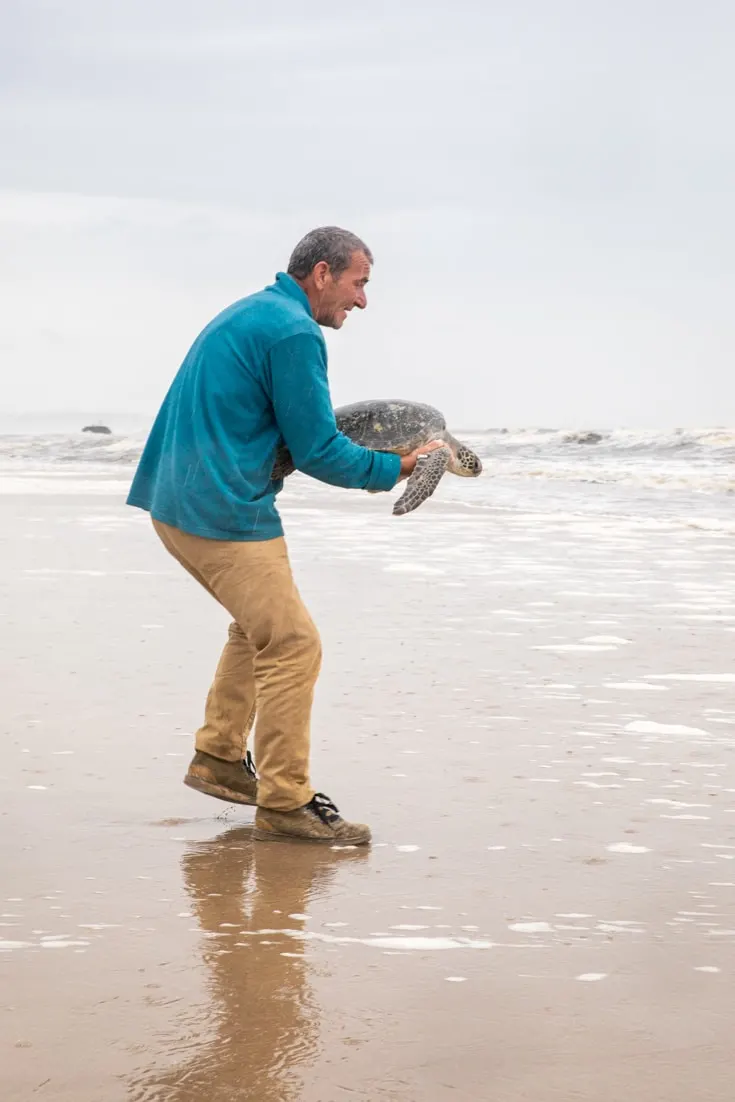 Eventually the females will return to São Paulo, lay eggs on the same beaches they hatched on themselves and over the next 60 years, all being well, the cycle repeats.
During the winter months of their juvenile years, the turtles effectively hibernate where the water is warmer than the deep ocean.
Despite the protection the bay and channel offers, after heavy storms and big rains, debris flows down the rivers and streams. The turtles are washed out of the channel and in an attempt to keep out of deeper water, they attempt to come ashore.
Turtles only ever come ashore to lay their eggs so it's a sure sign of distress to see them beaching like this. Traumatised and exhausted, many turtles suffer from hypothermia and injuries.
Arguably we shouldn't intervene on nature's course. Perhaps many of these turtle would manage to survive. And those that don't would return to the ecosystem, one way or another.
But this is a species globally endangered by the actions of humans. Somehow it feels appropriate to give them a helping hand.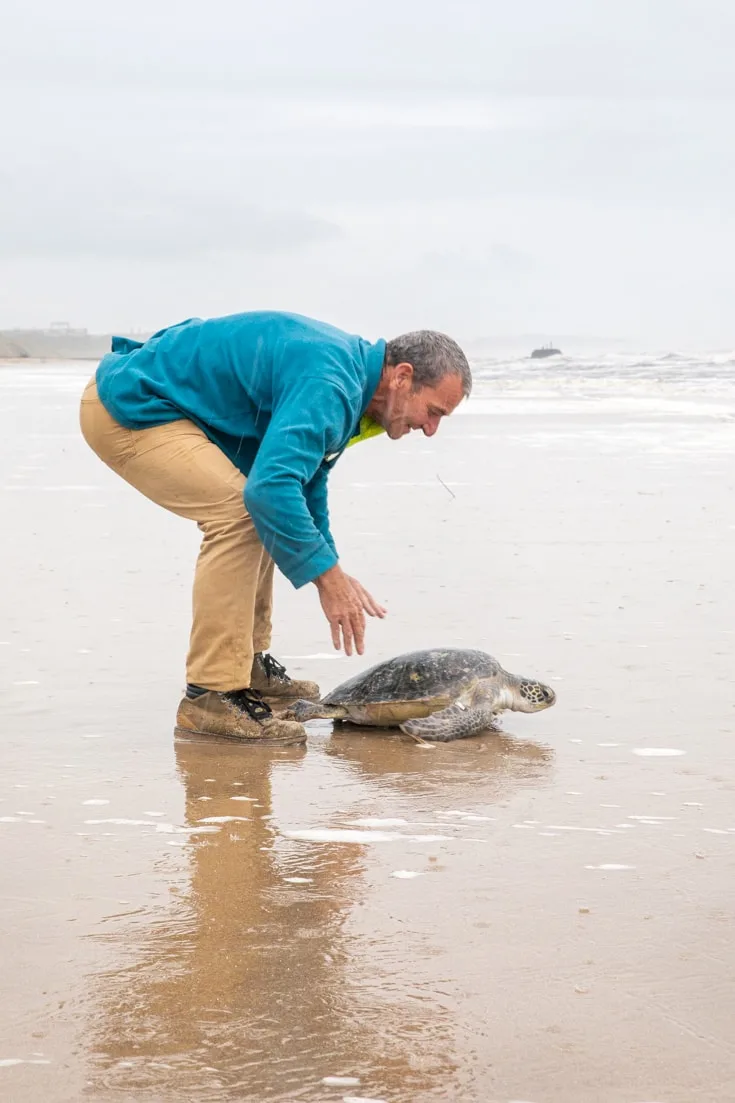 Returning the turtle to the ocean
Over the last few days Karen, Benedict and other volunteers helped Gabriella rescue the stranded turtles.
They carried them to the sanctuary beside the beach, cleaned them up, rested & fed them. Once given a clean bill of health, they were each returned to the wild.
Our Mowgli was one of the last to be released.
As we approached the water's edge, the wind picked up, the rain began to pelt and flipping Mowgli wrestled.
I could feel him sense his impending freedom and our very own green turtle, Mowgli, tag number UY0694 bucked and struggled, incredibly powerful for a such a small creature.
I placed him down on the sand and without any encouragement or even a backward glance at his adoptive parents, he hauled himself into the cold sea.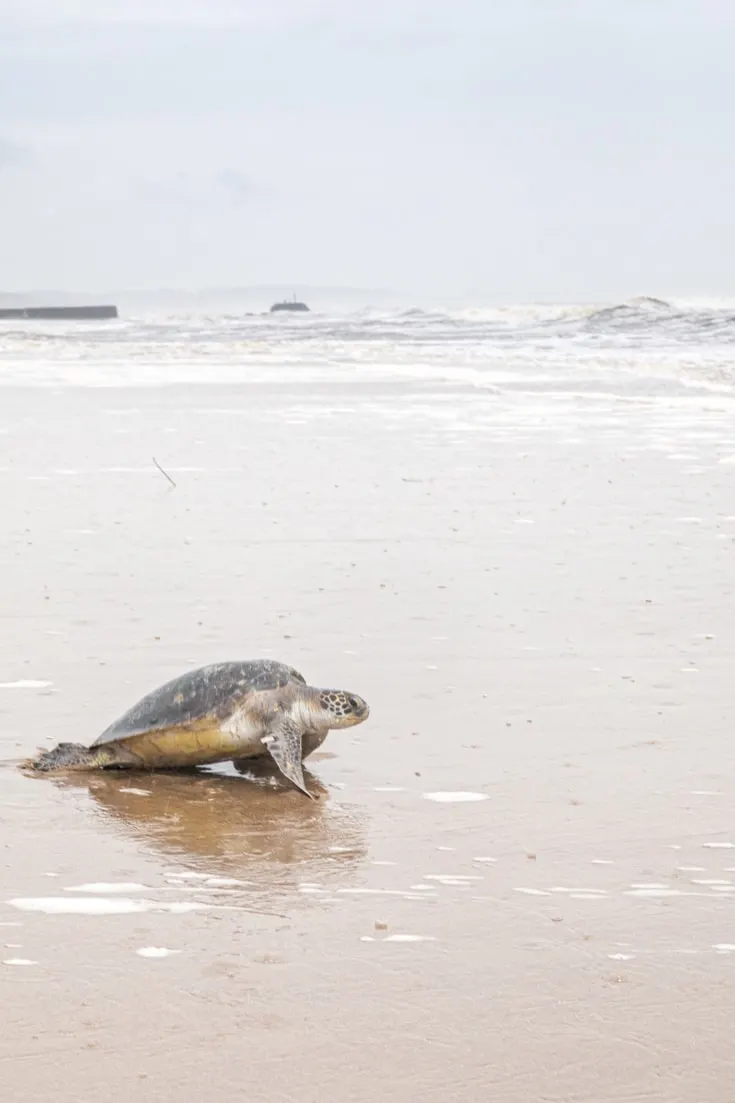 About Karumbé & turtle conservation in Uruguay
We walked with Gabriella up to the sanctuary. Several local residents were busy tagging, weighing and caring for the few remaining turtles not yet ready for release.
While they rested in warm water tanks, we witnessed one turtle poop out a piece of plastic. It was a horrific, sad, visible sign of pollution in our oceans.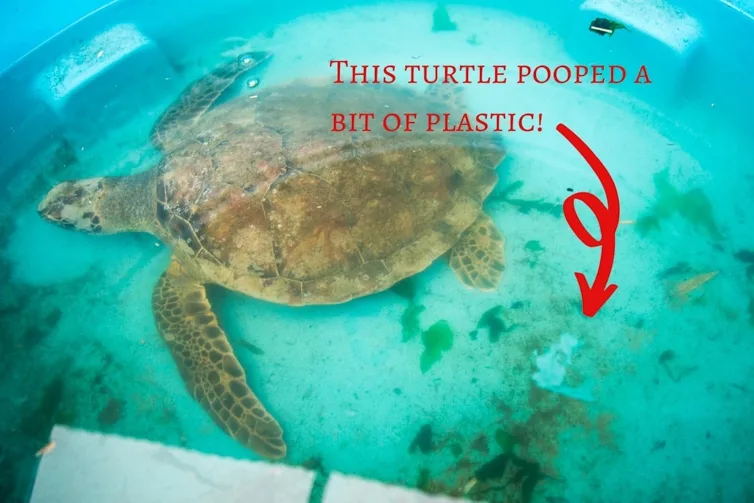 It's a small band of turtle guardians at Karumbé but an important conservation effort.
Data is collected and more and more is being learnt about their feeding grounds and migrations all the time.
They rehabilitate sick or injured animals and help educate local children all along the Uruguayan coast.
If you want to travel to Uruguay to help out at Karumbé, contact them directly. Check out their website or their Facebook page.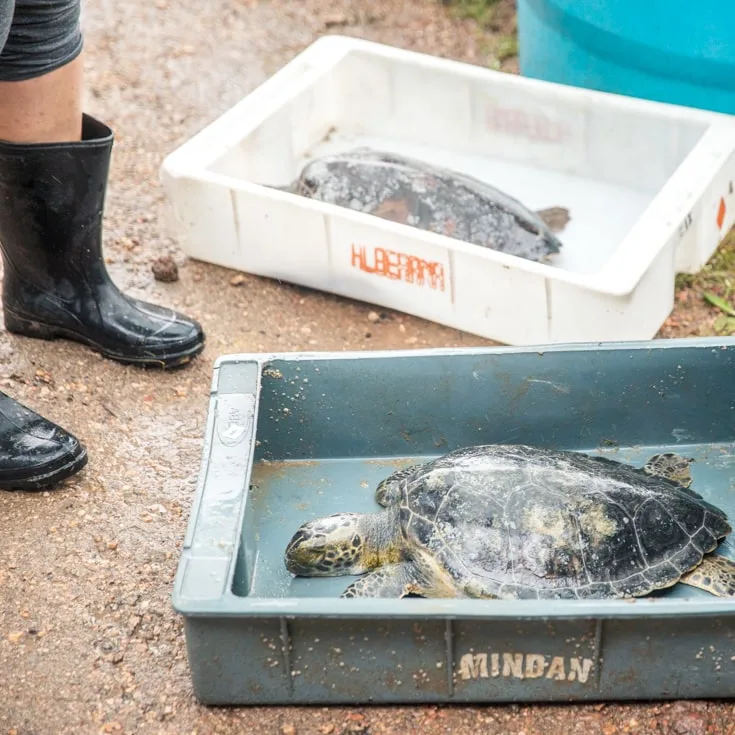 They can arrange simple accommodation for your stay and only charge for board, keep and any transfers.
If you're just passing as we were, you can help out for no charge at all. There's no voluntourism here and it's quite refreshing at a time when many NGOs would turn help down without a hefty fee.
We hope Mowgli will survive, start his own family and a live long fruitful life but the odds are stacked against him.
Aside from the natural predators and dangers he'll face, he now has to overcome the increasingly negative affects that man has on the planet.
Global warming, plastic pollution in our seas and loss of their natural habitat is all taking its toll.
You can help anyway, even without volunteering.
Pick up after yourself when you go to the beach (or anywhere)
Take proper measures to recycle
Reduce single-use plastics like straws.
How to get to La Coronilla
La Coronilla, Rocha is in the northeast corner of Uruguay, 25 kilometres from the Brazilian border town of Chuy and 306 kilometres from Montevideo.
The easiest way to get there is by car. Driving in Uruguay is easy but if you'd rather take public transport you'll need to go to Chuy first and change there.
Where to stay in La Coronilla
Overlanders can stay in the beach side parking area for free. There is a toilet block although reviews on iOverlander suggest they're pretty grim. We have our own campervan toilet so didn't check them out.
For everyone else, there's a few basic pousadas in the village and one quite fancy hotel. Check here to see what's available and open when you want to visit.
If you'd prefer more budget accommodation, make sure to check out Hostelworld for their latest rates and availability.
Onward travel from La Coronilla
Where are you heading to next?
Uruguay's capital city, Montevideo is always a joy. Unlike most South American cities, it's laid back, not too busy and has terrific architecture and Condombe shows, unique to Uruguay. And loads of beaches!
If you want to see a more traditional and authentic side of Uruguay, follow the northern route towards Argentina through Uruguay's interior.
For beach lovers, of course Uruguay has plenty to choose from. If you fancy getting away from it all for a while, you must visit Cabo Polonio. With no cars allowed in the village or electricity, this iconic off grid village is right up your street.
Punta del Diablo is a little less off-grid but just a chilled and fabulous for indulging in fresh fish suppers after a day surfing the waves.
And of course, La Coronilla is so close to the Brazilian border too.
Like it? Pin it!