To drive an older vehicle in remote and sometimes harsh regions means you need to be on top of your game for your vehicle maintenance routines.
When we're overlanding in our own vehicle, regular vehicle maintenance is a high priority with its own budget in our travel plans.
Oil and filter changes are done on schedule and sometimes on a more regular basis than specified in the handbook.
Getting a Unimog oil change in Morocco couldn't be easier. Or cheaper.
"Drive it like it was stolen, maintain it like your life depends on it." – Richard Sims, esteemed off road driver.
Oil and filter changes on a Unimog are simple enough tasks, albeit a dirty job that can be a bit fiddly.
Having a Unimog oil change in Morocco couldn't be easier and certainly not cheaper.
On top of that, today I learnt an ingenious approach by the ever resourceful Moroccans and it cost me less than a price of a coffee.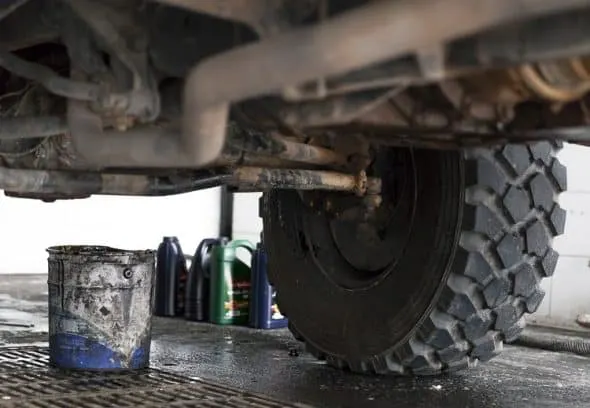 Mowgli the Unimog undergoes rigorous daily, weekly and monthly vehicle maintenance routines and was due a regular engine oil and filter change, normally a task I would do myself.
Prevention is better than cure, so I get a bit fastidious about the regular maintenance and carry a stock of oil filter replacements.
Going to remote regions on our own means we cannot afford to take risks with Mowgli's mechanical health.
Being in Morocco, I took advantage of the favourable labour rates and oil prices to have both the engine oil and filter and front and back differential oils changed.
On a Unimog, engine oils and filters are changed every 300 hours and differential oils every 1200 operating hours.
Mercedes Benz suggest 300 operating hours = 10,000 km so rule of thumb, engine oil every 10,000 km and differential every 40,000 kms. We are doing the differentials early this time at 30,000 kms, to fit into our travel schedule.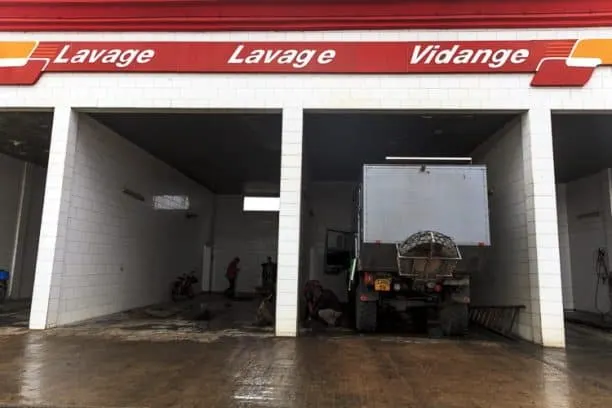 Unimog Oil Change in Morocco
Pulling into one of the many oil changing stations, we met Ahmed, armed with an old bucket, clean cloths and new oil.
Ahmed efficiently got on with the engine oil change. One of the benefits of not doing this job yourself is that you don't have to worry about disposing of the dirty oil responsibly.
Here, it is collected and recycled but don't ask me how. My French and Arabic, despite our useful Arabic phrases, aren't good enough to understand the explanation. Perhaps he recycled the drained oil it into his car. Who knows?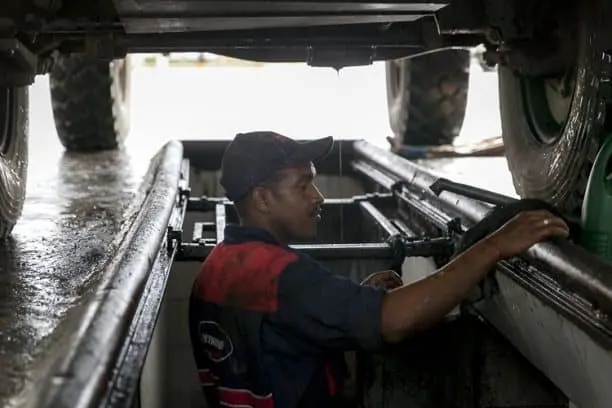 Ahmed said the engine oil was still clean and didn't really need changing. The service book says differently.
The manufactures have spent a lot of time and money developing their maintenance schedules so we keep our vehicle as unmodified as possible for this reason.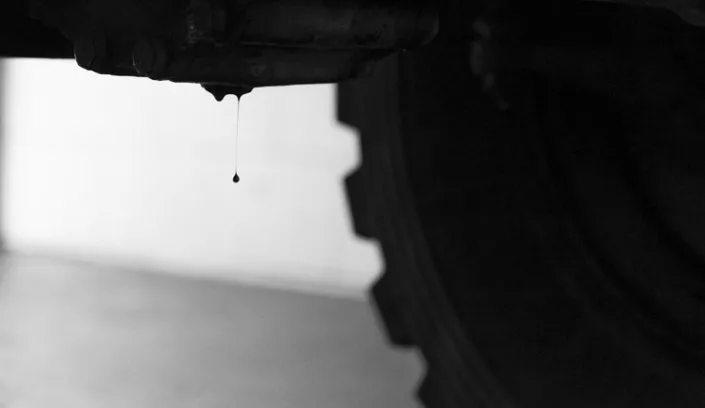 The differentials oils are also simple to change but it does mean crawling underneath.
So after the engine oil change, Ahmed asked us to change bays so he could use the newly built pit bay.
This bay was so new that the freshly laid cement was still wet and the workmen who were still screening the floor were moved swiftly aside. We drove in and Mowgli left her lasting footprint.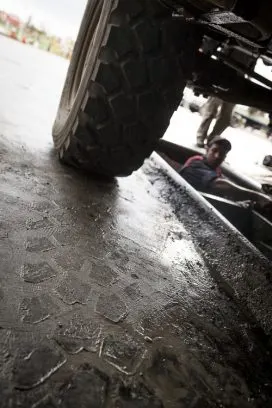 Someday they will say, "There is for evermore, the mark of Mowgli etched into the landscape in the distant lands of Morocco. Go seek this mark. Find it and you will gain adventurous enlightenment."
Using the new pit made access to the differential casings a lot easier. The drain plug is on the bottom of the casing, but the fill is to the side.
I carry a small oil bottle with a short pipe that fits between the casing and the steering rack to pour in the slow moving thick oil.
My usual method of lying on the ground and pouring from a raised arm works well except it invariably spills and overflow, running down to a puddle in my armpit!
Gear oil is an acquired smelling deodorant!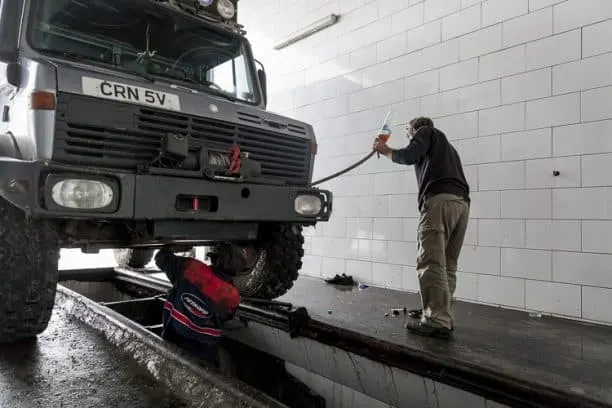 Today we're replacing 2.5 litres per differential of this thick slow pouring oil and my normal approach was superseded by the Moroccan oil intravenous drip method.
A cleansed hose and water bottle, washed and air dried before being attached.
The measured oil flowed into the differential casing a lot more rapidly than I have ever achieved and without a drop pouring down my arm. Or the Ahmed's for that matter.
Cost of Unimog Oil Change in Morocco
Oil – 17 litres of engine oil and 5 litres of gear oil – €70
Labour costs…wait for it…a hefty charge of €3 euros. 3. No missing zeros.
Consultancy (for the top tip for replacing the diff oil) – on the house.
Have you learnt any top tips from Moroccan mechanics?
Like it? Pin it!