East of Montevideo, the Atlantic coast plays host to lagoons, sandy beaches, marshes and lakes.
The people are gentle and warm, the beef melts in the mouth and the waves are wild. In summer, tourists flock to the beaches to bask in glorious sunshine, surf in the ocean and dine at giant, sizzling barbecues.
This is the well trodden path of the gringo trail. For many, the coastal route is the only Uruguay travel itinerary they need.
Uruguay travel itinerary: exploring the beaches
Not one for following the crowds, we arrived in Uruguay in June, winter in the southern hemisphere.
Spending almost 2 weeks driving up the coast towards the Brazilian border, we kept to the backroads where possible so avoiding a straightforward commute from one well known town to the next.
So here's our guide to Uruguay's beaches and Atlantic coast to help you plan your own gringo trail itinerary.
To help plan you trip, check out of definitive Uruguay travel guide
Uruguay travel itinerary route map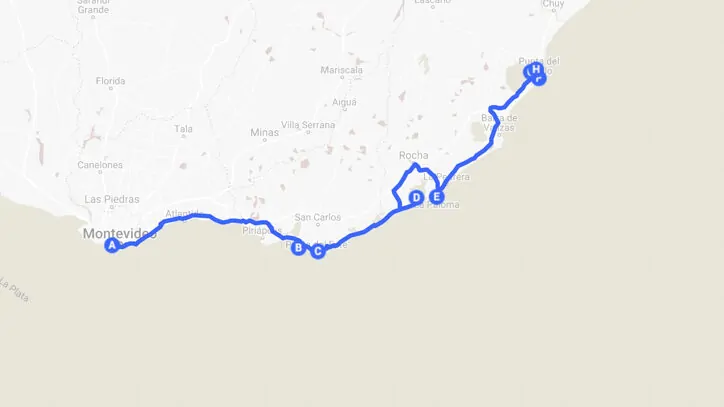 The Atlantic coastal route of Uruguay runs from Montevideo to Punta del Diablo.
With the GPS programmed to take the fastest route, this is about 300km of highway, some parts interesting, most not.
Instead, we opted for the back roads and as well as finding quiet beaches and fabulous camping spots, it made for more interesting driving conditions too.
Our route was 400 kilometres and about 8 hours of driving time in total.
For a Uruguay travel itinerary more off the beaten track, check out this post
Montevideo – beaches and city life
The most southerly capital city in South America and every inch the cosmopolitan city you might expect. Home to around half of Uruguay's entire population, Montevideo is brimming with shopping streets.
But the historic old town and colonial architecture is where Montevideo really shines.
There's a small town feel to this city so take time to stroll around the streets, explore the leafy parks and enjoy the calm, laid back atmosphere unlike any capital city we've visited before.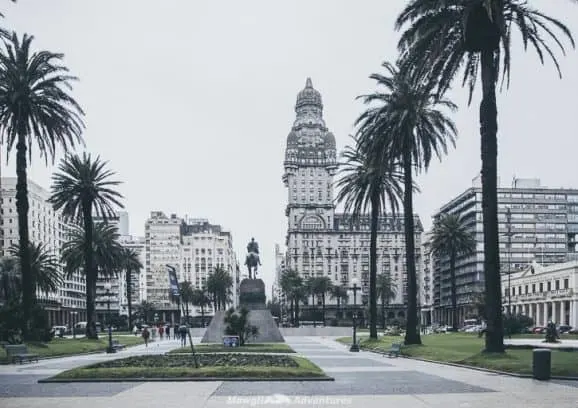 Mercado del Puerto
Mercado del Puerto used to be a market where traders sold everything from vegetables, fruit, meat and shamefully African slaves.
Thankfully times have changed a little and today, it's full to bursting with steakhouses. Grab a bar stool, order a slab of meat and watch your meal barbecued.
It's a big hit on the budget though but you can still enjoy the atmosphere by walking around here.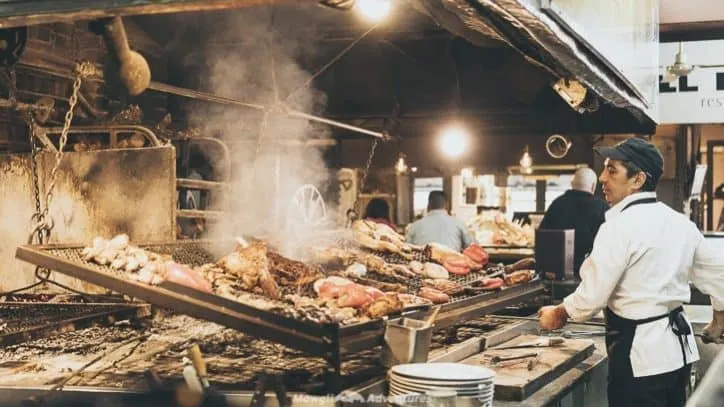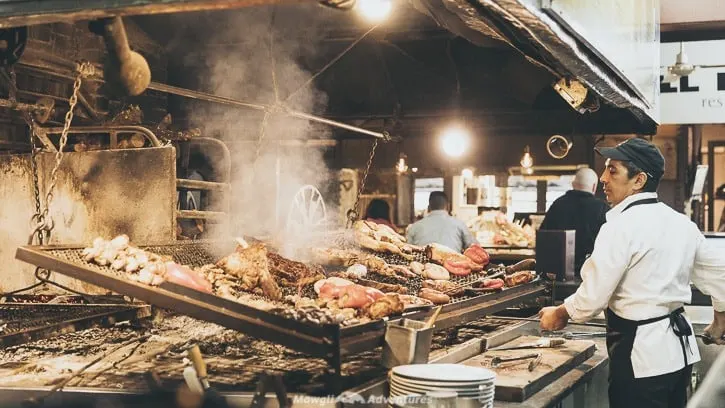 La Rambla
Montevideo hugs the bank of the Río de la Plata, so hemmed into the land by La Rambla, a 22km promenade. Here, outdoor loving residents exploit the sandy beaches and green parks dotted along its length.
The young and old stretch and flex at beachside yoga classes. Joggers pound the promenade and fishermen try their luck along small piers.
As the light begins to fail, Montevideo beaches fill up. Families and friends arrive, clutching their ever present flasks of mate. Deck chairs are arranged for the best views of the highlight of the Montevideo day: sunset.
And here's another 9 Montevideo beaches to choose from! 9!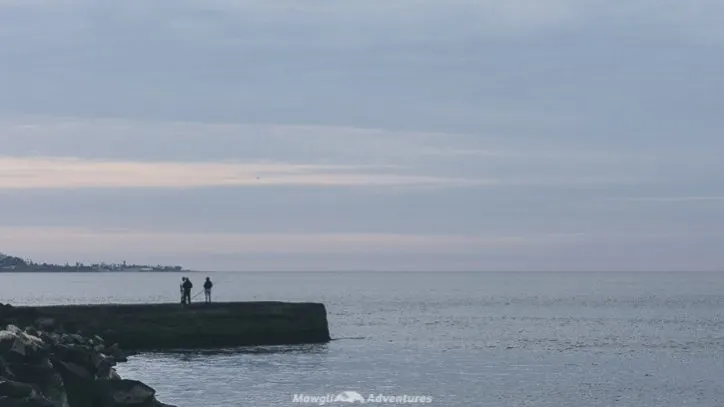 Holocaust Memorial
A worthy stop along La Rambla is the thought provoking Holocaust Memorial, overlooking the Río de la Plata. The neighbourhood of Pocitos is home to many of Montevideo's Jewish community.
The story reads that Uruguay had 1 known victim of the Holocaust, a 15 year old girl, Ana Balog. Her Hungarian parents emigrated to Uruguay where Ana was born.
When the economy took a downturn in 1935, they returned to Hungary. The whole family subsequently died at Auschwitz during the Holocaust, making Ana the only known Uruguayan victim.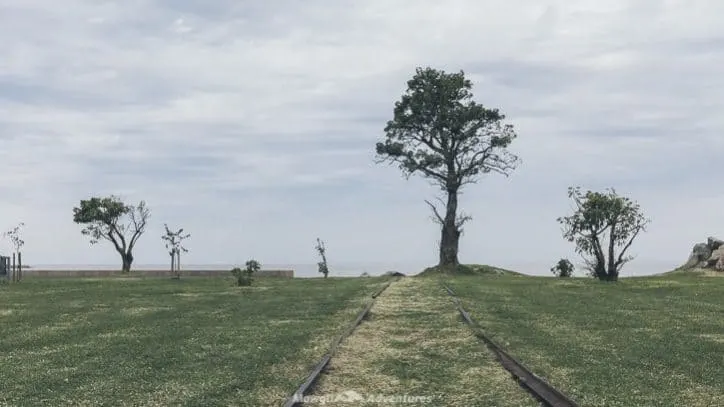 Make sure to check our our Montevideo city guide
Punta Del Este – a millionaire's playground
On a stormy day in mid winter, Punta del Este looks somewhat grey and drab. The shutters are down on the windows of the tower blocks housing hundreds of holiday homes and short term rentals.
Shops are closed, and there's little traffic. The Hand in the Sand remains popular though. As the rain poured, we met more people at the sculpture, than anywhere else in the town.
But come the height of summer Punta del Este is transformed into a mecca for South American sun worshippers.
You only need to look at the yachts in the harbour to know they're not short of a few pesos either. It's easy to arrange activities too like horse riding along the beach at sunset.
In reality though, Punta del Este isn't the best place for those on a tight budget. Our advice is to keep your hard earned cash in your bank account until you're a little further north along your Uruguay travel itinerary.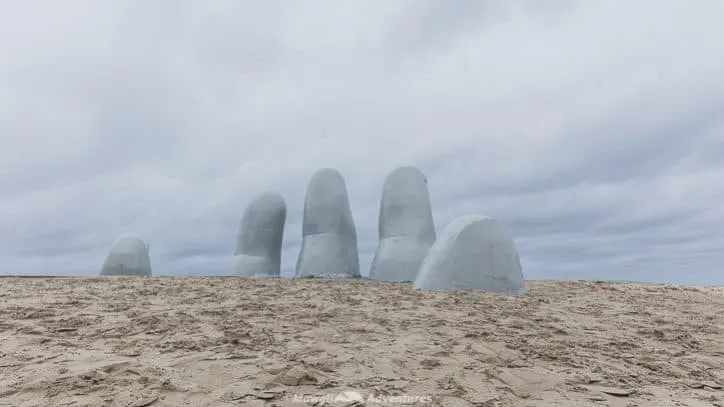 Punta Ballena
There's something about visiting beaches during rough weather we love. Uruguay's beaches are found along its rugged coastline and you'll find Punta Ballena just before arriving in Punta del Este.
We visited here in winter so aside from a couple of weathered fishermen, we had it to ourselves. The craggy coastline is fantastic for exploring.
That white building in the photo below was once the private residence of one of Uruguay's much loved artists Carlos Páez Vilaró. Casa Pueblo is an architectural wonder with no right angles or corners.
We thought it a little baffling. Most of the house, well at least the quirkiness of the exterior is visible from outside and it's worth the short detour if you're in the area.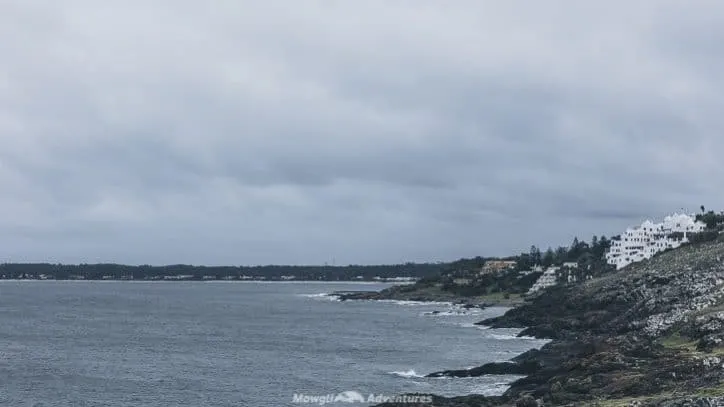 Rocha Lagoon – dirt tracks and whacky bridges
Within a few miles of leaving Punta del Este we drove over a couple of whaky bridges. One in La Barra is wavy and apparently there's a sensible, structural reason for this.
The other is on the shores of Garzon Lagoon along ruta 10 – this one is circular. We can't figure out any reason to build it like that other than the architect thought it'd be good fun.
It sure is and we suspect visitor numbers will have increased in the area thanks to the bridge.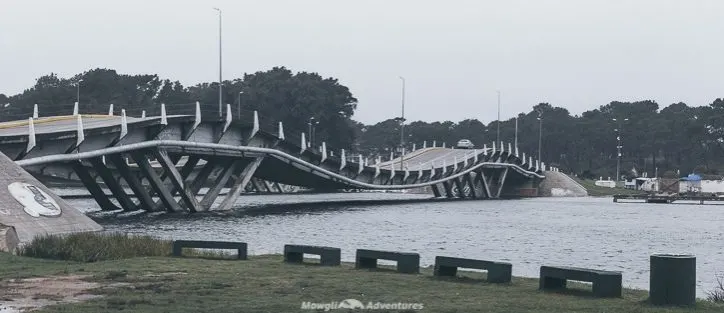 Leaving the tarmac roads behind, we head north via the coast road. And although out of season and other than Montevideo nowhere has been especially busy, we feel a significant step towards complete solitude.
We drive for an hour without meeting another vehicle. The fishing villages along the lagoon's edge are deserted. Even the wetland birds don't seem to want to get wet.
Here the dirt track ends and we can drive no further, so we detour around the lagoon.
Read this post for tips on driving in Uruguay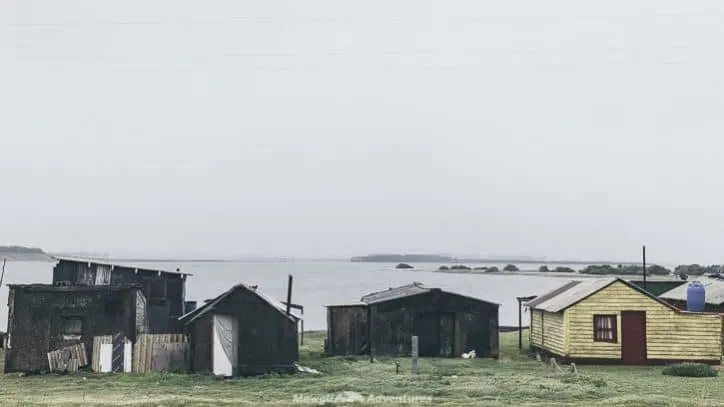 La Paloma
La Paloma is a seaside town and a popular surfing spot. In winter, no surprise here, it's cold and the Atlantic winds were blowing a gale.
The town is pretty nondescript. The tall slim, white lighthouse of Cabo Santa Maria overlooks the Atlantic, and Isla de la Tuna sits at the head of a sheltered bay.
There's plenty of beaches to choose from here. Bahía Chica and Bahía Grande are sandy bays with calm waters.
In better weather, La Paloma is a surfing hot spot and some of these sheltered beaches are perfect for beginners.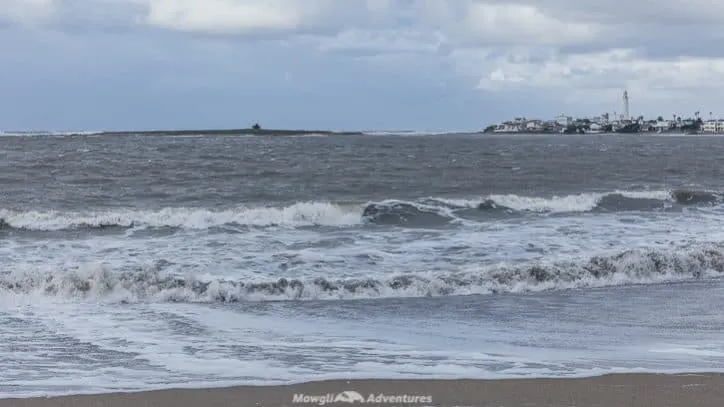 Cabo Polonio
Cabo Polonio is Uruguay's iconic off-grid village.
There's no running water or mains electricity so it's the perfect place to unwind and switch off. Getting there is half the fun as no cars can get within 7 kilometres.
Instead, you'll need to catch a double decker 4×4 truck or trek across some of South America's most wonderful shifting dunes.
Take a look at our definitive guide to Cabo Polonio, including how to get there, where to stay and what to do when you arrive.
Punta del Diablo
300 kilometres from Montevideo and we reached Punta del Diablo. This is a small village and out of season has somewhere between 400 and 800 inhabitants.
In summer though this number swells to upwards of 25,000. Over the last 10 years a well known backpacking guide book has been promoting this village as one of the top 10 places to visit.
There's a few trendy hostels, formal campsites and boutique hotels, ramshackle thatched beach huts and a relaxed air around the place.
It's a surfing and hippy dude kinda place and like so many towns along Uruguay coast, has not one but 3 beaches.
Most of the fishing boats operate from Fisherman's beach, unsurprisingly. In high season, Rivero is lined with open bars and a big hit with surfers and La Viuda is a popular spot to gather with the locals for beach fires and sing songs.
Out of season, it was the busiest of Uruguay's beaches we'd visited, perhaps in part because the weather had improved.
Most of the hostels and cafés were closed but in true Uruguayan style, one café owner opened up, just to serve us coffee and warm toast and honey.
Check out our complete guide to Punta del Diablo here.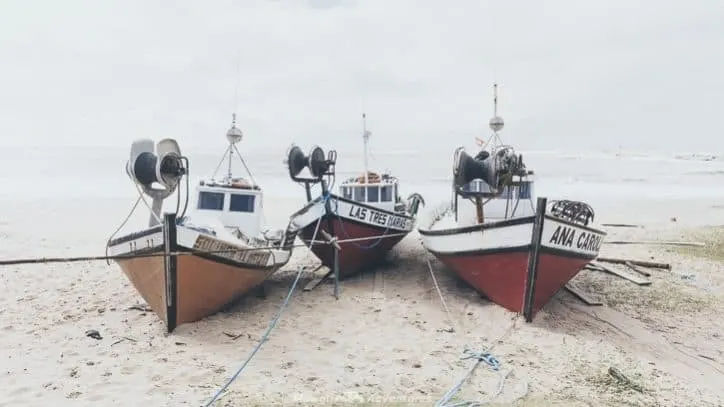 Santa Teresa National Park
Parque Nacional Santa Teresa is an understated and underrated hidden gem. It's administered by the army because they take care of the huge fort here and it's more about the fort than the nature.
However, the surroundings are spectacular. A huge sprawling eucalyptus forest hides dozens of campsites, all of which were free during the low season.
And the beach is enormous and unlike the sands at Punta del Diablo, you're more likely to have this one all to yourself.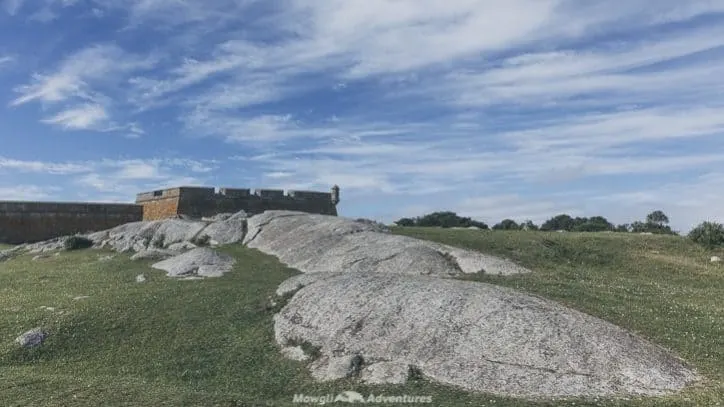 Laguna Negra
This Uruguay travel itinerary follows the gringo trail. We made an effort to keep off the main roads where possible and find places less visited along the way.
The coastline is dotted with smaller towns and stunning beaches so it's not difficult to find solitude, even on the gringo trail.
For us Laguna Negra was one such place. A corrugated, dirt track leads from the main road up and around one of Uruguay's few hills.
As we turned a corner, the inky black lagoon spread out in front of us. Sheltered from the harsh Atlantic winds, the temperature climbed a little.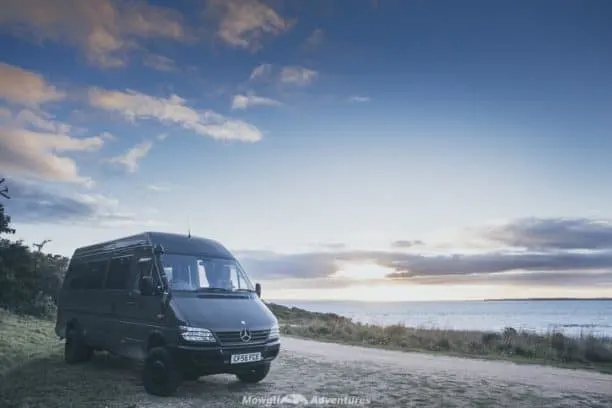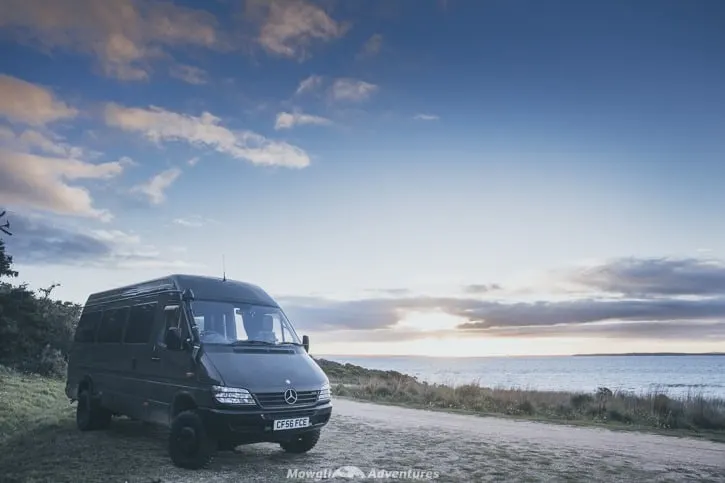 Just enough for us to sit in our deck chairs, to watch the sunset and the milky way rising in the dark skies above us. Surrounded by palm groves and eucalyptus forest, we'd found our own little piece of bliss along the Uruguayan gringo trail.
How to get around the Uruguay coastal route
Drive your own vehicle
We would say that wouldn't we! If like us, you plan to explore all of South America, taking your own vehicle is a perfect solution.
We shipped Baloo from Europe to Montevideo and sailed with her. 30 days at sea is a little extreme but you could send your vehicle as cargo. Take a look at this post to see what your options are and how we shipped Baloo to Uruguay.
Hire a car
If you're flying to Uruguay, chances are you will arrive in Montevideo. There are several car rental options and you may want to book in advance to save time and money when you arrive.
While we drive our own vehicle, we appreciate that many people will fly and hire a car. Always use a reputable firm because you need assurance the car is well maintained and your insurance is valid.
We're not loyal to one rental firm, and will simply go with the one that offers the best value – and that means using a comparison website.
For us, Rentalcars is by far the best, and our first choice, every time. They even do camper van rentals!
Make sure to inspect the vehicle and the hire company have noted on the contract existing dinks and scrapes before you leave.
Car rental firms will hold you responsible for any damage to the vehicle and with a credit card authorisation used as a deposit, they'll take their payment upon your return. So it's important any existing damage is recorded or you include a collision damage waiver in your vehicle hire contract.
Failing that, catch the bus…
While we have no first hand experience, we're told the entire coastal route is well served by buses from Montevideo.
Like it? Pin it!