The best van life hacks, tips, and tricks make life on the road much easier and more comfortable.
The notion of living in a van can seem daunting, claustrophobic, and even stressful.
Living in a confined space brings all sorts of challenges to daily life.
We've been living in our traveling van full-time since 2018 and learned loads of valuable tips to make life more comfortable.
Whether you're hitting the road for a camping weekend, a long-term road trip, or full-time van living, we've got umpteen van life hacks, tips, and tricks for you.
When you click on links to various merchants on this site and make a purchase, this can result in this site earning a commission. As Amazon Associates, we earn from qualifying purchases. For more info, please check our disclosure page.
What Are Van Life Hacks?
Hacks are basically shortcuts, ways of making some basic tasks quicker or easier.
Van life hacks are clever ways of making a living in a van easier than it might be otherwise.
With a few years of living in a van under our belts, we've come up with many ways to make things simpler and a whole lot easier.
We've included over 40 van life hacks in this post, and the list keeps growing!
We cover everything from buying a van to living and working in one full-time and plenty in between.
If you have any exciting van life hacks you think we should know, please feel free to drop us a line, and we'll happily include them here.
Choosing The Best Van To Live In
You can start with the first step – choosing the best van to live in.
There's no one size fits all answer to this question. So think long and hard about the campervan life you aim for before taking the plunge.
Whether you're buying a preloved camper or a used panel van, prime for conversion, here are a few of our top van life tips and hints to help you choose one right.
1. Buy A Campervan With Windows
Living inside a camper van without any windows can feel claustrophobic.
Even if you spend little time indoors, being unable to see outside is a bit grim.
We bought and converted a Sprinter minibus with windows all around.
So even on the gloomiest, coldest, wettest days, we get lots of natural daylight and can see what's going on outside.
2. Deciding On 2wd v 4wd
Our van is a four-wheel drive Sprinter campervan conversion. Graham loves off-road driving, so for us, it was a no-brainer.
However, 90% of the roads we take can be done as easily in two-wheel drive. Those where we do need the 4×4 can just as easily be avoided.
2wd campervans tend to be cheaper to buy, maintain and repair, too, so think long and hard before investing in a 4×4.
Get more information in our post comparing 2wd vs. 4wd vans here.
3. Get An Easy Repair Camper Van
Inevitably, you'll experience some problems with your campervan. Modern vehicles have lots of electronics and are difficult to repair, even for mechanics.
Hooking up your van to a computer to diagnose a problem isn't always easy, depending on where your camper travels take you.
Aim to buy a vehicle with as few electronics as possible. These are usually older vehicles, so it's a balance between age and condition.
4. Choose A Van Popular In The Places You Plan To Travel
The more common and widely available your van model is, the more likely you'll find affordable parts and mechanics.
5. Buy A Van Big Enough To Accommodate All Occupants
Size matters.
If you buy a van too small for you and those you plan to travel with, you won't get the most out of your vanlife experience.
6. Choose A Van You Can Stand Up In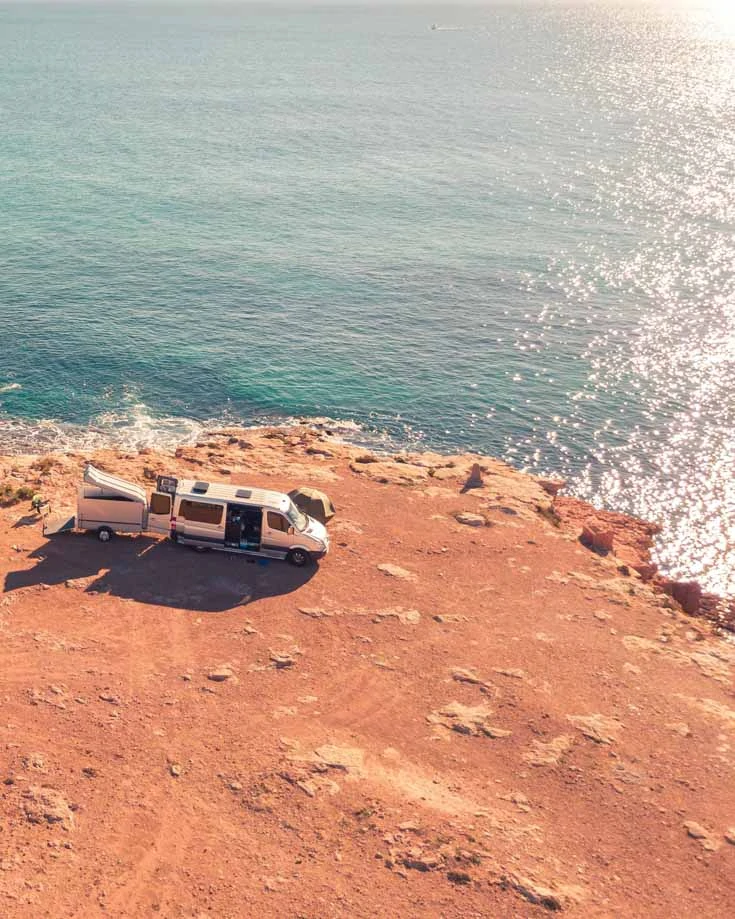 A high-top van isn't essential if you only plan to live and travel in your camper van in fair weather.
We live in our camper van full time, and a high-top is a simple luxury compared to a low-top van.
It's more expensive to ship your vehicle with a high-top, but the payoff is worth it.
7. Buy A Left-Hand Drive Camper Van
Most countries drive on the right, so if possible, buy a left-hand drive camper.
Of course, this depends on where you plan to travel and what compromises you feel you have to make.
And yes – we drive a right-hand drive!
Camper Van Conversion Hacks
Whether you're preparing to live in a van full time, planning a short getaway, a long road trip, or have exciting overland travel plans, a camper van conversion is a perfect way to go.
Undertaking a camper van conversion is a mammoth project. We know!
We spent 2500 hours converting our 4×4 Sprinter van, Baloo.
Here are our top van life hacks to consider when undertaking your own DIY camper build.
Also read: The Ultimate Guide For Your Sprinter Van Conversion Layouts
8. Buy A Sound Base Vehicle
Whatever you do, avoid falling in love with a van before you've seen it and had a good drive. Even then, you still don't really know what you're potentially buying.
Our detailed post goes through everything you need to inspect when buying a campervan, even if it's not yet converted.
9. Invest In Campervan Conversion Insurance
You'll (hopefully) add value to the base vehicle when you convert a van.
As such, you'll want an insurance policy that takes into consideration the value covered.
Camper van insurance is more complex than standard car insurance. Your insurable needs may be unique, and you could have many questions.
Online quotes don't really allow for this, so we recommend getting multiple quotes and speaking to an agent.
10. Calculate Your Campervan Electrical Needs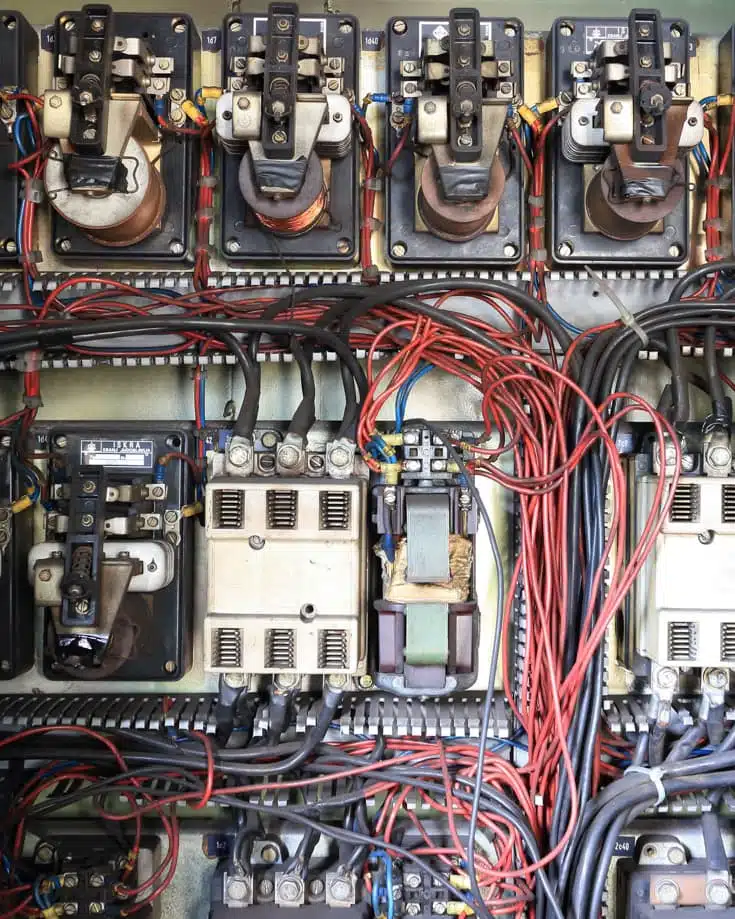 Calculate how much electricity you need. List all the devices you'll use, how many hours per day on average they'll be plugged in and how many amps per hour each device draws.
This will help you decide how much camper battery capacity you need.
It's surprising how much energy we need just to charge a smartphone, never mind a laptop, camera battery, and fridge!
If you're new to this area of your build, we've explained everything in our campervan electrics article.
And you can get our complete campervan wiring diagram here too.
Everything you need to know about campervan electrics. Now available in ebook and paperback!
Learn how to design, size, install and troubleshoot your camper's electrical system.
11. Mockup Your Layout Before You Begin Your Van Conversion
Deciding on the layout of your campervan conversion is a critical part of any build and can make or break how effective the final conversion is for your lifestyle.
Once you're done looking through Pinterest and Instagram for inspiration, use masking tape to mark out your preferred layout.
Try moving in around the van. Grab a camp chair and sit in the van for a while.
How does it feel? Will it work for you? Will you be able to open all the cupboard doors, avoid banging your head, and lie down outstretched?
12. Use Campervan Conversion Kits For Parts Of Your Build
If you're converting a popular make and model of a van into a camper, you can buy modular conversion kits off the shelf.
Rather than design and build your furniture, simply order a camper van conversion kit. It'll arrive flat packed, ready for you to install.
They tend to be modular in design, so you can buy just a kitchen pod component, a camper bed, or the entire fit-out.
13. Budget For The Entire Build Upfront
Camper van conversion costs can quickly spiral.
Keep a tight rein on your spending and investment by planning your budget before starting. Then track every penny you spend.
14. Don't Scrimp On Ventilation
Proper campervan ventilation will help prevent condensation, provide clean, fresh air, and makes for a more comfortable home.
Installing a good-quality roof vent is the best ventilation you can have in a van.
Check out our van roof vent buying guide too. It includes installation tips and advice as well and is worth a read to help you decide on the right model for you.
15. Invest In The Right Size Heater For Your Van
Heating for campervans can be a tough decision-making process and fail if you don't buy the right size heater.
Buy a large enough heater for the empty space you need to heat.
16. Carry Enough Water For Your Lifestyle
Most of us don't worry about water in a house.
It's all different in a camper van.
We need to store and carry a supply of fresh water, pump it to the taps and make sure we can refill when running low.
Make sure you assess your needs when deciding on your campervan water system.
Camper Van Life Essentials
Packing for van life isn't quite the same as packing for a short road trip or even a camping weekend.
Van life is a long-term lifestyle, so we need to pack accordingly. For a complete packing list, check out our post on van life essentials.
Make sure your campervan accessories have a dual purpose where possible.
Here are a few of our favorite van life hacks to consider when kitting out and packing your van.
17. Install Camper Solar Panels
Off-grid living is an ideal way to escape the stresses of conventional life, reducing your van life costs and enjoying the great outdoors.
To make a campervan better equipped for time off-grid, you need a power source to keep the fridge chilling, charge your camera batteries and run your water pump.
A campervan solar power system allows for a long-term off-grid living, so you can go exactly where the mood takes you.
Camper solar panels provide free energy and keep you out of town for longer. For easy installation, try using a solar panel kit, pre-configured, so you don't need to worry about choosing the right component sizes.
18. Fit A Cooker & Sink
Having a well-equipped and kitted-out camper kitchen will make all the difference to living the van life.
Not only will you be able to cook for yourself indoors, but you can even wash up inside too! It makes for a far more liveable van.
19. Fit 12v LED Lighting
Camper van lighting for the interior and exterior of your van can make a home feel warm and cozy.
Choosing 12 volts LED lights will help minimize demand on your campervan batteries and keep the van from getting too warm.
Please take a look at our post on camper van lighting for loads of ideas.
20. Invest In A Good Quality 12v Fridge
An excellent 12v portable fridge allows you to keep your beer cold and keep perishable supplies fresh for days.
A top-loader is way more efficient than a front loader, so friendlier on your precious batteries.
Read more: Best 12 Volt Refrigerator for Campervans & Van Life
21. Don't Buy A Fridge
Arguably, you can get away without a fridge in a campervan.
They're one of the most expensive campervan appliances. If you don't eat meat every day or can buy perishable produce when you need it, consider giving this a miss.
22. Have A Trash & Recycling System
Have a good system for getting rid of rubbish.
Limit the amount of trash you produce by trying to reduce the packaged products you buy.
Use a washable, lidded container for organic waste and a separate container for recyclable waste.
23. Have A Doormat
A doormat will help keep the inside of your camper clean and reduce wear on the most commonly trodden areas of the floor.
24. Keeping Mosquitoes Out
Simple and cheap mosquito nets can be adapted to fit any campervan.
Rather than spend hundreds of dollars on bespoke nets, we bought these standard patio door mosquito nets.
They fit perfectly on our sprinter van without any adjustments too!
Van Life Storage Hacks
When living the van life, storage space is limited and comes at a premium. There are plenty of creative ways of using your van's living space efficiently.
Here are just a few van life storage hacks to get you thinking and help save space.
Read more: 33 Clever RV Storage Ideas That Will Help You Organize Your Camper Like A Pro
25. Everything Has A Place
To help stay organized, make sure every single item you pack in your camper van has a storage place.
26. Travel Light
Only pack what you absolutely need. You'll be surprised at just how little that is!
Read more: Creative RV Clothes Storage Ideas That Won't Take Up Valuable Space
27. Plastic Plates Take Up As Much Room As Ceramic Plates
We don't buy into the disposable plates, plastic camping dinner sets, or collapsible saucepan approach to living in our van.
Good quality Corelle plates will last years and are almost impossible to break.
28. Use Clear Airtight Storage Boxes
Keep your stuff in small boxes, baskets, and airtight storage bins. They're easy to remove and help keep things contained when you're on the move.
29. Vacuum Storage Bags
When living in a van full time, you must pack bedding and clothes for winter and summer climates.
Store bulky clothes and bedding out of season in vacuum storage bags and save space. A lot of space!
Of course, you'll need a little handheld vacuum, too, or use the local fuel station's vacuum.
Read more: How To Dewinterize Your RV In 10 Easy Steps
Finding Places to Sleep
Part of van life is finding a place to sleep each night. You carry your bed with you, but where do you park each night, and how do you find a place to sleep?
30. iOverlander
iOverlander is our go-to app for finding both free and paid places to park for the night.
Users add and amend the information on all sorts of points of interest, not just camping spots, for the good of the entire Overlanding community.
Better still, with a tiny bit of prep, you can use iOverlander offline.
31. Wild Camping For Motorhomes
Some people call it boondocking, some call it wild camping, and some call it dry camping.
Whichever term you use, wild camping is our preferred way to camp.
Imagine rural areas, mountain retreats, and forest hideaways. There are no showers, bathrooms, or electric hookups normally found on a campsite so being self-sufficient for off-grid living is a must.
Read more in our guide to wild camping for motorhomes.
Van Life Hygiene
Keeping clean in a campervan is essential for a healthy lifestyle. So how do you keep clean when living in a van?
Here are a few lifestyle hacks to help you manage your personal and van hygiene.
32. Choose a Portable Camping Toilet
Have a means in your van to at least have a pee.
Whether you want a full-size bathroom, an emergency use only solution, or something in between boils down to the size of your van, how much space you're willing to give up for the luxury, and personal preference.
Installing a full-size bathroom will add to the cost of the build. Other options are free but not so luxurious.
A portable camping toilet of some sort will make your life much easier.
33. Fit A Suitable Camper Shower
One of the major decisions when planning a camper van conversion is whether to install a shower or not.
There are plenty of ways to maintain personal hygiene on the road without a shower, so they're not essential.
But they do make for a much easier life. Use our guide to see the types of showers for campervan and find the most suitable one for your van.
Read more: How to find places to shower on the road
34. Be Prepared To Hand Wash Laundry
Finding laundromats on the road isn't always easy and, depending on where you are traveling, can be quite expensive.
Have the means to hand wash at least your smalls to help reduce your van life costs and keep you off-grid for longer.
Read more tips in our post on van life laundry here.
35. No Shoes Indoors
Having a no-shoes indoors policy will help keep your van interior clean.
Leave shoes on the doormat or outside.
Enjoying Life on the Road
Campervan life is liberating. While so much effort and cash are invested in preparing the best van to live in, the main thing is enjoying the lifestyle.
Here are a few van life tips to help you get the most out of your life on the road.
36. Stay Put For Longer
In the early days of living in a van, you may feel excited about moving to new places often. But relax a little and spend more time in one place.
Not only will you gain more from your travels this way but it'll save money too!
37. Enjoy The Great Outdoors
Just because you live in a van doesn't mean you're confined to it.
Stretch your legs. Explore the great outdoors. Get into nature. It's good for your well-being and fitness too.
38. Keep A Travel Journal
An old-fashioned handwritten travel journal provides a perfect way to capture memories, the names of people you meet, places you visit, things you see, and how you feel.
39. Don't Believe Everything You See On Instagram
Instagram makes van life look like a permanent joy ride. But seriously, if your expectations are as high as this, you may feel somewhat deflated.
Some days just aren't that great. Just saying.
40. Travel Off Season
With the benefit of living and traveling in your home, you can visit places whenever you like.
Traveling out of season helps you avoid the tourist hoards and keeps costs down too.
41. Get Off The Beaten Path
Your home on wheels allows you to get off the well-trodden tourist path and seek out lesser-visited and potentially hidden gems.
You'll meet more locals, broaden your cultural experience, and may even find some unique photo opportunities.
42. Top Up With Supplies Every Chance You Get
With replenished supplies, you can take advantage of the places you stumble upon without needing to retreat because you've run out of food or water.
43. Travel With Your Best Friend
Living in a van and being together constantly can be a challenge to any relationship.
But van life is also a fantastic opportunity to grow your relationship and experience a life less ordinary together.
Read more: 12 Van Life Tips For Life On The Road From The Experts
In Conclusion
Embrace the freedom of van life! You can make your journey more comfortable, exciting, and rewarding with a few clever hacks. Get ready to customize your van and hit the open road with less stress and hassle-free adventures.
So what are you waiting for? Time to gear up and go!
We want to hear what you think! Whether you have your own helpful hack or simply want to share your experience, leave a comment and let us know. Help others make the most of their van life journey and join the conversation!