One challenge of living in a van is making sure we eat well so we need a well-equipped kitchen to prepare and cook our meals.
With limited space indoors, having compact and practical kitchen accessories makes life easier, more organised and minimises storage space needed.
Living in a van has its challenges but with a well-equipped kitchen, cooking isn't one of them.
We've lived in the van full-time since early 2018. Although our Sprinter van conversion is a fair size, we've seen RVs a lot bigger.
So with limited space indoors, having compact and practical campervan accessories makes life easier, more organised and minimises the storage we need.
We're now on our 2nd van, and over time, we've perfected the contents of our van's kitchen cupboards for our needs.
These camper kitchen accessories make sure we eat well and cook just about anything our culinary skills can stretch to.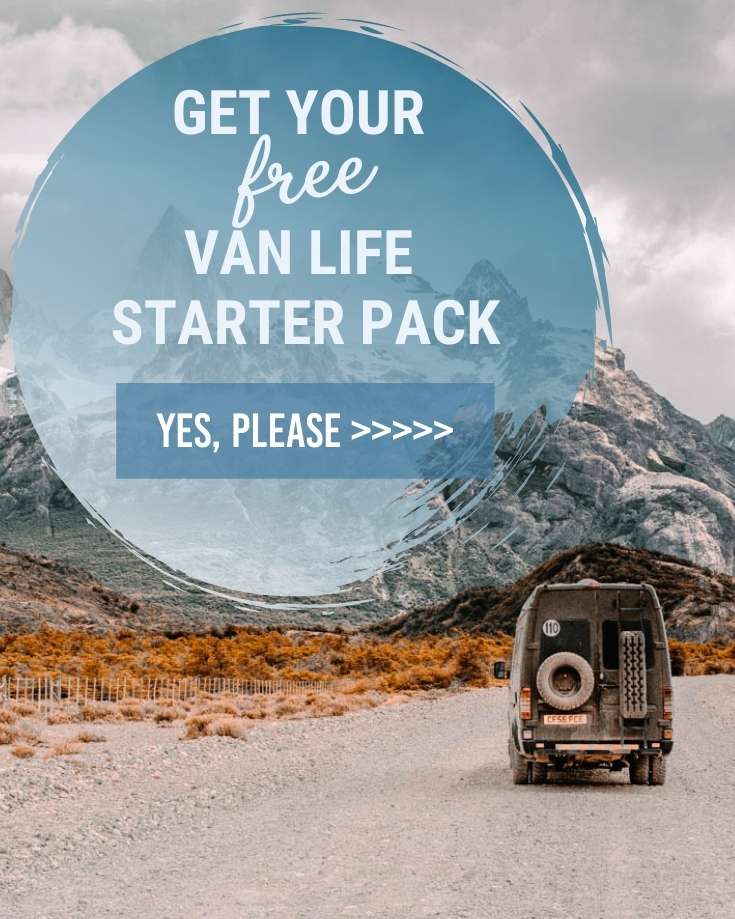 When you click on links to various merchants on this site and make a purchase, this can result in this site earning a commission. As an Amazon Associate we earn from qualifying purchases. For more info, please check our disclosure page.
Van life Kitchen Essentials
We only recommend products based on our own experiences. Like most people, we've used some accessories that haven't stood the test of time.
We've used handy collapsible plastic plates and bowls too. They're fine for weekend campers and a great space saver but less practical for long term travel.
I mean, who wants to eat off flimsy plastic plates? Even for a weekend?
Living in a van doesn't have to be like a weekend camping trip. So our van life kitchen essentials can be used in your home kitchen too.
Pressure Cooker
We bought this for travelling in high altitude places like South America.
Cooking at altitude requires longer cook times and a pressure cooker offsets that so reducing the fuel needed.
We tested it out in our house kitchen first (just as well as our first attempt at a beef sew coated the kitchen cupboards).
Since then our technique has improved and it now gets a LOT of use. We cook stews, curries, rice and vegetables in it.
And even without an indoor campervan oven, we can get roast chicken pieces (albeit without the crispy skin) in around 30 minutes.
The pressure cooker is for stovetop use. If you want an electrical alternative, try the popular Instant Pot.
Our pressure cooker is 3 litres and is a perfect fit for our 20 litre storage boxes. If we had space for a larger one, we'd go for a 6 litre one so we can cook for 2 days in one go.
And it makes it onto our top 10 list of gadgets for campervans.
Stackable Stainless Steel Saucepans
Stackable saucepans save on precious storage space in a camper van.
We have 2 saucepans in addition to the pressure cooker but they don't stack, so take up extra space.
When we need to replace them (which won't be for at least a few years yet), we'll invest in a good quality set that stacks.
Try to buy saucepans you'd use at home but avoid glass lids.
We think pots and pans with removable handles are a bit gimmicky and probably won't last as long as your journey.
Cast Iron Skillet
While a heavy piece of kit, a cast iron skillet is the perfect multi-purpose accessory for your camper kitchen.
We have an old well-loved skillet and use it to fry eggs, bacon and even steak indoors.
Outside, we use it on a campfire too.
The cast iron doesn't take much to clean and over time becomes naturally non-stick too.
A Proper Kettle
Another one of those camper kitchen accessories that doesn't need to be collapsible, foldable or plastic!
We know a smaller kettle would take up less space, as would a folding handle but really?
Where do you store said small(ish) kettle with its collapsed handle?
Probably in the same place as we keep ours – in the sink. So long as the kettle isn't bigger than the sink or you don't have plans to store anything else there while you drive, there's no harm done.
We love our big kettle and the whistle reminds Graham to pour the coffee!
AeroPress Coffee Maker
Our camper isn't permanently plugged into shore power electricity so we rely on our camper van battery system.
It's not good enough to power electric coffee makers. In all honesty, we don't have the space for one even if we could power it.
But we love coffee and the Aeropress is a clean, compact and inexpensive coffee maker.
Unlike a bulky cafetière, you can dispose of the used coffee grains without getting them everywhere. And this is one kitchen gadget that takes up hardly any space.
Make sure to buy a reusable filter too. The Aeropress comes with paper filters but we bought the reusable filter after finding it almost impossible to find refills in South America.
Food Storage Boxes
We're not big fans of hanging little jars on walls and cabinet doors, favouring a minimalist look.
It's also not practical when we drive off-road to have storage containers sitting in racks. They'll be rolling around the floor within a few metres of leaving.
Instead, we store all our food in the fridge and in 2 x 20 litre cupboards. To keep things organised and easy to get at, we keep everything in airtight, sealable containers.
Avoid round boxes though for effective space-saving.
Cutlery
Now let me be really clear. There is no need to use plastic cutlery. No need whatsoever!
I don't want to live my simple life feeling like I'm on a kiddie's camping weekend.
Why would anyone feel the need to use folding forks or plastic spoons just because they live in a van?
We take 4 knives, forks, dessert spoons and teaspoons and we're set.
Plates & Bowls
For years, we had plastic bowl/plates. They were good quality and worked just as well for dinner as they did for our morning cereal.
But I missed a proper flat plate to eat my dinner from so much.
I know it sounds weird. And even as I'm writing this I think I sound like a snob.
But I don't care really. After 2 years of eating my dinner from a bowl/plate, we upgraded to good quality picnic plates and bowls.
While we'd enjoy our evening meal from a proper plate, it was still plastic.
Then a friend gave us a set of Corelle glass plates. They're made from laminated, tempered glass and chip and scratch-resistant. Civilisation has returned to our van!
Glasses
Now we like a glass of wine and the occasional nightcap. We used to use polycarbonate glasses but to be honest, we found them too flimsy.
A gust of wind (and there's a lot of them in Patagonia) and our (plastic) glass of wine was gone.
We replaced them with proper glass wine glasses. Again, we wrap them in tea towels on their storage box and so far, we've been breakage free.
They're cheap enough to replace so we're not too worried about them breaking.
Small Kitchen Accessories
We all need a few gadgets and utensils for food prep. We could get by with less than we use or have in the drawer but a few choice accessories make preparing meals so much easier.
Here's a list of the kitchen utensils we wouldn't travel without:
Knives – sharp ones and a sharpener too
Chopping boards – one each for meat, chicken & veg/fruit
Tin opener – ring pulls aren't common everywhere
Oven gloves – essential for the cast iron skillet
Grater – this one is really small
Colander – we use a lightweight mesh sieve
Corkscrew – goes without saying.
Have we missed anything from our list of van life kitchen essentials?
What do you pack we've not listed here? We're always looking for ways to make living in a van a little bit easier.
And if you're looking for some gift ideas for the campervan owner in your life, check out this list.