Imagine the scene. Saturday morning, a little before 09:30am and almost mid-summer.
The small mountain village of Villa Santa Lucia is waking for the last weekend before Christmas in Chilean Patagonia.
It's raining heavily after an unusual 2-week hot, dry spell. Birds taking shelter in the trees surrounded by snow capped mountain peaks.
Families enjoying leisurely breakfasts together, the air filled with the scent of lupins and bright yellow broom.
Farmers already out tending their livestock.
Fishermen preparing their tackle and bait for a day of fly-fishing in the nearby turquoise lakes and rivers.
Then all hell breaks loose, the peace of the morning abruptly broken.
A gaucho gallops into town, shouting, yelling for people to flea.
Banging on doors, he cries out his desperate pleas.
A distant rumble grows. The sound first before its felt underfoot.
Within moments, there's no time left to wonder what all fuss is about.
A wall of wet, orange dirt littered with hefty tree trunks, contorted metal of electricity pylons, road signs and any other debris standing in its path is hurtling at 72 kilometres per hour straight for the village.
Then bang! It smashes into the northern end of the village head on.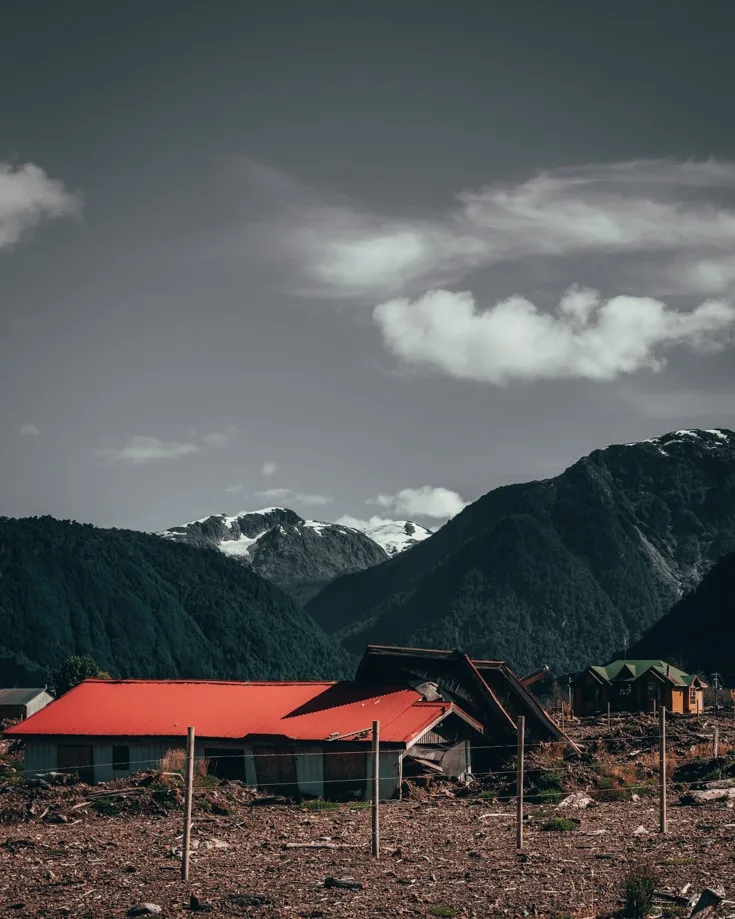 Villa Santa Lucia, Chile
Chilean Patagonia is completely beautiful. No amount of superlatives can do it justice.
Yet the very features of the region attracting nature lovers, photographers and adventure seekers are those that also endanger the lives and homes of the people living here.
The Carretera Austral cuts through the northern stretch of Chile's Route of Parks.
It has more than its fair share of active volcanoes, retreating glaciers, fjords and lakes.
Tsunami and volcanic eruption evacuation routes are clearly marked.
As a visitor, it's difficult not to notice them, let alone imagine what it is to live with the ever present threat.
When we hear of natural disasters, it's usually from the media telling woeful tales of far away places.
Yet Villa Santa Lucia isn't a faraway place. At least not for us, part way through an adventure of a lifetime on the Carretera Austral.
This tiny village took the brunt of nature's wrath in December 2017.
As we stand near a floral tribute, the impact is still very much visible.
What Happened In Villa Santa Lucia?
Villa Santa Lucia is a tiny Chilean village with a few basic stores, a church, a school and not much more.
If you can call such incredible mountain views that.
Located on Ruta 7, it served as a pleasant place for those driving the Carretera Austral to stretch their legs.
But on the morning of December 16, 2017 everything changed.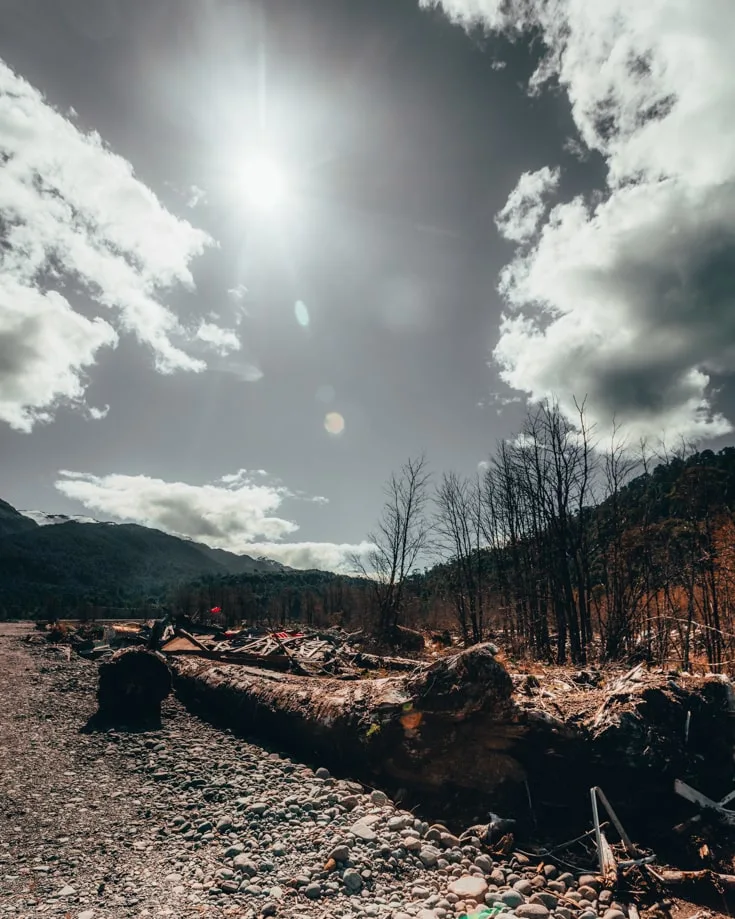 There had been a dry spell with unseasonably high temperatures for this area of coastal Patagonia.
Then within 24 hours, over 11 centimetres of rain drenched the landscape.
That torrential downpour was enough to trigger the collapse of an already retreating glacier.
Deglaciated landscapes are inherently unstable.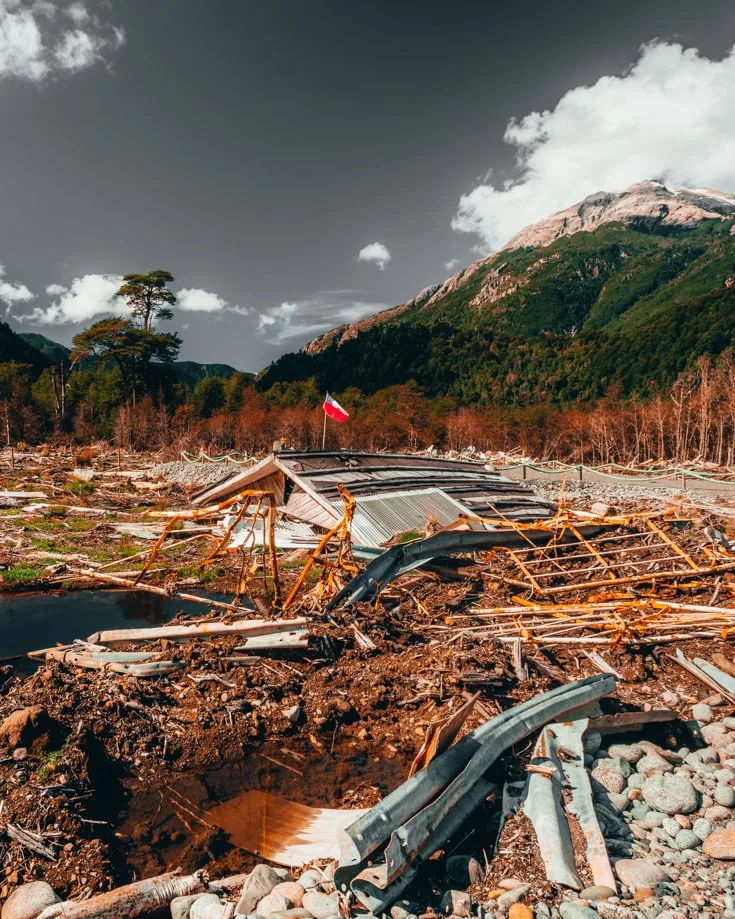 The mass of mud moved fast, carrying uprooted trees and anything in its path as it thundered towards the village.
Travelling at an average of 72 kilometres per hour, it covered its route of 8 kilometres in a little over 5 minutes.
22 people lost their lives in the moments following impact. Just take a look at some of the footage of the immediate aftermath to get a sense of how horrendous this disaster was.
Being a Saturday morning, school was closed. Just as well because the school was one of the buildings completely demolished by the impact.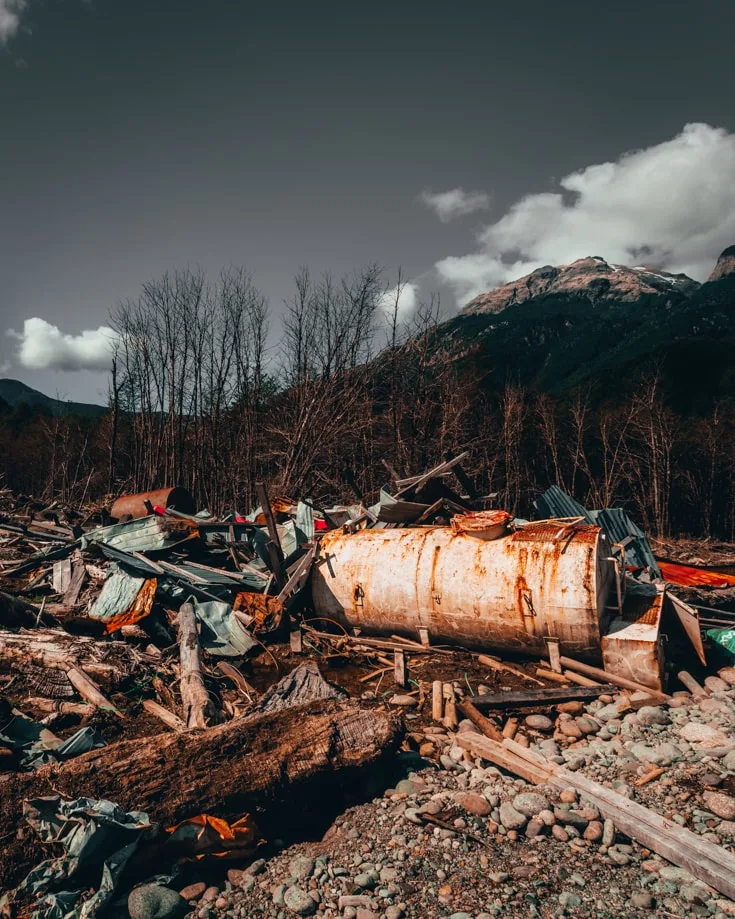 Had it been the middle of the night, none of the residents would have had time to react and the death toll would have been higher.
So in many respects, it could have been much worse.
What Of Villa Santa Lucia Today?
We first passed through Villa Santa Lucia almost a year to the day after the disaster.
Many survivors were unhappy to return to the scene of such devastation although a small number had.
With the help of the government, military forces and passing trade, they were slowly reclaiming their lives.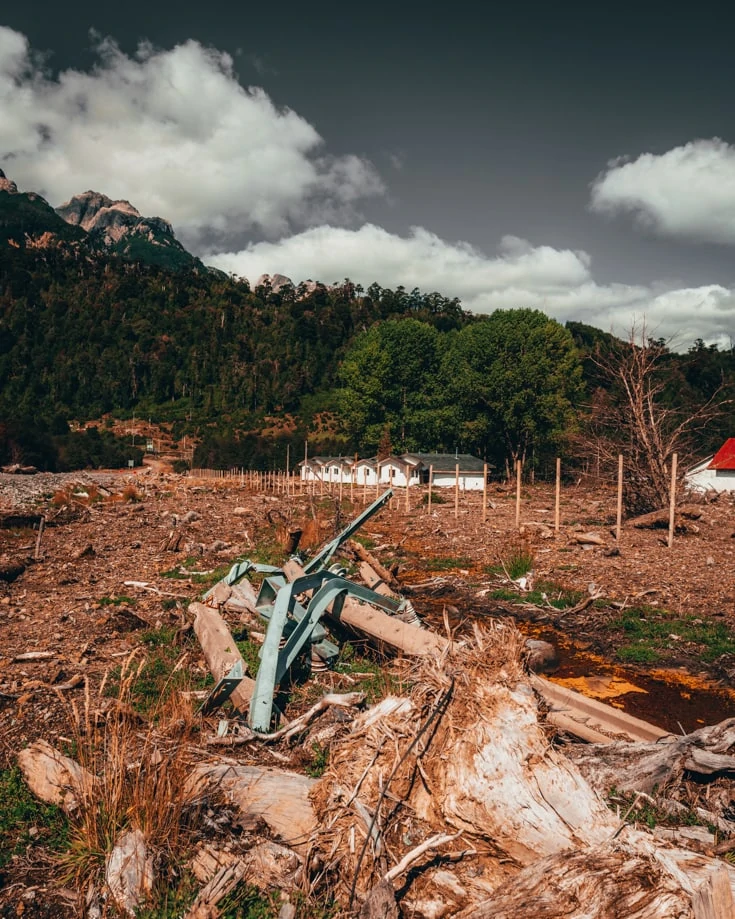 For us, seeing homes still damaged and engulfed by the landslide, the surrounding area looking more like a scene from a war zone than an area of enormous natural beauty, brought a lump to our throats.
The road had been cleared but at that time, many houses were still partly buried in the landslide.
Flower adorned shrines lay on mounds of dirt.
It was clear the community's grief remained raw. Yet so too, they were adamant to rebuild.
We spoke with a doctor from Futaleufu, a small town 80 kilometres away down a gravel track.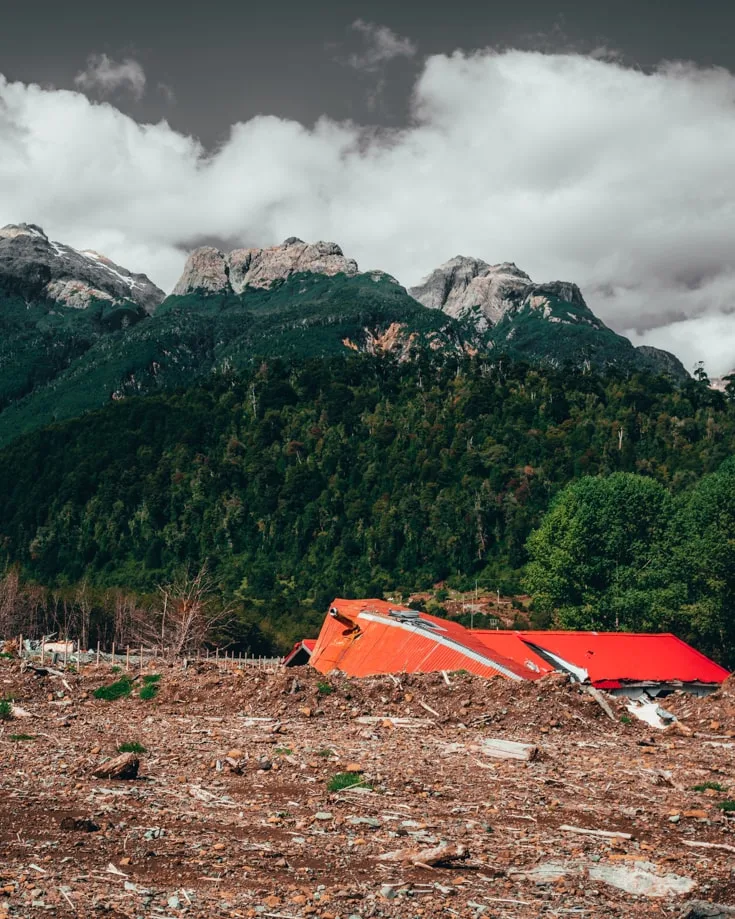 He told of his manic journey with other rescue workers to reach the stricken village.
They arrived 2 hours after the initial impact, the unstoppable mass of mud and debris still inching forward, consuming the village.
The tiny church in the village escaped unscathed. An appropriate place to pause and reflect.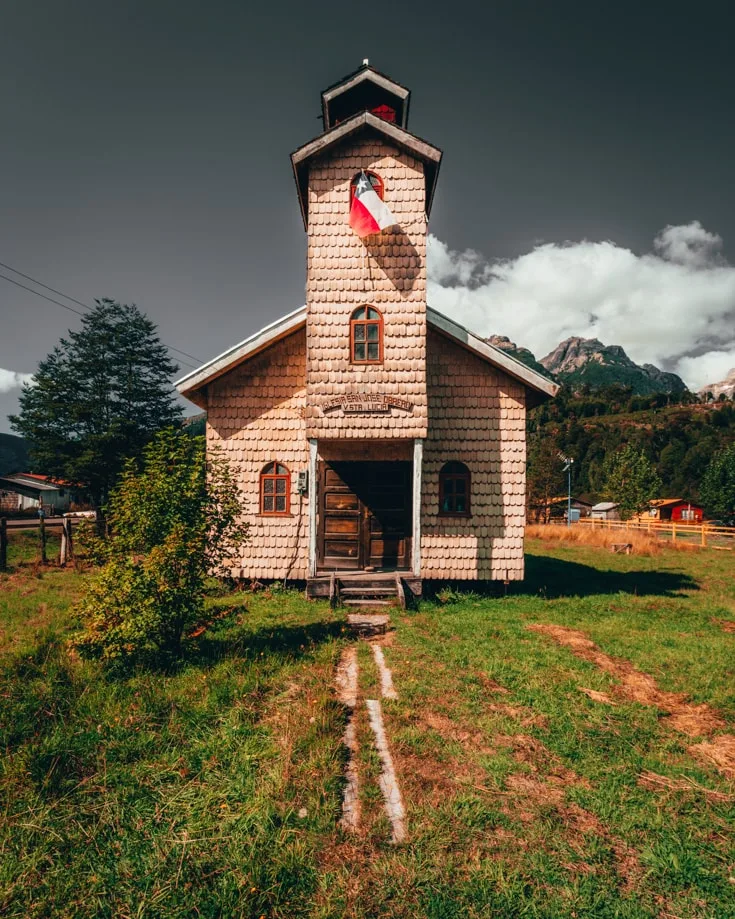 We took no photos of the devastation back then.
Instead we chose to help the village by shopping for our basic groceries and treating ourselves to homemade empanadas from a small business marked only with a sign 'comida', the Spanish word for meal.
We left feeling distraught at their loss, horrified at the experience they endured and hopeful for their future.
This year we've returned, some 27 months since the landslide.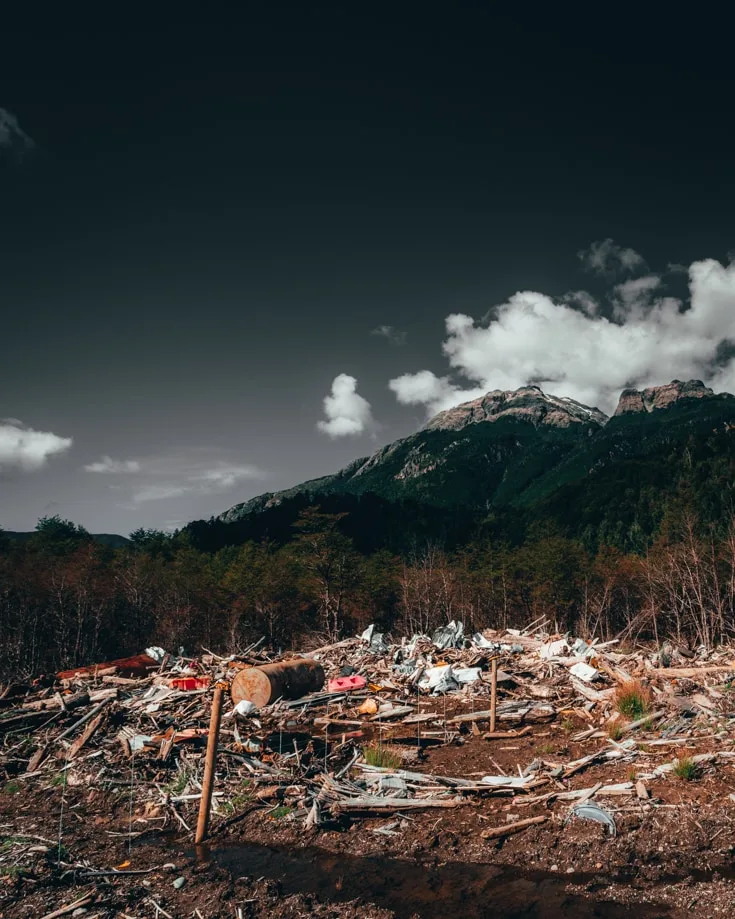 The devastation of the landscape left behind is still evident. It still looks like a war zone compared to the previous miles of lush forest.
But now the village is rebuilding.
Most of the crushed buildings and homes have been removed from the soil.
Homes of those lost, marked by a simple flagpole waving the Chilean flag.
A memorial has been erected with the names of the 22 people who lost their lives.
And notably, one resident has opened a museum dedicated to the people who lost their lives and serving as a reminder of the day's events.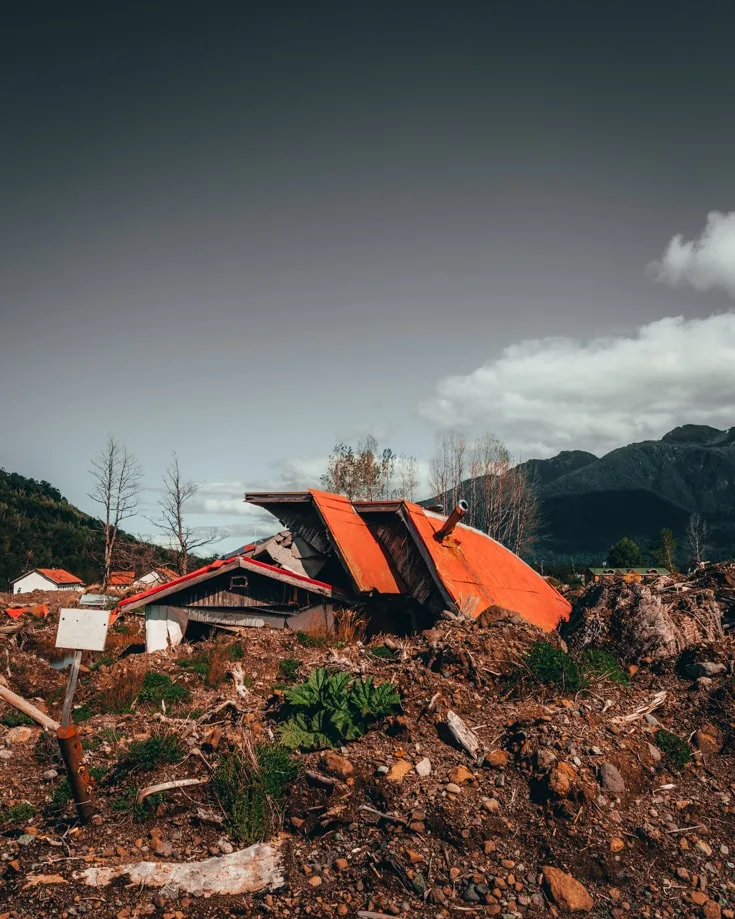 How Can You Help?
If it weren't for this awful disaster, we probably wouldn't have even mentioned this small village.
Of course it's surrounded by amazing scenery, and much of this region is.
But there's no real reason to spend a lot of time here.
For those travelling the Carretera Austral or heading to Futaleufu from Ruta 7, you'll pass by Villa Santa Lucia anyway.
Take time to stop here for a break and support the local community.
Indulge in a hot chocolate and slice of cake from Café Sweet Patagonia, a hearty carne empanada from Casa de Comida and resupply in the mini-mercado.
If you arrive late in the day, camp at Cabanas El Manios or take a room at one of the homestays marked on iOverlander.
Wander around the museum and learn more about what happened that dreadful day.
Survey the devastated landscape and sense the almighty power of mother earth. And think about what small changes you can make to help slow the pace of global warming that inevitably resulted in the retreat of the glacier that caused this dreadful devastation.
Like it? Pin it!