I've not been to a religious shrine before. Well I did go to see Pope John Paul II in Coventry when I was a kid but I don't think that counts.
So being in Mostar and having had a Catholic upbringing, I thought it only proper pay a visit to Međugorje, dragging Graham along for the ride!
Only 24 km from Mostar centre and up a very steep and winding hillside, we headed to Međugorje not really knowing what to expect, except we figured there would probably be a church and maybe a statue or two.
A Strange Visit to Međugorje
We drove by the typical Bosnian villages dotted with small houses; some restored, some still showing signs of the war and others whose construction has been abandoned, seemingly through lack of funding.
We passed men tending their land and taking meticulous care of their vines and tiny orchards. Nothing unusual here; this is what we've seen all over Bosnia.
As we got closer to Međugorje, the surroundings slowly began to change.
The bullet riddled walls were replaced by modern, well kept properties; the fields and orchards with manicured and landscaped gardens, local home stays with plush, boutique hotels.
We had arrived in Međugorje and felt we'd left Bosnia & Herzegovina behind.
The vast majority of Međugorje seems to cater for Italian Catholic pilgrims with Italian coffee shops and gelaterias on every corner.
The only signs of other nations was the Irish Centre (that doesn't sell Guinness) and the local charity shop proudly displaying a notice that it's sponsored by Ireland. I really don't know what that means.
Every shop marks up its products in Euros; Bosnia's currency is the Mark. They display their finest stock of statues of Our Lady, the Sacred Heart, framed photos of various Popes and I Love Jesus t-shirts, all made in China.
The whole town is clean and polished and there are no signs of any war here.
St James Church is fairly big. It's constantly packed to the rafters for mass which is celebrated regularly throughout the day in a variety of languages.
The Italians that had outside been jostling for the best seats in the coffee shops, hunting for the prettiest rosary beads and generally forgetting their manners had now become rather devout.
They queued orderly for the 2 dozen confessional boxes outside the church, sitting with their respective tour groups. They followed their tour group leader who waved a flag high in the air with their tour emblem so they would not easily lose their party.
Some sat in small groups saying the rosary at the feet of statues, some did the Stations of the Cross whilst others quietly contemplated near the outdoor altar, awaiting the start of the next Mass.
Graham was bemused and even with my upbringing, I was a little too. Neither of us were prepared for the miracle statue though!
We wandered up to a large group gathered around the Risen Christ statue and it reportedly sheds an unidentified tear-like liquid. I'm not sure if modern science has ever tested it.
It appeared to be damp certainly but we got nowhere near it. The Italians were all forming an orderly queue and each carried a recently acquired handkerchief with Međugorje colourfully printed onto it.
Patiently they waited for their turn to rub their rags or photographs, presumably of loved ones, on the apparent moisture from the knees of the statue.
When their turn arrived, some were quiet and respectful, others shed their own tears whilst others were frankly hysterical. Uncomfortably I photographed what I was witnessing and quietly left, feeling somewhat bewildered.
I've heard and read of crying statues, of holy pictures or sacred images oozing oil, tears, even blood – but this was the very first time I had witnessed first hand such an phenomenon.
Standing before a group of pilgrims who were clearly confident they were experiencing a miracle was the strangest thing I've ever witnessed. I'm not sure if I felt envious of their faith or sorry for the state of their mental health. Either way, it was strange.
Not wishing to leave little Italy without an Illy expresso and ice-cream, we stopped by at a café, avoiding the temptation of dinner at Mary's Meals restaurant.
After a short drive up to Apparition Hill, we next visited this simple site. This is where the apparition of Our Lady occurred back in 1981.
The area is littered with Our Lady statues on very rocky embankments, (treacherous to the flip flopped foot!) and each are surrounded by yet more tour groups in their team colours, saying the rosary.
As far as religion is concerned, each to their own is my view and I certainly do find it interesting to observe.
Međugorje is the most prosperous place we've seen in Bosnia. Everyone making their living not from the land but from the relative wealth the pilgrims bring with them.
Maybe Međugorje would be just another small village with the community trying to make their way through life, struggling to live from the fruits of the labour on their land if it were not for the divine intervention and the timely first apparition of Our Lady in 1981.
Useful Information
Međugorje is situated in the south west of Bosnia & Herzegovina, about 24 km from Mostar. Click on the map below for more detail in Google Maps.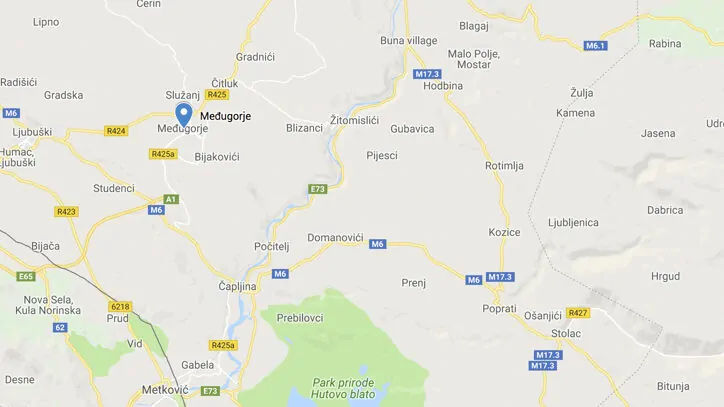 How to get to Međugorje from Mostar
Unless you have your own transport, catching the bus is the easiest way to get to Međugorje. It's very cheap at less than 4 BAM and only takes 30 minutes. You can see the bus prices and timetable here.
Top Tip: When we visited, we had several offers of a guide to take us on an orientation tour for a grand total of €40 each. This is wholly unnecessary.
Use the zoom buttons on the map above to see how small a site it is. Everything is signposted, there are lots of billboard sized maps around. Save your money for an extra ice cream.
Accommodation
There are many hotels in Međugorje but if you're visiting the area for more than a pilgrimage, you'd be better located in to Mostar. The buses run regularly to the pilgrimage site too.
When to Visit
The best time to visit Bosnia is in spring and summer for warmer temperatures. If you do visit outside of the warmer months, pack accordingly.
Like it? Pin it!