As one of our planet's most recognisable attractions, you'd be forgiven for thinking visiting Christ the Redeemer in Brazil is simple.
And it is, kind of. But did you know there's at least 6 different ways of seeing this iconic landmark?
Whether this is a spiritual attraction or the draw of the shimmering bay, mountainous backdrop and panoramic landscapes is just too great, this is a deserving bucket list landmark.
Here's our guide to what you should know before visiting Cristo Redentor, one of the world's most famous statues.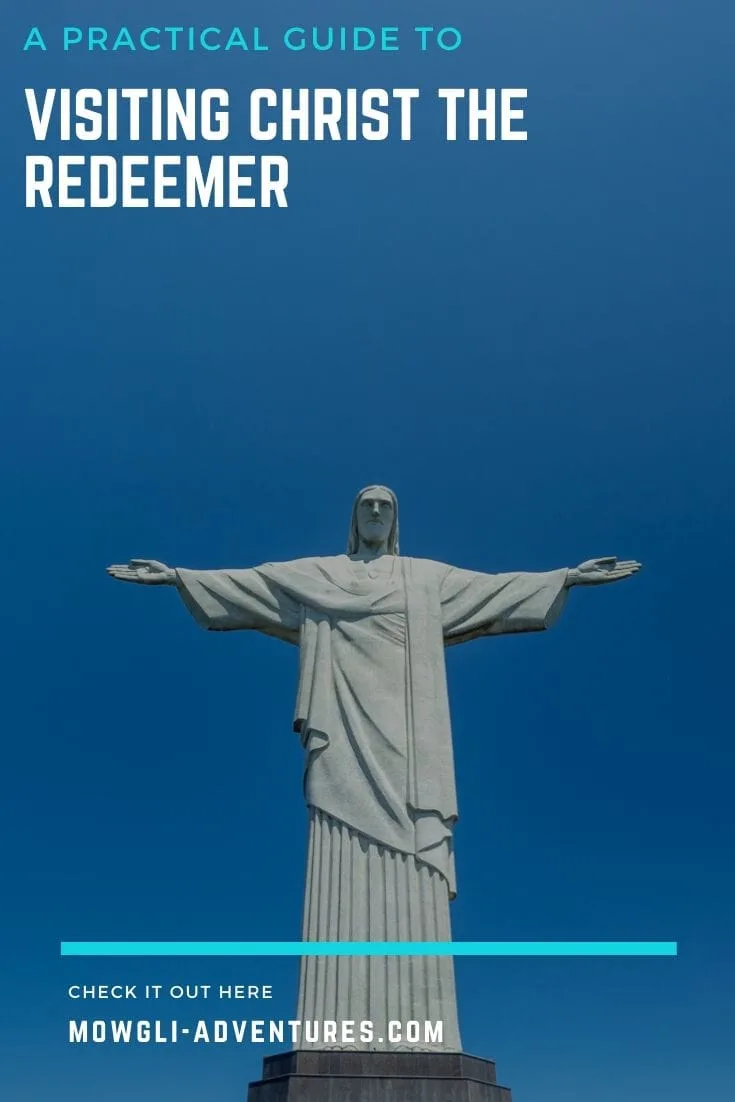 Christ the Redeemer facts – a little history before you go
The crowning glory of Corcovado Mountain, Christ the Redeemer is one of the most recognised monuments in the world.
At 30 metres tall and with outstretched arms spanning a whopping 28 metres, Rio's Jesus statue is the world's largest art deco sculpture.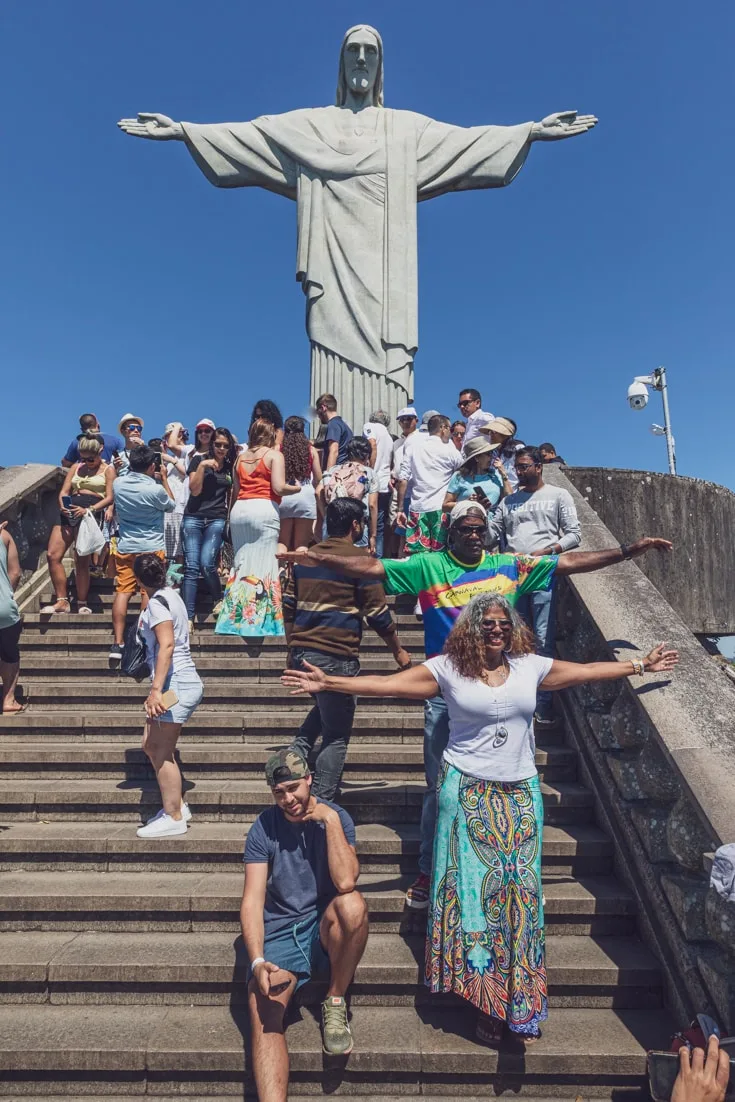 It was first built in pieces from clay in France. After shipping the parts to Brazil, a couple of engineers set about remaking them in reinforced concrete.
Once constructed and assembled, the concrete statue was covered in more than 6 million triangular tiles made from soapstone quarried from Ouro Preto in the neighbouring state of Minas Gerais.
Voted one of the New Seven Wonders of the World in 2007, it casts an ever present and watchful eye over the sprawling city below. And with such a magnificent landscape to gaze over, it is little wonder over 2 million people visit Christ the Redeemer each year.
How to visit Christ the Redeemer
The iconic statue stands proud, arms outstretched as though guarding over the Marvellous City.
At night, its lit up and this is how we had our first glimpse of it from Guanabara Bay as we sailed to South America on a cargo ship in 2018.
No matter where in the city you happen to be, you're never far from a view of the big man himself.
But how do people reach the top? There are 6 ways to visit Christ the Redeemer in Rio.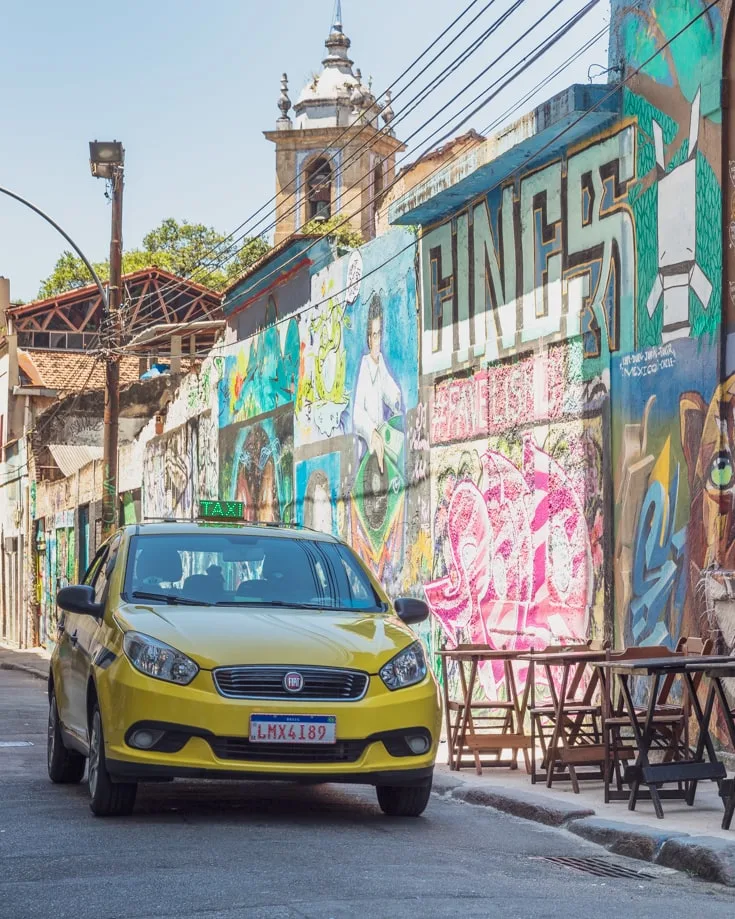 Cog train
The cog train is the most traditional and scenic way to reach the top. The slow climb through Tijuca National Park gets you up close to the lush Atlantic Forest as you ride the same tracks once used to transport the concrete pieces of the statue.
If you have time it's a good way to get immersed in the world's largest urban forest.
The trains depart every half hour from Trem do Corcovado Station at Cosme Velho. The journey to the top takes 20 minutes.
It's easier to grab a taxi to get to the station than taking public transport.
You can buy tickets at the Corcovado train station but queues can get long. Advance tickets are available online here or from the kiosks at Largo do Machado and Avendida Atlantica in Copacabana.
Ticket prices: R$67,00 (low season i.e. weekdays outside of holidays) R$82,00 (high season i.e. weekends and holidays) – includes the round trip to and from the train station and admission.
We passed this train station four times while we were in Rio (twice when we visited Christ the Redeemer and twice when we visited Santa Teresa neighbourhood) and each time there were long queues.
We could stay in Rio as long as we wanted. Yet despite being in no rush, the queues almost put us off visiting altogether. Instead, we decided to take a van up.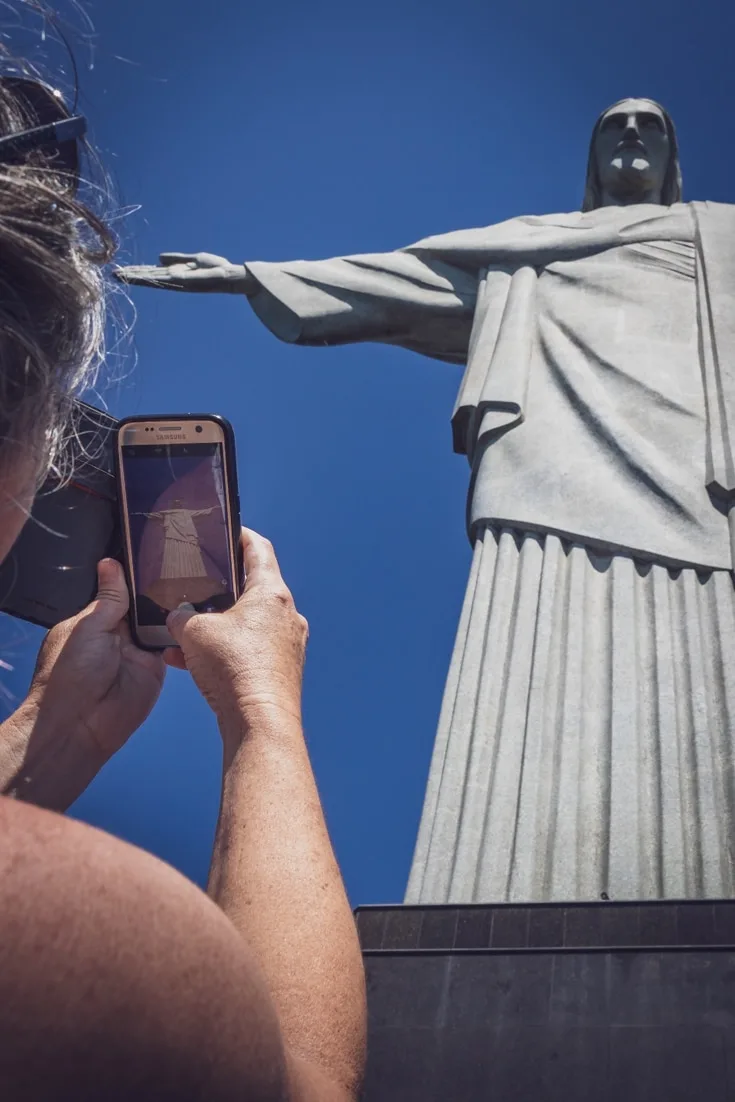 In a van
For once, we don't mean our campervan. We could have driven up in our own vehicle but that would have been crazy.
Steep and narrow Rio de Janeiro streets, through unfamiliar and potentially dangerous neighbourhoods with a Mercedes Sprinter van's infamously rubbish handbrake? I think not!
And even if we had been mad enough to try, there's no formal parking at the top. We'd have had to park on a steep hill and still pay for the official van to take us up the last leg.
You can pick up the official vans from Praca do Lido in Copacabana, next to the metro at Largo do Machado and at Città America in Barra da Tijuca. So you can use the one closest to where you're staying.
They leave every 15 minutes throughout the day from 8am and the journey takes between half an hour and an hour, depending on your pick up point.
You can buy tickets online or before you board.
We were warned the queues could be long and decided if they were silly, we'd give it a miss.
Thankfully, we arrived at Largo do Machado before the ticket booth opened. 2nd in the queue, we got the first bus up. Our advice is to follow our lead.
Ticket prices: R$68.60 (low season) R$79,00 (high season) – includes the round trip to and from your chosen pick up point and admission.
By taxi
If you don't want to queue for the official van, you can take an Uber or taxi almost as far as the visitors centre.
Share with fellow travellers to split the bill and negotiate a rate before you set off – make sure to ask the driver to wait for you and only pay on the return journey.
Buy your tickets at the visitors centre on arrival.
Ticket prices: admission only tickets R$35.60 (low season) R$50.60 (high season).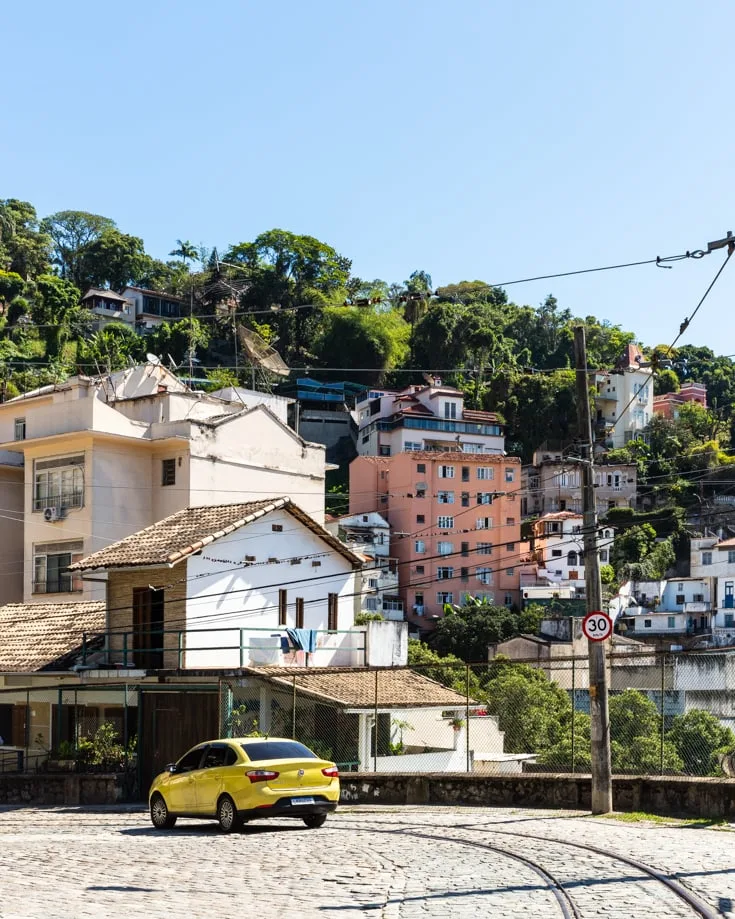 On a guided tour
If you'd prefer all the organisation to be done for you, a guided tour including Christ the Redeemer is a great option. There's loads of different tours to choose from so you can cover a few of Rio's landmarks in one day.
Here's a few examples. Just click on the links to check the latest prices and availability.
Full-Day Tour with Christ, Sugarloaf, Selaron and BBQ Lunch – visit all the must-see attractions of Rio de Janeiro in a day: Christ The Redeemer Statue, Sugarloaf Mountain, Selarón Steps, Maracanã Stadium, Sambadrome, Metropolitan Cathedral, and lunch at Brazilian steakhouse. Includes roundtrip transportation.
Christ the Redeemer, Selarón Stairs & Sugar Loaf Sunset Tour – spend an amazing afternoon visiting the best of Rio: Christ The Redeemer, Metropolitan Cathedral, Selaron Steps, and finish by watching the sunset at the Sugarloaf Mountain. Includes roundtrip transportation.
Full Day Tijuca Forest, Christ the Redeemer & Santa Teresa – see some of the best tourist spots in Rio de Janeiro on a day tour that takes care of the driving for you. Visit Sao Conrado Beach, walk through Tijuca National Park, stop at the Christ the Redeemer statue and spend time in a traditional neighborhood.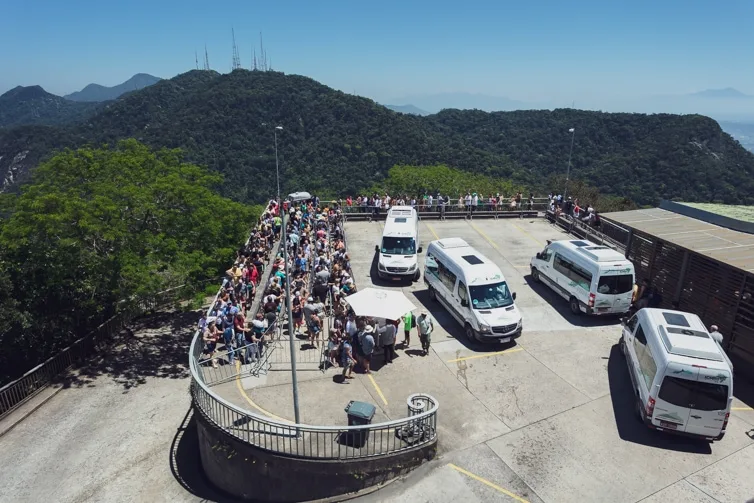 Hiking (only for the brave)
We're not going to dwell on this option too much because we can't recommend it on security grounds. It's a sorry situation and one we can only hope the authorities get to grips with.
This would be a fabulous way of really getting up close to the Atlantic Forest but over the past few years, security on the trail has been atrocious.
Gangs operating along the route mug and rob hikers. During a fortnight back in 2017 there were almost 60 incidents reported. It's just not worth it.
If you decide to go ahead anyway please be safe. Leave all valuables at your accommodation and never go alone. Try to go with a large group of like minded travellers and stick together.
The hiking trail starts at Parque Lage. It's free, pretty steep in parts and takes at least 90 minutes. Bring lots of water – you'll need it!
You buy your admission only tickets at the visitors centre.
Beat the crowds and get a unique view from the air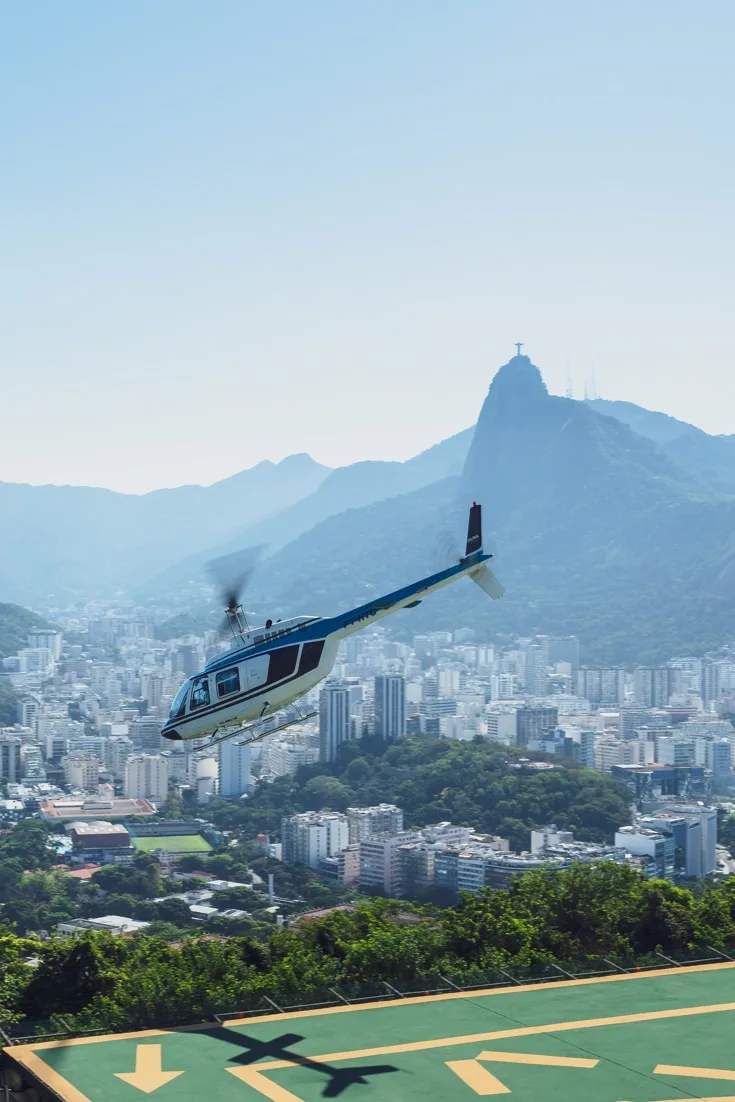 In a helicopter! Now bear with us. I know this sounds like a huge extravagance – and it is. But!
If you're short on time and want to take in the incredible views in and around Rio de Janeiro, this is by far the best, crowd-defeating and most unique way to see Christ the Redeemer.
You can buy a seat on a helicopter tour of Rio from Sugarloaf Mountain or in advance here.
Fares range from US$90 for a 6 minute flight to US$400 for half an hour.
How to get to the base of statue from the visitors centre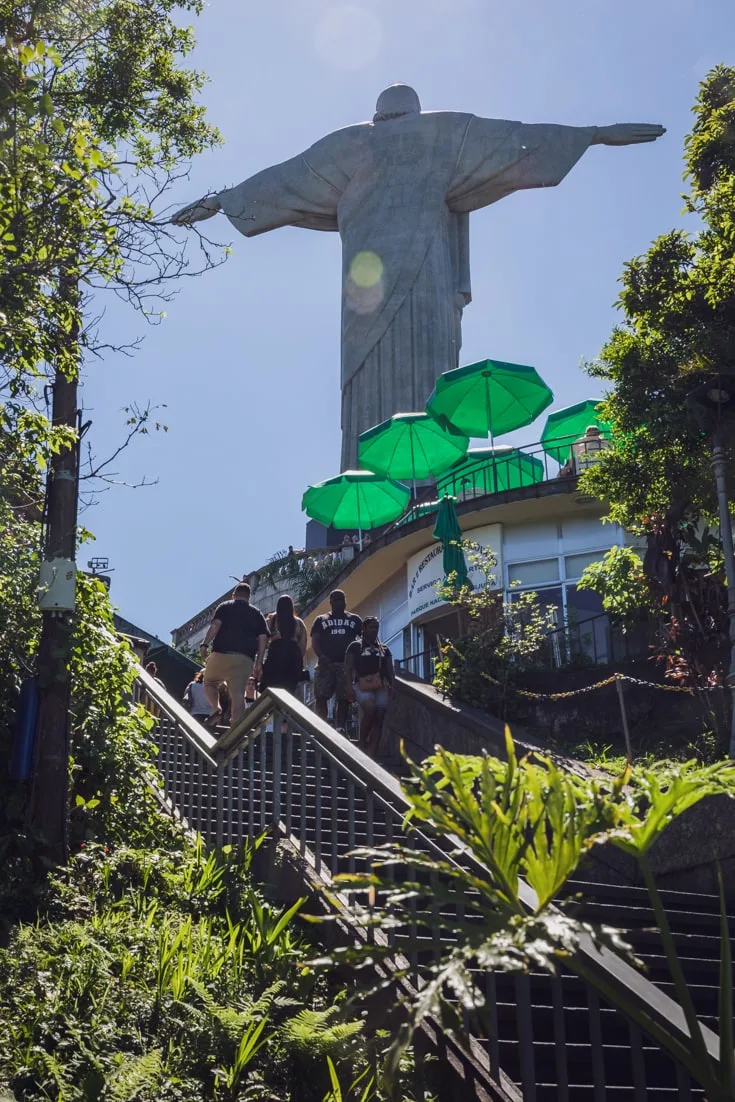 All visitors to Christ the Redeemer arrive at the visitors centre.
You'll need to buy your tickets here if you've hiked, caught a taxi or private van up. If you've timed your arrival for a busy period, expect long queues here.
If you've bought a transport-admission combo, your ticket will have a boarding number printed on it. Take it inside the visitors centre and check on the screens what time you board.
This is an indication of when to catch the shuttle bus up to the base of the statue. If it's busy, it helps streamline the process and stops bottlenecks. If it's not busy, you don't need to wait – just go ahead and board.
The shuttle bus take a few minutes to climb the steepest part of the mountain to the base of the statue.
There's a few stairs to climb to reach the statue's base but escalators and lifts are available so it's accessible to all.
When you've finished your visit, return to the shuttle drop off point and catch the next available bus back to the visitors centre.
Is it worth the trip?
Believe it or not, we seriously considered not visiting JC while we were in Rio. Our visit coincided with a holiday weekend and we expected huge crowds. And hey – we could see him from Sugarloaf Mountain anyway.
But then we didn't want to miss the world famous views. And it would have been a shame to have driven all this way and not get to see him up close.
So we bit the bullet, woke early and caught the first van up Corcovado Mountain to check him out.
Along with another dozen visitors, we sat in the air conditioned van, climbing the steep path through Tijuca Forest National Park.
As we snaked our way skyward, we'd catch a tantalising glimpse of the statue getting ever closer.
We consider ourselves well travelled and don't usually get excited about massive tourist attractions, but suddenly we were keen!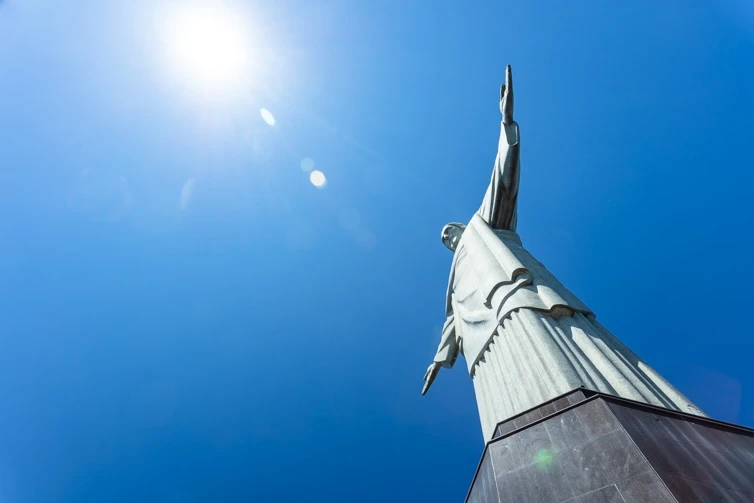 By the time we reached the top, we were silly excited. We even video called family in the UK so they could get a sense of the magnificence of it all.
At the base of the statue there was a fair sized crowd already. While most were typical tourists clad in shorts, t-shirts and grasping their selfie-sticks, a small group seemed somewhat over dressed.
In Sunday best, the group burst into song below the big man, singing hymns. Other visitors joined in. A priest led a small procession from the church inside the base of the statue.
And here with a splash of holy water and an indecipherable blessing, a baby was baptised.
Now we're not religious but what we saw of this service was simply lovely! And in such a special place too. Once the christening group dispersed, we took a wander around.
It was busy. There's no denying that but nothing compared to the crowds we experienced on the Brazilian side of Iguazu Falls.
We'd prepared ourselves for much worse so actually the experience was really pleasant and relatively calm.
We waited patiently to get to the front of the pier for unobstructed views of Rio de Janeiro below.
The hardest part was actually leaving. Perhaps because of the incredible views, or the fact we were standing at the foot of Christ the Redeemer statue in all its wonderful glory. We just wanted to stay a little longer.
So we loitered until the mid morning crowds grew and we knew it was time to leave.
So was visiting Christ the Redeemer worth it? Oh heavens, yes!
Is it safe to visit Christ the Redeemer?
Safety is a real issue in Rio de Janeiro but at Christ the Redeemer we felt safe.
There's plenty of security around and because it's full of tourists, everyone was walking round with a camera slung over their shoulder.
Don't be complacent though. As with any busy space, stay aware of your surroundings and watch out for pick pockets.
We've already mentioned that hiking up through the forest isn't especially safe, so we'd recommend avoiding it – at least until there's some drastic safety improvements made.
Opening times and Christ the Redeemer ticket prices
Christ the Redeemer is open between 8 am and 7 pm. The last official bus leave the top of Corcovado at 6:30pm.
The times and prices mentioned above are accurate as at November 2019.
Best time to visit Christ the Redeemer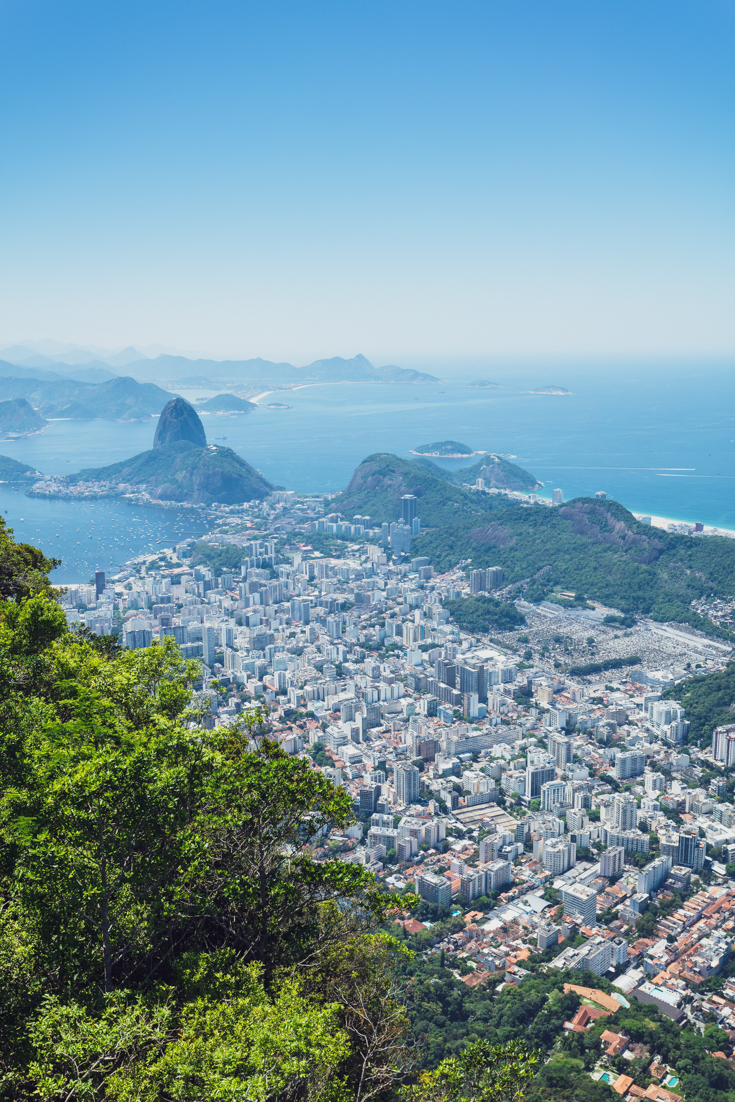 It's best to try to avoid the crowds when visiting mega tourist attractions. It's just more comfortable, less stressful and time consuming too – an all round more enjoyable experience.
And visiting Christ the Redeemer is no different. The landmark is at its most busy during weekends and holidays. So if possible, avoid Christmas, New Year, Carnival, holidays and weekends.
To avoid the worst of the crowds, the best time to visit is early in the morning. This way you won't need to wait so long for the bus back to the visitor's centre and you'll beat the heat of the day too.
The rising sun shines on the face of Christ the Redeemer, so the statue is more likely to be well lit in your photos in the morning.
As the sun sets behind the statue, it'll be more in silhouette but the landscape and city below will be glowing.
How will the weather affect your visit?
The weather in Rio de Janeiro city is often clear and fine. But Christ the Redeemer is up high on a mountain top and is often shrouded in mist, cloud or fog.
We'e seen photos take from the base of Christ the Redeemer where there's so much fog, you can't see his head.
We've seen others with a perfect amount of low lying cloud to make for wonderfully atmospheric conditions.
Of course the challenge is judging what visibility will be like once you reach the base of the statue. It's a bit of a gamble really.
Do you need to book tickets in advance?
The most common advice we've read is to buy your tickets in advance. We didn't and the weather and lack of queues even on a Sunday on a holiday weekend, worked out well for us but of course there's no guarantees.
You run the risk the weather will be rubbish and your views obscured if you book in advance.
If you wait to buy tickets on the day, set out early to avoid the busiest time of the day.
If cloud obscures your view of JC from the city, try visiting Sugarloaf instead – you may just get a fantastic view of him peeking out above the clouds.
How long do you need to visit the statue
Unless you plan on visiting Christ the Redeemer on a scenic helicopter tour, you can spend as little or as much time as you like here.
We saw one couple who shared our van up leave before we'd even got up to the base of the statue. Their total round trip was probably about 90 minutes including the 30 minute journey each way up the mountain!
That was far too fast for us and we spent a total of 4 hours, including a 20 minute wait for the bus back down to the visitor's centre and a break for refreshments too.
We'd recommend allowing between 3 and 5 hours to visit, depending on if you go during a busier period or not.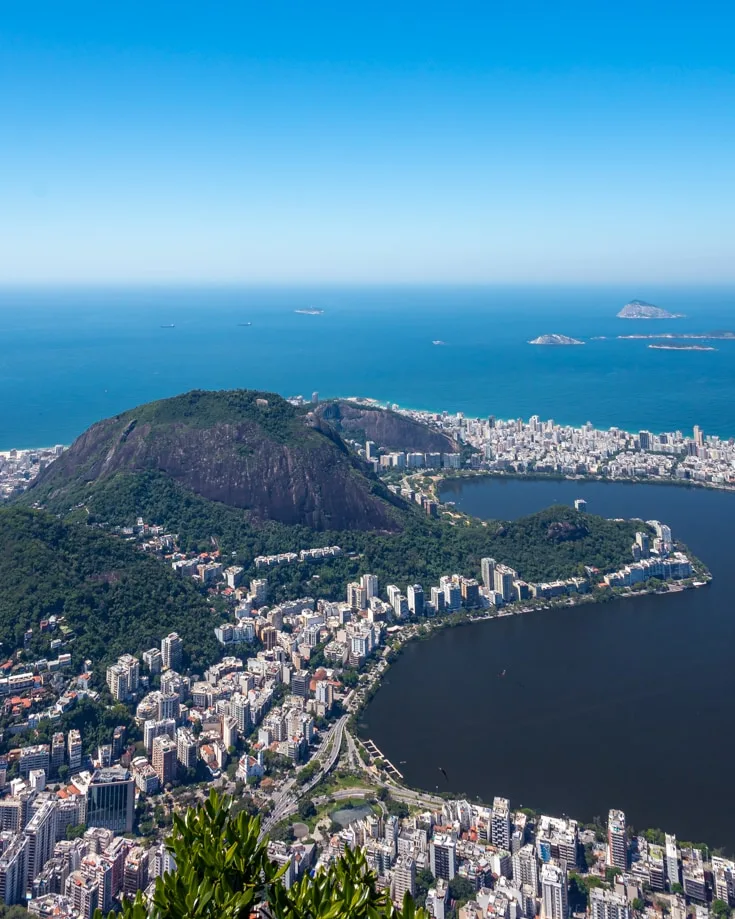 Where to buy souvenirs of Christ the Redeemer
Unless you're short of time, avoid buying souvenirs in the visitors centre because you can get the same or similar products for far less in the city.
As you leave, don't forget to check out the photographs taken of you on the way in. They'll be printed and waiting for you inside a really cheesy cardboard frame – a bit like leaving a rollercoaster.
What to wear
There's no dress code to visit Christ the Redeemer so you're fine to stick with the national dress of shorts and flip flops.
However, remember you may need to queue outside during your visit, especially for the shuttle bus to the base of the statue. And the Brazilian sun is brutal so wear a sun hat and bring plenty of water and sun cream.
Where to stay in Rio de Janeiro near Christ the Redeemer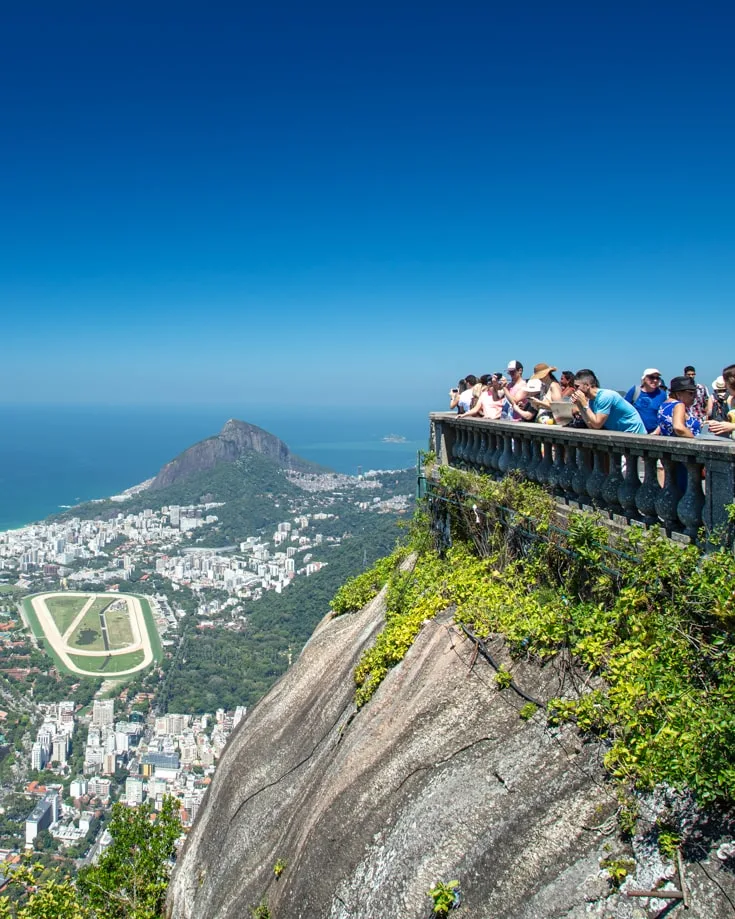 Accommodation in Rio is spread all over the city. If your visit to the city coincides with any holiday, make sure to book up well in advance.
For overlanders | Car park Praia Flamengo – we parked here for 4 nights and despite review of the road being noisy – we slept soundly! Make sure to haggle at the entrance – we only paid 200 Reals for 4 nights and we got water and electric too.
Budget hotels | Vila Galé Rio de Janeiro – fab mix of location, style and comfort. Even with a small swimming pool, this budget hotel won't break the bank.
Mid Range | Hotel Arpoador is smack on the gorgeous Ipanema beach and is surrounded by a bounty of high-end restaurants, bars and shops.
Luxury | If your looking for something a little bit special, make sure to check out Hotel Santa Teresa. This is THE place to stay in Santa Teresa well worth it for that special splash of luxury. Boasting a Michelin star restaurant and enviable views from the rooftop pool, your only challenge will be getting out to explore Rio!
Alternatively, search for accommodation on iOverlander, Airbnb or Booking.com.
Don't forget your travel insurance
You know the drill. If you can't afford travel insurance, you can't afford to travel. Here's our recommended travel insurance providers.
SafetyWing – travel medical insurance offer great value and allow you to take out a flexible policy. Rather than pay upfront each year, you can pay each month. It can work like a subscription, you can choose your start date and cancel any time.
World Nomads – these guys have been around for a long time and cover all the essentials long term and global travel. With World Nomads policies, you can even take out the policy after you've left home. They offer pretty good extreme sports cover in their most expensive package.
True Traveller – the best long term travel insurance provider for UK and EU citizens we could find. We use True Traveller and they offer good value on long term policies and allow us to extend for another year with a 10% discount.
Like it? Pin it!