Germany's fairytale castle, Neuschwanstein is as pretty as a picture. So much so, Walt Disney allegedly based Cinderella's fairytale castle on its architecture.
With the towers and turrets, set high up on a steep hillside, Neuschwanstein Castle looks like it belongs on the pages of a storybook.
But with more than 1.5 million visitors each year, visiting Neuschwanstein Castle is far from a quiet day out. Use this guide to help you plan your visit to and avoid a few pitfalls along the way.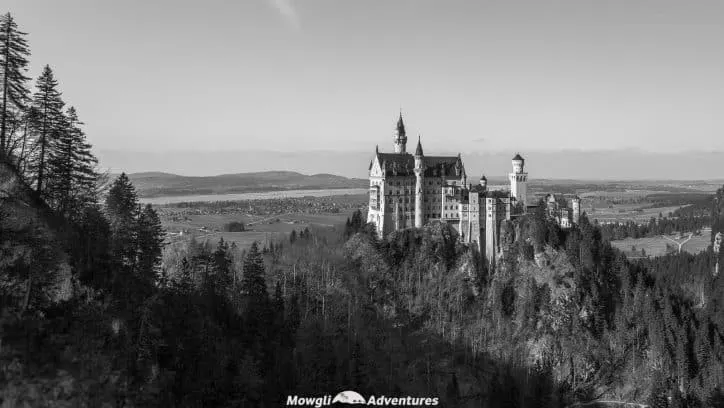 A few facts about Neuschwanstein Castle
A brief history
In the mid 19th century, Ludwig II was King of Bavaria for a mere 2 years. The Prussians pretty much forced Bavaria to enter an alliance with them, effectively stripping poor old Ludwig of his authority and power.
And around this time, Ludwig started the ball rolling with a design for a new castle just a short distance from his childhood home of Hohenschwangau Castle.
Historians believe Neuschwanstein Castle became the centre Ludwig II's imagined kingdom; a place he could act royal without interference from the Prussians so retreating from public life.
Construction of Neuschwanstein Castle
The construction of Neuschwanstein Castle started in 1869 and yet was never finished because of spiralling build costs. In fact to this day, most rooms still have bare brick on the interior.
Ludwig only slept in the castle for 11 nights before his unexplained death in 1886 aged only 40 years.
It's somewhat ironic then that despite Ludwig II building the castle to escape public life, less than less than 2 months after his death, Neuschwanstein Castle was opened to the public.
Now around 6000 people walk through the rooms every day.
A finalist for the new 7 wonders of the world, Neuschwanstein is the most visited castle in Europe. No photography is allowed inside the castle yet it's still the most photographed building in Germany.

Ongoing monitoring of the castle foundations
Built on a cliff edge with a limestone façade, Neuschwanstein Castle's foundations are continually monitored and repeatedly secured.
The limestone façade is exposed to the harsh climate of southern Germany's Bavarian Alps. Neuschwanstein Castle will need to be renovated in the not too distant future.
Marienbruck (Queen Mary's Bridge) spans the Pollat Gorge, suspended some 300ft high. Ludwig rebuilt the bridge at the same altitude as his Neuschwanstein Castle to allow him to admire it from a distance.
Lovers use the bridge today to declare their undying love for each other.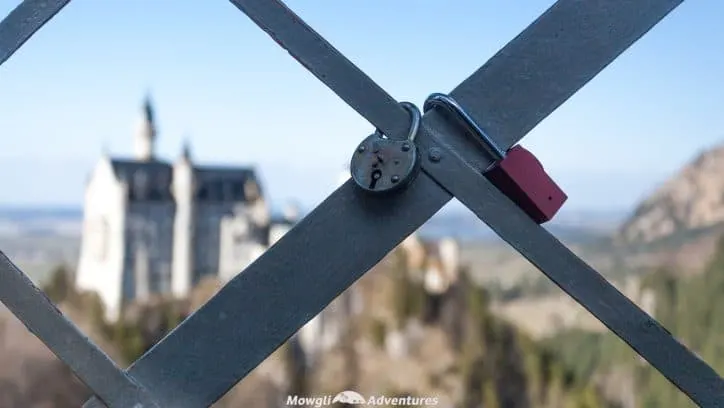 Information you need before visiting Neuschwanstein Castle
Getting to Neuschwanstein Castle
Neuschwanstein Castle is less than 2 hours away on the autobahn from Munich and only a few minutes from Füssen in the Allgäu region.
We stayed at a well equipped campsite on the shores of Hopfensee Lake. Although it's possible to visit Neuschwanstein Castle as a day trip from Munich, it's a pretty long 11 hour trip.
Far better to take your time and go under your own steam.
To get to Neuschwanstein Castle, drive to a small village called Hohenschwangau. You can park here but prepare for a long queue for parking because it's so busy. Arrive early to beat the queues.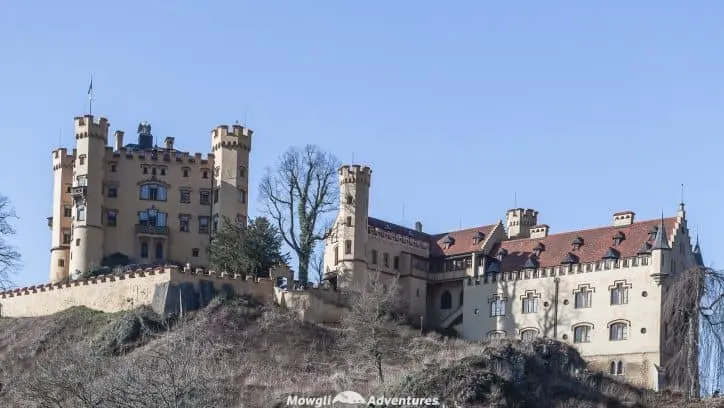 You have a couple of options to get up to the castle from Hohenschwangau. You can take a horse-drawn carriage most of the way up to the castle, walk or take a castle bus.
Walking is only advised for the insane. I mean fit. It's a steep hill. A really steep hill! If you jump on the first bus after you've collected your tickets, you'll arrive at the top of the hill about 20 minutes later.
But if it's busy, you may have to wait for the bus queue to die down a little.
Read more: how to spend a day in Hamburg
Can you visit Neuschwanstein Castle without a tour?
You can only visit the interior of the castle as part of a guided tour; our advice is don't bother. The whistle stop tour is simply not worth it. Photography isn't allowed inside either.
Entrance tickets for Neuschwanstein Castle can only be bought at the Ticketcenter in the village of Hohenschwangau below the castle.
The line to get tickets is long, stupidly so. You even need to queue if you bought your tickets in advance, albeit there is a separate queue.
The best part of visiting Neuschwanstein Castle and Hohenschwangau is seeing the exterior, particularly from Marienbrucke.
Don't miss this bridge for the single best view of the castle.
Follow the trail along the river beside Marienbruke or even on the other side of the bridge. It's peaceful, beautiful and there are no crowds!
Tips on how to avoid the crowds at Neuschwanstein Castle
There's little chance of getting Neuschwanstein Castle to yourself but follow these few tips and beat the worst of the crowds. Try some or all of these if you can:
Arrive very early or very late but definitely avoid the middle of the day.
Buy your tickets in advance.
Try to visit on a week day during school term time if possible.
Visit during the low season from November to April, avoiding the Christmas holidays.
Useful resources for visiting Neuschwanstein Castle
When you click on links to various merchants on this site and make a purchase, this can result in this site earning a commission. As Amazon Associates, we earn from qualifying purchases. For more info, please check our disclosure page.
Here's a list of a few things you may find useful when planning your visit to the castle:
Like it? Pin it!