When we had the opportunity to go to Tanzania, we thought of 3 three things: climbing Kilimanjaro, a beach holiday in Zanzibar or going on safari.
If we'd had three weeks, we'd have done all of them. But 2 of them would have to wait and we didn't hesitate to choose the safari. With 16 national parks, our challenge was choosing where to spend our time.
We decided to spend our week's safari in Tanzania in the Serengeti and Ngorongoro Crater because it was our first visit to the country. And so we've ticked off another bucket list item and had one of our best travel experiences to date!
A week on safari in Tanzania
Because we only had a week, and would celebrate our wedding anniversary while on safari, we didn't plan to do this trip on a tight budget.
Our priority was to make the most of the short time we had and have a wildlife experience we'd never forget. And we're not disappointed!
Take a look at our first-timers guide to planning a safari
Day 1 – 3 Eastern Serengeti safari
After an early breakfast, we transferred from our hotel to Arusha airport. We were so excited because going on safari together was high on our bucket list and here we were, about to do it!
Arusha airport isn't like any airport we've ever travelled through. In fact, the entire fly-in safari experience is worthy of an entire article.
We'll post it soon but suffice to say, the birds-eye views of the Serengeti National Park are unforgettable. Our safari in Tanzania was already underway and we hadn't even stepped off the plane!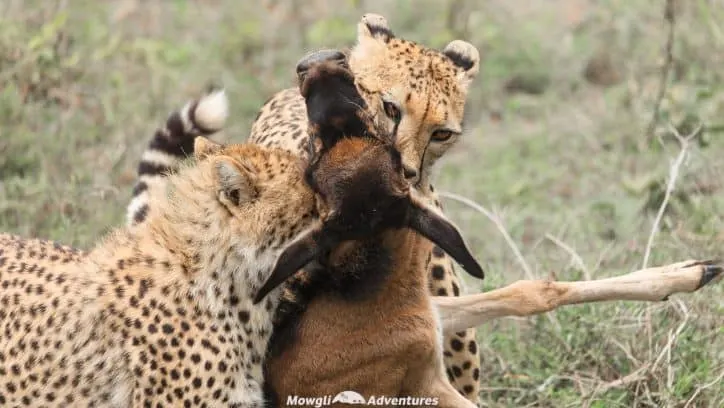 Our guide Shomari, collected from Seronera airstrip in an open sided Landcruiser kitted out with binoculars, a well stocked fridge and even charging points for our batteries.
Shomari greeted us, made sure we were comfortable and asked us what wildlife we'd most like to see. Hey we were so excited to be on safari in Tanzania any wildlife would make us happy!
The eastern Serengeti has the highest concentration of cheetahs in Africa. It's a remote wilderness with few tourists compared with other parts of the National Park.
We had the best start to our safari in Tanzania here and felt we could have been the only guests in the park on each of our game drives. During our days in the eastern Serengeti, we saw 4 of the Big 5, hundreds of birds and critters and even a Pangolin!
Take a look at the Pangolin – we'd never heard of it either!
Staying at a luxury tented camp, the excitement never ends. At the end of each day, we joined the other camp guests for sundowners around the campfire before having dinner together.
And the fun still isn't over. Each night, a Maasai warrior escorted us back to our tent. Using a torch to penetrate the darkness, he watched out for eyes reflecting back at us, the tell-tale sign of loitering wild animals.
And even once in bed, we had cape buffalo and roaring lions disturbing our sleep! A safari experience we will never forget.
Day 4 – 5 The Great Migration in Central Serengeti
Our overland transfer from eastern Serengeti to central Serengeti was one long game drive so didn't feel like a day of transit. The journey sees a gradual change of landscape from one of open savannah dotted with rocky kopjes to one of thick thorny bushes and acacia trees.
The landscape changes so dramatically, we felt we were on a different safari and knew we were in for a unique experience. No longer could we see for miles across the long grasses.
But we'd turn a corner on the track to meet a family of elephant or a couple of grazing giraffe.
We had to have a sharp eye in this area and could only feel sorry for the impala and baby wildebeest, prime targets for the prides of lion and leopard patrolling the area.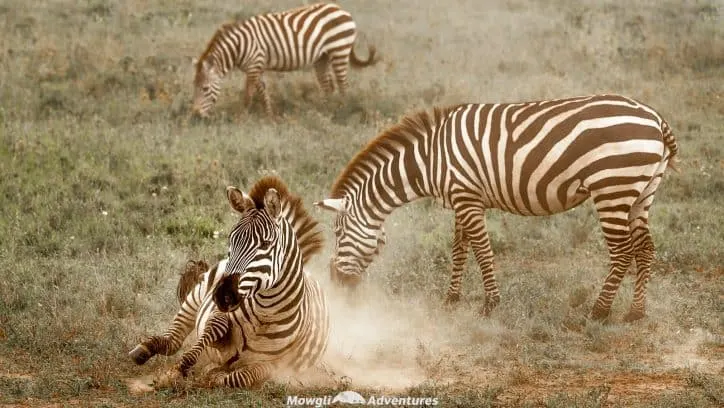 We visited at the beginning of March and the Great Migration of wildebeest and zebra were in residence.
The diminishing size dots of 2 million wildebeest scatter the landscape all the way to the horizon in every directions. It's a spine chilling moment to see so many animals together.
Lions, zebra, wildebeest, hartebeest and even a secretary bird. The greatest show on earth, of that we are in doubt.
Day 6 – 7 Descending into Ngorongoro Crater to spot the Black Rhino
And so we left the Serengeti National Park to drive towards Ngorongoro National Park. It was a long drive and less of a game drive so in hindsight, we'd have either chosen to fly into Ngorongoro or stayed in Serengeti for the extra days instead.
Ngorongoro Crater is the world's largest, intact volcanic caldera and home to thousands of animals. Armed rangers protect the Ngorongoro Conservation Area because of the small number of black rhino in the crater.
Visitors can only enter the crater between 6am and 6pm. The lodges and camps are concentrated around the crater rim and in the highlands.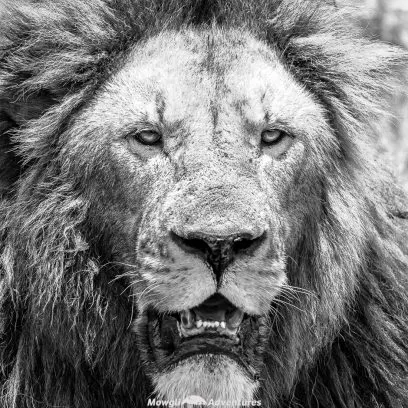 Our safari Landcruiser climbed up to about 2500 metres from the low lying surrounding area. As we climbed, so the temperature fell. If you're planning a visit to the crater area as part of your safari in Tanzania, it's a good idea to pack some warm clothes.
Essential reading: What to pack for a safari
Open grasslands and Lake Magadi is the predominant features of the crater floor. Thick bushes, undergrowth and trees dominate the steep slopes of the crater's sides.
The wildlife in Ngorongoro Crater doesn't migrate so the wildebeest and zebra live in the crater all year round. There's a healthy lion population here too and the crater floor has many large tusked bull elephants.
We spent ages with one male elephant in some fantastic late afternoon light. Far too good a photo opportunity to rush away from!
And of course we had 2 wonderful encounters with Black Rhino to complete the full suite of the Big 5. The rhino are quite shy and so we didn't get too close to them.
I'm ok with this. I hope they all keep away from us humans given a small number of us would rather kill them for their horns than protect the species.
Essential reading: Spotting Africa's Big 5 in Tanzania
Homeward bound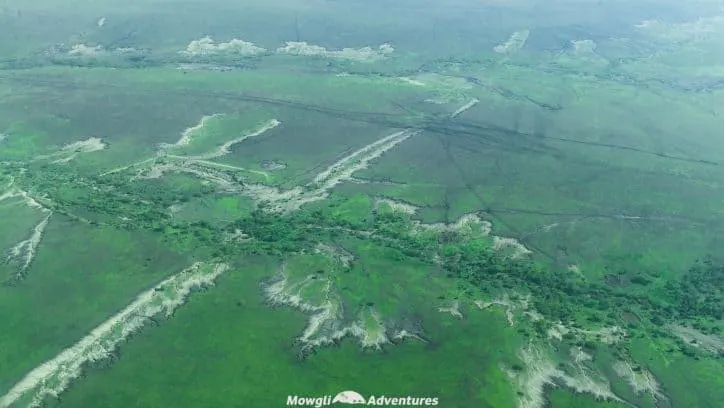 And all too soon, it was over. Our short flight back to Arusha from Ngorongoro airstrip was again magical but this time, tinged with a little sadness.
This was our final glimpse of the wonderful wilderness. We'd spent a week on safari in Tanzania in the landscape that now stretched out below us, knew something of its wonders and remain totally addicted.
We ticked it off our bucket list but we've had to add it again! Once just isn't enough.
Travel resources for a safari in the Serengeti
Take a look at our guide for first-timers planning a safari. It'll help you ask the right questions if you book with an agent.
Booking.com has many properties available in the Serengeti. You get free cancellation on most and some best price guarantees.
Like it? Pin it!