A Pangolin? A what? No? We'd never heard of one either. At least not until we were heading back to our Serengeti camp near sunset.
This chance encounter of the rarest of african mammals turned into one of the highlights of our Tanzanian safari.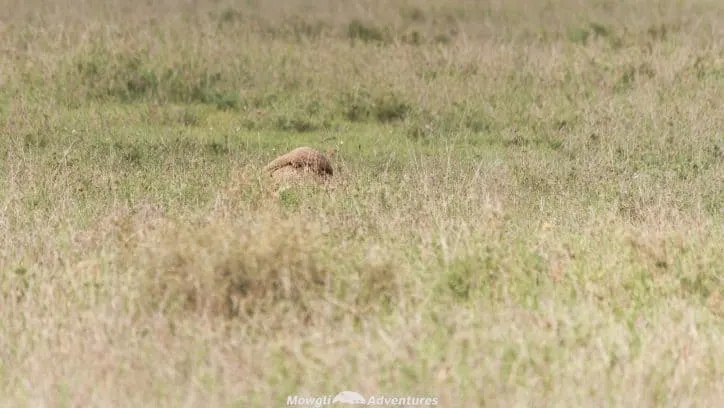 Stumbling across a Pangolin and her baby
After an amazing full day game drive, we were heading back to camp for a refreshing shower and supper in the bush.
Until the truck came to a sudden halt. Our guides Shomari and Ngiimba, lifted their binoculars and became mega excited. They could barely speak as they tried to tell us we're not looking at a tortoise but a Pangolin!
At the same time they pleaded out loud for it to be a Pangolin. A what?
A Pangolin!
A what?
A Pangolin and her baby!
We couldn't even see what they were looking at! Both guides were scanning with their binoculars and agreeing it's a pangolin!
Take a look at more incredible experience we had on our safari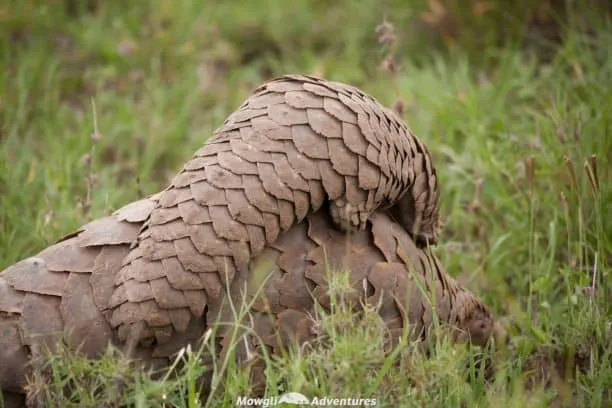 We scanned the landscape with our big telephoto lens in the direction they were looking still not seeing anything. Shomari and Ngiimba had obviously been bitten by an African bug and had gone a little delirious.
They were seeing things and making up names for imaginary creatures!
Meeting Pandora and Penny, the Pangolins
As we waited, Shomari pointed out the small non-descript brown bump in the grass, moving in our direction.
Even with binoculars, we couldn't quite make out what we were seeing. Having never seen even a photo of a Pangolin before, we simply didn't recognise it.
Both guides had their animal books out and were showing us the page on pangolins. Perhaps Shomari and Ngiimba weren't going mad after all.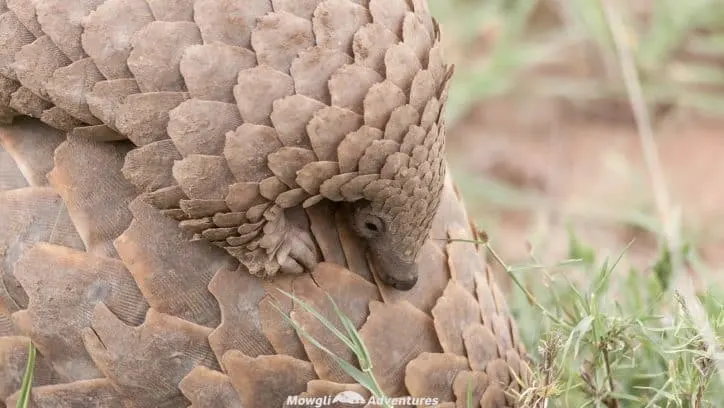 As the Pangolin approached, we could see she was carrying a baby on her back. We were stunned and felt incredibly privileged.
Once she was within a few metres of the car, Shomari encouraged us to take a closer look.
We left the safety of the vehicle and spent a little time with our new friends! We named them Pandora the Pangolin and Penny the baby Pangolin.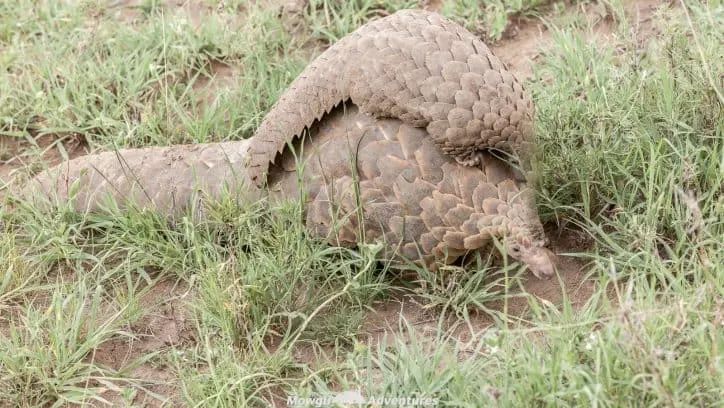 In 7 years of guiding guests in the Serengeti, Shomari had only seen one Pangolin, 4 years earlier. Ngiimba had never seen one.
And neither had seen a baby Pangolin in the wild nor knew of anyone who had.
You know you're witnessing something special on safari when your guides take out their own cameras!
Shomari explained how lucky we were and encouraged us to make a wish! His excitement was contagious and so we wished, we smiled, photographed and watched.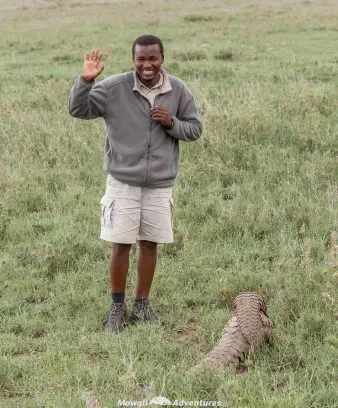 I doubt anybody would have seen these pangolins if it were not for the baby, giving her a little extra height in the grass.
Their colouring isn't unlike the soil patches and to spot this slow moving camouflaged animal from a fast moving jeep was thanks to our eagle eyed guides.
Planning a safari for first-timers
The plight of the Pangolin
We made it our mission to learn a little more about Pangolins at the end of our safari but didn't expect to find they're the most trafficked mammal on earth.
Both David Attenborough and Prince William have helped raise awareness of the plight of the Pangolin, so we thought we'd do our bit too.
As Prince William said, let's hope they don't become extinct before most of us have even heard of them!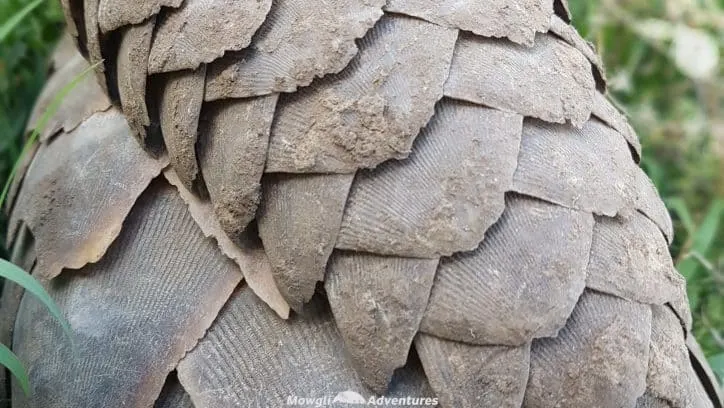 Check out our full 1 week itinerary in Tanzania here
Here's a few facts we've gathered from across the internet since we returned from Tanzania:
There are 8 species of pangolin – 4 are native to Africa and 4 to Asia. Pandora and Penny are giant ground Pangolins (or so we think).
Most pangolin species are nocturnal, so we were especially lucky to see Pandora and Penny out so early.
Pangolins are covered in scales and they account for a fifth of its body weight! Much like hedgehogs, pangolins curl up in a ball when they feel threatened.
According to an article in the Telegraph, the scales are too tough for a lion to bite through, making humans their most significant predator.
Pangolin meat and scales are sold in huge quantities, particularly in China and Vietnam. They are effectively being eaten to extinction!
You can help save pangolins by learning about them, the threats they face and supporting the efforts of conservationists working to protect them.
You can learn loads more about the humble pangolin from Save Pangolins campaign here.
Like it? Pin it!